Novara Portal 2011 Mountain Bike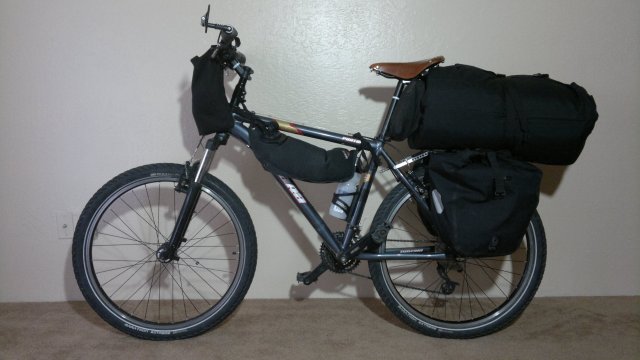 This was the first bike I bought. Since it had been over 30 years since I last owned or rode a bike, and all the bikes I used when younger were single-speed coaster-brake bikes, I didn't really know what to look for in a new bike. I thought of buying a cheap used bike and using it as a learning tool, before buying a new bike, but then decided it was simpler just to buy a new bike from the start:
What I learned about repairing and maintaining an old bike might not transfer to a new bike. So I'd have to learn things twice. In the long run, more learning is good. But because I'm starting from zero, it is probably best to reduce the learning requirements so as not to overwhelm myself.
The old bike might require a different set of tools than the new bike.
Most cheap bikes are made of aluminum, which has a limited lifespan under heavy use, unlike steel. Steel can last forever, provided it is never flexed past its fatigue limit and isn't allowed to rust. Whereas aluminum suffers microscopic damage each time it is flexed. Eventually, the damage accumulates sufficiently to cause catastrophic failure. Aluminum aircraft are inspected for damage accumulation using high-tech x-ray analysis, as part of periodic maintenance procedures. Obviously, this is impractical for bikes. Sudden catastrophic failure of a bike frame, handlebars or headset stem could cause severe injury. So best to start with a brand-new bike, where such failure will not be an issue for at least several years to come (barring manufacturing defects).
Repeated breakdowns in the middle of the desert backcountry (where I intend to ride) will be very frustrating, to say the least, to the point where I might end up hating everything associated with bikes. A brand-new bike should not have so many breakdowns as an older bike. Unlike the single-speed coaster-brake bikes I grew up with, modern bikes appear to have all sorts of delicate parts that can easily break in the field.
I tried several styles of bikes at the bike store (REI) and concluded the mountain bike style would be most appropriate. Touring bikes had me way too high in the air for the kinds of dirt roads I anticipate riding. All the mountain bikes in stock had front suspension and most had rear suspension as well. I see suspension as needless complexity. Bikes didn't have it when I was growing up and we rode on very rough surfaces then.
Anyway, I finally settled on the simplest mountain bike in stock, the Novara Portal 2011 edition. List price was $399, but I was able to use the 20% discount sale coupon and also get 10% back as my REI dividend, so the effective price was under $300. The bike has the following specs according to the REI website:
Frame

6061 aluminum

Fork

RST Gila T8, 100mm travel, springs

Crankset

Truvativ X-Flow, 42-32-22

Bottom bracket

Truvativ PowerSpline

Shifters

SRAM Trigger

Front derailleur

SRAM 3.0

Rear derailleur

SRAM X3

Rear cogs

SRAM PG-830, 11-12-14-16-18-21-26-32, 8-speed

Number of gears

24

Brakes

Tektro linear-pull rim brakes

Brake levers

Tektro

Rims

Weinmann ZAC 19

Hubs

Aluminum disc, 32h

Spokes

260mm x 2mm drive side, 262mm x 2mm non-drive side, all with 3.23mm wide nipples

Tires

Kenda K920 combo, 26x1.95 (50-559)

Handlebar

Aluminum riser

Stem

Aluminum threadless

Headset

Integrated threadless

Seat post

Aluminum microadjustable

Saddle

WTB Comfort V Comp

Pedals

Resin platform

Chain

KMC HG40

Size

Large (rider height range 5'9" to 6'0")

Seat Tube Center-Center

19" (483mm)

Effective Top Tube

23.5" (597mm)

Standover

31.5" (800mm)

Chain stay length

17" (432mm)

Wheelbase

43" (1092mm)

Fork Offset

1.6" (41mm)

Head Tube Angle

70°

Seat Tube Angle

72.5°
So far, I've modified the bike as follows:
Schwalbe Extreme 57-559 tires and av13d tubes to replace Kenda tires and tubes, which suffered numerous goathead thorn flats 10 minutes after leaving the bike store where I bought the bike, plus Stan's sealant. See here for more about these changes.
Stem extender to raise handlebars by about 3 inches.
Leather Brooks B17 saddle (525g) to replace vinyl saddle (450g). Leather breathes better in the heat than vinyl.
Thorn Cycles Expedition rear rack. I chose this rack because of its sturdiness, its larger than average size (to better support a rack bag on top), the lack of any ledge at the front (so I can push the rack bag forwards). Can be mounted with either 6mm or 5mm bolts (both supplied in the installation kit), but the Novara 2011 only supports 5mm. Thorn specs max load with 5mm bolts as 40kg on smooth roads and 20kg on rough roads (compare with 60kg/30kg for 6mm bolts). My max rear rack load should be under 30kg, with a typical rear rack load under 20kg, so I should be okay. Installation required bending the thick steel mounting rails. I did this improperly, and ended up cross-threading one of the mounting bolts into the mounting hole on the seat stays and also installed the rails in the wrong direction. Both of these errors are my fault rather than Thorn's. The fact that the mounting rail steel is thick and hard to bend is ultimately good, since this makes the rack sturdier. I never plan to replace the rack, so it doesn't really matter that the threads in the mounting hole are ruined. I ordered some extra mounting rails, so as to be able to reuse the rack on future bikes. (Because I installed the rail wrong, I didn't cut it. However, proper installation would require cutting, and thus make it impossible to reuse the rail other than for similar sized bikes.) 885g.
Incredibell Brass Duet bell, by Mirrycle.
Mountain Bike Mirror, by Mirrycle. 100g.
CatEye Velo 5 CC-VL510 bike computer. This is the simplest and cheapest CatEye computer. Wired, with the following functions: current time, current speed, max speed since last reset, distance since last reset, total distance since installation. It supports both metric (km) and english (miles) units, and a variety of tire sizes. Installation instructions are not the easiest to understand, but they are adequate if you read them carefully. Only feature I would like added is the ability to set the odometer upon installation (useful when replacing another computer).
Planet Bike blinking LED tail light, supposedly runs 100 hours on 2 AAA batteries. 50g.
Profile Design Cage water bottle holder, 65g, capable of holding a Nalgene 600ml ATB water bottle (see carrying system).
Ortlieb Back Roller Plus rear panniers. 40L capacity per pair, 1800g per pair, after modifications.
Saddle bag, for bike tools.
Rack bag, for sleep pad, quilt, clothes, poles.
Brake band, to keep bike from moving when parked.
Straps to allow hanging 6L Dromedary water bladder in front triangle, as shown in photo of fully loaded bike above.
Weights:
Bike weight: 18 kg (40 lbs), after changes above, assuming all bags and panniers empty.
Rider weight: 88 kg (85 kg body weight, 3 kg clothing/footwear).
Base equipment weight: 10 kg (6 kg camping gear, 3 kg bike repair/maintenance gear, 1 kg books/maps).
Max consumables: 24 kg (7 kg food, 11 liters water in panniers, 6 liters water in front triangle).
Max baggage load: 34 kg (10 + 24).
Max load including rider: 122 kg (88 + 34). Compare with rated capacity of 100 kg.
Max loaded bike weight without rider: 52 kg (18 + 34). Heavy load to push up hills.
Bike and accessories worked very well on a month-long, 850 mile bike tour of the Mojave desert, traveling mostly on dirt road (described here). Only problems were with the front derailleurs, which sometimes wouldn't shift to the smaller chainring due to grit clogging the mechanism. The plastic pedals broke in several places, but were still functional. Upon completing this tour, it occurred to me that this bike would become increasingly unreliable as time went on, unless I was scrupulous about replacing parts as soon as they showed any signs of wear. The cost of such maintenance makes it worthwhile to consider a better bike, namely the Thorn Nomad MK2. In addition to reduced maintenance, the Nomad has an internal hub, which will eliminate problems with the derailleurs getting clogged by grit. This internal hub also means no dishing of the rear wheel, which makes for both a stronger wheel to start with (less likelihood of breaking spokes or getting out of true) and easier truing of the wheel in the field if that is necessary. (The Novara has a dished front wheel as well, since other models based on the same frame are sold with front disk brakes.) The Nomad replaces the suspension fork of the Novara with a rigid fork with more rake, and has a longer wheelbase. These changes are improvements for loaded touring on dirt roads, in my opinion, where the bike should ride like a supertanker: plenty of forward inertia to keep from bogging down in sand, resistant to turning, easy to keep in a straight line. On the others hand, the Nomad is a far more expensive bike than the Novara.
All in all, I was satisfied with the Novara and the other accessories described above, and would recommend the same setup to anyone wanting an entry-level expedition (mix of paved and rugged dirt roads) touring bike. At only about $300 for the bike alone, assuming you buy on sale and count your REI member's discount, the Novara is a far better deal than the $100 bikes at Walmart, whether or not you plan to go on an expedition like me or merely use the bike around town.
Afterword: I sold the Novara after returning from my first tour on the Nomad, consignment sale via the Reno Bike Project.