(This page is a continuation of the general footwear notes here.)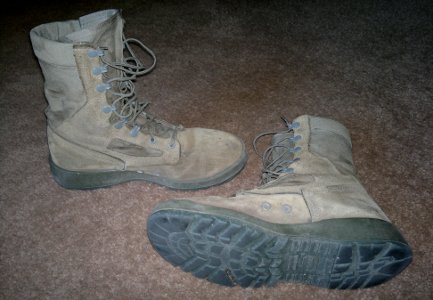 Belleville boots after 42 days and about 1300 km on Southern California section of Pacific Crest Trail (including some road walking in addition to walking the trail itself), plus perhaps 300 km of city walking. Boots were dry most of the time, other than a few days when they got wet from walking through snow.
Military boots have acquired a bad reputation, but modern versions are much improved. Current standard issue Belleville summer boot (model 600) builds upon experiences with the Vietnam Jungle boot, but with a sturdier sole for the rugged deserts of Iraq and mountains of Afghanistan. These boots will work well in all hot weather conditions, but especially hot and dry conditions. And durability is definitely not a problem. With proper socks, these boots will also work well in moderate cold. Belleville boots have been my only footwear since 2008, both for city and hiking use, and I will probably continue wearing them in the future.
Upper of Belleville 600's is part leather and part unlined cordura nylon. Leather makes for durability, cordura makes for breathability. Boots are 8" high, which tends to keep pepples and sand out as effectively as gaiters. Dual side vents on instep allow water which flows into boots during stream crossings to flow out. Side vents also increase breathability. Mesh on vents is sufficiently fine to prevent water from entering when boot is only briefly submerged, such as when crossing a shallow stream. However, if boot is left submerged for more than a few seconds, water can enter through side vents. In my experience, more water enters through cordura uppers than through side vents, assuming stream is deep enough to reach cordura uppers. Mesh on side vents keeps coarse sand out, but not necessarily fine dust, though I never experienced a problem with dust intrusion. (If fine dust does become a problem, it would be easy to plug side vents using seam-sealer or duct tape.) Outer sole is durable Vibram.
Boots can be ordered directly from Belleville Boot Company.
Belleville model 600 also known as Air Force hot weather combat boot, and comes in sage green color with side vents. Similar Belleville models include Army model 390, in tan color without side vents, and Marine model 590, in olive color with side vents and also with thin steel plate between midsole and top sole for puncture protection from nails and similar sharp objects. Metal plate on Marine boot adds weight, reduces flexibility and probably reduces durability (due to cutting into softer parts of boot), while lack of side vents on Army boot is a drawback both in hot weather and when wading through streams. Thus Air Force boot is best for backpacking. Steel plate in Marine boot (combined with steel toe) might be a good feature for construction workers.
Boots shipped with foam insoles weighing about 40 grams each. Cupped edges on these insoles caused painful blisters deep under skin of heel. Took me a while to figure out cause of these blisters. Within a day of discarding insoles, pain went away. My opinion is that padded insoles not necessary, since rubber outsole provides plenty enough cushioning (recall that human foot is naturally designed to walk barefoot, provide we walk correctly). Removing padded insoles also gives additional room for feet to expand in hot weather, and allows better blood circulation in cold weather, thus allowing feet to stay warmer then.
Another easy-to-fix problem has to do with lacing. When I laced 10 wide boots too tightly, this made it difficult to flex ankle (dorsiflexion, or bringing foot upwards towards shin). That caused ankle flexor muscles to be overworked and final result was painful shin splints. It took me a while to figure this out. Best way to ensure boots aren't laced too tightly is to hold ankle in fully flexed position while tying laces. Problem doesn't occur for me with 10 extra-wide, because upper of these boots is so large in circumference that even when laced as tightly as possible, lacing still doesn't impede ankle flexion. In fact, lacing 10 extra-wide very tightly is necessary to keep boot from slipping against back of heel. Lacing style below minimizes effort required for dorsiflexion: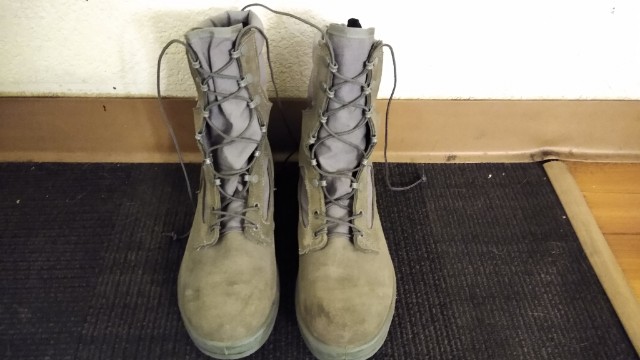 My normal size is 11 wide. I initially ordered model 600 in sizes 11 wide, 10.5 wide, 10 wide and 9.5 wide—of these, 10 wide gave best fit. Sizes 11 and 10.5 wide were both much too big, while 9.5 wide was tight around instep. After removing insoles, 10 wide fits me slightly snug in vamp (especially on right boot) due to my high arches, when wearing medium weight wool/nylon socks (later switched to 100% nylon dress socks, which eliminated initial snugness). However, leather eventually stretches enough to alleviate this snugness. Possible to use shoe stretcher to speed up stretching, or else just soak interior of boot or a pair of socks with rubbing alcohol in places where stretching needed, since rubbing alcohol allows leather to stretch. Small amount of heel slippage in 10 wide when new, which disappears after a few hours of walking. Size 10 extra-wide provides extra room for thick socks (such as 2mm macroporous neoprene socks) but has a somewhat sloppy feel when wearing medium or lightweight socks. Also, heel counter is about 1/2" higher in 10 extra-wide than in 10 wide, which causes digging into achilles tendon at first (heel counter eventually softens and stops irritating achilles tendon). Ordering 1 full size down in length is typical with Belleville boots, since they use military sizing, which is known to be different from commercial sizing.
Size 10 wide weighs about 1600 grams for both boots with insoles removed (actual weight can vary by 50 grams or more, due to manufacturing tolerances for leather and rubber thickness and amount of glue used). Size 10 extra-wide weighs perhaps 50 grams more per pair.
Field experience with first pair of boots (size 10 wide)
800 miles (1300 km) and 70 days in the mountains of central Spain, where trails are very rocky and abrasive (eroded limestone). Boots alternated between wet and dry. Much of the silicone was washed out by the end of period, especially at the metatarsal area, where the leather flexes the most, so that the leather was no longer as waterproof as when new. Stitching was cut in several places due to abrasion against rocks. Cut stitching can be a problem with any boot used in rugged and abrasive terrain. The worst area of cut stitching was at the back of the boot, where a strip of nylon webbing reinforces the seam between panels of cordura. I restitched this area with waxed linen thread, using pliers to force the needle through the layers of fabric. Elsewhere, I simply applied seam-sealer to prevent any unraveling of the cut stitching. Fabric lining at the toe area of both boots tore due to rubbing against the toenails of the big toes. I would prefer boots with no lining. Possibly, the lining against the toe and heel counters is an essential part of the manufacturing process. The nubs on the sole at the metatarsal area (where boot flexes the most) of both boots were almost completely worn down, but there was still about 4mm of flat rubber remaining. The nubs on the remainder of the soles were not worn, and so there was still plenty of traction. Sole wear like this is normal. The left boot additionally had a crack in the sole at the metatarsal area, which began at about mile 600 (km 1000).
Upon returning from Spain, I applied beeswax (using a hair-dryer to melt the beeswax so it soaked into the leather) to restore waterproofing and prevent further washing out of the silicone. It would have been much better to apply beeswax when the boots were new and clean, before any silicone had been washed out and before any dirt had been trapped in the rough-side-out leather. This trapped dirt might have contributed to the eventual splitting of the leather (see below).
300 miles (500 km) of walking on city streets. Boots were continually dry during this period. No abrasion other than to metatarsal area of sole.
200 miles (300 km) and 12 days in the Sierras. This is dry terrain, with well-groomed and easily graded trails, consisting mostly of sand, with occasional rocks. Major cause of abrasion is probably from sand getting into the crevices of the boot upper.
720 miles (1200 km) and 46 days of the Appalachian trail (Maine through Connecticut). Very wet and rugged terrain, with steep trails consisting of a combination of smooth rocks, roots, dirt and water. Moderate abrasion, but a tremendous amount of flexing of the boot. This was a rainy summer, and hence the boots were almost continually wet during this period. Even when the tops of the boots managed to dry out, the crack in the sole of the left boot allowed water to seep in, so that the bottom of the sock on that boot never dried out. Despite the boots being almost continually wet, I had no foot problems, except when I foolishly tried wearing the boots without socks (more on that below). The crack on the sole of the left boot expanded until it was about 3/4 of the width of the sole, and then stopped growing. The lining at the toe of the left boot tore to the point where it became a nuisance, so I ripped out as much of the lining and toe counter as I could, then pounded the remainder of the toe counter into the tip of the boot using my hiking staff. The boots have enough toe room that the balled up toe counter didn't cause me any discomfort. Pieces of the midsole chipped off in places, due to striking against rocks. After about 600 miles on the AT, the leather split close to where it attaches to the sole at the metatarsal areas of both sides of both boots. Note carefully, it was the leather which split—at no point did the glued bond between leather and midsole threaten to come undone. I continued walking another 100 miles until my scheduled resupply point, when my resupply person mailed me a new pair of boots. The splits on the sides of the boots had widened by this point, until they were about 2" (5cm) long. Combined with the split on the sole of the left boot, these splits made the boots very open to water intrusion. Since the leather other than at the metatarsal area was still sturdily attached to the sole and in no danger of splitting, the boots effectively functioned like very sturdy sandals, and I could probably have walked at least another 500 miles in them, had that been necessary.
By about mile 2000 (km 3200), the nubs on the soles of both boots at the metatarsal area were worn, but there was still at least 2mm of flat rubber remaining, and there were enough nubs elsewhere that the boots continued to have good traction. In addition to the problems at the toe of the left boot noted previously, the fabric lining was also torn to a lesser degree in the toe area of the right boot and at the heels of both boots, but this tearing did not affect comfort or functionality. The laces of both boots were showing abasion, but they probably would have lasted another 1000 miles (1600 km) before failure. There were no signs of further abrasion of the stitching, either because the Appalachian trail is not as abrasive as the mountains of central Spain, or because I had put seam-sealer on all the areas where abrasion is likely to occur.
Field experience with second pair of boots (size 10 wide)
These boots were treated with beeswax from the start, using a hair-dryer to melt the beeswax so it soaked into the leather.
300 miles (500 km) and perhaps 30 days of Appalachian trail (Connecticut through Pennsylvania). The trail was dry during this stretch.
Perhaps 150 miles (300 km) of hiking on city streets.
750 miles (1200 km) and 60 days of hiking the Pacific Crest trail in southern Californaia, which is very dry for the most part. Part of this stretch consisted of rugged rocks, parts were sandy. Towards the end of this section hike, the right boot developed a small crack (about 2 cm wide) in the sole at the point where the boot flexes. Also, the waterproofing on the boots seemed to be mostly washed out in the places where the leather flexes, though elsewhere, the waterproofing was still fairly good. Finally, the lining at the front of the left boot was torn both above the big toe and next to the little toe. Otherwise, the boots were still in pretty good condition.
Total mileage was about 1200 (1900 km) when I returned home from my PCT section hike. I discarded the boots at this point, since I saw no reason to further test them and I was in a position to easily replace them and I didn't want another experience of walking in boots with a crack in the sole which lets in water. However, I would have had no qualms about relying on the boots to last another 1000 miles, had that been necessary.
Field experience with third pair of boots (size 10 extra-wide)
At least 800 miles (1280 kilometers) on Spanish trails (yo-yo of GR7/GR171 in Catalonia and Valencia, plus GR10 in Valencia), then another 300 or so miles (480 kilometers) on British trails (Pennine Way plus day walks), plus perhaps 200 miles of city walking, plus 400 miles (640 kilometers) on the Pacific Crest Trail (Lone Pine to Truckee), for total of about 1700 miles (2700 kilometers).
Beginnings of crack in sole of both boots where it flexes, about .25" (.6 cm) long.
Lining torn inside both boots.
Leather split on inner sides of both boots at the point where the boot flexes, just above where leather attaches to sole. This is the same place the leather on the first pair of boots splits. Right boot split first. Splitting began when the boots where kept wet for most of the hiking in Britain.
Left shoelace wore through and eventually broke, probably because the metal quick-pull loops has a sharp edge. I tied the remnants of the shoe-lace to the holes and quick-pull loops and this worked well enough for the final 200 miles (320 kilometers) of use.
Extra-wide boots have the advantage of being easier to put on when frozen. There appears to be less tearing of the lining with the extra-wide than with the wide, but I can't say whether this is due to the extra roominess or because I am not wiggling my toes so much as in the past. I also observed that I get 500 or more miles per pair of socks now, versus less with the wide (at least as I recall). Again, this may be because of changes to how I move my feet, rather than due to the boots themselves.
Field experience with fourth pair of boots (size 10 wide)
These boots were treated with beeswax from the start, using a hair-dryer to melt the beeswax so it soaked into the leather.
1000 miles (1600 km) and 45 days on Pacific Crest trail in Oregon and Washington. Boots got soaked from rain and stream crossings several times. Whatever waterproofing was in the boots initially or added by the beeswax had disappeared by the end of this section hike. Stitching along reinforcement strip at the back of both boots was starting to fray. Lining was also torn in both boots in a few spots. Leather was very hard, perhaps due to the beeswax or perhaps due to being wetted so much. Sole appears almost new condition, which indicates that the PCT in Oregon and Washington is mostly dirt rather than abrasive rock.
Though these boots appeared in good enough condition for another long trek, I decided to junk them at this point, since my new policy is to always start a long trip with a fresh pair of boots.
Field experience with fifth pair of boots (size 10 wide)
1000 miles (1600 km) and 60 days on southern Appalachian Trail (Georgia to West Virginia) in October and November of 2010. Boots got soaked from rain several times and were worn frozen several times. Had to tear out lining on left boot after about 600 miles. Sole worn, but still plenty of tread left. Leather starting to shown signs of wear on inner side next to sole where boot flexes.
I had to put these boots on frozen solid in the morning three times, in very cold conditions (about 10°Fahrenheit, -12°Celsius). This was difficult, due to how the boots are just the right size, with little room to spare. Also, my feet immediately went numb and stayed numb for a good hour, which made me worried about frostnip.
Though these boots appeared in good enough condition for another long trek, I decided to junk them at this point, since my new policy is to always start a long trip with a fresh pair of boots.
Field experience with sixth pair of boots (size 10 wide)
800 miles (1300 km) and 42 days on Southern California section of Pacific Crest Trail in April/May of 2011, plus perhaps 200 miles (300 km) of city walking. Boot dry most of the time, other than few days when they got wet from walking in snow. Sole worn, but still plenty of tread left. Lining starting to tear on outside front (little toe area) of left boot. Some stitching broken, but not unraveling. Because there are two lines of stitching, breaks in one line of stitching don't cause a problem. Photo at the top of this page shows condition of boots at this point.
600 miles (900 km) and 30 days on Northern California section of Pacific Crest Trail in July/August of 2011. Boots wet for first 8 days of hiking, due to walking in snow and wading through streams. Dry remainder of time. More tears in stitching and lining, more wear on sole, but no indication of imminent failure.
Several months and perhaps 400 miles (650 km) of city walking.
One month and 850 miles (1360km) of bike touring in the Mojave desert area in Nov/Dec 2011 plus one month and 811 miles (1297km) of bike touring in the Nevada backcountry in Mar/Apr 2012. Boots obviously not stressed heavily while bicycling, though I did dismount and walk occasionally, especially on the Mojave tour. Boots still in good condition.
One month and 500 miles (800km) hiking the Northern California section of the Pacific Crest Trail in June/July 2012. Boots dry the whole time.
At this point, I would not trust these boots for another long distance hiking trip, but they are perfectly usable in the city or for short hikes. Instead of throwing them away, like I did with pairs four and five when they were half-used, I put this pair in the closet, for possible future use.
Boots thus lasted over 1900 miles (3040km) of hiking usage plus at least 600 miles (960km) of city walking, plus the two months of bike touring, and yet are still in usable condition, with no cracking of the sole and not too much tearing of the inner lining. This is better than with the first few pairs of these boots. Evidently, either the trails I am hiking now are less rugged, or my gait has changed to stress the boots less, since I don't think there have been any changes in the construction of the boots since the initial pair.
Boots seem to have shrunk, probably from being dried in sun after getting wet. Either that, or they were initially smaller than pair seven, because pair seven is clearly larger than pair six (both are nominally size 10 wide and otherwise identical).
3 bicycle tours (Lassen national forest, Nevada backcountry, Mojave desert) plus city walking between tours.
Began wearing boots in July 2012. Sole of left boot developed crack by Feb 2013, after only 8 months of use. Discarded boots at this point, as unfit for further use. In photo below, notice how sole is not excessively worn, just cracked. Also, little wear evident on uppers or interiors of boots. (Black strap in photo flexes sole so as to show crack better.)
Field experience with eighth pair of boots (size 10 wide)
About 1200 trail miles (1900+ km) hiking in Spain in Feb to May 2013. Boots got wet only on a few occasions. Little wear evident, other than some tearing of the lining in the toe boxes of both boots.
Unknown miles city walking and bicycle touring June 2013 through January 2014.
Upon returning from my bicycle touring in January 2014, the heels on the right boot were worn down on the outside, and the leather where the boot flexes on that boot was also showing signs of wear, so I decided to replace with a fresh pair for my next hiking trip to Spain.
Field experience with ninth pair of boots (size 10 wide)
About 1200 trail miles (1900+ km) hiking in Spain in Feb to May 2014, similar to last year. Boots got wet only on a few occasions. Little wear evident. Small amount of shrinking (normal for leather), so that boots are slightly more difficult to pull on now, but fit like a glove once I do get them on.
Unknown miles city walking and bicycle touring June 2013 through January 2015. Boots still in good condition, but soles wearing down.
After using tenth pair boots for 2016 trip to Europe, resumed wearing ninth pair in August 2016 for bicycle touring until January 2017. Leather tore on outside of right boot sometime in December, but fabric liner remained intact until returning home, when it also tore while inspecting the torn leather. Discarded boots at this point.
Field experience with tenth pair of boots (size 10 wide)
Walking around town, Reno and Europe, from winter 2015 through summer 2016. Small amount of outdoor hiking in Bulgaria in June 2015. Lassen and Mojave bicycle tours in 2015. Hiking in Spain spring 2016.
Either the right boot was manufactured slightly small, or my right foot has grown, or I allowed the boots to shrink by drying in the sun, because the right boot felt slightly tight during the Bulgaria hiking. So I switched from Vermont Darn Tough micro-crew cushion socks to nylon dress socks from Walmart. I was happy with these 100% nylon socks and will continue using them henceforth.
Leather of right boot cracked while hiking in Spain in spring 2016, but fabric liner remained intact, so dust intrusion not a problem. Discarded boots upon returning to United States at end of summer 2016.
Field experience with pair 11 (size 10 wide, nylon dress socks)
Hiking in Spain/Bulgaria in spring/summer 2017, 3 months bicycle touring in autumn 2017, several months city usage. In fair condition as of Jan 2018, but nevertheless replaced then, since plan henceforth is to replace boots annually.
Nylon dress socks continue to work well, so I will use these exclusively henceforth. Note that there are various brands of nylon dress socks: some are very flimsy, others fit poorly. Best to test sock brand under field conditions, then stock up on those socks that perform well. I use Walmart brand and run through about 3 pairs per year, based on 1500+ miles (2400+ km) hiking, plus several months city usage, plus several months bicycle touring.
More careful than in past to keep toenails filed short and smooth, so less damage to toe area of boots.
Field experience with pair 12 (size 10 wide, nylon dress socks)
Used Jan 2018 through Dec 2018 without problems and still in fair condition at end of year of usage.
Field experience with pair 13 (size 10 wide, nylon dress socks)
Used Jan 2019 through TBC while hiking in Spain and Bulgaria TBC.
One of vents on side of right boot came off after about 600km hiking. Manufacturing defect.
Conclusions based on field experiences
Cracking of sole appeared on left boot in first pair, right boot in second pair, both boots simultaneously in third pair, in left boot on seventh pair. My impression is that thickness and toughness of sole makes eventual cracking quite likely and this is not a manufacturer problem either with Belleville or Vibram. It might be possible to reduce tendency to crack by having softer or thinner sole, but I think this is a poor tradeoff, since a thick and tough sole provides padding when walking on rocky terrain. Rather, it is better to simply accept that boots may not last more than 1500 miles or so (2400 km) before cracking. What matters is that boots can be relied on to be useable for at least 2000 miles (3200 km), and that boots will never simply fall apart and leave the hiker stranded. At $100 a pair (2009 prices) replacing boots every 1500 miles is not that expensive. If only used in mild conditions (dry and trail not too rugged), boots may last over 3000 miles (4800km).
In all tests, tearing of front lining occurred first and worst in left boot. Evidently, I am curling up my left big toe or otherwise doing something to cause more wear and tear on the left than the right boot. This tearing of the lining was only a problem with the first pair of boots, and only then after about mile 1500. If boots are replaced prior to that, the tearing should be hardly noticeable. [Update 2017: added daily use of nail file on toenails to morning exercise routine, so that toenails will always be short and smooth, which should reduce tearing of boot lining and also reduce wear on socks.]
Treating boots with beeswax initially may slow down the rate at which silicone is washed out, but otherwise doesn't seem to provide any benefit and possibly reduces breathability, which is a negative. I will not be treating future boots with beeswax.
At no time did I notice any danger of bottom sole coming unglued from the midsole or midsole coming unglued from the leather upper. This is important, because unbonding is a very common failure mode for boots which use glue to attach the upper to midsole and midsole to bottom sole. (As opposed to using stitching to attach all three layers together, as in Norwegian welt of Limmer boots.)
Splitting of leather where it flexes is probably unavoidable, especially when boots are kept constantly wet and never cleaned or oiled. There is simply only so much abuse leather can take. Leather on Belleville boots is probably not the finest, but then price of these boots is fairly low. There should be no splitting of leather before 1500 miles of dry use. If boots are kept constantly wet, leather may crack before 1500 miles.
Laces that come with boots are durable, but sometimes quick-pull loops have sharp edges which will abrade laces and cause them to wear out. It will still be possible to tie boots using the lace remnants, however bringing along a length of 2mm dacron cord (which can also be used for other purposes) might be advisable.
My experiment with wearing boots without socks was as follows. During a particularly wet spell on the Appalachian Trail, when the whole trail turned into a stream in places and it rained for 3 weeks straight, it occurred to me to remove wool/nylon socks I was then wearing, which absorb a considerable amount of water, wring them out and put them in my pack, then put boots back on without socks, so as to reduce overall weight I was carrying, and especially weight on my feet. What I did not consider is that skin (like all leather, living or dead) becomes soft when wet and that friction increases when skin is wet. After several hours, I felt some tingling on my feet and so pulled the boots off to inspect. Backs of both heels and tops of several toes all had blisters or bloody spots where skin had been completely abraded away. I had to take a rest day immediately after this to allow my feet to start healing, and it took another two weeks for them to finish healing. It didn't help that my feet were continually wet during these subsequent two weeks, so that it was difficult to keep bandages from washing off (I didn't have duct tape with me at the time). I learned my lesson and will never again wear boots barefoot. I should note that I never had blisters, either in wet or dry conditions, when wearing Belleville boots with either wool/nylon or 100% nylon socks. In fact, combination of Belleville boots and either wool/nylon or 100% nylon socks almost as comfortable wet as dry (at least once the feet warm up), other than additional weight that wet boots and socks adds.
When putting boots on frozen, it is easier with 10 extra-wide than 10 wide. Also, 10 extra-wide allows extra room for neoprene socks, thick wool socks, vapor barrier socks, and other cold-weather sock systems. So if conditions will be below freezing, extra-wide is probably better than wide. Otherwise, 10 wide is more comfortable and weighs slightly less and thus is what I will be using henceforth, since I don't plan any future hiking in cold wet conditions.
Boots may shrink slightly with time, especially if left to dry in sun after getting wet. This shrinking is normally not enough to cause problems for me.