Hiking Stick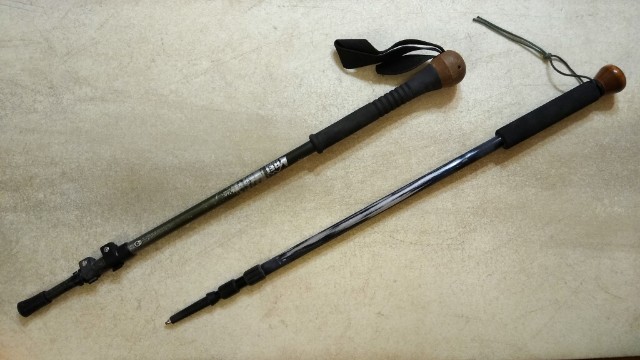 For hiking, current stick is REI Co-op Hiker Power Lock Staff. Length adjusts using external lever locks. Weight about 290 grams after modifications. Add another 10g for snow/mud basket, which I don't normally carry.
For bicycle touring, current stick is Mountainsmith Trekker FX staff, bought from REI and also available at Campmor. Length adjusts using internal cams, which are less durable than external lever locks, but external lever locks not compatible with holder I use to carry stick on bicycle (see here). Durability of stick not as important when bicycle touring as with hiking. Fragile foam knob replaced by sturdy wooden knob (Stoney Point brand, fits 1/4" monopod screws, no longer made). Garish yellow strap replaced by with inconspicuous piece of 3mm cord. Weight about 290 grams.
Both sticks are monopods, meaning knob at top can be unscrewed and replaced by camera, telescope or other device which accepts 1/4" screw mount. I never use this feature when hiking, but it is useful for bicycle touring, since removing knob reveals flat surface underneath, which can be used to support bicycle in desert, where nothing else available to lean bicycle against, when needing to clean and lube chain or perform other maintenance which requires turning crank.
For both sticks, obnoxious logos scraped away with flat side of knife, possibly revealing bare metal in places. But since sticks aluminum, corrosion not an issue.
Back when using sticks with internal cam locks for hiking, I always kept stick at appropriate height for tarp at all times, to avoid having to adjust length every evening and morning, since excessive adjustment wears out internal cam locks prematurely. Also, cam locks sometimes jam and are especially hard to get unjammed in rain. By having stick already at proper height for tarp, jamming isn't problem when camping. Jamming was only problem at end of trip, when needing to collapse stick for storage in backpack for airline flight home. But at that point I had option of just throwing stick away, since it was probably nearing end of life anyway.
Many uses for stick:
Support for front end of tarp.
Pushing poncho into place over backpack (using handle end rather than sharp tip, of course).
Protection from dogs and wild beasts, such as predatory bears, mountain lions, wild pigs, rabid animals of any sort, etc. Correct procedure is to point tip at attacking beast's face and prepare to plunge stick into beast's eyes or down its throat. Note that protection dogs, in particular, have extreme tolerance for pain and very thick skulls, so hitting head will just make them angrier without stopping them. If a vicious dog ever gets hold of a human and won't let go, a sure way to make it release is by jamming a stick or similar pointed object up the dog's anus. If nothing better is available, use your fingers.
Aid to balance when crossing streams or mud puddles while stepping on unstable rocks.
Aid to balance when descending steep slopes.
Aid to traction when climbing steep slopes.
Digging cat holes.
Testing for ice under snow.
Shaking grass for snakes.
Knocking down spider webs and briars.
In my experience, dual hiking poles help on steep ascents somewhat more than a single stick, but this single minor advantage is offset by the extra weight and the loss of dexterity due to having both hands occupied with poles rather than just one hand.
Hiking sticks are an item of gear I have had much trouble with over the years. Problems I've experienced include:
Most cheaper and older model collapsible sticks use internal plastic cam locks to hold sections together and adjust length. These cam locks always eventually either jam or slip due to dirt and wear. Jamming can be either mild or severe. If mild, then all that is necessary is particularly strong grip to unjam. In my experience, main cause of mild jamming is that either my hands or stick are wet, which prevents me from getting good grip, so all I have to do is wait until rain stops and everything dries out to unjam. Severe jamming requires pliers to unjam. Typically, stick starts by jamming mildly, then jams get worse and worse until stick finally jams severely. Ditto for slipping—failure is usually gradual, allowing time to replace stick. As of 2010, I have used five different models of sticks with camlocks. Three failed by jamming, two failed by slipping. All lasted at least 1000 miles of use before cams failed.
More recent hiking sticks use external lever locks, which are much more durable than internal cams. I have yet to notice any problems with lever lock on my current hiking stick.
Non-collapsible sticks expensive to transport on airplanes.
Lightweight sticks can bend, especially when tip gets caught in crack between rocks, due to leverage of stick. Stick strong enough to resist such bending would be very heavyweight.
Carbide tips are fairly abrasion-resistant, but steel tip on Sherlock pole (by Cascade Designs) wears quite rapidly and soon becomes dull.
Carbide tips tends to collapse into plastic containing structure. This has happened three times to me. Pole remains usable, but doesn't grip on rock as well as before, since tip is now plastic rather than carbide. Supposedly, possible to pull entire plastic tip assembly off lower metal pole section, then install new plastic tip assembly. REI and other outdoor stores sell Leki tip assemblies for just this purpose. In my experience, getting tip removed from well-used pole is very difficult. I've resigned myself to just throwing poles away when tip collapses, since I figure locking mechanism is probably also approaching end of life by this time.
Tip on Sherlock pole was screwed in and tended to become unscrewed over time. Eventually, screw becomes so loose that it comes unscrewed every 10 minutes or so.
Sherlock pole used spring-loaded bolt to hold collapsible pole sections in place. Bolt sheared off after about 700 miles. I was able to repair pole at next town stop, using bolt from hardware store inserted into holes of pole sections, then taping bolt in place with duct tape.
Luxurylite carbon fiber collapsible stick holds pole sections together by friction. Initially, friction was insufficient, especially when wet, so that pole came undone easily. First, it came undone while I was crossing deep and very cold stream with muddy bottom. Bottom section stuck in mud and top section came free. So I had to proceed to other side of stream, put down my gear, then go back and retrieve bottom section from bottom of stream. A few days later, bottom section came undone again when I was probing snow bank to see how deep it was. I had to dig down into snow to retrieve bottom section. Eventually, aluminum of connectors corroded somewhat, which added friction between sections so that they no longer came undone. Later, friction increased to point that aluminum sleeve glued to inside of carbon fiber pole section slipped, due to pressure of forcing aluminum tip of another section into this sleeve. Luckily, it only slipped slightly, so that pole was still functional and I was thus able to complete hiking trip without replacing pole. But I came to conclusion that using friction to hold pole sections together is bad idea.
Another problem with Luxurylite stick was that pole tips were fairly sharp, even after sanding them down, and tore fabric of my backpack when pole sections were stored inside for transport or rock-climbing. Other types of collapsible poles don't have this problem, because handle end is smooth and carbide tip can be covered with rubber tip protector which comes with pole (and which I never use while hiking). Maybe put some folded paper and duct-tape over tips of Luxurylite stick sections, but this would be nuisance for trip involving frequent rock-climbing.
Wooden handle on Leki Sport stick tended to comes unglued from metal shaft after about 500 trail miles. Apparently, manufacturer was using either insufficient glue or a cheap glue. Handle can be glued back on in field using a 1/4oz tube of Seamgrip, which I used to carry specifically for this purpose, back when I used that stick. I glued handle back on in field four times.
As noted, I use stick as front support pole for tarp. Because hiking sticks can break, I designed tarp to be useable with any stick for front support pole, including simple wooden branch from forest. By comparison, some commercial manufacturers of tarp-tents require adjustable hiking pole with carbide-tip to set up properly.