Sewing - Backpack

Backpack is short, so it can be worn under poncho. Bear canister, if required, carried upright in pack. Rolled up ground pad inside pack provides frame.
If you look closely at the rear of the pack, about 1/3 the way down from the top, you might be able to see a short line of black stitches. This is where the pack tore on some barbed wire while hiking in Britain. (Neckpurse also tore on barbed wire in Britain, as described here.) The fabric for the upper part of the pack is very strong, but not particularly abrasion-resistant or resistant to being cut by barbed wire. The bottom fabric is abrasion-resistant, but also weighs considerably more.

Knots rather than hems in webbing to secure side-releases in place. This allows side-releases to be easily replaced in the field. Top closure is a simple overhand knot with quick-release. For better security when shipping pack, use multiple overhand knots without quick-release.

Upper attachments use the paired strap attachment method, as discussed on the sewing tips page. Diagonal lines of stitching are for the upper attachment reinforcement panel. Sewing looks a bit rough, but it gets the job done. Multiple lines of stitching through multiple layers of fabric. All stitches treated with fray-check to stop unraveling if a thread is cut.
Further discussion of backpack here.
Features:
Closed cell foam pad must be used to provide stiffness and padding. Closed cell foam pad can serve dual purpose as sleep pad at night and yoga exercise mat in morning. Closed cell foam pad must be carried even if inflatable pad (such as a Thermarest) is used for the sleep pad, since the pack will not carry properly without a closed cell foam pad for the frame. Pack is sized for foam pad 20" x 71" x .5" (such as XPE foam from Seattle Fabrics). If using a thinner or shorter pad, then pack circumference may need to be decreased.
Pack is designed for a bulky synthetic quilt. However, down will work, provided it is bulky enough to keep the bottom half of the pack tightly stuffed. If bottom half is not tightly stuffed, contents of pack will sag and pack will carry poorly.
User assumption: (a) torso length of 18.5" (lowermost cervical vertebra to top of iliac crest); (b) neck circumference of 15.5" (measured at the middle of the neck); (c) waist of 33". If actual neck circumference significantly larger than assumption, then shoulder straps may cut into neck. If actual waist larger than assumption, hip belt will be too small.
Pack should be loaded as follows. Roll up closed cell foam pad, insert into pack, allow to unroll, with double thickness against back panel. Insert main stuff sack and quilt inside unrolled pad, and push quilt down so it fills bottom of pack. Then make room for dual water bottles or water bladder in bottom of pack, against back panel. If using dual water bottles, place bugbivy or tarp between the bottles, to prevent the bottles from rubbing against lumbar/sacrum bones. If using a water bladder, place bugbivy and tarp on either sides of the bladder. If using both bottles and bladder, place the bladder between the bottles and place the bugbivy and tarp elsewhere. Finally, insert the tarp pole down the side of the pack. Preceding items should tightly fill bottom of pack. Remaining items can be loosely arranged at top of pack, or top of pack can be left partially or fully empty. Remaining items can be odd-shaped and hard-sided (such as a bear canister), since there will be a double-width of closed cell foam pad between these items and the body. In general, keep heavy items (water, food, bear canister) close to body and lightweight items (quilt and clothes) away from body.
Water bottles placed into the bottom of the pack should be strong (Lexan, Nalgene HDPE, metal). Do not use generic plastic water bottles in the bottom of the pack, since they will crush easily when empty. Generic plastic water bottles may be okay for the top of the pack.
Top of pack closed by twisting neck then wrapping with closure strap and finally tying a quick-release knot with closure strap. For better security, such as when checking pack as baggage during travel, tie a secure knot rather than a quick-release knot.
Pack can be washed in either a front-loading or top-loading washing machine. For top-loaders especially, be sure to secure straps so they don't get twisted around the agitator nor tangled with one another.
Improvised sternum strap, formed by running free ends of 3/4" shoulder straps through a 3/4" dual-pull side-release (available at questoutfitters.com), keeps shoulder straps away from underarms to prevent their being fouled by hard-to-remove underarm smell. If underarm smell nevertheless contaminates pack strap, it might be possible to remove it with a combination of (a) rinsing in a stream whenever possible; (b) washing in hotel sink; (c) machine laundering in hot water with bleach; (d) treating with Mirazyme.
Bottom panel suffers abrasion every time pack is set on ground, and hence abrasion-resistant fabric should be used there. If planning to subject entire pack to abusive conditions, consider using an abrasion resistant fabric for the upper pack body as well.
Pack fabric and seams should be able to handle very heavy loads. My experience is that the pack becomes comfortable, using shoulder straps only, under 14 kilos (30 lbs). 18 kilos is my maximum load: 6 kilos of equipment (including pack itself) plus 12 kilos of water and food.
Side-releases have been known to break in the field (had it happen to me for the 3/4" sternum strap side-release, seen it happen to others for 1.5" hip belt side-release), so it would be wise to carry spares. Materials list below does not account for spares.
Loose heavyweight items can be loaded to max height of about 22", for base capacity of about 55 liters (3400 cuin), though about 11 liters of this will be used for the ground pad, leaving 44 liters for everything else. When packing rigid items (such as an expedition size bear canister) max height is about 26", for extended capacity of about 65 liters (4000 cuin), or about 54 liters exclusive of the ground pad. However, my poncho cannot be worn over the pack properly when the pack is loaded this high. It is also possible to fill the pack with lightweight items to more than 26", but this will make it impossible to securely close the top securely with the tie-strap. Instead, the top can can be loosely closed with drawcord and cordlock.
Final weight, using fabrics specified below, is about 375 grams.
Materials:
1.5 yards sturdy nylon fabric, such as 210D HDPE reinforced gridstop, 4 oz/sqyd (from RipstopByTheRoll.com).
.5 yard abrasion resistant fabric, such as 430 denier packcloth, 7 oz/sqyd (from Seattle Fabrics).
4" by 30" of 3/8" closed cell foam (such as Y-20 from Seattle Fabrics).
12 feet of 3/4" tight-weave nylon webbing.
6 feet of 1.5" tight-weave nylon webbing.
2 each of 3/4" ladder locks.
1 1.5" dual-pull side-release.
1 3/4" dual-pull side-release (from questoutfitters.com).
5 feet of thin cord and appropriate sized cord-lock.
100% polyester thread, 80/12 universal needles.
Pattern: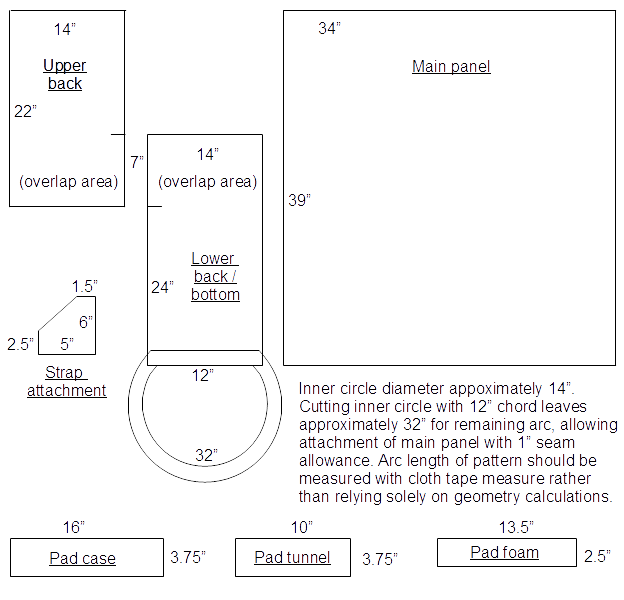 Sew body:
From primary fabric, cut 1 each of back panel, main panel, upper attachment panel. Cut 4 lower attachment panel pieces, with opposing orientations for 2 of these 4 pieces.
From abrasion-resistant fabric, cut 1 bottom panel.
Attach upper attachment panel to wrong side of back panel, with 1/2" folded under at each side to stop fraying. Upper attachment panel acts as a reinforcement for the shoulder straps and closure strap.
Sew together lower attachment panels with 1/2" seam allowance, leaving side which attaches to pack unsewed. Trim seam allowances to 1/4", zigzag, turn inside out.
Mark 1" from all sides of bottom panel, to guide sewing in next two steps.
Attach back and main panels to bottom panel, following line draw previously. It is possible the back or main panel will be slightly too short or too long. If so, center the panel.
Trim seam allowance on main panel, for seam with back panel, so that it is 1/2" less than seam allowance on back panel. Making the seam allowance 1" initially, then trimming, allows for errors in measuring, cutting and sewing. Sew panels together. Rip seam near bottom, insert lower attachment panels, resew. Fold and fell seam, towards the main panel.
Trim seam allowances on back and main panels, for seam with bottom panel, to 1/2". Making the seam allowance 1" initially, then trimming, makes it easier to align panels with bottom panel when sewing these together. Fold and fell this seam, towards the main and back panels.
Make 1.25" tunnel at top of body. Make 1/2" button-hole on inside of tunnel, probably at mid-point of main panel. Feed cord through button-hole and tunnel, then install cordlock and secure in place with knot at end of cord.
Sew shoulder pads:
In sewing bartack through foam, it may be difficult to go in reverse. If so, just go forward several times.
Cut 4 pad case pieces from primary fabric. Cut 2 pad foam pieces.
Sew together pad cases with 3/8" seam allowance, except for top end. Double-stitch. Turn inside out. Stuff pad case with pad foam, sew end shut.
Cut/sear 2 pieces 6" long of 3/4" webbing. Insert webbing through 3/4" ladder lock, then attach to pad with parallel bartacks. Bottom edge of ladder lock should 1" from bottom end of pad. Tail end of 3/4" webbing should extend 3" from top of ladder lock.
Cut/sear 2 pieces 12.5" long and 2 pieces 3" long of 1.5" webbing. Stitch long and short pieces together with double bartack, so there are dual free ends 2" long at one end of long strip. Sew combined long strip to top end of pad with bartack, such that 1.5" webbing extends 2.5" past top of pad. Sew long strip to bottom of pad with another bartack. This bartack should penetrate both the 1.5" webbing, the 3/4" that extends beyond the ladder lock, and the pad.
Sew straps to body:
Attach shoulder straps, centered within upper attachment panel. Mid-point of strap attachment should be 19.5" from seam between bottom and back panels. Straps should be 4" apart.
Cut/sear 2 pieces 36" long of 3/4" webbing. Attach to lower attachment panel, perpendicular to diagonal side, using about 2" for reinforced bartack. Feed free ends through ladder locks on shoulder straps, then through 3/4" dual-pull side-releases to form sternum strap. Tie knots in ends of straps to secure. Knots should be positioned right next to side-releases, since webbing tends to slip in side-releases.
Cut/sear 2 pieces 18" long of 1.5" webbing. Attach to lower attachment panel using reinforced bartack (about 2" of 1.5" webbing should overlap lower attachment panel). Feed straps through 1.5" dual-pull side-release. Tie knots in ends of straps to secure.
Cut/sear 1 piece 46" long of 3/4" webbing. Attach to upper attachment panel using about 2" for reinforced bartack. Form knot in free end. This is the closure cord.
Finish up:
Apply fray-check to all seams and bartacks to prevent unraveling.