Sewing - Bike Front Panniers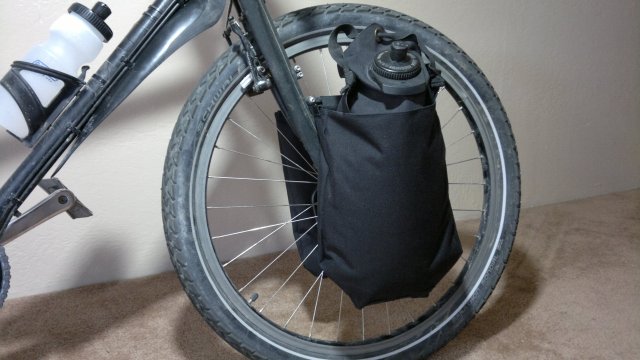 For carrying 6L Dromedary water bladder, filled with about 5.5L of water, against Thorn MkV Low Loader front rack. 100 grams per pannier, or 200 grams/pair. Compare to Ortlieb front roller plus panniers, which weigh about 600 grams each, or 1200 grams/pair, even after removing unnecessary straps. Small size allows front panniers to be removed and stored in rear panniers when not needed.
Panniers designed to accomodate stick holder between pannier and rack, as shown in above photo. Ortlieb front roller plus panniers may or may not accomodate stick holder. Bottom corners tapered, since square corners would fold back when pannier is unloaded and get caught in spokes. Bottom formed of webbing straps, allowing pebbles and rainwater to escape through gaps between straps (pebbles thrown up by front tire bounce off down tube then into panniers).
Materials (for two panniers)
.5 yards of 1000d nylon cordura, 60" wide.
20" of 2" wide hook-and-loop.
20" of 1" tight-weave nylon webbing.
100% polyester thread, 80/14 universal needles, fray-check.
Pattern



Pannier on right is before sewing up sides.
Sewing instructions
Instructions below are per pannier, so all steps must be duplicated to produce two panniers.
Use double-stitching everywhere, including hems and zigzags, since there will be abrasion against all threads.
Cut rack and outer panels of 1000d cordura. In finished pannier, rack panel lies against front rack. 1/4" hem at top and bottom of both panels.
Cut 7.25" x 4.5" of 1000d cordura. 1/4" semi-hems (2 layers thick, rather than 3 as with true hem) on all sides to form upper strap. Cut 6.5" x 2" of hook-and-loop. Sew hook to strap. Sew loop to inside of rack panel, just below hem. Attach strap to outside of rack panel, running stitching through hem for reinforcement. Putting hook-and-loop inside pannier is slightly more secure than outside, due to how loaded pannier hangs, and also makes it easier to attach/detach pannier from rack. Use bar-tack at sides of strap, where stitching will subjected to heavy stress.
Cut 3.25" x 4" of 1000d cordura. 1/4" semi-hems on all sides to form bottom strap. Cut 2.5" x 2" of hook-and-loop. Sew hook to strap. Attach partially finished rack panel to rack and mark location for lower strap, then remove from rack. Sew loop and lower strap to outside of rack panel, as marked. Should be about 3/8" of excess strap length, to accomodate thickness of lower rack bar. Note that lower strap will be offset to one side, to match shape of Thorn front racks, thus left and right panniers will differ slightly.
Cut 2 pieces 3" x 4" of 1000d cordura for use as reinforcement patches and attach to either side of rack panel where front-wheel quick-release presses against pannier. Reinforcement patches can be replaced as they are abraded.
Cut 3 strips 3" long each of 1" wide nylon webbing. Stitch together rack and outer panels with these connector straps, using bartack with reinforcement grid. Distance between panels and distance between straps should both be about .75".
Stitch together sides of rack and outer panels with 3/8" seam allowance. Zigzag seam allowances.
Apply fray-check to all stitching. Remember, there will be abrasion against all threads.