Sewing - Drysack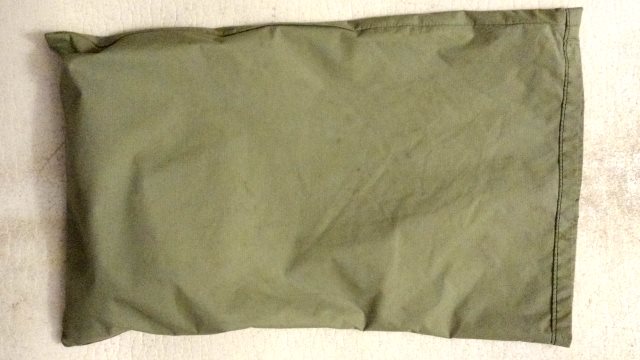 Features:
Dual layers of waterproof-breathable fabric, with wrong sides facing, protects waterproof-breathable membrane from abrasion.
Dual layers have no common seams other than at the opening, so likelihood of water penetrating is negligible, unless sack is cut somehow.
Because fabric is waterproof-breathable, water which penetrates first layer and get trapped between layers can easily evaporate.
Closure is by folding top of sack. This is sufficient for rain which leaks into neckpurse or backpack, though not for submersion.
Final weight depends on fabric. I used 3 oz/sqyd 2-layer Goretex Paclite with polyester ripstop face fabric from therainshed.com, which gave final weight of 70 grams.
Materials:
.5 yard lightweight 2-layer waterproof-breathable fabric.
100% polyester thread, 80/12 universal needles.
Seamgrip by McNett or similar seam sealer.
Instructions:
Cut two pieces of fabric 13" x 40".
Fold fabric so that it is 13" x 20" and sew together on long sides with 1/4" seam. Repeat for other piece of fabric.
Seal seams. Allow to dry. Dust with talc or corn starch so sealer will not stick to itself when sacks inserted inside one another.
Turn one sack inside out and insert inside other sack. Sew together at top. Fold over twice to make 3/8" hem.