Sewing - Insulated Hat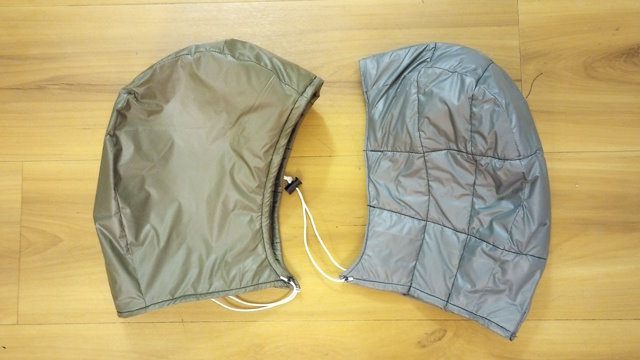 Based on the Green Pepper cold-weather hood pattern, but heavily modified. About .25" single-layer loft and weighs about 25 grams. I originally tried making this hat of Polarguard, but Polarguard is difficult to work with and the resulting hat was a mess, which is why I switched to Primaloft.
The instructions below specify a walking foot attachment, which is necessary in my experience when trying to quilt insulation sandwiched between nylon. With a normal foot, only the bottom layer of fabric is pulled, and the result is puckering. With a walking foot, both top and bottom are pulled. My walking foot attachment (Kenmore part 20-6701) cost about $20 and will work on most standard sewing machines with a vertical bobbin. An expert sewer might be able to get by without a walking foot. Another possibility is to quilt the insulation to one side of the shell before sewing the two shells together—I have not experimented with this method myself.
TBC instead of sewing together the shell pieces, then attaching the insulation to the combined shell, sew together the shell and insulation for each piece separately, then sew together these 3 pieces. This reduces problems with the insulation bunching due to the curves of the combined shell. All pieces will have to be made slightly wider to accomodate this new new design, and the middle piece should be made slightly longer and then left unfinished until it is certain how long it needs to be.
!!! The following pattern is under construction !!!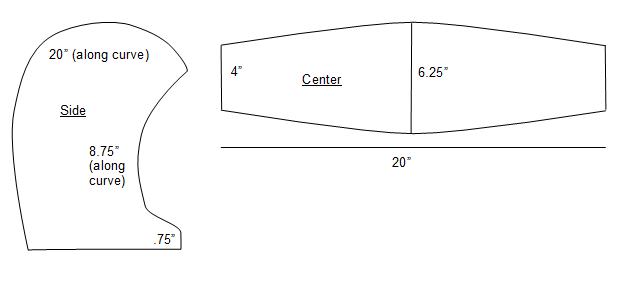 Materials:
.5 yards lightweight breathable shell fabric, such as 1 oz/sqyd Momentum ripstop nylon with DWR.
.5 yards insulation, such as 2.5oz/sqyd Primaloft sport.
18" of 1/4" nylon bootlace.
Small cord-lock.
Polyester thread and 80/12 needle.
Walking foot attachment for sewing machine.
Instructions:
For shell fabric, cut 4 sides and 2 center strips. For insulation, cut 2 sides and 1 center strip. When cutting sides, if there is a right and wrong side to the fabric (such as with Momentum ripstop) fold before cutting, so that alternate pieces have opposing orientation.
Sew shell side pieces to shell center strips using 3/8" seam. Zigzag seam allowances. The center strip will normally extend about 1/2" to 3/4" past the end of the side pieces. This is intentional and the excess should NOT be trimmed, but rather use zigzag on excess, since this is where the hat will be turned inside out later. Excess length of the center strips will then make it easier to stitch this opening shut.
Sew together shell pieces with 3/8" seam. Right sides should face on another. Leave opening where neck ends of center strips meet. Zigzag seam allowances.
Sew insulation side pieces to insulation center strip by hand, using loose overhand stitch. Before doing this, trim about 3/8" from either side of the center strip, since the insulation pieces will abut one another and hence the seam allowance is not needed. Technically, the seam allowance on the side pieces should also be trimmed, but my experience is that even with a loose overhand stitch, the insulation tends to compress slightly, so it is better to leave the side piece seam allowances so as to compensate for this compression.
Sew insulation to shell. This can be done by machine for Primaloft. For Polarguard/climashield, better to do this by hand.
Turn hat inside out.
Top-stitch 1/4" from all sides. Make sure the opening at the back neck is stitched closed during this step.
Install walking foot attachment to sewing machine. Top-stitch at intervals of 3", both vertically and horizontally, to quilt insulation in place.
Sew ends of nylon bootlace to chin tabs with bartack. Thread loop of bootlace through cordlock. Adjust size and tie overhand knot. Trim bootlace and sear endings. Apply fray-check to bartack.