Sewing - Mittens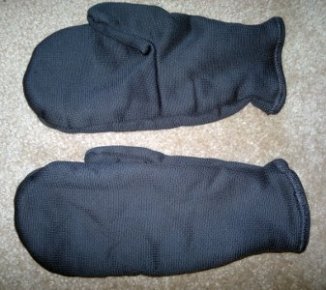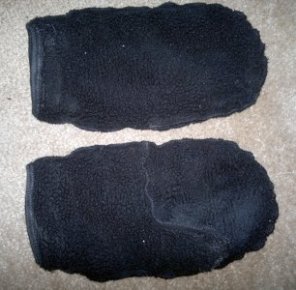 Finished mittens and inside of mittens, showing 1/4" thick pile.
Polyester pile is better than fleece, since it gives more loft for the weight and the woven side is somewhat more durable and less prone to picking up crud than fleece. Pattern shown is for men's large. 1/4" thick pile weighs about 10-12 oz/sqyd, giving final weight of pair of mittens of about 75 grams.
Materials:
1/2 yard of 56" wide polyester pile or fleece.
100% polyester thread, 80/12 universal needle.

Instructions:
Cut 2 copies of all pattern pieces, making sure direction of fabric stretch is aligned as shown. If top and bottom of fabric are different, flip pattern before cutting second copy, so one copy is right hand mitten and other is left hand.
Sew together palm pieces along palm and thumb seams. Zigzag seam to stop fraying.
Sew together back and palm pieces. Zigzag seam to stop fraying.
3/8" hem at opening. Zigzag hem to stop fraying.