Sewing - Neckpurse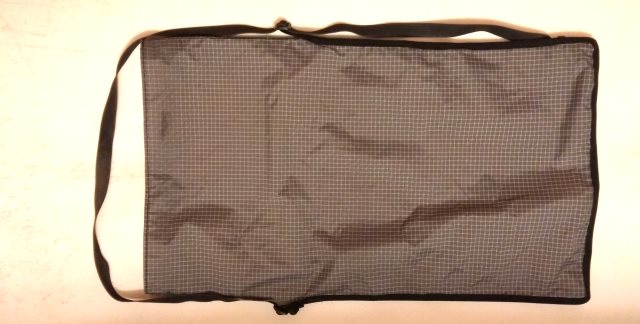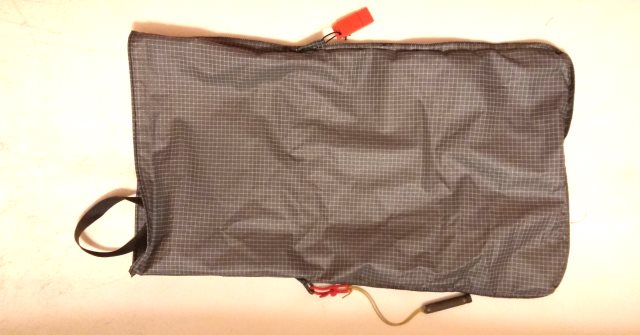 Features:
Can be carried in front of body as neck purse (if carrying backpack), across body as shoulder purse (no backpack), or behind body as improvised fanny pack (rock climbing).
For storing smartphone, wallet and other valuables, maps, guidebooks, other small items that need to be kept close at hand at all times.
Fabric only lightly coated with polyurethane and seams not sealed, thus purse not waterproof. Also, full waterproofing not desirable, since water can enter through top opening when wet items inserted during heavy rain, and full waterproofing would then trap water inside. For same reason, bottom seam advisable, since it allows water which enters at top to leak out bottom. During rain, maps and other papers that must be accessed while hiking kept in Aloksaks. Other items stored inside home-made drysack.
Final weight, using fabrics specified below, about 125 grams.
Materials:
.5 yards sturdy nylon fabric, such as 210D HDPE reinforced gridstop, 4 oz/sqyd (from RipstopByTheRoll.com).
10 feet of 3/4" tight-weave nylon webbing.
2 each of 3/4" tri-glides.
100% polyester thread, 80/14 universal needles.
Fray check.
Instructions:
Cut two pieces of fabric 16" x 26".
Sew together on 3 sides with 1/2" seam.
Zigzag seam allowances to stop fraying.
1/4" hem on open side.
Cut strip of fabric 1" by 6". Doubly fold and top stitch, to form strip 1/4" x 6". Cut 2 x 3" strips. Stitch to inside seam using bartack, starting about 10" from open edge.
Cut 55" of 3/4" webbing. Fold and top stitch around edges of purse, starting 9" from open edge. Bartack at starting points. Trim excess so 4" beyond bartack on both sides, sear ends. Attach tri-glides by folding excess 4" into loop and bartacking.
Cut/sear 55" of 3/4" webbing, insert through tri-glides, tie knots in free ends to keep in place.
Fray check all seams and bartacks.
Attach emergency whistle and flashlight to inner loops.