Sewing - Pants
Features:
Roomy cut at hips, to allow full squat and similar athletic movements without binding.
Wide legs can be rolled up over calves in warm weather for airflow.
Length allows wearing barefoot without legs dragging on ground.
No back pockets to add weight, slow drying time, collect dirt when sitting on ground.
No front zipper to add weight, slow drying time, possibly break.
Elastic waistband plus sewn-in webbing belt, improves comfort and reduces sewing complexity and overall weight compared with belt loops and removable belt.
Minimal waist and side seam bulk, so comfortable to sleep in, and also comfortable under backpack waist belt.
Loops on sides, to allow attaching cords for wallets and other objects carried in front pocket and/or hanging inside pants on side of leg.
Double stitched crotch and pocket seams, bartacked pockets for durability.
For 4-ply taslan, quoted at 4.5 oz/sqyd, long pants typically weigh about 240 grams, short pants about 150 grams.
About 4 hours cutting/sewing.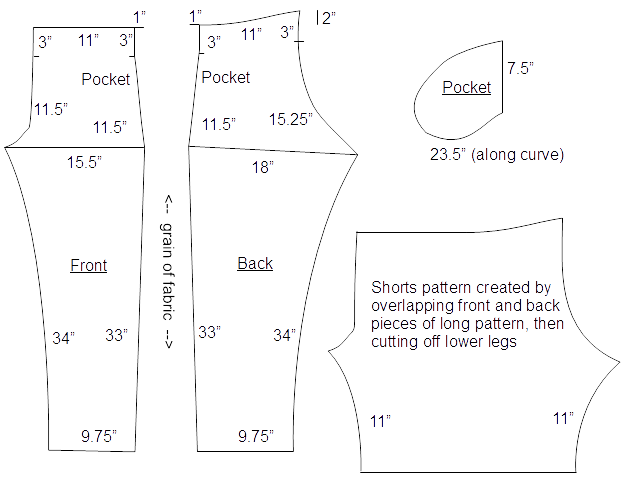 Materials:
55" wide or greater 4 oz/sqyd taslan (or supplex or 160 or 320-denier uncoated cordura), 2 yards for long pants, 1 yard for shorts. Order no more than 8 yards at a time, since difficult to layout large rolls for home cutting. 8 yards enough for 5 long pants.
30" of 1" wide non-roll elastic.
50" of 3/4" nylon webbing and 3/4" trovato ladder lock.
90/14 universal needles.
100% polyester thread, such as from rayjardine.com.
Fraycheck.
Instructions for long pants:
Cut 2 x front, 2 x back, 4 x pocket pieces.
Double stitch pocket to each leg, 5/8" seam allowance, making sure to use mirror configuration for right and left legs. Zigzag top edge, sideseam allowance from top edge to about 1" below pocket and bottom edge.
Single stitch front and back pieces together at sideseams, 5/8" seam allowance, pockets turned out and unsewn other than 1/2" at top and bottom of pocket. Zigzag sideseam allowances together, from bottom edge to about 1" below pocket.
Double stitch pockets together, 1/2" seam allowance. Zigzag pocket seam allowance.
Fell sideseam allowance flat, single stitched, towards front, leaving gap from just above to 1" below pockets (reduces puckering, secures zigzag, reinforces seam, eases passage of elastic and webbing through tunnel).
Bartack reinforcement at top and bottom of pockets, passing through sideseam allowance.
Single stitch inseams together, 5/8" seam allowance. Zigzag inseam allowance.
Fell inseam allowance flat, single stitched, towards front for one leg, towards rear for other (reduces puckering, secures zigzag, reinforces seam, eases sewing of crotch seam). On most sewing machines, easier to fell starting at bottom edge and working towards top, because more width at top.
Turn one leg inside out, insert inside the other leg and double stitch crotch seam, 1/2" seam allowance. Double zigzag seam allowance, which will not be felled and thus is subject to wear. Add second double line of stitching about 1/8" inboard of primary rear seam, which is subject to heavy stress.
Fold over waistline by 1/4" and single stitch. Buttonholes with 7/8" opening, 2" from front crotch seam on both sides, 1 1/2" from top. Apply fraycheck to inside of buttonhole stitches before slitting open. Fold waistline over 1 3/8" and stitch (leaving opening near back seam), so as to form waist tunnel.
Cut and doubly-fold 15" x 1" wide strip of fabric and stitch lengthwise, forming strip 1/4" wide. Cut 2 strips 2 1/2" long and 2 strips 3 1/4" long. Attach shorter strips to outside bottom of tunnel, crossing sideseam, using 3/8" bartack. Similarly attach longer strips to inside. Because outside loops shorter than inside loops, bartacks do not coincide, making sewing easier.
Insert 30" of 1" wide non-roll elastic into waist tunnel and stitch with 1" overlap. Close opening in tunnel.
Insert 44" of 3/4" nylon webbing into tunnel via buttonholes, so that it lies to outside of elastic. Attach webbing to ladder lock, to form belt. Hem free end so belt permanently secured to pants.
3/8" hem on bottoms, double stitched since stitching subject to abrasion. Lightly stretched finished inseam should be about 30 3/4" (32" originally less 1/2" crotch seam, 3/4" for hem) plus or minus 1/4" due to cutting and sewing errors. After washing, inseams will shrink to about 29 1/2" unstretched, thus bottom of pants about 2" above ground when barefoot. (Nylon fibers do not shrink like cotton fibers, but taslan does tend to wrinkle and pucker in the seams if drip dried and not ironed, which is why unstretched length shrinks after washing.)
(optional) Cut two pieces 3" x 5" of cordura, fold under 1/4" on all sides and hem. Attach with multiple double lines of stitching to bottom inseam of each leg, with 1/2" folded to inside over bottom hem, as reinforcement against abrasion by boots. Apply fraycheck to inside of pants for all lines of stitching for this reinforcement. (Possible to avoid abrasion by tucking pants legs into socks in cold weather and rolling legs up in warm weather, which is what I do now and why I no longer install these reinforcement patches.)
Instructions for shorts similar, except skip steps involving pockets and side seams, skip stitching inseam flat to reduce puckering, skip side loops, skip extra crotch seam reinforcement, optionally skip belt to save weight and for more comfort wearing shorts under long pants in cold weather. I no longer carry shorts, but did carry them previously while hiking the Pacific Crest and Appalachian Trails, in lieu of spare long pants.