Sewing - Pants
Long pants pattern is athletic cut (size medium waist but size large hips and legs) which is almost impossible to find in ready-to-wear pants nowadays. Front pockets but no back pockets. No front zipper. Elastic waistband plus sewn-in webbing belt. Loops on sides near waistband, to allow attaching cord for coinpurse and hidden wallet that hangs down pants leg. Reinforcement at inside bottom of legs, where abrasion tends to occur when hiking. All seams double stitched. For 4-ply taslan, quoted at 4.5 oz/sqyd, long pants typically weigh about 250 grams. Can also use lighter weight taslan, supplex or solarweave, or 160 or 320-denier uncoated cordura. About 6 hours for cutting and all sewing, including time spent fine-tuning sizing (as described in instructions below).
Short pants pattern is designed for comfort while sleeping: no pockets, no side seams, elastic waistband only (plus drawcord to secure pants around waist when used as swim trunks). For 4-ply taslan, shorts weigh about 150 gams.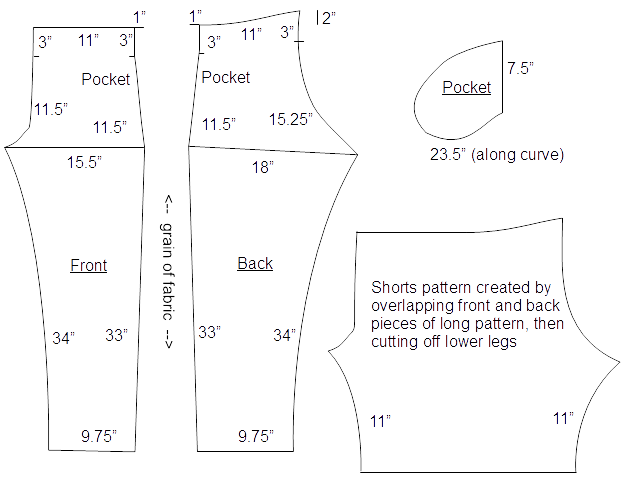 Materials:
55" wide or greater supplex or taslan, 2 yards for long pants, 1 yard for shorts. Difficult to layout large rolls for home cutting, whereas 8 yards can be easily folded twice, allowing for cutting 4 pieces at a time.
1" x 3" piece of contrasting color supplex nylon, for loop at rear waist.
30" of 1" wide non-roll elastic.
(long pants only) 40" of 3/4" nylon webbing and 3/4" ladder lock.
Scraps of heavy cordura, same color as pants fabric.
80/12 universal needle.
100% polyester thread.
Fray check.
Instructions for long pants:
Double stitch leg and pocket pieces together, making sure to use mirror configuration for two legs.
Single zigzag top, sideseam side and bottom edges of fabric.
Double stitch front and back pieces together at sideseams, with pockets turned out, leaving gap for pocket opening.
Double stitch pockets, and double zigzag edges of pocket seam allowances.
Bartack reinforcement at top and bottom of pockets. Apply fray check to bartack.
Single stitch sideseam seam allowances flat (reduces puckering).
Sew together inseams, starting from bottom, then turn one leg inside out, insert inside the other leg and partly sew up crotch seam, leaving junction with inseams open. Check sizing. If too roomy (pattern is designed to be too large by about 1" extra seam allowance for both inseam and crotch seams, plus non-professional cutting on carpeted floor may add additional excess), restitch inseams and crotch seams with larger seam allowance and trim excess. Repeat until perfect fit. Reinforce with double line of stitching to inseams and crotch seams. Then add another double line of stitches 1/16" inside crotch seam, in case crotch seam breaks (crotch seam subject to heavy abrasion, especially rear crotch seam).
Single zigzag inseam seam allowance, then single stitch flat (reduces puckering).
Double zigzag crotch seam allowance, which is subject to heavy abrasion and which will not be stitched flat for protection.
Fold over waistline by .25" and single stitch. Buttonholes with 7/8" opening, 2" from front crotch seam on both sides, 1.5" from top. Apply fray-check to inside of buttonhole stitches before slitting open. Fold waistline over 1.25" and double stitch (leaving opening near back seam), so as to form tunnel slightly wider than 1".
Doubly-fold 1" wide strips of fabric and stitch lengthwise, forming strips 1/4" wide. Do the same for contrasting color supplex. Then cut 3" pieces and attach to pants using bartacks (with fray check for bartack) as follows:

Same-colored strip to bottom of tunnel at inside and outside side-seams, on both sides. Inside loop is for hanging wallet inside pants, outside loop is for cord of coin purse in pocket. Loops on both sides, even though I normally carry wallet on left and coin purse on right, to allow variation and as spares.
Contrasting-colored strip to bottom of tunnel at inside back seam, to allow distinguishing back from front and for hanging pants from hook.

Insert 30" of 1" wide non-roll elastic into waist tunnel and stitch with 1" overlap. (Assumes non-roll elastic from Outdoor Wilderness Fabrics. Other elastics may require slightly different lengths.) Single stitch opening in tunnel closed.
Insert 40" of 3/4" nylon webbing into tunnel via buttonholes, so that it lies to outside of elastic. Attach webbing to ladder lock, to form belt. Trim belt as needed. Hem free end of belt so belt is permanently secured to pants.
Double stitch 1/4" hem on bottom of legs (or more than 1/4" if legs too long).
Cut two pieces 3" x 5" of cordura, fold under 1/4" on all sides and hem. Attach with multiple double lines of stitching to bottom inseam of each leg, with 1/2" folded over bottom hem, as reinforcement against abrasion by boots. Apply fray check to inside of pants for all lines of stitching for this reinforcement.
Instructions for shorts similar to long pants, except:
No pockets.
No need to sew leg pieces together, since the pattern for shorts uses just a single leg piece.
No webbing belt. Instead, make button-hole in front of tunnel, then insert 1/4" flat drawcord (shoelace material). Tie drawcord with bow-knot to prevent pants from falling off when used as swim trunks.