Sewing - Quilt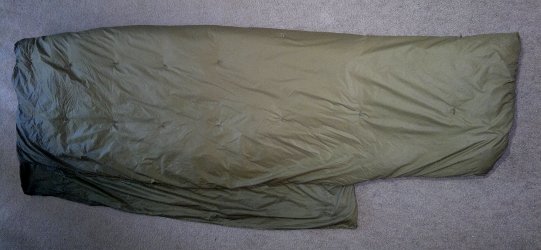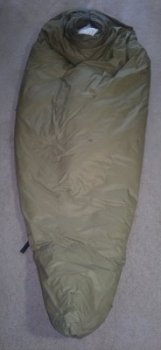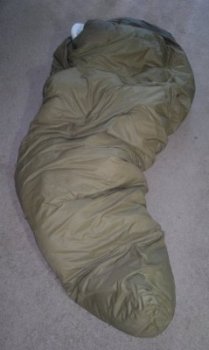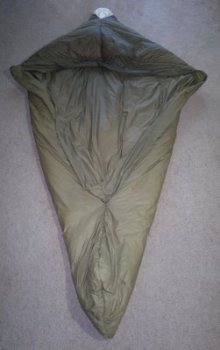 White pillow shows location of breathing hole. Middle photo simulates side-sleeping position. Right photo shows underside.
---
Further discussion here.
Incorporates head pocket with breathing hole, which fully insulates head when lying on back or side. This hood design will not work for stomach sleepers, but that is not a problem for me since I never sleep on my stomach.
I have made numerous quilts over the years. Reason for making new quilts was not because old quilts had lost loft, but rather because I was fine-tuning design. My experience is that continuous fiber polyester insulation is quite durable under field conditions. It loses some loft very quickly (like within first two weeks) but thereafter does not lose additional loft or insulating power even if abused by repeated compression into stuff sack or by machine laundering (extra-large front-loading commercial washer). Also, it does not suffer readily from mildew. (Any quilt will get damp from condensation under certain conditions. With continuous fiber polyester, quilt can be packed up each morning and then unpacked each night, such that quilt is kept damp for 12 hours or so a day for weeks on end, without ever having a problem with mildew. If down is treated this way, it will tend to mildew after a few days. To prevent down sleep gear from mildewing, it should be sun dried; however, this is not always possible.) Thus I could have continued to use my original quilt indefinitely, had the design been perfect then.
Ray Jardine recommends putting loops of yarn at 10 inch intervals to stabilize insulation, but I did not find this necessary with continuous fiber insulation. Stitching at sides of quilt provides plenty of stabilization by itself. (Some sort of additional stabilization WOULD be necessary with Primaloft, however.) Yarn loops tend to tear shell fabric, especially when quilt machine-washed or otherwise roughly handled. Tears in shell fabric then allow dust and sand to get inside shell.
Cutting dimensions: 55" at head extending 44" to 55" at hips, then tapering over 44" to 38" at foot, plus 9" wide draft skirt of single-layer shell fabric. Finished dimensions about 2" less in both length and width, since 1/2" seam allowances of shell fabric removes 1", while top stitching and loft of insulation effectively removes another 1". Surface area for quilt itself is 3.45 sqyd and surface area of draft skirt is 1.0 sqyd.
Fabrics from ripstopbytheroll.com. Shell 1.0 oz/sqyd calendared HyperD diamond ripstop nylon. 3-season quilt, used for hiking in Europe, insulated with 3 layers of 2.5 oz/sqyd Climashield Apex, with final weight 925 grams. Winter quilt, used for bicycle touring in the United States, insulated with 2 layers of 5 oz/sqyd Climashield Apex, with final weight 1210 grams.
Continuous fiber polyester insulation (Polarguard, Climashield) varies in thickness over roll, so best to use multiple layers, in hopes that thin spots in one layer will be offset by thick spots in another layer. This is why I use 3 layers of 2.5 oz/sqyd for 3-season quilt, rather than 1 layer of 5 oz/sqyd and 1 of 2.5 oz/sqyd, and 2 layers of 5 oz/sqyd for winter quilt, rather than 1 layer of 10 oz/sqyd.
Use vinyl other heavy but smooth material from a discount fabric store to make a cutting pattern. Paper is also possible, but it tends to snag the insulation and does not lay flat as well as heavy vinyl. If cutting on carpeted floors, first lay down a plastic drop cloth. Otherwise, insulation will pick up loose materials from the carpeting: hairs, pieces of dirt, etc.
Materials:
One or more layers of 60" wide continuous fiber insulation, 88" per layer, plus 18" of excess to allow easier layout and cutting.
6 x 36" of 60" wide uncoated nylon shell fabric.
100% polyester thread and 80/12 and 90/14 universal needles.
Walking foot attachment for sewing machine highly recommended.
Pattern: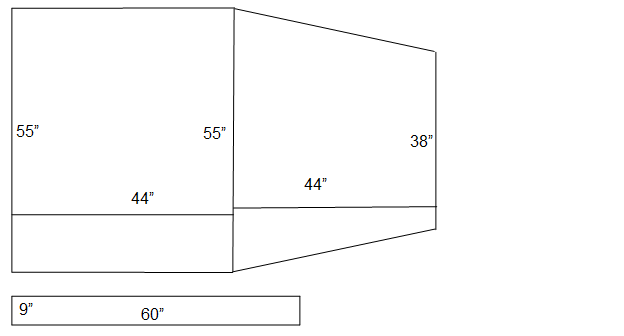 Instructions:
Cut 2 shell pieces, 3 draft skirt pieces, and as many insulation pieces as there will be layers of insulation.
(80/12 needle) Sew together shell pieces, using 1/2" seam, leaving 12" gap in foot area, to enable turning quilt inside out later.
If fabric frays easily, zigzag seam allowances or sear with candle to stop fraying. (1.0 oz/sqyd calendared HyperD diamond ripstop nylon from RipstopByTheRoll.com does not fray easily, so this step unnecessary if using that fabric for shell.)
(80/12 needle) Connect draft skirt pieces along short edges, using flat-felled seams. 1/4" hems on long edges.
(90/14 needle) Attach insulation to seam allowances of shell, other than gap in foot area, using zigzag stitch with walking foot attachment. Go slow during this step. If walking foot not available, hand stitch insulation to shell.
Carefully turn quilt inside out, through 12" foot gap.
(90/14 needle) Sew foot gap shut, trying to catch insulation in seam.
(90/14 needle) Top stitch 3/8" from all edges. thereby securely binding insulation to shell.
(90/14 needle) Sew together foot end plus about 17" along sides, to form foot pocket. Use bartack for reinforcement.
(90/14 needle) Sew together head end, leaving 10" long gap near center of quilt for breathing hole. Use bartacks for reinforcement.
(90/14 needle) Stitch draft skirt to bottom of quilt, leaving excess on both sides at hood. Trim most of this excess (all but about 1"). Fold and stitch remaining excess, so that draft skirt fully encloses bottom of quilt.