Sewing - Shirt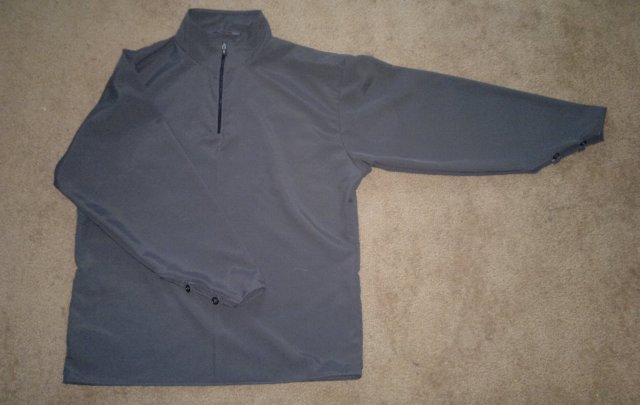 Cut loose in the underarms to prevent soiling from underarm perspiration. Looseness in the upper arms extends below the elbow, so when sleeves are rolled up, there will be plenty of airflow. Neck opening large enough to accomodate an insulated pullover and an inner shirt underneath the outer shirt.


Sleeve closure with button loops rather than button holes. Advantages of loops: (a) easy to fasten and unfasten with one hand, but yet fastens securely, whereas button holes would either be too small to easily fasten and unfasten with one hand, or else too large to stay fastened securely; (b) can rip seams and reattach button loops if resulting sleeve opening is too large or too small, whereas button holes are permanent. Rough finish doesn't matter, since the button loops are seldom visible.
No pockets or thick seams, and thus very quick-drying. About 200 grams if made with 3.3 oz/sqyd supplex nylon from Seattle Fabrics.
Pattern: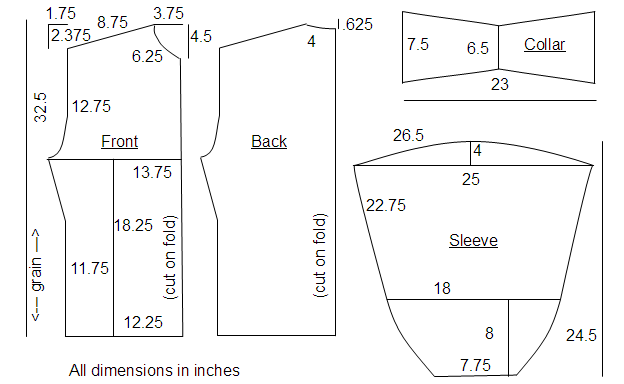 Materials:
2 yards tightly woven fabric, typically supplex/taslan/solarweave nylon.
1 way zipper, at least 10" long.
80/12 universal needle
100m 100% polyester thread.
4 buttons.
Fray-check.
Instructions:
FACING: Cut fabric 1.25" by 10", zigzag all edges, top-stitch down center. Draw line 6" down center of front piece. Stitch facing to front piece, so that facing is centered over line on front piece. Facing should extend from slightly above neckline to about 3" below end of 6" line on front piece. Stitch 1/8" on either side of the stitching connecting facing to front piece, with 1/4" connection at bottom of line of stitching. Trim strip 1/8" wide from inside these parallel lines of stitching, thus leaving seam allowance of about 1/16". This seam allowance is too narrow for zigzagging, so sear with candle instead. Pull facing through the opening and topstich about 1/8" from edge. Trim excess facing at neckline, but leave excess facing at bottom of opening, to be used later for covering raw edge of zipper.
SHOULDER: Attach front and back at shoulders with 3/8" seam. Double-stitch and then double-zigzag seam allowances. Shoulder seam is heavily stressed by backpack shoulder straps.
COLLAR: Fold collar and attach to torso at neck opening with 3/8" seam, with shoulder seam allowance folded towards back of shirt. Note: it will be necessary to trim torso slightly near shoulder seam, in order to align curved neck opening with straight collar, where to trim will be obvious when pinning, normally easier to trim after stitching. Zigzag seam allowance. Trim excess from collar so that top is 18" long and bottom extends 3/8" beyond neck opening of front piece. Zigzag the resulting raw edge, then fold over this edge by 3/8" and topstich, folding collar to torso seam downwards. Fold over top of collar by 3/8" and topstitch, leaving about 1/2" of this hem near neck opening unsewed, to allow for insertion of zipper. Cut strip of fabric 1" x 3", doubly-fold and topstitch, so that finished size about 1/4" wide. Attach with bartack to inside back of collar seam to form hanging loop, folding collar to torso seam upwards. Note: collar to torso seam is folded upwards at hanging loop, but downwards at zipper opening—this twist causes seam to lay flat against neck.
ZIPPER: Pin zipper to neck opening, leaving excess at top which can be rolled over and tucked under hem at top of collar. Top-stitch zipper using zipper foot. Roll top portion of zipper and tuck under hem, then top-stitch hem closed. Trim bottom of zipper, fold bottom flap of facing over raw edge of zipper, secure with bartack.
SLEEVES/TORSO: Attach sleeves to torso with 3/8" seam, folding shoulder seam allowances towards back of shirt. Double-stitch, zigzag seam allowances. Zigzag around entire outside of shirt, folding sleeve seam allowances towards wrists. Sew together insides of torso and sleeves with 3/8" seam, leaving bottom 7.5" of sleeves open. Bartack at the 7.5" mark. Fold over and stitch down free edges of 7.5" sleeve opening, very narrow near bartack tapering to 1/2" wide elsewhere. 1/4" hems on bottom of sleeves. 1/4" hems on bottom of torso, folding side seams towards front of torso.
BUTTONS: Cut fabric 1" wide, doubly-fold and topstitch, so that finished size is about 1/4" wide. Cut 4 strips 2.5" long each. Fold strips into loops and attach at 2" and 4.5" from end of back/outer sides of sleeves after sewing hem. Hand-sew buttons to front/inner sides of sleeves, opposite loops.
FINISH: Apply fray-check to all bartacks (hanging loop, facing flap over zipper, sleeve opening bartack, buttons and button loops).