Mar-Apr 2012, Nevada Backcountry Bicycle Tour
Planning
Current guide to maps for a trip like this is here. This guide will be updated as time passes, and so may not reflect what I actually used on this trip, which was a combination of: (a) pages from the Benchmark Road Atlas for Nevada; (b) Garmin Foretrex 301 non-mapping GPS to find myself on the paper maps; (c) offline Navteq road maps on my Nokia N8 smartphone.
I had some misgivings about bike touring in Nevada in the early spring, due to possibility of snow, cold and wind. Autumn (mid-September through mid-November) is a better time of year. But then I encountered problems using my credit card to pay for an airline ticket for my annual spring hiking trip in Europe. I took this as a sign that the fates preferred that I stay here in the United States and take a bike tour instead. This would also be a chance to field-test my new Nomad bike along with other changes to my bike gear since my Death Valley / Mojave tour several months ago.
Mon, 12 Mar 2012 (27 miles, starting odometer 159)
Used a little-known dirt road route to get from Reno to Virginia City, which I will describe here. From downtown Reno, take Mill Street east. Turn right at South Rock Boulevard, right again at Longley Lane, left at Mira Loma Drive, right at West Hidden Valley Road, and right again at the southernmost part of Hidden Valley subdivision onto a dirt road, which may be labelled Short Lane, Alexander Lake Road or Desert Way, depending on the map. Since there is only one dirt road heading south from Hidden Valley subdivision, there is no possibility of missing this road. All of the roads listed above are either very quiet or have designated bike lanes, and thus are safe for bikes. Follow the dirt road south about two miles to an electrical substation, which will be plainly visible on the left, between the road and the hills to the east. (If you reach the Sage Hill Clay Sports shooting facility, then you went about a mile too far.) Take the dirt road leading uphill towards the electrical substation, pass unauthorized (but free and hence widely used) outdoor shooting ranges, then head uphill, steeply at times, sticking to the main road. This road leads through the mountains for several miles until it reaches the old Lousetown site, where it merges with the Lousetown road (shown on the road atlas map and also my smartphone maps). Follow the Lousetown road south through the Virginia Highlands subdivision until it intersects with the Geiger Grade road (highway 341), a mile or so north of Virginia City. Like all of Geiger Grade, this short stretch between Lousetown road and Virginia City is very dangerous, due to heavy and fast-moving traffic, blind curves and narrow or non-existant shoulders, but at least the stretch is all downhill and won't last long.
This was my first real test of my new bike, so I loaded it up fully, with 23 liters of water, 10 kilos of food, 10 kilos of camping gear, bike repair and maintainence gear, books and maps, for a total load of 43 kilos. Together with the 20 kilos for the bike and attached accessories, this made for a very heavy load to push up the steep hills leading out of Reno into the Virginia mountains. However, I managed and am now confident I can push the bike up any incline I am likely to encounter for the remainder of my tour, since this load was more than my planned max of 40 kilos (I would normally carry no more than 7 kilos of food). A load like this requires strong arms more than strong legs or back. Handstands or other shoulder exercises are thus recommended as preparation.
Stayed at the Virgina City Motel (675 South C Street, 775-847-0282) for $55, plus $6 tax, for total of $61. Other options shown on the tourist information office brochure: Sugarloaf Mountain Motel (430 South C Street, 775-847-0551, $69-$105 plus tax); Comstock Lodge (875 South C Street, 775-847-0233, $50-$70 plus tax); Silver Queen Hotel (28 North C Street, 775-847-0440, $50-$125 plus tax, historic hotel in middle of town, getting bikes up stairs or into elevator might be problem). There is also an RV park (800-889-1240, 775-847-0999), which supposedly offers showers, laundry and has a small store on site, but I didn't investigate. Virginia City Motel offers wifi, but it didn't work. I used ATT 3G service instead to check email. Lots of restaurants and a few convenience stores. I bought bread and cheese at the mini-mart at the Sugarloaf Mountain Motel.
Found an adult tick on me, presumably picked up when I sat down to rest in some high grass. Weather is windy and with snow threatening, but forecast for lower elevations is clear for remainder of week.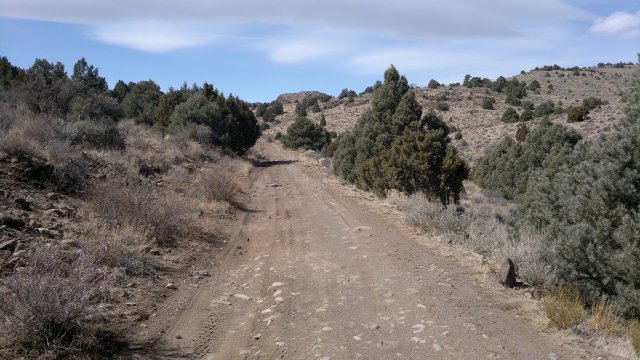 dirt road from reno to virginia city, through virginia mountains
Tue, 13 Mar 2012 (40 miles)
Descended paved Sixmile Canyon road, which has little traffic, then crossed Highway 50 and followed dirt Fort Churchill road to the state park of that name, where I stopped for lunch. Fee for day visits by bicyclists is $1. Water available in restrooms, which might be locked out-of-season or after-hours. Fine-tuned the saddle height and pannier hook placement. Mild temperatures all day, with little wind. Camped just past Hooter Well.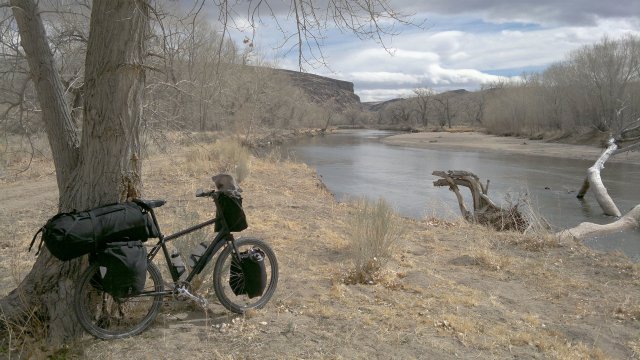 along carson river, on way to fort churchill
Wed, 14 Mar 2012 (30 miles)
Took a wrong turn and ended up on Simpson Road rather than Pony Express trail. So followed Highway 95 south a mile or so to get back on track. Passed a number of promising-looking dirt roads heading east, but gates to these were locked. Arrived at what appeared to be the Pony Express trail coming from the west, and sure enough, there was a sign indicating this was the Pony Express trail, but there didn't seem to be any trail heading east, though there was an unlocked gate at the bottom of a wash. But even getting to this gate was difficult, due to the heavily eroded mud banks of Wildcat scarp. On the other side of the gate was nothing but a narrow track between a barbed wire fence to the north and the steep banks of Wildcat Scarp to the south. I followed this track for a while, but eventually tired of it and so pulled the bike under the barbed wire, then cut cross-country towards a solid dirt road. A man in a truck advised me to followed the dirt road all the way to the north of the Bunejug Mountains, and then south to Rock Springs (roads shown on map), but I was determined to go through Simpson Pass. So when I reached what appeared to be a good point for cutting cross-country, I did so. Another barbed wire fence to pull the bike under, then some alkali flats, then very rugged sagebrush mixed with rocks, and finally I emerged onto a solid road. I was tired of pushing the bike through the sagebrush, so followed this road uphill into the Bunejug mountains, though my GPS indicated I was several miles north of Simpson Pass. Had to push the bike most of the way uphill, due to sand. Mild temperatures, little wind.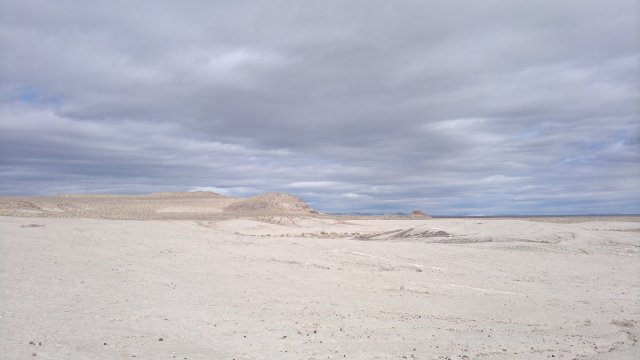 alkali flat along simpson road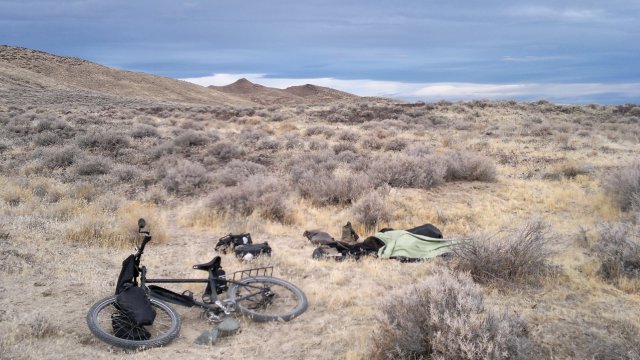 camp in unnamed pass through bunejug mountains
Thu, 15 Mar 2012 (37 miles)
Descended from Bunejugs. Pretty clear I crossed somewhere to north of Simpson pass, but via a decent albeit sandy road, not shown on map. Followed a more solid road south to more or less where Rock Springs is located. A complex of buildings is visible between the road and the mountains. Supposedly, this is a geothermal energy plant which uses the springs. I didn't investigate. Pushed the bike most of the way across Eightmile alkali flat (eight miles apparently refers to the north-south distance, west-east is much less) since the surface was too soft to allow easy pedalling. Traffic on Highway 50 a rude shock after quiet dirt roads, though not all that bad. Trucks pull over to the left whenever possible, there is a good shoulder and a rumble strip between the smooth part of the shoulder and road, and traffic isn't all that heavy. For a mile or so after Sand Springs, I was able to use the remnants of the old highway bed. Later, I experimented with a dirt road paralleling Highway 50. Unfortunately, this was too sandy for easy pedalling, so I eventually returned to the highway for the rest of the way to Middlegate station.
Had a hamburger at the bar, then decided to check into the motel (775-423-7134, middlegatestation.com) for three nights, since the forecast is for mild weather to continue through tomorrow morning, then for a severe winter storm to hit central Nevada Friday night, with snow/rain and high winds Saturday, before clearing again Sunday. Economy room $30 for first night, including tax, $25/night for additional nights. Very basic, but clean and quiet. Strong wifi connection in the bar, weaker but still usable connection in the motel rooms. No television or phone in my room, but DVD player and display available, with DVDs for borrowing at the bar at no charge. Mostly thrillers plus a few westerns, comedies and horror. Owners very nice. In addition to the bar and motel, Middlegate consists of a collection of trailers plus various outbuildings. Population of 17. Apparently, about half the town shares duties attending to the bar. I would have liked to spent more time in the bar, but was driven out by all the cigarette smoke. No smell of smoke in my motel room (I asked for non-smoking).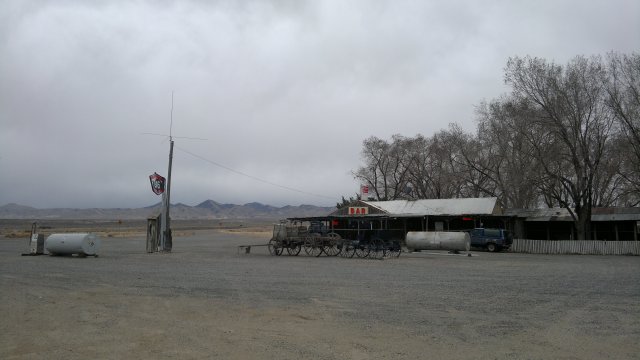 middlegate station (bar, gas, mini-mart, motel)
Fri, 16 Mar 2012 (35 miles)
Nice weather, so I decided to take a day trip around the area. Followed Highway 361 (Middlegate to Gabbs road) south to the a dirt road indicated on the map, then headed west into the mountains, then south across Bell Flat to the Bell Flat Well, then north along the Fairview mountains to Highway 50, and finally east to get back to Middlegate. Map does not accurately show network of dirt roads on ground, but is close enough for me to feel confident leaving the pavement. Lots of cattle grazing in these mountains. Along the road leading north from Bell Flat to Highway 50 is a detour to a visible earthquake fault. The faultline is from the 1954 quake, which measured 7.3 on the Richter scale. As with most Nevada faults, the mountains rise while the valleys sink along this fault, so the slippage is vertical. Rain began falling gently just about the time I reached Highway 50. Only about 20 minutes to cover the 5 miles back to Middlegate, so I didn't get wet.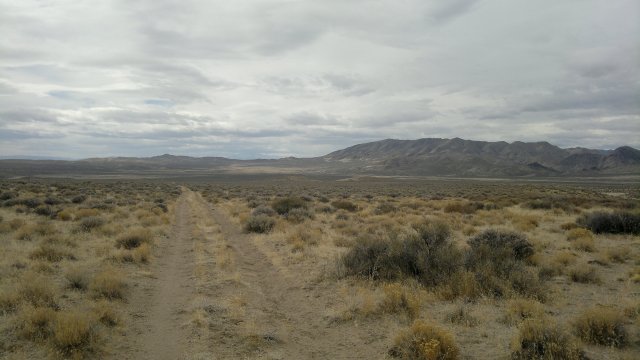 bell flat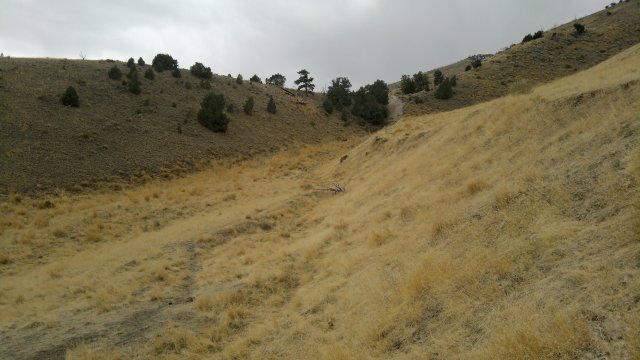 earthquake fault (vertical slippage, though ground shift more diagonal than truly vertical)
Sat, 17 Mar 2012 (0 miles)
As the weather forecast predicated, there was rain and snow last night. Rain at Middlegate, snow at higher elevations. Forecast is for more snow tomorrow. I'll wait and see. Spent the day watching movies on the DVD player. Took a long walk around the area in the afternoon to get some exercise. Excellent corned beef and cabbage for dinner, as part of St Patrick's day celebration, washed down by lots of green beer. Big crowd in the bar. Not sure where they come from, though many appear to be from Austin. Everyone a smoker, so I had to wash my clothes and take a shower afterwards.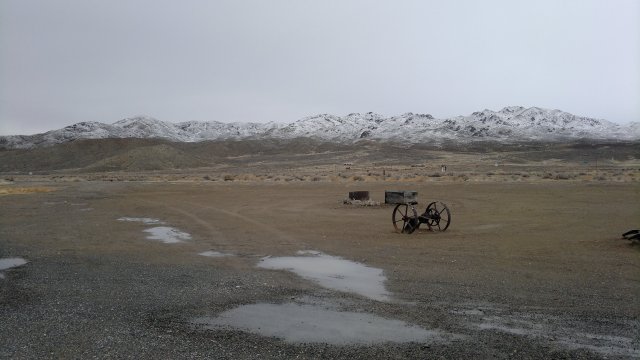 middlegate after rain (snow at higher elevations)
Sun, 18 Mar 2012 (0 miles)
Snow on the ground and more snow falling when I woke up. Decided to stay another day (at the $25 stayover rate). Bought canned chili and frozen bread at the bar, since I don't want to eat all my meals there, especially not with all the cigarette smoking going on. Cranky bartender objected to selling bread ("this is a restaurant, not a wholesaler"—yet they advertise that they have a mini-mart and he had no objections to selling the can of chili), but still sold me half a loaf for $2. Yesterday, a friendlier bartender sold me a whole frozen loaf for $5 without objections. $5/loaf is reasonable, given the location, in my opinion. Same as yesterday, spent most of the day watching movies on the DVD player, with a long walk in the afternoon, during a break in the snowfall, for exercise.
Mon, 19 Mar 2012 (54 miles)
Snow stopped during the night and the morning was cold but with clearing skies. Waited until about 10am to allow any black ice to melt (the highways had been plowed much earlier). Yesterday, I talked to the owner of the bar/motel, who is familiar with the area. He gave advice as to which roads will be muddy from snow and rain and which are likely to be solid gravel. Given forecasts for more storms in central Nevada later this week, I decided to head towards the southeast part of the state (Caliente area), which should be warmer and drier.
While checking and adjusting tire pressures, one of the o-rings on my Lezyne pressure-drive pump came loose. I was able to replace it, but clearly these pumps are capable of failing in the field. Very glad I brought two pumps. Probably need to get some spare o-rings for these pumps as well, if possible.
Stopped at Gabbs for lunch, then pedalled part way up to the summit of the Gabbs to Berlin road, then pushed the rest of the way. Heavy snow at Brunton Pass (6947 feet elevation), but the road itself had been plowed earlier and was clear. Trucks arriving at the summit from the Ione valley side warned me of heavy mud on the dirt roads there, and the muddy undersides of these trucks made it clear these warnings had validity. My original intention had been to continue to the Berlin-Ichthyosaur park, then visit Ione tomorrow, then head south on the Ione valley road towards Tonopah. I decided to change plans and head back to Gabbs, and tomorrow take the poleline road to Tonopah, which the owner of the Middlegate motel had assured me would be solid gravel.
Stayed at the Gabbs motel for $38, including tax (702-285-4000). Room has microwave, refrigerator, good selection of television stations, but no wifi. They don't have special non-smoking rooms, but the owner assured me the room would smell clean, and it did. In addition to the motel, the town has a decently stocked grocery (bread and cheese), bar, cafe, gas station, post office, library (with water spigot out front), town hall, school. Main industry is nearby magnesia mine.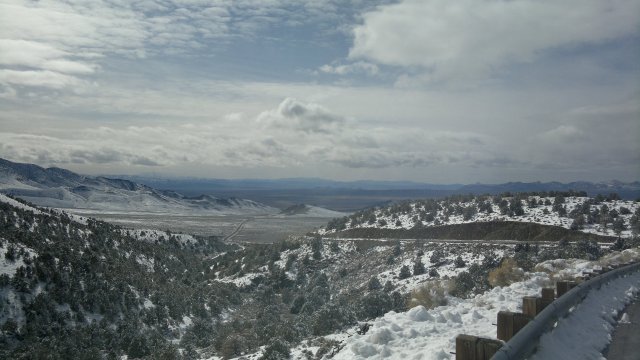 looking back to gabbs valley, from brunton pass road (highway 844)
Tue, 20 Mar 2012 (42 miles)
Legs felt tired in the morning, from effort of yesterday's ascent. Overcast in morning, then sun came out in late afternoon. Poleline road is hard-packed gravel, well-drained, wide, no wash-boarding. Ione and Cloverdale roads also looked solid where they intersected poleline road. Camped a few miles past Cloverdale road.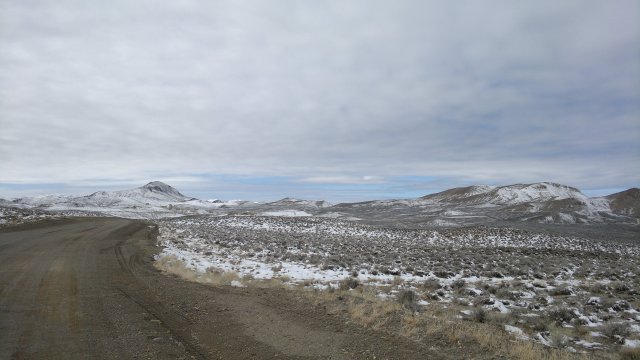 paradise peak mine, along gabbs-tonopah poleline road
Wed, 21 Mar 2012 (32 miles)
Dew and frost covered all my gear in the morning. Then sun came out and cleaned most of it up. Passed an interesting solar power facility on the way into Tonopah. Moderate traffic on the short stretch of highway 95 between poleline road and Tonopah. Stopped in at first motel I came to, called the National9 (775-482-8202), $44 including tax. Weekly rates are $165 before tax, and monthly is $400 before tax. Solid wifi connection, but phone system was out of order. Large room, but no microwave or refrigerator.
There are several other inexpensive motels in Tonopah. Clown Motel and Tonopah Motel right next to National9. Economy Inn at other end of town. In between are more upscale Best Western Motel and Jim Butler Inn. Recently renovated Mizpah Hotel is supposedly swank inside, but I'm not sure how well they accomodate bikes. Old-fashioned elevators are small. Finally, there is a Ramada Inn attached to a casino near the south end of town. Scolari's is a full-service grocery store and there is a Family Dollar store under construction next to it. Several auto and motorcycle repair shops. Hardware store on highway 6 leading out of town. Bank with ATM. Various fast food joints. Bookstore. Library with computers and wifi. Post office. No service for ATT prepaid phones. Water faucet next to gazebo in little park in center of town on main road.
In oiling chain, noticed some leakage, probably from changes in air pressure when ascending the pass yesterday. Leakage contained by opsak. I thought the bottle had a secure closure, but evidently not. Wiped up the leakage inside the opsak with shop towels, then used these towels to wrap the bottle so as to absorb further leakage. Will add spare opsaks and extra shop towels to future repair list, since oil stinks horribly and would cause a real mess if it ever escapes the opsak. Another possibility is to switch to a dry lube of some sort.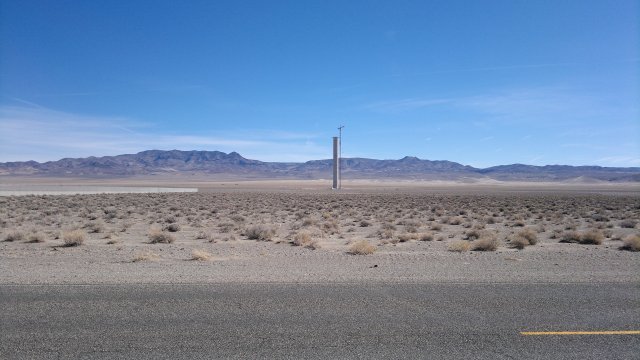 tonopah solar power facility tower
Thu, 22 Mar 2012 (52 miles)
Visited the Central Nevada Museum in the morning, then took Highway 6 east. Little or no shoulder, but also little or no traffic. Trucks politely pulled to left when possible. However, because they can't pull to left if traffic in other lane, a mirror is essential, as is constant attentiveness and willingness to drive bike off highway and into the dirt when there will be traffic in both lanes, especially big trucks in both lanes. Nice day, overcast and chilly at first, then sun came out in afternoon. Moderate wind from south, so a cross-wind for me. Forecast is for wind to pick up soon. Hopefully, I'll be able to get to Caliente area before it gets too bad. Compared to Death Valley, Nevada is bigger and emptier and just as beautiful. Main advantage of Death Valley is mild winter climate.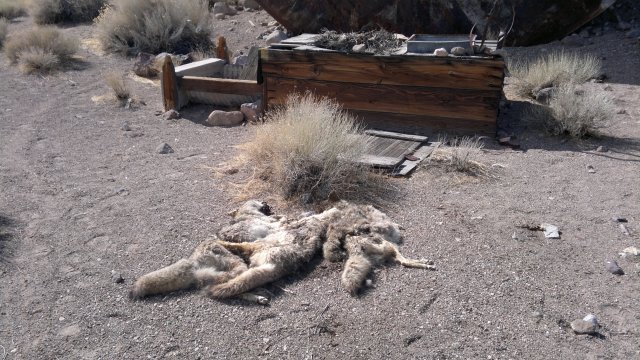 dead coyotes placed near water trough along hwy 6 (warning to other coyotes to stay out of area?)

campsite near warm springs
Fri, 23 Mar 2012 (27 miles)
Walked around the hills behind my campsite in the morning, looking for Black Spring. Spotted an antelope, but it spotted me as well and ran off. So much more graceful than the cows. Eventually found the spring box. Clear water coming from the pipe. Water at Warm Springs full of salts, but cattle drink it anyway. Water in Twin Springs slough and Echo Canyon reservoir fed by the slough both muddy and foul-looking, but ducks and cattle also drink that water and survive, so evidently it isn't all that bad. Cool and windy day, with wind from the south, and thus a headwind for me after Echo Canyon (left highway 6 for 375, aka Extraterrestrial Highway). Headwind became ferocious as day progressed. Eventually gave up and made an early camp in the middle of the desolate valley. Less vegetation than in Death Valley. Maybe the cows ate everything. No shelter from wind, but bivy presents a low profile, so wind wasn't annoying once I lay down.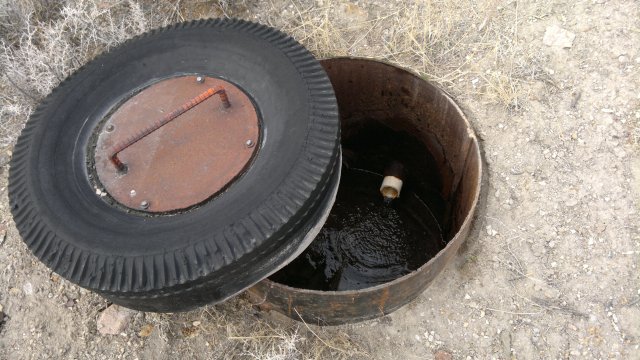 black spring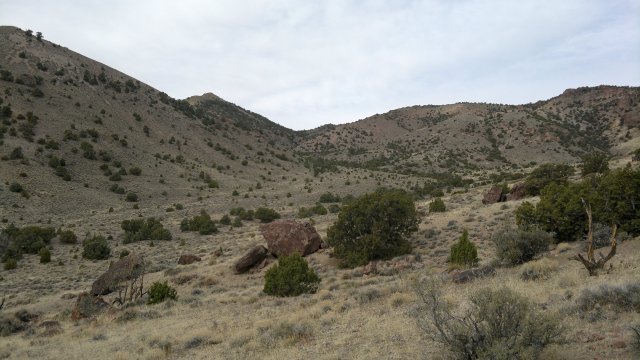 hills behind black spring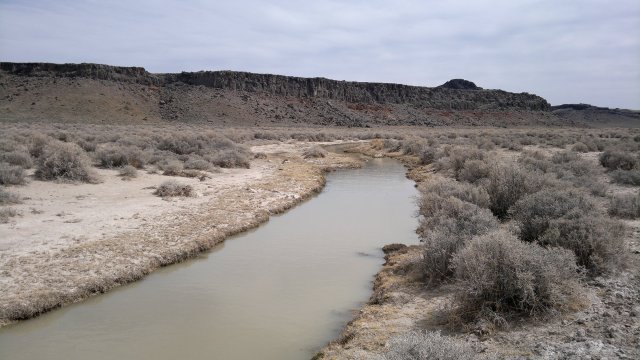 twin springs slough
Sat, 24 Mar 2012 (23 miles)
Ferocious headwinds all day. Gave up when I came to some sheltering hills near the Black Hawk mercury mine. Wind made it difficult to stand near the top of the hills, so photo of railroad valley below was taken with me on my knees, to avoid being blown over the edge of the cliff. Likewise, I was reluctant to get too near the hole in the ground shown below, lest a gust of wind knock me over and I end up falling into the hole. I did observe that the hole was very deep. Couldn't tell whether it is a natural cave or mine diggings, though the latter seems more likely. Camped a half-mile from the mine, sheltered from the wind in a ravine.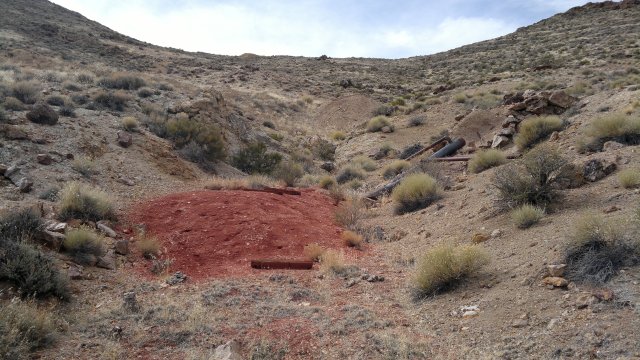 black hawk mercury mine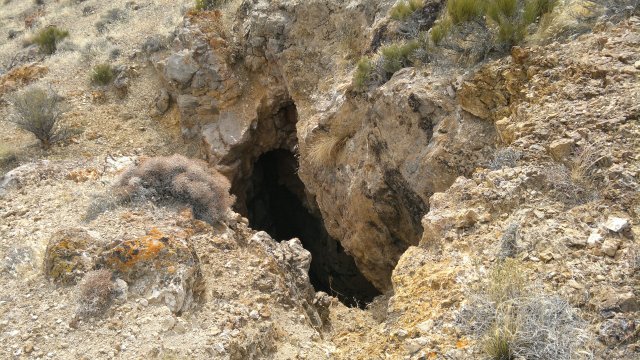 hole in ground (mine diggings or natural cave)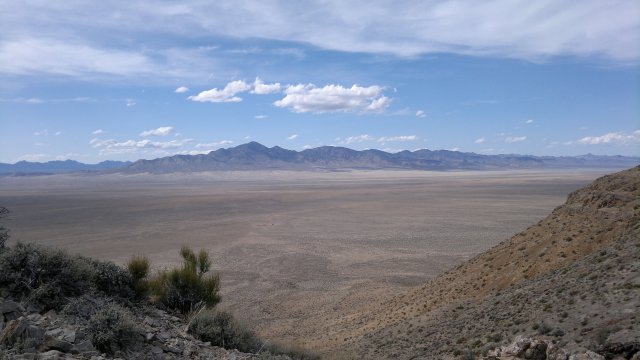 railroad valley, as seen from hills above mine
Sun, 25 Mar 2012 (71 miles)
Little wind in morning, so that I made fast progress towards Rachel. Then, about 2 miles from the cafe/motel, about where I took the photo of the land-for-sale sign below ($16,500 per half/acre lot with views in all directions according to the website), the wind picked up and became ferocious again, so that I had to dismount and push the bike the last few hundred yards. Annoying waitress at the bar made me reluctant to ask about the motel. Those who love guns and Fox News and hate liberals, Obama, Clinton, Jane Fonda, Democrats in general, taxes, government (except the military, social security and medicare which don't really count as government), foreigners, and who knows what else, will feel right at home in this cafe. At least it is non-smoking, though perhaps that is due to hated government regulation. Wind speed gauge from weather measurement station outside cafe indicated steady winds of 30 mph from the south and southeast, a headwind for me. This weather station is part of a government program to measure radiation from old atomic test sites. I'm not sure if either the weather station or the atomic tests are hated government programs or not, since they are both part of the defense complex. Cafe/motel is called the A'Le'Inn, pronounced like "alien", referring to the crackpot theories of little green men in flying saucers landing at nearby Groom Lake, supposedly covered up by the government. Again, not sure if this is hated government or not, since it is military, and the military, like social security and medicare, is not really part of the government in the minds of these rural Republican idiots. Their stupidity would be amusing if it weren't contagious, but alas therein is the problem. Associate too much with idiots, without defense mechanisms in place, and pretty soon you become an idiot yourself. Currently, I have investments to manage, and thus can't afford to become an idiot yet. As for activating defense mechanisms (such as the scorn in these words I am writing), that consumes psychic energy and adds to stress. Someday, though, I'll be sucking the government social security and medicare teat myself, and then maybe I too can become an idiot, and spend my days criticizing without offering solutions, and exercising my power to obstruct without being burdened by responsibility when things go to hell as a consequence.
Decided to turn around and head back to Tonopah and turn that headwind into a tailwind. Work with nature instead of fighting her. It really doesn't matter where I go, as long as I'm in motion. Still have enough food for several days of wandering in circles. Loaded up on water from a faucet outside the cafe. Ate lunch sheltered from the wind by ruined buildings at old Cedar Ranch. Water coming from pipe feeding cattle trough there appears clear, as does water at a number of other cattle troughs dotting Reveille valley. Flew like a rocket on the dirt road leading north from Cedar Ranch. Reveille Valley nicer than Railroad valley, more vegetation, emptier feeling due to lack of traffic. Spotted a herd of antelope in the distance, but they spotted me as well and ran off. Beautiful creatures.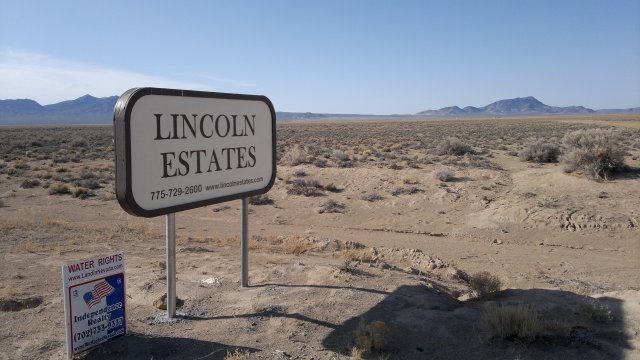 desert land for sale a few miles before rachel (views! views! views!)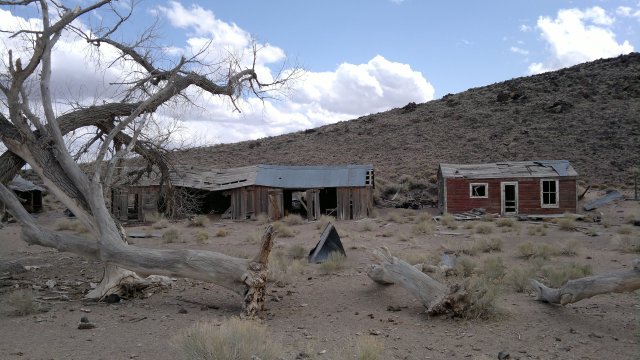 cedar ranch
Mon, 26 Mar 2012 (41 miles)
Small amount of rain last night. Bivy protected me, but noisy. Not sure there is any solution. Any shelter is going to be noisy when wind is a steady 30mph with gusts of 50mph or more. Bitterly cold wind in the morning, and now a southwest wind, so something of a headwind after Warm Springs. Rested for a while in the lee of the derelict Warm Springs cafe building. Mountain peaks all covered with fresh snow from last night's storm. Turned left on the dirt road that leads south through Stone Cabin Valley towards the Tonopah test range, mainly because I was tired of paved highway 6, but also to avoid some ascents through the mountains.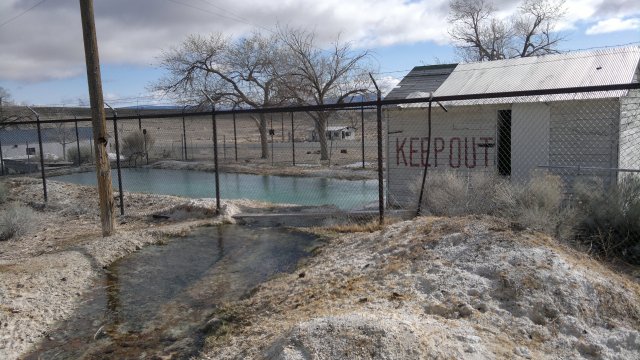 warm springs, showing stream that feeds pool
Tue, 27 Mar 2012 (31 miles)
Huge amount of traffic going to and from the Tonopah Test range. Something to do with the Department of Energy. Must be major source of jobs for Tonopah. Snow all over ground approaching Tonopah, leftover from Sunday since I don't think there was any new snowfall last night.
Checked into the Tonopah Motel (775-482-3987), $38 including tax. Nicer room than National9: spacious, refrigerator, quiet, phone system works, excellent wifi connection, powerful heater. Place is for sale by owner and apparently has been for sale for several years. Selling a business can take a long time, unless you are willing to sell at a rock-bottom price—remember that if you didn't already know it. Weather report predicts two days of clear skies and mild winds, then another storm bringing snow, cold and ferocious winds.
31 miles, odo 702, Tonopah at elevation 6030 feet.
Wed, 28 Mar 2012 (0 miles)
Stayed another night at the Tonopah Motel. Visited Tonopah mining camp outdoor museum.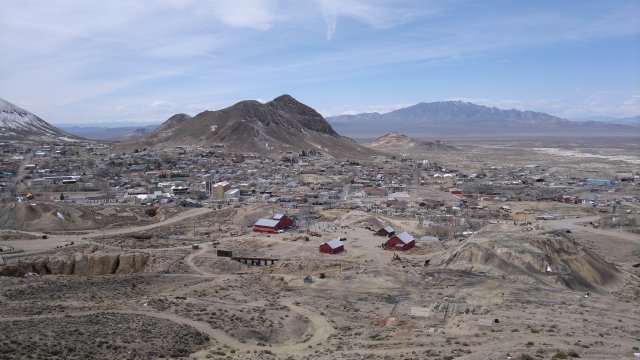 tonopah mining camp, with town of tonopah behind
Thu, 29 Mar 2012 (61 miles)
Decided to head down towards Death Valley to get out of the wind and cold. Followed the old highway that parallels highway 95 south of Tonopah for several miles, then crossed over and took the dirt road that runs to Alkali Hot Springs and Silver Peak. Big lithium/magnesium mine in the flats outside Silver Peak. Ate a burrito at the bar there, then continued south on the dirt road that leads up to Railroad pass. Network of roads leading south from Silver Peak is confusing, so I'll describe my path here. Descend to eastmost line of telephone/power poles, then go another 100 yards or so east to find solid road. Rugged road directly under powerlines is not the road you want. Follow solid road for about 5 miles, then turn left at fork towards the sand dunes, as shown on map. Then right at next fork, not shown on map (left fork here may be labelled "dead end"). Then left at next fork, which is shown on map (right fork goes to Imperial mine). These are the major forks where both forks are major roads—ignore all minor roads leading off the main road.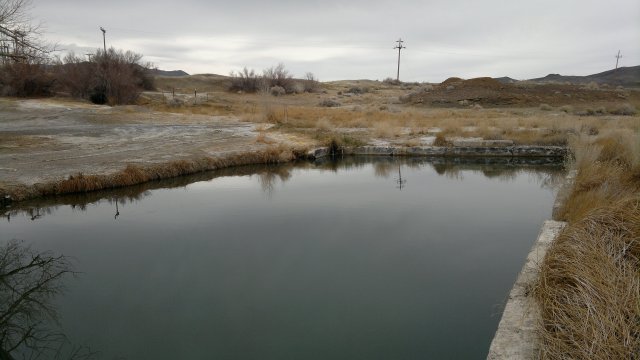 alkali hot spring (between tonopah and silver peak)
Fri, 30 Mar 2012 (33 miles)
Continued on the dirt road to Railroad Spring, turned left there, then descended to Lida Canyon road, passing Mount Jackson on the way. Then Wiley Road to get to historic Goldpoint, which has been converted into an outdoor museum by the enthusiast who owns most of the town. Chatted with this owner and his worker for a while, drank a root beer at their private bar, filled up on water at a faucet, then continued south into the mountains. Camped amidst some juniper trees and in the lee of a small hill, in case wind picks up tonight.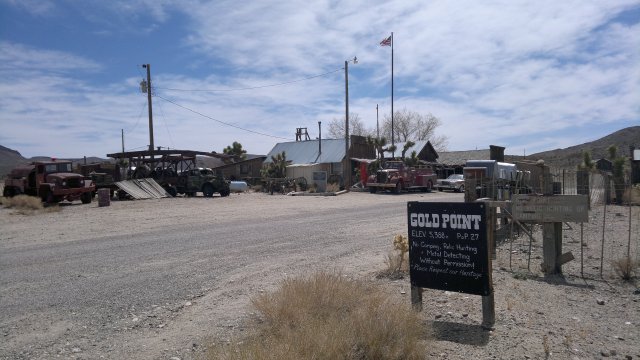 goldpoint
Sat, 31 Mar 2012 (24 miles)
Wind did indeed pick up in the night, but trees and small hill sheltered me. Temperatures continue to be mild. Warm when sun comes out, cool otherwise, but not uncomfortably hot or cold in either case.
Visted Hard Luck Castle ($10 donation for tour, hardluckcastle.com), located near the Hard Luck Mine as shown on the map. Beautiful building, designed and mostly built by the owner, who has no architectural training but used to own a plumbing company and comes from a family that has always been involved in the construction industry. Jackhammered the foundation into bedrock himself, did most of the stonework himself, installed all the plumbing/electrical/mechanical stuff himself, etc. Building designed around two massive organs (church organ with wooden pipes and theatre organ with metal pipes), which the owner bought used and is restoring (he uses a lathe and other tools to make replacements for missing parts). Glass dome at the top of the castle for star-gazing. Home theater, multiple guest rooms, spiral staircase in center of castle, many other interesting features. Neither the organs nor the building itself are yet finished. Owner drilled two wells, but both came up dry (due to being in rain shadow of mountains), so water has to be trucked in from Goldpoint (other side of mountains). Currently hauls 800 gallons per trip using a tank towed behind a pickup truck. Capacity for 3000 gallon storage at the castle, which is supposedly sufficient for about 3 months of use. Owner started working on the project in year 2000, and should be finished in another year or so, at which point he wants to sell the building, then buy a sailboat and go sailing around Florida, or maybe sail around the world. Currently lives alone, with two dogs for company, but mentioned children, so evidently used to be married. Some "promoters", as he called them, showed up at the end of my tour. These promoters are supposed to devise a way to either sell the building or else turn it into a viable business of some sort (museum, bed-and-breakfast, retreat). Got the impression the owner is running out of money and getting tired of the waterless desert. His plumbing company was in one of the towns around Lake Tahoe, so evidently he spent most of his life surrounded by trees, water and mountains. Now all he has is mountains. Probably misses the trees and water.
Though the castle is a beautiful and inspired creation, and would be an easy sell if located near San Francisco or Los Angeles, the current location in the middle of nowhere is going to be a problem, in my opinion. Current offering price is $1,950,000, down from $3,250,000 originally. So a buyer would have to be wealthy. And this buyer would have to love organs, given how the castle is designed around these. The steel outbuilding, which holds a workshop, is hideous and detracts from the magnificent appearance of the castle, but that problem can be fixed by moving this workshop into the ground floor of the castle, where there is already a smaller workshop, or else moving it downhill next to the propane tanks and other junk concealed at the base of the rock on which the castle rests. There is a huge amount of electrical/mechancial/plumbing apparatus to maintain. I'm sure it is all pretty straightforward stuff for those who love tinkering, but I would be intimidated by all this apparatus myself, especially with professional assistance located so far away. The owner muttered something about "lots of stairs" on our way up to the stargazing dome. I think those stairs will be a problem for future owners. However, it should be possible to retrofit an elevator. Necessity of trucking water from Goldpoint will also be a big turnoff to many people. But in the end, it is the location which is the real killer. Waterless desert mountains, 10 miles on rugged dirt road from nearest paved road, another 10 miles to get to highway 95. All told, about 50 miles to Goldfield, which is the nearest town of any consequence (population about 500), 80 miles to Tonopah (population about 2500), or about 180 miles to Las Vegas. Buyer would have to really, really love solitude. Seems like a complete white elephant to me: "The Mad Plumber's Folly". Hard luck indeed if he ends up going bankrupt. At least what he built will last indefinitely and really is beautiful (aside from that hideous outbuilding), which is more than can be said of a lot of junk built during the housing bubble years.
Wind became stronger after leaving the castle and then ferocious when I crossed Highway 267 at Bonnie Claire. South wind, right in my face. Had to push the bike from there on, not because of sand, but because I simply couldn't stay upright with all the wind. Gave up early in exhaustion. When I tried exploring the surrounding area, I had trouble even walking into the wind. This wind is killing me. Maybe I'm the mad one for wanting to go bike touring in this sort of weather. And hard luck for me if I get hurt and die of thirst out here in the middle of nowhere, because I doubt there is much traffic on this rugged dirt road, maybe a jeep or dirt bike once in a blue moon. Camped somewhere between Bonnie Claire and Bullfrog Hills.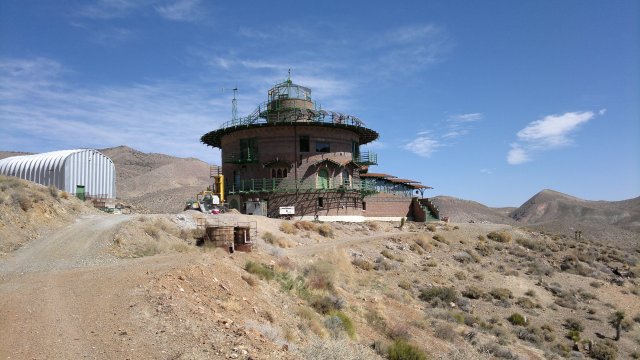 hard luck castle and hideous outbuilding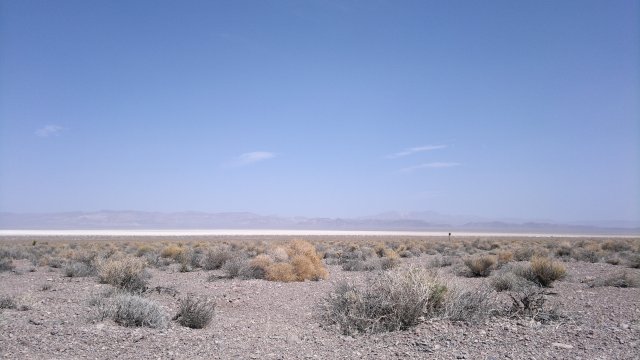 bonnie claire flat
Sun, 1 Apr 2012 (28 miles)
Wind shifted to northwest during the night, just as weather forecast had predicted, bringing cold and rain. Bivy worked well. Design is good, though condensation will always be a problem, but then all bivy designs have that shortcoming. With tailwind at my back, pedalling once again both possible and pleasurable.
Checked into Atomic Inn (775-553-2250) in Beatty, $56 for deluxe room. Manager said only deluxe rooms available (as opposed to economy rooms), but I doubt that, since parking lot was empty. In any case, the room is certainly deluxe. Same room I stayed in during my Death Valley tour back in December. Refrigerator, microwave, spacious, beautiful furnishings, quiet. Checked out the Beatty Nut and Candy shop and bought some unsalted oil-roasted spanish peanuts there. Adequate substitute for my preferred unsalted dry-roasted regular peanuts. Also checked out the mini-mart at the RV park. Decent and reasonably-priced selection of foods, including bread, cheese and instant rice. Rebel gas station mini-mart also has bread and cheese. Bought most of my provisions at the Mercantile General Store.
Mon, 2 Apr 2012 (50 miles)
Bike fell over when I kicked it inadvertently during morning exercises, breaking the mirror arm. I consider a rearview mirror an essential safety device for riding on highways, especially those with no shoulders so that I must pull off the highway whenever trucks behind me can neither pull to the left due to traffic in the other lanes nor slow down due to descending at high speed. So the mirror needed to be fixed as soon as possible (and I need to carry a spare mirror arm in the future). My decision of what to do next reduced to two options: (a) south through Death Valley and Trona to Ridgecrest, where there is a good bicycle store (T J Frisbees); (b) west across Death Valley to Lone Pine, then take CREST bus either south to Ridgecrest or north to Reno, ending my tour. Weather forecast was for strong south winds for the next few days, so I decided to head for Lone Pine.
Descent of Daylight Pass Road was exhilarating. Hit 47mph and could have exceeded 50mph, but I chickened out when the bike was rocked by strong side winds and oncoming traffic appeared. Pedalled 1000 feet up Towne Pass, then pushed another 3000 feet. Grade is 8%. Not sure if I will ever be strong enough to pedal a loaded bike up a grade like that for more than 1000 feet or so, especially since I had already used up part of my energy pedalling 1000 feet up from Beatty to Daylight pass. Camped in wash about two miles before Towne pass.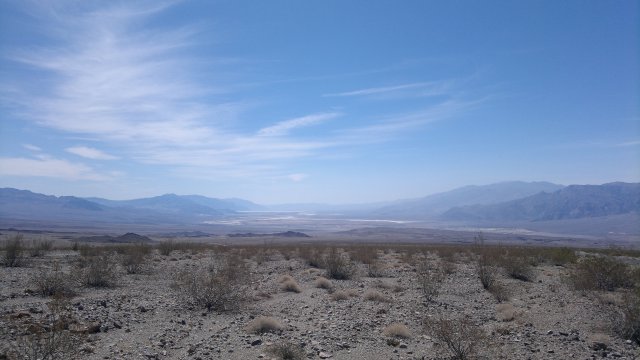 death valley, as seen from daylight pass road
Tue, 3 Apr 2012 (32 miles)
Clear skies and mild temperatures in the morning, but uncomfortably warm beneath the sun as the day progressed. Pushed the remaining 1000 feet of elevation gain to Towne pass, then pedalled downhill (9% grade) to Panamint Springs, then pushed from there to Father Crowley point (elevation gain of about 2000 feet and perhaps 7% grade). Couple in an SUV turned around after passing me, stopped on the shoulder and asked me as I came up to them: "Is there anything we can possibly do to help you?". They seemed pained at the spectacle of me pushing a loaded bike uphill in the blazing sun with my shirt off. I told them no thanks, of course. Bad enough accepting rides to/from town while backpacking, which is why I almost never do it. Loading my bike into someone's SUV would be infinitely worse (possible damage to my gear, annoying conversation, apologies necessary for getting their SUV dirty from the filthy bike chain, etc). Lunch sitting in shadow of restroom at Father Crowley point. Resumed pedalling from there on. As long as grade is under 5%, I can pedal uphill without too much difficulty, whereas grades steeper than that wear me out after a few miles, so that I have to dismount and push. Maybe I need to eat more carbs. Reached Darwin Plateau about 2pm, and decided to stop there so as not to arrive in Lone Pine too early tomorrow. Even in early April, days uncomfortably long. June would be hell up here. Sunny and hot for 15 hours, with not a lick of shelter from that sun.
Decided to head north to Reno from Lone Pine, ending my tour. The main purposes of this tour, to field test my new Nomad bike and to experiment with Nevada backcountry bike touring, have been accomplished. I see no reason to continue unless I am enjoying myself, and currently I am not, what with all the wind back in Nevada and now the beginning of summertime heat and excessively long days. Future tours will be in the autumn, when wind and long days will not be such a problem. Also, I have things I want to do in Reno before giving up my apartment at the end of June.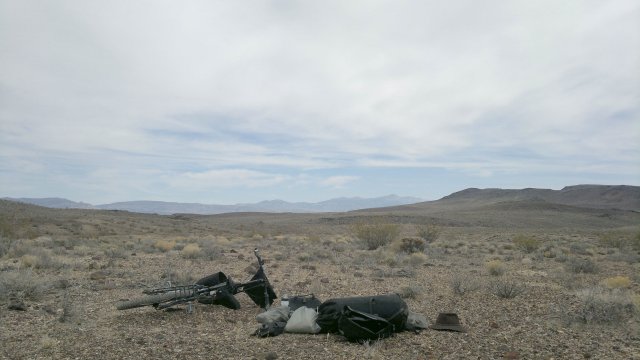 campsite on darwin plateau
Wed, 4 Apr 2012 (40 miles, ending odometer 970)
Easy descent into Lone Pine. Clear, sunny skies. Hot by noon in the sun, though mild in the shade. Would hate to be pushing uphill on a day like this. Checked into Dow Villa hotel ($63 including tax for room with shared bath, 760-876-5521, www.dowvillamotel.com). Made reservation for CREST bus tomorrow (760-872-1901).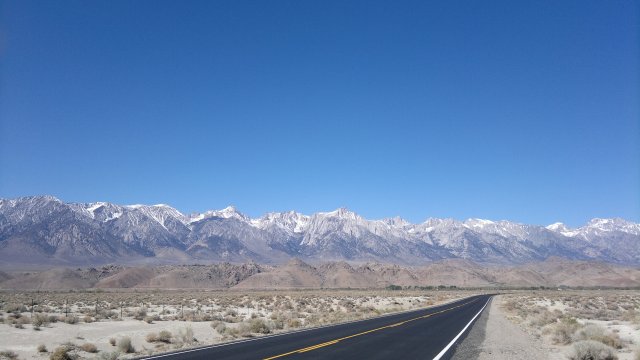 mt whitney, from road into lone pine
Thu, 5 Apr 2012
Took the CREST bus back to Reno ($60). Bike doesn't fit completely into bike rack, due to long wheelbase, but fits well enough not to fall out.
Statistics
24 days total, of which 11 nights in motels, 13 night camping, including 2 nights with light rain. 3 zero-mileage days, thus 21 days traveling.
811 miles total. Thus, for 21 days of traveling, average of 39 miles/day.
Comments
Thorn Nomad 2012 bike performed wonderfully. No complaints whatsoever. Pretty clear at this point that I didn't get one of the defective Rohloff hubs, which is a relief. All I need now is some practice changing the oil and cables and I should be set for many years to come.
Incident with the broken mirror has convinced me to add more spares to bike repairs and maintenance list.
Bivy works well enough in dry weather and light rain, but would be a miserable place to spend several days waiting out a storm like the one that blew over when I was holed up at the Middlegate motel. Maybe I should bite the bullet and get a freestanding tent? Then again, a tent means more weight, more space (though I currently have plenty of spare space in my rack bag), zippers and poles and other things to break, larger wind profile, more difficulty setting up and taking down (especially in ferocious winds), more difficulty drying out and keeping clean. All good reasons why I went with a bivy in the first place for desert touring. Tarps and non-free-standing tents unacceptable given the ferocious winds and sandy ground—stakes would never hold. Ray Jardine would no doubt respond that a tarp can be rigged by tying to sagebrush, which has a very deep taproot and hence provides a secure anchor in the sand, but I don't have the patience for this. [Update: Reviews on the internet indicate that snow/sand stakes do indeed hold in the sand, even with 50mph winds. So I will be using my standard tarp plus bugbivy on future tours, with sand stakes to supplement my standard titanium nail stakes.]
For full-time traveling, I need to bring along a better computer, since the smartphone is frustrating. Then again, even a lightweight netbook weighs about 1.5 kilos, including power cable and carrying case. That's a lot of extra weight, especially for backpacking. A tablet wouldn't save much unless it was small and I dispensed with a keyboard, but is such a tablet significantly better than the smartphone? Need to visit the Apple store and Best Buy to see what's available out there.
Schwalbe Marathon Mondial 55-559 tires worked well. I almost never had to push due to stalling in sand (though I pushed quite a bit due to steep hills), unlike during my Mojave tour. So there is probably no need for 60-559, even assuming the Mondial came in this width, since most of my future touring will be in Nevada and other Great Basin states, where the roads tend to be hardpack, rather than the Mojave and Sonoran deserts, where they tend to be sandy. Ordinary motor vehicles stall in sand just like bicycles, so if a dirt road is frequented by motor vehicles driven by workers who can't afford to waste time (such as ranchers), then it is probably hardpack.
I had no flats and noticed no goathead thorns in my tires at any point during this tour. I'll probably continue to use Stan's sealant in my tubes, but I may back down from av13d "downhill" tube to regular av13 tubes, after experimenting some with the latter. This would save 55g per wheel, and another 55g from the repair kit. (See flat prevention page for more details.)
Caps that came with Nalgene ATB bottles worked well enough, but I may replace with MSR 3-in-1 caps, which are more durable and lighterweight (25g versus 35g).
After talking with a worker in the bike shop at REI, I decided to change my chain lube to Finish Line Dry, which comes in a smaller bottle and with a more leakproof cap than Prolink Gold. Everyone in the REI shop uses Prolink Gold, but he acknowledges that its cap can leak. He warned that applying Finish Line Dry to a dirty chain would cause dirt to stick and the chain would become filthy. Same thing happens with Prolink Gold in my experience. Not sure what can be done about this. I currently have no way to clean a chain in the field and I need to apply lube to keep the chain running smoothly. I could add solvent and more shop towels to my repair kit so as to be able to clean the chain in the field before applying oil, but that adds hassle factor, another bottle of liquids to possibly leak and make a mess, more weight, possibility of damaging the bike by not washing away the solvent completely. The chain didn't stretch much during this last 800 mile tour, nor did the chain on the Novara stretch much during the 800 mile Death Valley tour. So what I'm doing—namely, piling more lube on an already dirty chain—evidently keeps the chain lubricated well enough that it doesn't wear excessively. SRAM PC-830 8-speed chains cost $12. That is small change in the grand scheme of things. Simplest approach is thus to lube the chain frequently, never clean it, replace it at the end of each trip.
Small rocks swept up by front tire and then deflected off crud catcher land in front panniers and accumulate at bottom, which could lead to abrasion of bladders. Need some sort of fix. Either use webbing for the bottom, so the rocks can fall out, or arrange some sort of closure at the top, so rocks can't get in.