Jun-Jul 2012, Northern California Pacific Crest Trail
Tue, 26 Jun 2012
Put the last of my belongings into storage, then returned my apartment keys and checked out. So now I am officially without a fixed place of residence ("homeless" seems misleading, since I am hardly penniless), and hopefully will remain that way for the rest of my life. Crazy as it seems in retrospect, I went house-hunting this past winter and even made several offers, one of which was accepted. I came to my senses after spending a few days sitting in the yard of this house I had offered to buy, letting the reality of what I was contemplating doing sink in. In the end, I cancelled the offer and forfeited the earnest money. Owning real-estate is a hassle, no other way to describe it, yet one of the main reasons I'm giving up my apartment is because even that is more hassle than I can tolerate, so how can I possibly think of owning a house? Pure madness. Not the first time I've followed a wrong path to its extreme before changing direction, and won't be the last time either. Maybe I was misled by my money instincts. This past winter was a perfect time to buy a house in Reno. And prices in the area continue to be good, though now that the weather is nice there is less inventory and more competition, so buying will be more of a hassle than in the depth of winter. But that's for other people to worry about. For me henceforth, it's either hotels/motels or camping. The carefree life of a permanent wanderer.
Took the RTC Intercity bus from Reno to Carson City, then the BlueGo bus from Carson City to Spooner Summit. Walked a few miles north on the Tahoe Rim Trail and made camp. Beautiful weather: about 70 degrees Fahrenheit, blue skies.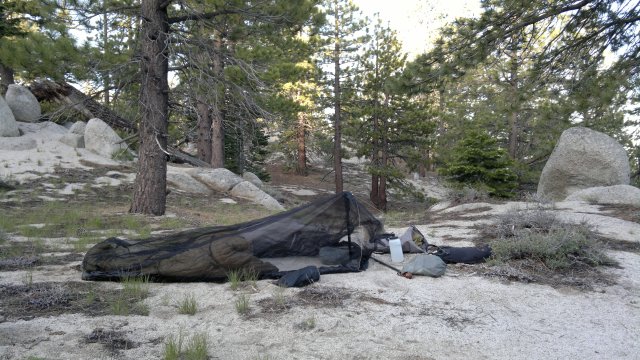 first night's camp, a few miles north of spooner summit
Wed, 27 Jun 2012
Topped up my water supplies at the well at Marlette Campground. Patch of snow on northeast slope of Snow Peak, but otherwise everything dry. Feeling headachey and nauseous towards late afternoon. Probably reaction to change in altitude. Also, back muscles sore. Last time I carried a backpack was last summer. Camped a few miles south of Ophir Creek.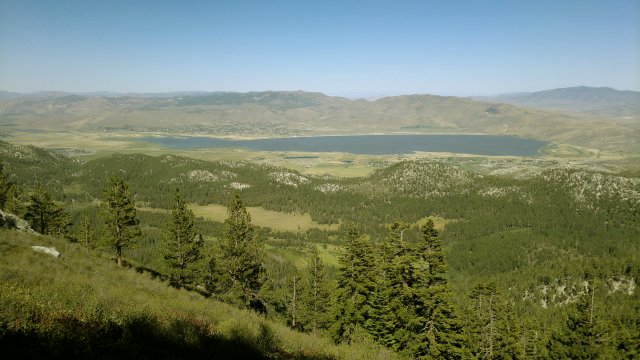 washoe lake
Thu, 28 Jun 2012
Felt much better in the morning after a long night of sleep. Filled up with 6 liters of water at Ophir Creek. Possible to get water at Grey Lake, but I'll probably skip that, so I need enough to get me to Watson Lake tomorrow. Camped a few miles before Brockway summit.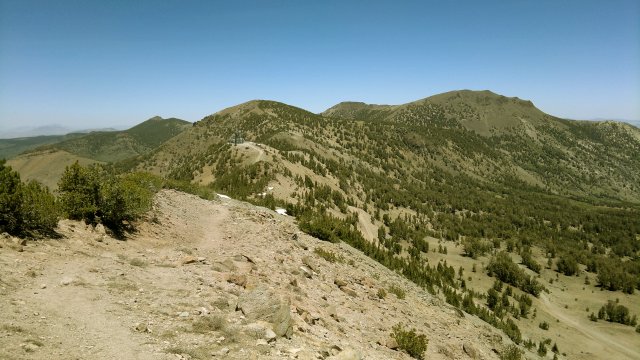 looking north from relay peak, normally this would be snow-covered in late june, since it is over 10000 feet elevation, but this was a very low snow year and there are only a few patches of snow
Fri, 29 Jun 2012
Had just enough water to get me to Watson Lake, where I picked up another 4 liters. Hot and dry weather. Camped between Painted Rock and Cinder Cone. A few mosquitoes there—first of the trip.

looking south to lake tahoe
Sat, 30 Jun 2012
Resupplied at Tahoe City. Ate a big can of fish, since my legs were screaming for protein to build muscle. Washed up at campground and used computers at public library. Nature's Inn quoted $95 (plus tax) but I decided to move on. Too much hubbub here in town. Camped near Page Meadows. Lots of hungry mosquitoes. Hopped into my bug bivy ASAP.
Lodging info from the tourist center brochure. Add 10% tax to all prices:
America's Best Value Inn, $125+, 866-588-8246, abvitahoecity.com
Lake of the Sky Inn, $120+, 530-583-3305, lakeoftheskyinn.com (special offer on craiglist.com, $46/night sun-thu)
Mother Nature Inn, $65-$145, 530-581-4278, mothernaturesinn.com
PepperTree Inn, 530-583-3711, peppertreetahoe.com
Tahoe City Inn, $99+, 800-800-8246 / 916-543-4445, tahoecityinn.com
Sun, 1 Jul 2012
Managed to do morning exercises despite mosquitoes. Legs feeling much better after yesterday's protein binge. Beautiful weather continues. Switched from the Tahoe Rim to Pacific Crest Trail at Barker Pass. Camped high, at a saddle where the Tevis trail leads east, just before Granite Chief, so as to avoid mosquitoes.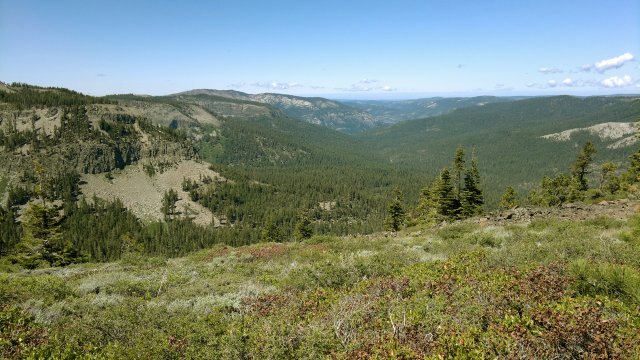 looking east from near ward peak
Mon, 2 Jul 2012
In a normal or high snow year, there would be several dangerous spots in this section of the PCT between Barker Pass and Donner Summit in early July, so that an ice ax and perhaps traction aids (Grivel Spiders or similar) would be highly adviseable. However, this was a low snow year, and there was very little snow or ice on the trail. Walked to Soda Springs and back for resupply. Managed to avoid overeating. Camped just north of Highway 40.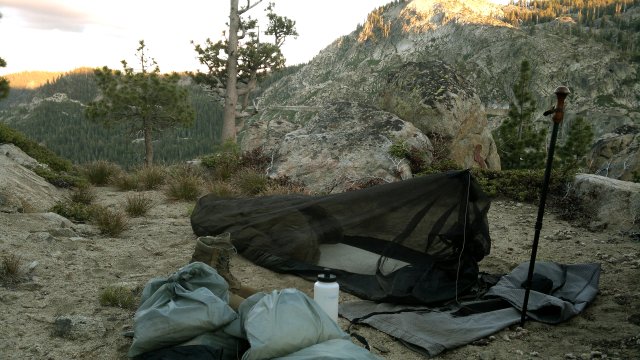 campsite near donner summit
Tue, 3 Jul 2012
Very heavy dew in morning. I was surprised by this, since yesterday had been clear. It was also clear this morning, so I simply waited for the sun to rise and dry everything out. Recharged phone at the electrical sockets at the Donner Pass rest area. Camped about 2 miles north of Highway 86, at a saddle with flat spots.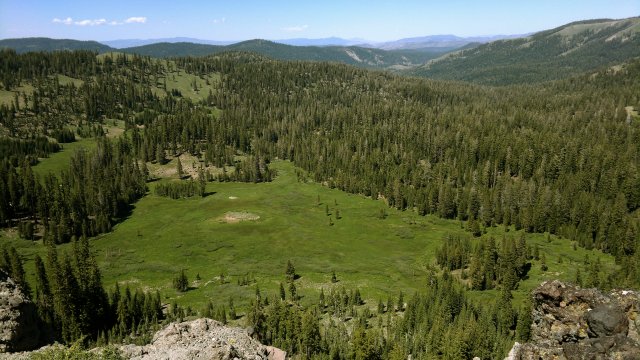 tom's valley
Wed, 4 Jul 2012
Resupplied in Sierra City, and also checked email using the wireless service at the store. Talked with other hikers about a mountain lion attack yesterday on a lone hiker sleeping under the stars close to here. This confirms the rule on my shelter page to use a tarp while camping in mountain lion country, even when there is no possibility of rain or dew. Mountain lions are much too cautious to venture under a tarp, but they might attack someone sleeping without a tarp, especially if the neck is visible. I've been violating this rule on this current trip so far, but will obey it henceforth. Lone hikers should also be careful about sitting where a lion could pounce from the rear, especially if not wearing a wide-brim hat to conceal the neck, and especially at dawn and dusk, when mountain lions prefer to hunt. Best to lean against a tree when sitting, or at least wear a hat. That rule I have been obeying on this trip. Details on the attack here.
Made an effort not to overeat. I'm trying to lose what remains of the 20 pounds I gained in roughly a month this past winter after my appetite soared out of control for some reason and I couldn't stop eating. Losing weight is much harder than gaining it. In the past, hiking caused me to lose weight easily. But something has changed so that I no longer automatically lose weight while hiking. Maybe I've become more efficient so that I burn fewer calories. Regardless, the days when I could eat as much as I wanted during town stops is over. I noticed several of the other hikers were carrying rolls of blubber around their waists. Bigger rolls than I've ever carried and they were much younger than me. A hiker my own age was positively obese.
Sierra City hotel was only $65, a good deal for this area, but I wanted to test out an area I had considered in the past. Namely, a few miles south of Highway 49, when the trail crosses an old road, descend to a flat area which is visible from this intersection. It is possible to follow this road (which is overgrown in places) all the way to Wild Plum road (the alternate route to Sierra City), but there are many side roads, so the way isn't obvious. There are also flat spots immediately south of Highway 49, but I dislike being so close to highway noise (though 49 is not a particularly busy highway at night).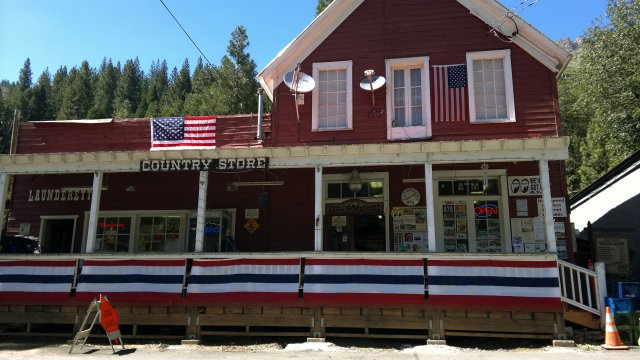 sierra city store
Thu, 5 Jul 2012
Hauled too much water up from Sierra city. Should have trusted water sources. Low snow year, to be sure, but not so little snow as to leave normally reliable water sources dry in early July. Camped just before Jamison creek trail.
Fri, 6 Jul 2012
Springs better marked than last year. Alder spring, between Quincy-LaPorte Road (Highway 511/120) and Silvertip Spring Road, is especially convenient (and a very good spring). Camped near Chimney Rock.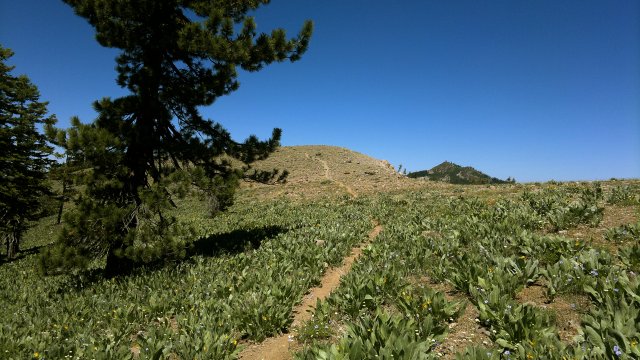 bunker hill ridge
Sat, 7 Jul 2012
Mosquitoes bad in morning, but I managed to do exercises nonetheless. Badly cut my left second toe when falling from handstand. Stupid idea to be doing handstands outdoors, with sharp rocks and branches everywhere to fall on. Stick to pushups and save the handstands for when I'm staying in motels. Front of sock stiff with dried blood in the evening. Let's hope this toe doesn't get infected. Camped just north of Big Creek road. Crummy campsite, with brush and fallen logs everywhere, but I managed to find a decent enough spot.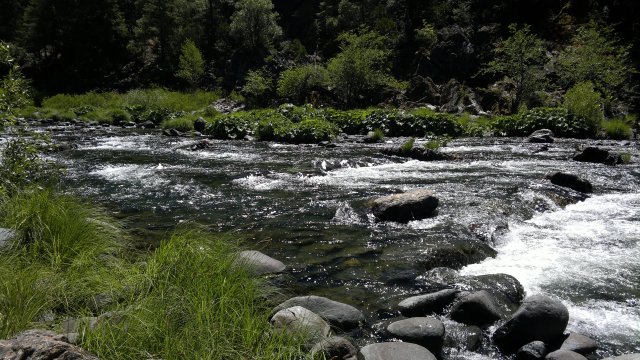 mid fork of the feather river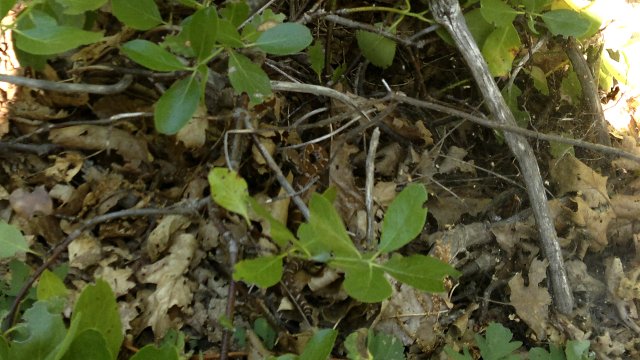 baby brown rattlesnake in center of photo, first rattlesnake I've ever seen in northern California
Sun, 8 Jul 2012
Left GPS switched on yesterday, so batteries worn down, though not dead. Need to replace when I get to Chester. Heard a bear stomping down the nearby dirt road in the night. Heading to the cabins and campgrounds nearby for some foraging. Toe appears to be healing without infection. Resupplied and recharged phone at Haskins Valley Store. The store/inn has wireless but won't let store customers use it, only guests at the inn. They appear worried about someone breaking the wireless somehow. Not too tech-savvy, in other words. Camped just north of intersection with Three Lakes Trail.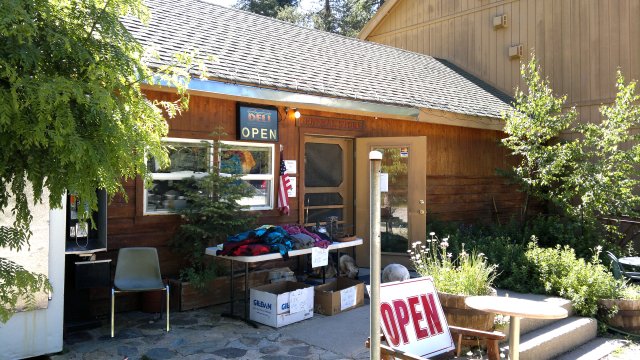 haskins valley store, on the bucks lake alternate route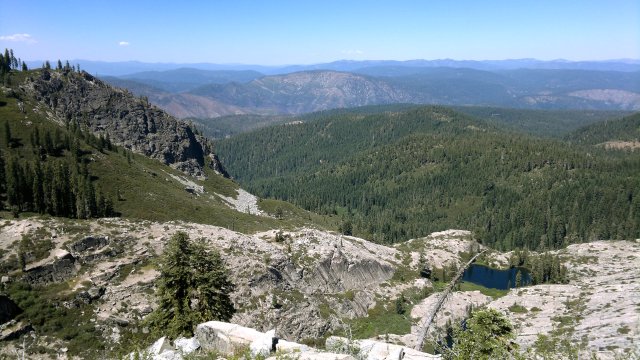 looking east from near mount pleasant
Mon, 9 Jul 2012
Stopped in for resupply and snacks at Belden store. They had a rave this weekend. Most of the ravers had left, but a few stragglers were still breaking camp. Belden store better stocked than in the past. No need to hike down dangerously narrow highway 70 to Caribou Crossroads. Camped a few miles before Humbug Summit. Same place I camped last year. Mosquito-ridden then, mosquito-ridden now. But flat and private. Long day: 26 miles, 5000 feet descent, 5000 feet ascent. Days like this make me wonder about what I'm doing. I know why I'm traveling—because I was going crazy staying put in that comfortable apartment. And I know why I hike/bike—because my body thrives on four or so hours a day of strenuous exercise, but only if this exercise is organic to my lifestyle, as opposed to forced. Jogging and gym workouts, in particular, I abhor. But four hours of hiking through gentle terrain, with a stop in town for decent food along the way, and perhaps a hotel room to wash up at the end of the day, and no mosquitoes—European style hiking, in other words—is a far cry from an exhausting day like today.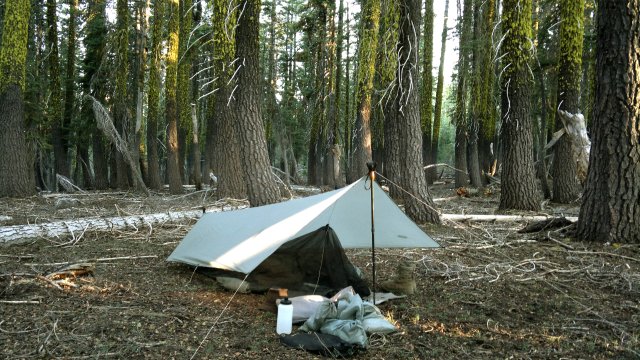 campsite near humbug summit (ever since the mountain lion attack, I've been deploying the tarp)
Tue, 10 Jul 2012
Woman at Humbolt Summit tried to lure me to her pickup truck with offer of "chips, beer, water", but I kept my distance. Always suspicious of do-gooders. Mosquitoes at dawn and dusk, buzzing flies during the heat of the day, ants crawling all over me everytime I sit down, pine sap all over the seat of my pants, constant uphill and downhill—this PCT hiking can indeed be wearisome at times. Jardine suggests thoughts like this are an indication of bad nutrition. Either not enough food or the wrong food. Maybe. Or maybe it's normal to not enjoy mosquitoes at dawn and dusk, buzzing flies during the heat of the day, ants crawling all over me everytime I sit down, pine sap all over the seat of my pants, constant uphill and downhill. I didn't have these thoughts when biking the desert this past spring or last autumn, despite eating more or less the same food then as now. Unfortunately, biking the desert this time of year is out of the question. Not sure what else to do this time of year that involves four hours a day of organic exercise. Going back to stagnating in a comfortable apartment is definitely not an option. Too much comfort is as bad, or even worse, as too much discomfort. Camped a mile or so before highway 36.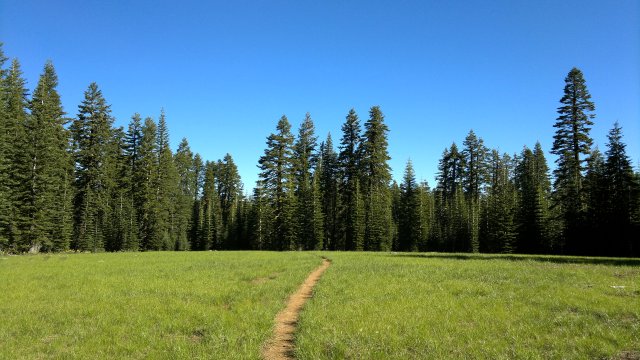 meadow near humbug summit
Wed, 11 Jul 2012
Mosquitoes gone in morning due to chilly temperatures. What a blessed relief! Walked into town along the dirt road that parallels highway 36. Occurred to me that this road would be perfect for biking this time of year. Unlike in the desert, plenty of shade here. Unlike hiking, no hot pack pressed against my sweating back, gentler uphill and downhill grades, ability to move quickly to town when I want. Why am I not biking? Checked into Seneca Motel in Chester ($45, special PCT hiker rate, 530-258-2815). Simple but clean and quiet room. Bath with shower, television, microwave, mini-refrigerator, stovetop. No air-conditioning, but not unpleasantly hot. Took a welcome shower. Clean at long last! Motel doesn't have wifi, but there is internet at library (both wifi and terminals).
Thu, 12 Jul 2012
Decided to stay another night at the motel. Visited the Bodfish "bicycle and quiet mountain sports" shop here in Chester (530-258-2338, website here). Discussed bicycling options in the area with the owner ("The" Bodfish? "Mister" Bodfish?) and his helper. For getting from Reno to Chester, they recommended something on the lines of Reno to Verdi, then Henness Pass road, then Smithneck road, then Beckworth-Genesee road. All this should be obvious from the road atlas maps I have back in Reno. Decided to head back to Reno, pick up my bike, then return to this area for some bike touring. Hiking in the United States is second-rate, that's all there is to it. Only good reason for hiking rather than biking (at least in the United States, perhaps not counting Yosemite) is that the equipment needed for hiking is cheaper, though not by a huge amount.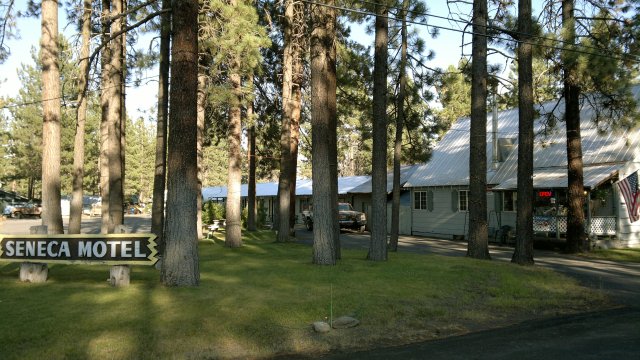 Fri, 13 Jul 2012
Took some back roads (primarily the Humbug summit road), as shown on my Nokia N8, to get from Chester to Humbug summit. Shorter than the PCT. As with the road which parallels highway 36, which I used to get from the PCT to Chester on Wednesday, this Humbug summit road would be perfect for biking. Though I'd almost certainly have to dismount and push to get up occasional steep sections. Camped near Humbug summit.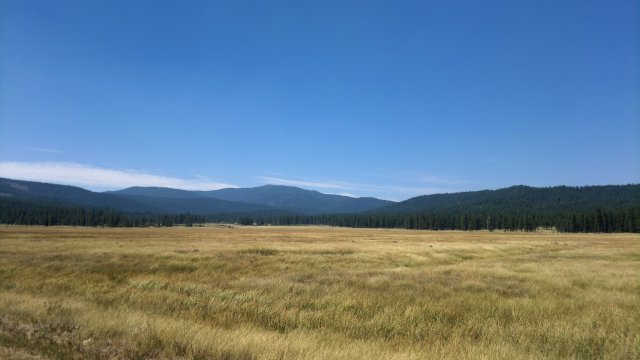 big valley on the way to humbug summit via humbug summit road
Sat, 14 Jul 2012
Took the side trail about 2 miles north of Belden to get to the Emerald pool swimming hole. Several flat spots for camping nearby, but the nicest of these was marred by a huge recent human turd decorated with toilet paper then the whole stinking mess smashed under a rock. I kicked some dirt over this pile of shit to kill the smell. Another nice flat spot was ruined by ashes from a fire. And yet there was a campfire ring not 5 feet away! This is why I normally avoid established campsites, especially those near water.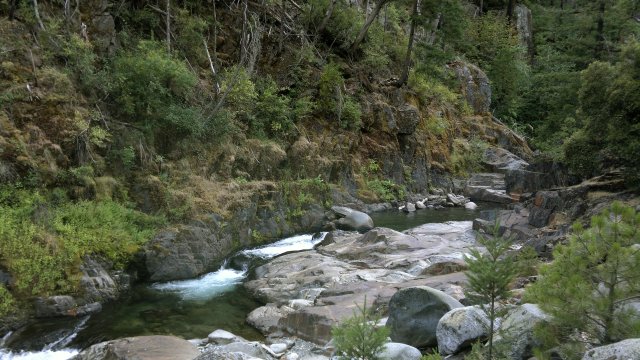 emerald pool is the larger pool on the right, but there are many pools here for swimming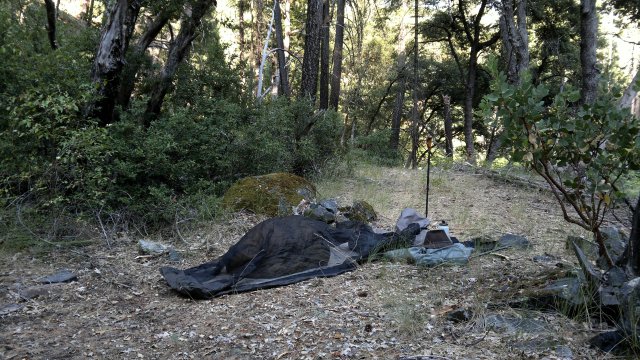 nearby campsite, with turd under flat rock on left
Sun, 15 Jul 2012
Rave in full progress at Belden when I arrived about 9AM. In fact, the pulsating beat was audible as soon as I turned the corner where the trail turns at highway 70. Theme of the rave was "Karma, Dharma and Cosmic Love" or some such silliness. First you lure the girls in with promises of trendy foolishness, then you lure the boys in with promises of crazy girls dressed in psychedelic bodysuits and fuck-me boots and woozy from too much booze, drugs, non-stop dancing and sleep-deprivation. Not my crowd. Not that any crowd is my crowd. Picked up some supplies at the store.
Then a 4000 foot slog uphill. For some strange reason, I remembered the section from Sierra City to Burney Falls State Park as being "easy". But the only easy thing about it is the availability of resupply. The hiking is certainly not that easy. Now Donner Summit to Sierra City, on the other hand, is easy—both resupply and hiking—as well as very beautiful. So if for some reason I ever do decide to hike in the United States again, the smart thing would be to stick to that section, plus the Tahoe Rim trail, then the area south of Lake Tahoe down to Sonora Pass, except take side trails that go direct to northern Kennedy Meadows and Lake Alpine (to allow resupply) rather than sticking to the PCT. Decided to take the Mill creek trail to Buck's Lake rather than the PCT. Trail is well-maintained, other than where Mill creek meets the lake, where the trail had evidently been washed out and I had to do some bushwhacking to regain it. Bathed in the lake, then camped at a saddle on Rainbow point.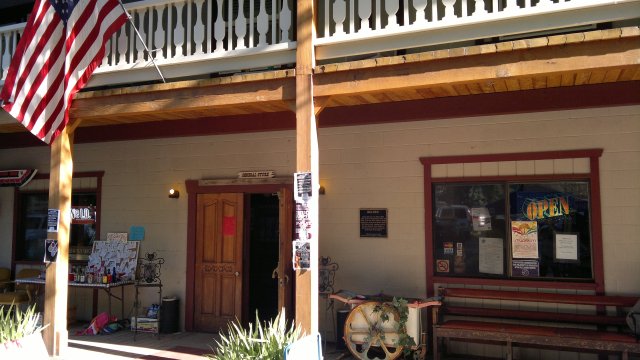 belden store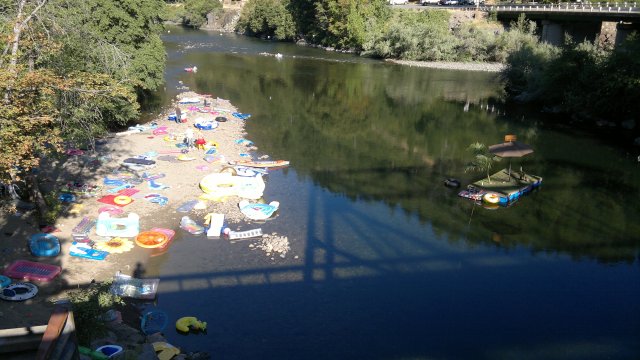 belden beach all junked up from the rave (yes, that's a man wearing a red tutu in the center of the beach)
Mon, 16 Jul 2012
Resupplied at Haskin's Valley store. Overindulged on sweets and felt sick later. Should have eaten bread instead. Camped a mile or so south of Fowler peak.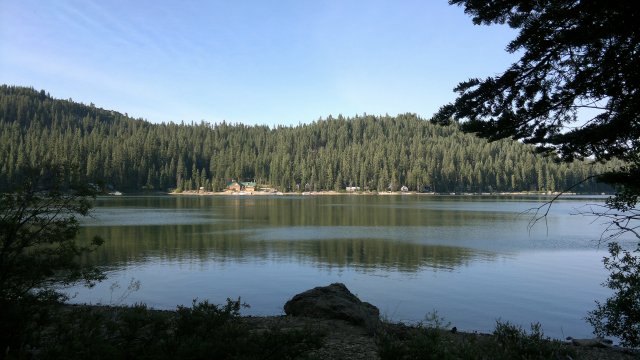 bucks lake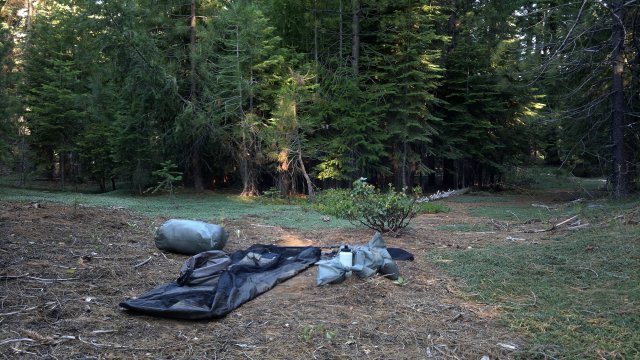 particularly nice campsite near fowler peak
Tue, 17 Jul 2012
Overcast, windy and cool in the morning. Mosquitoes gone as a consequence. Appetite finally seems to have kicked in. So presumably I'm losing fat rapidly now and should be lean by the end of this trip, assuming I can restrain myself from overeating at town stops. Losing weight is a slog, that's for sure. Need to remember that, and never again allow myself to put on excess weight. "An ounce of prevention is worth a pound of cure." Camped at saddle about a mile north of A-tree spring.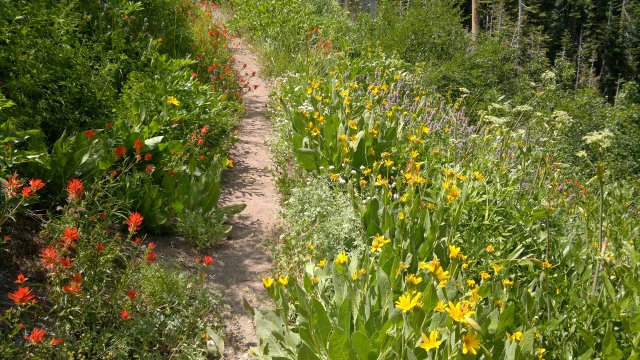 wildflowers near mount etna
Wed, 18 Jul 2012
Condensation on tarp in the morning. Resupplied in Sierra City. Was very careful to neither overeat nor to buy too much food. Plan is to be out of food by Friday. Same campsite as July 4, just south of Yuba river.
Thu, 19 Jul 2012
Overcast, cool and with occasional drizzle all day. Washed up in Pass creek despite cool temperatures. Left shoulder very tight and sore. Maybe I slept on it wrong last night. Or maybe it's psychsomatic. Built-up tension from this hiking which I'm no longer enjoying. Campsite same as July 3, just north of Highway 86.
Fri, 20 Jul 2012
Feeling tired all day due to lack of food, plus the sore shoulder, plus loss of interest in hiking. Stopped in at Donner Ski Ranch for a sandwich. Same campsite as July 2, just north of Highway 40.
Sat, 21 Jul 2012
Planned to take TART bus from west end of Donner Lake to Truckee, but a trail angel offered me a ride, which I accepted. Though I refuse to hitchhike if walking is an option (hitchhiking is begging, which offends my pride and is also a bad habit to develop), I won't always refuse offers of rides. Bought some snacks at a convenience store, but again careful not to overeat. Took the noon Greyhound bus to Reno, where I checked into a cheap motel for a week. Need to avoid fancy hotels. Don't want to ever again be trapped by excess comfort, which is what happened with that apartment I recently vacated. Too much comfort and too much discomfort are both bad. Better to mix the two. First, because comfort can only be fully appreciated when we frequently experience its opposite. Second, because discomfort provides the impetus to move on and avoid stagnating in a cocoon of excess comfort, which eventually causes unhappiness. In other words, unalloyed comfort and happiness are not the same thing, at least in my experience.
Conclusion
25 days hiking (23 nights camping, 2 nights in motel), and at least 500 miles.
Enjoyed the first week, then lost interest in hiking and decided to swear off hiking in the United States in favor of dirt road bike touring.
Gear worked flawlessly.
Lost the remaining fat I had accumulated during my eating binge this past winter. According to the online body-fat calculator (Navy method), I'm now at about 13% body fat (170 pounds, 71 inches tall, 15.5 inch neck, 32 inch waist), which is lean. Also, my body feels like its normal self once more rather than being burdened with a layer of blubber. I plan to keep in mind how painful it was to lose weight, so as to motivate myself to never again overeat or become fat.