Nov 2012 to Jan 2013, Mojave Desert Bicycle Tour
Planning
Current guide to maps for a trip like this is here. This guide will be updated as time passes, and so may not reflect what I actually used on this trip, which was a combination of: (a) selected pages from the California and Nevada Benchmark Road Atlases; (b) National Geographic paper map for Mojave National Preserve; (c) Garmin Etrex 20 mapping GPS, loaded with 1:100K Garmin maps for the entire United States; (d) offline Navteq road maps on my Nokia N8 smartphone.
Equipment changes/maintenance since previous bike tour
Downsized from 250ml to 125ml chain cleaner.
Replaced chain.
Checked spoke tension and tightened one spoke slightly.
Replaced simplified rack bag by version with shoulder straps.
Reinforcements to handlebar bag, saddle bag, tent stakes bag, front panniers.
Added cordura lining to rear panniers, to protect contents from bolt heads.
Curved rather than straight supporting rods on handlebar bag to reduce stress on tunnel.
Replaced bugbivy stuff sack with a larger version.
Shortened rear brake cable housing by 3", to prevent it from getting caught between handlebar bag and accessory bar.
Replaced both brake cables to get practice with this.
Pre-cut spare brake cables and secured ends with superglue. Based on correspondence with Thorn, special shifter cables are required for the Rohloff shifter, so I won't be able to pre-cut those until I can order these special cables.
Added cordura case to repair kit, for carrying spare brake/shifter cables.
Repaired pinhole leak in one Dromedary bladders using seamgrip. Another bladder was leaking because the plastic opening pulling away from the fabric—unable to fix and so replaced this bladder. So far, I've only had to replace one Dromedary bladder in over 200 days of hiking/biking. So the bladders are fairly reliable. Also, this leak where the fabric was pulling away from the fabric was a very slow one, and the bladder would have continued to be usable in one of the front panniers if bike touring. For hiking, my backpack is specifically designed to accomodate a fallback strategy of replacing a failing bladder with generic 1.5 liter water bottles.
Bottle for water purification tablets vs aloksak, since the tablets were being crushed into powder.
Bring along Garmin Foretrex 301 as backup in case Etrex 20 fails.
Adjusted headset, which had gotten loose.
Replaced inner tube patch and tube of rubber glue in repair kit. Tube was still almost full, but better to replace now than run risk of forgetting and eventually have tube dry out. Flat repair kits are cheap.
Cleaned insulated pullover in washing machine using standard laundry detergent and hot water. Washing machine became unbalanced several times during spin cycle. Squeezed out water by hand so that cycle could resume. Cleaned quilt in bathtub, also using laundry detergent and hot water, then soaked in Mirazyme, then let drip dry. Both items allowed to drip dry in motel bathroom (several hours for pullover, overnight for quilt). Quilt shell fabric tore at several places where yarn quilting loops had been tied. Quilting probably not necessary for quilts made with continuous fiber polyester. Compare with a pullover worn under backpack straps, where stitched quilting is almost certainly necessary. Other than shell fabric tears, washing results good for both pullover and quilt. I've washed both before, but lack written records, which may be why I was worrying about cleaning difficulty during my last trip. Now that I have such written records, hopefully I won't worry in the future.
Replaced spare supplex shirt by stretch-knit pullover. Original idea was that spare supplex shirt would serve as both spare, in case primary shirt was damaged, and also could be worn over primary shirt to provide warmth during moderate cold. In practice, two supplex shirts is not warm enough for many situations, especially light but cold rain, whereas insulated pullover is too warm. Stretch-knit pullover should better span gap between supplex shirt alone and insulated pullover. Little need for spare on shorter (three months or less), so spare supplex shirt will be omitted henceforth, thus offsetting weight of stretch-knit pullover.
Wed, 14 Nov 2012 (60 miles in 5:41 hours)
Starting odometer 3801 miles.
Much fixing up and redesigning of gear during my month in Reno. Another year or so and I should have my bike touring gear at the same level of perfection as that for backpacking.
36 miles and 3:12 hours to get from North Virginia and I-80 in Reno to Carson Street and Highway 50 in Carson City, with a a mild tailwind. Followed the same route as I used in October to get from Carson City to Reno, but in reverse: Truckee River bike path, Rock blvd, Longley lane, Double R blvd, Damonte Ranch road, Old Virginia road, old highway 395, Lakeview road, Combs Canyon road. Highway 50 to Dayton. First time I'd ridden this stretch of highway 50. Wide shoulder and safe riding. Camped along Fort Churchill road, in my usual spot about 5 miles from where Six mile Canyon road intersects Highway 50. Arrived at camp about 5:05pm, with sun having already fallen at about 4:30pm, so it was getting dark as I set things up. Setting up camp in the dark is rare for me nowadays, but I used to do it frequently, so not a problem.
Thu, 15 Nov 2012 (43 miles in 5:49 hours)
Bottles and bladders all frozen, with ice all over top of quilt and frost on other gear, and me uncomfortably cold under the quilt, so temperatures evidently well below freezing. Warmed up rapidly as the sun came out. Dried everything at the Buckland station while snacking. Water faucet there labelled non-potable. Not a problem as I had plenty of water with me. Then took the dirt road down Churchill Canyon. From last night's camp to the Highway 95 Alt and Julian Lane intersection via this route 27 miles and 3:46 hours pedalling, with little wind. In other words, should be no problem to plan on camping along Fort Churchill road the first night and then along Julian Lane the next night, provided I get an early start in Reno (which I did not yesterday, which is why I arrived after sundown).
Camped along Julian Lane. Already getting dark at 4pm. Storm forecast for northern Sierra Nevada tonight, blowing in from the northwest, but most precipitation should be in the mountains. Nevertheless, I erected the tarp just in case. That should also keep me somewhat warmer, by reducing radiation heat loss. Also, emptied one of the bottles and placed one of the bladders under the rack bag and my neckpurse near my head. This should keep the water in that bladder liquid and allow me to fill the bottle with liquid water in the morning for cleaning purposes.
Forgot to refill toothpaste jar. Also, lower velcro strap on one of the panniers is coming unstitched. Didn't notice this back in Reno, or I would have fixed it with the sewing machine. Now I'll have to hand sew it. Muscles a bit sore, so I evidently got out of shape during that month in Reno.
Very peaceful. No wind or other sounds, just the distant yipping of the coyotes at nightfall, then absolute silence after that. Nice to be following a known path. No need to look at map or GPS, sure of finding a good campsite.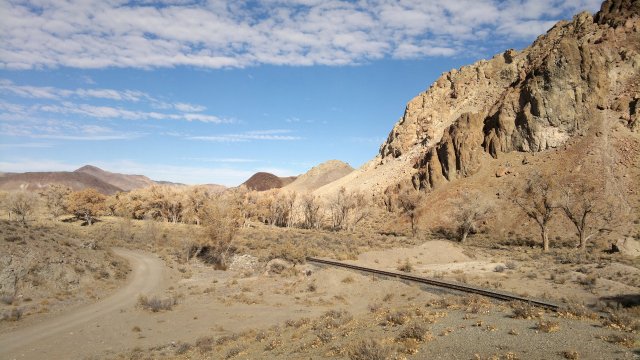 chuchill narrows
Fri, 16 Nov 2012 (38 miles in 6:19 hours)
Much warmer this morning, with nothing frozen. Light rain around 6am, so I skipped exercises and ate under the tarp, then the rain stopped. 15 miles and 2:02 hours to get from camp to Highway 95 via Julian lane then Rodeo road aka Little Weber Dam road. Continued along the Rawhide road rather than detouring to the Schurz convenience store, as I have plenty of food and water with me. Drizzling as I set up camp.
Lost one of the inner tube valve caps, probably because I didn't screw it on tight after checking air pressure back in Reno. Replaced with a spare from the repair kit.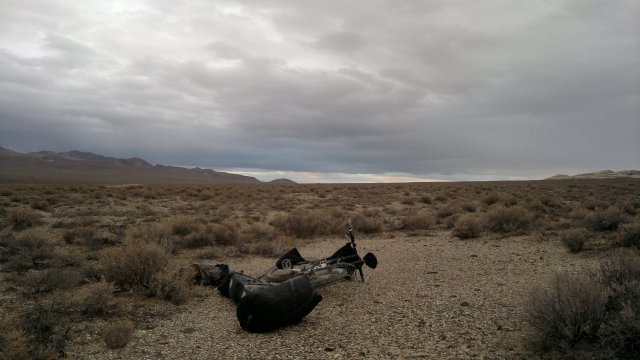 setting up camp near rawhide, lots of clouds
Sat, 17 Nov 2012 (34 miles in 6:04 hours)
Wind picked up around 9pm, from the east-southeast. An unexpected direction and blowing right into the tarp, so I got up and lowered the tarp, but it was still noisy. Used nail stakes in mostly sandy ground, but compacted sand so they held well. Drizzled off and on all night. Sky overcast in the morning, with a strong east wind, which was a headwind for me. Briefly considered hibernating. But what a miserable hibernation that would be, with little space under the tarp and horrible noise from the tarp flapping in the wind! So packed up, bundled up in all my clothes and headed into the wind. At least I'm strong enough now to make progress in such a wind.
After passing the mine, I decided to take the direct gasline road to Gabbs, the road I had been warned about twice, rather than detouring 10 miles south to the solid road I used last time through here, and then detouring north again to get to Gabbs. First 6 miles of the gasline road was solid but rugged hardpack, then 3 miles of the loosest and deepest sand I've yet encountered while bike touring. Experimented with loading water and food into the rackbag, then carrying that as a backpack so as to lighten up the bike, and that made pushing considerably easier. Remainder of gasline road was mix of hardpack and sand, with lots of ups and downs (typical of gasline/pipeline/powerline roads, which go straight rather than following the contours of the land). Based on the lack of tire tracks along that 3 miles stretch of deep sand, it is possible I was following the gasline but not the current road, and that the current road has been shifted north or south a few hundred yards to avoid the sand, though I didn't notice any such turnoff. Anyway, the gasline road was bad elsewhere, so I doubt I'll be back to explore the possibility of detouring around the deep sand.
Rained off and on, clearing as the day when on. Didn't bother with poncho, as I had enough synthetic clothes to keep the moisture well away from my skin. Checked into the motel in Gabbs ($38 including tax). Ate a big protein meal with food bought at the store, as I'm feeling exhausted and probably need to build some muscle.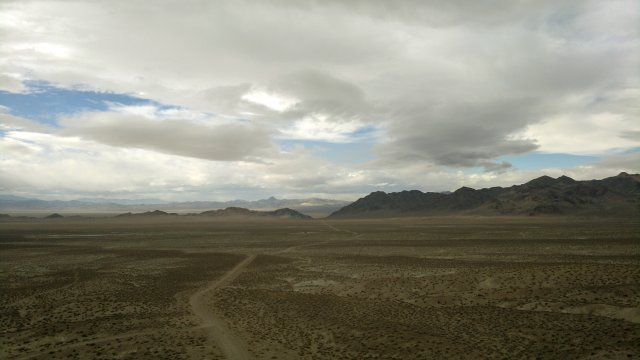 looking back from cobble cuesta
Sun, 18 Nov 2012 (40 miles in 5:55 hours)
Partly cloudy in the morning, getting sunnier as day progressed. Southeast wind, right in my face, noisy and making for slow-going along the poleline road to Tonopah.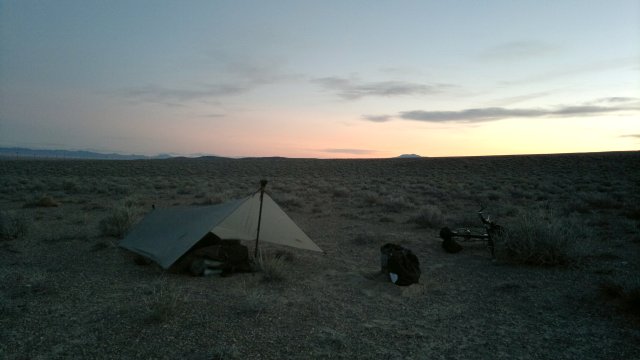 camp on poleline road
Mon, 19 Nov 2012 (33 miles in 4:30 hours)
Wind died down in the night, so little flapping of the tarp, and utterly peaceful in the morning. Nothing frozen. Checked into Tonopah Motel ($44 including tax). Weather forecast is for sunny and cool for several more days, long enough to get me to safely into Death Valley before another storm arrives and temps fall into the low teens at night.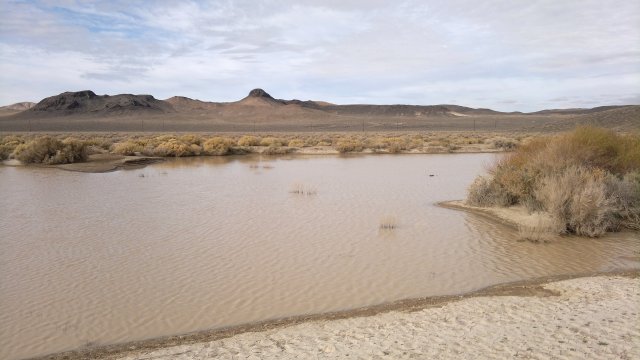 puddle from recent rain along poleline road
Tue, 20 Nov 2012 (34 miles in 2:58 hours)
Today's post will be long and go into details of my personal life that are of no concern to anyone but myself. However, I need to explain why I am not proceeding directly to Death Valley but rather heading back towards Reno. So bear with me.
I have long been obsessed with the idea of owning a low-maintenance home of some sort for when I am not traveling. Ideally, it would be made of reinforced concrete, insulated on the outside, and built into a south-facing slope so that temperatures inside would always be above freezing and hence no risk of pipes freezing even with the heat turned off. Also, with no trees nearby to fall on the roof during a storm, and in a neighborhood with low risk of burglary, preferably with two bedrooms and plenty of noise-proofing between the bedrooms so I could have a roommate and thus not have to leave the house unoccupied when I'm traveling and yet not be annoyed by this roommate's noises. Anyway, this desire to own a house is what led me to put an offer on an existing house last year here in Reno. But then later, while sitting in the yard of that house between the time the offer was accepted and the inspections and other steps involved with finalizing the sale were completed, I started worrying about a big tree in the yard falling on the roof and all the other things that could go wrong and so backed out of the deal, thereby forfeiting my earnest money. I thought that losing the earnest money would be painful enough to cure me from future thoughts of owning house, but in fact what has happened is that my thoughts turned towards building my own house. So when I saw vacant lot for sale on a south-facing lot in the sort of neighborhood that would be perfect (close to the university and thus not far from downtown Reno, populated by conservative middle-class neighbors of the sort who own guns and thus a neighborhood that is unnattractive to burglars and vandals), I became very excited and called up the realtor. Now it turns out this lot has some CC&R's that might pose a problem, in that all house plans must go by a design review committee. However, the intention of the design review committee is to ensure that houses blend into the landscape rather than being ostentatious eyesores, and a bermed house with earth-tone roof and professional xeriscaping should meet those design standards, so this should not be a problem. Also, the home owner's assocation is apparently no longer active at this point, though there is a clause about successors and assigns, and thus the potential for a legal minefield wherein it is unclear who has permission to contest my design. The HOA is inactive because the neighborhood was mostly built-up long ago, except for the lot I'm interested in and an adjacent lot, both of which have remained vacant precisely because they are sloped and hence hard to build on with conventional methods, whereas berming (building into the slope) might work very well.
Also, though I'm not a doomer by any means, I do think bio-terrorism is going to be big in the future and this will be a major problem for someone like me who depends on access to public accommodations (busses, trains, planes, grocery stores, motels) since public accommodations are the obvious targets for bio-terrorists. Dying isn't what worries me, since death is the solution to all of life's problems. Rather, it is that during a crisis those with private accommodations (private automobiles and houses) will lock themselves inside and warn off strangers with guns, and those like me who depend on public accommodations will be abandoned to their fate, just like in hurricane Katrina, except with conditions worse and with help slower to arrive than after Katrina. Given that I have my camping gear with me at all times, I'd have no problem with shelter, provided I wasn't robbed of this camping gear, but I would soon run out of food and potable water. So my obsession with having my own house (and stockpiling food, water and guns in this house) is quite rational, given my predictions for the future. I'd also have to have a plan to get back to this house by foot or bike while traveling in the United States, but that shouldn't pose a problem, since most of my future travel in the United States will be less than a week's journey from Reno by foot or bike. As for trips to Europe, those may come to an end as bio-terrorism becomes widespread. All the more reason to travel to Europe now while I still can.
Later, after reading again through the CC&R's, I reflected that it is absurd that someone who is worried about buying an existing house to be contemplating building his own house. Building a "dream house" is an all-too-common way for people in their 50's to squander their life's savings and so be forced back into the work world. What if that slope is solid rock? What do I know about excavating solid rock? The idea occurred to me of excavating it myself, using a jackhammer, if I couldn't get a reasonable estimate for someone else to do it. But that is definitely madness, since I know nothing about jackhammers and am not particularly interested in learning. And then there is the problem of finding a competent builder and what to do if things go wrong. Reinforced concrete is not something that can be easily repaired if it was poured wrong to start with. How long will this project take? Do I really want to spend a year of my life on a project like this? One year is little for someone who can realistically plan to live another 40 to 50 years, but still, that year happens right now and I am much more interested in traveling now than hanging around Reno dealing with lawyers and architects and engineers and building contractors. Then again, now is indeed the time to build, while we are still in a recession and there is plenty of slack capacity in the construction industry, rather than waiting 10 years, when the economy will likely again be experiencing labor and material shortages versus the current gluts, due to mass retirements by the baby boomers.
It is easy to dismiss this idea of building a house as just another wild mania of mine. On the other hand, when an idea obsesses me for months and years on end, dismissing it without further investigation seems wrong. I need to find out why the idea obsesses me. Am I really being prescient about bio-terrorism? Or is the hunger for a home less for a physical house than a spiritual home, my place in the world, so to speak?
So the above were my thoughts when I woke up this morning in the motel in Tonopah. It was sunny out with a southeast wind. I took this southeast wind as an omen, directing me to return to Reno (which would mean traveling northwest, so that the wind would be a tail wind) and ponder the issue on the way back. I probably won't buy, but then again I might. The risk is small for merely buying the lot, since taxes would be maybe $700/year and so, at worst, I hold the lot for a few years then sell, taking a total loss of maybe $10,000. If I decide not to buy the lot, I'll take the CREST bus down to Bishop and enter Death Valley that way. No regrets about this little side trip to Tonopah and back. I have all the time in the world, traveling is always enjoyable and I've learned something about the suitability of the weather for bike touring in the Nevada backcountry during mid to late November. Camped on the poleline road, cutting the day short so as to allow more thinking about what I'm up to with my life.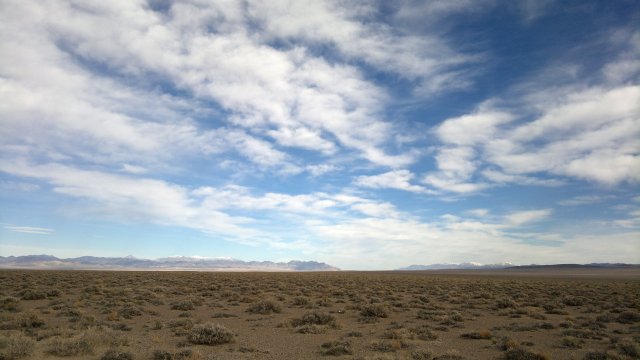 snow on distant mountains from recent storm
Wed, 21 Nov 2012 (48 miles in 4:54 hours)
Patches of frost on gear, but no ice in the water bottles, so temps evidently just above freezing. My standard precaution henceforth will be to keep one of the bottles at least partly empty, to allow adding liquid water to it in the morning to allow using the bottle for cleaning purposes after my morning bowel movement, and to keep one bladder under the rack bag and neck purse and thus near my head so I will have liquid water available. No need to actually sleep with water unless temps are well below 20°F. Camped a few miles west of Highway 361, along Rawhide road.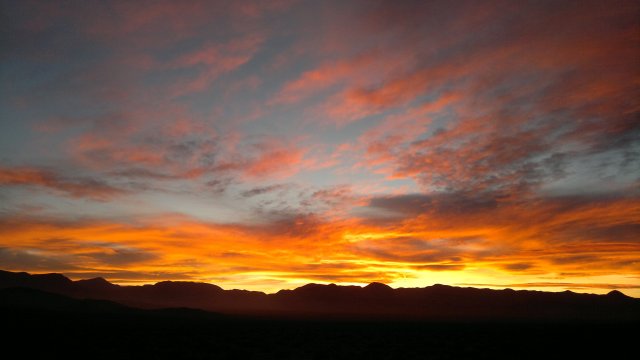 sundown on rawhide road
Thu, 22 Nov 2012 (42 miles in 5:39 hours)
One bottle had ice in it. Little wind, sky clear, few motor vehicles because today is Thanksgiving holiday. Camped along Rawhide road, a few miles before Calico hills pass.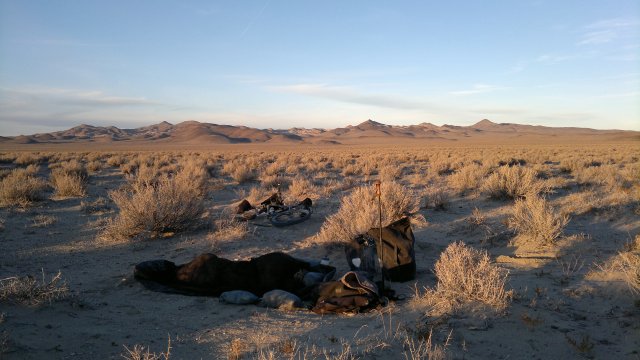 camp along sandy stretch of rawhide road
Fri, 23 Nov 2012 (45 miles in 5:45 hours)
Feet felt very cold when I woke at midnight and ice on top of the quilt. Should have erected tarp. Radiant heat loss is a big thing when sky is clear. Tarp reflects much radiation downwards. Also, the warm air trapped under the tarp means frost will be on the tarp rather than the quilt. Bladder under rack bag unfrozen. Poured some water into my titanium cup, drank the water, then set the cup down. When I picked the cup up again a minute later, drops of water left in the cup from earlier had already turned to ice. So temps evidently quite cold. Feet numb until sun came out and warmed things up. Bought some snacks at the Schurz convenience store and added water to my bladders.
Building a house is pure madness for someone like me. I was never able to manage owning a car, a condo, a rental duplex managed by a rental company. Even being on a lease for an apartment managed by someone else taxed my patience. How can I possibly be thinking of all that is involved with having a house custom-built for me? Then again, I did run a business once and also managed several big lawsuits. So I suppose "unable" is not the right term. "Unwilling", given that I don't need to make any more money, merely to avoid losing what I have. Cost overruns and lawsuits due to a dream house project run amuck is a very easy way to lose money bigtime. Motel living is definitely the way to go. Just pay up and stay in a quality motel instead of these dumps filled with low-lifes that I keep being attracted to because I'm such a cheapskate.
Camped along Julian lane. Alas, too close to a ranch and thus some annoying generator noises at night rather than wonderful silence. Why own a house, in the middle of a city full of stupid, noisy and otherwise annoying low-class humans, when I can sleep for free in the middle of nature?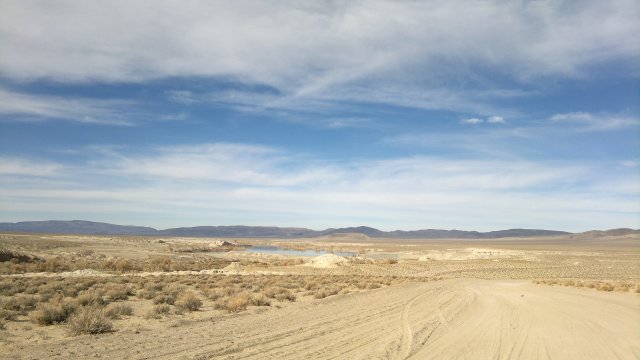 walker reservoir in the distance
Sat, 24 Nov 2012 (34 miles in 4:08 hours)
Much warmer with the tarp pitched. And frost on the tarp rather than the quilt, for reasons explained in yesterday's entry. Checked the weather forecast and email at Buckland Station, where there is a strong ATT signal. Camped at the usual spot along Fort Churchill road, about 5 miles east of highway 50. Used sand stakes for the first time.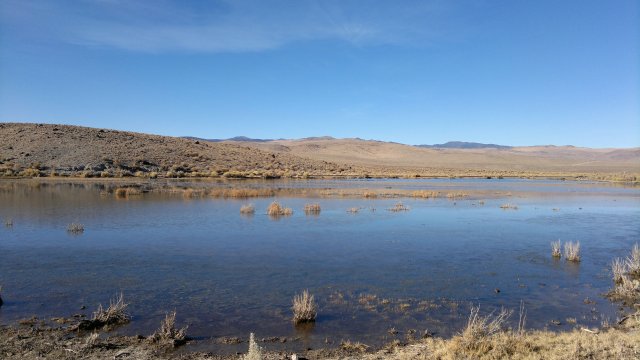 wetland north of adrian valley, along churchill canyon road
Sun, 25 Nov 2012 (25 miles in 2:33 hours)
Nice and warm under tarp. Loaded up on supplies in Dayton then feasted at the Dayton State Park. Checked into Frontier Motel aka Royal Inn aka Royal Food Mart ($39 incl tax) and feasted on goodies from the nearby Bargain Market. Accuweather says temps Friday were only 22°F at Schurz. Then again, I was at higher elevation and there might have been some microclimate effects such that temps might have been under 20°F where I was camped. Temperature 8°F back on November 11 in Schurz, right before I started this trip. November can indeed be bitterly cold in central Nevada.
Cleaned and lubed chain.
Mon, 26 Nov 2012 (6 miles in 1:06 hours)
Slept poorly due to overeating and too much beer. Need to go easy on carbs when I'm not exercising and hence not burning them off rapidly, otherwise they ferment in my stomach. To regain lost body fat, eat food fat (especially ice cream) rather than carbs or protein, since it is difficult for humans to convert carbs or protein into body fat. I've been avoiding ice cream ever since that 20 pound weight gain last winter. However, when the goal is gaining rather than losing body fat, ice cream is perfect.
$37 for CREST bus from Carson to Bishop. Checked into Motel 6 there, $60 incl tax after discount ($65 w/o discount). Much nicer room than the typical Motel 6. Cheaper motels further south, but it was dark when I arrived and I didn't want to push the bike in the darkness. Also, the Motel 6 is convenient to both Vons and Smart and Final, where I loaded up on supplies.
Tue, 27 Nov 2012 (49 miles in 6:00 hours)
Took a dirt road east of a parallel to 395 to get from Bishop to Big Pine, but it turned sandy about halfway through. Should have stuck to the highway. Or better still, stock up on food back in Carson, then continue on the CREST bus to Big Pine and spend the night in the Big Pine motel rather than in Bishop.
Pass was at 7600 feet, versus about 4000 for Big Pine. Had to pedal hard and fast to get through the pass and down to lower elevation before darkness, due to leaving Bishop late and then dawdling on that sandy road to Big Pine. I didn't want to camp at 7600 feet this time of year because it might be bitterly cold that high. Actual camp was in Eureka Valley at 3400 feet. Nice and warm at that elevation. Sight of rock walls on sides of the road through the pass made me shudder at the idea of excavating into that sloped lot. No telling what a fiasco that might turn out to be. I know absolutely nothing of digging, blasting, jackhammering, etc. Simpler just to find a flat lot in a small town somewhere if I want to build a safe house for when the bio-terrorists make their move. Some of these small towns in Nevada would likely be much safer than Reno in the event of a major panic.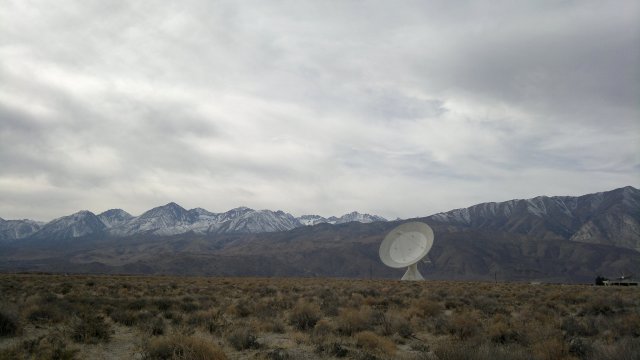 owens valley radio observatory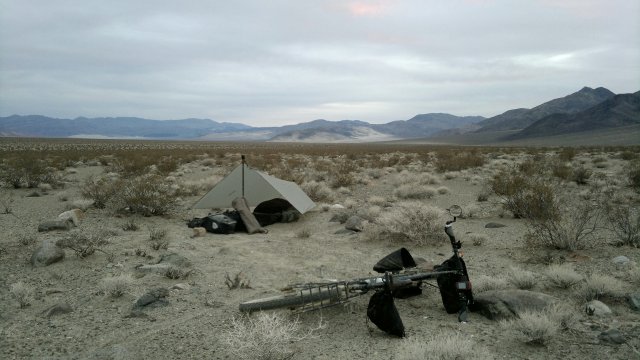 eureka dunes in distance
Wed, 28 Nov 2012 (31 miles in 4:37 hours)
Temps well above freezing. Gorging on all that rich food back in Dayton and then again in Carson and then a third time in Bishop was a big mistake. Need to control myself better. Truly, the recommendation to spend all the days of our life "eating, drinking and being merry" is sound, but that does not mean eat oneself sick. "Road closed" sign back where the road entered the park from Big Pine, but nothing I saw wrong with the road and a few trucks passed me in the opposite direction yesterday and one truck today. Other than those few trucks, everything very quiet here in the northern part of Death Valley. Camped a few miles north of Ubehebe crater.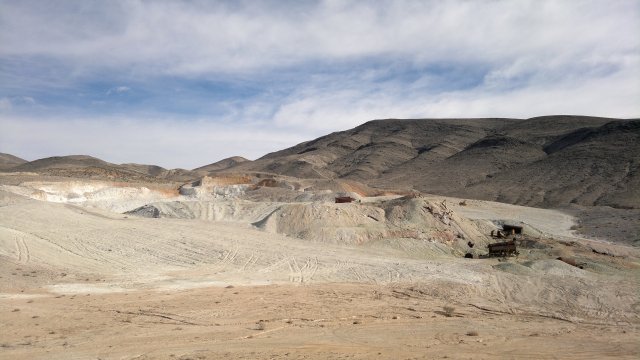 old sulphur mine along big pine road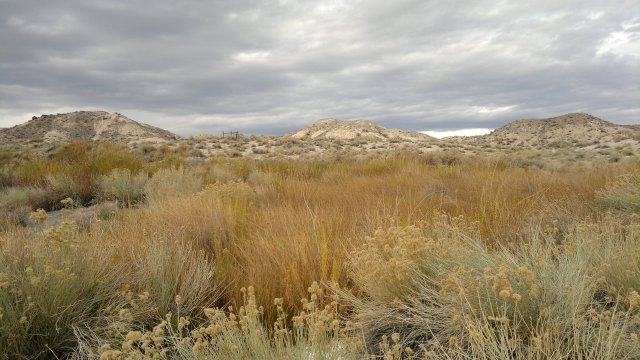 area around sand spring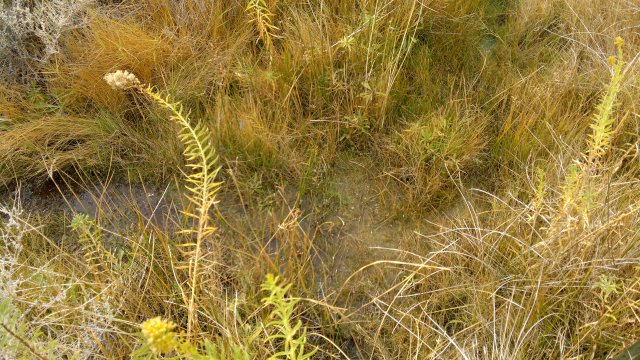 water trickling in sand spring, signs of coyotes bedding down nearby
Thu, 29 Nov 2012 (34 miles in 3:26 hours)
Temps well above freezing. Sky heavily clouded, probably from a another storm that is forecast to pass through from the northwest. This is another reason I wanted to get through that pass quickly back on Tuesday, to beat that storm. Visited Scotty's Castle. Well worth seeing,. The guy who built this place apparently bankrupted himself from out of control building costs. Same thing as might happen to that Hard Luck castle guy I visited in the spring. Will I be next in line with my bio-terrorism bunker? We shall see. Asked the ranger about the "road closed" sign. I had thought it might be due to anticipated snow from the storm, but he said it was road damage. However, as noted, I saw no road damage. Maybe he thought I was asking about another road. Camped in the valley. An illegal campsite since I was too close to the highway, but I doubt anyone saw me hidden down behind the creosote bushes.

scotty's castle
Fri, 30 Nov 2012 (45 miles in 4:06 hours)
Temps positively warm, maybe 50°F. Bought some supplies at Furnace Creek store and showered at the resort swimming pool ($5). Then south wind kicked up, gusting to maybe 40mph. Wind supposedly will last for several more days. This will be a head wind for me. Wind was so ferocious I could only progress about 5 miles south of Furnace Creek, then took refuge in a side canyon. Pitched the tarp to further block the wind, and pitched it taut to avoid noisy flapping, though there was plenty of noise from the wind itself howling.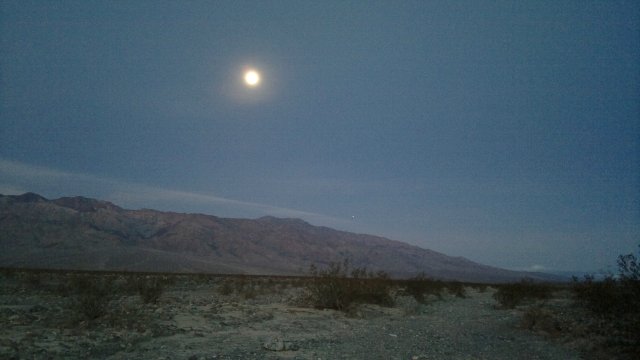 early morning, moon sets in west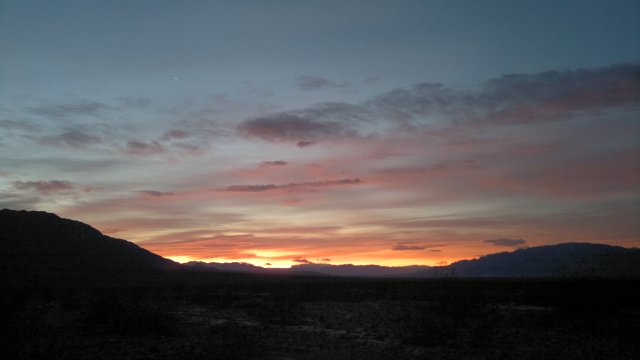 as sun rises in east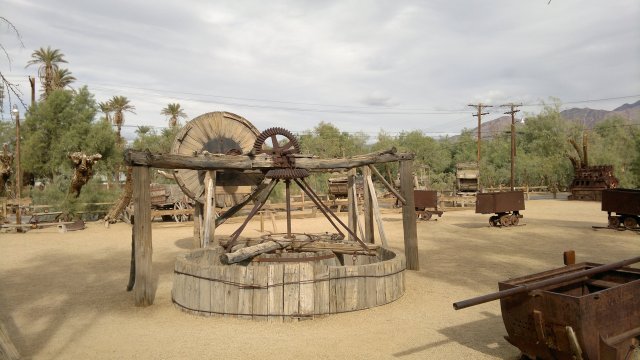 outdoor exhibits at furnace creek borax museum
Sat, 1 Dec 2012 (50 miles in 5:07 hours)
Wind stopped sometime in the night. Made an early start and pedalled hard, since I suspected wind might kick up again at noon, as things heated up, and I wanted to put in some miles beforehand. And indeed wind did pick up about noon. Even though this is the slow time of year here in Death Valley, I detest being on a road with tourists in motor vehicles, and so was overjoyed to turn off onto the Harry Wade dirt road and get away from them. Wind not as bad as yesterday, and a good thing too, since there is absolutely shelter to be had in this area.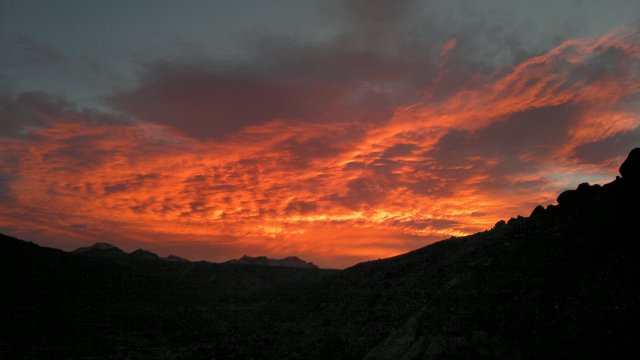 red sky at dawn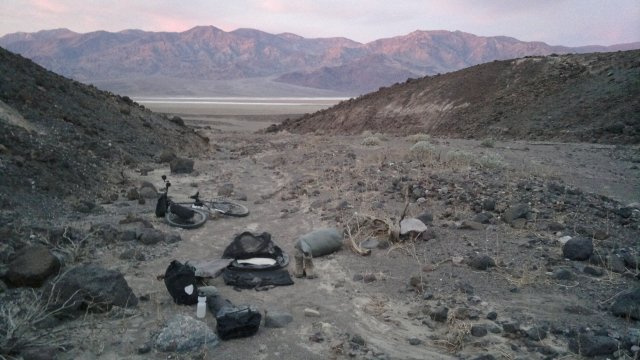 canyon where I camped to get shelter from wind
Sun, 2 Dec 2012 (40 miles in 5:49 hours)
Southeast wind picked up about 10am and became ferocious in the evening, but I was able to make tolerable progress by pedalling hard. Pitched the tarp as a wind block and also because of towering black clouds.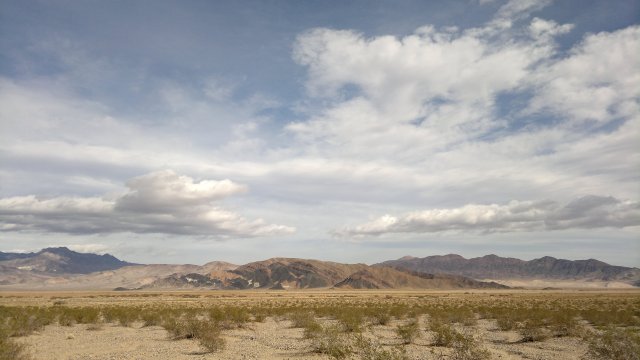 saratoga spring and ibex dunes, as seen from harry wade road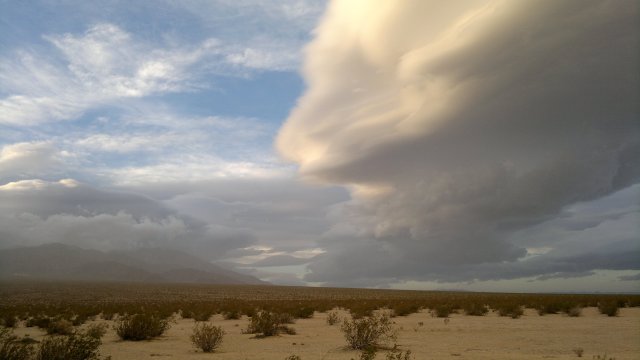 rain or duststorm in distance as I set up camp
Mon, 3 Dec 2012 (28 miles in 3:42 hours)
Wind moderated during the night, but never ceased and was still moderate in the morning. Shower for $5 at the laundramat on the way into Baker. Picked up supplies at the Baker Market (better selection and prices than at the Baker Country Store across the highway), filled up with water, charged phone at town park, checked internet (strong ATT signal). Camped about 10 miles from Baker along Kelbaker road, same place as last year.
Tue, 4 Dec 2012 (25 miles in 4:48 hours)
Wonderfully calm in the morning, clear skies too, everything peaceful now that the storm has passed. Signs that another cyclist (different tire tracks and footprints) followed the wash I used to get to my campsite. Maybe DryCyclist? Turned off on Aiken Mine Road. Visited the ruins of the mine, then north towards Valley Wells Rest area. I'm well-supplied, but I want to see if there is a store there. Camped near Button Mountain.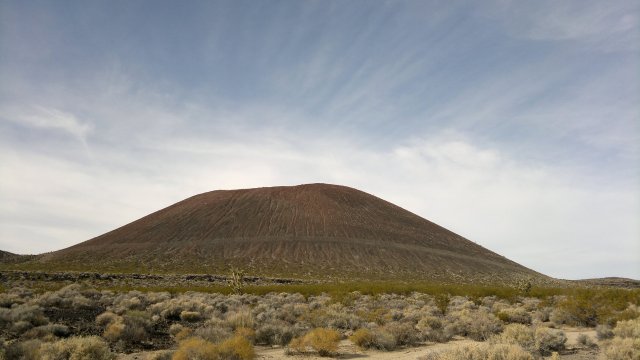 cinder cone on aiken mine road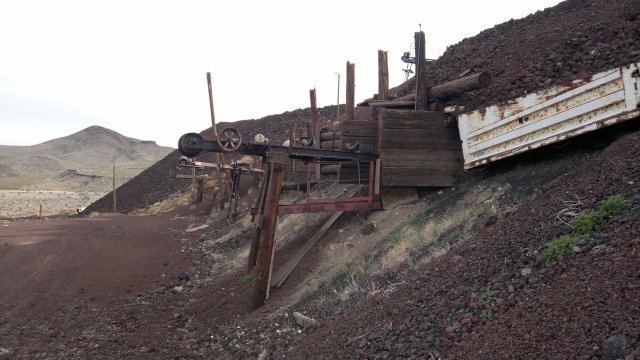 ruins of old aiken mine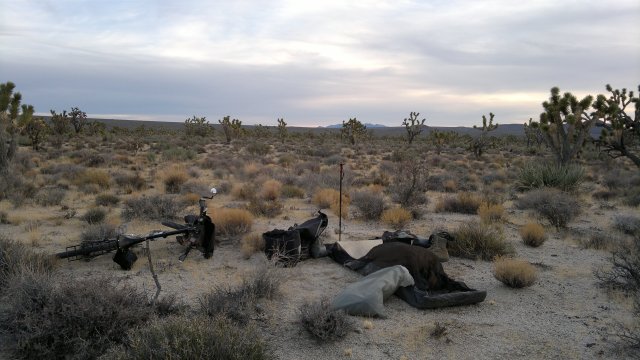 camp among joshua trees
Wed, 5 Dec 2012 (21 miles in 3:38 hours)
Valley Wells convenience store has little to offer besides expensive nuts and candy. Recharged phone and made a few phone calls (strong ATT signal). Then followed the Piute Valley road that runs between the Mescal range and Ivanpah Range and camped in the hills.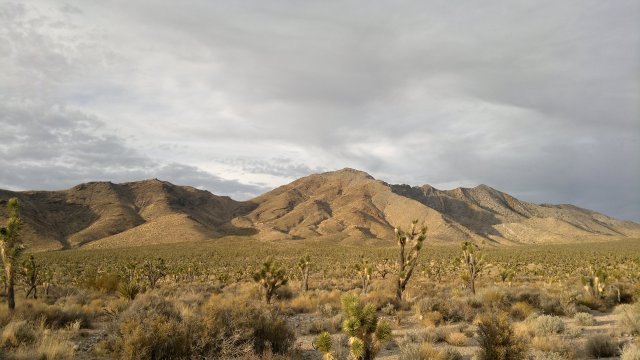 mescal range
Thu, 6 Dec 2012 (25 miles in 4:22 hours)
Cool but above freezing in the morning, clear skies, no wind. Forecast is for continued beautiful weather like this for several weeks. Pushed much of the way down from the plateau near Kokoweef mine, because the road down to Wheaton Spring degenerated into a sandy wash. Store at Nipton very poorly stocked. Less even that at the Valley Wells store. Food okay in the Nipton restaurant, but accompanied by bad music plus the air in the dining room stank of frying from the kitchen. Glad to get out of there. Camped a few miles east of Nipton. Highway noise was initially jarring after the blissful quiet of the past few nights, but at least it ended about 7pm or so.
Perhaps another reason for my obsession with buying a house or vacant lot to build a house is desire for an inflation hedge. Though really the simplest approach is for me to own stocks, and thus have a cash income, and let someone else own the real-estate and thus be in a position to need my cash. Not sure exactly why I hated that apartment I was in so much. Maybe the lease, maybe being around tenants who aren't my type. Much more comfortable with the tenants in these motels, even though they are low-lifes for the most part. I've always been attracted to neighborhoods full of outcastes. Hated living in that fabulous palace in the sky on Nob Hill in San Francisco, couldn't wait to move to a crappy apartment in the Tenderloin with drunks cursing and people being robbed in the street outside and roaches inside the apartment and other minor irritants, and then moved to an even crappier residential motel full of drug-addicts and felt even more at home. Sounds crazy, but the people on Nob Hill are all sad inside and I felt sad there too. I'm hesitant to say whether the drug-addicts and prostitutes and other misfits of the Tenderloin were happy or not, but I know I was happy there. Not that I regret moving to Reno.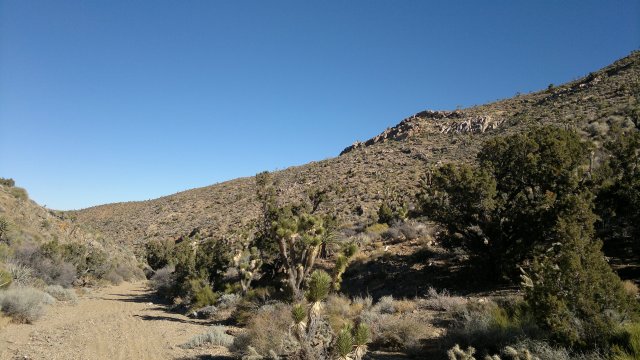 road degenerates into sandy wash on descent from mineral hill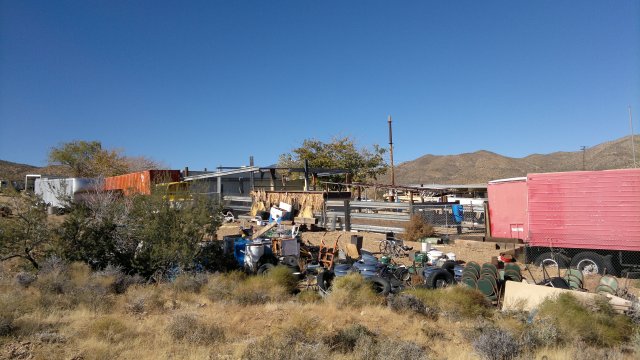 junk hoard near wheaten springs, lots of no trespassing signs
Fri, 7 Dec 2012 (12 miles in 1:44 hours)
Decided to hike around the area north of Wee Thump Joshua Tree wilderness, so as not to arrive in Laughlin on a weekend, since I'm not sure as to the hotel/motel situation there.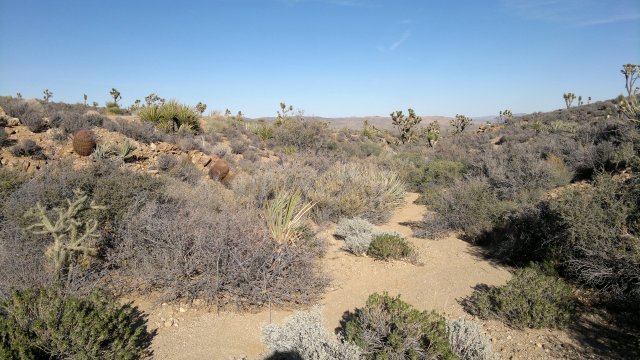 wash in piute eldorado acec (area of critical environmental concern)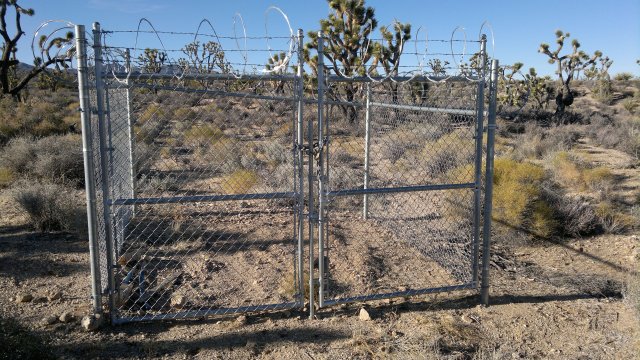 fence with nothing inside in middle of nowhere, wonder what the purpose is?
Sat, 8 Dec 2012 (34 miles in 3:43 hours)
Powerline road that runs east of the McCullough range might be a way to get to Henderson, Nevada by dirt road. I followed it for a few miles just to explore, and it was solid, but might turn sandy when it gets to lower elevation. Searchlight has motels, well-stocked Rebel market convenience store, restaurants, truck stop with shower/laundry. Took the pipeline road which runs east of and parallel to Highway 95, even though there is a good shoulder on the highway. A quiet dirt road, provided it is solid dirt and not sand, is always preferable to a busy highway, at least to me. Camped along this dirt road.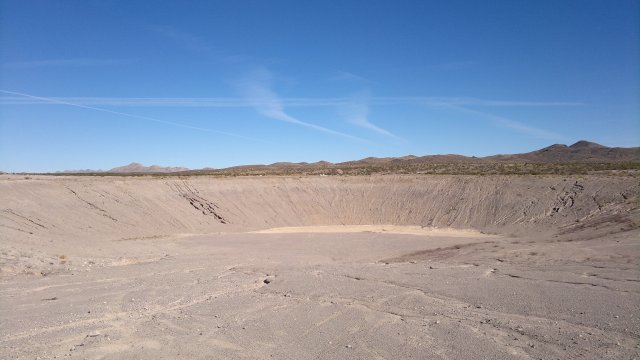 big hole south of searchlight where pipeline road begins
Sun, 9 Dec 2012 (31 miles in 2:55 hours)
Highway 163 into Laughlin has the same magnificent shoulder as Highway 95: 6 feet wide, smooth, separated from the traffic lanes by a rumble strip. I was concerned about getting into Laughlin/Bullhead City, but no longer. There are several powerline roads into Laughlin, but these could be difficult when it comes time to ascend back to the plateau (about 2000 feet of ascent), especially if fully loaded with food and water. The bridge over the Colorado river has a sidewalk for bike and pedestrians and this sidewalk continues all the way down highway 95 through Bullhead City, with ramps at the infrequent intersections. Very few pedestrians on this sidewalk, so no problem riding a bicycle on it. Thank you Nevada Department of Highway and also Bullhead City for making us bicycle tourists feel welcome!
Bullhead City has all facilies. Safeway, Smart and Final, Smith and Walmart are the major grocery stores. Checked into Gretchen's Inn motel ($33/day with tax). Nice room: full bath, refrigerator and microwave, roomy, elevator building.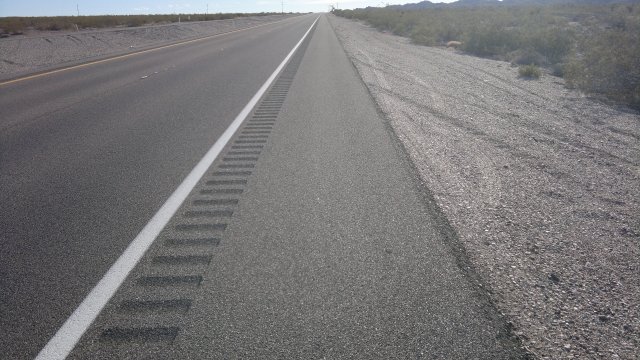 highway 163 into laughlin, look at that shoulder!
Mon, 10 Dec 2012 (24 miles in 2:45 hours)
Checked out the Tri-State bicycle shop here in Bullhead City (928-758-7400, 1185 Hancock Road, across from the public library). Wasn't able to talk to the owner much (he seemed suspicious of me), but I imagine he has the basic tools and you can always order parts. Then drove down to Fort Mojave to check out the RnR bicycle shop there (4340 South Highway 95, 928-763-2453), but it was closed even though a sign indicated they were normally open Mondays. These smaller bicycle shops are probably being clobbered by a combination of cheapo bicycles and basic supplies from Walmart, and higher quality bicycles and more exotic supplies from Amazon and other internet outlets. All these local shops have left to offer is repair service. That isn't necessarily negligible, though I'm not sure how popular bicycles are in this area. It's hot as hell here in the summer, with average daily highs over 110°F and normally at least a few days each summer with temps over 120°F, and that's in the shade. Much hotter in the sun. Can't imagine enjoying the outdoors in weather like that. Both Bullhead City and Fort Mojave horribly sprawled out. Essentially, a 20+ mile strip mall along highway 95 with vast parking lots that will become infernos in the summer. At least people try to keep the lots around their cheap manufactured houses tidy. Only redeeming features are the view of the mountains on either side of the valley and the Colorado river. Makes me appreciate Reno.
I had seen the threads starting to come undone on one of my shirt buttons, but ignored the problem, and now I've lost the button. Replaced with a spare from the repair kit. "Stitch in time saves nine".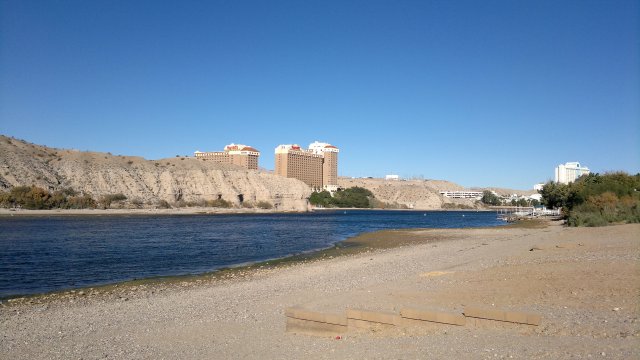 colorado river, laughlin casino on other side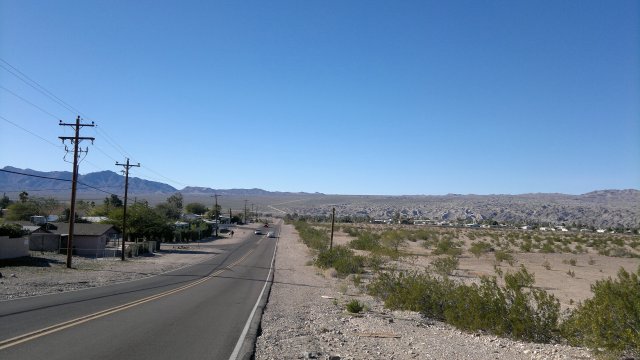 riverview drive in bullhead city, pipeline road ascending to plateau on other side of colorado river
Tue, 11 Dec 2012 (0 miles)
Decided to stay another day here in Bullhead City. I've been traveling for almost a month, so a break is a good idea. The goal is enjoyment of life and travel is merely a means to that end. Traveling when I don't want to travel will make me want to quit, and then what do I do? Also, I need to get in the habit of considering other places than Reno my home. Spent the day in the public library. Gorged on junk food afterwards. Two addictions I need to break: addiction to mental stimulation, especially via the internet and by newspapers and periodicals and recently published books, and addiction to junk food. If I need to read, read something old. Like the Gideon's Bible, which is what I'm reading now, though I'd prefer the King James version. Have you read Ezekiel 16 in the King James version recently? Highly recommended. Maybe I should reconsider my decision not to carry that Kindle e-reader? Load it up with classics only, though. Nothing that isn't at least 100 years old.
Wed, 12 Dec 2012 (0 miles)
Signed up for another week here at the Gretchen for $150 including tax. In looking back, my better trips to Europe were sort of like this. Several weeks of hiking, then a week in a hotel in some mid-sized city before taking off for another few weeks of hiking. Constantly being on the move is wearisome.
Thu, 13 Dec 2012 (0 miles)
Rained in the evening. I read somewhere that rain can harden sandy roads. We shall see. Body is feeling stiff. Managing to refrain from too much junk food.
Fri, 14 Dec 2012 (0 miles)
Rain continued through the morning. I have plenty of experience with constant rain/drizzle while backpacking, but none as a bicycle tourist. Remains to be seen whether I'm prepared or not.
Sat, 15 Dec 2012 (0 miles)
More rain last night. This hiatus has broken or is breaking my desire to build my own house. I long dreamed of being a perpetual wanderer, who feels at home everywhere and nowhere, and it seems I'm moving in that direction. There is still the issue of bio-terrorism, but all I need to cope with that is a cabin of some sorts which can be locked securely. Or a mobile home in a small town. Since I keep talking about addictions, I should note that my addiction to television was broken long ago, maybe 35 years ago. As a child, I recall watching the boob tube 4 to 6 hours/day, everyday. And then sometime in my teens, I lost interest in it, though I continued to watch occasional movies until my thirties. And finally I lost interest in boob tube and movies both. I have zero desire to turn on the tube in these motel rooms. If I do, just to see if anything has changed (it hasn't), I soon get tired of the noise and turn it off. Sports is the only thing that is barely tolerable, though I'm not much of a sports fan. I mention this because it suggests there is hope for breaking my internet addiction.
Teenager who apparently lives in the building with his mother went berserk in the parking lot outside, cursing and screaming. Police had to come by to calm things down. My type of motel.
Tue, 18 Dec 2012 (0 miles)
Rained heavily in the evening.
Wed, 19 Dec 2012 (34 miles in 5:08 hours)
Clear skies, mild temperaturs and forecast is for continued mild and clear weather until Christmas, when there may be more rain. 3.5 hours to cover the 22 or so miles on highway 163 from Bullhead City to Highway 95. Probably 12 miles of that was ascent, total of about 2500 feet of ascent, so about 4% grade overall. Hardly tired at the top, despite not stopping once and the bike being heavily loaded with food and water. As I noted before, highway 163 has a very wide shoulder, so this 22 miles was not at all stressful. At this point, I can highly recommend Bullhead City as a resupply point for Mojave area bicycle tourists.
Highway 95 has a wide shoulder in Nevada, but then the hard shoulder disappears upon crossing the border into California. Necessary to constantly monitor the rear-view mirror for large trucks approaching from behind while traffic in the other lane, in which case it will be necessary for the bicycle to jump off the road onto the soft shoulder. Might be possible to ride on this soft shoulder, since it isn't overly sandy. I didn't do this because it was only 3 miles to the turnoff onto the Mojave Road.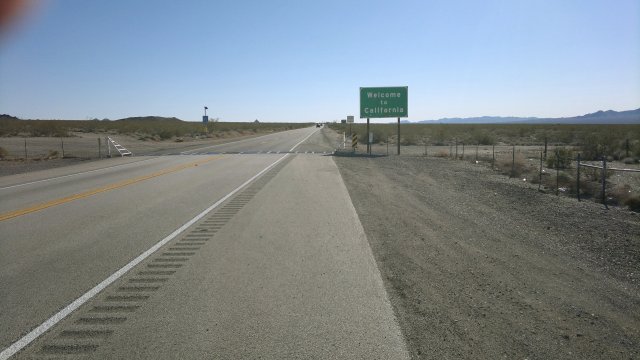 highway 95, showing difference between nevada and california shoulders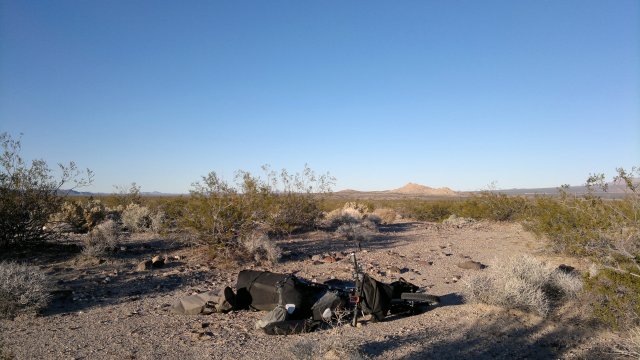 getting ready to make camp, between highway 95 and piute mountains
Thu, 20 Dec 2012 (27 miles in 3:39 hours)
Near freezing last night, with steady north wind of about 15mph. Wind continued throughout the day. Almost sorry I left that cozy room in Bullhead City, but then I was getting restless and had to get moving. Turned south at the Powerline road, just before the Piute Mountains. Not sure what my travel plans are at present.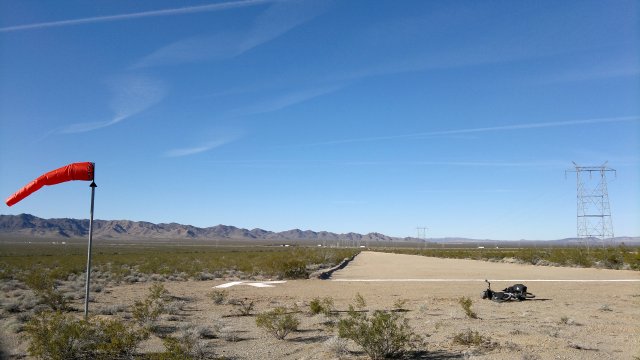 airstrip just south of I-40, what is this for? would be perfect for smugglers, except too far north
Fri, 21 Dec 2012 (24 miles in 4:26 hours)
Frost on all my gear, ice in the bladders, ice all over the quilt. Should have erected tarp. Everything warmed up and dried out when sun rose. Wind has finally stopped. Took the Eagle Pass road to Needles. Solid at first, then 8 miles of pushing when the road turned into a sandy wash through the narrow canyon of the pass, then solid again. $36 incl tax after 10% promotion for Motel 6 in Needles. Needles is an older and more traditional town than Bullhead City, with real houses rather than manufactured housing, and a true street grid instead of just that long highway cum strip mall, but also much smaller. Lots of motels, since I-40 runs through town. Full-service grocery store (Basha's), plus various convenience stores, dollar stores, hardware stores, library, auto repair shops and restaurants, but no bike shop or Walmart. My plan now is return to Laughlin, following side roads here along the Colorado river, then try to get back to the plateau via the pipeline road. Even though highway 163 worked very nicely, a dirt road road into and out of Laughlin/Bullhead city might be even better.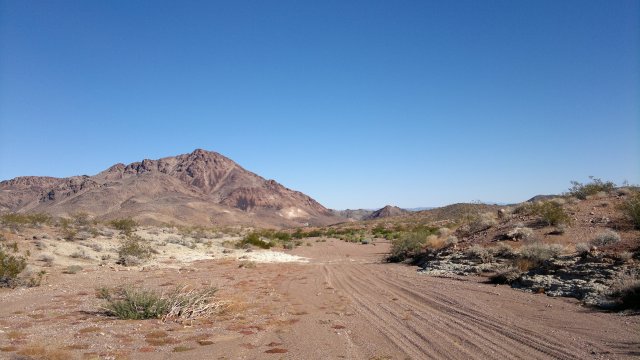 deep sand west of eagle pass
Sat, 22 Dec 2012 (33 miles in 4:49 hours)
Weather forecast is mild for next several weeks. Dike road on Arizona bank of Colorado river is private and gated, so returned to California side and took Needles highway north. Not much of a hard shoulder in California, but also not too much traffic and so not too stressful. Very wide shoulder after crossing into Nevada. (Same story as with highway 95.) Turned west at pipeline road and began ascent to the plateau. Solid for 2 miles then turned sandy and I had to dismount and push. After two hours of pushing, I turned off onto the powerline road, which was solid for a while and then it descended into a canyon and the road became a sandy wash. A half-mile later, the road emerged from the wash and became solid from there on out. Went shirtless due to warm weather. Not too happy about losing precious water via perspiration. Loaded up with 20 liters in Needles, which is enough for at least 5 days if weather remains cool, but only 3 days if I perspire like I did today. May have to stop in at Goffs schoolhouse to resupply. Camped on the plateau, a few miles before highway 95, with tarp erected to protect from cold.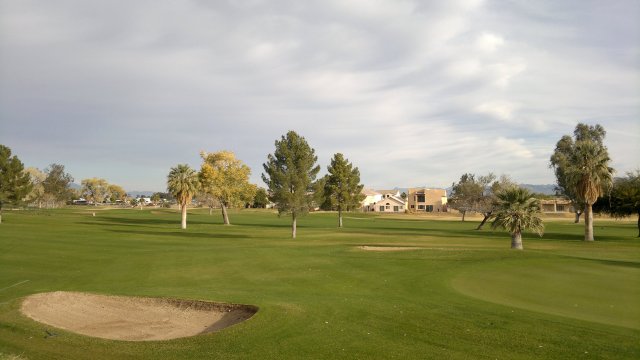 needles golf course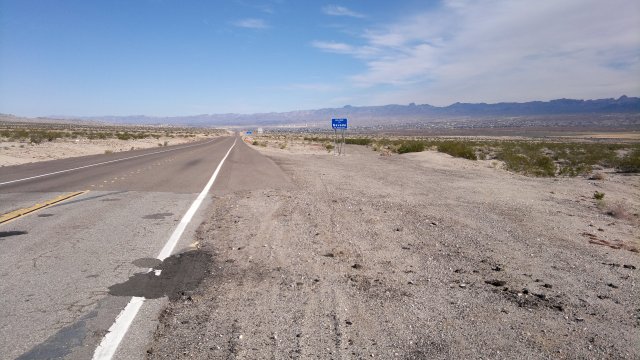 needles highway, showing difference between nevada and california shoulders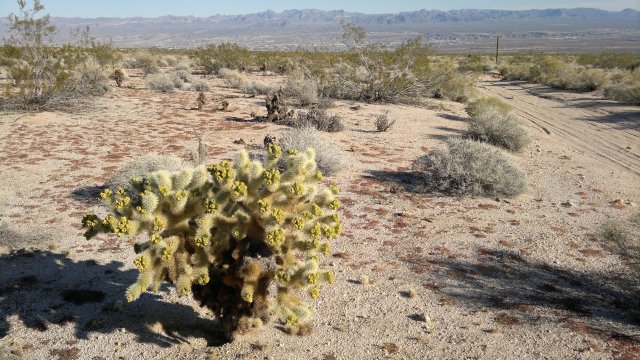 bigelow cholla cactus, along pipeline road back to plateau, bullhead city in distance
Sun, 23 Dec 2012 (30 miles 4:06 hours)
Frost on panniers but no ice in bottles. Tarp damp but not heavy dew. Temps warmed as sun came up. Regarding my food addiction. It appears that lightly salted and unsalted dry roasted peanuts have both long since ceased to be addictive to me. Also, though cheese by itself continues to be dangerous, the danger disappears if the cheese is sliced and stored in advance between slices of whole wheat bread. And neither plain bread nor instant rice is even remotely addictive. This is good news, because it means I am in no danger from binging using my standard trail foods, provided I am careful to make cheese sandwiches in advance rather than bringing along bulk cheese. I should note that I declined the $2.99/day wifi option back at the Motel 6 in Needles and limited myself to checking the weather and the financial news, which is really all I need to check. I try to discourage email communication with what few friends I still have, so no need to check that more than once a week at most. Nothing to say to anyone anymore. It's all just idle chatter. So there is hope for that internet addiction too.
Continued south along the powerline road, which eventually crossed highway 95 and then finally intersected with the powerline road I had followed a few days ago. At I-40, this powerline road forks. The east fork is the one I took to get to Eagle Pass road and then down to Needles. Today I took the west fork, and will follow that and other roads south to Blythe.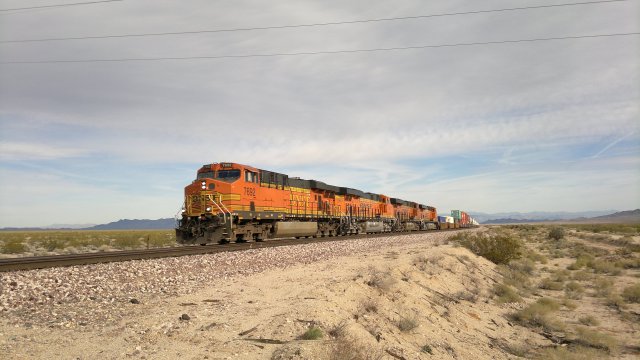 one of those noisy bnsf trains
Mon, 24 Dec 2012 (30 miles in 3:59 hours)
Overcast but temps well above freezing. Gentle wind from south, a headwind for me, but not a problem. Powerline solid to around Oro Plata mine (according to road atlas maps, Lucky Jim mine according to Garmin 100K maps), thereafter sandy, so lots of pushing. Hopefully, things will firm up at Cadiz road. Camped 5 miles north of Cadiz road at elevation 1000 feet. Should be warm and dew-free, so didn't pitch tarp.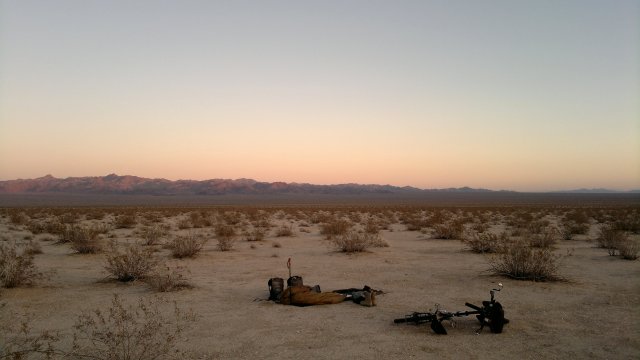 camp in ward valley, turtle mountains in distance
Tue, 25 Dec 2012 (38 miles in 4:05 hours)
Ferocious north wind picked up in early evening. Had to get up, reorient sleep gear, pitch tarp with foot facing into wind in order to get some shelter. Sky clear, so rain not an issue, just that cold wind. Sandy ground, so used sand stakes. First test of these sand stakes in truly ferocious wind. Absolutely no natural wind break in this open valley. Tarp very noisy, even though I pitched it taut, but I slept well enough. Wind diminished by morning to a steady breeze. Critical thing with wind like this is to ensure nothing blows away. I'm speaking from experience here and my system of camp preparation is specifically designed to weight everything down. In particular, my hat is always weighted down by my poncho or toiletries bag. In truly ferocious winds like last night, I put all lightweight items (hat, pants, poncho) inside the large stuff sack. Temps in the mid-40's during the day, but the cold north wind makes everything seem colder. Still wearing both pullovers at 11am. Wind died down sometime in the early afternoon and everything was calm and with mild temperatures by dusk.
Garmin 100K maps misleading as to Cadiz road. Road atlas maps are more accurate. In particular, continue a half-mile beyond the railroad before turning left (east) onto a solid dirt road (Cadiz road), rather than turning immediately after the railroad. Blythe-Rice road recently graded and hence easy traveling. Camped in Rice Valley.

where highway 62 meets blythe-rice road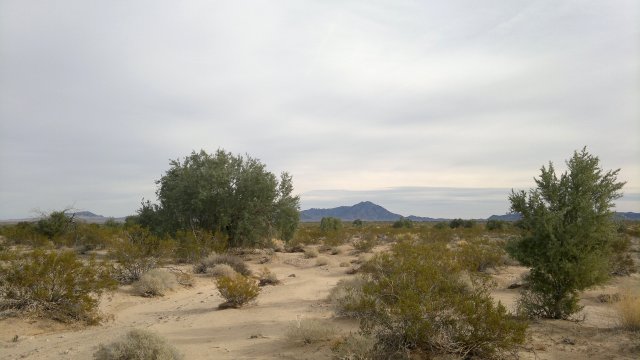 trees along blythe-rice road, must be underground water
Wed, 26 Dec 2012 (34 miles in 3:27 hours)
Frost and dew all over gear (didn't bother with tarp), but sun soon cleared everything up. Road became paved after Midland, but remained quiet. So Blythe is any excellent resupply point for bicycle tourists in Mojave who want to avoid dangerous roads. Checked into Motel 6 in Blythe ($40 including tax, after 10% promotion for which I'm eligible, would be about $44 normally). Many other motels in town, from $40 with tax on up. Grocery stores include: Smart and Final, Bythe Ranch market, Albertsons. Also a Kmart and a Sears. Nothing listed under bicycles in the Blythe yellow pages.
Cop cut a corner short and nearly hit me, then he yelled out the window "Get out of the road!". I said, "Excuse me?" and he yelled the same thing again, like some sort of hoodlum. Probably had a guiltly conscience. I had no choice but to be in the road because I needed to make a left turn. Tricky situation. If I write a letter to the mayor but the town is corrupt, then the mayor and cops will harass me and other bicycle tourists in the future as revenge. The lazy and cowardly thing, which is what I'm surely do, is keep my peace and allow the cop to become emboldened in his hoodlum-like behavior. Possible that the police there are hoodlum-like precisely because no one dares to complain.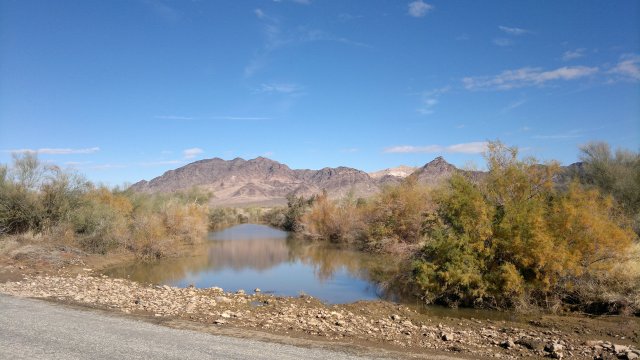 puddle near midland
Thu, 27 Dec 2012 (27 miles in 3:11 hours)
Cut day short so I could hike in the hills. I'm going back up towards Cadiz road. Plan is to head towards Barstow, so as to take the bus to Bishop on Monday, January 7. I'm not tired of touring, but there are some things I need to do back in Reno before I head off to Spain towards the end of February. In particular, I need to order some stuff from Thorn. The last time I ordered from England, it took several weeks for delivery.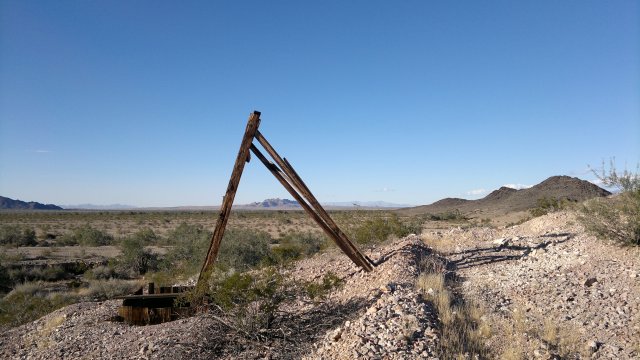 rice valley mine, shaft appeared very deep, didn't want to get too close lest it collapse
Fri, 28 Dec 2012 (38 miles in 4:29 hours)
Small amount of ice in bladders. Twenty-nine Palms highway annoyingly busy and no shoulders, but at least only 5 miles from Blythe-Rice road to Cadiz road and mostly cars rather than big trucks. I would not want to continue on this road to Twenty-nine Palms, and so that town is ruled out as a resupply point. Joshua Tree national park is also ruled out because getting to it requires traveling on busy paved roads, as far as I can see. Plenty of Joshua trees in Death Valley and elsewhere in the Mojave. Camped along Cadiz road, near Milligan stop.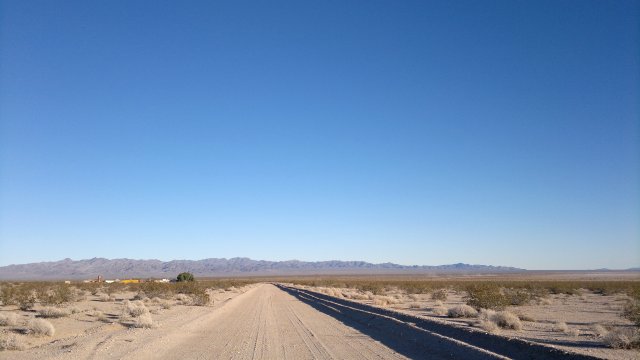 cadiz road, milligan mine in the distance
Sat, 29 Dec 2012 (22 miles in 3:24 hours)
Cadiz road became heavily washboarded and washed out in places shortly after where I camped (near Milligan stop), but still mostly rideable. Camped 5 miles before Cadiz. Short day because I don't want to be near that BNSF railroad (trains every 15 minutes blowing air horns that can be heard 10 miles away, and I'm not exaggerating). The Arizona and Santa Fe railroad that runs along Cadiz road, on the other hand, is very lightly used, though apparently still in operation. Didn't see or hear any trains on it during the 5 or so days I've been following parallel to it.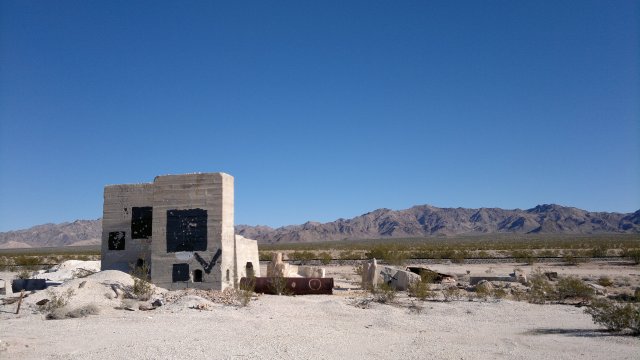 ruins of old smelter near desert butte mountain
Sun, 30 Dec 2012 (42 miles in 5:00 hours)
Roy's Amboy Cafe just had a few snacks and cold drinks. No kitchen, allegedly because they've been waiting 4 years for a building permit. I suspect the owner can't afford necessary asbestos abatement or something expensive like that, rather than the building permits department being deliberately obstructionist. Camped on pipeline road (dirt) that forks south from highway 66 after Baghdad station. Reason was to get away from the BNSF. 5 miles distance reduces the noise to a tolerable level but by no means eliminates it.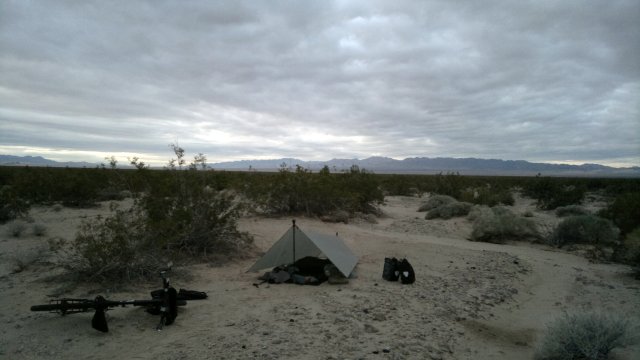 early morning clouds
Mon, 31 Dec 2012 (32 miles in 3:59 hours)
Noise from trains was drowned by flapping of tarp in strong west wind. At least tarp sheltered me from this wind so that I wasn't cold. Wind diminished by morning, and a good thing, since I'm traveling west. Snack at Ludlow. Chevron and 76 both have food marts, but prices are better at 76 and there is also a Dairy Queen restaurant attached to the 76. Dropped my coin purse (with attached watch and flashlight) while eating, but it was still there when I returned after noticing the loss. First time in years I've nearly lost something important like that. Camped near Pisgah crater, using a powerline road to take me a few miles from the highway and the BNSF.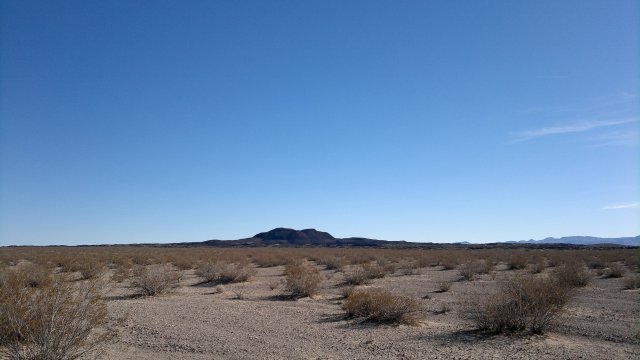 pisgah crater
Tue, 1 Jan 2013 (41 miles in 3:32 hours)
Cold last night, maybe mid-20's, and cold in morning since sun didn't push through clouds until about 11am. Water bottles both frozen. Wind died down in the evening, so no problems with tarp flapping, though I set it up very taut just in case. Snacks at Chevron at Newberry Springs, which has food mart and attached Subway restaurant. Checked into Motel 6 in Barstow ($38 including tax).
Wed, 2 Jan 2013 (0 miles)
Several ways to catch the CREST bus back to Reno. Bike to Mojave or Ridgecrest/Inyokern, then take the Monday bus to Bishop and the Tuesday bus to Reno. Or bike to Lone Pine via Panamint Valley, then take the Monday bus to Bishop and transfer to the bus to Reno. The Lone Pine route would allow several more days camping, but I'm not really anxious to camp any more right now. I know the route from Barstow to Ridgecrest and it is a pleasant one, whereas I'm not sure about Mojave. Both Mojave and Ridgecrest have cheap motels. The bus leaves Mojave at about 2:30pm and Inyokern at 3:35pm, so I'd have to wait around for several hours in both cases, whereas the bus from Lone Pine leaves about 6:30am, so no waiting. After much thought, I decided to go to Ridgecrest and made the appropriate reservations with the CREST bus, to ensure space for my bicycle. Paid for another night here at the Motel 6 in Barstow.
Thu, 3 Jan 2013 (0 miles)
Yet another day in Barstow, since it will be very cold tonight and then warming. I'm sure I can survive temps into the single digits, but survive is not the same as enjoy. Also, library open here today, so that will get me a way to pass the time.
Fri, 4 Jan 2013 (34 miles in 4:24 hours)
Not sure how to interpret Accuweather website. Low for day is forecast to be 22°F, yet current temperature is already below that at 19°F. Maybe the forecast is made in advance and not updated to reflect current conditions. Yesterday's low was 16°F and temps in the open hills between Barstow and Ridgecrest were surely lower due to absence of urban heat island effect. Temps will warmer still tomorrow night, but I didn't want to delay more and so left Barstow today. Camped along Hoffman Road.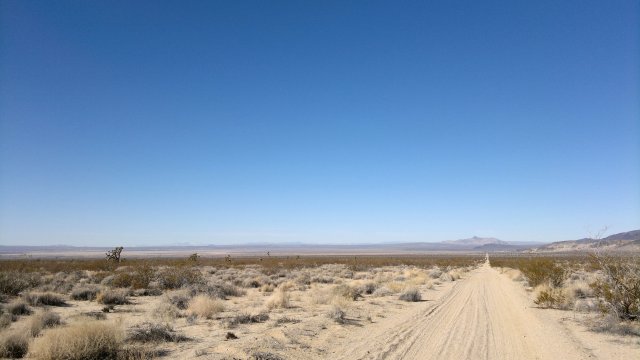 along fossil bed road
Sat, 5 Jan 2013 (49 miles in 5:38 hours)
Not as cold as I expected. Ice in bladders in panniers, so temps probably in mid to low 20's, as forecast. Bladder under rack bag near head remained liquid. Slept with socks, fishnet bottoms, stretch-knit pullover and tarp overhead. Very little wind, but clear sky, so radiation loss significant and thus tarp essential for keeping warm.
In reviewing last year's Mojave trip report, I wrote that getting out of Barstow was a mess. Not sure what the problem was then. I had little problem yesterday. Also, much less pushing than I recall last year. Maybe I'm more skillful pedalling through sand or maybe I took a slightly different route (ATV's have carved up umpteen parallel dirt roads to the official Hoffman road). Distance I recorded in last year's trip report is about 5 miles short because the cheapo Cateye bike computer I used then was malfunctioning and not always registering the wheel turning. True distance between Barstow and Ridgecrest, via the route I took (Fort Irwin road, Fossil Bed road, Hoffmann road, highway 395 or dirt road parallel to 395, Trona road, dirt road that descends to Ridgecrest) is about 83 miles and takes 2 days, assuming no headwinds or other delays. Checked into Motel 6 and paid for 2 nights at $40/night with tax.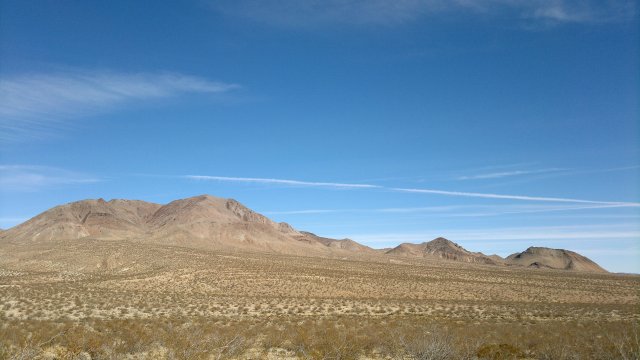 near atolia
Sun, 6 Jan 2013 (0 miles)
According to Accuweather, temps in Ridgecrest were 17°F yesterday morning, and temps where I camped were probably similar or maybe slightly lower. Nice to know I can easily handle temps this low provided I set up the tarp.
Mon, 7 Jan 2013 (11 miles in 1:14 hours)
Nuisance waiting around for bus in Inyokern. Probably should plan in the future to go to Lone Pine via Panamint Valley to avoid such waiting. One long bus trip instead of two trips. Shoulders on 395 from Inyokern to Bishop wide, so pedalling from Ridgecrest to either Lone Pine or Bishop instead of taking the bus would be possible. Though what a miserable slog that would be! Can't understand bicycle tourists who stick to paved roads, for whom every day is a miserable slog like that. Fences along the highway much of the way, so not always easy to find a place to camp. North of Bishop, shoulder becomes narrow and heavy snow conditions, so bicycles not recommended. $26 for the bus from Inyokern to Bishop. $64 incl tax for Motel 6 in Bishop. Bus to Reno tomorrow will be $53.
Final odometer 5278 miles.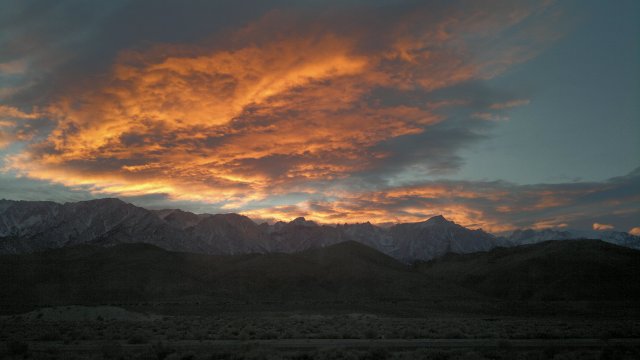 mount whitney sunset, as seen through window of inyokern to bishop bus
Tue, 8 Jan 2013
Checked into same motel as before in Reno. Room not as nice as before. Yes, it would be nice to have a permanent home to come back to, but not so nice having to maintain the same. Even maintaining my camping and biking gear seems like a huge chore. Though that is always how I feel when I return from a trip. I just need to give myself a few days of doing absolutely nothing and then those chores will seem much less of a hurdle.
Statistics
Started on Nov 14, finished on Jan 7, so 55 days total, of which 33 nights camping and 22 nights in motels.
1477 miles total and 187 hours of pedalling/pushing, thus average of 7.9 miles/hour. Compare with 8.1 miles/hour on both Nevada backcountry and Lassen tour. In all cases, average speed reflects a mix of dirt and paved roads, of ascents, descents and flats, and of pedalling most of the day plus some pushing through sandy spots or when conditions are very rugged.
Average miles/day no longer makes much sense, seeing that some days were deliberately cut short to allow for hiking or to avoid reaching a destination too soon, and some days were zero days. I know that I am starting to feel that more than 4 hours/day of pedalling/pushing is mentally tiresome and that is the limiting factor, much more so than physical tiredness. Whereas less than 3 hours and I feel I have time on my hands, unless I do more hiking than usual. So if average speed is about 8 miles/hour, average miles/day will probably be in the range of 24 to 32.
Last trip for year 2012, and thus time to collect yearly statistics. Total of 171 nights away from Reno, 117 nights camping.
Comments
Big news is that Rohloff has authorized use of lower gear ratios. I was already planning to switch from 42/17 to 40/17, but now it looks like I'll go to 36/17. Thorn is selling a 19T sprocket Thorn for the same price as the 17T Rohloff sprocket. 40/19 has similar gears to 36/17, but should give better chain and sprocket life, though I'm not really having problems with chain or sprocket life as is. And since I already have a 17T sprocket with plenty of service life left, plus a spare 17T sprocket, it doesn't make much sense to switch to 40/19. I also plan to add a chain guard, which will require a new bottom bracket and chain ring bolts and washers, plus I need to test replacing the shifter cables and adding spares to the repair kit, so I'll need to order a bunch of those (plus the special cable stops Thorn recommends for the housing and grub screws for the EX box in case I misplace those).
Other notes:
Cordlock is breaking on large stuff sack. Need to replace that.
Replace button in clothing repair kit.
Repace valve cap in bike repair kit.
Restitch lower straps on front panniers with bartack, apply fray-check.
Ran with 35PSI (2.5 bar) most of the time. Works well enough on all of sand, hardpack dirt and pavement.
Reinforcement on saddle-bag should be 2" longer on the side opposite the straps. No need to replace the saddle bag, just change the design for future use.
Carbide tip of hiking stick starting to wear hole in stick-holder. Either repair or sew up another one. Perhaps change design to add some reinforcement.
Horrible plasticky smell in Nalgene bicycle bottles. Not sure why, since I've used a similar HDPE (high-density polyethylene) bottle for backpacking and no smell in it. Maybe it's the sunlight. I only use the water in those bottles for washing, so I'm not too worried.
I hadn't realized what an obstacle the Colorado river is. Plenty of bridges, but the roads leading and from those bridges are busy paved highways. So I probably will not be visiting Arizona in the future, other than Bullhead City and maybe Yuma in the future, both of which are just across the river.