Oct 2013 to Jan 2014, Mojave Desert Bicycle Tour
Planning
Current guide to maps for a trip like this is here. This guide will be updated as time passes, and so may not reflect what I actually used on this trip, which was a combination of: (a) selected pages from the California and Nevada Benchmark Road Atlases; (b) Garmin Etrex 20 mapping GPS, loaded with 1:100K Garmin maps for the entire United States; (c) offline Navteq road maps on my Nokia N8 smartphone.
Made a few minor change to the bike (see here) while recovering in Reno from previous trip. Other gear is pretty stable at this point, but did make a few changes to that as well:
Replaced Katadyn Micropur tablets (chlorine dioxide) with MSR Aquatabs (sodium dichloroisocyanurate), mainly because REI only had the latter in stock. Hope they work just as well at keeping the bottles/bladders clean.
Added a Kindle paperwhite to supplement existing Kindle with keyboard. Paid extra to avoid the advertising (money well spent, "screensavers" are much nicer than before, modernistic art versus portraits of authors). Two Kindles doubles battery life, plus there is a backup in case one breaks in the field. In the future, I'll probably replace the keyboard kindle with a tablet. Touch-screen on paperwhite somewhat easier to use than keyboard in most cases (though not for ancient greek dictionary lookups), plus the builtin light allows reading in the dark.
Added a spare USB charger and cable, since these can be a nuisance to find on the road and don't weigh much. USB chargers appear pretty sturdy, but the micro-B plug on the cable is clearly a weak link, and I've also heard reports of cable wiring breaking due to repeated flexing.
Thu, 3 Oct 2013
Managed to get most of my chores done within a week here in Reno, and all of them should be finished by the time two weeks is up. Cleaning the bike definitely needs to be done outdoors, regardless of season, but changing the oil will require a heated space in January to make the oil flow properly. So I'll have to use the bike shop, rather than the motel parking lot like I did this time. With more experience, I should be able to get all chores finished in just a few days. Then again, I'm stressing myself out by rushing like this. The important thing is to make a list of things that need to be purchased over the internet, and place all those orders the very first day I get back in town, because shipping delays is the main thing keeping me pinned down in one place.
Among the more annoying chores is writing up these trips reports, but they are still useful. "The wise man speaks because he has something to say, the fool speaks because he has to say something"—attributed to Plato. Speaking/writing as the spiritual equivalent of diarrhea, a way of cleansing the mind of ingested poison. Ingested by listening/reading. Had we known it was poison in advance, we could have stopped listening/reading. Unfortunately, sometimes we don't know in advance and/or must consume something because it is part good and we get the poison along with the good and then must excrete it.
Feeling a lot more comfortable with motels now that I'm not surrounded by human garbage. If indeed we have some sort of catastrophe such that all the stores shut down, I'll just join the homeless and hope for the best. "Behold the fowls of the air: for they sow not, neither do they reap, nor gather into barns; yet your heavenly Father feedeth them. Are ye not much better than they?" A kernel of wisdom there, as in the other teachings of that prophet. Continues to be a good idea to stockpile a few weeks' food in the storage locker like I did before last trip, but no need for a bugout shelter or gun. If there's a crisis and it goes on for more than few weeks, I'll just die.
I definitely want to continue my next Lassen tour with a tour of northern Nevada, rather than coming back to Reno so soon. It occurred to me to take a short northern Nevada trip this year, before setting off for the Mojave, but the transition between touring and being settled is a nuisance, so I nixed the idea. Instead, I'll just set off for the Mojave earlier than I had planned (late October rather than early November). Death Valley is closed right now due to government shutdown. Hopefully, the shutdown will end before late October. Otherwise, I'll have to avoid the valley, which means riding on highways, or else take the bus the Lone Pine.
Fri, 4 Oct 2013
It's going to be a struggle to break my internet addiction, that's for sure. Need to think back to how things were in the days of old, before the internet. People managed then, right?
Sun, 6 Oct 2013
Not even two weeks back and I'm already restless. Tried to take the bike on a test ride down the bike path but gave up after a mile. Felt futile in comparison with the dirt road touring I was doing in Lassen or what I'll soon be doing in the Mojave. How can people stand to work full-time and live in these cities, with just two days a week in seven to take miserable rides down a bike path to the end and back? Strange questions given that I once had a job and lived in the city full-time myself. Evidently, I'm farther along than I realized towards the ultimate goal of abandoning society and coming to feel that the road is my only home.
Made a point of not bringing much gear from the storage locker to the motel this time, just the laptop computer and a few other minor items. Retrieved the sewing machine for one day, to fix some stitching in one of my home-made panniers, then brought it back to the storage locker the next day. Similarly with some bike tools: take them out for a day or two, then put them back, so that the motel room remains uncluttered. Trying to prevent myself from feeling too much at home. Compare with a year ago, when I brought all sorts of gear into my room at that cheapo motel and left it there. Very quiet here incidentally, ever since those motorcyclists left.
Spent some time reading up on full-time RV'ing. Seems like a lot of trouble with all that equipment. And probably not that much more economical than living in motels like I do. Biggest problem, of course, is the lack of physical exercise. Obviously, you could take hikes or bring along a bike and ride that for exercise, but that sounds too much like that riding on that miserable bike path. Exercise for the sake of exercise, as opposed to exercise that occurs naturally as part of a lifestyle. (I get my exercise here in the city by walking to Walmart to buy food for lunch each day. Now that I'm past middle age, I can only eat one meal a day when not on a hiking/biking trip, otherwise I gain weight.) Probably the biggest appeal of RV'ing is all the gizmos you get to buy, far more than you could ever carry as a hiker or bicycle tourist, not that this stops the typical hiker/biker from turning those activities into outlets for consumerist tendencies. Consumerism as the modern religion, shopping mall replaces the temple (nowhere are the temples to consumerism more glorious than in Saudi Arabia or Dubai, so much for the appeal of Islam), rituals of shopping replace those of the church, inability to consume (poverty) as the state of sin. An empty religion.
Sun, 13 Oct 2013
Annoying personal issue involving finances finally resolved, so plan now is to move out Wednesday, taking the mostly dirt road route through Tonopah to highway 266 (old highway 395 to Carson City, highway 50 to Dayton, Churchill road, Adrian Valley road, Julian lane, Rawhide road, Pole line road, Silver Peak road, unnamed dirt road from Silver Peak to highway 266). Then highway 168 to Big Pine, highway 395 to Lone Pine, Panamint valley route to Ridgecrest (Panamint Valley will be open even if Death Valley itself is closed), dirt roads to Barstow and beyond. Whereas original plan was to use Tule road or Oriental wash road to get to Death Valley from highway 266, then Harry Wade road to get to Baker. Either option is mostly dirt roads, mild temps according to Accuweather, lots of peace and quiet, the way I like things. Definitely need to get going, because motel starting to feel like a tomb.
Wed, 16 Oct 2013 (51 miles in 5:08 hours)
Starting odometer 7298 miles.
$15 to camp at Dayton State Park. Noisy, but I was tired and it was running late. Would have been 10+ more miles to the Churchill road stealth camp. Feels good to be back on the road. Was planning to stay at a motel in Carson City, which is why I left Reno a little late, but seemed depressing to be cooped up in nice weather. Need to cut these October/November breaks down to two weeks or less.
Thu, 17 Oct 2013 (36 miles in 4:09 hours)
Nearby highway very noisy. Next time, start early so as to reach the churchill road camp the first day, then take a short day after that. Camped before Adrian Valley. Bee stung me at the Buckland Crossing Picnic area.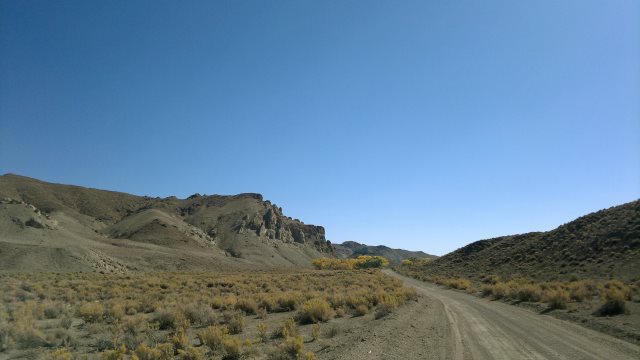 churchill canyon
Fri, 18 Oct 2013 (44 miles in 5:00 hours)
Audacious coyote came right up to where I was camped during the night and sniffed around my gear. I roared and it ran off. Installed a new chain since my last trip, but still using the old sprocket, so lots of grinding while the chain settles in. Need to rethink my approach of replacing the chain frequently. Maybe do like Andy Blance recommends and just let the whole drivetrain wear together for 6000 miles or so, then flip the chainring and sprocket, put on a fresh chain and run another 6000 miles, then replace everything. At that rate, I'd be running through a chainring, sprocket and two chains, costing about $120 total, every three years or $40/year. Bee sting from yesterday is swollen up with a hard lump. These creatures are truly vicious. Temps cool at night, 70's in the day, blue skies, beautiful weather. I'll be arriving too soon in Death Valley, I now realize.
Picked up some snacks and water at the Schurz store. Man in his 50's (or maybe younger, these people age fast) sitting outside told me about a religious revival here in town. People being touched on the forehead and collapsing. Afterwards, he asked someone one what it felt like to receive such a blessing: "I can't describe it". Revival being held in a big purple circus tent just down the road, in case I wanted to attend. Free macaroni and cheese dinner. Circus indeed. Supposedly, this revival circus travels all over the country, draining the pockets of simpletons from Alaska to Florida. The man remembered me from a previous tour. Hangs around the store all day every day. He asked me why I bicycle toured. Told him because I'm retired and with nothing to do, and traveling by bicycle or foot is the best way I know to work off excess time and physical energy. He was silent and appeared to think at this reply, and not surprising given that he and I are in the same position of too much time on our hands. Then he talked briefly to a younger man who drove up in a car. Afterwards, he explained that this younger man was his nephew and was on probation after being arrested in Las Vegas. Mother of this nephew died at age 30 from an overdose of alcohol and pills. Whole family on welfare of some sort probably. In fact, whole town probably on welfare and most likely everyone diabetic as well, given the rampant obesity. Bars on all the windows in a small town in the middle of nowhere, suggesting young people breaking in and vandalizing for want of anything better to do. On the way back to Rawhide road, some guy in a beat-up Camaro nearly ran me over while cutting in front of me, then he skidded and zoomed off down a dirt road leaving a cloud of dust in his wake. Who cares if he runs over some little kid? Little kids are easy to make. And if he leaves the kid a cripple, then big lawsuit settlement and disability pension for life for the kid. Mind you, nothing wrong with a life of leisure. I've been living the life of leisure since I was in my late 30's myself and that's the only life I've ever wanted to live. But it takes discipline to cope with unlimited leisure time and discipline is what these people lack. When I mentioned my travel plans were uncertain, due to the government shutdown, the old man complained about the government going bankrupt because it was always giving money to foreigners instead of poor people here at home. In other words, he wants more welfare so he can give more money to the traveling revival circus.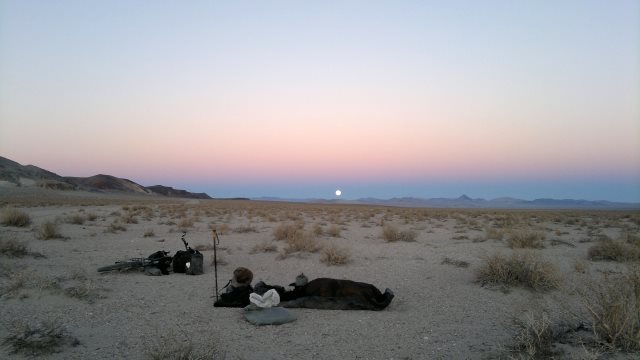 full moon, campsite near calico hills
Sat, 19 Oct 2013 (31 miles in 4:51 hours)
Should have brought more bread and cheese, to allow 8 days from Reno to Tonopah rather than 6, with a short last day. Weather is so beautiful I want to go slow and savor it. Snow on the peaks, so getting close to winter, but mild here in the valleys, no wind, blue skies. 5 miles pushing through sand in the Rawhide flats area.
Ancient Greek reading matter includes Handbook of Epictetus, Anabasis by Xenophon, New Testament of the Bible, Septuagint version of the Old Testament. The New Testament Gospels and Revelations are easy going at this point, whereas the Septuagint has many words that aren't in the dictionary, either misspellings or because it's the Alexandrian dialect. Paul's letters are very difficult, mainly because Paul is talking gibberish and gibberish is difficult in any language, though perhaps the prose style is also bad, I can't really say since I'm still a beginner with Greek. I'd always thought Paul to be a miserable sort of human being and reading his letters closely just confirms that opinion. Compare with Epictetus, whose prose is also difficult, except here the issue is denseness: every sentence packs a lot of meaning, which is not necessarily bad prose. Epictetus is most definitely not gibberish and he is a much pleasanter person than Paul. Xenophon has a plain prose style, not much more difficult than the Gospels, but I need to expand my vocabulary considerably before I can read him fluently. Various travel books and memoirs in English complete my reading matter, all of which is on the Kindle e-reader.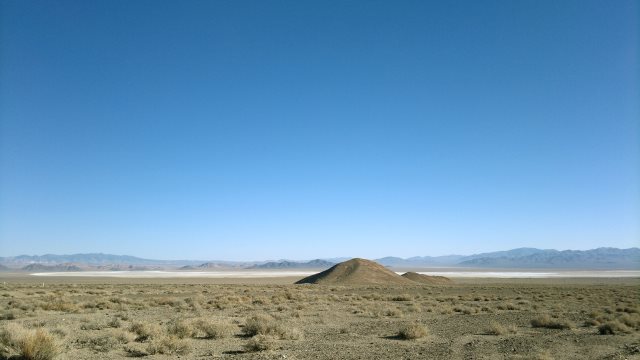 rawhide flat
Sun, 20 Oct 2013 (41 miles in 4:27 hours)
Took the Paradise peak mine road, which is open to the public. So no need to detour north on 361 to the intersection with 89.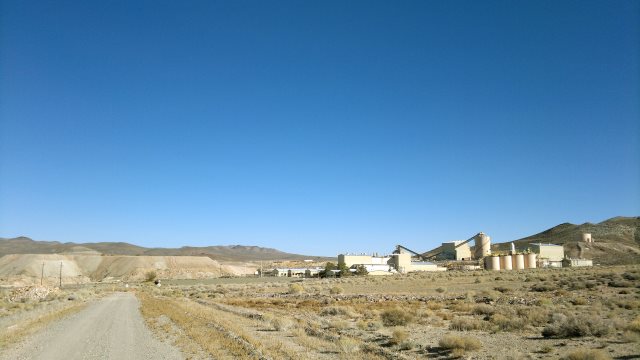 paradise peak mine
Mon, 21 Oct 2013 (36 miles in 3:27 hours)
Tue, 22 Oct 2013 (24 miles in 2:59 hours)
Motels in Tonopah booked solid Sun-Thu every week due to construction of solar power plant. Got the last room available at the Mizpah Hotel ($89 plus tax, 775-482-3030). Other places I checked included Jim Butler Inn ($66 + tax for 1 person, according to website, 800-635-9455), Best Western ($105 + tax, 775-482-3511), Economy Inn (775-482-6238), National9 Motel (775-482-8202), Tonopah Motel (775-482-3987), Clown Motel (775-482-5920). I've stayed at the Tonopah and National9 motels in the past. Tonopah motel would normally be my first choice. Clown Motel also looks okay. Mizpah is swank but small room and not much noise-proofing. Stored my bike in a stairwell. Loaded up with food. Last chance for a big grocery store until Bullhead City. Weather is forecast to be warm until Oct 30, but I'll likely drop into Death Valley before that. Very unusual to be this warm this late in the year. Normally, I would be rushing to get into Death Valley to escape the cold. Water faucet at the Tonopah gazebo is now locked shut, but there is an unlocked faucet at the library.
Wed, 23 Oct 2013 (22 miles in 2:03 hours)
Walls at the hotel are paper thin, plus they stupidly put doors between rooms to allow making into suites, a "feature" needed by no more than 10% of the guests. Result is that every word and every cough and every other sound, including the television, can be heard from adjoining rooms. My neighbor was quiet after 7pm or so (probably a worker on the solar power plant who gets up early), but an elderly couple checking out at the same time complained they had been kept up to 3am by the boob tube blaring next door. Prosperous elderly couples who travel a lot are precisely the clientele this hotel should be trying to attract, and here they are giving them a miserable experience. Not sure what they would have done had the couple called the front desk at 3am. Correct thing would for the front desk clerk to call the police, who I'm sure know how to deal with low-lifes, of which Tonopah no doubt has plenty, just like the rest of this white trash methamphetamine-infested flyover state I call home. Hotel is going to get a bad reputation, I can see that, and I'll certainly never stay there again myself. What they should do is board up those doors between rooms somehow, and perhaps remove the giant boob tube altars from all the rooms on some of the floors and advertise that as a feature, sort of like how non-smoking is now a feature, whereas ashtrays everywhere was a feature in olden days. Boob-tube-free zone. Definitely a way to repel the low-lifes.
Chain absolutely filthy with junk. Should have thoroughly cleaned it of manufacturer grease before or immediately after installing it. Cleaned it outside the public library, using half bottle of chain cleaner and 3 shop towels, then relubed. Camped near Alkali.
Thu, 24 Oct 2013 (25 miles in 3:01 hours)
Adjusted the eccentric a notch. Chain is much quieter now that it has stretched some to match the chainring and sprocket. Took the paved Silver Peak road back to highway 95, which has a good shoulder, then followed that south a few miles past Goldfield Summit, then turned west onto a dirt road (shown on the road atlas maps), which will eventually lead to Lida Canyon road. Camped along this dirt road. Lots of birds singing and perhaps nesting in the Joshua trees. Stopped off at Goldfield earlier to look around. Beaten down sort of place. Trying to go slow to avoid hitting Death Valley too soon.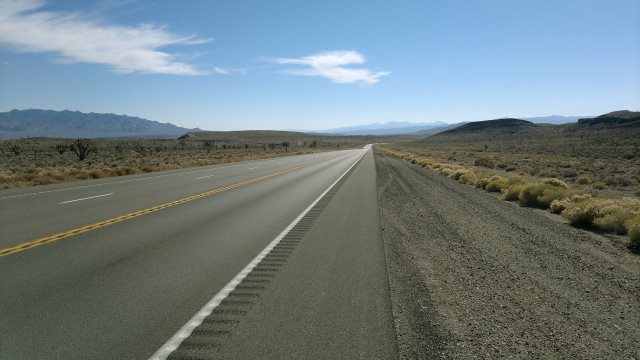 highway 95 south of goldfield
Fri, 25 Oct 2013 (30 miles in 4:30 hours)
Road turned sandy on the way to Lida Canyon road, then picked up the road to Goldpoint. Picked up some water there, but bar closed. Took the road towards Hard Luck Mine Castle, to see what improvements have been made since two years ago. Camped up amidst the junipers.
Sat, 26 Oct 2013 (16 miles in 1:51 hours)
Decided to skip visiting the castle, since that would cause me to enter Death Valley before the heat wave ends. So headed back to Gold Point, where the bar was open this time. Getting ready to serve lunch to a group of 50 or so motorcyclists from Los Angeles, in their 50's and 60's, mostly grips or otherwise associated with the movie industry they told me. Some really nice Harley Davidson motorcycles, supposedly many of them have been used as props in movies. Enjoyable company, a lot more pleasant than those pestilential mileage-obsessed PCT hikers, that's for sure. Young people in general are a pain-in-the-ass. I felt that way when I was young myself but felt foolish saying it then. Now I'm a geezer and can say what I want.
Day was marred by stepping in a pile of human turd. The bartender, that is. Apropos of nothing, he started shouting in my face that the government needs to "Obey the Constitution! Obey the Constitution!" Evidently, he's gone crazy listening to talk radio or watching Fox news. Age 67, receives a Social Security pension and has been receiving veterans medical benefits every since the Vietnam war. In other words, been sucking the government teat all his life but hates the government with a passion, especially this new healthcare act which doesn't even affect him nor does he look rich enough to be affected by recent tax hikes. Paranoid ravings about the government setting up death camps, requiring military recruits to sign documents stating they are prepared to fire on US citizens, everything costing more than it used to, whole country going socialist. "Whole problem started back in 1913!" A year which could mean either the introduction of federal income tax or the creation of the Federal Reserve Bank. Then he muttered something about the rich owning everything, but this was in a tentative voice, as if something he had thought for himself and wasn't sure of, whereas the rest of the rant was clearly regurgitated from what he had heard on television or the radio. Now that's clever, isn't it? Get rid of the income tax and really sock it to those rich Wall Street bastards who run the country. Or get rid of central banking and throw the country into a depression where the rich are the only ones with money (since they would own most of the government bonds, which would exist even without a central bank) so they can buy up all the land cheap and literally own everything. As for cutting the government down to size, first things to go would be Social Security, Medicare and veterans benefits. They make them smart here in rural Nevada, don't they? Those of you planning to visit Goldpoint will be able recognize this jackass, who goes by the name of Walt, by the big .45-caliber automatic handgun aka penis substitute strapped to his side. (Not that I'm opposed to private ownership of handguns, at least by sane and law-abiding members of society. The slogan "if guns are outlawed, only criminals will have guns" is indeed true at this point. So many guns in the world that there is no way to ever prevent criminals from getting their hands on them, nor can private citizens necessarily rely on the police to protect them. But if you're going to carry a handgun, carry concealed, at least in states like Nevada where concealed carry permits are easy to obtain. Open carry makes you look like a fool.) If you like listening to rants, easy to egg him on to one, though be careful about laughing too much. Remember, he's armed. Otherwise, consider yourself warned and be ready to politely excuse yourself as soon as he gets going. By contrast, Herb, the guy who actually owns most of Gold Point, is very nice, as is Herb's wife/girlfriend.
Sun, 27 Oct 2013 (26 miles in 3:25 hours)
Ascended Tule Canyon road, descended Cucomungo Canyon, camped in Eureka valley. Good solid roads the whole way, with some brief pushing on rugged uphill sections. Trickle of water at willow springs on the way down Cucomungo Canyon road. Reading "Canyons of the Colorado" by John Wesley Powell (1895), memoirs of the leader of the first voyage down the Great Canyon by boat. Amazing the courage of men in days of old. Compare with the piss-pants of today, who dare not venture anywhere without a cell or satellite phone to call for help. Signs of another bicyclist between Crankshaft junction and the paved road 20 miles further south. This dirt road road (Death Valley road) is marked closed, both in Eureka valley and here in Death Valley, but I ignored the signs, since washouts are unlikely to stop a bicycle. Washouts were minor, in any case.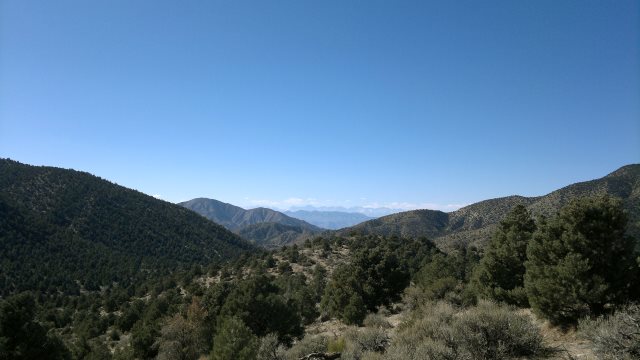 looking down at cucomungo canyon from the plateau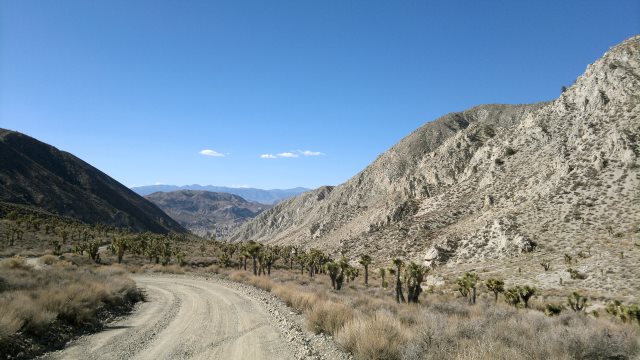 inside cucomungo canyon
Mon, 28 Oct 2013 (35 miles in 5:15 hours)
Drizzled a bit coming over Last Chance range, then again in the evening. Setup tarp so I could read without getting the Kindle wet, though otherwise the drizzle was so light it wasn't really necessary.
Tue, 29 Oct 2013 (61 miles in 5:12 hours)
Skies cleared and gentle north breeze, so easy riding. Picked up food and water and charged phone and kindle at Furnace Creek. Decided to skip shower and get one at Baker instead. Camped about 6 miles south of Furnace creek store, same place as last year, canyon on east side of road, just north of north exit of artists drive. Good shelter from north and south winds and fairly stealthy even though only about 1/4 mile from road.
Wed, 30 Oct 2013 (42 miles in 3:38 hours)
Badwater road south of Badwater parking area marked closed. I ignored the sign. Ranger stopped me about 20 miles later and said road crew would call law enforcement on me. So I hid in canyon a few miles on and waited until dusk to proceed. Death Valley always a pain in the ass: lots of tourists acting in the usual foolish tourist way, nasty rangers, paved roads, rules about where wild camping allowed. On the other hand, coming through Death Valley is surely better than 200 miles on highway 95, even though there is a good shoulder there. Finished "A Gold Hunter's Experience" by Chalkey J Hambleton (1898). Excellent, right up there with "Making of a Hardrock Miner" by Stephen M Voynick (1975), which unfortunately is not available for e-readers. By the time I reached the site of the roadwork, the construction crew had long since gone home. Washout was minor, maybe one foot at the edge of the road damaged by flash flooding. Camped along Harry Wade road.
Thu, 31 Oct 2013 (41 miles in 5:59 hours)
Harry Wade road more sandy than last time, so lots of pushing, though able to pedal maybe 80% of the time. Hot day. Definitely need to wait until November before starting Mojave tour. That incident with the ranger yesterday reminds me, every national park ranger I've ever met has been cranky, talks in a sing-song voice and othewise has a peculiar personality. Completely different from ordinary policemen. Maybe that peculiar personality is because of the equally peculiar behavior of the tourists. And tourism itself is a peculiar activity. Nothing that special about Death Valley compared to the rest of the Mojave, so why do the tourists all flock here? Because they've been told to and they can't think for themselves. Not that I'm complaining about them flocking here and leaving the rest of the desert for me.
Scary incident along highway 127. Slipped off pavement into soft sand, which caused me to skid back onto pavement. No traffic on my side when this happened, but speeding trucks on the other side. If there had been a truck on my side, you wouldn't be reading these words, because I'd surely be dead now. The idea that a helmet could protect against being slammed into and rolled over by a heavy truck is ludicrous. Paved roads with fast-moving traffic are just plain dangerous for bicyclists, unless there is a truly huge hard shoulder, that's the last word on the subject. If hard shoulder is narrow, then be very careful about getting too close to the edge, to avoid skids back into the traffic lanes.
Suffering constipation from that cheese I bought at Furnace Creek. It was round-shaped like a Gouda cheese, but manufactured by the Sysco industrial-food corporation, so who knows what shortcuts they took. Should have bought the Kraft singles, especially since the bread (also made by Sysco) was wheat but not whole-wheat, and thus low on fiber.
Fri, 1 Nov 2013 (29 miles in 2:46 hours)
Able to hear lots of noisy traffic from Highway 127 from where I was camped. Tire noise can be heard for miles in open desert country. Also stressful riding. Had to roll onto soft shoulder several times due to squeeze situations with trucks in both lanes and thus no room for me. Constantly checking rear view mirror for such squeeze situations.
Tear in packliner, probably from jamming tarp stakes down the side of the pack without making room for them first. Bottle of stans leaking in the stuff sack inside the pannier. Managed to clean the mess up, but decided to chuck all the bottles of sealant at Baker to avoid further leaks. Tire liners appear to be working okay, though I still haven't tested them on a bad nest of goatheads.
Showered and washed clothes at the Baker laundromat ($5 shower, $3.50 for laundry), picked up groceries at the Baker Market, picked up water from spigot outside Country Store, ate and repacked food at town park and also recharged electronics there. Wasted time on internet. Need to unsubscribe to some of the email lists I am currently receiving. Nothing ever happens that isn't reflected in bond yields and or stock indexes, so that is all I really need to check. Feeling frazzled from too much time on paved roads and moving too rapidly this past week. But that's over now that I'm past Baker. Forecast for mild temps today and tomorrow, with sunny skies, then cooler starting Sunday. Heat wave finally over.
Sat, 2 Nov 2013 (6 miles in 0:58 hours)
Decided to take a rest day. Reading "Memoirs of Ulysees S Grant", supposedly ghost-written by Mark Twain. I would never have made much of a soldier. Much too rebellious. Self-disciplined and with violent tendencies, but likely to kill my commanding officer for hassling me long before I had a chance to face the enemy. Then again, I did manage to work as a corporate wage slave for eleven and a half long years without blowing up and punching someone (though God knows I shot off my mouth often enough), plus another couple of years before that at menial jobs. People can get used to anything, as the saying goes. Sounds of booming in the distance from the military bombing ranges, appropriate accompaniment to today's reading.
Hard to fault Grant, since he did mastermind the Union victory plus, as he makes very clear in these memoirs, he was limited in what he could do by political constraints. In particular, he couldn't fight a long war of attrition, which the south would surely lose, because the northern voters were impatient to get the war over with. So he had to hurry up and make victory inevitable before the elections of 1864. This haste cost the Union dearly in terms of blood. Also, his brilliant idea to cut the south in half, starting at Mobile, was blocked repeatedly by superiors in Washington, for unknown reasons. So instead of faulting Grant, I'll fault the Union as a whole.
Main thing I would have done different is give an ultimatum to all rebels north of the Tennessee and west of the Mississippi rivers: "join us or lose everything if we win the war". The small farmers of those areas owned few slaves and were ambivalent about the war to begin with, and this ultimatum would have caused their support to further waver. Then use harsh methods to deal with all remaining rebels in those areas. Try to reach an agreement with the plains Indians, promising them a huge ranching reservation in west Texas, New Mexico and Arizona (Native American culture is compatible with ranching, but not intensive farming, dairying, mining or factory work), in exchange for doing some of the dirty work in those states (cavalry, armed with rifles, serving under white officers). Obviously, the promise wouldn't include mineral rights and there would also be some fine print allowing the reservation to be scaled back if some method were discovered for irrigating this otherwise mostly worthless land. The ultimatum would also apply to southern sympathizers in the north, eliminating the problem of sympathizers trying to sabotage the war effort. Redistribute land and other property confiscated from rebels and southern sympathizers to northern soldiers, thus motivating them to fight harder. Avoid going on the offensive in Virginia, where terrain heavily favored defenders. After the western Confederacy had been pacified, split off Mississippi and Alabama and make those states mostly black, to ease the concerns of racist whites elsewhere that they would have to live with and compete economically with freed slaves. Let the freed slaves do the dirty work of fighting in those states, under the direction of white officers. Finally, offer to allow the remaining eastern seabord states (Virginia, the Carolinas, Georgia, Florida) to partially secede, to avoid wasting blood and treasure fighting them. These states would have autonomous internal policy, no voting rights in Congress, and foreign policy controlled by the United States, and thus would become a dependency of the United States. Maintain the blockade and harass this rump Confederacy at the edges until it was forced to accept the offer. Expel all the rebels who had been rounded up in the rest of the Confederacy to the rump. Blacks in the rump who hadn't already fled would then move to Mississippi and Alabama.
Grant was opposed to the harsh methods I would have used, since he didn't want to leave lasting hatreds. My view is that best way to eliminate lasting hatreds is extermination or expulsion of all rebels, leaving no one left to bear hatred inside the United States proper. Sure, the rump would be stewing with rage, but it would be impotent rage, and serve as a warning to others contemplating rebellion. Kill them all, as God instructed in the Old Testament. The more extermination and expulsion, the more property to be redistributed to the soldiers. As De Tocqueville notes, men in egalitarian democracies are naturally opposed to war, because of how war interferes with money-making. On the other hand, such men have infinite energy and zero physical fear where there is the possibility of getting rich quick (think gold mining, whaling, etc). So turn war into a get-rich-quick scheme.
Of course, my whole plan is based on my personality as an old man, with no desire to die or get hurt or even fight, but who loves money. I forget the sheer recklessness of youth, and young men's love of physical violence, and also the effect of political propaganda on persons of lower intelligence. If you have an essentially unlimited supply of young males willing to die for love of country, whatever that means, then you don't have to engage in these devious schemes I outlined. Rather, you just bark out orders and so what if huge numbers of troops die or are maimed. Plenty more where they came from. Grant's orders were to win quickly and maintain the entire Union intact, and damn the cost in blood and treasure, and so that's what he did.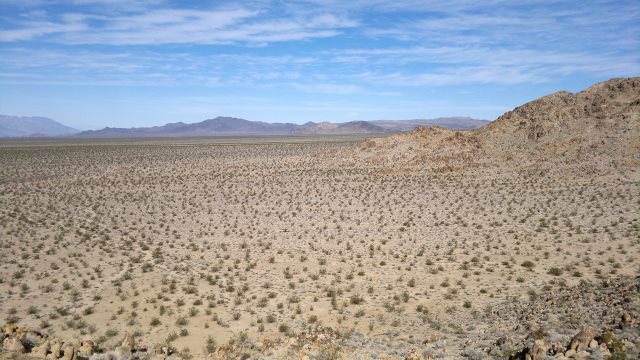 view from hill ten miles from baker
Sun, 3 Nov 2013 (17 miles in 2:44 hours)
Took the road that leads around Rocky Ridge to Jackass Canyon, but it turned to sand upon starting to descend the canyon. Map shows sand dunes further west and I don't want to push a whole day, so I turned around and camped amidst the Joshua trees.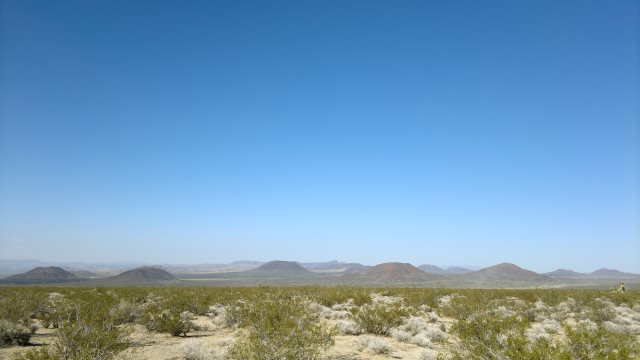 cinder cones
Mon, 4 Nov 2013 (28 miles in 4:08 hours)
Followed the powerline road to where it intersects Mojave road near Marl Springs. This powerline road is solid, though with steep ups and downs through Marl Mountains. Road back on Mojave road towards Kelbaker road. Mojave road is sandy, but I was neverthless able to ride on it. Going downhill helped. I probably would have had to push going uphill, due to the sand.
Tue, 5 Nov 2013 (26 miles in 3:15 hours)
Resupplied at Baker: 4 loaves bread, 3 lbs cheese, which was all they had in stock. Still have some rice and peanuts in my panniers. Filled water bottles, recharged electronics, cleaned and lubed chain.
Wed, 6 Nov 2013 (34 miles in 4:13 hours)
Kelso Depot closed, but water spigot outside the restroom running. Camped along Macedonia Canyon Road, a detour off the Kelso to Cima Road. Reading Conrad's Nostromo: "The man of the world's easy-going tolerance is the ultimate form of contempt for one's fellow man, as if he didn't exist or were some sort of exotic animal." I'm paraphrasing or extending the actual quote. Feeling my usual joyful self today, whereas I was feeling down the past few days. Maybe I was undereating last week. Bad or insufficient food has a way of undermining the morale, without it being obvious why one is feeling down. Or maybe it's the heat. I can toleate heat in the Lassen area, but not here in the desert. Notice at Kelso depot about bat which landed on man's neck during the day was later caught and confirmed to have rabies, so would anyone knowing the whereabouts of this man please notify the park authorities. Need to update my website page on wildlife to note that rabid bats is a reason to sleep in a bugbivy even when no mosquitoes.
Thu, 7 Nov 2013 (27 miles in 3:49 hours)
Union Pacific trains less frequent than BNSF trains, maybe six total during the night versus one every fifteen minutes, plus they don't blow their airhorns near were I was camped (they do blow it at Kelso). Just the sound of the engines chugging uphill. Shortly after Cima, turned northeast on the powerline road road, which has a firm roadbed. Very nice road. Beautiful Joshua tree forest here. Supposedly, the largest and densest in the world. Bread I bought back at Baker was Bimbo Pan Integral (wheat bread with bran added back in), spanish-labelling for the mexican market, cheap-looking but nutritious. One good thing about the diabetes epidemic is people are finally waking up to the importance of nutritious food, like bread with fiber rather than bread without. Cheese is Kraft singles, much less constipating than that Sysco cheese I bought at Furnace creek. I also ate some spanish-labelled sardines back in Baker, plus a bunch of jalapenos. Mexicans are a lot smarter about eating than most Americans. Think of that hamburger and fries I had back at Goldpoint, during lunch with the motorcyclists. "Like the original McDonalds, not the modern stuff," boasted Herb's wife/girlfriend, as if American food from the 1950's were something to boast about. Camped near Willow Wash, before Nipton Moore Road.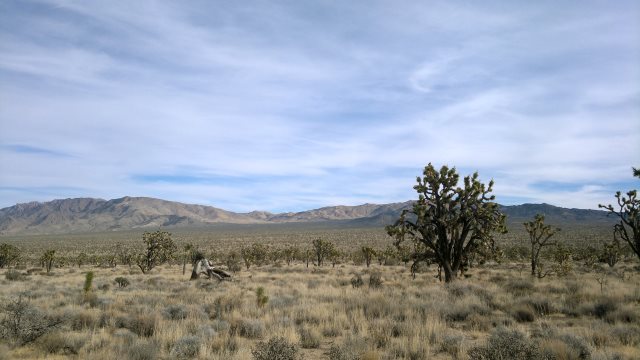 ivanpah valley joshua trees
Fri, 8 Nov 2013 (23 miles in 3:48 hours)
Powerline road was solid all the way to the railroad, but then turned sandy. So I turned onto the Nipton-Moore road paralleling the railroad. Nipton store as poorly stocked as last year. Same two cans of soup on the shelf as last year, everything else junk food. Bought a soft drink and candy bar. Took highway 164 to near Bullion Spring, then switched to the powerline road heading north, which is rugged but solid. Campd about six miles north of highway 164.
Sat, 9 Nov 2013 (30 miles in 4:14 hours)
Powerline road becomes sandy as it descends into the valley. So lots of pushing. I was hoping this powerline road would be a dirt road alternative to getting to Las Vegas, but apparently not, at least with my bicycle. The road coming through McCullough pass is paved, so turned onto that. Passed a bunch of solar power plants, then south on highway 95, which has an excellent six foot hard shoulder with rumble strip separating the shoulder from the traffic lanes. From what I can tell, highway 95 has this excellent shoulder all the way from Henderson to the California border, and thus this is the way to get between Las Vegas and the Mojave area. Not that I'm particularly interested in visiting Las Vegas, especially not if it means several days riding on highway 95. Paved roads with lots of motor vehicle traffic, even paved roads with excellent shoulders, are unpleasant compared to hardpack dirt.

el dorado valley solar power plant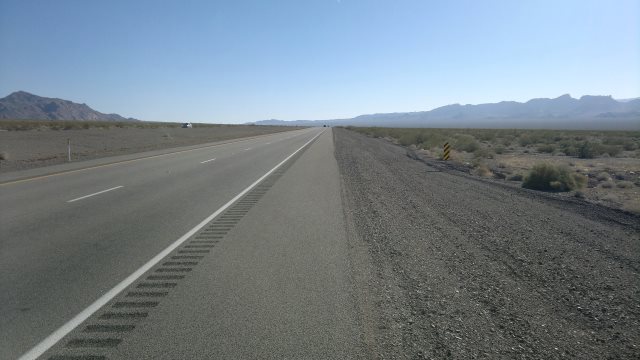 highway 95 north of searchlight
Sun, 10 Nov 2013 (27 miles in 3:01 hours)
Showered at Terrible's Casino and Truck Stop ($10). Charged electronics using outlets in bathroom, and also used bathroom to wash clothes and fill up water bottles. Then resupplied at the store inside. Scored 3 loaves of wheat bread (though not whole wheat, but at least it has some fiber), several packages of cheddar cheese, avocado, 4 oranges, pint of cherry tomatoes, 4 hard-boiled eggs, can of chile with beans, pint of ice cream, large oatmeal raisin cookie, 2 liters of powerade. The fresh fruit is unusual for a convenience store. Apparently, they do a lot of business with snowbirds driving RV's.
While preparing my sandwiches at a table outside, young man came out of the casino and asked what I was up to. Told me he works in a gold mine and thinks the United States dollar will be worthless in two more years (maybe that's why he's gambling them away in the casino) and that the government is building concentration camps to exterminate people just like Hitler did to the Jews and everyone will be tattooed and have an RFID chip installed in their body, part of the new world order. Both political parties in on the plan so it doesn't matter who you vote for. Opened his wallet, full of twenty dollar bills, and told me to take what I wanted, to help me on my way. I declined the offer, of course. "I say there's strength in numbers, but my buddy in there says no, you have to be self-sufficient. You'll be one of the survivors. People who can take care of themselves living out in the desert. The weak ones will die. I'm a born-again Christian myself, with Jesus Christ as my personal lord and savior, so they'll probably kill me first. But I know this, when they come for me, I'm taking a few down with me. Not like those Jews in the concentration camp. I'm going down fighting."
What can I say? The wealthy have indeed been successful beyond their wildest dreams at inducing a sense of despair in the lower echelons and detaching them from political involvement. A hundred years ago, miners understood there was a natural conflict of interest between capital and labor, and that they would have to fight for good wages—and by fight, I don't mean this crazy talk about "going down fighting" for the sake of his personal lord and savior Jesus Christ, but rather the steady and disciplined struggles for workers' rights in the early 20th century, which only occasionally erupted into open violence—and that sometimes they would lose these fights but that other times they would win, and even if fighting were hopeless, better to fight than put up with abuse like a coward without daring to fight back. That spirit is gone, replaced by despair and passivity, punctuated by outbursts of craziness, with a final result of meek submission.
Of course, a hundred years ago, guerrillas armed with hunting rifles could actually defeat the regular military, at least if they had the support of a large chunk of the non-combatants, since the only weapons the military had superior to rifles was artillery plus the navy, both of which are ineffective against dispersed guerrillas. Nowadays, the military has helicopter gunships, drones, night-vision goggles, a vast network of surveillance technologies, etc. And this weaponry advantage of the military versus civilians is growing rapidly. So fighting back really isn't an option anymore.
The future is thus in the hands of the elite. Hopefully, the elite will see that maintaining an egalitarian democracy is to their advantage. Democracy and egalitarianism go hand-in-hand. Without egalitarianism, democracy will die. Without democracy, the smaller fishes among the elite run the risk of being swallowed up by the bigger fishes, and there's always someone bigger unless you're numero uno. Rich people in the United States and western Europe have to pay high taxes, but these taxes are a small price to pay for the privilege of enjoying the remainder of their wealth in tranquility. Compare with the rich in Russia or the various African despotisms, who can be deprived of their wealth, their freedom and/or their life at any time at the whim of the current despot.
I hear rumors that this crazy mentality among the lower classes is rife in the United States, but then I don't have any lower class friends so I don't know for sure. Most of my friends are either investor class rentiers or working in the technology industry, and those classes are doing very well, and most of what I read is the financial press, so I live in something of a bubble. Maybe the desert just attracts wackos, or maybe the sun makes people go crazy. That guy I was talking to shook his head at the idea of bicycle touring in the desert: "Desert's a harsh place. Going to Idaho or Montana myself. Lots of big game up there. Water and trees. This desert is too harsh." Indeed, the desert is a harsh place in the summer, which is why I confine my travels there to the winter.
Took highway 164 towards Nipton, turned south after about six miles onto Walking Box Ranch road, which is solid.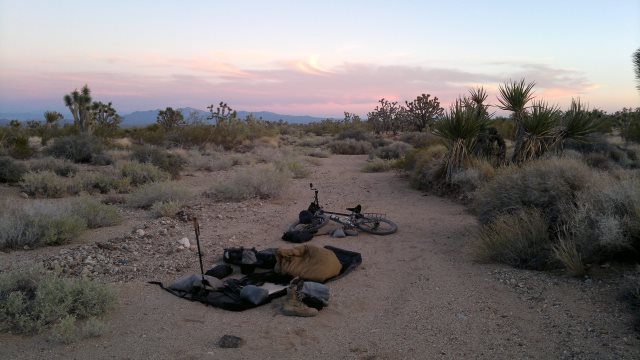 campsite in wash near walking box road
Mon, 11 Nov 2013 (11 miles in 1:28 hours)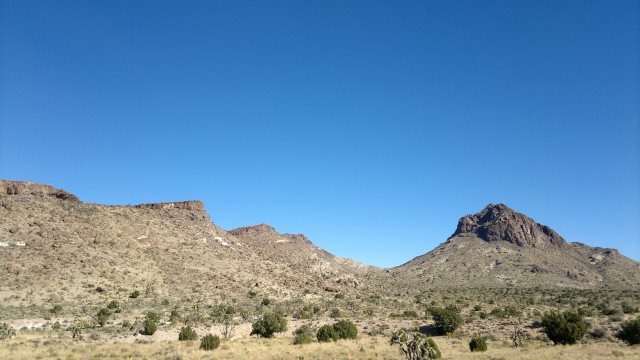 harts peak
Tue, 12 Nov 2013 (22 miles in 3:17 hours)
Followed Hart Mine road to Ivanpah road, then turned south on that. Both roads solid.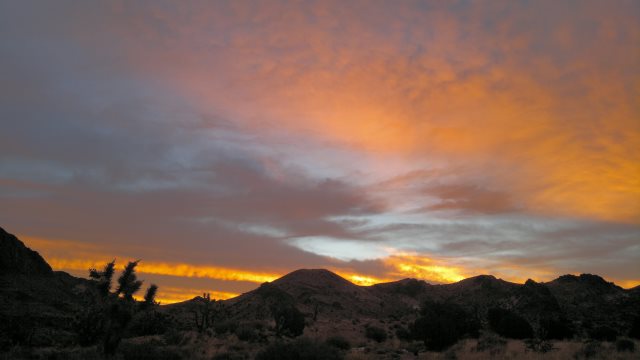 sunrise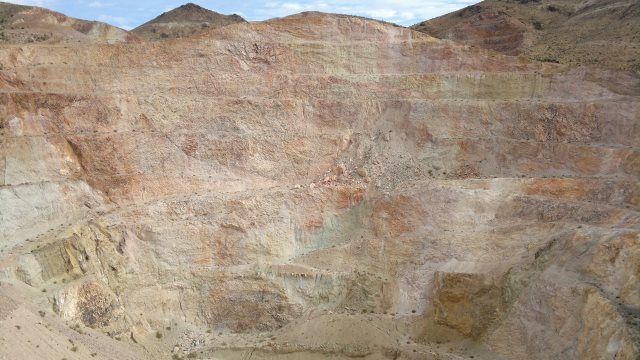 hart open pit mine
Wed, 13 Nov 2013 (31 miles in 4:28 hours)
Talked to one of the year-round residents in the Mojave National Preserve. In his 60's, used to work as a roofer and similar blue-collar jobs. Hauls water to a trailer where he lives. Told me I could get water at the OX ranch at Ivanpah and New York mountains road, since the ranch is owned by the park service now. Wire gate in the fence, then a spigot near the old cookhouse. He runs a noisy generator for electricity. You'd think living in the middle of nowhere and you'd be free of noise, but no, quiet is never guaranteed unless you own a truly tremendous amount of land (like 10 miles in every direction to the nearest neighbor, or 400 square miles total). And even then you have planes flying overhead and military bombing in the distance which can be heard for far more than 10 miles. Mojave road surprisingly solid between Lanfair road and Piute mountains. I recall it being sandier two years ago. Followed the road parallel to but one mile east of the powerline road north for about nine miles, then turned east on a road not clearly shown on the road atlas maps but shown on the GPS. This road should hit highway 95 just north of the Nevada-California border. From there I'll head north to highway 163, which leads down to Bullhead City. The reason for using this alternative to the powerline road was just to check what it was like. Turns out it is much more rugged than the powerline road, with lots of washouts. So I'll use the powerline road in the future. Camped in the creosote about four miles west of highway 95.
Continuing my slow but steady way through the Septuagint. The psychotic craziness of the Old Testament God becomes much more apparent when reading in a foreign language like this, because I go so slowly. Whereas in English I tend to skim until I find something important. But there is nothing important in the Bible, it's all just craziness, so I end up skimming everything. Hard to resist this skimming habit. Also, it's a very useful habit for technology and finance, so maybe not a habit I want to reform.
Thu, 14 Nov 2013 (38 miles in 4:09 hours)
This road I'm on degenerated into sand, so three miles of pushing to highway 95, then paved roads thereafter. Paid for a week at the Gretchen Inn ($135 before tax). These rooms are very nice for the price. Apparently, this was once a resort hotel, then fell upon hard times when the resort business moved across the river to Laughlin (Nevada), where there is gambling. On the way there, veered off the sidewalk to avoid a crazy-acting pedestrian and ran into a nasty patch of goatheads. At least 30 thorns per tire. Pulled them all out and tires were still inflated, but the front tire was starting to deflate by the time I got the Gretchen Inn. Dismounted and found two slow leaks. Had to put the tubes under water to find these slow leaks. So the thorn liners don't work so well. Should have run this test back in Reno, but I'm hopelessly lazy. Mounting the tire is also more difficult with the thorn liners, so that's two strikes against them. Stupid of me to throw away those bottles of Stans I was carrying back in Baker. The consensus seems to be that liners are inferior to sealants, but I want to thoroughly test for myself. Damaged the brake pads when reinstalling the wheel, because I inflated the tire before installing it and there is then insufficient room between the brake pads to fit the tire through and I was too lazy to deflate and then reinflate. Luckily, I had spare pads, so installed these and then adjusted the brakes a bit, since the new pads are thicker than the old. Those Swiss-stop blue pads are expensive, like $25 for a set of 4 and have to be ordered from Europe. If I hadn't damaged these front pads, they would probably last 20,000 miles, or 5 years at my rate of usage. Plenty of thickness left on the rear pads. 2 slow leaks from 60 thorns is not bad, but sealant would probably have meant 0 leaks. Threw a Micropur tablet into each bladder, since it's been a month without cleaning.
Sat, 16 Nov 2013 (zero day)
Jerked my dopamine receptors around surfing the internet. Why is that so much more interesting than reading on the Kindle? A rhetorical question, since I don't really want an answer. Probably I need to treat the internet like I treat food. Out of sight, out of mind. To avoid overeating in the city, I only eat once a day and only buy enough at the grocery for that single meal, so there is never food on hand in my motel room. Maybe I should only allow myself to access the internet at the public library, which is only open five days a week at the branch nearest me, and inconvenient to get to. Maybe the whole society is going crazy and the only way to stay sane and healthy is to be traveling by foot or bicycle and camping out in the wilderness most of the time. Reminds me of Marshall McLuhan, the "medium is the message" guy. I read his books but remember nothing but that slogan. What kind of medium is the internet? Clearly it's more dangerous to me than television, since I'm immune to the latter but being absolutely devastated by the former. Good news is that I may end up having the whole of the outdoors to myself in a few years, since the rest of humanity will no longer be able to function without constant electronic stimulation. Oh yeah, forgot about satellite internet.
Wed, 20 Nov 2013 (zero day)
Finished reading "Nostromo" by Joseph Conrad. Good as novels go, but then novels are tedious to me at this point. No wonder I didn't enjoy the Kindle the first time I carried it two years ago: I had loaded it with mostly novels. Stayed here at this motel much too long. Three days would have been plenty. Main reason I paid for a week was the price seemed a bargain ($135/week versus $110 if I had just stayed 3 nights, since the price/night is higher Friday and Saturday). Foolish economy. Feeling sluggish and overeating again, plus spending much too much time on the internet. Today I went down some rabbit hole reading up on sailboat cruising. And I thought there was a lot of gear and maintenance involved with RV's!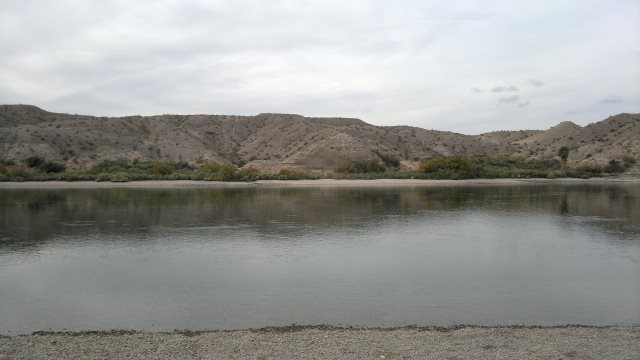 colorado river
Thu, 21 Nov 2013 (29 miles in 5:25 hours)
Forecast for rain and possibly thunderstorms next few days, but I'm not sticking around in this motel tomb any longer. "Life is like a sparrow that strays into the mead hall, flies about a while amidst the noise and smoke, then flies back out into the darkness whence it came." If civilization corresponds to the noisy mead hall, then time in nature would correspond to death. Death to the world, or the "living death", as in "path of the living death", a phrase which electrified me when I first heard it. "Slave brothers of Mary and the Poor", another phrase that resonated with me when I visited a monastery in Spain run by that order. (Though I could do without being a slave of the poor, meaning feeding the homeless in practice.) If Mary or the Virgin symbolizes Nature, then to be a Slave of Mary is to reduce spirit (higher mind) to its rightful role as servant of body and soul (animal self). Recalling McLuhan's phrase, "medium is the message", message of the internet medium is that spirit is everything and matter nothing, which is a false message: ungrounded life in the clouds, a swollen head that needs to be shrunk (visit to the psychiatrist).
Took Christmas Tree Pass road to get back to the plateau. 1000 extra feet of climbing and then some pushing through sand now and then. Probably won't take this road again in the future, but I'm glad to experiment with it as an alternative route between highway 95 and Bullhead City. Used road one mile south of Cal-Nev-Ari to head west towards the powerline road (Old Homestake road according to the GPS). This road is mostly solid other than in washes. Camped along this road. Overcast sky, light breeze from the south. Pitched tarp in anticipation of rain. Feels great to be back in motion.
One of the quick-release buckles on my Ortlieb panniers partially broken, but still usable for now. No way to field repair. I do have a spare 1" side-release in my repair kit, but that is intended for the rack bag, so I'm hesitant to use it for the pannier. Pannier could still be rigged shut without the side-release.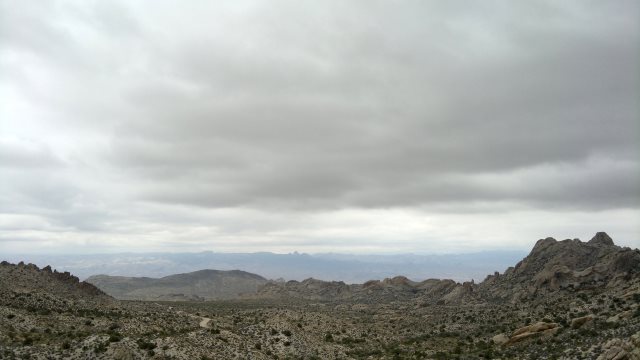 view east from christmas tree pass road
Fri, 22 Nov 2013 (zero day)
Rained all night, with flashes of lightening in the sky now and then. Wind shifted to the northeast and tarp not well positioned. Stake came out during the night and quilt got soaked in the foot area. Replaced that stake and several others with sand stakes. Should have used these from the start. Turned the tarp around during a lull in the rain, so as to better shield me from the cold north wind, which was becoming quite strong. Walked a bit for exercise during another lull in the rain. Able to pick up an ATT signal. Forecast for rain to continue until Sunday. Decided to hibernate. Better to hibernate here in nature than spend another day in that motel room in Bullhead City.
Sat, 23 Nov 2013 (zero day)
Rain continues. Rain like this would not stop me from hiking, but I have no interest in bicycling in the rain.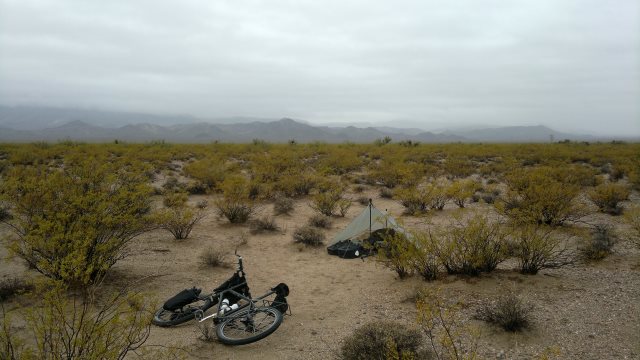 camp where I hibernated
Sun, 24 Nov 2013 (16 miles in 2:11 hours)
Rain stopped sometime in the night and sun out in the morning, with little wind. I would estimate there was about 1" of rain over a two day period. This much rain is enough to cause flash flooding, but only if it fell in a much shorter period, like one hour, during a summer monsoon. Spread out over two days, it just soaks into the ground. This is my first hibernation while bicycle touring. Only traveled a short distance, to just north of Homer mountain, because I didn't want to camp near the railroad or interstate, both of which are noisy. Powerline road is solid and recent rain packed the sand down even solider. No clay in this area, hence no mud. Setup tarp, not for rain but rather for protection from dew, which will be heavy from all the moisture on the ground.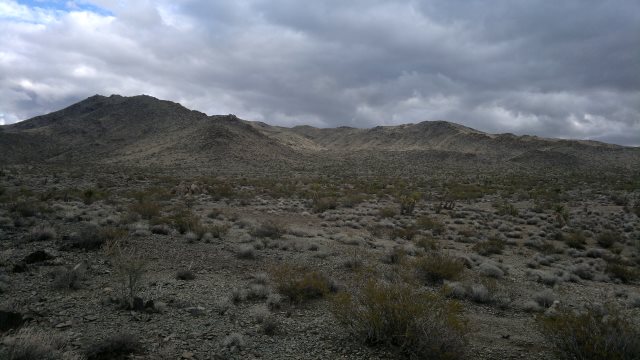 homer mountain
Mon, 25 Nov 2013 (41 miles in 4:25 hours)
Dew everywhere, just as I anticipated. Frost on the panniers, so temps evidently near freezing. Powerline road continues to be solid to Goffs road. Took that to the Goffs Schoolhouse, where I visited the museum and also picked up water, since I used up quite a bit during my hibernation. Though I have plenty of food to get to Blythe. Then took Mountain Springs road, then route 66 to Essex. When I asked directions to get to Sunflower Springs road, man at the tire shop was emphatic that this road was deep sand and impassible: "Even the BLM rangers don't go up there any more. Washouts and deep sand everywhere. Nothing but empty desert. You'll never get through." Ah, but bicycles are not cars and can be pushed or even carried when the going gets tough. Indeed the road was deep sand, as shown in the photo below, but the last truck through had compressed a rut in the sand, and as long as I stayed in that rut, pushing was not too difficult. Four miles pushing today and then another two miles tomorrow to get to the pipeline road, after which the road should become more solid.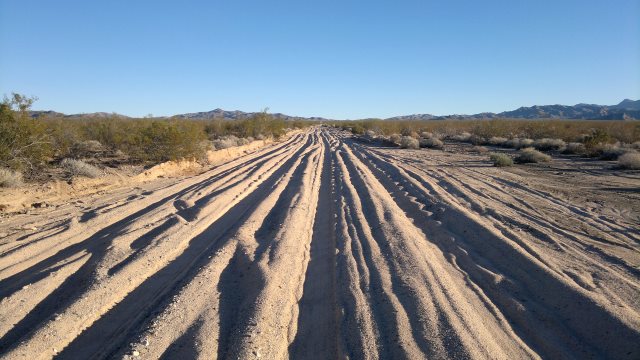 sunflower spring road sand pit
Tue, 26 Nov 2013 (25 miles in 4:14 hours)
BNSF railroad doesn't seem as busy as on previous tours, but still noisy even from four miles away. As expected, Sunflower Springs road became solid after the pipeline road, since it was pipeline construction trucks that chewed up the road north of the pipeline, with occasional washouts and sandy spots to get down to Ward Valley. Good view of the Old Woman statue on the way (a natural rock formation that resembles an old woman in an ankle-length dress leaning forwards).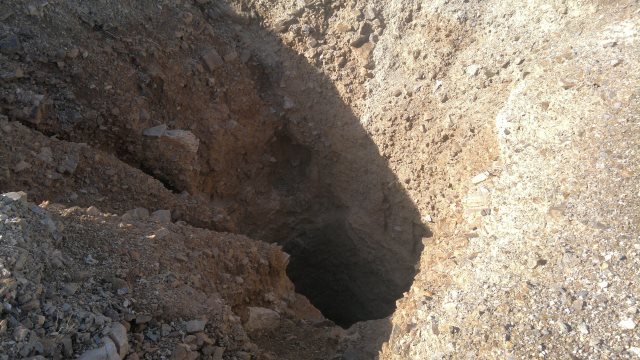 copper king mind shaft, would hate to trip and fall down this!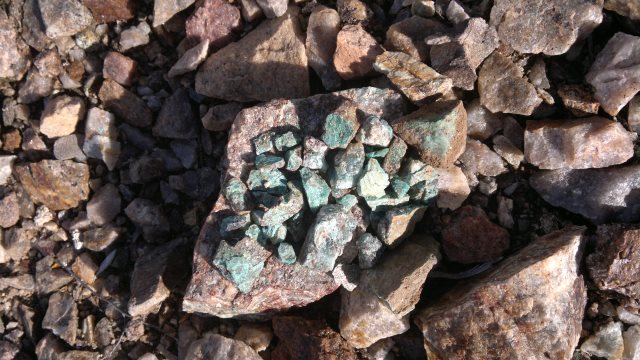 copper ore
Wed, 27 Nov 2013 (36 miles in 4:35 hours)
Very peaceful here in the desert. Good thing I resupplied with water back at Goffs, since otherwise I'd be running low. I could easily make it to Blythe tomorrow, but I don't want to arrive then because stores will be closed due to Thanksgiving holiday.
Thu, 28 Nov 2013 (21 miles in 2:07 hours)
Finished the last of my sandwiches for breakfast, so rice and peanuts for Thanksgiving feast. Rice starting to disgust me. Maybe a bad batch of rice.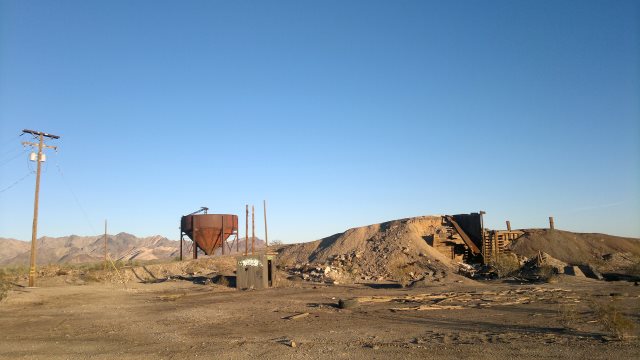 old mine at inca, a mile from midland road
Fri, 29 Nov 2013 (21 miles in 1:54 hours)
Checked into Blythe Budget Host motel ($50 plus tax, very nice room). Motel 6 is same price. There are also some cheap motels advertising $33/night for singles (plus tax), but I prefer a nice room to give better contrast with roughing it when I camp. According to manager, rates at this Budget Host motel go up considerably in Jan and Feb due to some sort of festival in nearby Quartzite. Threw out rice and replaced with old-fashioned oats. Cleaned and lubed chain.
Sat, 30 Nov 2013 (24 miles in 2:55 hours)
Bicycles must use Hobson way and then a pedestrian/bicycle bridge across the Colorado river, rather than riding on I-10. Once across the river, it is legal to ride on I-10 in all of Arizona. Legal to ride on parts of I-10 in California, starting west of Blythe. Talked briefly to a "hobo" bicycle tourist (homeless person on a run-down bicycle, carrying a gallon jug of water in one hand as his water supply, so only one hand on the handlebars) who told me some lurid tales of how Arizona is cracking down on wild camping on public land and confiscating people's possessions if caught illegally camping. Probably the police just harass poor people in Arizona. He also said this is the rainy season and so watch out for flash floods, which I know is nonsense and told him so and then moved on since I didn't want to be further infected with the stupidity germs in his head. Must be horrible to be extremely intelligent. I'm intelligent myself, but no more so than tens of millions of other Americans (over 30 million Americans in the top 10% by any criterion), so I'm hardly alone, and yet I feel constantly assaulted by these encounters with idiots. Now consider the 1 in a million types. Only 300 like that in the whole United States, so very little hope of finding someone you can talk to as an equal. A true curse to be that intelligent. Not sure if I'd want to be in the below-average group, on the other hand. Advantage is that things like best-seller novels and television are absolutely fascinating to lower-intelligence types, whereas it's sometimes hard for me to find books worth reading and of course television is a wasteland to me. Downside is much more difficult to make money (at least in the modern world where most of the good jobs require brains), since you have no advantage over everyone else. Headed south on the gravel road that hugs the Colorado river on the Arizona side. Solid gravel, but infested with noisy ATVs and motorcycles without mufflers. Speaking of lower-intelligence types...
Sun, 1 Dec 2013 (23 miles in 2:53 hours)
Cibola road is loose gravel about half mile from the river and probably remains that way all the way to highway 95, since it runs through a wash and is constantly being churned up by these damned ATVs. Maybe so many because of the Thanksgiving holiday. Then again, Arizona is known to be heavily populated with rednecks who can imagine nothing more wonderful than the equivalent of a leaf blower roaring in their ear all day. Road along the river continues to be solid all the way down to where it comes to an end, across the river from a placed labelled Gilmores camp on the road atlas maps, at the south end of Cibola lake. Not much traffic past Cibola, and most importantly, no more noisy ATVs. When the road along the river ends, take a rugged dirt road that heads east towards the mountains. Fork right (south) about a mile from the river, onto a very rugged road that eventually leads back to the river. Then follow this dirt road along the river to what is labelled Clips Wash in the GPS maps. From there ascend Clips Wash, eventually linking up with the Red Cloud mine road. These roads are shown on the road atlas maps, but not labelled. The road atlas maps show the Clips Wash road as a track, meaning something that only jeeps and ATVs can navigate, and that's a fair description of this road. The road atlas map also shows a track hugging the Colorado river south of Clips Wash, but that is private. Some mud near the river made a mess on my tires and brakes. Just a short stretch, but no way to avoid it. Camped in Clips Wash.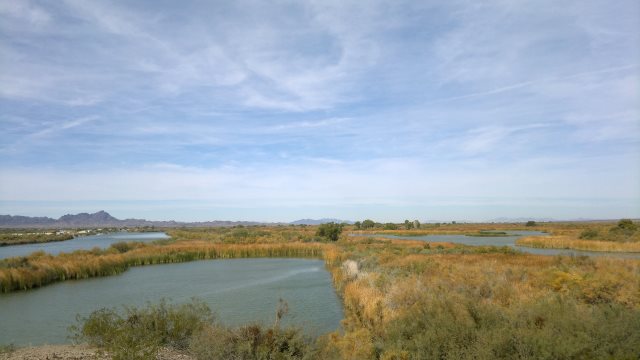 cibola lake near gilmores camp along the colorado river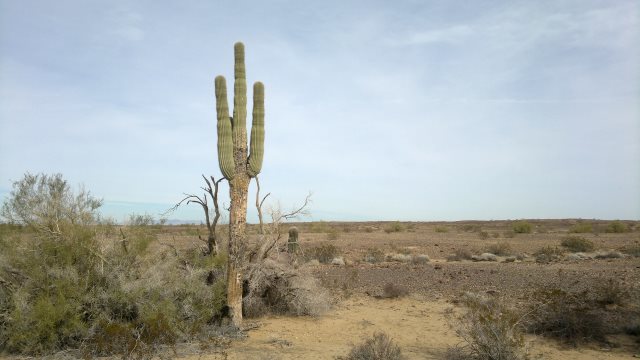 saguro cactus near cibola
Mon, 2 Dec 2013 (12 miles in 3:16 hours)
Feeling better about Arizona now that I'm away from those noisy ATVs. I was ready to write the whole state off yesterday. Clip Wash road/track is six miles of loose gravel, then six miles of solid but very rugged road, then a solid and not so rugged dirt road starting near Red Cloud mine. Passed some more ATVs on the way. Big-horn sheep hunters. I have no complaint with hunters or ranchers or others who actually need ATVs to get where they are going, though it would be nice if they put mufflers on the things. Compare with the overgrown children from yesterday and the day before, who just ride back and forth making noise and churning up the roads and destroying the vegetation when they go off-road. Camped just past Red Cloud mine in a wash. Adjusted eccentric bottom bracket by a notch, as the chain was starting to fall off.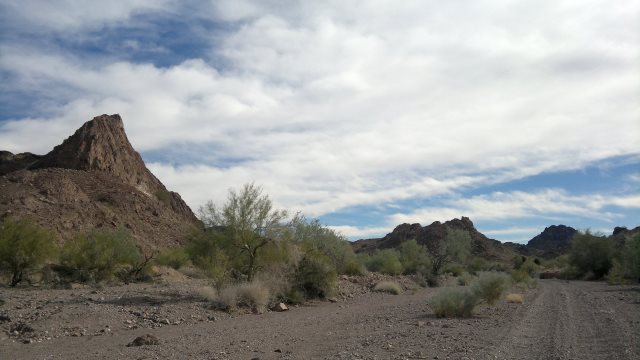 clip wash road
Tue, 3 Dec 2013 (41 miles in 4:37 hours)
Burro visited me in the night and started braying hysterically when I roaded at it. Shut up immediately when I turned on my flashlight. Road solid dirt to Fishers Landing, then paved to highway 95. Shortcut shown on map to imperial dam is military only, so I had to go to highway 95, then south a couple miles, then back on Imperial Dam road. Hard shoulder on highway 95 is falling apart and never was that wide to begin with, making for stressful riding. Wouldn't want to spend much time on this highway. Visited the outdoor tank exhibit at Yuma Proving Ground. Tanks are neat, but also death traps. Anti-tank missiles are designed to penetrate the armor and spray the occupants with a combination of scrapnel and molten steel. Remotely controlled drone tanks a much better idea for modern warfare. Few campsites along Imperial Dam road. Ended up camping on an abandoned road near the settlement of Potholes. Not such a great site, but I had to stop because of a flat in the rear tire caused by the tire liner rubbing against and slicing into the inner tube. Removed liners from both tubes, patched the slice with two large patches. Noticed one of my rubber cement tube is dried up and the other half used. Need to check these more often.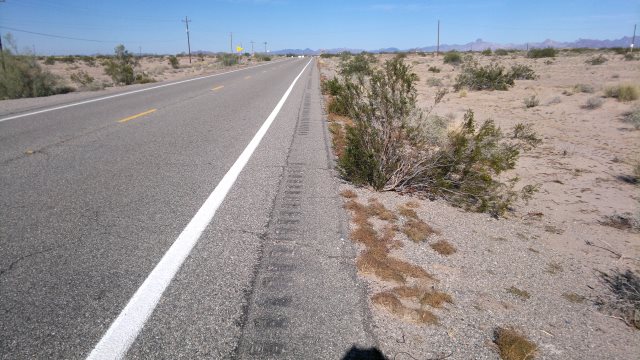 highway 95 north of yuma, northbound side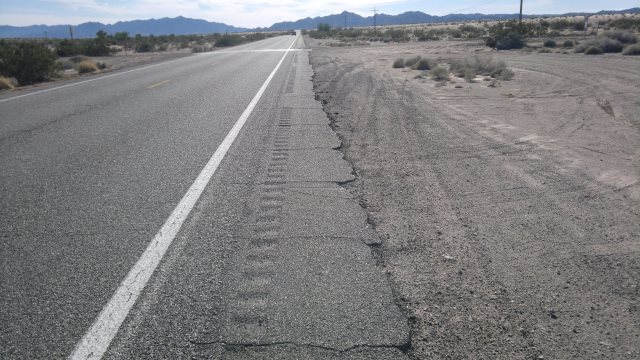 highway 95 north of yuma, southbound side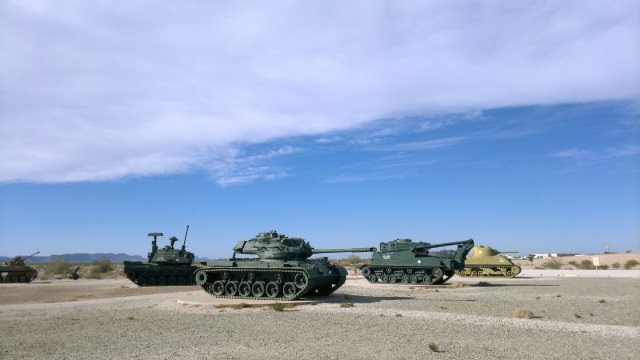 yuma proving ground outside exhibit
Wed, 4 Dec 2013 (16 miles in 1:47 hours)
Campsite wasn't as bad as I had feared. Though just off the road, traffic quieted down after 9pm and remained quiet until 5am. Also, no dew, even though right next to the river. This Colorado delta area is a true bird watcher's paradise. Continued along the California side of the river, using a mix of paved and dirt roads, then crossed back to the Arizona side at Yuma. Picked up five bottles of Stans sealant and two patch kits at Johnny Yuma's Bicycles. Long talk with the owner, who seems highly competent, about tubeless. Still leery of tubeless for backcountry touring, due to the risk of "burping". And not really necessary, since sealant in the tubes has reduced flats to maybe once in three months, which is plenty tolerable. Never trusted those tire liners, but I'm glad I experimented with them so as to remove all doubts. Checked into Motel6 ($34 before tax). Good location, right across from Smart and Final. There's also another bike shop here in Yuma, Mr B's Bicycles.
In looking back on this journey from Blythe to Yuma, mostly on the Arizona side of the Colorado river, I don't think it's something I'd want to repeat. Even if there had not been all those ATVs, the gravel road north of Cibola is boring. Then there was that mud puddle, with very sticky clay, which made a mess of the whole bike. Then 6 miles of pushing uphill through deep sand and gravel along Clips Wash. Then mostly boring paved roads starting at Fishers Landing including an unpleasant stretch of highway 95. Hopefully, the route I'll be taking back to Blythe, via Ogilby and Palo Verde roads, will be better.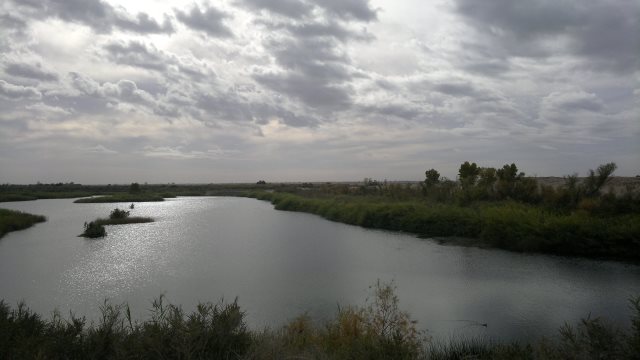 colorado river near yuma, bird watchers paradise
Thu, 5 Dec 2013 (30 miles in 3:13 hours)
Crossed back to California via the same bridge as yesterday (the Quechan road bridge), then west on Winterhaven to Araz road, then a stretch of I-8 to get to Felicity, then Center of the world drive to Ogilby road, then north on that. All these roads are quiet, other than I-8, which has a 6 foot shoulder and hence is safe. Visited the Museum of History in Granite in Felicity. Yet another guy with too much money and too little sense and a mania for building in the middle the desert. Contains the official Center of the World, according to a proclamation issued by the California legislature, so evidently the owner has political pull as well as money. I asked the woman who sold tickets ($5) why there was no sign advertising the museum. She said the owner was worried they might get too many visitors if they advertised. WTF? The core of the museum is a bunch of granite slabs on which is engraved a brief summary of world history, at the level of a third-grader: first the Egyptians built the Pyramids, then Hammurabi issued the first law code, then the Chinese built the Great Wall, then the Phoenicians invented writing, then the Greeks built the Parthenon and had the first Olympics, then the Romans built the aquaducts, then Jesus was born, then Attila the Hun invaded Rome, then the Mayans built their pyramids. And so on, all the way up to a detailed discussion of the French Foreign Legion and French paratroopers, from which one can deduce that the crazy founder of this museum (Jacques-André Istel) has fond memories of his French military service. Visit the website at historyingranite.org for more on this pharaonic monstrosity. Camped along Ogilby road.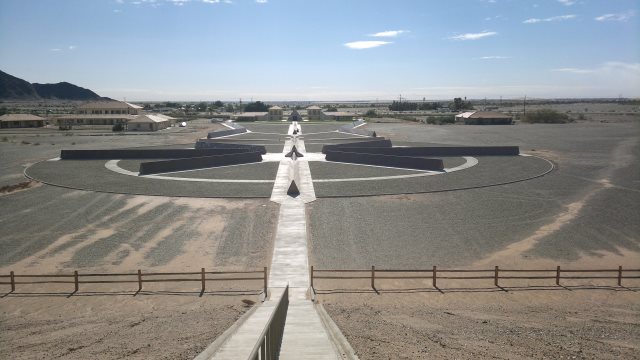 world history in granite, ten miles east of yuma on center of the world drive
Fri, 6 Dec 2013 (21 miles in 2:26 hours)
Temps just above freezing, with cold dry breeze from east. Ogilby road has little traffic, and so is safe, but highway 78 is a nightmare. Lots of fast-moving trucks, lots of ups and downs blocking the sightlines so trucks are reluctant to move to the other lane because they can't see what is coming over the hill ahead, no hard shoulder, and the soft shoulder is at a 45 degree slope, so you'd fall if you tried rolling onto this soft shoulder. During a squeeze situation (trucks in both lanes), the only thing to do would be stop the bike at the very edge of the road and lean to the side to get out of the way of the truck. The road atlas maps shows about five miles on highway 78 before Palo Verde road starts. However, it seems there has been some recent construction, so that Palo Verde road now extends back to only one mile north of where Ogilby road meets highway 78. That was where I left highway 78 and got onto the Palo Verde road extension. It is possibly this extension goes all the way back to Ogilby road, but I'm not sure of this. Camped along Palo Verde road, which is mostly hardpack.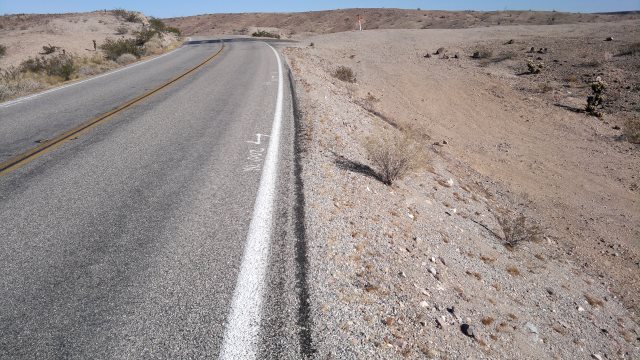 highway 78 just north of ogilby road, no hard shoulder, soft shoulder is 45 degree slope
Sat, 7 Dec 2013 (19 miles in 2:42 hours)
Strong south wind, tailwind for me. Sunny and cool. Forecast was for showers this afternoon, but sky is blue where I am, though with clouds to the south. Palo Verde road continues solid to Milpitas Wash road, then a mile of pushing through loose gravel, then mostly solid though rugged thereafter, with only occasional pushing required. Read a chapter of Casanova's Memoirs for the first time in weeks. Felt exhausted afterwards. Don't envy the life he led in the least.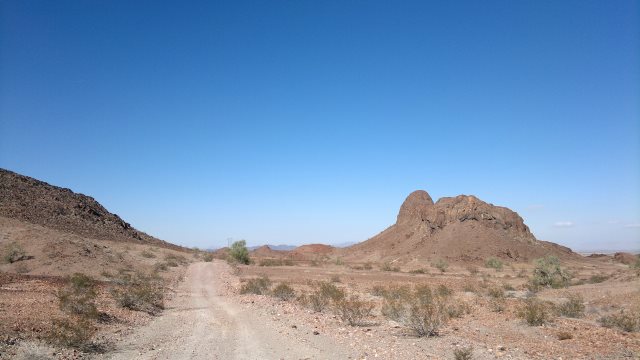 along palo verde road
Sun, 8 Dec 2013 (27 miles in 2:59 hours)
Dead calm and cool in morning. Wobbling and thumping in rear wheel. At first, I thought this might be due to bearing failure in the Rohloff hub (yikes!), but then when I turned the bike upside down to inspect, it was obvious that the tire casing was failing and starting to bulge out. Replaced with the spare tire in my repair kit, then bought a new spare at the Kmart in Blyte for $17. After that and the usual resupply, checked in the Budget Host motel again ($50 before tax). Final appraisal of Yuma is that it is worth visiting via the California route (Palo Verde and Ogilby roads) but not via the Arizona route. I didn't check out the Picacho Pass, Hyduke Mine or Indian Pass roads, all of these north of Yuma on the California side, but they look interesting. Maybe next year. Yuma is especially useful for bicycle repairs and supplies. An internet search shows that Fred's Kawasaki in Blythe used to perform bicycle repairs, but it was closed when I passed by, with a sign outside "business for sale due to owner retirement".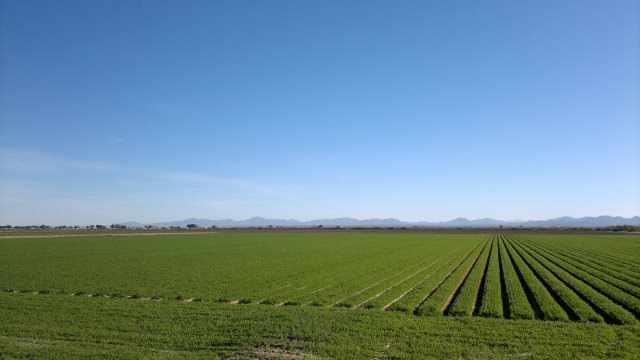 irrigated land south of blythe
Mon, 9 Dec 2013 (21 miles in 2:12 hours)
Placed an order with cyclocamping.com for two 55-559 Schwalbe Mondials, to be shipped to the Budget Host motel via UPS. Motel will accept and hold the package until I get back. Had to borrow the motel computer to place this order, since I had problems with the website ordering process on my smartphone. At some point I really need to upgrade to a bigger and more modern phone, or else carry a tablet.
Howling north winds. Forecast says 25mph with gusts over 40mph. Stopped by the grocery before heading out, for some yogurt and cookies, which required pedalling into this wind. Just horrible. On the other hand, delightful speeding south from Blythe on paved roads with a tailwind like that. Followed the Bradshaw trail for a few miles to the east. Mostly solid gravel. Camped in the first sheltered wash I came to, because the wind was becoming increasing annoying, even though mostly a sidewind.
Tue, 10 Dec 2013 (26 miles in 3:55 hours)
Wind died down in the night. Wonderfully still in the morning. Cool, but no ice in bottles and no dew. Nylon carrying strap on one my Ortlieb panniers finally wore out. Design allows for easy field repair. Everything about these Ortlieb panniers (back roller plus) is superbly designed and constructed. Pricey but worth it. Side release that broke a few weeks back is still holding in there. Continued west on the Bradshaw trail then camped in a wash near the intersection of Bradshaw trail and Graham Pass road. Bradshaw trail mostly solid gravel, with some stretches of loose gravel which made for difficult pedalling, though I never had to dismount and push. Pitched the tarp to block wind, which started up again in the afternoon from the northwest.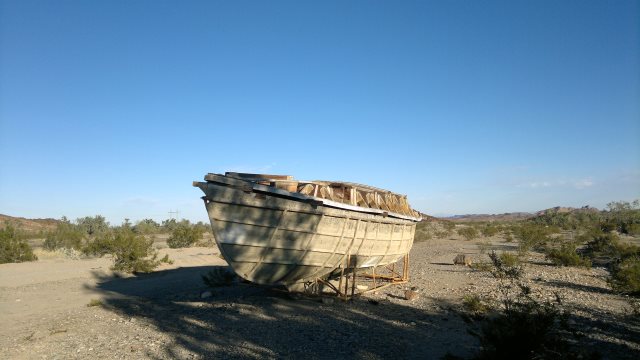 boat rotting away in the desert, along bradshaw trail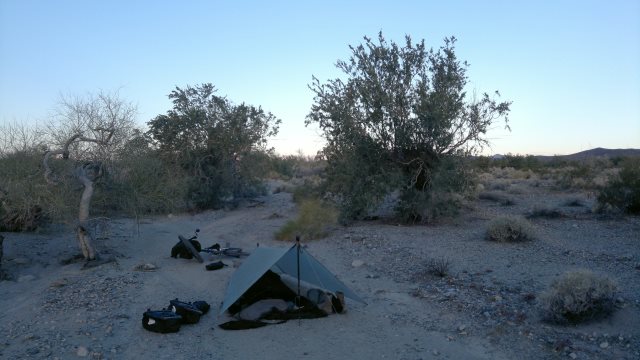 camp along graham road
Wed, 11 Dec 2013 (29 miles in 3:30 hours)
Noticed a hole in the front tire. Removed and inspected. Kelvar fabric is still intact, but on its last legs. Decided to put on a tire boot and keeping running on this tire, since I trust it more than the Kmart tire that is my spare now. Must have misplaced my tire boots earlier in this tour, because they weren't in the repair kit. Used several layers of duct tape instead. Checked my email when I got to I-10. Email from cyclocamping stating my credit card failed authorization, presumably because the motel is not my normal shipping address. Should have called the bank before placing the order. Resolved this issue and then they said the order had actually been shipped Tuesday, contrary to what the email stated. However, no tracking number yet. Said they would look into the issue. Now that the front tire is failing, I really need those new tires.
Camped on Wiley's road, about a mile south of the Chuckwalla State Prison. When you see a huge complex like this, it makes you think about how dystopic our society is. Get rid of some of the excess population by locking them up, thus providing jobs as prison guards for the remaining excess population. At least the Nazi system was designed to come to an end at some point, once all the sub-humans had been exterminated, whereas the American system is designed to go on forever, and perhaps grow forever too now that it is privatized and more growth means more profits. Lots of popping noises at the firing range as I passed. Guards practicing shooting prisoners. (None of the preceding is meant to suggest most of these prisoners don't deserve to be where they are.)
Thu, 12 Dec 2013 (26 miles in 2:56 hours)
Still no tracking number, even though order shipped on Tuesday supposedly. Cyclocamping said there was some problem with shipping but that the tires would definitely go out today and that they would refund the shipping charges ($42 for two-day UPS) since the delay was their fault. Very nice, but I'd really rather have those tires tomorrow rather than Monday. Continued down Wiley's road, which turns into Milpitas Wash road, which is mostly solid. Camped near intersection of Milpitas Wash and Palo Verde roads.

along milpitas wash road
Fri, 13 Dec 2013 (36 miles in 3:16 hours)
Coyote visited me in the night and sniffed around my gear then ran off when I roared at it. Campsite too close to highway 78, which is much busier than I had anticipated. Should have noticed yesterday afternoon how noisy it was, but didn't. Slept well in any case. Road atlas shows some minor roads parallel to highway 78, but I decided to just stick with highway 78, which has a decent shoulder north of Milpitas road. Juiced up cellphone a bit at Palo Verde country park, which has electrical outlets in the restrooms and also a water spigot. Checked into the Budget Host motel in Blythe ($50 before tax).
Kicked up a fuss with cyclocamping, because I still hadn't received a tracking number. A few hours later, finally received the email with tracking number. Tires should arrive Tuesday. The email from the customer service representative was timestamped after normal working hours (they are located on the east coast, or three hours ahead of me) so evidently they had to put in some work to get the issue resolved with the shipping department. I'm not sure what sort of operation they have there. Probably one person officially owns the site and he/she then contacts with an order fulfillment service to store and ship inventory and perform customer service. The main problem is this business of leaving messages and then having them call back, as opposed to simply waiting on the line to get through to a customer service representative. Maybe only some of the representatives have been trained in the cyclocamping product line, and this is the reason for this goofy callback procedure, though I'm sure they could design a better system. Anyway, I'm relieved that the order is finally in progress. I've ordered from them before and gotten good service, so I assume this incident was a fluke. Need to remember to update my address with the bank before placing credit card orders to be shipped to a motel, however.
Sat, 14 Dec 2013 (16 miles in 2:04 hours)
Strong north wind, a headwind for me as I am heading up the Blythe-Rice road towards the Palen Pass road, so cut the day short and camped in a partly sheltered wash.
Sun, 15 Dec 2013 (21 miles in 2:51 hours)
Wind died down in the night and perfect calm in the morning. Road to Palen Pass aka Arlington Mind road is mostly hardpack gravel or hardpack dirt, with a few miles of loose sand/gravel requiring pushing. Camped a few miles east of Palen Pass. Spare tire has stunk up my pannier, so there's already one strike against this cheap spare without even mounting it. Stink even migrated into the water bladder in that pannier. Hopefully it won't be ruined permanently.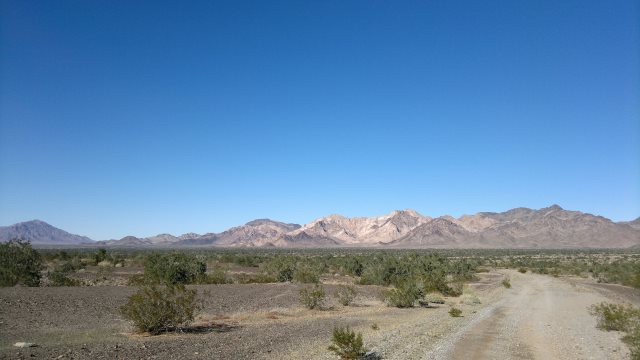 palen mccoy wilderness
Mon, 16 Dec 2013 (19 miles in 3:37 hours)
Put some aquatabs yesterday into the bladder that had been stunk up by the spare tire. Still a small amount of smell this morning. Pannier liner also still stinks, but the pannier itself is okay. I'll be carrying this stinky spare on the outside of the pannier henceforth. Delightfully quiet and secluded up where I camped. Doubt anyone comes up here besides service technicians for a communications relay tower. Palen pass road is a solid hardpack road east of the pass, but then becomes very rugged hardpack west of the pass and finally turns to deep sand upon descending into the valley. 10 miles of deep sand, in fact. Camped about a half-mile from highway 177 aka Desert Center-Rice road.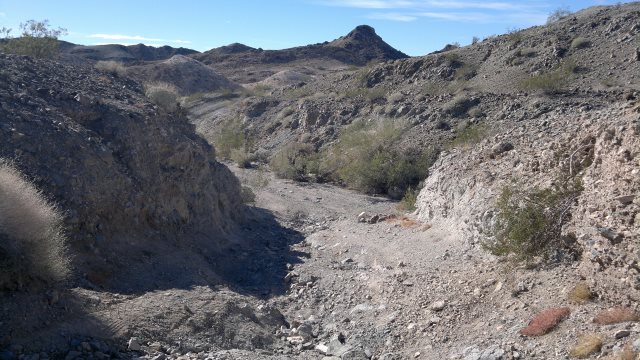 palen pass road is very rugged west of the pass, sandy later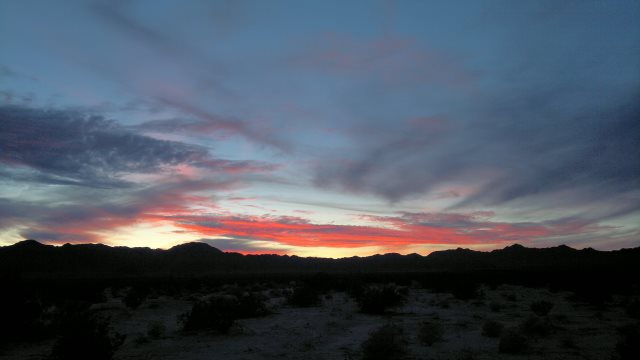 sunset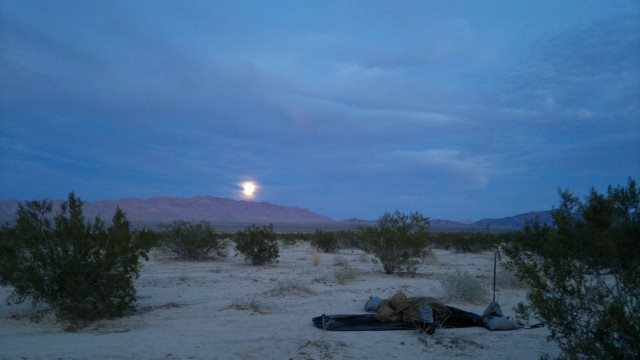 moonrise
Tue, 17 Dec 2013 (45 miles in 3:22 hours)
Strong north wind in early morning, fading as day progressed. No hard shoulder on highway 177, but light traffic so not too stressful. Keep a watch out for truck squeeze situations, however. I had two of these where I had to slowdown and roll onto the soft shoulder to make room for trucks passing. Small store about 2 miles north of Desert Center (I didn't stop) but Desert Center itself is a desolate near ghost town. Confederate flags flying from ramshackle trailer compound with cafe/bar out front. Best they give notice like that rather than being nasty to non-whites who wander in unawares they are racists. Chuckwalla road signed closed, presumably due to weakened bridges, but no problem for bicycles. Chuckwalla is a way to avoid ten miles on I-10, though shoulder excellent on I-10. Camped a mile from I-10 on government holes road, which was sandy at this point and presumably remains sandy until the mountains a few miles south. Check my email. UPS package with tires has been delivered as of this morning. Whoopee!
Wed, 18 Dec 2013 (28 miles in 2:21 hours)
No wind, warm in mornng. Talked to a Swiss guy heading west on I-10 on a cross-country tour, paved roads only, as usual with these guys. He was stopped on the shoulder fixing a flat. Picked up new tires at Budget Host motel ($50 plus tax) and installed them on the wheel at the local park while eating lunch. Spare tire on the rear had a piece of thin wire (from disintegrating steel-belted radial truck tires) stuck on the inside but evidently the sealant was doing its job and preventing that wire from causing a flat. Might have been these same small wires that caused the Swiss guy's flat. But he is running Presta tubes at high-pressure, so not able to use sealant like me. Removed this wire, rinsed the tire off and replaced in the opsak I used previously to protect from oxidation. So now it's back to being a spare like originally, with only a small amount of wear and tear. The opsak covering has been keeping that spare tire from smelling up the pannier over the past two years, I realized, because it does have a fairly strong rubber smell, though not so unpleasant as with that cheap Kmart tire. One of the spare bottles of Stans in the saddle bag was leaking. Factory seal broken somehow. Plastic bag I was carrying it in caught the mess. Refilled the bottle of chain cleaner from a liter bottle I bought at the auto parts store. Donated the Kmart tire to the thrift store. Still not sure why I didn't trust that tire. Swiss guy commented that once he had a bead separation on a brand-new tire, due to manufacturing defect. Didn't say whether it was a cheap tire or a Schwalbe. Not all cheap stuff is junk, not all expensive stuff is quality. Threw out the oats and went back to instant rice. Definitely something wrong with that rice I threw out previously, because the rice I bought today smelled fine. Feels wonderful looking at those new tires!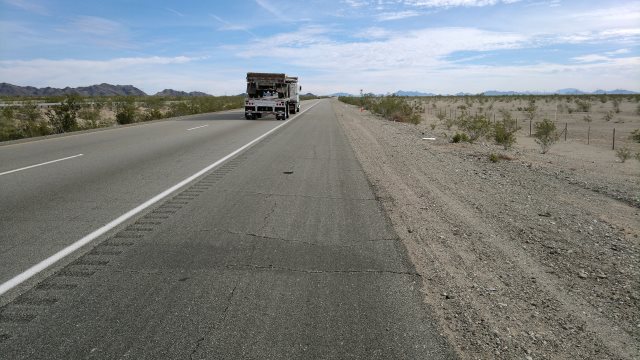 I-10 west of blythe, huge shoulder
Thu, 19 Dec 2013 (22 miles in 3:09 hours)
Strong southwest wind, a headwind for me. Camped at spot on Bradshaw trail a few miles from irrigated farms, where there is some wind shelter from hills and trees in a wash. Very nice campsite, which I expect to be using many times in the future. Plan is to take Milpitas wash road, Palo Verde road north, back to Blythe on Sunday, then head north towards Needles. This will allow me to miss the dreaded Christmas entirely due to being in the middle of the desert then. Picked up two goathead thorns on the way out of town. Flicked them off with no loss of pressure in tires. Every time I look at those new tires I feel happy!
Fri, 20 Dec 2013 (22 miles in 2:48 hours)
Strong northwest headwind for 5 miles, shifting to a strong sidewind when I turned onto Milpitas Wash road and then a strong tailwind later. Camped about 5 miles from highway 177, far enough away not to hear road noise.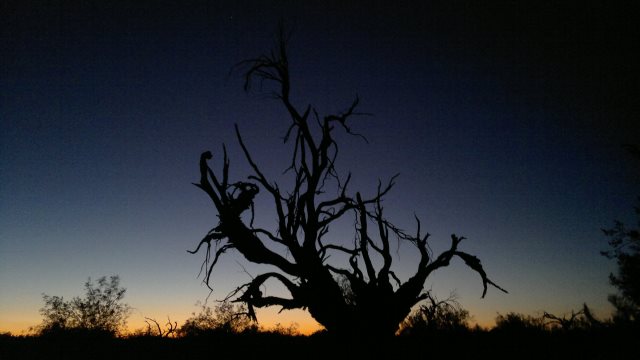 view from where I was camped
Sat, 21 Dec 2013 (14 miles in 1:58 hours)
Wind died down in the night, dead still in the morning. Camped in a wash along Palo Verde road, just before the start of the agricultural area.
Sun, 22 Dec 2013 (27 miles in 2:33 hours)
Dew in the morning. Continued dead calm conditions. Checked into Budget Host motel in Blythe ($50 plus tax). Cleaned and lubed chain.
Mon, 23 Dec 2013 (26 miles in 2:45 hours)
Another beautiful day: sunny, mild temps, no wind.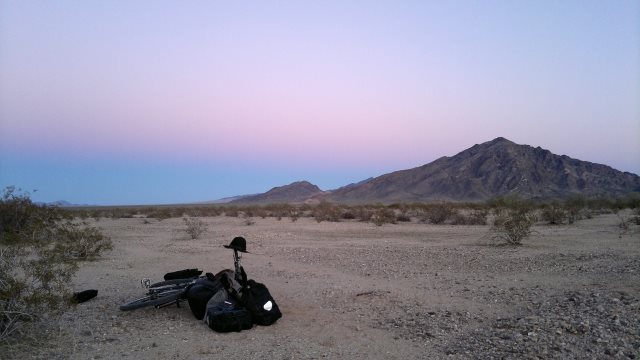 rice valley camp
Tue, 24 Dec 2013 (29 miles in 3:50 hours)
Headwind from north all day.
Wed, 25 Dec 2013 (21 miles in 4:12 hours)
Laid out the sleeping gear broadside to the north wind, instead of feet into wind. Also, I camped in a sandy spot, so the wind blew sand all over me. Not very comfortable. Wind continued strong all day, a headwind, plus I had to push uphill most of the day through deep sand. I knew going north through Ward valley was not a good idea, but I wanted to test going into Needles via I-40 which is why I'm doing it. Going south is okay, since the sandy stretch is downhill, and going south is necessary since this powerline road is really the only dirt road to the Blythe area. On future trips, when returning from Blythe, I'll continue west on the Cadiz road towards Barstow.
Thu, 26 Dec 2013 (24 miles in 3:37 hours)
Setup tarp to block the wind last night, but then I had to contend with flapping noise all night. At least I didn't get a bunch of sand thrown over me. Temperatures continue to be mild, blue skies, magnificent views, utter solitude. Only thing not to like is that non-stop wind, which finally stopped in the evening. All told, the powerline road up Ward Valley between Cadiz road and I-40 has about 15 miles of sand at the south end, then 28 miles of hardpack at the north end. Camped about 4 miles from I-40. Able to hear some truck noise from the interstate once the wind died down.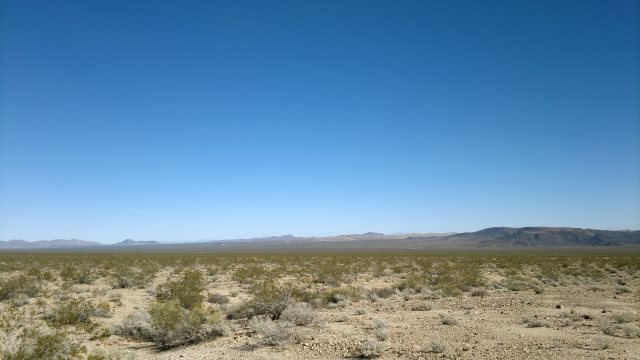 ward valley, 100 square miles to myself
Fri, 27 Dec 2013 (31 miles in 3:00 hours)
Wind resumed in the night. Not as annoying as yesterday, but I'd still prefer calm. Took I-40 into Needles. Wide shoulder. Resupplied, relubed chain, checked into Motel 6 ($40 before tax).
Sat, 28 Dec 2013 (37 miles in 3:51 hours)
Signs on I-40 indicating bicycles must exit and use highway 95, so I did so. But highway 95 is far less safe than I-40 due to the lack of a hard shoulder. Yes, it's possible to ride on the soft shoulder, but that's demoralizing. If I'm going to ride on dirt, I want the whole road to be dirt and to be far away from motor vehicles. Even today, Saturday morning between Christmas and New Years, there was considerable truck traffic. Would be much worse on weekdays away from the holiday season. Also, it takes about 36 miles and 2000 feet of ascent to get to Mountain Springs road, which is the first place to camp away from that noisy BNSF railroad, whereas much less distance but the same ascent to get to a quiet campsite upon leaving Bullhead City. Finally, Bullhead City has more stores, including a Walmart and a bicycle shop. Bullhead City is thus clearly the better choice for resupply in this area.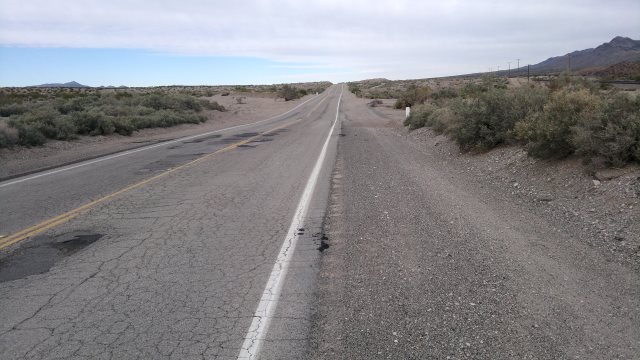 hwy 95 between i-10 and goffs road
Sun, 29 Dec 2013 (47 miles in 3:38 hours)
Ferocious wind last night, continuing into the morning. Once again, I stupidly setup my sleepgear broadside to the north wind rather than feet into it. Glad I didn't setup the tarp because it would have raised an unholy racket with all that wind. In reading Josephus, "Wars of the Jews" (in English, since I don't have a Greek version), what impresses me is the number of killed. Of course, those numbers are puny compared to WWI or WWII, but somehow I always thought of antiquity as not being so densely populated as nowadays. Though somewhere I recall reading that population at the height of the Roman Empire was higher than in the so-called Dark Ages. Anyway, this got me to thinking on the mathematics of population growth. Exponential growth. Doesn't take long before there's a shortage of food and the only way to get more is kill the neighbors and eat their food. And pretty easy to rebuild population losses if the average woman has at least 3 surviving children, especially if most of the population loss is among men. Lots of time to think about things like this while waiting for the sun to come up and allow me to move on from my windy campsite to someplace sheltered. Wind died down as the day progressed. Camped near intersection between route 66 and Kelbaker road. More traffic than I expected on Kelbaker, probably using that to get between I-40 and Twentynine Palms.
Mon, 30 Dec 2013 (24 miles in 2:40 hours)
No wind last night or this morning. From Eleazar's speech to the men of Masada, inciting them to kill themselves, their wives and their children, so as to avoid being captured alive and then subjected to indignities by the Romans: "The laws of our country and of God himself have from ancient times continually taught us that it is life that is a calamity and not death". Of course, given that everyone at Masada died (other than 2 woman and some children who hid themselves), we really don't know what Eleazar said, but Josephus's imagined version does have a nice ring to it. Route 66 becomes very quiet once past Amboy. Camped between Amboy and Ludlow. Short day, but then I have plenty of food and plenty of time.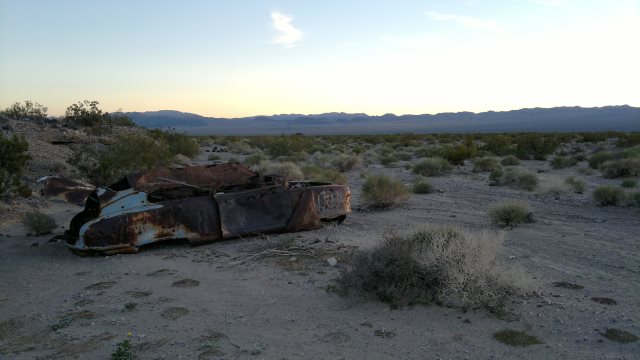 old car rusting away in the desert
Tue, 31 Dec 2013 (28 miles in 3:19 hours)
Moderate northwind at night and in morning. I was positioned feet into wind, so not a problem. Camped near Pisgah crater.
Wed, 1 Jan 2013 (40 miles in 3:26 hours)
Ice in the bottles but not bladders. First chilly night in months. $38 without tax for motel6 in Barstow.
Thu, 2 Jan 2013 (zero day)
Feeling a bit ill in the morning and so decided to take a zero day. Not too enthusiastic about heading back to Reno. I bungled this trip by both starting and ending too soon. Really need to get my time more precise in the future. Here is a tentative plan for next year. Feb19-May20 Spain, Jul17-Sep3 Lassen, Sep11-Oct29 Nevada, Nov13-Jan14 Mojave. That will mean a whopping 8 weeks in Reno from mid-May to mid-July, but I can probably escape to the Sierras during that period. Eastern side of lake Tahoe is very dry, so mosquitoes shouldn't be a problem then.
Long talk with "wandering by bicycle" guy. I spotted his Rohloff-equipped bike outside the grocery, so waited until he came out to introduce myself. Turns out he was also staying at the motel6 so I brought him to my room and showed him my setup. Wish we could have spent more time talking gear, because he is definitely very knowledgeable. Check his blog out. Nice to know there are actually other people out bicycle touring the desert. He was using a Surly Troll frame and said the frame swayed back and forth like a sidewinder when the bike was fully loaded, yet I don't think his maximum load is anywhere near my 45kg. An example of why the Nomad really is the right bike for the sort of touring I do.
Fri, 3 Jan 2013 (26 miles in 3:22 hours)
Beautiful day: mild temps, clear sky, no wind. Camped near intersection of Fossil Bed and Black Canyon roads.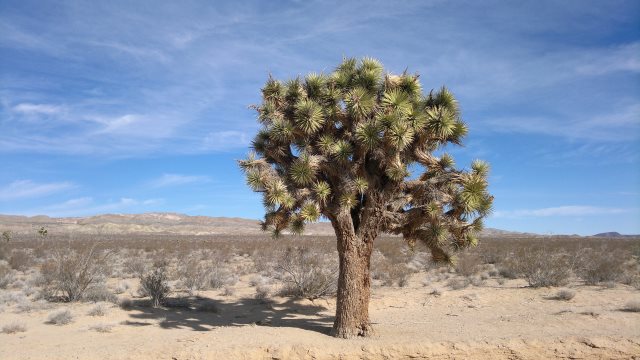 along fossil bed road
Sun, 5 Jan 2013 (34 miles in 3:23 hours)
Ice in bladders in the morning, so temps must have been below freezing. Warmed up as soon as sun rose and I was shirtless by noon. Took 395 instead of the Trona road (plus the dirt road that heads west from near Wagonwheel OHV), just to see what it was like. Good shoulder, but no shorter or less elevation changes than Trona road route. Sign at the junction of 395 and Trona road indicating Panamint valley road closed. I investigated when I got to Ridgecrest. Supposedly, there's a CHP (California Highway Patrol) officer handing out $900 tickets to people who disregard the road closure signs, which was what I was initially thinking of doing, just like I did with Harry Wade road a few months back. But a big ticket would be a nasty way to end this otherwise very pleasant trip. Too bad about this road closure, since I was looking forward to another 3 days of travel and camping. $34 pretax for motel6 in Ridgecrest.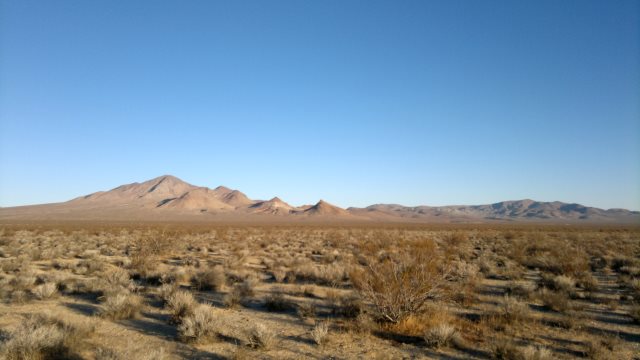 red mountain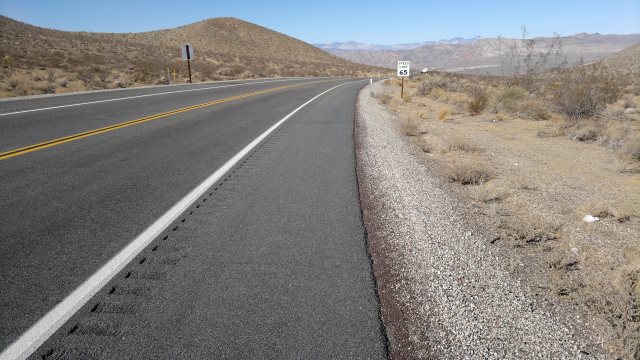 hwy 395 near johannesburg
Mon, 6 Jan 2013 (13 miles in 1:12 hours)
Kicked around the idea of pedaling to Lone Pine or even Bishop via 395, but didn't sound interesting. Not that I'm too excited about going back to Reno either. Noticed a pinhole leak in one of the bladders. Should be easy to fix with seamgrip. $26 for Inyokern to Bishop bus. $60 without tax for room at motel6 in Bishop. Bus tomorrow to Reno will be $53.
Ending odometer 9367 miles.
Statistics
83 nights away from Reno total, of which 64 nights camping, 19 nights in motels. 9 rest days, thus 74 days traveling.
2069 miles total, 249 hours pedaling/pushing, average of 8.3 miles/hour. For 74 days of traveling, average of 3.4 hours/day pedaling/pushing, 28 miles/day.
Total motel expenses of $718 before taxes, for average of $38/night before tax for the 19 nights in motels. Average of $49/night before tax for the 12 nights exclusive of the 7 nights at the Gretchen Inn ($135/week). Taxes average 10%.
3 days of significant rain.
Last trip for year 2013, and thus time to collect yearly statistics. Total of 251 nights away from Reno, 166 nights camping.
Comments
See the Nomad page for bicycle comments.
The area between Blythe and Yuma, on the California side of the Colorado river, is something of a promised land for winter dirt road bicycle touring, when weather is too cold in the Mojave National Preserve area, which is at higher elevation. Benchmark road atlas maps suggested this, but I had to actually test the conditions on the ground to be sure. Expect to see me spending several weeks in that area each December henceforth.
As noted above, my timing was wrong on this tour (started too soon, stopped too soon), but that problem should be resolved for this coming year. As I get better organized, it should be easier to transition between touring and resting up in Reno and then starting out on another tour, and thus I won't be tempted to skip the Nevada backcountry tour like I did this year. Also, I'll probably extend that tour to western Utah and northern Arizona, and call it a Great Basin tour.
Read a long discussion of gear-obsession on the internet, that great font of non-wisdom. I don't think I'm a gear addict or hyper-consumer. Quite the contrary, I'm sick of buying stuff and long for the day when my system is stable enough that I can forget about the subject. It would also be nice if I didn't have to seek out speciality shops for gear, but rather could just buy at any Walmart. Gear makes a huge difference for someone who travels like I do, and anyone who says otherwise is lying or doesn't have much experience. True, our ancestors didn't have modern high-tech gear, but they did have old-fashioned gear and they were just as obsessive about it as people today. Just read the journals/memoirs of explorers in the past. If you know what to look for, the gear obsession is obvious and for good reason. Bad gear could cost them their lives. Things aren't so critical nowadays, but then my motivations for touring aren't as strong as with these explorers. Bad gear might not cost me my life, but it could easily make me come to hate hiking/biking and then how would I fill the time? People constantly ask me if I'm afraid to go off bicycling in the deserts, far from civilization, on roads that only see maybe one truck a week at most. What if I were to get hurt out there? To which I reply, what if I were to fall in my bathtub and crack my skull? Assuming I were in an apartment or house, rather than a motel, it could easily be months before I were found. People are frightened of the touring I do because they lack both proper gear and knowledge to use that gear if they did have it. Gear matters. Gear obsession becomes problematic when a person does nothing but evaluate, buy and test gear, without actually using it to go hiking/bicycle touring, but that is obviously not me.
Feeling somewhat more comfortable with motel living. Very quiet now, but then this is the slow season in Reno. Things will be different in the summer. Probably I should get a permanent room at a boarding house, and just leave it empty most of the year, but no rush on that.