May 2014, Lake Tahoe Mini Bicycle Tour
Fri, 23 May 2014
Stopped off returning from Spain to visit a friend in the Bay Area, only to discover it would be Memorial Day weekend when I arrived in Reno. Need to keep track of these holidays better. Motels all filled up, at least for Saturday and Sunday nights, or such was my impression from browsing a few websites. I also tried AirBnb, but some of the hosts were inactive, others were booked up, and others were out of my price range. Fortunately, before leaving San Francisco, I was able to make a reservation for tonight at a motel. Instead of searching for a room for the rest of the weekend, I decided to take a mini bicycle. I'd been planning to take a hiking trip to Lake Tahoe anyway sometime in June, but May is even better, so as to confirm that mosquitoes are never a problem on the eastern side. I know they aren't a problem in July, but not so sure about May and June. They are a true plague on the western side of the lake in all those months, because conditions are so much wetter there. The reason for a bicycle tour rather than hiking trip is that the Reno to Carson City bus doesn't run on Saturdays, and I don't know how to easily walk into the mountains directly from Reno.
Sat, 24 May 2014 (36 miles in 4:14 hours)
Took the usual route to Carson City, then ascended via Hobart Road. Very steep, so that I had to push rather than pedal most of the way. Felt tired before reaching the top, so camped at about 6800 feet elevation, where there was a nice flat spot. No need to rush and indeed going too fast is what I really need to watch out for on this trip. Exposed campsite, but forecast is for calm and clear weather, and Sierra weather is very predictable (very different from Europe). So didn't bother to pitch the tarp, just the bugbivy. One mosquito on the bugbivy, otherwise bug-free. Of course, I was camped on the dry eastern slope of the mountains, in the rain-shadow, so this proves little.
Sun, 25 May 2014 (9 miles in 1:58 hours)
Slept very well. Feels good to be camping again. Pushed another mile or so, then the road leveled out and I was able to alternate pedaling and pushing. Visited Hobart lake. A foursome of fishermen camped there. Said they used a jeep to ascend the Ash Canyon Road to where it is blocked by a gate, then walked the rest of the way. Made an early camp near where the Tahoe Rim Trail crosses Hobart Road, at about 8300 feet elevation. Once again, just used the bugbivy, without the tarp. Lots of melting snow banks, which would imply heavy mosquito season in the wetter parts of the Sierras. However, I encountered almost no mosquitoes today, other than one I noticed on the bugbivy netting as I was preparing to fall asleep. This pretty much confirms that mosquitoes are never a problem on the east side of Lake Tahoe, at least at the higher (and thus drier) elevations. This is good to know, since it means I can go camping in that area in June and July wherever I get tired of motel living, without worrying about mosquito infestations. Bicycle touring in the desert is another way to avoid mosquitoes, but I'm reluctant to do that in June and July for two reasons: (a) possibility of strong winds; (b) no shelter from sun and heat, other than shade from Juniper trees at the higher elevations, but no guarantee of good campsites under these Juniper trees. Temperatures still mild now, but they'll be getting warmer soon, and days are already long. About ten hikers on the Tahoe Rim Trail and another ten or so mountain bikers on Hobart Road. Because this is a holiday weekend, this is probably larger than normal traffic. Whole area feels very empty. I've also hiked the TRT several times in July and it was always mostly empty then as well, other than Desolation Wilderness on the west side of the lake plus Watson lake, where there is usually a crowd of car campers. Lots of pine sap on the seat of my pants. I'd forgotten about that aspect of the Sierras.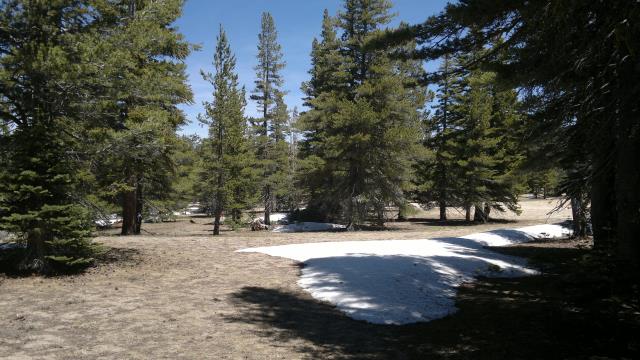 area where I camped, at 8300 elevation, snow banks but yet no mosquitoes
Mon, 26 May 2014 (63 miles in 6:10 hours)
Took the Marlette lake road, then North Canyon road to Spooner Lake, a mile on highway 50 to get to the Kings Canyon Road, followed that down to Carson City and finally the usual route back to Reno. I didn't actually ride on highway 50, but rather pushed the bike down the shoulder on the wrong side of the highway (facing traffic). Shoulder is about 6 feet wide, so plenty of room. By staying on the wrong side, I avoided having to cross highway 50 twice. Crossing highway 50 can be very difficult, even on a holiday like today when traffic is comparatively light. An alternative to Kings Canyon Road would be to simply ride highway 50 down to Carson City. The wide shoulder means this would be safe, other than crossing highway 50 initially.
Very strong wind from the southwest once I got out of the forest. A tailwind most of the way. The few times I had to ride into this wind, I could barely go 5mph. Supposedly, May is the windiest month of the year in Nevada.
Checked into America's Best Inn ($181/week), across the highway from the Motel6 ($225/week) where I spent the winter break. Nicer place, at least for my purposes, cheaper and only 1 minute more to the storage locker.