Jul-Oct 2014, Lassen / Modoc / Nevada Backcountry Bicycle Tour
Planning
Refer to the bicycling touring guides for Lassen National Forest, Modoc National Forest, Nevada Backcountry. The Nevada portion of this tour was in the northwest portion of Nevada.
Mon, 16 Jun 2014
New motel is working out okay, other than issue with cleaning staff that is partly my fault. What happened is that I switched rooms last week to get away from a neighbor playing the television too loud and left my front panniers and bladders behind in the old room. These items are all black and so were easy to overlook in the shuffle. I only realized today that they were missing. When I asked the cleaning ladies, they let me look in the room where they keep left-behind items, but the panniers and bladders weren't there. They probably threw them out as rubbish, which is what they looked like. Replacing the bladders will cost $172 and sewing up a new set of front panniers will take five hours labor plus $20 of materials. Mistakes happen. Next time, put the front panniers, bladder and other loose items into one of the rear panniers when living in a motel, so they will be less likely to get lost.
Sun, 29 Jun 2014
"An effective television commercial is purposefully designed to insult the viewer's conscious intelligence, thereby penetrating his defenses"—William Bryan Key, from Subliminal Seduction (1973). We assume that stupid people cannot possibly pose a threat with their words, so let down our defenses when listening to them. Whereas when talking to someone who we don't know well enough to trust, and who is obviously of equal or higher intelligence, we are on guard against being manipulated by their words. Acting stupid is thus a effective way to penetrate a person's intellectual defenses.
I found the above quote in Art of Seduction by Robert Greene (2001). Two major objections to this book. First, the goal of life is happiness, not seduction. Maybe, for some people, seduction conduces to happiness, but you wouldn't know it from the examples Greene cites. Time and time again, he praises a literary or historical figure as an example of a master seducer, and then describes how this individual came to a miserable end. Maybe they would have come to a miserable end regardless, and their seduction triumphs were the sole source of joy in an otherwise bleak existence. As I see it, the big problem is that seduction is like fame, in that success/failure is determined by what goes on in the minds of other people, which is extremely difficult to control, so that focusing in that direction is almost a recipe for misery. Thus wise men throughout the ages have advised looking in the opposite direction for those who want lasting happiness. Turn the gaze inwards and master one's own mind, which is the easiest part of the universe to control. (Ordinary people focus on controlling the material world, which is more difficult than controlling one's own mind, but less difficult than controlling other people's minds.)
Second objection is that there is no discussion of the act of sex itself, as though this were something obvious that didn't need discussion. Man gets erection, moves penis in and out of vagina, man and woman have big orgasm. Simple, right? Wrong. Sex is only simple if you want junk sex. If you want something better, you have to work at it. In particular, the man has to learn to slow down.
Best part of the book is the section on anti-seductive traits, which Greene personifies as Brute, Suffocator, Moralizer, Tightwad, Bumbler, Windbag, Reactor and Vulgarian. The root cause of all these traits is selfishness. Greene asserts and I would agree that the tightwad tendency is the hardest of these traits to eradicate. The other traits mostly involve words, and words are cheap, whereas the tightwad trait is about money, which is real.
Tue, 15 Jul 2014 (30 miles in 4:03 hours, 9777 starting odometer)
Feels good to be back in nature. Rode shirtless for two hours, due to sweating heavily on the Henness Pass ascent. Should have gotten a base tan back in Reno. I made a note about this last year and was aware of that note, but was too lazy to carry through with the job. So now I suffer from sunburn. Heavy rain in the evening. Camped along Smithneck road, further on than last two trips.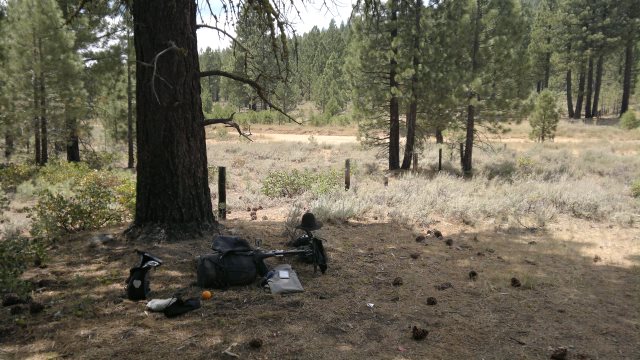 stopped for lunch break
Wed, 16 Jul 2014 (43 miles in 4:26 hours)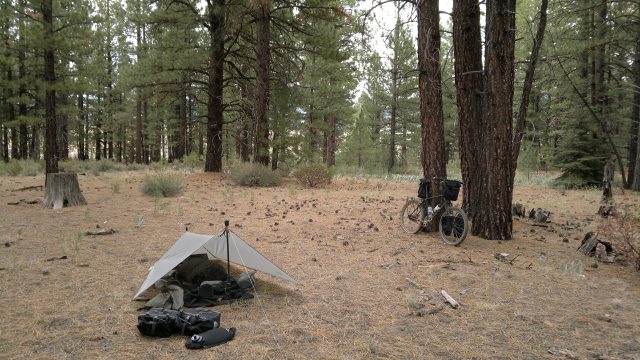 camp in clover valley
Thu, 17 Jul 2014 (28 miles in 3:04 hours)
Followed 24N08 to cross from Clover Valley to Lake Davis valley, thereafter forest route 112. Camped along Grizzly Creek, on abandoned logging road. Heavy rain and hail in evening.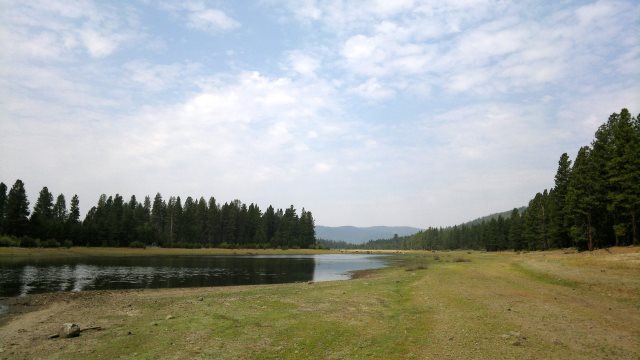 north end lake davis
Fri, 18 Jul 2014 (30 miles in 4:18 hours)
Followed 28N32 to get from Indian Valley to Keddie Ridge. Camped on ridge. Shouted for joy at feeling of body once again being used hard.
Sat, 19 Jul 2014 (25 miles in 2:48 hours)
Picked up fresh food at store in Westwood, plus water and electricity for phone at town park. Camped near Barrel Spring on way to Chester. Tremendous noise of thunder all night, but only moderate rain.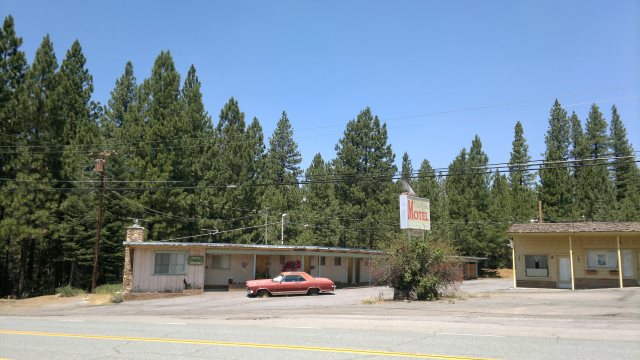 derelict motel near westwood, car has been there for 3 years if I'm not mistaken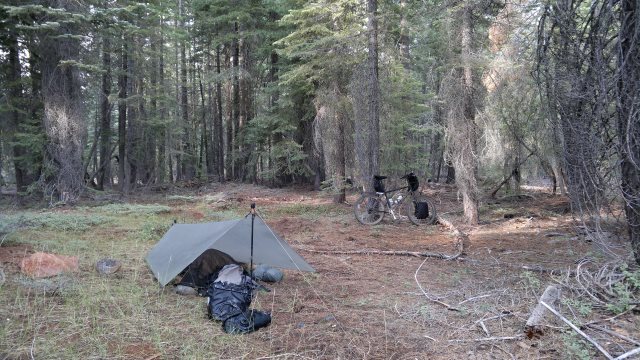 tarp erected to provide shelter from gentle rain
Sun, 20 Jul 2014 (28 miles in 2:47 hours)
$56 including tax at Seneca Motel in Chester. Manager said power was out for 6 hours last night due to lightning strikes. Decided to shave my beard for several reasons: (a) curious to see what I look like under that beard, since it's been about 12 years since I last was clean-shaven; (b) get a photo of myself clean-shaven for internet dating sites; (c) experiment to see if clean-shaven is more comfortable for bicycling in hot weather. Lots of effort getting all that hair off. Hardly recognize myself in the mirror.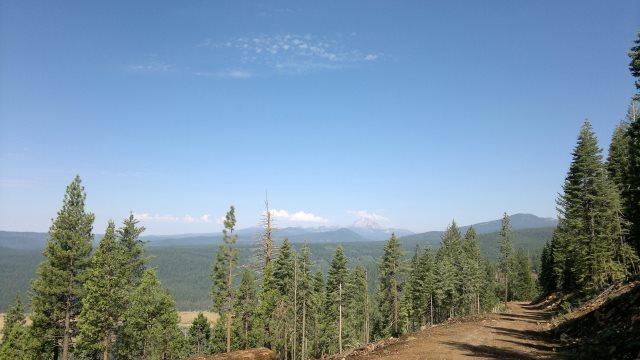 distant view of mount lassen
Mon, 21 Jul 2014 (32 miles in 3:11 hours)
Rode my bike to Drakesbad Ranch for excellent lunch: sliced hot roast beef, green beans, various salads, fruits, crème caramel and cookies for dessert. I'd been there twice before as a Pacific Crest Trail hiker, but never as a bicyclist. $5 for national park entrance fee, $15 for lunch including tax, $3 gratuity. Walked to Devil's Kitchen, which wasn't too impressive due to the drought drying up many of the hot springs, then to Boiling Lake. Camped along Warner Valley Road. Many houses for sale in the area, and still building new ones. The dream house phenomenon. They seem white elephants to me. Younger generation wasn't raised on westerns like mine (Gunsmoke, Bonanza, Big Valley, Rifleman, Wild Wild West, etc). Also, they can't afford $700K for a vacation house used just a few weeks per year. Rained lightly in afternoon. Temperatures much lower than last year.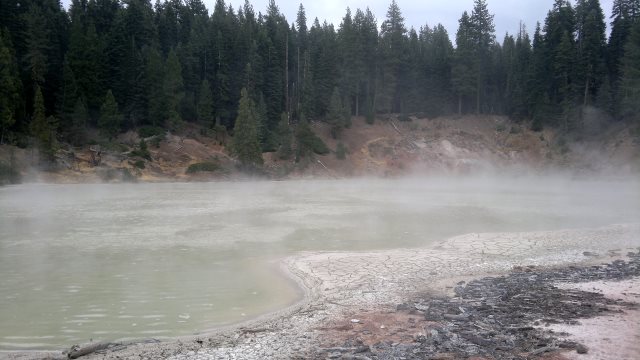 boiling lake, lassen national park
Tue, 22 Jul 2014 (8 miles in 0:53 hours)
Stopped in a Chester store for food, then sat around park reading about the Ukrainian mail-order-bride industry. Quite a racket they have there. In Spain, I once stayed in a rooming house managed by a stunning Ukrainian redhead in her early 30's, who spoke both English and Spanish fluently. The Spaniard in his 50's who owned the place evidently kept her on a tight leash: low salary, deductions for cost of her lodging, constantly yelling at her to turn off the lights and stop wasting electricity. Said she had been trained as a film-maker and now was rotting away at a job she hated, under the thumb of a man she hated, in a provincial city she hated, friendless, dying inside, unable to escape due to lack of money. She was obviously trying to interest me in taking her away from this hellish situation. However, her personality want really compatible with mine. Big argument between her and the Spaniard when he found out she had given me a piece of watermelon for free. Afterwards, the Spaniard dragged her to a room and fucked her noisily so that I could hear everything.
Wed, 23 Jul 2014 (30 miles in 3:39 hours)
Bear sniffling about in the night maybe 30m away. I was camped just a few miles outside Chester. I roared at it and eventually it went away. Think I need to add back the sheath knife to my packing list.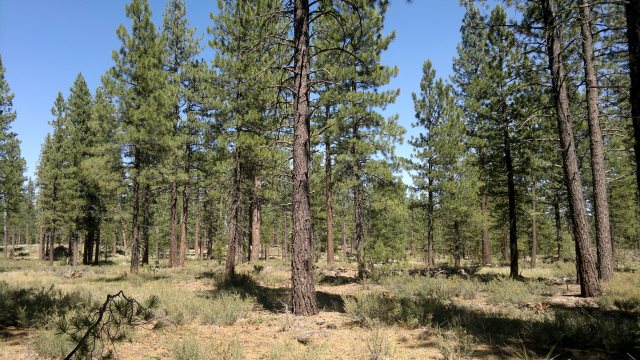 near mccoy flat
Thu, 24 Jul 2014 (27 miles in 2:10 hours)
$55 including tax for room at River Inn in Susanville.
Fri, 25 Jul 2014 (27 miles in 3:03 hours)
Water faucet not turned on a Goumaz campground, presumably due to drought. Had to resew pants crotch because threads worn out.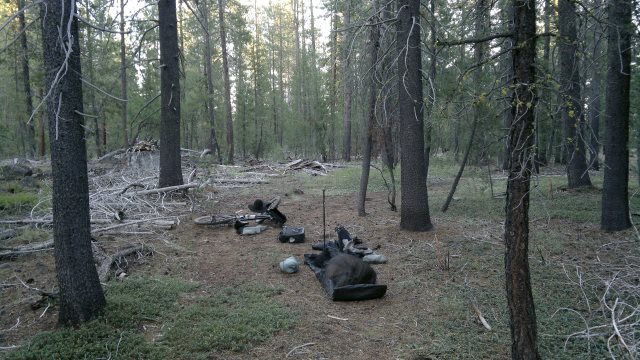 camp on abandoned road
Sat, 26 Jul 2014 (24 miles in 2:30 hours)
Bogard Rest Area closed due to drought, but I was able to pick up water at the Bogard Work Center across the highway.
Sun, 27 Jul 2014 (11 miles in 1:27 hours)
Mon, 28 Jul 2014 (24 miles in 3:00 hours)
Rode around in a big circle to give myself a workout, since I don't want to reach Burney until tomorrow. Big black bear crossed road as I was riding near Black Mountain, then ran off when it spotted me. Wonder where it gets water? Maybe from the same water tanks as the cows.
Burton waxes lyrical as to the joys of wilderness travel in Pilgrimage to Al-Madinah and Meccah (1853): "Your senses are quickened: they require no stimulants but air and exercise—in the Desert spirituous liquours excite only disgust. There is keen enjoyment in mere animal existence. The sharp appetite disposes of the most indigestible food; the sand is softer than a bed of down, and the purity of the air suddenly puts to flight a dire cohort of diseases. Hence it is that both sexes, and every age, the most material as well as the most imaginative of minds, the tamest citizen, the parson, the old maid, the peaceful student, the spoiled child of civilisation, all feel their hearts dilate, and their pulses beat strong, as they look down from their dromedaries upon the glorious Desert. Where do we hear of a traveler being disappointed by it? It is another illustration of the ancient truth that Nature returns to man, however unworthily he has treated her." A similar song of praise could be written about bicycle travel through these Lassen forests.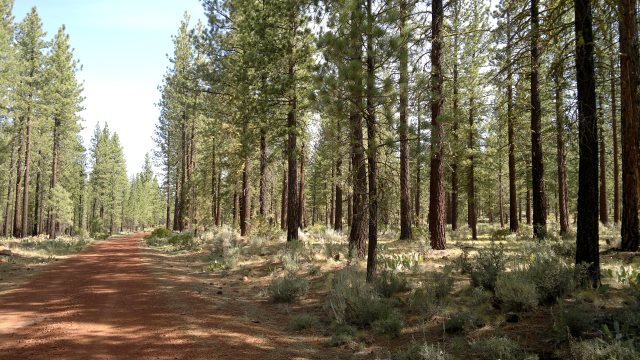 blacks mountain forest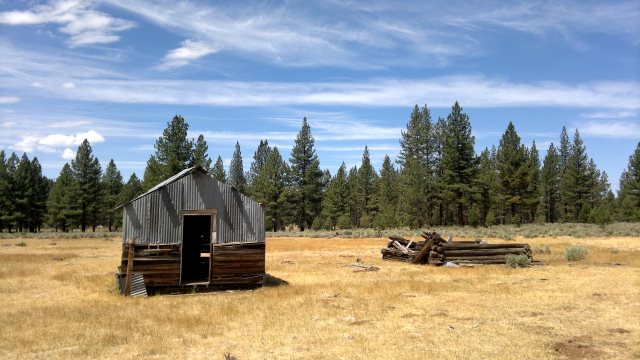 eldridge homestead
Tue, 29 Jul 2014 (32 miles in 2:58 hours)
$79 with tax at Shasta Pines motel in Burney. Replaced rice. Old rice was rancid and gave me horrible headache when I ate some a few days ago. Even had to throw out the opsak due to being contaminated by the horrible smell. Second time I've had problems like this with instant rice. Not sure why.
Wed, 30 Jul 2014 (25 miles in 3:26 hours)
Tiring ascent to plateau due to heat. Hauled 23L out of Burney, to allow four nights of camping. Camped near Bainbridge reservoir, which is empty. Some cows in area, but much fewer than last year.
Thu, 31 Jul 2014 (20 miles in 2:39 hours)
"They who have no children are happy by being unfortunate"—Euripedes, from Andromache. Quote taken from Boethius, who goes way overboard in deprecating the pleasures of the flesh, and is becoming tedious besides.
Fri, 1 Aug 2014 (23 miles in 2:50 hours)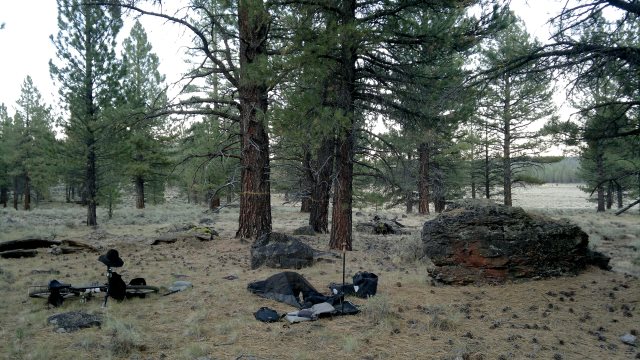 near burgess flat
Sat, 2 Aug 2014 (20 miles in 2:18 hours)
Sun, 3 Aug 2014 (30 miles in 2:27 hours)
Still have about 1L of water after finishing breakfast and fully hydrating. Talked for a while with a doe standing about thirty meters away: "Hey there, you're supposed to be afraid of humans, hunting season coming up, you're going to end up as venison in someone's freezer". $55 including tax for room at River Inn in Susanville. Talked to some area bicyclists. They confirmed that Winnemucca Ranch road is viable road into Reno, and that gate shown on map is either unlocked or easily bypassed, based on their experiencing riding motorbikes in the area.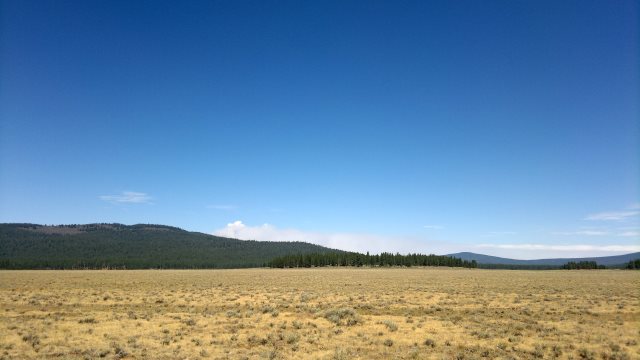 white smoke from fire west of crater mountain
Mon, 4 Aug 2014 (21 miles in 2:34 hours)
Drizzled all night.
Tue, 5 Aug 2014 (12 miles in 1:10 hours)
Rained lightly all day. Experimented wearing neckpurse under poncho, same as when hiking in rain. Works okay while bicycling slowly on dirt roads. Wouldn't want to wear either neckpurse or poncho on paved roads with fast-moving motor vehicles. Picked up snacks in Westwood. Camped on way towards Moonlight Pass. Still raining when I went to sleep.
Distance and times noted above are off by about 9 miles and 1 hour because the bicycle computer stopped working in Westwood, probably due to wet contacts between the computer itself and the cable. I'm going to just ignore this 9 miles in statistics calculations below.
Wed, 6 Aug 2014 (35 miles in 3:14 hours)
Rain stopped sometime in the night. Skies still overcast. Computer was working this morning, without me doing anything to fix it. Maybe the water drained away once the rain stopped and that was all that was required to get it working again.
Message on voice mail saying doctor's appointment cancelled because doctor has hospital surgery. When I called to inquire, they said the next available slot was Sept 9. Felt totally disgusted at this news. Lingered for several hours at the Taylorsville store, debating what to do. Finally decided to head back to Reno to pick up my Nevada maps and also take a few weeks break, then return to the Lassen area for a few weeks, then head north into Modoc county and later into northwest Nevada before returning to Reno in mid October. Camped same place as last year, a half-mile west of Flournoy bridge.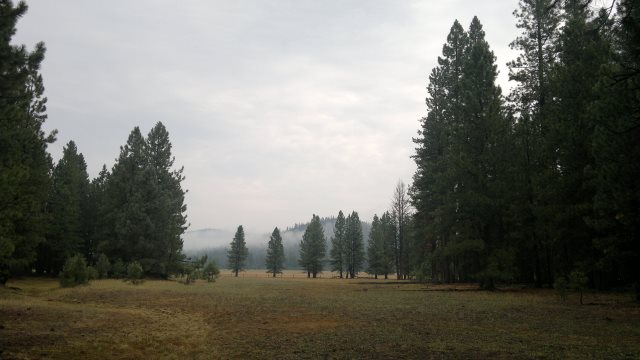 morning mist
Thu, 7 Aug 2014 (30 miles in 4:08 hours)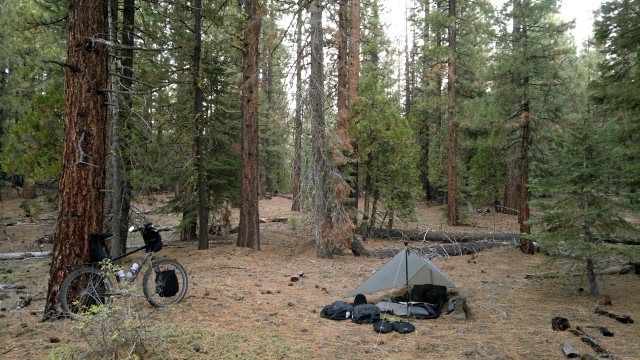 stealthy campsite about a mile south of crocker meadows, on a side road
Fri, 8 Aug 2014 (40 miles in 4:02 hours)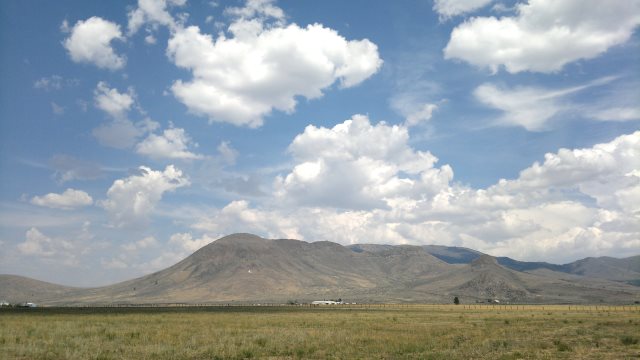 looking east from loyalton
Sat, 9 Aug 2014 (7 miles in 1:04 hours)
Pulled my side torso muscles while entering shoulderstand. I had sensed that something was wrong after the Warrior I pose and should have stopped my routine then, but didn't. Very stupid of me. Whole day in miserable pain. Camped near intersection of Henness Pass road with road to Verdi peak.
Sun, 10 Aug 2014 (24 miles in 2:14 hours)
Able to complete part of morning yoga—bed rest and time work their wonders. What a miracle the human body is! And how grateful we should be if we are lucky enough to have good health, with the proof of true gratitude being to do what it takes to preserve that health. Checked back into the same motel as before ($181/week including tax).
Fri, 22 Aug 2014
Reading about pimping: Pimp: The Story of My Life by Iceberg Slim (1969), Pimpology: 48 Laws of the Game by Pimpin Ken (2007). Truly horrible lifestyle for all concerned. Both whores and pimps dead or broken in body and spirit by age forty. Pimpin Ken suggests that a bird who waits around for an old woman to bring it food is like a pimp waiting for his whores to bring him their daily earnings. Bad analogy, since the same thing could be said about children waiting for their parents to bring them food. The essence of pimping is taking something for which there is abundant supply, or else is cheap to produce, and thus should have a low price, and somehow convincing people that it is actually in short supply and so should have a high price. Selfish manipulative men eager to be supported by dumb but pretty women are abundant, however the pimp makes himself seem special in the eyes of the whore, so that she believes his promises of escape from poverty—overcrowded and run-down apartment or mobile home, crying babies and dirty diapers everywhere, degrading minimum-wage job, abusive supervisor, never enough money to buy nice clothes and other luxuries—and willingly works long hours at an even more wretched job than she had before, albeit a high-paid one this time, hands over all her earnings to her pimp daddy, puts up with her pimp daddy's abuse, all for the sake of being part of his harem of bitches and occasionally allowed to have sex with his glorious pimp penis and perhaps someday becoming his bottom bitch and thus allowed to ride in the front rather than back seat of his pimpmobile.
Similarly, parchment certificates with "B.S.", "M.B.A.", "Ph.D." and related mumbo-jumbo written on them are easy to produce and hence should be cheap. Nevertheless, universities somehow manage to create an aura about these certificates so that young people will pay almost any price to obtain them, using money they don't even have, so that they become debt peons for life. Likewise with residential real-estate. The purpose of a house is to provide shelter plus bathroom and kitchen, and a cheap manufactured home in a trailer park can do that as well as a McMansion. However, the McMansion has been pimped up with the aura of the "American Middle-Class Dream", so that people will pay far more than what it costs to produce these McMansions, thereby dooming themselves to a lifetime of labor. The financial industry is saturated with pimping: huge management fees for providing little more than pimp swagger, in the form of fancy offices and well-dressed salesmen.
Sun, 24 Aug 2014 (29 miles in 3:41 hours)
Off I go again. Camped along Smithneck road, same place as last time.
Mon, 25 Aug 2014 (38 miles in 3:38 hours)
Feels good to be away from the city.
Tue, 26 Aug 2014 (29 miles in 2:35 hours)
Wed, 27 Aug 2014 (30 miles in 4:18 hours)
I've been following the usual route: Reno to Verdi, ascent via Henness Pass road, camp along Smithneck road. Cross Sierra Valley, then Beckworth-Genesee road, camp south of Crocker meadows. Traverse Clover valley, camp near Flournoy bridge. Today, crossed Indian valley and camped along Keddie Ridge.
Thu, 28 Aug 2014 (33 miles in 2:50 hours)
Heard a bear sniffling in the night. Glad to have that sheath knife with me. Felt tired in Westwood and so took Highway 36 to get to Chester. No shoulder for first 6 miles (nearest to Westwood), then huge six foot shoulder for remaining 7 miles. Possible to skip 2 of the first 6 miles by using route A21 from Westwood to Clear Creek. Also, wide soft shoulder on those 6 miles, so not too dangerous, as long as watch carefully for truck squeeze situations. (I experienced one such situation that forced me onto the soft shoulder.) Paid $111 for 2 nights at Seneca motel in Chester.
Fri, 29 Aug 2014 (0 miles)
I forget to resupply with chain lube back in Reno, so stopped off at Bodfish to buy some. Talked with the owner a bit about the situation in Modoc county. He highly recommended the Warner mountains. Also mentioned that he used the empty plastic bags used for boxed wine as his water bladders, back in the day. I guess they didn't have MSR Dromedaries back then.
Sat, 30 Aug 2014 (13 miles in 2:07 hours)
Had to use earplugs due to loud television in adjacent room. Plan is to go very slowly the next few days, heading towards Susanville, allowing me to recover from whatever is making me feel weak, plus add delay until Labor Day weekend is past.
Sun, 31 Aug 2014 (17 miles in 2:01 hours)
Archer passing by while I was breaking camp said he was looking for a deer he wounded yesterday, shooting from a blind. So evidently these archers do catch deer now and then, or at least wound them. Bodfish also said archers were often successful.
Mon, 01 Sep 2014 (26 miles in 3:27 hours)
Ascended Peg Leg mountain, about 1500 feet ascent. Lookout closed. Lazy body initially resisted idea of ascent, but felt wonderful afterwards. Slight rancid smell in rice, though nothing like back on 29 July. Dumped rice into a hole in the ground, then covered with dirt. No residual smell in the opsak. Plan is to carry compressed white bread as emergency carb supply henceforth, in place of rice. Bike computer stalled again. Probably lost a mile total. Will disregard.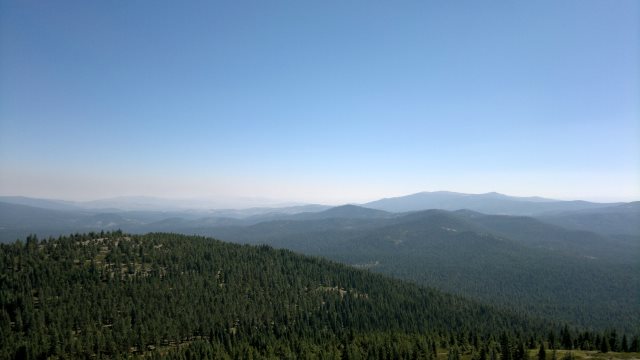 view from top of peg leg mountain
Tue, 02 Sep 2014 (18 miles in 2:03 hours)
Ortlieb side-release broke again, on the pannier where it didn't break previously. Maybe these are flimsy side-releases. Same as before, side-release still usable even though partially broken. Probably should add contraption to repair kit to close panniers if side-release breaks entirely.
Wed, 03 Sep 2014 (29 miles in 2:14 hours)
Picked up Modoc National Forest map at Bizz Johnson Museum. Same map also available at BLM office, where I obtained phone number for Sheldon Wildlife Refuge (541-947-3315). Supposedly, there is guaranteed water at Dufurrena Campground from a well, along with hot spring fed showers and bathing pool. Due to drought, springs cannot be relied upon, though many are still running, albeit more slowly than usual. $59 for room at River Inn in Susanville.
Thu, 04 Sep 2014 (40 miles in 4:19 hours)
I'm taking the road which runs just northwest of Silva Flat Reservoir to get to Modoc National forest, shown in part on Lassen map and in full on Modoc map. This is the only dirt road which crosses the Silva Flat state game refuge.
Fri, 05 Sep 2014 (41 miles in 5:02 hours)
Surprised small herd of antelope yesterday and again today. Perhaps the same herd. Route I'm following is route 105 to Dow Flat, then route 22, then 519, then 521, which is different on ground from map north of Cleghorn Reservoir, so that I went off into the weeds and had to bushwhack my way back to the main road. Eventually made my way onto Sheepshead valley road, then took east fork of 35N02, but this narrowed to a single track cowpath, blocked at times by fallen trees, and finally a locked gate north of Willow spring. Lifted bike over barbed wire fence, then proceeded north along Long Flat road to another locked gate, about halfway along Long Flat to Dillon Reservoir. Again lifted bike over barbed wire. Another locked gate barred way to Dillon Lake, so I instead took the road heading north towards Hayden Hill Road (37N42) and camped about a mile south of that last road. My conclusion is that passage between Lassen and Modoc forests is not possible west of highway 139 without jumping fences marked with no trespassing signs. Next year, I will take Cleghorn Road to the Calfire station on highway 139, then south Grasshopper road to Dry Valley Gap, then route 523, then 39N08 (aka route 527). Very glad to have that Modoc map as well as the GPS maps. Long Flat area is like Nevada, mostly sagebrush with a few pines and junipers. I miss those magnificent Lassen forests. Sagebrush is fine once temperatures drop, but not in this heat.

locked gate at north end of long flat road
Sat, 06 Sep 2014 (15 miles in 1:57 hours)
Not much traffic on highway 139, but then this is a Saturday. What traffic there is, is fast-moving and there is no shoulder and blind curves. Spent only 5 minutes getting from Hayden Hill road intersection (route 37N42 aka 534) to route 38N46, and already anxious to get off. So definitely the option of using highway 139 to get between Lassen and Modoc national forests is ruled out for me. Route 38N46 leads to Ash Creek Road (route 39N08 aka 527). Plenty of trees above elevation 5900 feet. Decided to go slow and stay out 2 more days, since I have plenty of food and water left.

camping in south modoc national forest
Sun, 07 Sep 2014 (16 miles in 1:58 hours)
Followed 38N46 (Ask Creek Road) to 39N08, then south on 39N50. Camped a mile before Knox flat. Forests here as pretty as those of Lassen national forest.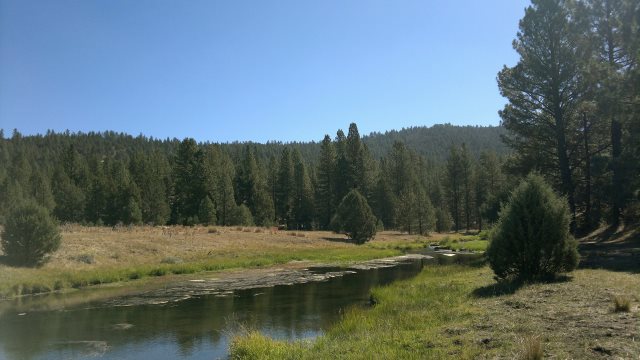 ash creek, near dan ryans place
Mon, 08 Sep 2014 (52 miles in 4:49 hours)
Continued on 39N50 to route 71, which descends through the California Pines development, then route 54 to Alturas. Tedious day, due to being long and mostly on paved roads. But I don't trust other routes shown on map. Ran out of water on the way and so asked a woman watering her yard for some. $50 plus $5 tax for room at Hacienda motel in Alturas. Other cheap motels all had "no vacancy" sign turned on, and this Hacienda motel also filled up by 9pm. Paid in advance for room on Friday, since there is a balloon festival in Alturas this coming weekend.
Finished Les Liasons Dangereuses. Assuming the characters portrayed in this novel bear some resemblance to real-life persons known to the author, the aristocracy of 18th century France, prior to the revolution, must have been truly desperate for relief from boredom. Casanova and the Marquis de Sade, whose works I read long ago, suggest the same thing.
Tue, 09 Sep 2014 (24 miles in 3:00 hours)
Modoc national forest north of highway 299 is mostly scrub forest: widely spaced junipers mixed with sagebrush. Ground is very rocky with volcanic debris. They call this area the "Devil's Garden". Hard to find decent campsites, though I did eventually at Layton Springs. Water at spring is clean-looking, though I'm carrying sufficient water that I won't have to rely on natural sources.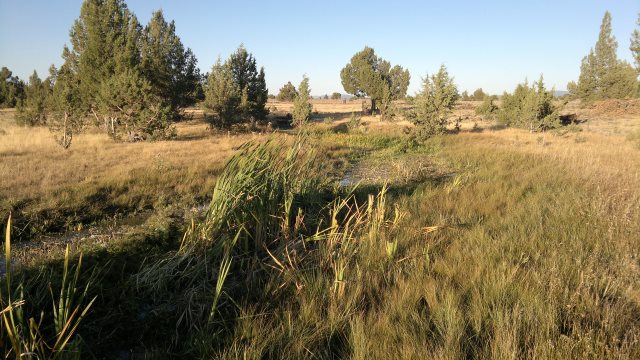 layton spring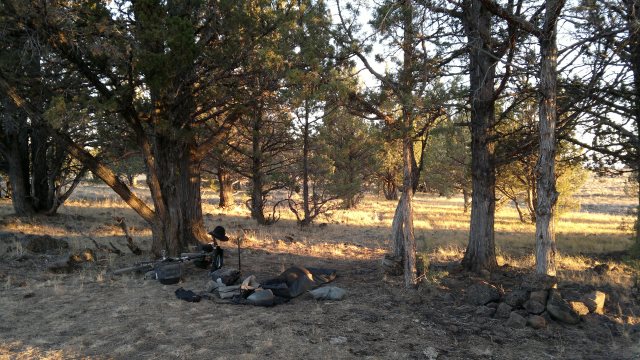 campsite near layton spring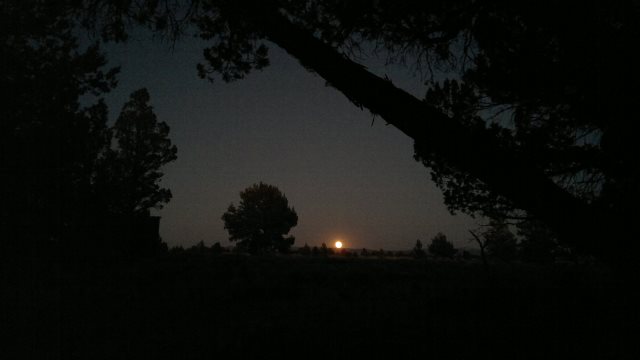 moon rise
Wed, 10 Sep 2014 (20 miles in 3:46 hours)
Yesterday, I followed route 73 north from highway 299, then turned east on 45N06. Today, continued east on that dirt road to 46N02, where I turned north. This is supposedly a "backcountry discovery route", though doesn't appear many vehicles have passed this way recently. Definitely a four-wheel-drive high-clearance route. Had to dismount and push much of the way due to all the rocks in the road. Lots of wild horses. Once 46N02 gets past junction with 46N05, it becomes easier going. There are pines north of this junction and flat spots without rocks suitable for camping, whereas area south of this junction is strictly junipers and with very rocky ground.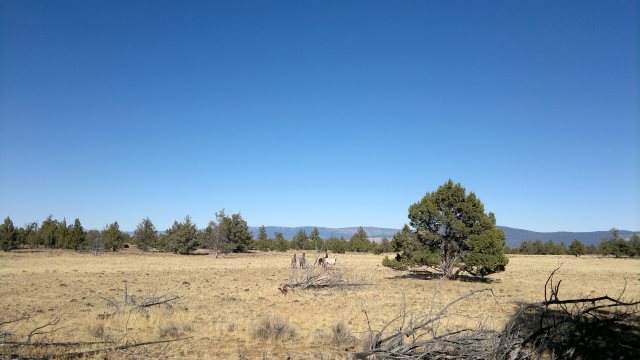 wild horses, warner mountains in the distance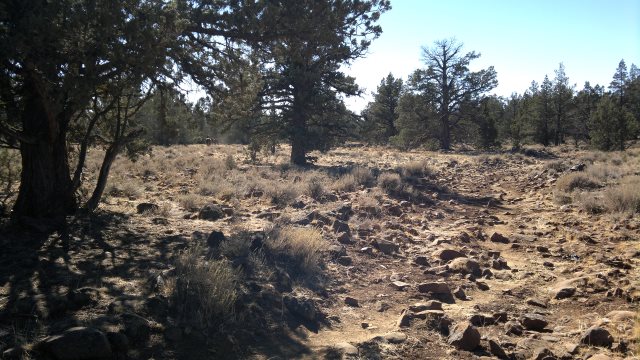 rugged road 46n02, wild horses again in the background
Thu, 11 Sep 2014 (36 miles in 3:23 hours)
Continued on 465N02 to route 73, then west, then south and then east again on 46N06 to Layton Springs for camping. Lots of pines in northern part of Modoc national forest.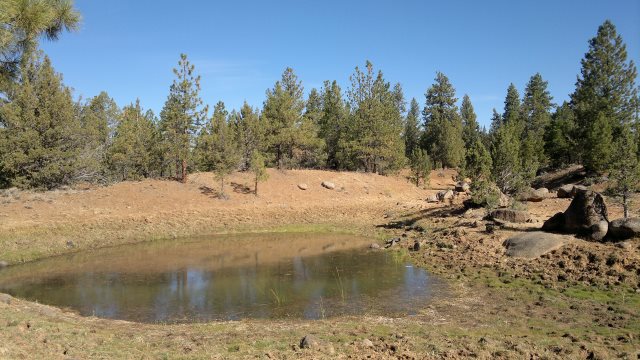 stock tank with water, along route 73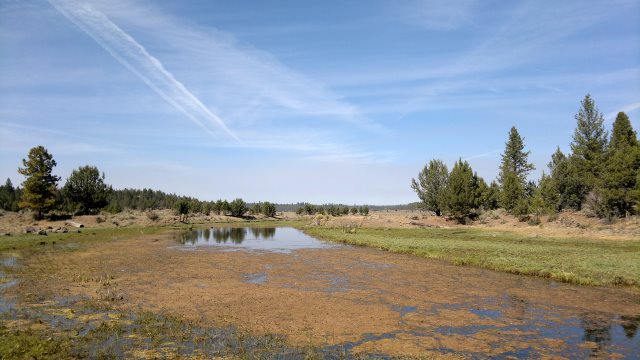 fletcher creek
Fri, 12 Sep 2014 (28 miles in 3:05 hours)
Followed 46N06 to route 55 (Pencel Road), then south to highway 395 and finally back to Alturas. Would have been shorter and more pleasant (less paved roads) to return to route 73 from where I was camped, follow south to highway 299, then east to Alturas. Checked back into Hacienda motel ($55 including tax).
True Value hardware has very little in the way of bicycle repair gear, though they do have citrus degreaser and blue shop towels, plus a variety of lubricants that could be used on the chain if I can't find something better. Place with hand-painted "Joe's Bike Shop" sign was closed, with notice on front door from utility company saying service would be disconnected soon due to non-payment of electric bill—doesn't look promising. Woman at forest service said streams in Warner mountains should be running strongly, but water would need filtering due to cattle grazing in the forest. Weather forecast is for warm through end of October. I started this Modoc / Nevada tour too soon. Next year, arrange to arrive in Modoc country no sooner than middle of September, spend two weeks there, then head out into Nevada no sooner than start of October.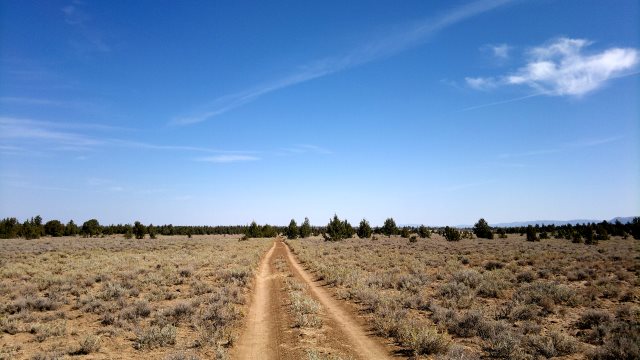 along pencel road
Sat, 13 Sep 2014 (19 miles in 2:35 hours)
Bowels rumbling a bit these past few days. Probably got some bacteria-infested horse manure on my hands then ingested it while eating, since I never wash them outdoors. Took route 56 east from Alturas into south Warner mountains. About 15 miles to get to where paved road turns to dirt, but this is a quiet paved road. Turned south on route 31 and camped just north of North fork of Shields creek. Plan is to circle around the south side of Warner mountains, descend into Eagleville and finally get a motel and resupply in Cedarville.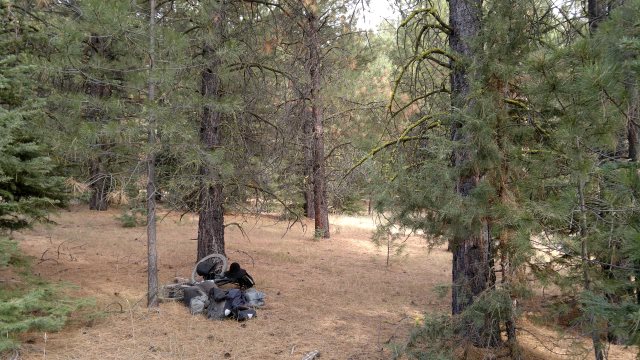 camping in pine forests again
Sun, 14 Sep 2014 (13 miles in 1:43 hours)
There are indeed lots of streams running, though I'm carrying enough water to get me to Cedarville. Going slow, so as to spend more time in the forest during this heat wave. Also, I wasn't sure as camping possibilities south of Jess Valley. So camped at Bear Flat.
Mon, 15 Sep 2014 (23 miles in 3:45 hours)
Camped at homestead flat. Blustery day, first windy day of this trip. Hopefully no wind like this in Nevada.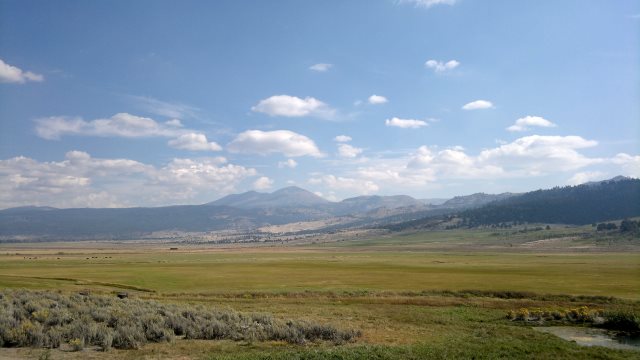 jess valley, warner mountains in the distance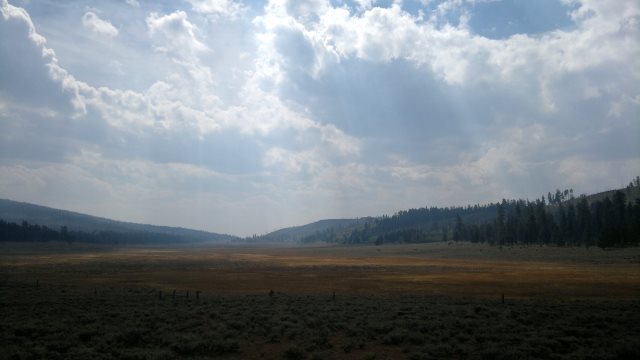 long valley
Tue, 16 Sep 2014 (34 miles in 2:40 hours)
Cool morning, with lots of wind from south. A tail wind for me. With a headwind like that, getting into Cedarville would be hellish. JNR Hotel located near center of town, but has just been sold to new owner and won't be open until Thursday. Stayed instead Sunrise Motel, which is about a half-mile from town on highway 299. $55 including tax. Pages market is decent-sized, with lots of bread and cheese at moderate prices.
Wed, 17 Sep 2014 (18 miles in 2:46 hours)
Took highway north to Lake City, then ascended via very steep dirt canyon road to Benton meadow. Plenty of campsites at summit. About 2700 feet of ascent in 6 miles. Neglected to screw cap onto bladder securely, so leaked all over pannier. Food protected by opsaks, fortunately.
Thu, 18 Sep 2014 (11 miles in 1:31 hours)
Sharp headache in the morning, not sure why. Disappeared as day progressed. Cut the day short due to feeling tired from yesterday. Camped near Harris flat.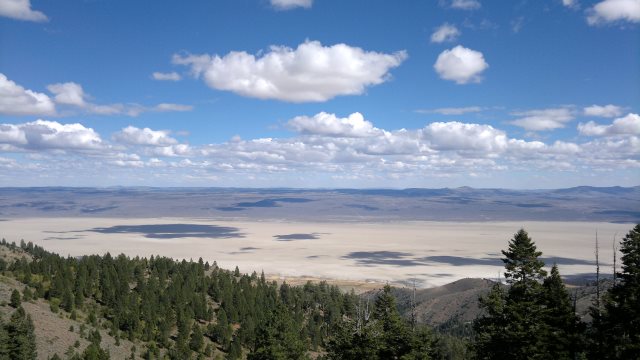 upper alkali lake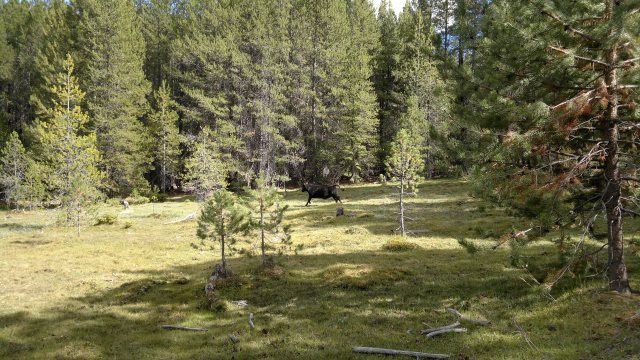 harris flat, calf jumping
Fri, 19 Sep 2014 (24 miles in 3:03 hours)
Woke up with a headache again, sharp pain behind right eye, same as yesterday. Disappeared a few hours later. Spotted mother bear and 2 cubs along Lassen creek. Ran away when they noticed me. Route I'm following is route 11 from Lake City to Benton Meadow, route 30 to near Lassen Creek campground, routes 46N06, 45N33, 45N34, 46N06, 45N04, 45N35 to a stealth site near Plum Valley campground.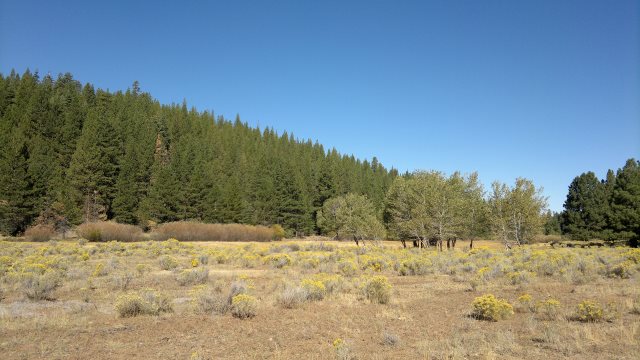 along lassen creek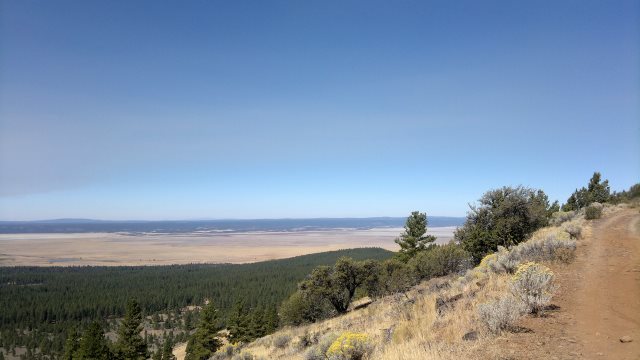 looking northwest towards goose lake
Sat, 20 Sep 2014 (32 miles in 2:28 hours)
Very windy during night, wind stopped once sun rose. Took highway 395 from Davis Creek to Alturas. No hard shoulder, but traffic was light since it was Saturday, though I did encounter one truck squeeze situation where I was forced onto soft shoulder. Wouldn't want to ride this highway on a weekday. An alternative would be to resupply at Mercantile Store in Davis Creek, which was open (though for sale, so may not be open in future), then west on route 48 across south end of Goose Lake to Modoc forest, then route 73 down to highway 299 and from there back to Alturas. This would take maybe two nights, camping in pines at north of forest the first night, then at Layton Springs the second night.
$55 including tax for room at Hacienda motel. Put chlorine dioxide table in each bladder and bottle, since it's been a while since I last did this. Loaded up on bread, cheese and peanuts, so as not to have to completely rely on supermarket in Cedarsville, though they should have all these foods.
"Joe's Bike Shop" has disappeared, with the storefront it once occupied now displaying a "for rent" sign in the window. So it goes. All of these small towns out here remain mired in recession, and nothing is likely to change the situation. Agriculture, ranching, forestry and mining historically formed the economic basis for small towns of the American west, however these are all extremely competitive commodity industries, with intense pressure to adopt labor-saving technologies and push down the wage bill. Healthcare, education, prisons and military could theoretically generate lots of well-paying jobs, but these are ultimately dependent on government spending, and the elite is determined to keep government spending under control. Furthermore, most of the healthcare and university-level educational spending will naturally gravitate towards big cities, and the prison and military spending will be concentrated in only a few locations. So eventually what you end up with in most of these small towns is a few jobs as ranch hands or other workers in the commodity industries, a goodly number of minimum-wage jobs in the service industries (motels, store clerks, local government jobs), and perhaps the majority of the population dependent on transfer payments (those on old age and disability pensions, plus their dependents).
Lots of buzz on the internet about virtual friends as replacement for real friends. Everyone will live in a bubble of permanent virtual fame, flattered by robot toadies and sycophants as their facebook friends, rather than real friends—I suspect we are currently not far from this scenario. Sex dolls will substitute for real sex partners, the doll combined with virtual reality goggles and headphones, so that each thrust into the doll generates appropriate computer-generated visual and auditory responses. Missing the olfactory and tactile sensations of real sex, but then everyone seems determined to downplay smell nowadays (shaving pubic and underarm hair, applying deodorants, washing frequently) and surely someone will figure out a way to duplicate the texture of real skin in a sex doll. "Fear of missing out" syndrome is supposedly particularly acute among young men. I suspect sex is one of the things these young men are most fearful of missing out on. If only they understood that masturbation IS sex. Or rather, partner sex is merely masturbation using another person's body instead of one's own hands or a sex doll. Those who adapt to this brave new world will fail to reproduce, while those who do reproduce will be at odds with this brave new world. Perhaps these rebels will be kept around as curiosities by the elite, a reminder of how things used to be, like exotic animals in a zoo. Or like the Kalahari Bushmen and similar stone-age technology tribes which are currently kept around as living museum specimens by developed societies.
Meanwhile, at least in the short run, overpopulation means that having children will likely be a formula for impoverishment for the non-elite. That is, expect further erosion of the safety net programs enacted in developed countries in the post World War II era, shrinking middle class and growing poverty class, greater inequality of wealth and income between rich and poor, with most wealth and income concentrated in the hands of a small aristocracy.
Sun, 21 Sep 2014 (24 miles in 3:24 hours)
Again took route 56 to get from Alturas to Warner mountains, then route 31 to get to Pepperdine campground, which has piped water. Campground is not bad, but I dislike developed campgrounds, and so instead took an overgrown side road to the south end of nearby Porter reservoir, where I found an absolutely idyllic campsite nestled in the woods. Very stealthy, since the road has been blocked by fallen trees and likely no one comes this way any more other than hunters.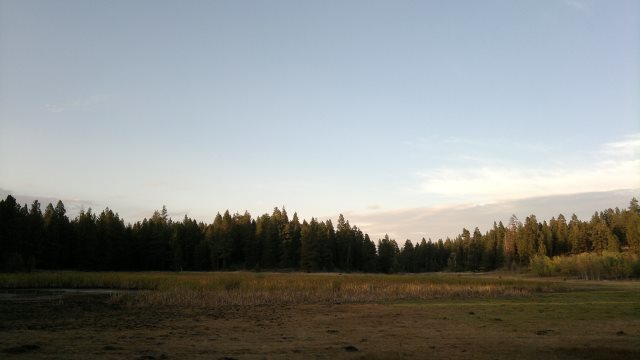 porter reservoir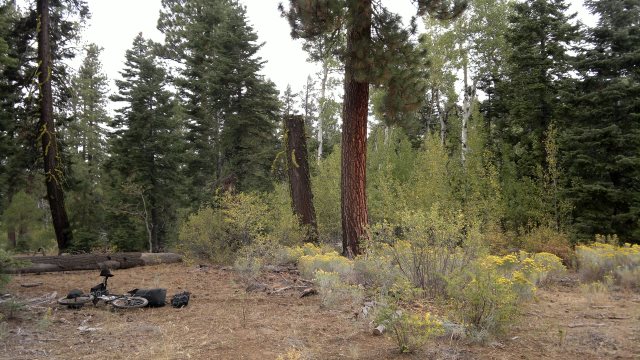 campsite near porter reservoir
Mon, 22 Sep 2014 (18 miles in 1:50 hours)
Pages market in Cedarville low on bread, just as I had feared. They said the bread man comes by tomorrow. Next time, buy everything in Alturas. Given that there is water at Pepperdine campground, don't need to haul much out of Alturas. Without carrying water, even 10 loaves of bread and cheese is not a heavy load. $55 for room at Sunrise Motel.
Tue, 23 Sep 2014 (36 miles in 4:07 hours)
Left town with eight loaves of whole-wheat bread and two loaves of white bread (24oz/loaf), four pounds of cheese (made into sandwiches with the whole wheat bread), four pounds of lightly-salted dry-roasted peanuts, or about eight days worth of food, plus 23 liters/water, which is close to my maximum load, though I could probably add another few days of food of necessary. Sun out much of the day, but temps not too bad. Forecast for much lower temperatures starting Thursday. Camped near Middle lake in Long Valley. Townshend spring running several liters/minute.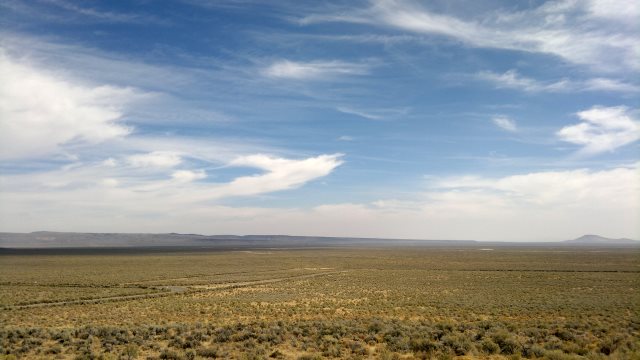 long valley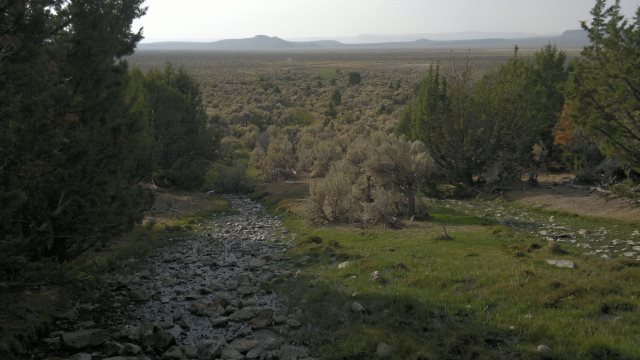 creek flowing out of townsend spring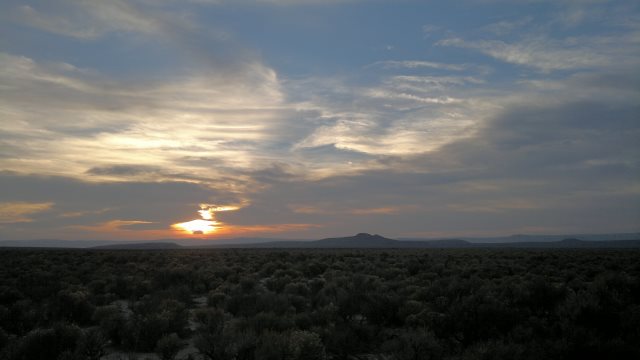 desert sunset
Wed, 24 Sep 2014 (30 miles in 3:41 hours)
Coyotes walking around in the morning, just 20 meters away from where I was sitting and eating breakfast. Strong southwest winds during the night, continuing today. Tail or side winds for me. Followed route 34a into the Sheldon Antelope refuge. Camped at Catnip Reservoir campground, which was deserted except for me. I normally try to avoid campgrounds, but the ground was rocky elsewhere. Lots of animal sounds during the night: horses, splashing of waterfowl, coyotes yipping.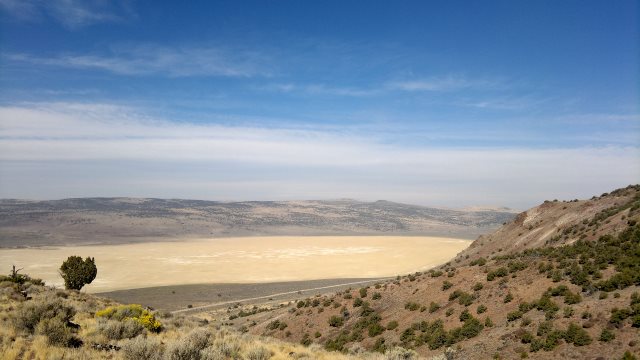 looking down towards calcutta dry lake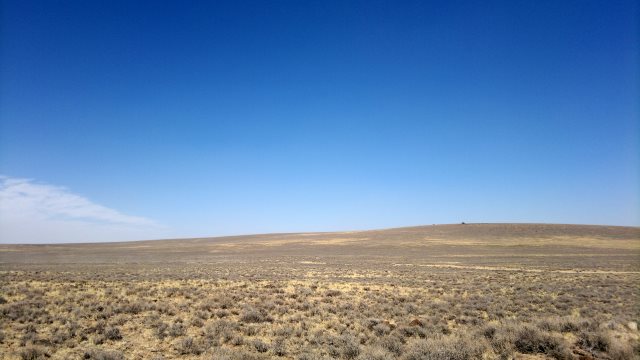 mule mountain, also a herd of antelope, but not visible due to camera limitations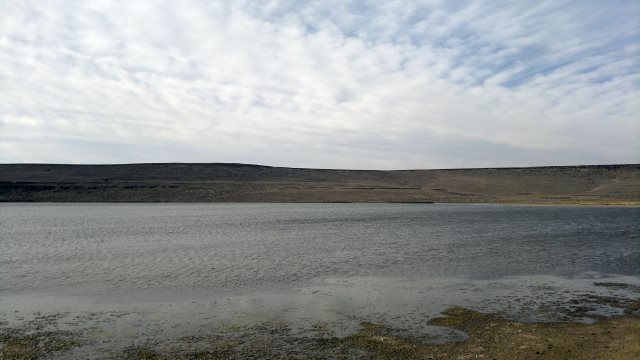 catnip reservoir
Thu, 25 Sep 2014 (12 miles in 2:12 hours)
Travel is associated with sexual flings, that's where the glamour comes in for those two-week package tours to Caribbean islands. Nothing particularly glamorous about the traveling I do, though it is an immensely joyful lifestyle in my experience. I'm just a guy who can't stay in one place too long without getting fidgety. Not much different from all those kids who've been diagnosed with attention deficit disorder. "Ants in the pants" syndrome, as we used to call it when I was growing up. Easily bored, unsociable loner who doesn't like to work and has lots of physical energy. Where's the glamour in that? And now I'm addicted to travel, similar to how other people are addicted to shopping or working or womanizing or stamp-collecting or whatever. Then again, how else to fill the hours?
Started raining about noon. Cold too, so that I had to put on stretch-knit pullover plus down jacket plus mittens to stay warm, with poncho on top to stay dry. Rode a few miles in rain, then camped near Murdock spring, along the Catnip Mountain road which connects routes 34a and 8a. Bicycling in rain a nuisance, at least with my gear.

along catnip spring road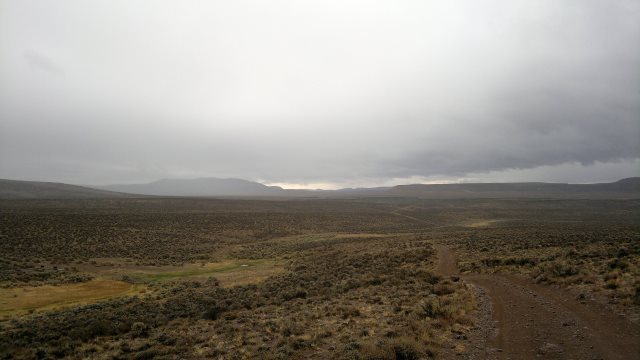 descending to murdock spring in the light rain
Fri, 26 Sep 2014 (20 miles in 2:22 hours)
Ice in bottle and frost all over everything, but bladders, which I kept under backpack and other fabrics, liquid. So temps evidently slightly below freezing. Soon warmed up from sun. Gooch spring has pipe feeding into trough. Maybe 1/2 liter/min. Camped 2 miles from intersection of route 8a with highway 140. Feeling very good about this Sheldon Antelope Refuge. This is truly a dirt road bicyclists' paradise, at least for those with the right equipment and preparation.
Epictetus talks a great deal about slavery and freedom, but in escaping slavery from ordinary desires, he volunteers for slavery to the role of philosopher—can't lose his temper, must be in control of his emotions at all times, must be humble and live an ascetic lifestyle, etc. Sometimes it's easier to get rid of desires than satisfy them, but sometimes the opposite is true. Easy, clear-cut answers are usually wrong. Life is messy. Ambivalence, though painful, is ultimately less painful than forcing a choice before we're ready to choose.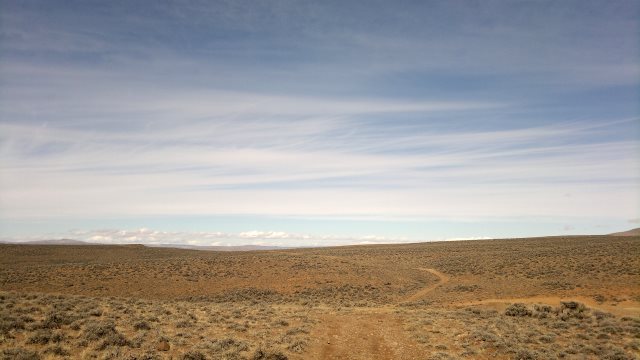 sunny again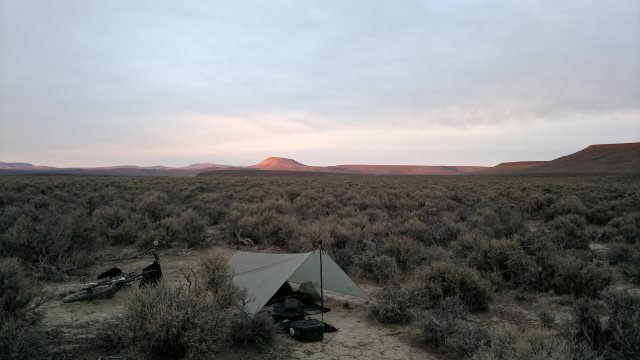 camped in sagebrush
Sat, 27 Sep 2014 (26 miles in 3:08 hours)
Rained lightly during the night, then drizzled off and on all day. Wore stretch-knit pullover, insulated hat, mittens and poncho. Deployed tail-light for safety on highway 140, since everything was grey in the rain. Ranger station at Dufurrena closed, but I was able to charge phone at outdoor electrical outlet. Picked up water at the nearby campground, where they also have hot showers and a hot spring fed bathing pool, though air temperature too cold for me to use either, since I don't have a towel for drying off. Camped along the Mud Springs road, which runs between Virgin Valley and route 8a. That name is worrisome, since if rain continues, road could turn muddy.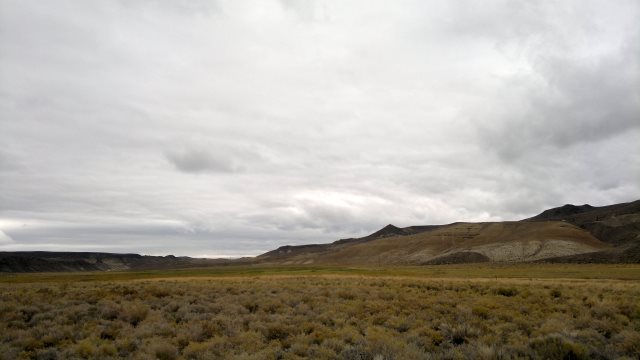 virgin creek valley
Sun, 28 Sep 2014 (32 miles in 4:08 hours)
Rained all night, heavily at times, with water pooling and running under tarp. Had to get up and dig a trench to get rid of it. Rain stopped in morning, with mild temperatures. Road did indeed turn into a muddy mess. Truly incredible amount of mud accumulation on tires, which then dripped off and clogged chain. Decided to turn back towards Dufurrena campground, since the Virgin Valley road is gravel, and thus should be unaffected by rain. Spent two hours cleaning the bike in a stream running across the road. Sorry I didn't get a photo of the bicycle while still dirty, to show how bad this mud can be. Found a leech on my leg afterwards. First time in my life I've had leeches, though I was often warned about them when swimming in lakes at summer camps as a boy. Took a hot shower at the Dufurrena hot spring, dried everything out in the afternoon sun, then followed highway 140 back to route 8a, which I plan to follow all the way back to Cedarville. Camped a mile south of Gooch Spring.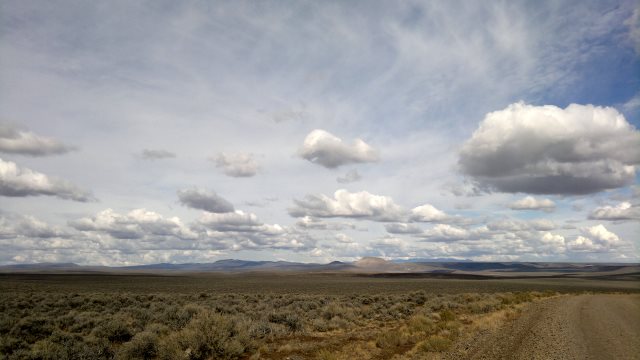 along route 8a, looking north
Mon, 29 Sep 2014 (40 miles in 4:11 hours)
Started raining again during the night, with north wind which later shifted to west wind. The latter was a head wind for me, but not too strong, so I was able to make steady progress. Ground dry in Long Valley, where I camped, so probably less rain than in the Sheldon Refuge, which is about 1000 higher elevation. Or maybe the rain evaporates quickly.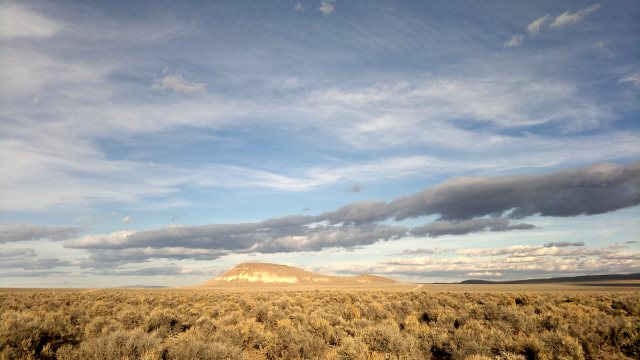 painted point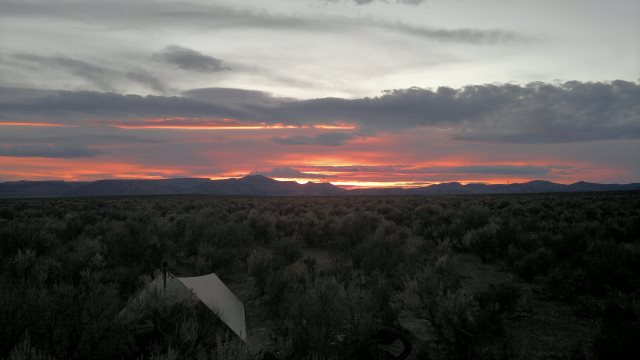 desert sunset
Tue, 30 Sep 2014 (31 miles in 3:02 hours)
Wind gone, partly cloudy, warm. Experimented riding on alkali lake bed on way into Cedarville. Hard enough to push, but too soft for easy riding. Not sure if softness from recent rain or if it is always this soft. $60 for room at JNR Hotel, since Sunrise Motel was full of classic car touring group.
Wed, 01 Oct 2014 (38 miles in 4:31 hours)
Sunny, mild temperatures, little wind, fine day for cycling. Plan is to follow the Applegate trail through High Rock Canyon to Black Rock Desert, then Soldier Meadows road to Gerlach, then Smoke Creek Ranch road to Susanville.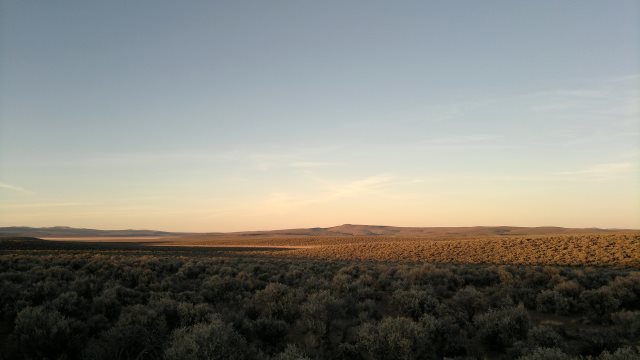 near massacre ranch
Thu, 02 Oct 2014 (36 miles in 4:25 hours)
Resewed button on sleeve that was about to pull off. Need to use stronger thread for these buttons in the future. Upper High Rock Canyon is singletrack, blocked in three places by blown-down trees, which I portaged over. Evidently, someone is maintaining this trail, since there is recent evidence of other blowdowns being sawed away. Lots of water running in canyon. Banged the chainwheel against a rock while carrying it past a mound of rocks. Makes me wonder what would happen with chainguard. Would it help protect the chainwheel, or be bent more easily than the chainwheel? Sign at bottom of high rock canyon saying that that hikers, horses and bicycles allowed on the singletrack trail, but not motorized vehicles, so taking this trail is legal for bicycles. I wouldn't recommend it, however, since the blowdowns might be much more numerous in the future. Instead, take the dirt road alternative which runs through the hills east of the canyon. Camped in soldier meadows. Lots of mosquitoes, as to be expected when camping near meadows.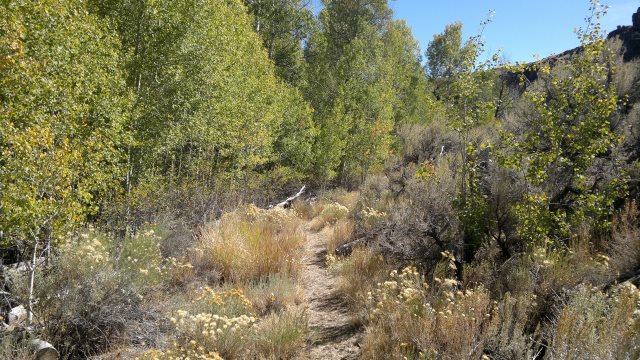 upper high rock canyon singletrack path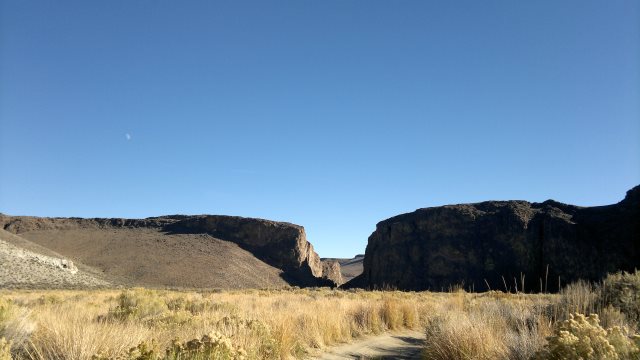 one of many interesting sights in lower high rock canyon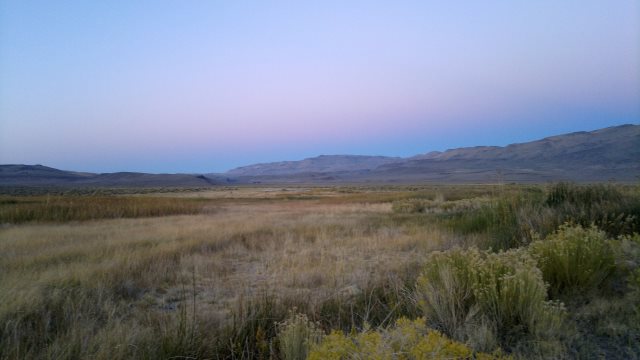 soldier meadows
Fri, 03 Oct 2014 (62 miles in 5:34 hours)
Mosquitoes gone in morning, thankfully. Soldier Meadows road (route 200) horribly washboarded, especially towards the north. Gets better approaching route 34. Though even with the washboarding, route 200 much better than the Black Rock playa, which was too soft for easy pedaling, at least at the point where I tried. It might be easier riding where the surface has been compacted by motor vehicle traffic.
After setting up camp, an apparently drunk or drug-addled guy in a pickup came roaring across the playa, with the radio blaring some sort of heavy metal music, skidded onto the access road, then roared off towards Gerlach. A few hours later, he returned and this time skidded into a ditch and got stuck, whereupon he floored the accelerator for about ten minutes straight so as to spin the tires uselessly into the sand. Several people in pickup trucks stopped to see if he needed help, then drove off, probably noticing that he was drunk or on drugs. Finally, some Good Samaritan enabler-type pulled him out of the ditch. He then roared back onto the playa and disappeared into the distance. Two hours later he returned, and this time was more cautious with using the access road to get back onto the highway. I was worried that he might stop and play loud music near where I was camped, but luckily that didn't happen. I also worried that he might lose control of his truck and run me over, even though I was tucked between some sand dunes, away from where the trucks are allowed to cruise. Rural white trash.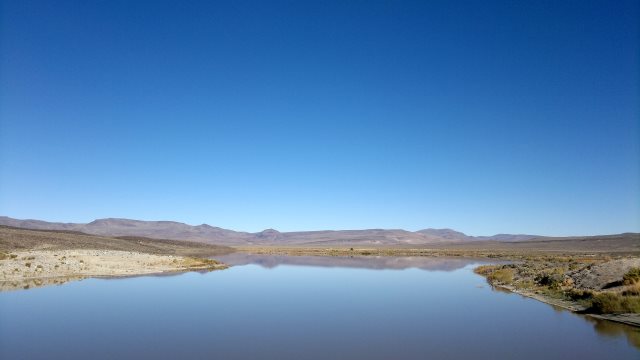 mud lake reservoir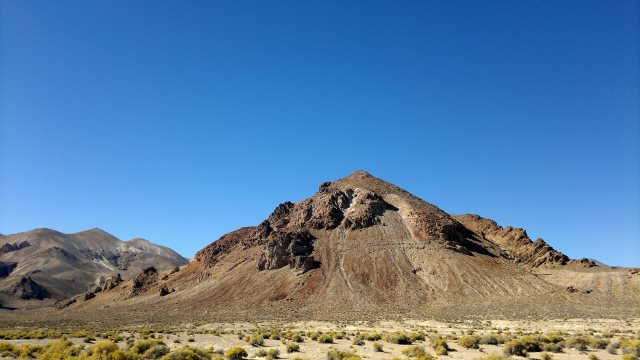 mormon dan peak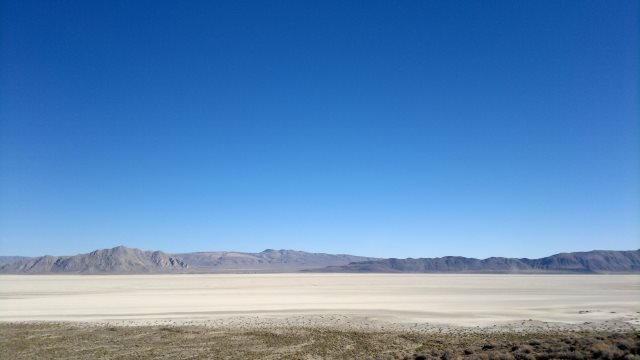 black rock desert playa
Sat, 04 Oct 2014 (52 miles in 4:32 hours)
Playa dust is very sticky. This is near where the famous Burning Man festival takes place. End of August is way too hot to be camping out in the desert, at least for me, but waiting until end of September is also bad, since there might be rain then, and that would make the playa an absolute mess. Anyway, I don't like these crowded events, regardless of the weather conditions.
Picked up water at Senior Center in Gerlach, which was the only place in town that had an unlocked faucet. Also, charged my smartphone at an outside outlet there. Then breakfast at Bruno's Cafe, which also has a motel (775-557-2220), with prices for singles starting at $50. Long talk with BLM ranger about road conditions and services in northwest Nevada. He said there is good bike shop in Winnemucca (winnemuccabikeshop.com). Another talk later with Brian D, who I've previously chatted with via bikeforums.net and who passed me along Smoke Creek road while riding a motorcycle. Camped along Smoke Creek Ranch road.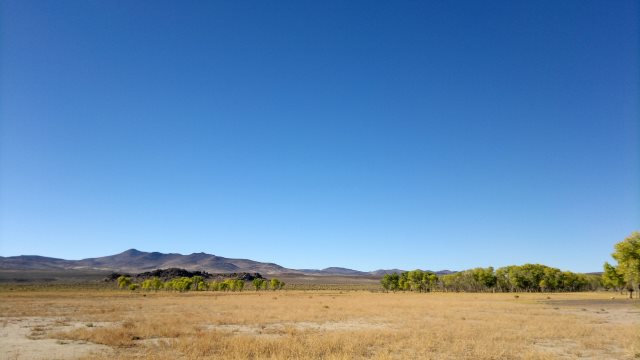 buffalo creek meadows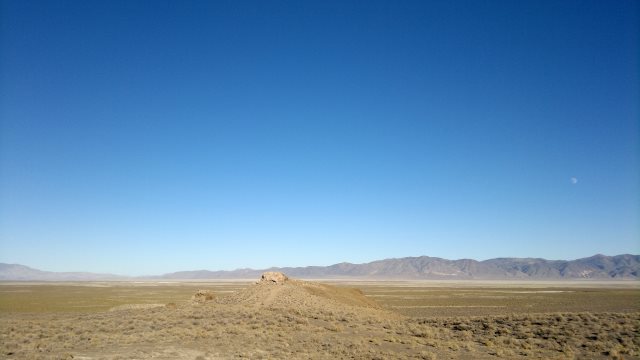 smoke creek desert
Sun, 05 Oct 2014 (50 miles in 4:16 hours)
Continued along Smoke Creek Ranch road to highway 395, which has a narrow hard shoulder, then A27 from Litchfield to Susanville. A27 had no hard shoulder but was very quiet. Then again, today is a Sunday. $50 plus tax or $55 total for room at River Inn.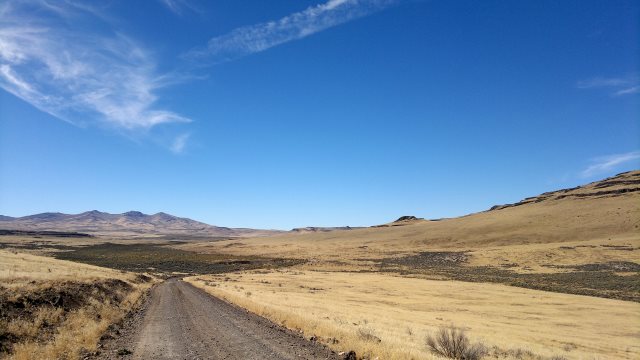 along smoke creek road
Mon, 06 Oct 2014 (52 miles in 4:31 hours)
Cleaned and lubed chain. Triflow from bicycle lube bottle much neater to apply than from aerosol can, and seems to work well. Decided to head back to Reno, since I need a break from traveling and might as well rest up there as elsewhere. Highway 395 very noisy, though it has a wide 6' shoulder with rumble strip separating shoulder from traffic lanes. Able to avoid initial stretch 395 out of Susanville by taking quiet back roads: Richmond road, Wingfield road, Main street through Janesville, Lake Crest road. After, no option but 395, which I followed to Doyle. In addition to being noisy, there are few wild camping possibilities along 395. Really sorry I took this route and I'll never do it again unless absolutely necessary. At Doyle, took the dirt road which runs towards Dry Valley and camped along that.
Tue, 07 Oct 2014 (55 miles in 5:01 hours, 11793 ending odometer)
Noise from highway 395 very audible from where I was camped, though I didn't notice yesterday since my hearing then was dulled from riding right next to that noise for several hours. Continued along Dry Valley Road until it merged with Red Rock Road, then followed that all the way to highway 395, then a variety of side roads to get to North Virginia, and finally followed that into downtown Reno. Long and tiring day due to being on paved roads so much of the time. Definitely take the roads which lead north and east of Honey Lake and then use Winnemucca Ranch road next time, and also allow at least three days to get from Susanville to Reno rather than just just two.
Checked into the same motel as before, at $181/week including the transient motel tax (rate will be reduced to $160/week after first 4 weeks). Retrieved my computer and other items from the storage locker. Not too happy to be back in civilization, but I did need a rest from constant traveling and better to rest up in Reno than elsewhere.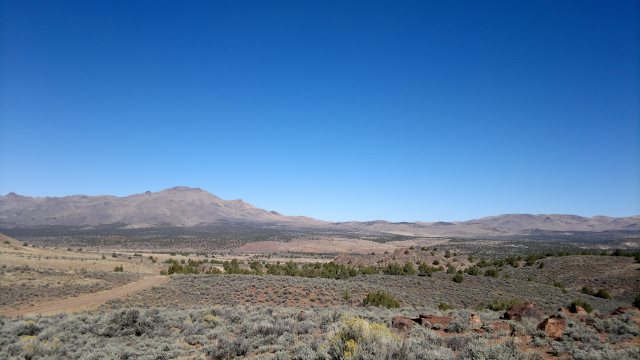 dry valley, with fort sage mountain in the distance.
Thu, 13 Nov 2014
Finally got around to installing that Thorn chainguard. Didn't seem to do much to protect my leg from the chain, which isn't even that important anymore, now that I'm using a very light lube and cleaning the chain regularly. Also, narrow space between chain and chainguard might cause the chain to get stuck or might collect dirt. So I decided to remove the chainguard a day after installing it. Not sorry about the experience, for two reasons: (a) required me to replace the bottom bracket (I actually installed the wrong size bottom bracket, but the size I installed, 73x113mm, works perfectly with my Surly stainless chainring without spacers), which is something I've never done before but which I wanted practice with; (b) I can finally forget about this chainguard, after several years of being ambivalent about it. Mistakes are sometimes necessary in life, by which I mean not in the sense of mistakes being inevitable due to bad planning or bad luck, but rather that sometimes we have to deliberately do something we know is wrong in order to get rid of ambivalence, since ambivalence drains mental energy until it is resolved.
I also replaced the Brooks saddle with a Selle SMP TRK Men's saddle, due to concerns about long-term use of the Brooks causing health problems. The Brooks was never uncomfortable for me, but I did notice some pressure on the soft tissues of the pelvis. Also, my testosterone was below-normal when I had some blood tests recently and maybe the saddle was to blame for that. The TRK model is the low-end of the Selle SMP line. I might replace with one of the higher-end models (which are narrower and have less padding and leather rather than vinyl cover) after some field-testing.
Thu, 20 Nov 2014
Had an argument with someone on the intertubes and I want to enshrine my point here to ensure I'll reread it someday. When we speak of wealth in modern society, we are mostly talking of relative wealth, not absolute wealth. The pie grows only very slowly in per capita terms, so that wealth and income are essentially zero-sum games over the course of a single lifetime. For one person to get a bigger slice means someone else has to get a smaller slice. For one person to go up the ladder of financial success means someone else has to go down. The rich and successful are so only because others are poor failures. The financial success of the few rests on a firm foundation of the financial failure of the many. Money is only valuable because it is scarce. To be rich is only meaningful if others are poor.
It isn't just economics that is zero-sum. Much of what we aspire to in life is higher relative position in the hierarchy, rather than higher absolute level. When we say someone is intelligent, wise, healthy, handsome, strong, educated, etc, we are usually speaking about relative position. That is, by "intelligent" we normally mean someone who is more intelligent than average, and so on. Elite status always rests on a firm foundation of inferior status of the masses.
The argument I had was with a typical Boobus Americanus of the "positive-thinking win-win" school of thought. Runs a blog where he shares his secrets of financial success: "Anyone can become rich like me, all they have to do is work hard like me, postpone gratification like me, be disciplined about saving and investing like me."
Nothing wrong with wanting to share due to a feeling of overflowing joy—that's one reason why I maintain this website of mine, for example. But there's a difference between positive-sum and zero-sum joys. Even if "wise" in ordinary language usually means the zero-sum "wiser than average", there is no reason why wisdom can't also be positive-sum, even in the very short-run. Proclaiming oneself joyful due to wisdom and wanting to share that wisdom with others so they too can be joyful is a perfectly decent thing to do. But financial success is inherently zero-sum over a single lifetime (to reiterate, per-capita GDP grows very slowly), so joy at one's own financial success must always, of necessity, ultimately equate to joy at other people's financial failure.
I won't go so far as to say people should keep their personal financial situation private. However, I do think discussions should be in a dry, matter-of-fact tone: "Based on my personal experience, as well as watching others, if you do this, you'll likely get rich, do that and you'll likely stay poor." Unseemly display of emotions should be avoided, especially joy and its close relatives smugness and gloating.
Statistics
Below statistics exclude two week hiatus in Reno between Aug 11 to Aug 23, which included about 8 miles bicycling around town plus $362 motel expenses.
70 nights away from Reno total, of which 56 nights camping, 14 nights in motels. 1 rest day. 71 days traveling (including two days with destination Reno).
2008 miles total, 222 hours pedaling/pushing, average of 9.0 miles/hour. For 71 days traveling, average of 3.1 hours/day pedaling/pushing, 28 miles/day.
Total motel expense of $805 including taxes, for average of $58/night for the 14 nights in motels.
Comments / Todo list
See the Nomad page for bicycle comments.
Sheldon Wildlife Refuge was better than I expected. I will definitely be returning there next year. Because there is no shade, important not to go too early. Wait until at least Sept 15 before reaching the area, though waiting until Oct 1 is probably better. Hunting season starts sometime in the first week of October, but I don't see that as a major problem, since only a limited number of tags are issued and sightlines are open, so little chance of being hit by stray bullets. Motels in Cedarville might fill up, especially the first week. If so, I can just camp at the Sunrise motel. Another possibility is work my way over to Winnemucca, then back to Cedarville.
Much of the huge expanse of Modoc national forest in the northwest corner of the county is rocky sagebrush and juniper country—Devil's Garden they call it—with not many places to camp. I wouldn't call this area beautiful or particularly rewarding for bicycle touring, but it isn't bad either. Worth a few days just to add variety to a tour of the area. Once you get off the main gravel roads, there is very little traffic, and that's always important to me. The main problem is finding a flat spot to camp which isn't covered by rocks and which has some shade from the afternoon sun (unless you're touring late in the season, when sun isn't a problem). The northeast part of this huge expanse of forest is less rocky and with lots of pines for shade.
Supposedly, the area north and west of Clear Lake Reservoir is mostly grassy hills, but I haven't explored that area yet. Woman at forest service said town of Tulelake has store and other facilities for resupply.
Plenty of trees in the Warner mountains. A grand circle route like I followed, starting and ending in Alturas, with a stop in Cedarville for resupply, takes about a week and is recommended. To avoid highway 395, resupply at the Davis Creek store and then continue west on route 48 into the Modoc forest and eventually back to Alturas, as discussed above.
Black rock desert is tedious. Take route 34 next time.
Get maps for Oregon, especially Fremont National Forest, to see if Lakeview would make a good resupply location.