May 2015 to June 2015, Hiking in Bulgaria
Feburary 2015, Reno
Initial plan was three months hiking in Spain, followed by two months in Bulgaria, thus allowing me to extend my annual Europe trip through July. June and July have long been problem months for me, since I dislike both hiking and bicycle touring in the United States then and also dislike staying in Reno, but I can't spend those months in Spain or France due to Schengen visa rules (assuming I'm already spending March through May in the Schengen area). Reasons for choosing Bulgaria: not currently in Schengen area; frequent direct flights from Madrid to Sofia; good system of hiking trails (or so I've read) in the mountains there.
That brought up the question of what language to learn. I was reluctant to invest too much time on Bulgarian, plus there is a shortage of learning materials for that language. So instead I decided to learn Russian. Russian and Bulgarian both use the Cyrillic alphabet and they have considerable vocabulary in common, so knowing basic Russian should make it easy to read and pronounce basic Bulgarian. Russian is supposedly widely spoken as second language in Bulgaria by older people whereas English is widely spoken as a second language by younger people, so the combination of the two languages should be sufficient for getting around.
After much thought, I eventually decided to extend my trip to seven months, starting in Ukraine and finishing in Greece, and skip Spain altogether this year. The first few months I'll be living in Kiev and other cities in Ukraine, studying Russian. After that, I will discard my Russian books, take the bus to Bulgaria and spend a few week in Sofia, then hike in the mountains of Bulgaria and Greece. If the civil war in Ukraine spirals out of control, I can leave the country sooner. I'll be renting apartments by the week.
I have some misgivings about whether I'll be happy during those three months in Ukraine, since I don't much care for sedentary existence. On the other hand, it has occurred to me that someday there may be difficulties flying back and forth between the United States and Europe, in which case I may decide to live full-time in Europe, alternating between hiking in Spain in the spring, hiking in southeast Europe (Bulgaria, Greece, etc) in late summer and early autumn, and living in cities (especially cities in eastern Europe) the rest of the year. By making a long trip to southeast Europe now and learning Russian, I'll be preparing for this long-term plan. If I really can't tolerate being sedentary during the three months I'm planning to be in Ukraine, that suggests this long-term plan is unworkable and I need to go back to the drawing board. Better to find that out now than later. Another good reason for visiting Ukraine now is that I currently have some enthusiasm for learning Russian and I don't want to let that enthusiasm go to waste, since I may never again have any enthusiasm for learning new languages.
March-May 2015, Ukraine
I spent six weeks in Kiev, at two different AirBnb apartments (all my Ukraine apartments were about $20/night plus cleaning and AirBnb service fees), then took the bus to Odessa (about 5 hours and 355 uah or $16 @ 22 uah/usd), then four weeks in Odessa, again at two different AirBnb apartments, and finally another bus to Varna in Bulgaria (about 30 hours and 970 uah or $44 @ 22 uah/usd, due to poor roads in Ukraine plus multiple time-consuming border crossings where everyone has to have their passport examined and stamped: exit Ukraine, enter and exit Moldova, enter and exit Romania, enter Bulgaria).
When I was in my teens, I sometimes dreamed of living in a walkable big city, in a nicely furnished and quiet apartment, spending my days listening to music, reading, daydreaming and walking around town, and occasional nights with a girlfriend. I lived this dream for a while in San Francisco, after retiring young, but it never satisfied me. These ten weeks in Kiev and Odessa were like a repeat of those years in San Francisco. Other times, I dreamed of being a homeless drifter, a hobo wandering down the road with his bindle bag over his shoulder. My lifestyle when hiking or bicycle touring, which does satisfy me, closely resembles this second dream.
All things considered, I wasn't entirely happy during my time in Ukraine, but I don't consider the trip a waste. I wanted to learn Russian before the trip and I still want to learn it, but I couldn't interrupt my Russian studies with a trip to Spain, because I was at the point where I still needed paper books for learning and carrying those paper books while hiking in Spain would have overloaded my pack. Also, visiting Ukraine motivated me to study Russian harder, and I needed that boost in motivation. The real mistake was not beginning my study of Russian sooner, like immediately after returning to the United States from Spain last year. Had I done that, I would have been past needing paper books by this current March, and so could have gone to Spain and hiked there from March to May, continuing my study of Russian using ebooks and audio recordings, which weigh nothing, then spent early summer in Ukraine and late summer and early autumn in Bulgaria, which is the ideal time for hiking there (mild temperatures, driest time of year, fewer ticks and mosquitoes, days neither too short nor too long). Regardless, now that the trip is over, I'm not sorry I took it. Future trips to Ukraine will likely be more enjoyable, same as the second time around for most things in life is more enjoyable to me now than the first time. Too much novelty too quickly has always exhausted me, but I am even less tolerant of novelty now that I am getting old.
Thu, 14 May 2015
Odessa to Varna bus ride finally over. Worst part was being assigned second from window seat of back row, worst seat possible, nothing to lean against, can't stretch out, can't stand easily either. I had no idea these buses fill up like this and hence require advance purchase of tickets to get a decent seat. Managed to get a few hours sleep. Alternative would be fly to Istanbul then take a bus to Burgas, but that would also be time-consuming, though not so bad as this bus trip from Odessa to Varna. Highways in Romania and Bulgaria vastly better than that pothole-infested highway in southwest Ukraine.
Exchanged remaining UAH at western union. Shady character at bus station offered a good rate, but I was suspicious he would give counterfeit bills or somehow shortchange me, and I can't protest in case of problems due to lack of language skills. Got some more money from an ATM. Bought MTEL prepaid voice/data service. MTEL is the oldest operator, and hence should have the best coverage of small towns, though probably the most expensive service. 0.21 lev/min voice, which I won't be doing much of given my lack of language skills. 0.40 lev/SMS. 20 lev for 500MB/month of data. I talked to several sales clerks while trying to get this service and they all spoke some English.
Checked into Astra Hotel, 40 lev for nice room with bath. Varna a very nice town with a beautiful park next to the black sea and nice beaches. I feel much more at home here than in either Kiev or Odessa, for some reason. Lots of signs dual-language Bulgarian/English. Rain forecast for tomorrow, so I'll probably stay a few days in town before starting my hike, even though I'm anxious to get going. Don't want my debut hike in Bulgaria to be spoiled by rain and mud.
Mon, 18 May 2015
Took the train from Varna to Daskotna, about 2 hours, arrived at 12:30. Carrying 5L water and 4 days food. Probably too much water, given the streams running across the trail. Reason for starting in Daskotna and walking east is this will allow me to stop in at Burgas, then take the train back to Daskotna again loaded up with food, since I have no idea as to resupply possibilities. My guidebook (Mountains of Bulgaria by Julian Perry, published 1995) doesn't give much information about resupply plus the guidebook was written 20 years ago, so what information it does give may be wrong, plus this is my first time in Bulgaria, so best to play it safe. Also, I want to visit Burgas anyway.
Trail east from Dasknota is a dirt road. Very few mosquitoes, I'm happy to note. Cut the day short to avoid injury, since almost a year since I last hiked with a pack. Camped in an overgrown field. Intuition said this field was tick heaven, but other possibilities just as bad. Used about 30% of the smartphone battery while recording with GaiaGPS for about 4 hours (of which 2:48 was moving, the remainder resting). GPX track I'm following is highly accurate, so only reason for recording is to measure hours of hiking per day.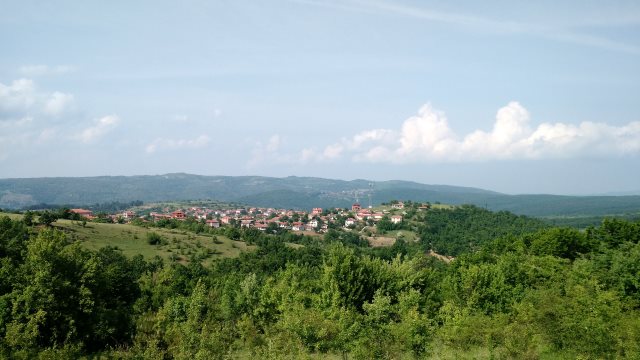 sniagovo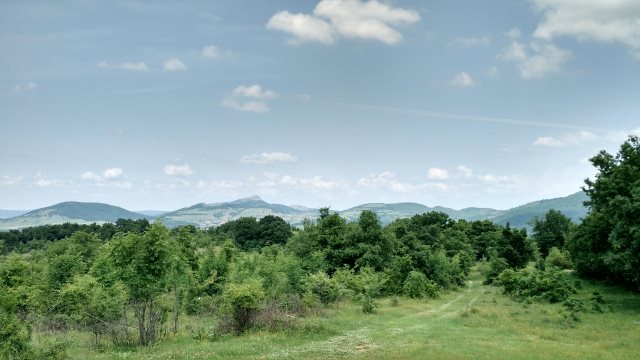 along the e3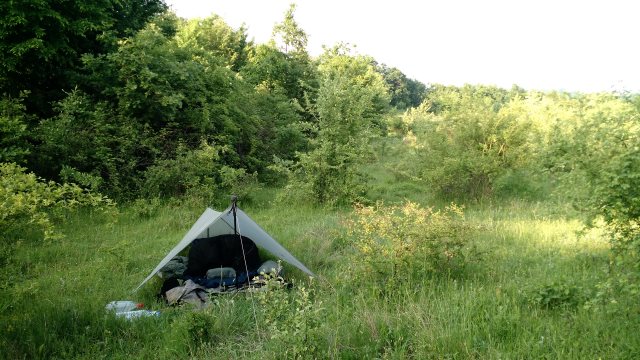 my first campsite in bulgaria
Tue, 19 May 2015
Slept well. Dew on tarp in morning. Police on motorcycle stopped me. Showed him my passport and hiking guide book, told him I camped when asked where I slept, he smiled and wished me good luck. I really need better Russian, since he spoke that but no English, French or Spanish. Quite a bit of road walking today. Quiet roads, but tiring to the feet plus boring. GPX track led me across a wheat field rather than around it, but otherwise seems good. Would be extremely difficult to follow this path without GPX track. Picked up bread, yogurt, chocolate bar, bananas, tomato at store in Kozichino, plus water from tap in yard at store. Woman at store spoke Russian and a little English. They had peanuts for sale, which I might use as a substitute for cheese, which I can see will be a problem in this heat. Also, I am losing my taste for cheese. Long day, 38km and 6:55 hours according to GaiaGPS. Camped on terrace in pine plantation. Clear skies and mild temps all day. Life feels wonderful again now that I am hiking and camping, no longer cooped up and doing nothing, feeling as if precious moments of life are rushing by and being wasted, time seems endless here on the trail.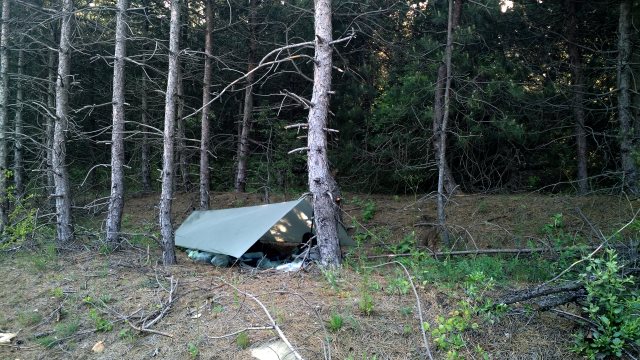 second camp
Wed, 20 May 2015
Turned off GPS recording to save battery, since drain is much higher with than without recording. Need to bring at least one more battery if I plan to record GPX tracks. Saw a canine and then a feline of some sort while hiking. The canine was either a big fox, small wolf or stray dog—probably a wolf. The feline looked like a European wild cat, bigger than a house cat, dark colored. Both ran off immediately upon sensing me. Todays hiking included about 5km of highway walking on the Burgas to Varna highway, which has very little shoulder. No water sources since Kozichino. Should have camped before Kozichino, so as to drink several liters in the morning then load up with 5L before setting out, thus allowing camping on the way to Emona. Because I camped after Kozichino, I ran out of water and so had to make a very long day of it, probably 9 hours of hiking. Picked up a few liters water at a hotel in Emona, where there is also a restaurant. Hotel was closed, unfortunately, because it would have been nice to clean up before going in to Burgas. Camped on the way to Elenite.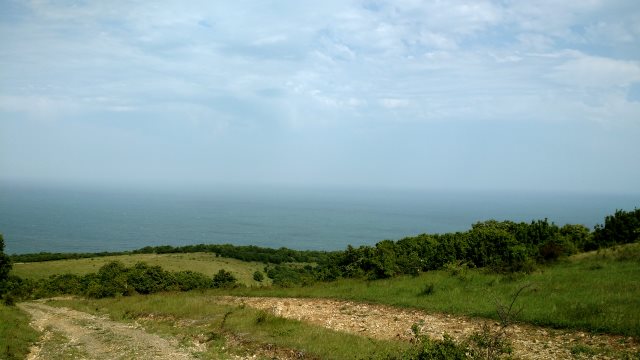 descending towards the black sea
Thu, 21 May 2015
Presumably there is a road from Emona to Elenite, but it isn't part of the GPX track nor is it shown on my map. Evidently, I took a wrong turn at a fork and eventually reached the sea coast. Decided to proceed along the rocky beach rather than backtracking, and so made it to Elenite that way. Continued on the highway to Sveti Vlas, where I caught a bus to Sunny Beach and then another to Burgas. Horrible conglomeration of resort hotels and condos along this stretch of coast from Elenite to Burgas, like Benidorm in Spain. Beach at elenite very narrow, maybe 20m of sand. Checked into the Central Hotel in Burgas (hotelcentralbourgas.com), 40 lev for a nice room with bath and mini-refrigerator. Receptionist at hotel only spoke Bulgarian, German and Russian, so we communicated in Russian. Stopped in at train station to investigate schedule for getting back to Daskotna, clerk only spoke Bulgarian and Russian. Then bought some fruit at a market, again the woman only spoke Bulgarian and Russian. Clearly, I made the right decision to learn Russian even if I only travel to Bulgaria in the future and never Ukraine or Russia.
This concludes my initial hike in Bulgaria. Everything working smoothly, including the smartphone with GaiaGPS as replacement for dedicated Garmin GPS. Need to update website with list of hotels for all towns/cities I might visit. Muscles are sore, but that is to be expected given the long days I've been hiking and over a year since I last hiked with a pack. I can't highly recommend this stretch between Daskotna and Emona, due to the lack of water between Kozichino and Emona, requiring long days of hiking, which I detest, and the large amount of road walking, but it isn't a bad walk either.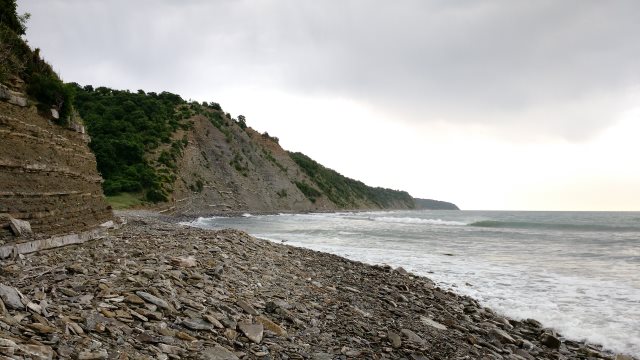 rock beach between Emona and Elenite
Fri, 22 May 2015
It appears my feet have grown a bit or tend to swell after long days (such as that 9 hour day Wednesday) or these boots are slightly smaller than normal, because the boots feel a bit tight, especially the right boot. Decided to switch to thin nylon dress socks, one pair of which I am carrying, to give myself more room inside. Bought a pair of compression socks at an orthopedic shoe store, plus various other socks. Compression socks feel as good as the nylon dress socks, and perhaps they will reduce swelling. Used Russian while shopping for socks. I always ask (in Russian, which is identical-sounding to Bulgarian for this question), "Do you speak English or Russian?" and the answer is almost always Russian only, though I suspect many of them speak a bit of English, since advertising by multinational corporations often has English words, tee-shirts people wear often have English wording, many public signs are Bulgarian/English, etc.
Sat, 23 May 2015
Decided to remain at the hotel until Monday. I really stressed my body during last week's hiking and need to recuperate. Tested the compression socks while walking around town. They seem okay. Mixed reviews of compression socks on the internet, mostly reviews by runners, some swear by them, others say they do nothing.
Mon, 25 May 2015
Took the 12:30 train to Daskotna. Carrying 7 x 550g bread, 3 x 200g cheese, 4 x 140g peanuts, 5L water. Plus 550g bread, 160g canned mackeral, 140g peanuts, large orange, 2L water in stomach. Met a British cyclist on a Thorn Raven Tour in the Burgas bus station. Talked gear for a while. He is doing a road tour starting in Crete, then up the Greek mainland, the European piece of Turkey, Bulgaria, Danube river trail and eventually back to Edinburgh where he lives. He was taking the train to skip what he thought would be a bad road stretch between Burgas and Varna. My impression is that all the paved roads here in Bulgaria are miserable for cyclists, and paved roads is all he can travel on given his narrow tires and the huge amount of weight he is carrying. In fact, his whole itinerary sounds horrible. Looked like a big pain lifting that bicycle and all its panniers into the train, then onto a bus (because the train service was out of service for a few km and we had to use a bus shuttle to get around this gap), then onto another train. The bus shuttle delayed things, so we didn't get to Daskotna until 16:30. Stopped and bought some yogurt in Vishna. Made an early camp a few km past Planinitsa, because it didn't appear there would be any more good campsites for many km after that, and I was feeling sick. Splitting headache when I lay down, probably from the yogurt curdling in my stomach due to the heat. Got up and vomited up the yogurt.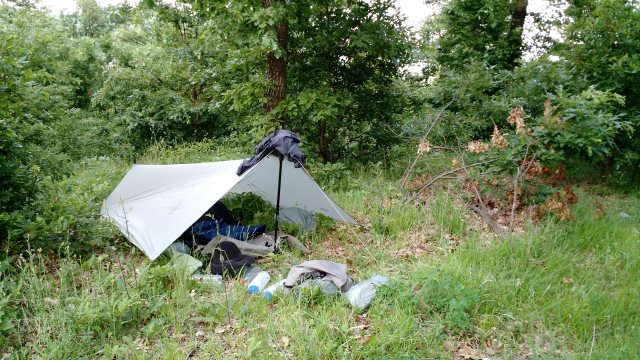 camp near planinitsa
Tue, 26 May 2015
Slept well, headache gone in morning. Feels good to be hiking again, though I enjoyed that little stay in Burgas. Spotted an adult tick on my leg while eating breakfast. Flicked it away, did a quick tick inspection but found nothing, packed up. I had my suspicions about this campsite being tick-ridden, but as noted in yesterday's journal entry, there didn't appear to be any alternative sites until several hours further on, and that was too much given my headache. Decided to toss the cheese I'm carrying. It is securely packaged in plastic, but it tends to melt during the heat of the day and I hate to think what an unholy mess it would make in my pack if that plastic ever broke. Will try to carry more dry-roasted peanuts, which are widely available here (grown in Bulgaria) or else just lose fat while hiking and gain it back during town stops.
Scary incident outside Rupcha. Three gypsy men and a boy, nasty-looking creatures all of them, caught up to me, one on horseback, the others in a horse cart, and started asking questions in Bulgarian. I told them I didn't understand and then they wanted to see my smartphone. I replied (in Russian, which is almost the same as Bulgarian for these simple sentences) that I couldn't speak Bulgarian and so how could I use a phone? They asked what it was and I said a map. Then they aggressively asked for money. I walked off. They could easily have overpowered and robbed and killed me. I put my hidden wallet down my pants as soon as they got a little ahead of me, just in case they did decide to rob me. They were apparently involved in wood cutting. They camp outside town in pastures in makeshift A-frame shelters of tree branches covered by tarps, as primitive as me. But some of them have cars in addition to their horses and carts. No wonder gypsies are hated and persecuted in eastern Europe, if these specimens I saw today are representative of the race. The wonder is they weren't exterminated at some point. Maybe they do some useful but dangerous and unpleasant work for very low wages, such as this wood-cutting.
Trail terribly overgrown a few hours west of Rupcha. Consolation is the gypsies very unlikely to follow me through this mess. Picked up some water at a piped spring. Camped on a flat spot. Very peaceful here in the forest. Huge numbers of sweet-sounding birds.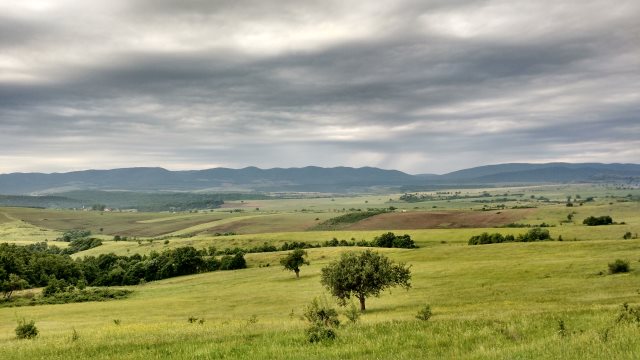 near rupcha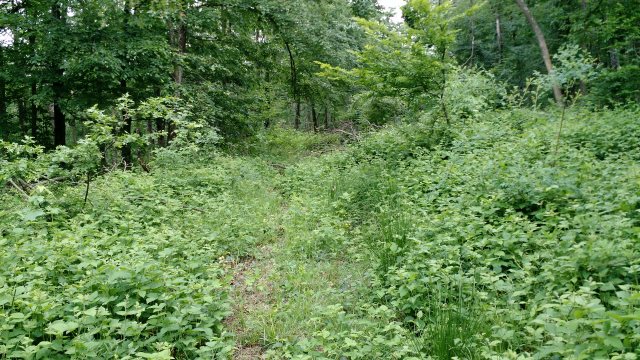 overgrown trail
Wed, 27 May 2015
Rained heavily starting late yesterday afternoon and much of the night, furious thunder as well. Everything dry under tarp, though splattered with mud. Clear skies in morning, mild temps, partly cloudy later, with occasional rumbling of thunder to the east. Talked to a forestry worker (ethnic Bulgarian, not one of those gypsies) where the E3 intersects the Shumen highway. He insisted the E3 runs along the forest road, and that is also where the waymarks on trees plus some metal signs show it running, though the GPX sticks to the highway. Decided to followed the forest road and record an updated GPX track. Road was muddy in places due to the recent rain, but the mud doesn't stick to the boots, so not a major problem. Adult tick crawling on leg at lunch, flicked it away, did an inspection, nothing. Waymarks eventually led me off the forest road and into the forest, where the trail became horribly overgrown. The waymarking continued to be good and was following a trail shown on the OpenCycleMap topo map, so there was no problem navigating. The problem rather was beating my way through all the brush and blowdowns. Also, because I was on a ridge, there weren't any water sources and I was sweating heavily due to the exertion of struggling through that brush and thus in danger of running out of water. Ran into a forest road eventually and followed that down to the Rish highway, which is where the GPX would have sent me. I realize now that this GPX is high quality and should be trusted, regardless of what the waymarks indicate.
Along the way to the highway, talked to another forest worker who spoke good English (ethnic Turk, who are as civilized as the ethnic Bulgarians), who assured me that there should be little ice in the high mountains by the time I reached them next week, since this was a low snow year. That allayed a concern I had, since my guidebook says the high Stara Planina mountains are not safe until end of June.
While taking a break along highway, noticed yet another adult tick on my leg, flicked it away. Then found a nymph tick bitten in on my shoulder during subsequent inspection. No telling if ticks on my head since I can't inspect there. This whole E3 east of Kotel is looking to be a fiasco: ticks everywhere, overgrown trails, alternative to official E3 is a lot of highway walking. Only thing missing is some humid heat like on Monday, but that will soon arrive, and worse than on Monday too.
Picked up some water at a piped spring along the highway, then camped on an abandoned forest road about 5km east of Tushovitsa. Based on guidebook, should have no problems getting to Kotel in two more days, which is exactly how much food I have left. Legs all scratched from thorns and itching from nettles. Wonder is I'm not covered by ticks, given all the high brush I was wading through. Spotted another adult tick on the bugbivy netting while I was inside. Killed it. Didn't notice any more on the netting though I looked every so often for several hours. Short but heavy rain again in evening, just after I set up tarp.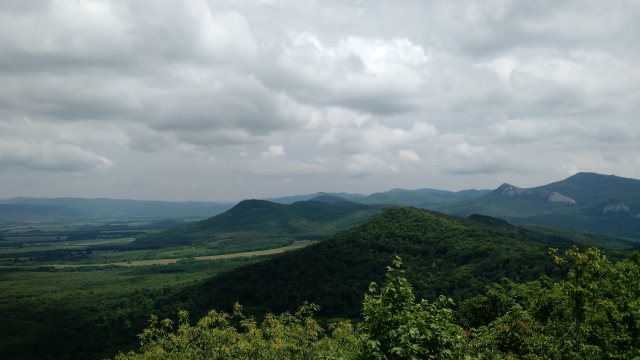 view from ridge
Thu, 28 May 2015
No further rain in the night. Second thoughts about this whole idea of staying in Europe during June/July. Alternative is two months city living, but the two months I spent in Kiev and Odessa showed I really don't like city life. Maybe those were the wrong cities? Maybe I just need to time to learn to like city life. Bought food (bread, orange, tomato, canned mackerel, chocolate) from well stocked store in Tushovitsa, picked up water from fountain there. Seems to be a lot of ethnic Turks in these mountain towns. They speak Bulgarian, but there are occasional signs in Turkish and mosques instead of churches. Shortly after Tushovitsa, the GPX left the highway for a dirt road, then eventually merged with the official E3, which follows a dirt road from here. Several piped springs along this forest road. Camped in the forest. Again, very peaceful.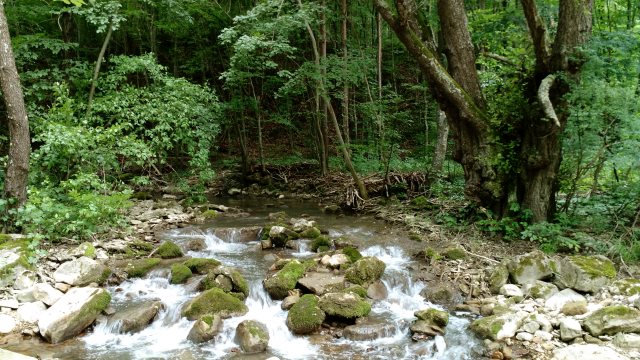 eleshnitsa reka (river)
Fri, 29 May 2015
Rained during night, hard at times, drizzling in morning. Found another adult tick crawling on me during rest break. Made it to Kotel. Two hotels had no vacancies. The second hotel directed me to a woman who rents out rooms (козурековата къща, 0889 346 527). 30 lev/night for a clean room with two single beds and bath with shower. Very few people speak English, most (like the landlady here) don't even speak Russian though we manage to communicate due to the similiarities between that language and Bulgarian. Did a full tick inspection, but difficult to inspect my head due to my hair. Thinking of cutting my hair very short.
Didn't use much battery during this 5 day hike from Daskotna, mainly because I was not recording GPX tracks but also because I kept the screen off as much as possible and kept the screen brightness low when it was on. Could easily go over a week on two batteries by being careful like this and not recording tracks. Then again, recording is useful, even if I don't need a new GPX track, since it shows how far I walked each day.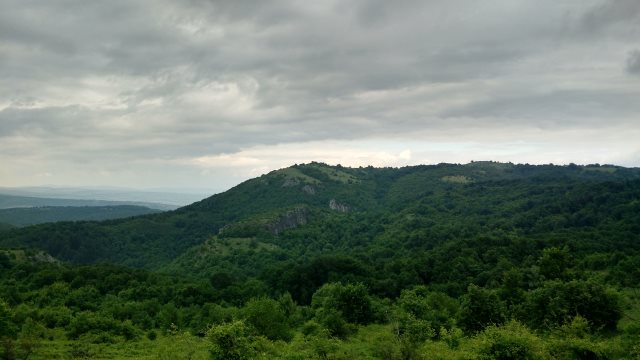 near kotel
Sat, 30 May 2015
Decided to throw in the towel on this Bulgarian hiking and take the bus to Burgas tomorrow. The next stage will require carrying four days of food, from what I can see from the guidebook. Yes the forests here are beautiful, but no more beautiful than those of the Appalachian trail (broad-leaf forests in both cases). I don't like the idea of hiking the Appalachian trail in May/June because of humid heat, ticks and long distances between town stops, and that is precisely what we have or soon will have here, so why am I doing this again? If I must hike in May/June and I can't be in Spain due to visa rules, I'd rather be hiking in the Sierras. Not sure what to do next. I'll think about my options when I get to Burgas. I had been feeling a backache for several days, which was certainly psychosomatic, because it started to diminish as soon as I made the decision to give up this hiking.
Sun, 31 May 2015 to Wed, 10 Jun 2015
I remained in Burgas for 10 days, then took the bus to Sofia and finally flew back to San Francisco, where I stayed with a friend for a few days before returning to Reno. My original airline ticket was scheduled to return from Athens in at the end of September, but I didn't want to be in Europe during July and August when everything is crowded unless I'm hiking in the mountains, and my enthusiasm for hiking has disappeared. Bicycle touring is so much more enjoyable. Reason I like hiking in Spain is because distances between towns are short, so I don't have to walk more than a few hours a day and I can resupply with fresh food and stay in hotels frequently. Whereas this Stara Planina traverse in Bulgaria is pure punishment: long distances between town stops with all that entails (long days of hiking, heavy pack due to all the food I have to carry, always stinking because I can't wash up in a hotel), ticks everywhere, humid heat in June, overgrown trails, on and on the negatives go. Bicyling here would be even worse, of course, due to the lack of shoulders on the highways and the mud on dirt roads from the frequent rain in May/June. My plan now is to spend July and August the same way as last year, bicycle touring the Lassen area.
The decision to return on June 10 was due to feeling stressed. Had I let myself rest up a bit before rescheduling, I probably would have delayed my return for another week or two, because those 10 days I spent in Burgas were very enjoyable and I probably could have enjoyed remaining there a bit longer. My days were all spent the same way. Wake up and study Russian for a while, then diddle on the internet, morning yoga, eat my big meal in the park, sunbathe for a few hours, sit in the sea park for a few more hours reading and people watching, snack of ice cream or fruit, back to my hotel or apartment (I used the Central Hotel again, then switched to a $20/night AirBnb apartment when the hotel had no vacancies). I've never thought of myself as a beach person, but I fell into the beach lifestyle very easily.