Aug-Oct 2015, Lassen / Modoc / Nevada Bicycle Tour
Planning
Refer to bicycling touring guides for Lassen National Forest, Modoc National Forest, Nevada Backcountry. The Nevada portion of this tour was in the northwest portion of Nevada.
Sun, 9 Aug 2015 (26 miles in 3:37 hours, starting odometer 12757)
Henness Pass ascent felt easy, even though eight months since I last pedaled a loaded bicycle uphill. Maybe the difficulty the first time, several years ago, was psychological or maybe my body has learned not to get out of shape. Went shirtless and hatless for forty minutes. Still have a light base tan from Bulgaria. Will darken it over the next week.
Felt sick after lying down, terrible headache. Hesitated to get up until it was dark, then finally got up and emptied both bowels and stomach. Vomited up a mess of peanuts and an orange from dinner. Managed to clean up properly despite darkness. Felt better afterwards.
Rained off and on during the night.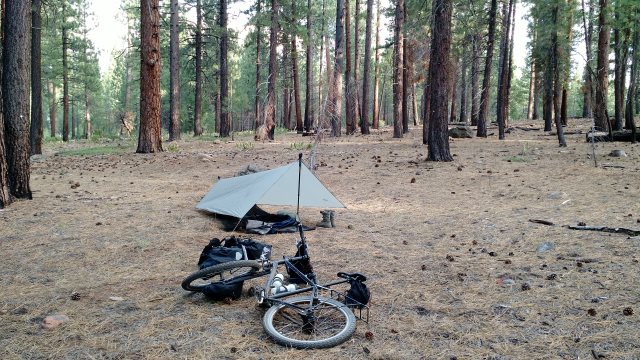 first night's camp
Mon, 10 Aug 2015 (35 miles in 3:06 hours)
Felt fine in the morning. A few mosquitoes in the morning cool but not troublesome.
Talked to one of those wretched road bicycle tourists in Loyalton. He'll be heading up highway 395 to Oregon, then all the way to the east coast. Came through the forest from Truckee on dirt roads, but the rest of his journey will be on noisy major highways. I was frazzled after a mere half-day on 395. This guy will be spending full days for over a month in conditions like that.
Road work on Beckwourth-Genesee road. Pilot car carried me two miles to my usual camping spot, hence mileage difference from last year.
Tue, 11 Aug 2015 (40 miles in 4:15 hours)
To avoid road work, took the Crocker Mountain road to Lake Davis, then the Beckwourth-Taylorsville road, then back tracked east to my usual campsite in Indian valley.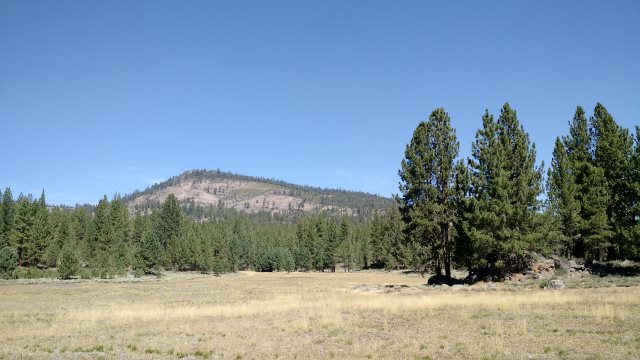 crocker meadows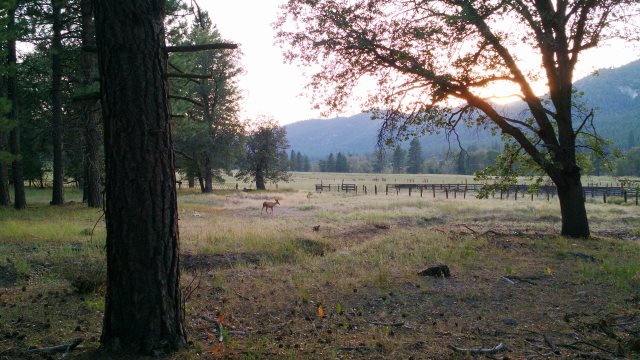 deer near camp at dusk
Wed, 12 Aug 2015 (27 miles in 4:06 hours)
Picked up water and charged phone at Taylorsville campground. Used route 28N32 to cross mountains to Westwood. Saw two black bears, one small then later a large one. Camped at usual spot. Experimented for first time listening to music outdoors.
Thu, 13 Aug 2015 (29 miles in 2:37 hours)
Picked up some snacks in Westwood. Faucet on in town park.
$56 + $5 tax at Seneca Motel in Chester. Ate too much, attempting to catch up from undereating past few days. Noisy neighbors. Lots of discomfort in this traveling lifestyle of mine, but overall it makes me very happy, something that cannot be said of other lifestyles I've tried and/or imagined. Not everyone finds happiness in life. Indeed, I was worried when I was young that might be my fate, so I'm fortunate in how things turned out. From Travels in the Sahara by James Richardson: "...the more a man moves, and roams, and rambles, the more locomotive he is—the less he likes repose...". Author is excited by prospect of leaving the relative comfort of the oasis town in which he was currently residing for another difficult and dangerous trek across the desert wastes.
Fri, 14 Aug 2015 (27 miles in 3:58 hours)
Tomorrow start of bow hunting season, at least in the area near Chester. Lots of hunters scouting in pickups and ATVs and camped near Swain mountain.
Sat, 15 Aug 2015 (22 miles in 2:20 hours)
Sun, 16 Aug 2015 (26 miles in 3:26 hours)
Outside faucets at Bogard rest area off, but drinking fountain and sink faucets in restrooms on. Could also try Bogard work center across the highway. I still had plenty in my bladders (carried about 20L from Chester).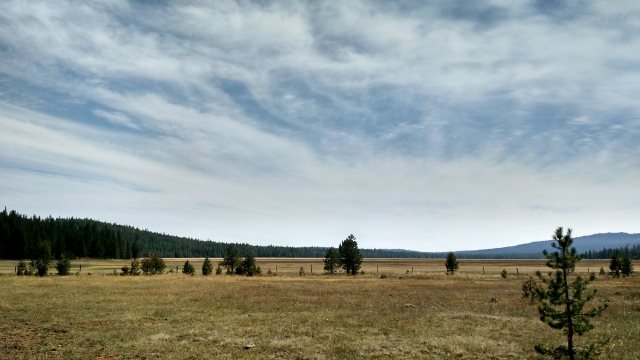 clover valley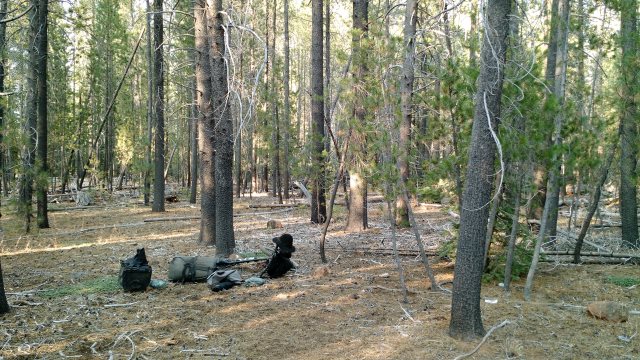 preparing camp
Mon, 17 Aug 2015 (31 miles in 2:31 hours)
Faucet on at Goumaz campground.
Bought three 2oz bottles Epic Ride silicone chain lube at Walmart. Need to calculate how long these bottles last. Lubed the chain using old bottle, which I then discarded, so all three bottles full as of leaving Susanville tomorrow.
$54+$5 tax for room at River Inn in Susanville. Bad room (209, 210 also likely bad, 211 maybe bad), at front of building and hence street noise.
Tue, 18 Aug 2015 (17 miles in 2:12 hours)
20L water, 6 lbs bread, 2 lbs cheese: enough to hang out in the forest four days.
Wed, 19 Aug 2015 (17 miles in 2:10 hours)
Thu, 20 Aug 2015 (24 miles in 2:41 hours)
Fri, 21 Aug 2015 (30 miles in 3:10 hours)
Less than two weeks since I started and feels like I've been out here forever. This is the single best reason for this self-propelled travel lifestyle: to gain back a sense of time passing slowly. All the discomforts—filthy clothes, bothered by ants when I sit down for lunch, monotonous diet—more than compensated for by the slow passage of time.
Herd of antelope crossed road close in front of me, but unable to get smartphone out in time. Not taking many photos, I've noticed. Plenty of photos in previous trip reports of this area. Haven't seen any cattle this year, maybe they cancelled grazing rights in the national forest due to drought.
Sat, 22 Aug 2015 (28 miles in 2:22 hours)
One of the bottles of lube leaking. Discovered the mess upon stopping to clean and lube chain in park in Susanville. (Chain desperately needed lubing, horrible grinding noises starting yesterday, prompting paranoid thoughts in my mind about shot Rohloff bearings...) I believe problem was cap not screwed tight, rather than defect in caps or bottles. Good thing bottles were all in saddlebag and lube was silicone rather than something stinky like Tri-Flow. Washed mess up in sink at motel later, using citrus degreaser and shop towels from Walmart.
$54+$5 tax for room at River Inn, after AARP discount. Much nicer room than last time. Apple Inn had sign outside advertising $50, not sure if with or without tax. Office attendant at Budget Host quoted $60 after tax, no AARP discount. Both these motels much farther from Grocery Outlet than River Inn.
Sun, 23 Aug 2015 (23 miles in 3:14 hours)
Lubed the chain without cleaning first, as it was beginning to grind. Silicone lube doesn't attract much dirt, but it doesn't last long either.
Mon, 24 Aug 2015 (32 miles in 3:49 hours)
Probably for the best that I waited an extra week to start trip. So much more pleasant when the heat begins to recede and not so many hours of sunlight.
Tue, 25 Aug 2015 (18 miles in 1:47 hours)
Camped near Bainbridge reservoir. Small herd of cattle there. First cattle I've seen in Lassen forest this trip.
Wed, 26 Aug 2015 (24 miles in 2:17 hours)
$64+$6 tax at Shasta Pines motel in Burney. Office manager quoted $72 initially, but lowered when I pointed out that website listed $64.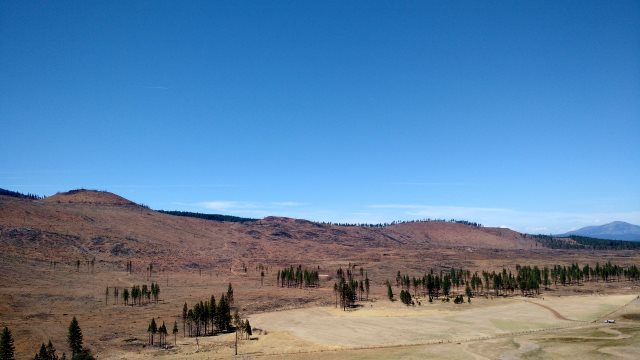 devastation after last year's thousand lakes fire
Thu, 27 Aug 2015 (23 miles in 3:29 hours)
Camped again near Bainbridge reservoir. Slight headache from pedaling uphill in heat. Temperatures should be dropping soon.
Fri, 28 Aug 2015 (21 miles in 3:01 hours)
Finished lube bottle that was less than half full after leakage incident of 22 Aug, so full bottle would last at least 15 days in Lassen area, more in areas with less dust. So I should try to get another bottle before leaving Susanville for last time, since no bicycle shops in Modoc county or northwest Nevada. In other words, total of three 2 oz bottles for the remaining 6 weeks of this trip. Though realistically, lubing should be less frequent once I get out of this volcanic dirt.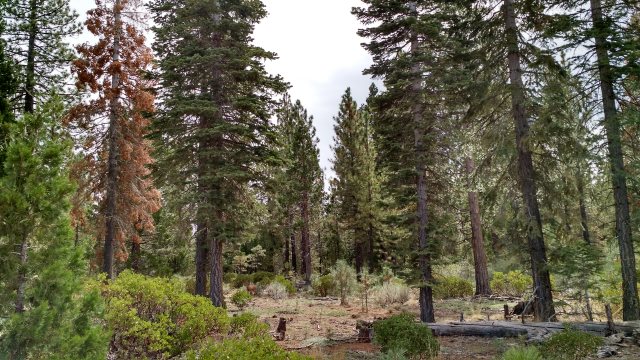 fawn in center of photo
Sat, 29 Aug 2015 (26 miles in 3:17 hours)
Rained some last night. Cool all day with strong wind from south.
I'm getting very good with Swype input on this smartphone. As with touch typing on a keyboard, it takes time, as in years for most people, before the interface becomes thoroughly natural and efficient. But definitely worth the effort for both these input systems. For those of us who find speaking tiresome, efficient finger-based input will always be superior to voice input.
Sun, 30 Aug 2015 (30 miles in 2:35 hours)
$54+$5 tax at River Inn in Susanville. Made reservation for next Saturday, since that will be Labor Day weekend. Bought two 2oz bottles of lube at Walmart, so now I have three full and one partially full 2oz bottles. Should be enough for remainder of trip.
Mon, 31 Aug 2015 (27 miles in 3:20 hours)
Camped two miles east of Swain mountain camping area. Lots of tiny mosquitoes present even though several hours until sundown. Slow-moving and so few able to bite in, but still annoying. Swain mountain area is marshy, but dry where I'm camped. No mosquitoes when I camped here a few weeks back, but it was hot then. Maybe the mild temps allowed them to come out in the day, rather than only at dusk and dawn.
Tue, 01 Sep 2015 (28 miles in 2:58 hours)
Mosquitoes gone in the morning. $56+$5 tax at Seneca Motel in Chester, which was mostly empty and hence quiet. Gorged on a plate of chocolate brownies, first real blowout of this trip.
Wed, 02 Sep 2015 (26 miles in 3:47 hours)
Chain was filthy with dirt, so cleaned it before leaving motel. So much gunk that I also wiped with shop towels from the repair kit. Then applied a light layer of lube then wiped again with shop towel. Two hours later, chain filthy again from Lassen dust and again making grinding noises. Maybe chain, sprocket and chainwheel are wearing at different rates. Not sure what to do.
Thu, 03 Sep 2015 (18 miles in 2:19 hours)
Lubed the chain yet again, without cleaning first, and the grinding went away. Maybe the solution is thus lubing after cleaning at motel stops, daily lubing without cleaning otherwise.
I'm rereading Dostoyevsky's Demons (Бесы) in English, since the Russian is still too difficult for me. I previously read this novel as a teenager, in an older and inferior translation. What a distance between gossipy nineteenth century Russian provincial society and this solitary existence of mine, wandering in the woods, seldom speaking to or even seeing another human being! Today I saw no one, yesterday I passed a few trucks with men inside but spoke to no one, the day before that I had trivial exchanges with the motel owner and a grocery store cashier, and so on. Mostly just me and the trees and the animals. I am happy living this way, much happier than with the various forms of social existence I experimented with over the years, but still, I sometimes have doubts. Maybe I just never found the right type of society. Humans are a social species after all, we should be happiest as part of a group, right?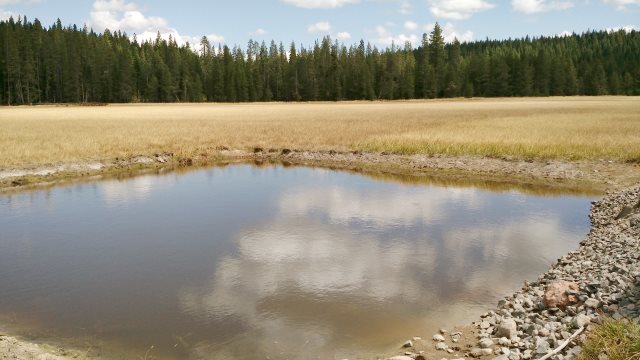 norwell lake
Fri, 04 Sep 2015 (11 miles in 1:30 hours)
Cool temps all day. Had to put on sweater when sitting in shade in late afternoon. Thinking of staying in Lassen area another week or two, versus going to Modoc. Forests here so peaceful, and I'm happy here, so why leave?
Sat, 05 Sep 2015 (29 miles in 2:30 hours)
Woke up with a splitting headache. Took me a while to figure out the cause: namely, some horrible-smelling fluid that leaked from the fluid-filled compass and onto the neck purse. Threw compass away and washed neck purse when I got to Susanville, but some smell remains. Should evaporate outdoors eventually. Until that happens, I'll avoid sleeping with the neck purse near my head.
$60+$6 tax at River Inn in Susanville (higher rate because Labor Day weekend).
Cleaned and lubed chain. Bottle of lube finished, but notes indicate previous bottle empty on Aug 28, so bottles only lasting about a week due to lubing the chain daily to stop the grinding noises. Bought another bottle at Walmart, giving me four full 2oz bottles as of today. Also bought a big bottle of citrus chain cleaner and used that to fill two 4oz Nalgene bottles for my saddlebag. Originally, I had just one such 4oz bottle, but seeing how much cleaning of the chain I'm doing, I decided to up my capacity, using a bottle from the hiking gear repair kit. (Items previously in this bottle redistributed elsewhere in the repair kit.) Two 4oz bottles better than one 8oz bottle: only lose half the supply in case of leaks or accidentally knocking open bottle over; 4oz is my standard Nalgene bottle size, so possibility for replacing broken/lost essential bottle (shampoo, chain cleaner) with non-essential bottle (repair kit items).
Put a chlorine dioxide tablet in each water bottle and bladder. First time I've done so on this trip, and I've been out for about four weeks, so water containers are overdue for cleaning.
Sun, 06 Sep 2015 (27 miles in 3:22 hours)
Strap tore on one of the panniers, quickly repaired in the field. Got rid of remaining stink from neck purse by letting it sit in sun for an hour.
Forecast is for warmer temps this week. I want two weeks in Nevada, plus I'll need a week passing through Modoc to get to Nevada. But the rest of this trip I'll stay in the Lassen area. Heading for Burney right now.
Broke screw cap on chain lube bottle due to screwing too tight (so as to prevent a leak like what happened a few weeks back). Good thing I discovered this new thing to go wrong when it won't be a problem (three more bottles in saddlebag plus I'll be returning to Susanville next week and so can buy another bottle to replace the one that broke). Incident shows why always best to go with multiple small bottles rather than one big bottle, whether we are talking about chain lube bottles, chain cleaner bottles, water bottles or bladders, etc.
Mon, 07 Sep 2015 (26 miles in 2:59 hours)
Riding under three hours and with nothing else to occupy my time, I still feel no surplus of time here in the forest, though at least I don't feel pressed for time the way I do during town stops or when stationary back in Reno. Travel awakens senses dulled by routine and non-stop electronic simulation, which is the likely cause of this perception of time passing too quickly. Time ultimately is everything, life boils down to the hours that compose life, to let those hours pass too quickly is to throw life away. Suicide paradoxically would be better than letting life slip away unconsciously: nothing awakens the senses like awareness of imminent death, every second is savored when we know there won't be many more seconds.
Several hours in the evening listening to music on the smartphone. My existing collection of jazz is excellent, but I need more classical.
Tue, 08 Sep 2015 (27 miles in 2:29 hours)
Slept poorly. Woke up in middle of night because of scratching sounds near my head. Thought it was chipmunk chewing hat chincord or boots for salt or maybe trying to get inside panniers because of food smells. Sound stopped whenever I lifted my head to investigate, so took several hours to discover cause. Namely, large beetle-like insect trapped under and trying to crawl out from under rack bag. Crushed insect with stick and then threw it far from the tarp for good measure. Used flashlight while investigating. Good reason to add flashlight back to hiking packing list. Smartphone not a viable substitute because can't be held in mouth like flashlight, so as to leave both hands free, plus smartphone uses up battery quickly when used as flashlight. Also, smartphone turned off at night to conserve battery and takes about a minute to turn back on, whereas flashlight quick to deploy.
Wed, 09 Sep 2015 (24 miles in 2:16 hours)
$74+$7 tax at Shasta Pines motel in Burney. Higher rate than last time because they only had double queen room available. Gave me a $5 discount off website rate because I was alone.
Temperatures high (95°F in Susanville) through Saturday, according to Accuweather forecast. Still no big fires in the Lassen area. Everywhere else in western United States, forest fire season worst in recorded history.
I'm convinced global warming will match worst predictions (though hopefully falling short of truly catastrophic scenario whereby an oceanic methane burp wipes out humanity altogether): almost complete melting of Greenland ice sheet; sea levels several meters higher; world temperatures 6°C higher on average (more than 6°C higher on average at far northern latitudes); tropics uninhabitable for most part; mass migrations; famines; wars involving nuclear or biological or other weapons of mass destruction; massive population losses. Indian subcontinent and Muslim belt will be hit worst. United States, Canada, Russia should all survive nicely, though with major disruptions along the way, leading to extermination of lower classes. Only well-disciplined Japanese will make orderly adjustment: depopulating gracefully, with survivors moving north and into the mountains to escape the heat. Hopefully all this will happen after I'm gone and I can enjoy the remaining years of my life living as I am now, riding my bicycle back and forth in the forest and desert here in the United States part of the year, flying to and from Europe (thereby doing my part to contribute to global warming) and hiking town to town there the rest of the year. But I should probably prepare for the case where global warming makes this lifestyle untenable. Not sure exactly how to prepare, however. (I'm also still concerned about bioterrorism being a problem at some point, and need some way to prepare for that as well.)
Thu, 10 Sep 2015 (23 miles in 3:19 hours)
Fri, 11 Sep 2015 (21 miles in 2:56 hours)
Continuing to clean and lube chain daily, but grinding noises resume within two hours of riding. Think I'm going to replace chain when I get back to Reno. Maybe replace sprocket too, using a spare socket I have lying around, then go back to original method of frequently changing chains. Unlikely that chainwheel, sprocket and chain will wear at same rate, and once they are out of sync, grinding inevitable. Maybe eventually switch to 19T Thorn sprocket and 40T Thorn aluminum chainwheel, perhaps these will wear at similar rates. Current chainwheel is 36T Surly steel, which likely wears slower than 40T aluminum (fewer teeth implies faster wear but this factor offset by hardness of steel versus aluminum), and sprocket is 17T, which definitely wears faster than 19T.
Sat, 12 Sep 2015 (26 miles in 2:35 hours)
Partly cloudy, heat not so bad today, slight drizzle in afternoon. Saw no one today or yesterday, other than usual traffic when crossing highway 44. Nice to have forest to myself, though it makes me wonder, am I really that different from other people, that no one else likes what I like? Heard a bear sniffling around in the night. Didn't come close, so I didn't bother roaring at it.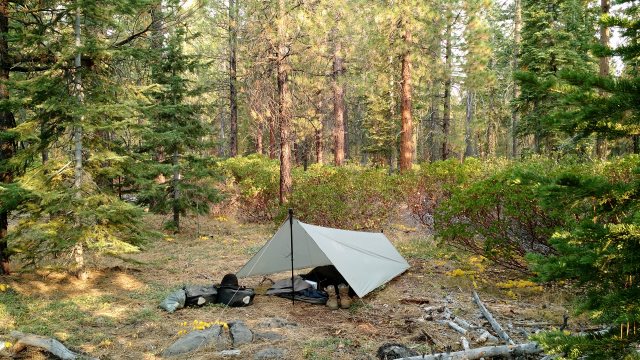 campsite in morning
Sun, 13 Sep 2015 (29 miles in 2:17 hours)
Probably the happiest souls who ever existed were unambitious types who always did the minimum possible in the way of work, avoided political involvement and otherwise did their best to keep a low profile, had little impact on history, never wrote anything. Which implies that all the books teaching wisdom, or the art of happiness, have been written by non-experts: "Those who write don't know, those who know don't write."
$54+$5 tax at River Inn in Susanville.
Bought another bottle of chain lube to replace the one that broke. I'm getting the hang of cleaning the chain quickly, using just a little chain cleaner and water, plus a paper towel that lasts maybe three uses (dirty towel stored in plastic bag inside saddlebag, I don't litter in my beloved forest even if other people do so). Lubing also quick. By cleaning and lubing frequently, I should be able to slow wear, another way to avoid this mismatch between chain, sprocket and chainwheel, which is the most likely cause of the grinding noise. Another possibility is that the lube I'm using is no good: White Lightning Epic Ride, a light silicone-based lube. However, I've been using that lube for years without problems, so unless they changed the formulation recently, it doesn't make sense that the lube is to blame.
Mon, 14 Sep 2015 (0 miles in 0 hours)
My plan as of yesterday was to visit Chester one last time, then return to Susanville, then head north to Modoc, but this morning I decided to take a rest day, since I've done that planned tour several times already and it is getting boring plus there is rain forecast for today. Regretted the decision to stay over soon after paying for the extra day. Being on the move constantly can be tiring, but at least it makes me feel alive. Lots of smoke in the air from fires to the south. First time heavy smoke in the air for this trip. $54+$5 tax at River Inn.
Tue, 15 Sep 2015 (39 miles in 4:49 hours)
Smoke from forest fires all gone. Maybe it rained on the fires. Temperatures much lower, cloudy sky, wind from southwest.
Bought a large bottle of citrus cleaner at Walmart. Filled one of the 4oz bottles in the saddlebag (the other was full) and also one of the 600ml bottles carried on the bicycle frame which is normally used for water. Hardware store in Alturas had citrus cleaner last year, but I don't want surprises. Temperatures are low and I'll make it to Alturas in four days at most, plus I'll probably stop in at the Calfire station and can add water there, so no problem using part of my water carrying capacity for chain cleaner. Chain cleaner will leave a taste in the bottle, though no worse than the existing plastic taste. Also, I only use the water in those bottles for washing. Maybe add a third water bottle, under the down tube, and use that for chain cleaner. 600ml is almost 5 of those 4oz bottles, or probably enough for at least a month of daily chain cleaning, so carrying that much would reduce resupply hassles. Then again, citrus cleaner is widely available in hardware and auto parts stores and I don't want to weigh the bike down more than it is already.
Wed, 16 Sep 2015 (42 miles in 4:53 hours)
Cool, cloudy and windy (southwest tail wind) all day. Asked about roads at Calfire station but they didn't know. The shortcut running between South Grasshopper road and Termo-Grasshopper road is overgrown and difficult for pickups due to running on slope near fence, and hence unlikely to be maintained in the future. All 4WD roads shown on the Modoc forest service map east of Whitinger Mtn leading north from Termo-Grasshopper road into mountains blocked by locked gates, so I'll be forced onto Hwy 139.
Probably the best option would be continue on South Grasshopper road to Dry Valley Gap, then north on West Side road, Brockman road, Williams road, then west on Ash Valley road. That was actually my original plan, but then I decided to test those 4WD roads. Lots of sweating on ascents during warm weather, so lots of drinking water needed. I carried enough water from Susanville to get me to Alturas. It is also possible to get water at Calfire station, North Eagle Lake campground and Ash or Hilton creeks (lots of cattle in these mountains, so water will need treatment for most people).
Rohloff external gear mechanism box came unscrewed while pushing through the sagebrush along that overgrown shortcut road. Maybe the sagebrush branches hit the screw in such a way as to turn it counter-clockwise. Need to clean and grease the box when I get back to Reno, since it got full of sagebrush crud when loose.
Camped in the sagebrush along Termo-Grasshopper road, just in time to shelter myself from cold late afternoon rain.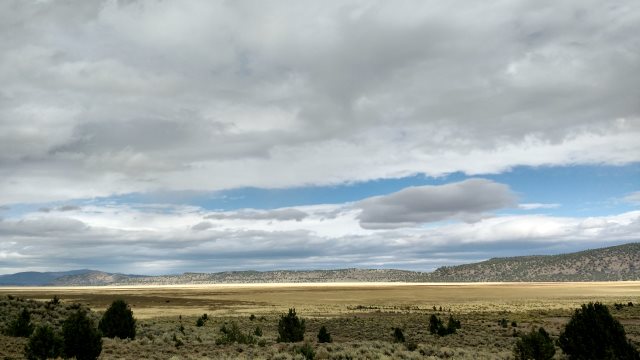 grasshopper valley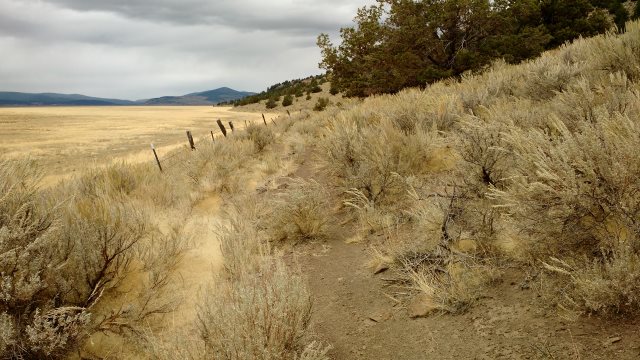 grasshopper valley shortcut road
Thu, 17 Sep 2015 (33 miles in 4:32 hours)
Camping possible on route 37N29 just off Hwy 139, before ascent into mountains begins, so that could be a good second night camp coming out of Susanville, assuming four or five hours riding per day and not much wind. Alternatively, ascent is about 45 minutes by 5% grade (about 800 feet in 3 miles), plenty of campsites at top.
From 37N29, unlabeled dirt road north to 37N11, then 38N04, 39N08, 39N50, camping at Knox flat, same as last year. Tired due to lots of ascents.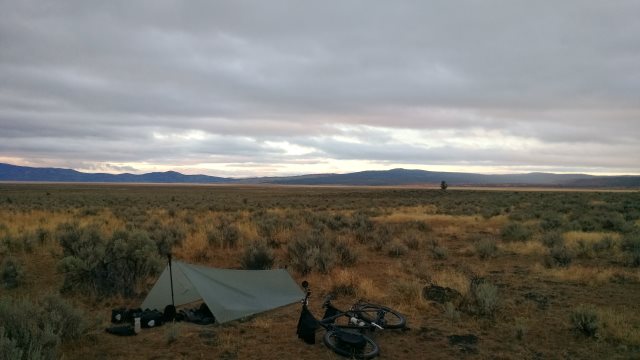 camp at dawn
Fri, 18 Sep 2015 (38 miles in 4:23 hours)
Frost on tarp in morning, but no ice in bottles.
Last year I followed the main California Pines road all the way to Calpine, but that was long and tiring, so this year I decided to see if I could find an alternate route to Alturas. In particular, the route passing by Graven Reservoir seemed promising. First I tried following Hilton Creek road, but that road has been abandoned. Likewise for several other roads shown on the Garmin maps though not shown on the the Navteq or Open Mapping Project maps. Main problem for bicycles with respect to abandoned roads is blowdowns, or fallen trees knocked down by winter storms. The blowdown shown in the photo below was not difficult to pass, but it is possible to have accumulations of ten fallen trees jumbled together, such that it would be impossible to pass with a bicycle, or there might be hundreds of blowdowns in a single mile, making progress very slow. Following abandoned roads for any significant distance, and especially downhill, is thus unwise for bicyclists, since blowdowns may eventually require backtracking. (Blowdowns can also make progress very slow for hikers, but they almost never stop hikers altogether.)
Eventually I found a workable route down to Graven Reservoir. Follow main California Pines road for five miles or so to Canyon Creek road, follow that a mile then fork right, heading uphill, onto South Canyon road. About a mile later, fork left, then fork right shortly thereafter and follow that road two miles to Graven Reservoir. South Canyon road to Graven Reservoir is rugged, but not overgrown, so unlikely for there to ever be more than a few blowdowns (and probably only in winter or early spring, before someone goes through to clear them). No gates even though road does pass through private land in places, according to forest service map. Final stretch of today's route was about 7 miles on Westside road, which is paved but has very little traffic and open sightlines. Definitely less time and distance on paved roads getting from mountains to Alturas than last year's route, though more getting from Susanville to mountains.
Last year it took 52 miles and 4:49 hours to get from Knox flat to Alturas via the main paved road through California Pines, so the route I followed today is shorter for both time and distance. Time would have been well under 4 hours today if I hadn't wasted so much time investigating those abandoned roads and then backtracking.
Chain no longer requires such frequent cleaning and lubing. Which suggests the problem is that Lassen volcanic dust. That would explain why no one else is bicycling in those forests. If that dust causes problems with an internal gear hub like I'm using, it would play absolute havoc with derailleurs.
$50+$5 tax at Hacienda motel in Alturas. Paid in advance for another night Tuesday, since there is national finals of sheepdog competition in town next week. Also made reservation for Cedarville for Thursday. Gorged on sugary junk food (cookies, chocolate-covered raisins, ice cream) and felt sick afterwards.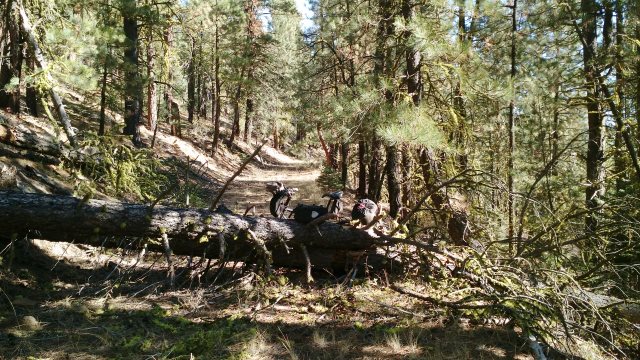 blowdown on abandoned hilton creek road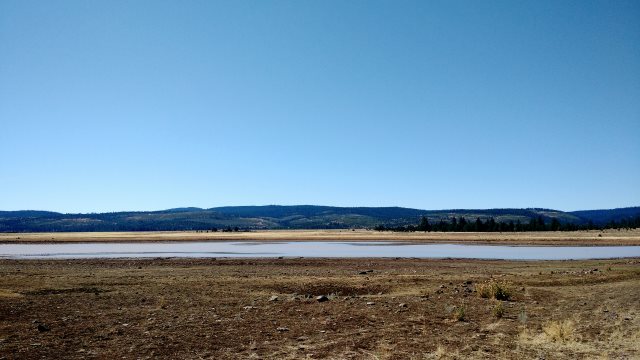 graven reservoir
Sat, 19 Sep 2015 (22 miles in 2:51 hours)
Camped at Layton Spring. Pleasant weather: temps in 80s, sunny, little wind. Adjusted eccentric bottom bracket by a notch to take up slack in chain. Also cleaned and lubed chain, though it wasn't making grinding noises. Might as well use all that chain cleaner and lube I'm carrying. Skipped eating dry-roasted peanuts, which normally makes up about 1000 kcal/day of my trail diet while bicycle touring, to make up for overeating yesterday.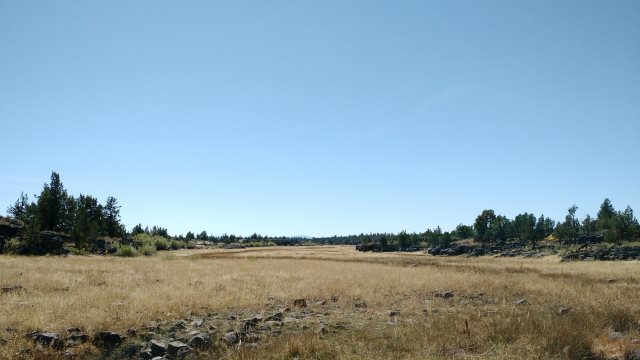 logan slough
Sun, 20 Sep 2015 (13 miles in 3:29 hours)
Route 47N10 running north from Layton Spring is very rugged. Doesn't appear motor vehicles have used this road in many years, though they must have gone through not too many years ago, since the road runs right next to a barbed wire fence in good condition. Had to push almost entire distance, or about six miles, to junction with 46N05, which is also rugged, though rideable most of the way to Dorris Brothers reservoir, with signs of recent use on that road by ATVs or trucks. Puddles in many places, so evidently there was considerable rain here last week. Made the mistake of pushing through one of those puddles—Modoc mud is as sticky as mud can be. Turned north at junction with 46N12, which is also rugged but rideable.
Camped about a mile north of the reservoir dam, right in the middle of the road, because everywhere else is strewn with volcanic rocks. I'm generally very reluctant to camp in roads that aren't abandoned, but this is a special case. Devils Garden is truly an apt name for this part of the Modoc forest, because of all those rocks. Though the road I camped on has been used by motor vehicles not too long ago, it doesn't appear frequently used. Very unlikely to have someone come through on a Sunday night or early Monday morning. I nevertheless dragged some juniper branches into the road at both ends of the campsite just in case. Was also careful to pick a spot that will be shaded tomorrow morning, so I won't feel chased out of camp too early by the sun.
Went shirtless both today and yesterday, and have been going shirtless much of the time for weeks now. Very convenient to have a good base tan, so I don't have to worry about burning. I still wear my hat most of the time when going shirtless.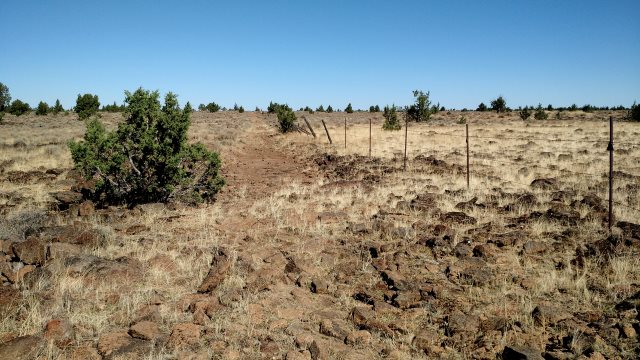 rugged route 47N10

camping in road, with juniper branches blocking road at either ends of camp
Mon, 21 Sep 2015 (19 miles in 2:31 hours)
46N12 becomes very rugged shortly after where I camped, so I had to push again. Saw a small bobcat running into the juniper forest. As the forest gets denser, there start to appear spots amidst the trees which are mostly dirt rather than rock, and thus would be suitable for camping. So camping on the road would not have been necessary yesterday, had I ridden another two miles. Rancher on ATV passed me while I was pushing. Looking for stray cows he said. Turned west on 45N01, which is easy riding. Forest transitions from junipers to pines as road ascends, with lots of good camp spots. Turned south on the main road (route 73), then east on 45N06 and camped at Layton Spring.
I won't be repeating this loop of yesterday and today in the future, but I'm glad to have done it because of those potential campsites I spotted today in the Timbered Mountain area. Besides Layton Spring, those are the only decent campsites I've found so far in this Devils Garden area of the Modoc forest.
Tue, 22 Sep 2015 (24 miles in 2:24 hours)
Talked to a woman forest service worker on an ATV. Recommended Coyote spring area, west of route 73, as potential good camping area. 45N37 better than 45N18. 45N09Y and then 45N10 eventually runs into gravel road that runs south through Indian reservation to Alturas, though possible locked gates. 43N03 bad. 47N10 is worse north of where I turned south onto 46N05. Should have picked her brain for more info now that I think about it.
Someone at the local elementary school noticed me sitting in the bleachers at the rodeo grounds next door, preparing my sandwiches, and called police about "suspicious person near school". Policeman was very polite and left me alone after I explained my presence. When people have nothing to worry about (very little crime in a small town like this, I'm sure, other than the usual domestic disputes among locals) their underutilized mental energies are put to work inventing things to worry about: "Nature abhors a vacuum."
$50+$5 tax at Hacienda motel in Alturas. Loaded up with 10 days food, to avoid relying on market in Cedarville, which was out of whole-wheat bread when I was there last year.
One of the newsletters I follow is the "Farnum Street Blog". This week's email included a discussion of winner's versus loser's games. I was already familiar with those terms as applied to investing (the underlying concept is the rationale for index funds), but it hasn't occurred to me that life in general is a loser's game. A winner's game is one between high-skill experts, with mistakes rare and small, so the optimal strategy is one of aggressiveness: take advantage of even the slightest mistake by the opponent, since there will be few such mistakes, perhaps try some fancy moves to surprise the opponent (the risk is that the opponent is prepared for the surprise, so that it backfires on us, because fanciness implies temporary weakness). Gaining even a slight advantage in a winner's game is hard work. A loser's game is one between two low-skill players or where we are high-skill but the opponent is low-skill. Mistakes by the opponent will be frequent and large, so the optimal strategy is one of caution: minimize our own mistakes, wait for the opponent to make big mistakes that are easy to take advantage of, ignore small mistakes by the opponent because trying to take advantage of these may cause us to make a mistake of our own, don't try anything fancy. Hard work is unnecessary and counter-productive in loser's games. The opponent can be relied upon to eventually shoot themselves in the foot, so to speak. If we can merely avoid doing likewise, we win by default.
Life in general is mostly a loser's game. For example, assuming we were born healthy, all it takes to be healthier than average by middle age is to avoid dangerous activities and show some self-discipline with respect to diet and physical exercise, while relying on the average person to ruin their health somehow. At least in rich countries, all we have to do to be wealthier than average is earn an average salary, save modestly, and avoid being foolish with regards to money, while relying on the average person to make some truly colossal financial blunders. To win political and other popularity contests, it is often sufficient to simply avoid offending people, while relying on our opponents to do just that. At the highest levels of competition, the nature of the game switches from loser's to winner's, and so optimal strategy also switches, from caution to aggressiveness. But it is an error to switch too soon. Most of the time, all that is necessary to win in life is to avoid big mistakes. (We don't have to regard all of life as a competition, of course.)
Chain making grinding noises again. Cleaned and lubed it. Frontier motel appears closed down. Confirmed reservation in Cedarville.
Wed, 23 Sep 2015 (23 miles in 3:22 hours)
Weather mild and sunny, with forecast for more of the same for next ten days. Attachment strap tearing on one of the front panniers. Another Ortlieb pannier strap broke, field repaired it. Passed the location where the national sheepdog competition is being held and watched a border collie guide sheep into a paddock. I detest dogs as pets (their personalities are too slavish for me), but I have great respect for the usefulness of working dogs .
Camped near Pepperdine campground, same stealthy spot southwest of the reservoir as last year. So beautiful and peaceful here, among the very best of the thousand plus sites I've camped at in the past fifteen years.
Thu, 24 Sep 2015 (12 miles in 1:15 hours)
Took the Granger Creek road down to the valley. Very steep and heavily eroded. Must have been hell moving wagons up and down this road in the old days. Pages Market in Cedarville out of whole wheat bread again. Glad I bought supplies in Alturas. Still no ATT prepay cellphone service but good wifi at Surprise Motel ($50 + $5 tax).
Fri, 25 Sep 2015 (33 miles in 3:48 hours)
Met an interesting Austrian guy on a off-road motorcycle: Lukas Matzinger, search on "Around the world with LukasM" to find Facebook page. Has ridden all over the world: from Turkey to Japan via Siberia, now the western United States, heading to Baja California this coming winter, then down to Argentina eventually. He's headed for the Dufurrena area, same as me, but will arrive much sooner, of course. Told him about the hot spring bathing pool and shower.
Wind from southwest, a tailwind for me. Sunny and warm, like mid-80s.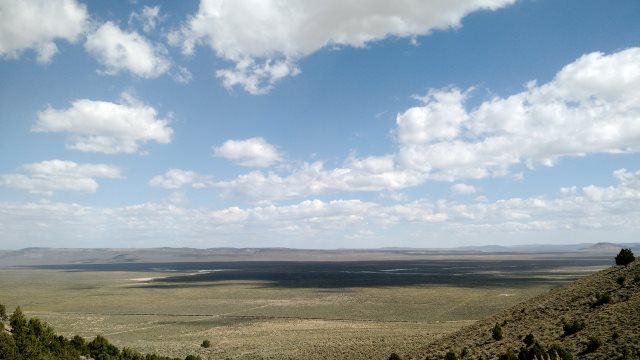 long valley
Sat, 26 Sep 2015 (27 miles in 3:11 hours)
Wonderfully peaceful at night, but the sun is annoying at dawn and dusk without trees to block it, almost 12 hours of unrelenting sun. At least temperatures cooler than yesterday. Camped at Catnip reservoir. Some tents there when I arrived, but no people or vehicles. I picked a spot far away.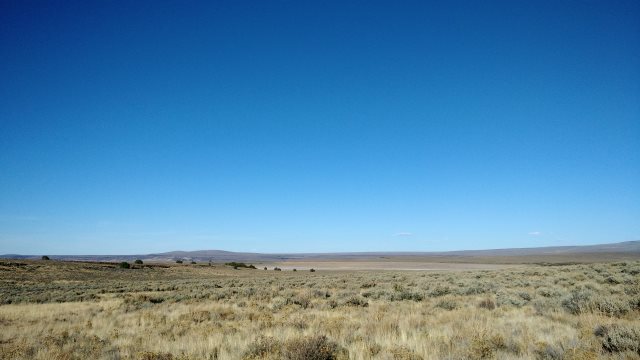 bald mountain lake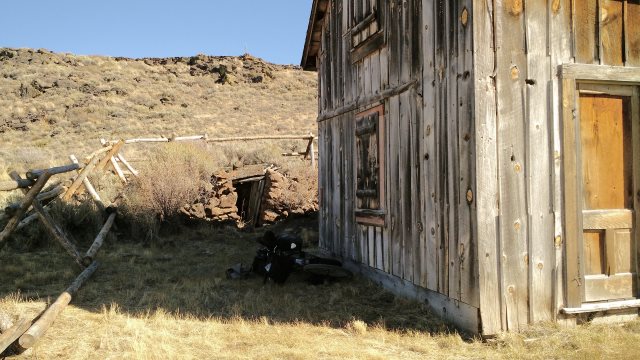 sheltering myself from sun in shade at last chance ranch
Sun, 27 Sep 2015 (23 miles in 3:47 hours)
Noise from the neighbors not a problem last night and they left early this morning. Accidentally turned off airplane mode on smartphone (i.e. turned on cellphone and wifi antennas) and so ran down battery. Definitely always bring two batteries. Took advantage of shade at Andy's Place cabin for lunch break. Camped at North Hell Cheek campground, a mile off the Mud Springs road. Campsite has sagebrush windblocks, though no wind last night.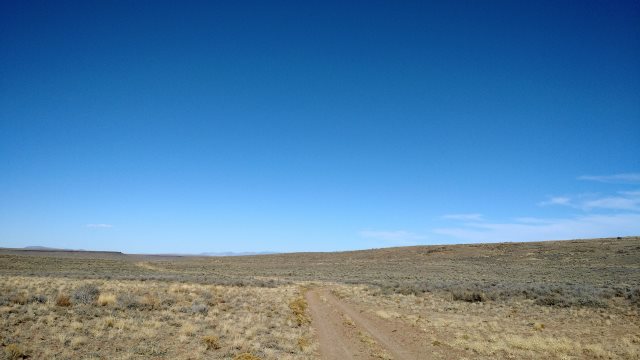 along mud spring road
Mon, 28 Sep 2015 (31 miles in 4:28 hours)
Creek backed up and flooding road knee deep at Virgin Valley Ranch. Water covered both hubs plus bottom bracket while fording, but only briefly, so probably no damage. Showered and resupplied with drinking water at Dufurrena campground. Washout on Sagebrush Creek Road, example of where bicycle better than most motor vehicles. Carried the panniers and bladders past the rocks, then went back and pushed/carried the unloaded bike. This road shown as good on Garmin GPS map, Benchmark road atlas map, Sheldon Wildlife Refuge brochure map, yet washout doesn't look recent. Camped near Rock Spring Basin, on sandy bench beside dry creek bed. Used sand stakes for first time on trip.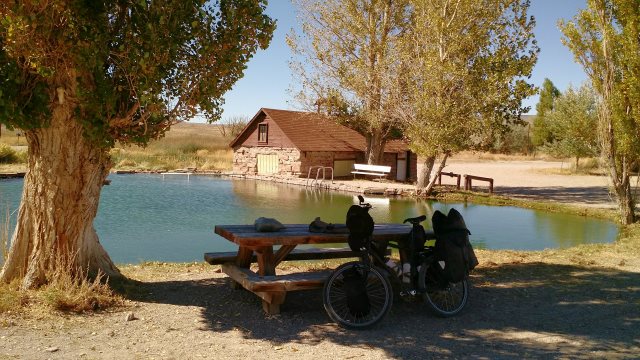 dufurrena hot spring and campground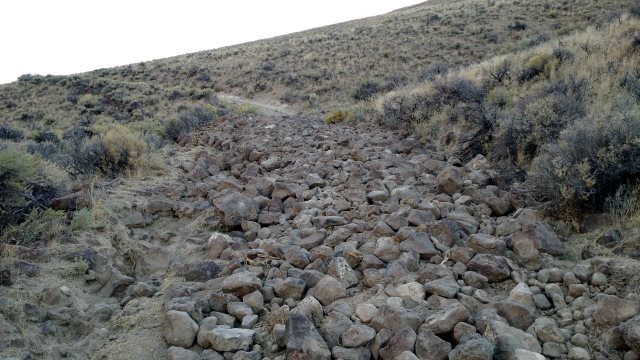 along sagebrush creek road (road is steeper and more rugged than suggested by photo)
Tue, 29 Sep 2015 (23 miles in 3:21 hours)
Ice in water bottles in morning. Temperatures warm again as soon as sun came up. Road rugged until junction with route 202.
Stopped by Summit Lake Indian Reservation and asked for water from men working there. This is not a reliable water source, since the settlement is small and often unoccupied, there is a fence around it, water faucets are locked and anyway water from these faucets is no good, or so the worker said. He also nicely gave me a liter of cold Gatorade. Assuming three nights camping to get from Dufurrena to Cedarville, and I drink several liters at Dufurrena, no need for more water than what I carried from Dufurrena. But I may drag this year's trip out to four nights camping, since I still have food remaining, in which case the water I picked up today might be necessary, depending on temperatures.
Camped in a dry stream bed along route 213, not far from Alkali Reservoir. In erecting tarp (mainly for warmth, since I wouldn't camp in a stream bed when heavy rain likely), initially tried the nail stakes, but they wouldn't hold. So switched to sand stakes, and nearly lost a nail stake in doing so, because I tossed it aside then kicked sand over it inadvertently while testing the sand stake. Should have put the nail stake back in its sack before testing the sand stake—silver colored stakes very easy to lose even with red pull cords. Sand stakes held, but not well, because sand was merely thin covering over rocks. By trying many locations, it was eventually possible to find a space between rocks where the stake will go in about halfway, which is enough on a calm night like tonight.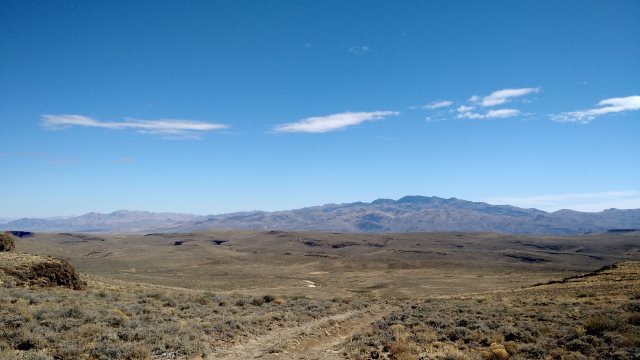 near onion lake
Wed, 30 Sep 2015 (20 miles in 3:18 hours)
Cloudy sky and lower temperatures in morning. Definitely want to hold off on this Nevada section of the trip until October next year. That seems to be when temperatures start to drop. Forked near Bateman Spring onto the road running to that spring, labeled 37031 on the Benchmark map. Talked to some hunters looking for big horn sheep. Camped in the sagebrush, about a mile before Wheeler Spring.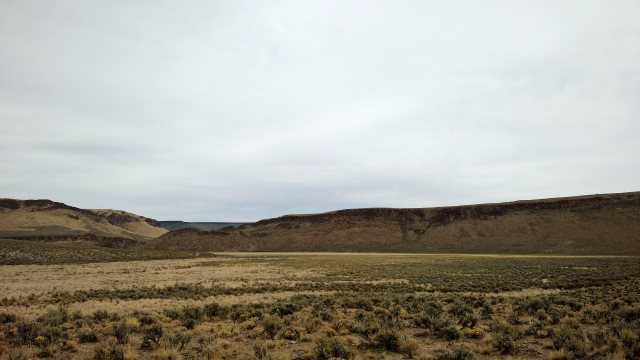 looking towards alkali reservoir
Thu, 01 Oct 2015 (0 miles in 0 hours)
Drizzled lightly off and on last night them steady light rain starting about dawn. Original plan for today was to go south from Wheeler spring to Hanging Canyon road, then spend some time in the cabin at Massacre Ranch, but I decided to hibernate instead, due to possibility of rain becoming heavy and dirt roads turning to mud like last year. Rain continued light all day, finally ending late afternoon.
From Richardson's Travels in the Sahara regarding hierarchies spontaneously emerging among slaves in the desert caravan: "A perfect democracy, in any country and any state of society, is a perfect lie, and a leveller is a brainless fool." The slave-traders economized by not feeding the slaves on the long march to market, so a few died on the way (though not before being beaten mercilessly with the whip when they fell and couldn't get back up, children not exempted) and the others arrived emaciated. Though sometimes the prettier girls, taken as temporary concubines by the slave-traders during the long march, received better treatment. Water at the desert wells typically brackish. Endemic diseases in the oasis towns. Bandits preying on the caravans. List of hardships goes on and on.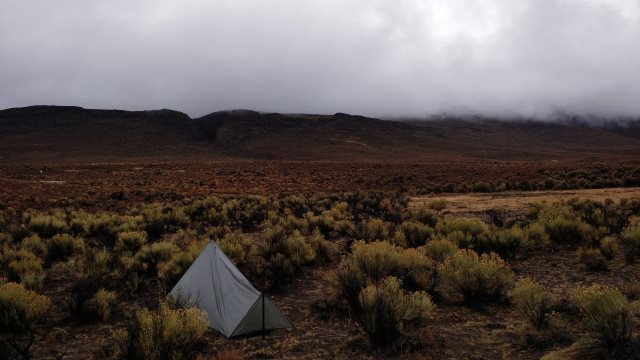 hibernating
Fri, 02 Oct 2015 (52 miles in 5:28 hours)
Blue skies in morning. Cool dry wind from northwest, head wind for me much of the day. Dirt road between Wheeler Spring and route 8A had spots which would definitely turn to sticky mud when wet, but the ground had dried sufficiently during the night, due to that dry wind, so as not to be a problem for me today. Route 8A is gravel, and so unaffected by rain.
JNR Motel in Cedarville was full. I expected Sunrise Motel to be full as well, due to main hunting season starting tomorrow, however they had a vacancy: $50+$5 tax, same as last week. They also have spots for camping, which is how I expected to spend the night. I could have camped in the desert for free, of course, but I wanted to use the internet, charge my batteries (though I still have 80% on the smartphone and about 66% on one of the external batteries, which should be enough for the four days it will take to get to Susanville) and wash up.
Pages Market completely out of bread, but bread truck supposedly comes by tomorrow. There is another smaller grocery in town, plus a convenience store at the gas station across from the Sunrise Motel, plus a cafe/bakery, so I probably could scrounge up bread from those places if necessary.
Another problem with lube bottle cap. This time the cap is difficult to open. So that makes three separate problems: leakage because cap not tightened enough; cap broke because I tightened it too much; cap hard to open, presumably because I again damaged it by tightening too much (it's one of those caps where you have to push down first then twist to open). I didn't have problems with these bottles in the past, which suggests I'm overreacting to that initial leakage issue, which was from a brand new bottle, whose cap evidently had either not been tightened properly at the factory or was a manufacturing defect. All I need to do is check that the cap on new bottles is tight, then tighten them normally thereafter, without overtightening. Tossed the bottle with the failing cap, which was about quarter full. Replaced with one of the two spares in the saddlebag. Definitely a good idea to carry multiple small bottles rather than one big bottle.
Short USB cable failing. Bring three or four short cables rather than one, since they don't weigh much and short cables are very difficult to buy while traveling. I use the short cables for charging the smartphone from the external battery. Long cables are for charging devices and batteries from wall sockets. Or maybe bring four long cables and use those for all purposes. USB cables are designed with a weak male plug, causing the cable to fail much sooner than the female socket in the device—this is good design, but users must compensate by anticipating frequent cable failure.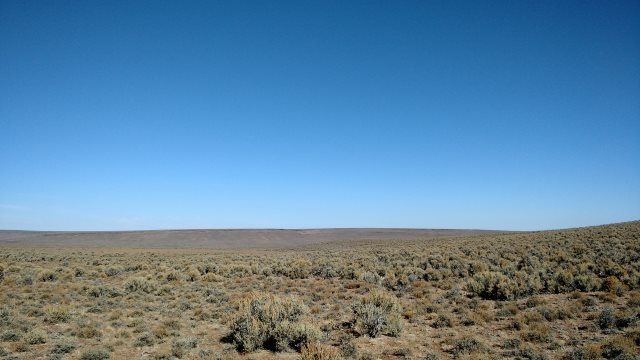 bitner table
Sat, 03 Oct 2015 (44 miles in 3:24 hours)
Start of zone X hunting season. Loaded up with four days bread and cheese at the store. Strong wind from north, a tailwind for me heading south on route 1 / highway 447. Original plan was to turn onto route 512, but I decided to take advantage of the light traffic (because Saturday) and tailwind and stay on highway 447 another six miles to Duck Lake Loop Road, then route 506 aka Tuledad Road which eventually intersects route 512. Possibly less elevation change with route 506 than with route 512, which is why I wanted to test it, in case route 512 proves unpleasant when I try it next year. Took me about 33 miles and a little more than two hours to ride from Cedarville to route 512 with that strong tailwind. Could take much longer with a headwind, and also there might be much more traffic on a weekday.
Weather forecast for thunderstorms in afternoon and indeed storm clouds visible then, so made an early camp about a mile along route 506, on a sandy bench, high above the stream beds and well-drained, so safe from flooding. Heavy rain, accompanied by lightning and thunder, began shortly after I finished pitching the tarp. Wind very strong, but ground provides plenty of grip for stakes, so I'll be okay unless wind shifts to south and remains strong, which is unlikely. Hat securely fastened to pannier so it won't blow away.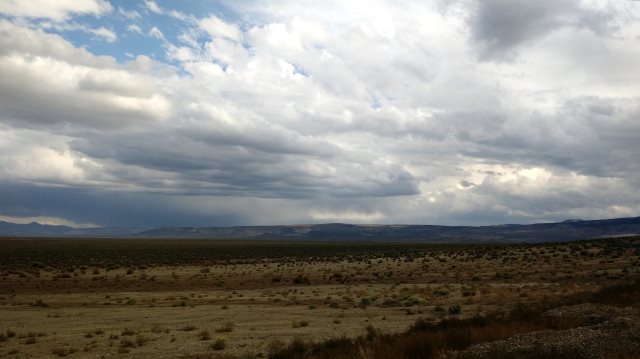 storm clouds
Sun, 04 Oct 2015 (29 miles in 3:57 hours)
Blue skies in morning. Ground damp and continued strong wind, so skipped yoga. Wind from north initially, shifting to east and diminishing in strength in afternoon, tailwind most of the day. Spots of sticky mud along route 506, which clogged the brakes and forced me to unload and portage the bike a quarter mile, then spend an hour rinsing the mud off in a stream. Nasty cut on my finger in the process. Took a long lunch break to allow roads to dry, which they do quickly from the combination of sun and dry wind. No further problems with mud in afternoon.
Followed Tuledad Road south to the vast Madeline Plains, then west. Tuledad Road is gravel until it intersects Mail Route Road, thereafter dirt. I decided to try this dirt road, but it gradually became overgrown, with no signs of recent motor vehicle traffic, then passed through a old barbed wire gate, and finally disappeared almost completely after about three miles. Camped in the sagebrush near where the dirt road disappeared. Tomorrow, I will return to Mail Route Road, follow that north, then west on Juniper Road to Termo, then Grasshopper and South Grasshopper roads to get to Cleghorn road, and from there to Susanville via the same forest roads I followed in the opposite direction a few weeks back.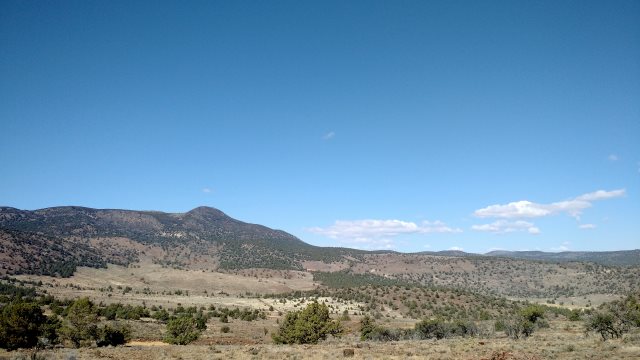 little hot mountain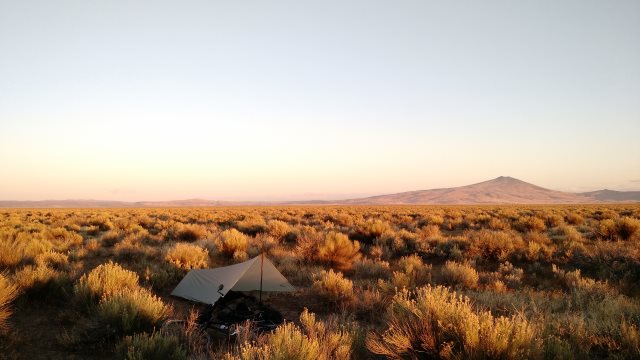 campsite in madeline plains
Mon, 05 Oct 2015 (40 miles in 4:15 hours)
Tarp covered with frost in morning, some ice in bottles, blue skies, no wind, temperatures warm soon after sunrise. Camped a few miles west of Highway 139 on Cleghorn road. Lots of pickup trucks prowling the roads, their loud diesel engines audible for a half mile at least, hunting for deer presumably. Wonder if those deer ever figure out that motor vehicle noise means danger, especially this time of year? Put blaze-orange hat cover on hat then put hat on front tarp pole, so easily visible from all directions.
(Maps show a dirt road just east of Hwy 139, making it possible to avoid the half-mile of highway between Cleghorn and South Grasshopper roads. But this dirt road requires opening and closing two difficult barbed wire gates and is very rocky in places, requiring pushing the bike. Not worth it.)
Tue, 06 Oct 2015 (33 miles in 3:09 hours)
More noisy trucks prowling in the early morning. Another pleasant day: blue skies, little wind, mild temps. Camped at the familiar spot two miles southeast of intersection of Hwy 44 and route A21, along a dirt road shown incorrectly on the forest service map. Plenty of water to get to Susanville tomorrow. Had I been short, could have resupplied at Calfire station or North Eagle Lake campground yesterday, or Bogard rest area or service center today.
Northwest Nevada sagebrush country is exhilarating on the bicycle, but ten days is enough. Glad I made the decision to return to Reno via the forest route. Coming in from the north or east would have meant lots of travel on paved roads the last day. I don't want to end this very enjoyable trip on an unpleasant note like that.
Wed, 07 Oct 2015 (29 miles in 2:14 hours)
Location where I camped has some advantages, but quiet not one of them, due to proximity to highway, which has noisy truck traffic even at night. Main advantage is good shade in morning, but that is not important now that the heat is over. Sky overcast today, mild temps.
Refilled the chain cleaner bottles after cleaning and lubing the chain. Still some fluid left from when I last filled the bottles on Friday 25 September. So two 4oz bottles lasts about two weeks. Because of all the problems with broken caps, I still don't know how long the 2oz lube bottles last.
Another pannier strap tore. Repaired at motel. Lost plastic sleeve for strap, which presumably makes carrying more comfortable for some people. Fabric of pannier wearing through at corners, allowing water to get in.
$54+$5 tax for room at River Inn in Susanville. Loaded up with four days food for trip back to Reno.
Thu, 08 Oct 2015 (38 miles in 4:04 hours)
As usual for stops in Susanville, slept poorly due to combination of overindulging body with delicacies from Grocery Outlet Bargain Market and overindulging mind with internet browsing.
Faucet still on at Goumaz campground. Stopped in at the Super Y Market, intersection of Hwy 36 and route A21. Dismal selection of goods for sale: a few cans of soup, some used clothing, most of the shelf space empty, everything dusty. Bought a fruit-flavored popsicle from the mostly empty freezer. And yet in this year's Lassen county tourist guide there was a blurb saying the market had recently been renovated and reopened. Someone working on the Villa Monte motel next door, which the tourist guide also mentioned as being open for business, but that rusting car with flat tires is still parked crookedly out front, exact same place as it's been for the past four years, and the motel still looks like the setting of a horror movie. Hand-scrawled flyer tacked to the outside of the store, buffoonishly reading: "Jack of all trades, master of none, call me and I'll get the job done!" I'm sure the guy means well and doesn't fully realize that hand-scrawled "master of none" will be a big turnoff to many potential customers and there are better ways to convey that his skills are limited but he tries hard. For example, neatly printed (surely there is a laser printer at the local library) "Handyman with good work attitude." Makes me wonder what sort of buffoonish behavior I'm guilty of, only apparent to sharper intellects than my own. Camped in forest a few miles after Westwood.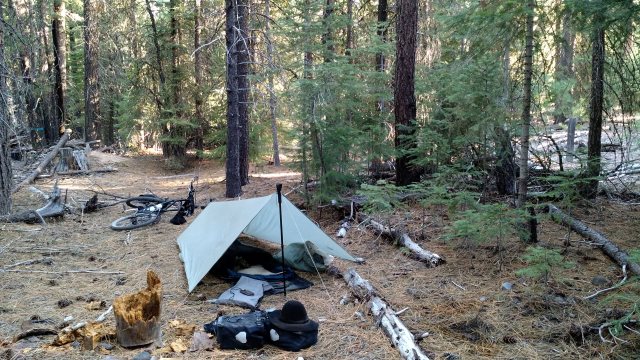 campsite near westwood
Fri, 09 Oct 2015 (32 miles in 2:54 hours)
Camped at my usual spot in Indian Valley. Eyes sore from infection or allergies or insects and dust getting into them.
Sat, 10 Oct 2015 (28 miles in 4:02 hours)
Men working on the corral near where I camped yesterday. I should have turned around as soon as I saw them, hid myself somewhere until they left, then made camp, but I was lazy. They noticed me but said nothing yesterday. Today, one of them returned in a truck to notify me I was on private property. The fence I thought marked the beginning of national forest is just for cattle management purposes, and the property boundary is up the hill aways, on a slope unsuitable for camping. Told him I was moving on in twenty minutes (this was about 8:30 in the morning). Shame I wasn't more careful to keep my use of this campsite unnoticed, since there are few nice campsites in Indian Valley, and I need to camp in Indian Valley so as to prepare for the ascent of the mountains on either side. It is legal to camp near Flournoy bridge, but that is an unpleasant spot for a bicycle camper with just a tarp, though fine for RVs. Same story for the Taylorsville campground. Need to make sure I arrive late and leave early in the morning if I use this spot in the future.
Camped at the usual spot five miles before Beckwourth. Eyes feeling better. I think it was insects or dust getting into them that caused the itching and pain yesterday.
Sun, 11 Oct 2015 (37 miles in 3:30 hours)
Picked up water at the Beckwourth fire station and snacks at the store in Loyalton. Camped at the usual spot along Smithneck road.
Mon, 12 Oct 2015 (30 miles in 3:07 hours, ending odometer 14489)
Checked back into the usual cheap motel in Reno ($192/week, including tax). As usual, too lazy to find a nicer place.
Sun, 1 Nov 2015
First winter storm of the season arrived this evening, cold and rainy outside now. Need to keep my own records of these first storms, to know when to come back from my Lassen/Modoc/Nevada tour, since the official records are confusing where my needs are concerned.
Thu, 10 Nov 2015
Second winter storm of the season arrived late yesterday afternoon, several inches of snow on the ground this morning.
Sun, 15 Nov 2015
Third winter storm starting early this afternoon. Swift change in weather conditions, initially mild, then furious wind with cold rain, then furious wind with sleet as temperatures dropped. Being caught in that sort of storm in open terrain with just my usual bicycle touring equipment could be life-threatening. I would have to move fast to get the tarp up. What if caught somewhere where erecting the tarp was difficult, such as due to barbed wire fences?
Statistics
64 nights away from Reno total, of which 49 nights camping, 15 nights in motels. 2 rest/hibernation days, 63 days traveling (including last day).
1732 miles total, 201 hours pedaling/pushing, average of 8.6 miles/hour. For 63 days traveling, average of 3.2 hours/day pedaling/pushing, 27 miles/day.
Total motel expense of $913 including taxes, for average of $61/night for the 15 nights in motels.
Comments / Todo list
See the Nomad page for bicycle comments.