Dec 2015 to Jan 2016, Mojave Desert Bicycle Tour
Planning
Current guide to maps for a trip like this is here. This guide will be updated as time passes, and so may not reflect what I actually used on this trip, which was a combination of: (a) selected pages from the California and Nevada Benchmark Road Atlases; (b) Garmin Etrex 20 mapping GPS, loaded with 1:100K Garmin maps for the entire United States; (c) offline road maps on my Android MotoX 2nd Gen smartphone.
Route Summary
CREST bus from Reno to Big Pine.
Big Pine to Furnace Creek via Death Valley road (15 hours).
Furnace Creek to Baker via highways 190, 127, passing through Death Valley Junction and Shoshone (11 hours)
Baker to Bullhead City via Kelbaker road, Old Mojave Road, powerline road, unnamed dirt road, highway 95, highway 163 (15 hours).
Bullhead City to Blythe via highway 163, highway 95, unnamed dirt road, powerline road, Cadiz road, highway 62, Midland road (20 hours).
Blythe to Yuma via Bradshaw Trail, Milpitas Wash road, Old Palo Verde road, Ogilby road, I-8, Winterhaven Drive (12 hours).
Yuma to Blythe via Winterhaven Drive, I-8, Ogilby road, Old Palo Verde road, Midwell well road, Milpitas Wash road, Wiley's Well road, I-10 (12 hours).
Blythe to Barstow via Midland road, highway 62, Cadiz road, Old Route 66 (24 hours).
Barstow to Ridgecrest via Fort Irwin road, Fossil Bed Road, highway 395, Trona road, Randsburg Wash road (11 hours).
CREST bus from Inyokern to Reno.
Thu, 26 Nov 2015
Very cold today (Thanksgiving holiday), so I put on the down jacket while walking to the store for food. Turns out the thing stinks again from rancid hair oils seeping in through the silnylon stuff sack used to convert the jacket into a pillow. Recall that I washed the jacket in a machine last year but it took a whole day to dry out—I don't want to repeat that experience. Had to put the jacket back in the silnylon stuff sack to keep it from stinking up the whole motel room. Mind you, this is a cheap motel room with all sorts of vile smells of its own, so saying the jacket stinks up a room like that is really saying something. Feeling disgusted and infuriated and depressed at the same time by this jacket. Decided to exchange for the high-loft synthetic pullover that I normally carry in Europe.
Mon, 30 Nov 2015
Starting out with 2.5 x 2oz bottles of chain lube (White Lightning Epic Ride lightweight silicone lube). Chain has been quiet ever since I changed sprocket and chain upon returning from previous tour. Running with factory lube on chain.
Left Reno with 8 x 24oz loaves wheat bread, 8 x 5oz cheese, 2 x 24oz loaves sourdough bread, 7 lbs dry roasted peanuts, or a little over 11kg food.
CREST bus from Reno to Big Pine $56. Starlight Motel ($55+$7 tax), 760-938-2011.
Tue, 01 Dec 2015 (40 miles in 5:35 hours, starting odometer 14560)
Road closed sign for Death Valley road, listing Inyo County road department as authority. I proceeded anyway. SMP Selle saddle not uncomfortable despite long day. Maybe I'm getting used to it. Camped in Eureka Valley. Cold as soon as sun went down.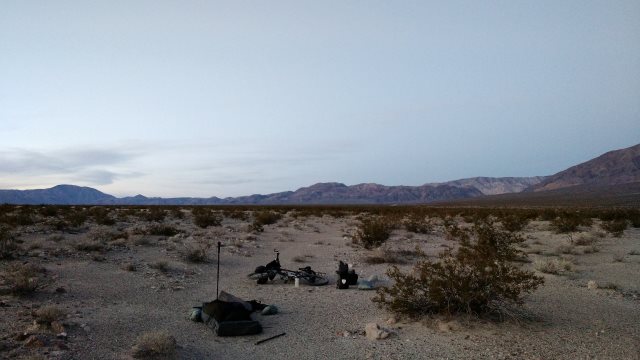 first night's campsite
Wed, 02 Dec 2015 (27 miles in 4:11 hours)
Bottle that I left on bike frozen in morning, but bottle I stored under pannier liquid, so temps evidently right near freezing. Road across Last Chance range was fine, despite road closed sign at Eureka Valley road intersection. Went shirtless both today and yesterday on uphill sections, but needed both shirt and stretch-knit pullover for warmth when going downhill.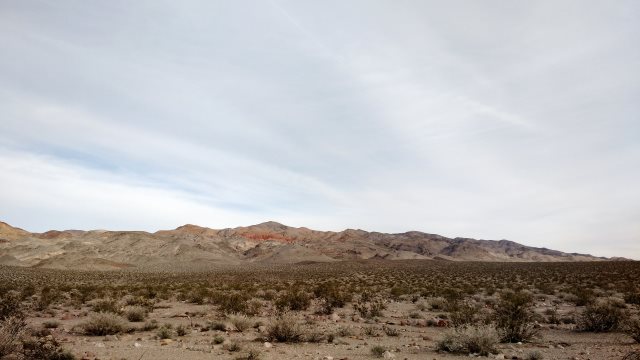 view east from campsite
Thu, 03 Dec 2015 (39 miles in 3:34 hours)
Camped behind hills (Kit Fox Hills on map) about six miles north of intersection with Hwy 190. Very stealthy location once behind the hills, but exposed for several minutes while pushing bike there from road. If spotted by a ranger, they would have no choice but to investigate what I was up to and order me not to camp.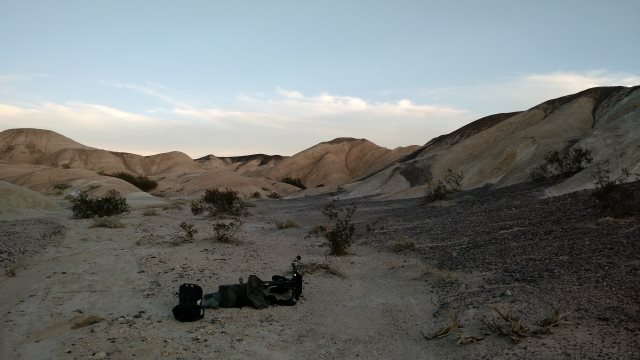 camp amid hills
Fri, 04 Dec 2015 (35 miles in 4:08 hours)
Ate well at Furnace Creek store (two large packages corn tortillas, jar salsa, quart plain low-fat yogurt, two jalapenos, red bell pepper, Pop Tarts for dessert), filled water containers, charged smartphone. Didn't feel dirty, so didn't bother showering. Badwater road and Harry Wade road both closed due to flood damage in October (flooding in Scotty's Castle canyon ten times more water than expected for "100 year flood", according to National Park notice describing damage to buildings there), so continued on Hwy 190. Camped about two miles before Dante's View road turnoff.
Sat, 05 Dec 2015 (47 miles in 4:02 hours)
Reading Meditations of Marcus Aurelius (Gregory Hays translation). Much better than I remembered from originally reading when I was a boy, probably due to the better translation, though of course forty years experience of life helps in appreciating stoic wisdom.
Hwy 190 and 127 both have variable width shoulders, sometimes three feet wide, sometimes nothing. Limited traffic, so don't feel unsafe, though maybe busier on weekdays. Continued on Hwy 190 to Death Valley Junction, rather than taking Dante's Peak road then Greenwater Valley aka Furnace Creek Road, due to possibility of bad washboarding on latter. Had enough of that on Death Valley road, which is badly washboarded from Crankshaft Junction to Ubehebe Crater. Camped just before Shoshone, campsite a half mile down Hwy 178, which is closed, to get away from traffic noise on 127.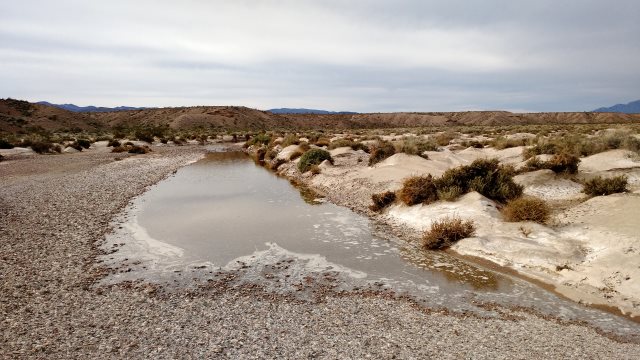 amargosa river disappears underground
Sun, 06 Dec 2015 (46 miles in 3:50 hours)
Having a good collection of music on the smartphone is nice, same as a good collection of reading matter on the ereader, but three hours per day is about the most I can listen to with pleasure. After that, I begin to long for silence. For studying Russian and general reading, at most an hour per day each. So that makes five hours per day of artificial mental simulation (as opposed to perceiving the world around me and thinking and daydreaming, which are natural forms of mental simulation). Normally, I overlap the general reading with listening to music, so actually four hours of artificial mental simulation.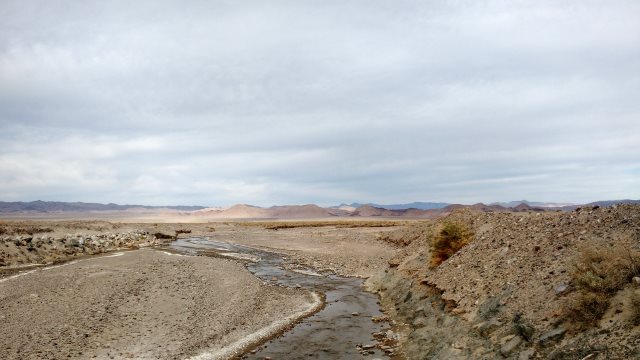 amargosa river has reemerged above ground for a while
Mon, 07 Dec 2015 (27 miles in 2:55 hours)
Showered at the Baker laundromat, also washed shirt and socks in sink and dried in machine. Bought bread, cheese and snacks at store, filled water containers, charged electronics at town park, checked email and various websites—the usual Baker routine. Feels good to be clean. Camped at usual spot behind low hills, ten miles down Kelbaker road from Baker.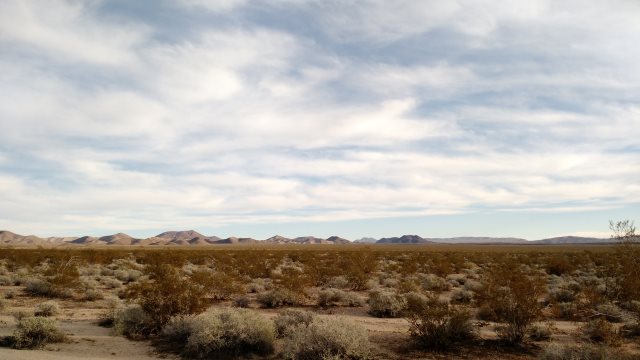 looking south from campsite
Tue, 08 Dec 2015 (18 miles in 3:31 hours)
Six miles pushing through deep sand on Aiken Mine and Mojave roads, whereas last year I didn't push nearly as much. Camped at 4400 feet on plateau before descent to Marl Spring. Suffering from splitting headache late afternoon, maybe from lack of sleep last night.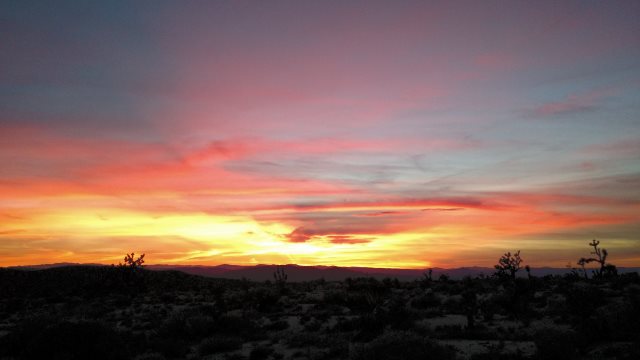 sunset
Wed, 09 Dec 2015 (39 miles in 4:28 hours)
Headache still present this morning, though not so bad as yesterday. Slept well last night. Headache mostly gone after emptying bowels, morning exercises and breakfast. Maybe bad sleep Monday night and headache yesterday both due to some illness I picked up in Baker. Back to normal by end of day.
Philosophers and other highly spiritual intellectuals seek happiness within, via control of the mind rather than control of the material world. Favoring the mind over matter doesn't imply rejecting matter entirely, however. Bicycle touring is material, reading about bicycle touring— living vicariously—would be the spiritual equivalent. Listening to music is material compared with remembering music we listened to in the past, or composing music in the mind and imagining how it would sound, both of which are more spiritual. And so on.
The more we live in the mind, the freer we are, and thus the more likely to be happy. But if already happy, and possessed of an excess of time and money and energy, we can afford to move back into the world of matter to some extent. The slight compromise in freedom that results is offset by the increased vividness of material versus spiritual pleasures. Also, perfect control of the mind is an ideal, seldom achieved in practice. Few can smile in bliss as they are tortured to death, as the martyrs were reputed to do. Most of us can't even overcome social programming without great effort, and great effort implies reduced happiness, which is precisely what we are trying to avoid. Most of us must resign ourselves to living mostly in the material world, subject to its constraints. Focus on freedom from those aspects of the material world which are most difficult to control. In particular, learn to despise fame. If we can't eliminate the desire for applause entirely, replace fame in the eyes of others with self-approval.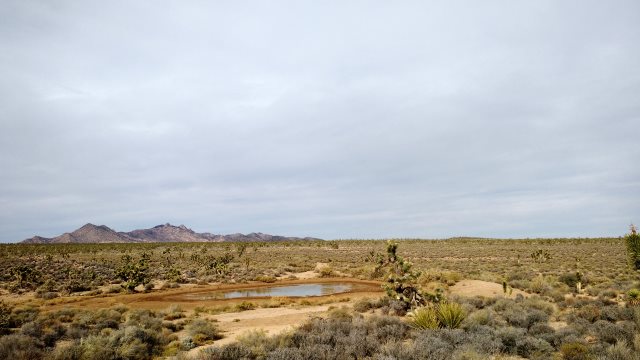 along cedar canyon road
Thu, 10 Dec 2015 (18 miles in 2:20 hours)
Wind started this morning, from the south, tailwind for me. First strong wind since tour began ten days ago. Camped three miles west of Hwy 95. Tightened eccentric bottom bracket by one notch. I have yet to lubricate chain since installing it back in Reno. Relying on manufacturer lube.
Finally finished both reading and listening to Candide, which I started months ago. Progress slow due to lack of enjoyment. Voltaire tedious compared to even the worst of De Sade, the real free-thinker of that era. See if I can get De Sade's collected works in ereader version. The audiobook version was effective at refreshing my French listening comprehension skills, but not painlessly, which is what I was hoping. The Russian audiobooks I can tolerate, since pain is to be expected in a language I am still learning. But scrap this idea of audiobooks for French and Spanish. Rely instead on reading while sounding out the words internally to keep my language skills up, same as I've always done.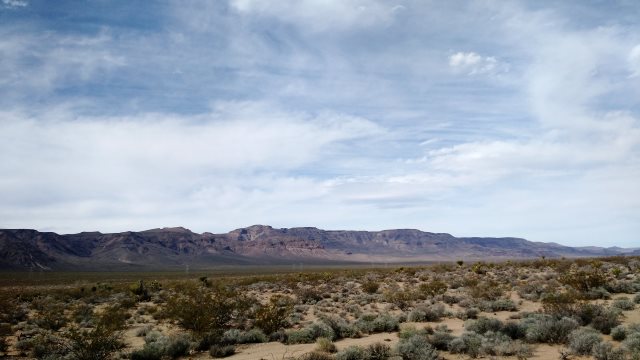 piute range and powerline
Fri, 11 Dec 2015 (26 miles in 2:42 hours)
Strong wind during the night, shifted to west and blew sand all over me. Wind died down somewhat at dawn, though wouldn't have been a problem riding with it, since a tailwind.
Cleaned and lubed chain upon arriving at Bullhead City. Checked into Desert Rancho Motel, two nights at $50/night including tax (Sun-Thu would be cheaper). Gretchen Inn was advertising $53/night for Fri-Sat, $40/night Sun-Thu, not sure if those prices include tax. Washed everything, charged electronics, filled water containers. Bought six days bread and cheese for journey to Blythe, though should only take five days. Didn't need to buy peanuts, since two lbs remaining from what I started with in Reno.
Sat, 12 Dec 2015 (zero day)
Steady 20 mph north winds today with gusts to 35, according to Accuweather. Might switch to south tomorrow, then north again from Monday on, so mostly tailwinds heading to Blythe.
Sun, 13 Dec 2015 (26 miles in 4:21 hours)
Flat tire on highway from large thorn (not a goathead) which stuck in tire and kept puncture open so that sealant leaked out of tube rather than sealing it. Dismounted tire to remove thorn from inside, at which point sealant did work, but I nevertheless applied a patch to the tube just to be on the safe side. Rim strip had shifted and become crinkled, so replaced with spare in repair kit. Old rim strip very stiff compared to replacement. Maybe these nylon rim strips need to be replaced every few years. Need to order another to replace the one in the repair kit, so might as well order several. After remounting tire, added new sealant (repair kit contains three bottles of sealant), since much of the old sealant had leaked out while the thorn was keeping the puncture open, plus it's been over a year since I added the old sealant and much of it has probably dried out. Tires need replacing soon, but I think they will last until this tour is over.
Camped same location as Thursday, with tarp facing east. Wind from south today, but forecast to shift to west or north tonight.
Mon, 14 Dec 2015 (20 miles in 3:16 hours)
Wind became furious during the night, then shifted to northwest, bringing light rain and colder temps and cloudy skies. Wind continued northwest today, though not so furious as during the night. Mostly a tailwind for me, but didn't help much because of sandy roads, requiring pushing. Should have stuck to main powerline road rather than trying to avoid a few hundred feet of ascent by taking parallel road to west. Easier to ascend than push through sand. Tore my pants in several places from thorn shrubs that grow in the washes. Very small tears, so no risk of tear growing and no need to sew them back up, but annoying to look at. Decided to take a short day. Plenty of food and water on hand.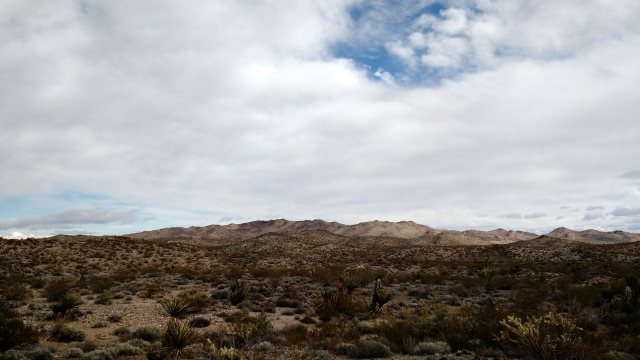 homer mountain
Tue, 15 Dec 2015 (38 miles in 4:24 hours)
Cold northwest wind during night and in early morning, diminishing during day. Skies clear, so able to sit comfortably at lunch due to warmth of sun, unlike yesterday. Powerline road solid for about twenty miles south of I-40, thereafter areas of deep sand that required pushing.
Wed, 16 Dec 2015 (37 miles in 4:22 hours)
More pushing through sand along powerline road, but Cadiz road solid, as is Midland-Rice road. Camped along the latter. Moderate wind from west most of day, tailwind for me. With strong headwinds, Bullhead City to Blythe could easily require six days, so prepare for that in the future.
Sometimes I get angry about pushing through sand. All it takes is a few pages of Richardson's Travels in the Sahara, especially the descriptions of the slave caravans, to bring me back to my senses as to how very easy my life is.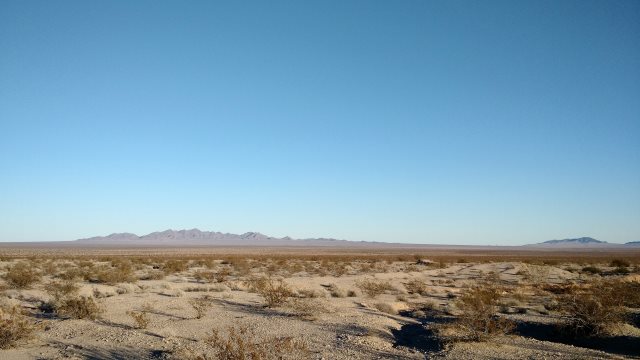 rice valley
Thu, 17 Dec 2015 (19 miles in 2:04 hours)
Accidentally turned wifi on and ran down smartphone battery. Recharged from external batteries. Short day so I can get chores done in town tomorrow morning. Camped in wash. Feels more homey with trees around than on those bare creosote bush flats.
Thinking about Bulgaria versus Ukraine for next June/July. Cheaper in the latter plus fewer days spent in transit if I fly Barcelona to Kiev then stay in Kiev until returning from Europe. Better climate in Burgas and I did enjoy the two weeks I was there this past June. However, that enjoyment might be partly due to novelty effect combined with relief after abandoning hiking plans. Two months in that small town might not be so enjoyable. Conversely, the lack of enjoyment in Kiev might be due to excess novelty and because I really wanted to be hiking in Spain then. Option of hiking in high mountains in Bulgaria, though not feeling enthusiastic about that. Reminiscent of hiking in Pyrenees, which I have no desire to revisit. Definitely want to forget idea of jumping from Burgas to Varna to somewhere in Romania or elsewhere in the Balkans so as to inject variety into my life—therein is a true formula for misery. Probably best idea is rent a luxury apartment in Kiev for two months and then deliberately go into hibernation, after three months hiking in Spain. Don't fret about doing nothing, but rather keep in mind that my only goal is to get through June and July more pleasantly than would be possible in the United States. More generally, I should always keep in mind that my only goal in life is to pass time as pleasantly as possible while waiting to die. Goals are the enemy of happiness, because they cause neglect of the present in favor of a future which may never arrive.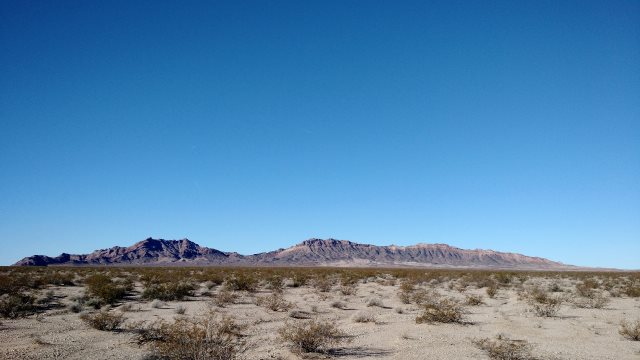 arica mountains
Fri, 18 Dec 2015 (21 miles in 1:55 hours)
$50+$5 tax at Budget Host Motel in Blythe. Cleaned and lubed chain.
Sat, 19 Dec 2015 (23 miles in 2:25 hours)
Taking it slow to Yuma. Camped in wash along Bradshaw Trail. No wind and much warmer temperatures than a few days ago.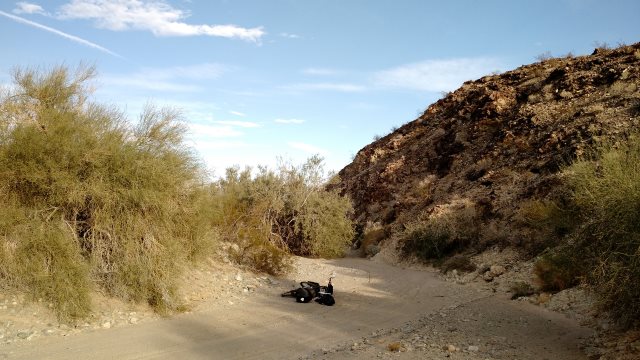 camp in wash
Sun, 20 Dec 2015 (27 miles in 3:42 hours)
Wind picked up during night, blowing from west right into tarp. Took the tarp down as the wind increased in intensity. Then rain started, so had to get up and erect tarp again, but facing east this time. Didn't take very long to set it back up. Not much rain fell. A few hours later, wind stopped. Dead calm and clear skies in morning, so evidently just a small passing storm. Lots of pushing today due to either sand or deep gravel. Camped along Milpitas Wash Road, a few miles west of Hwy 78. Campsite much noisier than I expected. Noise carries a long way in the desert and Hwy 78 heavily used by trucks as connection between I-8 and I-10. Try Midway Well Road next time to get away from this noise. Headache in evening, not sure from what.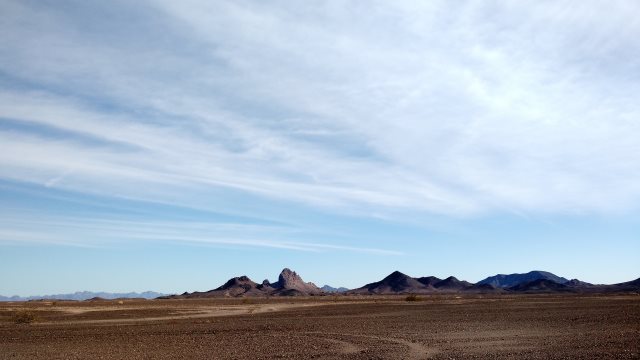 along milpitas wash road
Mon, 21 Dec 2015 (32 miles in 3:53 hours)
Headache finally went away after morning exercises. Old Palo Verde Road is mostly solid and continues all the way to Ogilby Road, though map shows otherwise. This makes it possible to avoid very dangerous Hwy 78: two lanes and heavy truck traffic both ways, hence frequent squeeze situations, blind curves, no hard shoulder and soft shoulder is steep slope. Camped two miles down Indian Pass Road to get away from traffic noise on Ogilby Road. Not a lot of traffic there (much less than on Hwy 78), but enough to annoy me if camped close to it. Zero wind today.
Bashed chainring against a rock and bent it during rapid descent down rugged section of road. Hammered it back into shape using adjustable wrench. Maybe I should stick with the steel chainring, since aluminum might have cracked from this incident. Definitely want to be more careful on those descents, since I could easily have broken something that couldn't be field repaired.
"We all love ourselves more than other people, but care more about their opinion than our own."—Marcus Aurelius, one of whose favorite themes is the worthlessness of fame, which can be broadly defined to mean "viewed favorably by other people", so that fame encompasses love, respect, dignity, honor, etc. To seek fame is to be externally motivated. Compare with internal motivation: following the dictates of conscience and doing one's duty without regard to what other people think. Conscience and what other people think are closely related, because conscience is programmed during the early childhood socialization process. In other words, conscience ultimately is an internalized compromise between animal desires and the opinions of people whom we encountered as children. Fully formed conscience can put us at odds with the opinions of other people for various reasons: different people from those we encountered as children; we misinterpreted other people's opinions as children; other people's opinions have changed; we were raised in a society which does not allow for the satisfaction of animal desires, so that a satisfactory compromise between animal desires and the opinions of other people is impossible. It is normally best to obey conscience, rather than listening to what other people think, because conscience cannot be escaped, whereas we can escape the opinions of other people by shutting our ears and eyes.
Conscience can be changed, though only slowly and with difficulty. Change is advisable in cases of severe conflict between conscience and the opinions of other people, such that we risk being destroyed by following conscience. Conscience is the voice of God only in the sense that God is another name for the moral code of society. If we have somehow developed a conscience that conflicts radically with the moral code of society, then we are not listening to God (in the sense just defined) when we listen to conscience but rather God's opposite. Of course, if God is evil (society's moral code crushes the individual) then listening to God's opposite is the way to go. Just be careful to keep a low profile in cases like that. That is, be mindful of the opinions of other people not because we desire their love, but because we fear their hate.
Tue, 22 Dec 2015 (10 miles in 1:35 hours)
Last night's camp was away from the traffic noise, but I could still hear trains on the Southern Pacific railroad seven miles away. South wind arose during the night. Tarp was facing north but not pitched taut, so I had to endure flapping sounds in addition to noise from the railroad. Wind continued today. Camped three miles down Hayduke Mine Road today, which positions me about nine miles from railroad plus behind some hills. Can still hear the trains chugging away, but definitely quieter here than where I was yesterday. Wind will be headwind if it continues tomorrow. Feeling lazy, with none of the interest in exploring I had a few years ago. Not that I need to explore anymore. Just follow this route I'm following now, over and over in the years to come.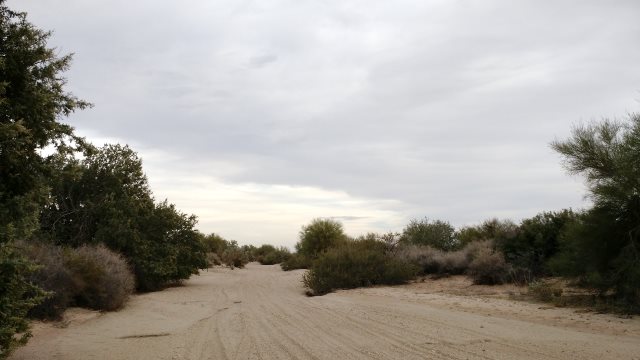 desert wash
Wed, 23 Dec 2015 (33 miles in 3:03 hours)
Wind diminished during night and was mild south wind today, easy pedaling. $36+$4 tax, after 10% AARP discount, at Motel 6 in Yuma. Put a water purification tablet into each water bladder and bottle, since three weeks since I started using them. Updated smartphone to Android Marshmallow. Supposedly gives better battery life.
Thu, 24 Dec 2015 (55 miles in 5:35 hours)
Cleaned and lubed chain, since I neglected to do this yesterday. Forecast for strong northwest wind tomorrow, headwind for me, so tried to cover lots of distance today. Turned west at Midway Well Road, which is washboarded but solid so far. Camped three miles from Hwy 78, enough to be away from noise, though unlikely to be truck traffic there tonight, given that it's Christmas Eve.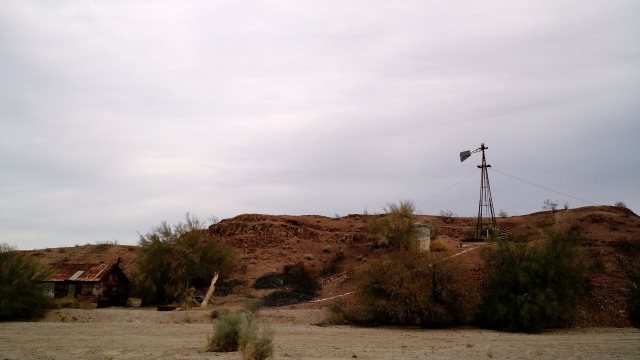 midway well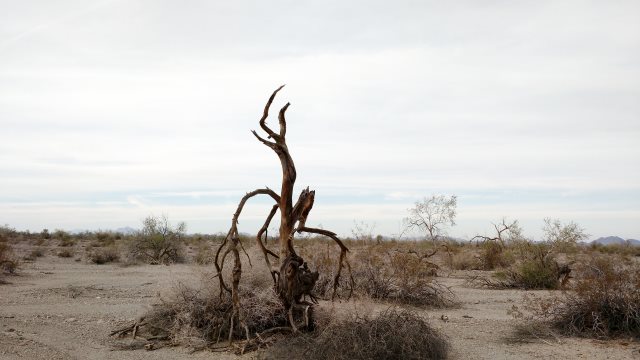 thought this resembled a modern art sculpture
Fri, 25 Dec 2015 (21 miles in 3:06 hours)
"Doze" feature of Android Marshmallow definitely cuts battery use when phone idle. Wind picked up strongly during night, from northwest by morning as forecast. Midway Well Road mostly solid all the way to Milpitas Wash Road. Dietz Drive also appears solid. Following that and then Skyline Drive to Bradshaw Trail would be a way to vary route between Blythe and Yuma.
Though I've abandoned the audiobook version of Don Quijote as a way of keeping my Spanish up, I'm persisting with reading. I read parts in translation as a boy, but not all plus I've forgotten much of what I read. Clear style, but lots of words and idioms I don't know, so frequent use of the dictionary. Ereader makes this easy, just touch a word and up pops the definition. I only read a chapter every few weeks, so it will takes years or even decades to finish. Just as well, since the longer a good book takes to read, the longer until I have to search for new reading matter.
Sat, 26 Dec 2015 (zero day)
Wind picked up very strongly during the night, continuing from northwest. Clouds of dust stirred up by the wind darkened the sky and blocked views of mountains in the distance, dust all over my gear, dust getting into my lungs and causing bronchitis. Consider adding a dust mask to my packing list for the desert. Took refuge behind some trees in a wash, near where I had camped yesterday, and made this a zero day.
Read a few pages of Casanova for the first time in I don't know how long, months at least, maybe over a year. Quickly tired of him. He's never stupid, though often foolish, never truly boring, but these memoirs seem increasingly pointless. The problem is he doesn't draw sufficient lessons from his life—what he did right and what he did wrong—but instead just piles on the details. I can't fault him as an author, since he was writing mostly for his own amusement rather than for the public, same as me with these trip reports, but no reason to waste my precious time reading him much less to use up precious space in my brain storing memories of his life rather than my own. Maybe someday my interest in him will return, so he remains on the ereader, bookmarked where I left off.
Sun, 27 Dec 2015 (30 miles in 2:56 hours)
Wind finally stopped sometime during the night. Just gentle breezes in the morning, with clear skies rather than brown due to dust clouds. Bronchitis continues however. $50+$5 tax at Budget Host in Blythe. Feels good to wash all that dust from my body and clothes and also wipe the smartphone and ereader clean of grit. Bought supplies for journey to Barstow, which should be easy, either little wind and/or tailwind from east forecast.
Cleaned and lubed chain, finishing off the partially used bottle of lube I started trip with and also one of the 4oz bottles of chain cleaner. So three bottles of lube and two of chain cleaner is overkill, but still advisable given that caps can break on lube bottles and chain cleaner bottle might get knocked over accidentally while open. Poured half the contents of the full chain cleaner bottle into the empty bottle, in anticipation of such a spill.
Mon, 28 Dec 2015 (36 miles in 3:31 hours)
Sore throat now accompanies the bronchitis. Maybe the irritation from that dust storm allowed a infection into my system. If necessary, rest up in Barstow. Don't want to delay my departure from Blythe, lest I miss those forecasted tailwinds. Lying under the tarp delightful now that all is quiet again. Imagine a storm like that of two days ago at sea, back in the days of sail...
Tue, 29 Dec 2015 (22 miles in 3:06 hours)
Wind picked up strongly during the night. From west, so headwind today instead of the anticipated tailwind. Suffering from bronchitis, nasty cough and sore throat. Illness combined with headwind made for difficult pedaling, so cut the day short. Temperatures cool, hence low water consumption, and there's the store at Ludlow if I run low on either water or food, so not a problem going slow. Richardson, in Travels in the Sahara, notes that the desert dwellers he traveled amongst hated wind more than either heat or cold. Wind finally stopped after sunset.
Occurs to me that taking Route 66, starting a few miles east of Goffs, to Cadiz, then Cadiz road southeast, would be a way to avoid that sandy powerline road through Ward Valley. Most of the Route 66 section would be downhill, so even though longer in distance than the powerline road, I should be able to get far enough down Cadiz road to avoid that noisy BNSF railroad. Maybe try this next year.
I keep returning to the music of Morton Feldman, which I've been enjoying for almost twenty years now, and which seems so appropriate here in the quiet of the desert (quiet now that the wind has finally stopped, that is). Vivaldi another outdoors favorite: over 24 hours of his music, so always something different if I use the shuffle feature, always pleasing, never jarring to my nerves.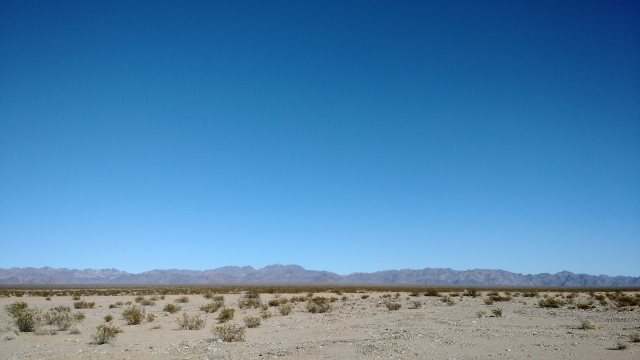 along cadiz road
Wed, 30 Dec 2015 (28 miles in 4:03 hours)
Ice in water bottles and bladders. Need to add vapor barrier socks to packing list for sub-freezing conditions. Rest of my body is warm under the quilt, but soles of the feet get cold due to evaporative heat loss. Bronchitis improving, but still have a nasty cough, scratchy throat, postnasal drip, clogged sinuses, itchy eyes, occasional sneezing—typical cold symptoms. Illness annoying, but doesn't weaken me significantly.
Noticed a crack in the rearview mirror upon starting off this morning. Not sure how this happened. It wasn't there yesterday and I don't recall dropping or hitting the bike yesterday. Maybe due to the cold last night followed by rapid warming when the sun rose. Mirror still usable plus I have a spare in the repair kit.
Lots of pushing through sand today, but no wind or else very gentle wind. Might have been able to avoid the pushing, since it appears there are two Cadiz roads: one right south of the railway and one about two hundred meters south of it. I'm following the latter, but the former looked more solid when I investigated in the evening, after making camp and noticing a truck on that other road. BNSF railroad annoyingly audible even though I'm camped ten miles away.
Thu, 31 Dec 2015 (29 miles in 3:45 hours)
Chest and throat mostly okay, but sinuses still clogged and sinus headache. Skipped morning exercises because of strong winds and illness. Winds are from northwest, hence headwinds for me. Camped near Amboy Crater. BNSF railroad only a half mile away and hence very noisy. Miserable day all around, so glad to pitch the tarp and get under the quilt, sheltered at last from that damned wind.
One way to avoid the railroad would be take Kelbaker back to Baker, and from there to Barstow. Noise from both I-15 and the Union Pacific railroad can be easily avoided by camping approximately where I camped last year and also in Dec 2011 (my initial Mojave tour).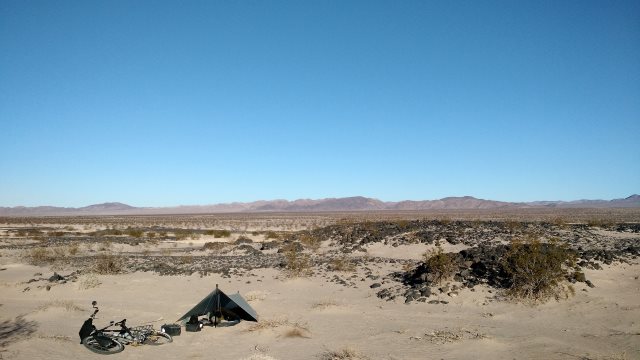 camp near amboy crater
Fri, 01 Jan 2016 (27 miles in 3:44 hours)
Wind disappeared after sundown yesterday and remains gone this morning. Headache gone and sinuses almost clear. Slept well and even starting to adjust to the train noise. Everything looking up!
Wind resumed later in morning, but this is an uphill stretch, so wind not a big factor. Also, the important thing is to have peace and quiet at night and while doing morning exercises. Wind later in the day is bearable, though of course never enjoyable. Also, this was a gentle wind compared to yesterday. Probably thermal winds in both cases, caused by air to the east rising as the sun heats it, pulling in cold air from the west. Which is why the wind stops at sundown.
Picked up snacks at the Ludlow store then camped a mile and a half north of the highway, along a dirt road. Can still hear some highway and railroad noise, but doesn't bother me much now. How soon we grow accustomed to background noise! Which is why society tolerates so much of it. No one even notices the noise until they get away from it for a while and then return to it later. Though we may cease to be consciously bothered by it, noise probably eats away at us on the subconscious level. A major component of the constant stress of modern society.
Original plan was to get to Barstow tomorrow, but now it looks like Sunday arrival, since I'm not interested in a long day tomorrow. Probably should always plan on seven days from Blythe, in case of wind or other delays, but only need six days food, since stores at Ludlow and Newberry Spring.
Sat, 02 Jan 2016 (21 miles in 2:25 hours)
Cold symptoms mostly gone, but still some mucous in my nasal passages. Overcast and cool temps, gentle tailwind from east.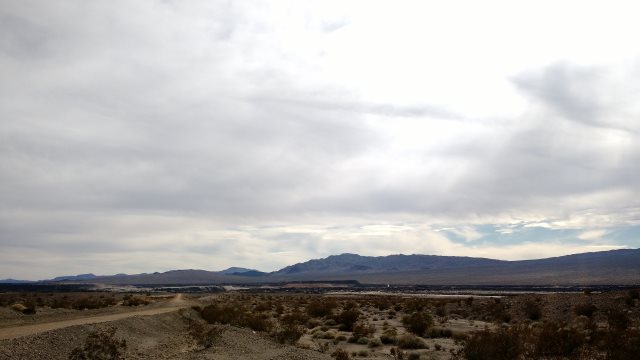 surface mine, about 10 miles east of newberry springs
Sun, 03 Jan 2016 (36 miles in 2:59 hours)
Overcast skies. Tailwind finally arrived. Attacked by pack of vicious dogs on the way to Newberry Springs. Hiking stick very effective at fending then off until I got past their territory, definitely a far better solution than pepper spray. Cleaned and lubed chain. $40+$5 tax, after AARP discount, at Motel 6 in Barstow. Forecast for rain next three days, including heavy rain Tuesday. I was hoping for leisurely and pleasant journey to Ridgecrest, dawdling in the sunshine at lunch. At least the forecast is for more tailwinds, from south and east, though of course these wind forecasts are of dubious reliability.
Mon, 04 Jan 2016 (zero)
Slept poorly and felt tired in the morning, plus still have mucous in nasal passages, so evidently haven't completely recovered from cold and relapse is possible if I stress myself, so decided to take a zero day. Camping is most enjoyable when balanced by time in motels, and I haven't been doing that. Leaving today for Ridgecrest feels like pointless hardship: forcing myself to catch the bus Wednesday when there is no good reason to rush back to Reno. List of chores awaiting me is short. Primary chore is continued studying of Russian, but I can just as well do that here and maybe better since less distractions. Still stuck at an hour a day of this studying. My mind has developed a system for achieving happiness and resists any attempt to bend its rules. One rule is never work hard except in true emergencies: ambition is for fools.
Tue, 05 Jan 2016 (zero)
Lingering cold symptoms in the morning: headache, mucous. Another zero day. Felt better later in the day. Three hours of Russian study, for want of anything else to do: that's the way to get around that rule noted yesterday about never working hard. Study included reading a chapter of Dostoyevsky's Преступление и Наказание / Crime and Punishment in dual-language edition. Still need to refer frequently to either the dictionary or the English version, due to lack of vocabulary.
Wed, 06 Jan 2016 (zero)
Continued mucous in nasal passages. Typical that worst symptoms of cold resolve in a few days, then mucous lingers for weeks. Using this mucous as an excuse to remain in Barstow, since the rain has stopped and wind is not unfavorable. Wasted time surfing internet. Less than an hour of Russian study today: as might be expected, unable to maintain yesterday's pace.
Thu, 07 Jan 2016 (zero)
Another lazy day. Body feels strong during morning workout, but still some mucous in my nasal passages, though less than yesterday.
Fri, 08 Jan 2016 (24 miles in 3:07 hours)
Made bus reservations for Monday and Tuesday. Should have done this sooner. Nice day: sunny, cool, little wind. In the past, I made it from Barstow to Ridgecrest in two days. However, the ride is at last ten hours, so three days is better and what I'm planning on, which is why I stopped early. Ground wet from recent rains, lots of muddy sections, mud all over bike, but not bad enough to clog brakes. Definitely good idea to have waited until today.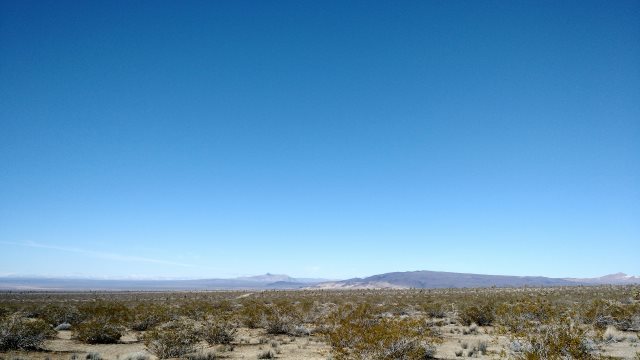 along fossil bed road
Sat, 09 Jan 2016 (35 miles in 4:15 hours)
Overcast most of day. Fossil Bed road continued to be muddy in places, and I was worried Hoffman road would be worse, so followed the former to highway 395, near Camp Boron Federal Penitentiary, then north. Good shoulder on 395. Combination of highways 58 and 395 might be way to avoid all dirt roads between Barstow and Ridgecrest, if necessary due to heavy rain. Not sure as to shoulder on 58. Started drizzling soon after I set up camp.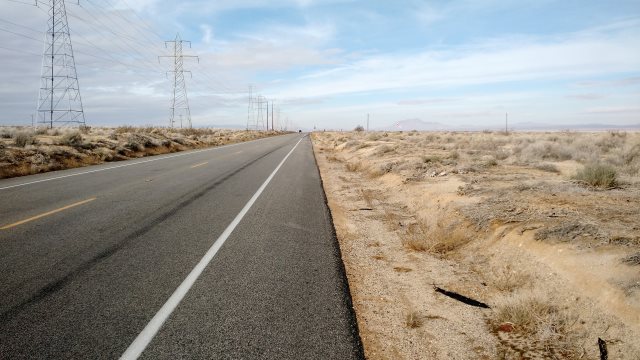 good shoulder on hwy 395, at least from camp boron north to trona road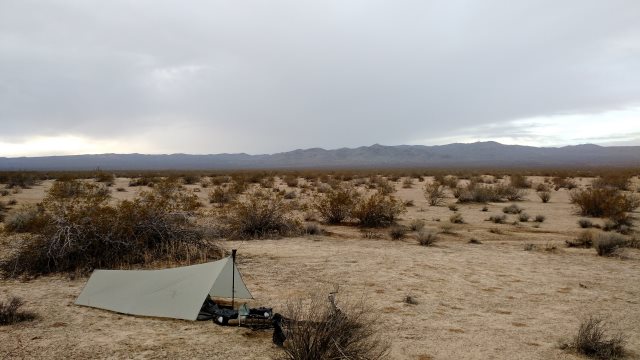 last night's camp, a few miles south of johannesburg
Sun, 10 Jan 2016 (38 miles in 3:43 hours)
Old man came up and talked to me while I was eating in the park. Wearing two wide brim hats, one on top of the other, jacket with embroidered crucifixes on the lapels, assorted gaudy jewelry, otherwise outlandishly attired. Appeared to think I was a down on my luck social outsider myself, a reasonable assumption given my humble meal: can of beans, two fresh jalapenos, package of corn tortillas. (This main course had been preceded by a pint of chocolate gelato for dessert, which I prefer to eat first, but the evidence for that was hidden in the trash bag.) Asked where I was heading, talked about his own travels in a beat-up van, warned of methamphetamine addicts who robbed a friend of his the other night, described the town's homeless services. Strange that I feel so comfortable in my skin when mistaken for a bum and indeed living like a bum, albeit a bum who can afford motels. On the other hand, I don't much care for the conversation of the other social outsiders, so I was happy when the old man finally moved on.
$36+$4 tax at Motel 6 in Ridgecrest, after 10% AARP discount. Put some water and a purification tablet into each bottle and bladder. Part of the post-trip maintenance, but might as well do it now. Hung tarp and bugbivy to dry, since both were damp.
Mon, 11 Jan 2016 (13 miles in 1:15 hours, ending odometer 15623)
$26 CREST bus to Bishop. Driver asked me to store bicycle inside bus because it was bouncing too much in the bike rack. First time any of these CREST drivers has complained of that. Put the bike in the wheelchair spot, secured with a bungee cord another passenger lent me. Driver later turned on radio very loudly, turned it down somewhat after several passengers (including yours truly) yelled in complaint (we had to yell to be heard over the radio). Hiking and bicycle touring involve occasional hardships, but it's always the public transport (buses, trains, airplanes, ferries) at the start/end of each trip that is most unpleasant. $50+$7 tax at Motel 6 in Bishop. No AARP discount available because no single rooms. $53 bus to Reno tomorrow.
Statistics
43 nights away from Reno total, of which 30 nights camping, 13 nights in motels. 8 rest/hibernation days, 35 days riding.
1063 miles total, 124 hours pedaling/pushing, average of 8.6 miles/hour. For 35 days riding, average of 3.5 hours/day pedaling/pushing, 30 miles/day.
Total motel expense of $634 including taxes, for average of $49/night for the 13 nights in motels.
Last trip for year 2015, and thus time to collect yearly statistics. Total of about 220 nights away from Reno, 86 nights camping.
Comments
Enjoyable trip. Only real mistake was taking so many zero days in Barstow rather than spreading them out. Easy mistake to rectify.
See the Nomad page for bicycle comments.