Feb-May 2016, Hiking in Spain
Planning
See the GR7, GR8 and GR10 trail guides for current GPX tracks and also the main Hiking in Spain guide here.
Mon, 25 Jan 2016
Bought my tickets for the Europe trip:
Bus to San Francisco on Sun 21 Feb, staying with friend a few days. Fly to Madrid afternoon of Wed 24 Feb, arriving towards midnight Thu 25 Feb. Night bus to Granada, local bus to Dúrcal the next morning, then start hiking immediately so as to fight jet lag. Take a rest day in Lanjarón.
Bus or train to Barcelona on Tue 24 May, then late night flight to Kiev, arriving morning of Wed 25 May. (Some misgivings about this night flight. Idea is to avoid staying overnight in Madrid or Barcelona, which is a hassle, then rushing to get to airport early for early morning flight, or else late arrival and hence difficulty finding AirBnB apartment, though maybe I'm overstating the difficulties associated with day flights.)
Flight from Kiev back to San Francisco, leaving in the early evening Sat 30 Jul, fourteen hour overnight layover, arriving afternoon Sun 31 Jul. Stay with friend a few days, then bus to Reno.
Flight to and from Europe $856, flight from Barcelona to Kiev $145, buses between San Francisco and Reno about $12 each way. Made the initial AirBnB reservation for Kiev, from May 24 (so I can check in very early) to Jun 2 for $20/night. Will make additional reservations later. These travel plans seem very complicated, with all sorts of potential for problems. But what is the alternative? Stay here in Reno and go crazy with boredom? Hike the PCT or AT, both of which hold little attraction for me compared with hiking in Europe? At some point I'm probably going to have to make Europe my permanent home, to get away from all this long-distance flying. But that is still some years off.
Mon, 22 Feb 2016
Old man at motel two doors away apparently asked someone for a cigarette yesterday and was rudely refused. The affront festered in his mind overnight then erupted in a cursing spree early this morning. Five hours standing in his doorway in his underwear, loudly shouting obscenities until his mind was finally cleared of the angry thoughts reverberating inside: "fucking five dollars for a fucking pack of fucking cigarettes at the fucking store, fucking can't give me one fucking cigarette fucking cheap fuck, get your own fucking cigarettes at the fucking store, fucking five dollars..." All the employees laughing after he checked out about noon. Soon enough I'll be out of this dump myself.
Wed, 24 Feb 2016
About $12 BART fares during stay in Bay Area. Slept some during flight to Istanbul. Time slowed noticeably during my stay with my friend these past three days, but it really came to a grinding halt once I left for the airport. Single most important reason to travel: to get back the feeling of having abundant time, versus feeling that life is slipping away too rapidly.
Talked some in Russian to Ukrainian women sitting next to me on flight from Istanbul to Madrid, though most of our conversation in Spanish (she didn't speak any English). My Russian is definitely improving, but still far to go. Only studying Russian about half-hour per day recently, versus full hour I was doing before, and probably will continue at that slower pace in Spain. Too tempting to listen to music in the evenings rather than studying, and half-hour studying is all I can tolerate in the morning. Really need to get to where I can read real Russian literature, rather than these tedious beginner level stories.
Thu, 25 Feb 2016
€5 from airport to bus station via metro, €38 ALSA night bus to Granada (regular €19 bus sold out, so had to take premium service, perhaps worth it for wider seats, which allowed for reasonably comfortable sleeping). Slept an hour during bus ride.
Fri, 26 Feb 2016 (27 km)
Purchased SIM card and Movistar service in morning, after waiting several hours for store to open, then €2 bus to Dúrcal. Bought some food at supermarket, then hiked to Lanjarón. Mild weather. Didn't feel tired, so evidently night flight / night bus ride scheme works to reduce jet lag. Today's hiking distance is estimated, since GPS wasn't on the whole time. Distance includes hike from bus station to center of Granada. €35 for room at Hotel Andalucía. Fell asleep about 8 pm.
Sat, 27 Feb 2016 (22 km)
Strong winds from north, snow and drizzle alternating with sunshine. Possible to camp between Cáñar and Soportújar. €42 for room at Hostal Barranco del Poqueira. Other hostal was full.
Left one each USB cable, charger and US to European socket adapter at the other hotel—annoying though not disastrous loss, since I have duplicates of all these items plus I can buy replacements here in Spain eventually. First time I've lost something in years. Jet lag might be partly to blame, or maybe I haven't yet developed strong enough habits for electronics, the way I have for my other gear, to prevent these sorts of mishaps. Bring another US to European socket adapter next time, to allow charging batteries plus two USB devices simultaneously.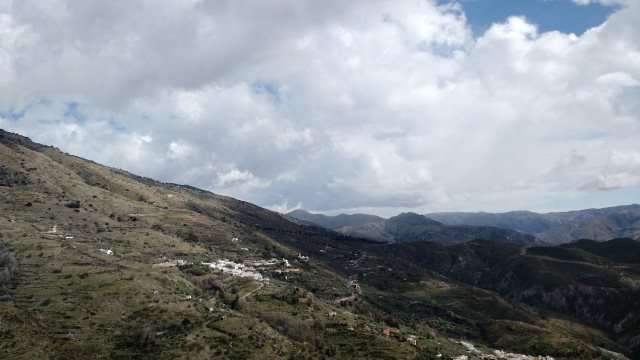 soportújar
Sun, 28 Feb 2016 (10 km)
Día de Andalucía holiday. Cold morning, warming as sun came up. Very nice weather by mid-afternoon. €45 for room with two single beds at Hotel** Nuevo Malagueño in Pórtugos. Going slow to allow full jet lag adjustment and also get body back into hiking condition. Most recent hiking was a week in Bulgaria last May, and before that three months in Spain in spring 2014.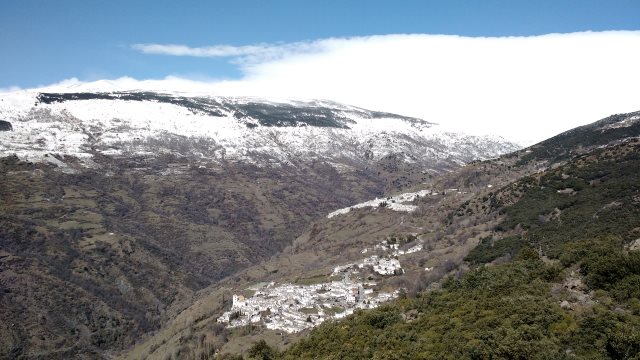 bubión and capileira
Mon, 29 Feb 2016 (16 km)
Jet lag still a problem: difficult to fall asleep, difficult to get up early. Skipped morning Russian, did do yoga however, finally managed to get out of hotel about 10. Excellent multigrain bread at the panadería in Pórtugos. Temperatures much warmer than past few days. Some snow on trail, but rapidly melting in sun. Puppies at the corral from two years ago half-grown. Didn't follow me this time. Did the Russian during lunch break, probably better time to do it anyway, versus ruining the morning with what feels increasingly like an unpleasant chore. I still want to learn Russian, but more to read real literature than to speak fluently. Need just enough speaking ability to get around as a tourist. €20 at Hostal Fernando in Trevelez. Made a reservation for Pensión Montoro in Cádiar for tomorrow (quoted me 20€).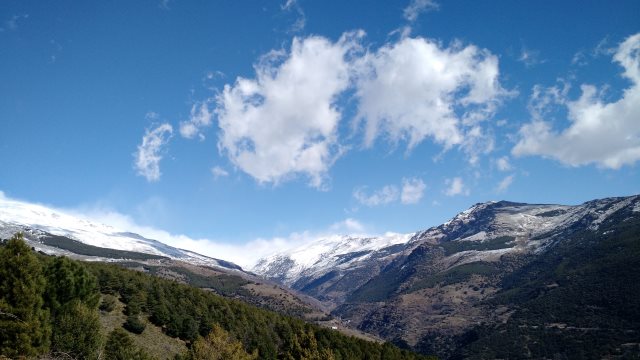 along the road to trevelez
Tue, 01 Mar 2016 (24 km)
Trail almost entirely free of snow leaving Trevélez. Another beautiful day, sunny and warm, should continue this way for another week. Took Sendero Local Acequia de Castaños instead of official GR7 between Tímar and Lobras. Will update GR7 GPX to show this option. Pensión Montoro, which used to offer cheap rooms for rent in Cádiar, is closed, however owner reopened in a new location (with old phone number) as Restaurante y Apartamentos La Pará de La Suerte. 20€ for really nice two bedroom apartment with full kitchen. Carrefour, the French supermarket chain, has opened a store on the outskirts of town—will crush the smaller stores. Bought a USB charger (with European plug, of course, so no adapter needed) with included USB cable at the local hardware store, to replace the charger and cable I lost.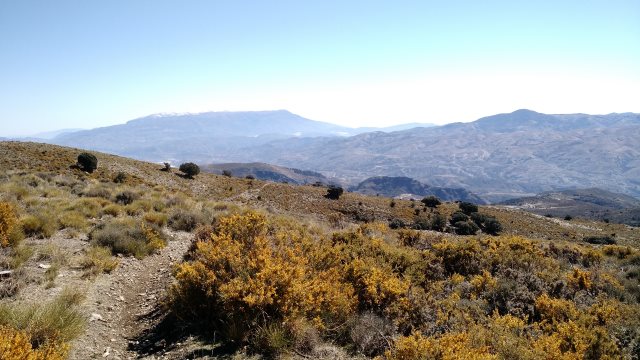 along the road to juviles
Wed, 02 Mar 2016 (19 km)
Pensión Las Perdices in Válor said they were closed when I called, either because midweek or off-season, so stayed at Pensión El Tinao in Yegen. 20€ for single occupancy. Pensión (bar/restaurant/rooms for rent) is run by an Irish woman, who said she saw the place advertised for sale on the internet 14 years ago, and so decided to quit her high-paying job in the financial industry, which was making her miserable, and be happy but poor running a bar in the quiet and sunny south of Spain. Asked if she had a website for the pensión. Replied no and didn't seem interested. Awkward selling her on the idea, since I have no financial interest myself. I let the matter rest after pointing out the prices: about 15€/year for domain name and 50€/year for web hosting at dinahosting, a typical Spanish service provider, or host for free at blogger.com, though this is unprofessional-looking. I created a web page last year to provide advice for these small hotels to get websites set up properly and inexpensively, but it's like pulling teeth to get them to see the value of having their own website versus relying exclusively on booking.com, travel guides, other people's websites, airbnb, etc.
Thu, 03 Mar 2016 (27 km)
Last night was first time I slept straight through, so evidently I'm finally over the jet lag. Bought two days food this morning, enough to get to La Calahorra. Could buy in Laroles, but stores likely closed for mid-day break when I get there. Made a reservation for Hostal Labella in La Calahorra for tomorrow. Fuente in Bayárcal in plaza with children's play equipment, visible below the highway—fill up here if planning to camp, unless planning to collect water from streams. No need to carry huge amounts of water, since there is a reliable fuente about 12km north of here (under shelter on west side of road, about 100m south of the bar/restaurant at Puerto de Ragua). Camped on trail 2km north of Bayárcal, same place as last year, next to abandoned farmhouse.
Fri, 04 Mar 2016 (22 km)
About 4km north of Bayárcal, trail ascends steeply towards road. I recommend continuing all the way to the road and then following road next few km, to Venta El Zamburino (Hostal de Los Arrieros), because GR7 for this section overgrown with vicious wild rose thorns. Tore my shirt on these thorns. 25€ for single occupancy at Hostal Labella in La Calahorra. Excellent bakery here, both pan integral and pastries very high quality. Store across from hostal poorly stocked, though I managed to scrounge up enough to get me to Baza. Probably there is a large supermarket in nearby Guadix and people do all their shopping there now.
According to my 2014 trip report, I was avoiding chocolate then due to problems with caffeine addiction. Problems eventually disappeared and chocolate back as major component of my diet for at least a year now, typically 100g/day of dark chocolate while in Reno, and 150g/day milk chocolate here in Spain (in both cases, preferably mixed with hazelnuts or almonds). Makes it much easier to get my daily calorie requirements.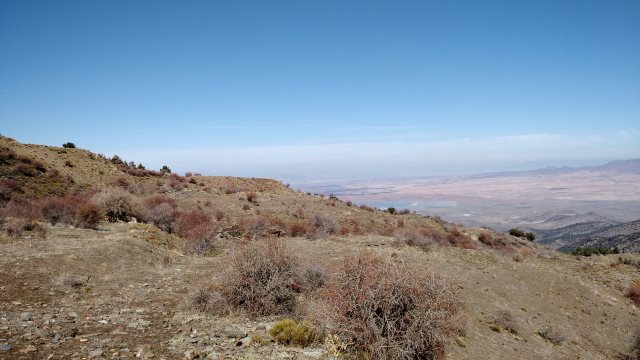 mountain goat
Sat, 05 Mar 2016 (31 km)
Sunny but cold and windy. Forecast for temps well below freezing tonight in Baza, which is at 840m, and so presumably colder in the mountains where I camped, at 1820m. Left Charches with 1.5L water. Fuente on way to campsite, so could have left with nothing.
Sun, 06 Mar 2016 (37 km)
Woke up to find about 10cm of snow on the ground, which was not mentioned in the weather forecast. Forecast did say temps low for several more days, so hibernating while waiting for snow to melt not a good idea, nor is backtracking appealing. Heavier snow likely at 2000m, which is high point on way to Baza (versus 1820m at campsite), but probably not too difficult to get through, since most of the way via forest roads. Decided to skip morning exercises and breakfast and press on. Snow was indeed deeper at 2000m, but still only about 20cm, so easy to walk through with a firm road bed underneath. Took a few shortcuts versus the true GR7 near Centro Recreativa Narváez. Fuente shortly after yesterday's campsite, and another near Narváez, so no need to carry much water. If planning to camp, place to do so would be dry river bed about 5km after Narváez, or about 30km from where I camped yesterday (assuming the shortcuts), making for a very short third day between La Calahorra and Baza. Boots and socks wet from walking in snow, but feet remained warm, though sore from long day walking. 20€ for single room at Hostal Casa Grande.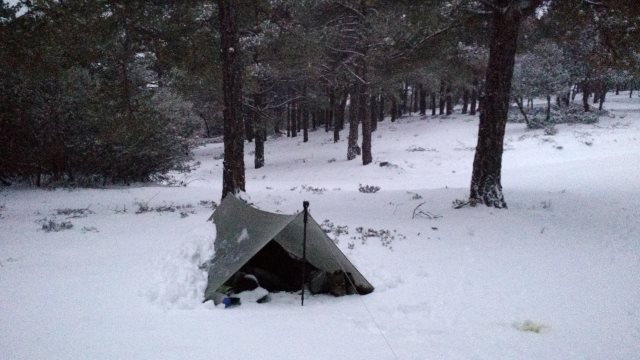 view of camp in morning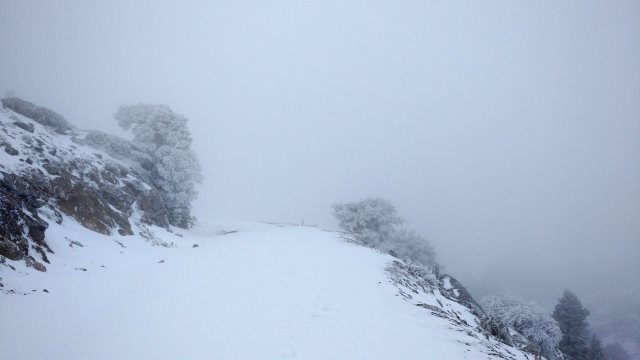 road through the mountains
Mon, 07 Mar 2016 (zero day)
Feet sore and cold, windy and rainy outdoors, plus the point of hiking is primarily to fight restlessness and I'm not restless now, so decided to stay a few days here in town.
Tue, 08 Mar 2016 (zero day)
Windy and cold, but rain is over. Will leave tomorrow. Spent much of day lying in bed, surfing the internet like a pathetic novelty addict. Russian study down to twenty minutes a day. At least I did my morning exercises.
Wed, 09 Mar 2016 (26 km)
Cool and windy but not cold, so pleasant hiking. Light drizzle shortly after I set up camp (several km after leaving lake), then furious wind during the night, even though I was sheltered in a canyon full of pine trees. Hate to think what those winds would have been like in an exposed location.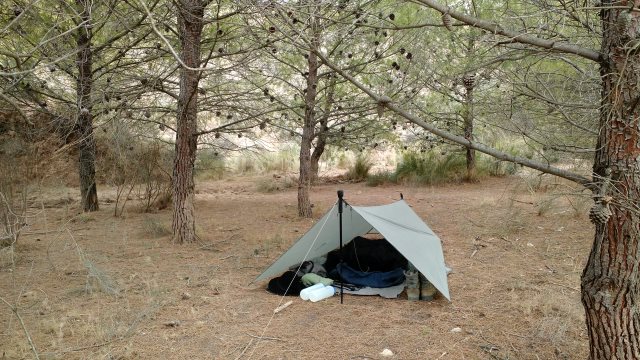 camp amid pines
Thu, 10 Mar 2016 (24 km)
Wind gentler in the morning, partly cloudy skies, cool temps. According to Accuweather, winds were gusting 100 km/h last night in this area. 22€ for single occupancy at Hostal Montecarlo in Cúllar.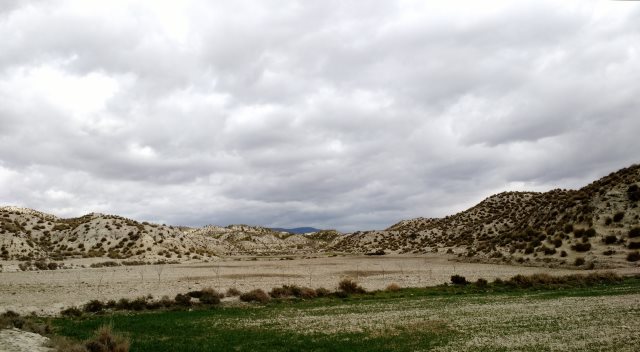 between benamaurel and cúllar
Fri, 11 Mar 2016 (31 km)
Beautiful day: mild temps, sunny, little wind. No answer at Hotel La Morata in Orce. Could have checked at restaurant of same name on ground floor of building, but decided to camp instead, tucked into hills a few km further along GR7. Okay campsite when dry, but would be muddy mess in rain. Better idea, if rain forecast, would be to call Orce hotel from Cúllar, then camp in pines just before Orce if no vacancy.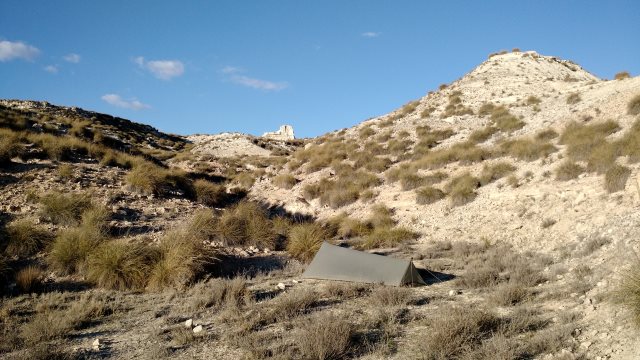 between orce and galera
Sat, 12 Mar 2016 (17 km)
Frost on tarp, ice in bottles, so temps evidently below freezing last night. Slept a bit cold too—quilt is 270g less weight and not as warm as the quilt I use for bicycle touring. By 11am, warm enough to remove insulating garments and roll up shirt sleeves and pants legs. 24€ for single occupancy at Hostal Ruta del Sur in Huéscar.
Sun, 13 Mar 2016 (29 km)
20€ single occupancy at Hostal Puerta de Andalucía in Puebla de Don Fadique. [Following notes mostly from Monday, but I'm putting them here for reference:] Two supermarkets and bakery on west side of highway, and another supermarket and bakery on east side of highway, all on GR7. Coviran supermarket on west side poorly stocked and doesn't open until 10am. Coviran on east side better stocked, not sure when it opens. Didn't try other supermarket on west side, but it didn't look well-stocked and also opens later than 9:15am, which is when I first passed it. Bakery on west side excellent and opens 9am or earlier. Didn't try bakery on east side. Limited selection of food and fresh bread also available at Repsol gasoline station on highway, including on Sundays and holidays, when other stores closed.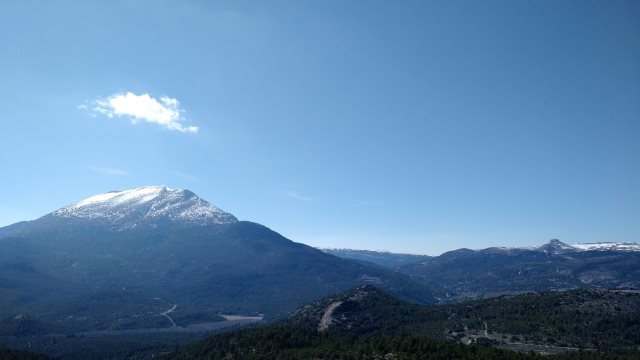 sierra de la sagra
Mon, 14 Mar 2016 (25 km)
Bought two days bread, cheese, chocolate and oranges in Puebla de Don Fabrique. Late start due to store opening late. Maybe store on east side of highway opens earlier. Picked up 3 liters water at Cañada de la Cruz (fuente labeled not potable), which is plenty capacity in cool weather. Camped in pines a few km further on.
Tue, 15 Mar 2016 (29 km)
Cloudy and cool. Reliable Fuente de los Almeces (labeled not potable) halfway between Cañada de la Cruz and El Sabinar, so 3 liters water capacity should be okay on this stretch even in hot weather. 20€ at Pensión El Nevazo in El Sabinar.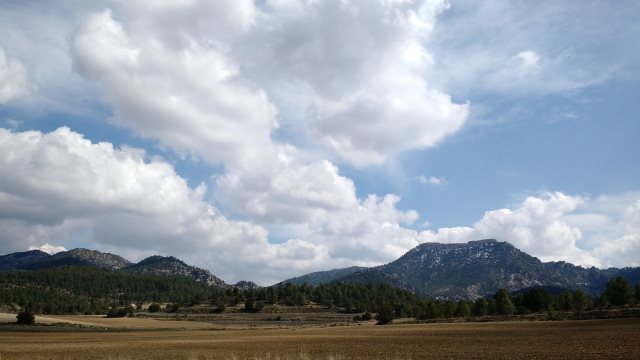 near el sabinar
Wed, 16 Mar 2016 (24 km)
Made tentative plans for next ten days, to get past Semana Santa. Will make hotel reservations once I get to Cieza on Saturday. Camped beside Río Alhárabe, about 8km west of Moratalla, 100m east of ruined mill. [Later] Thought my campsite was very stealthy, but then at 17:15, along comes some guy with fishing gear. Fishing illegal on the river here, so presumably he will not report me lest I report him.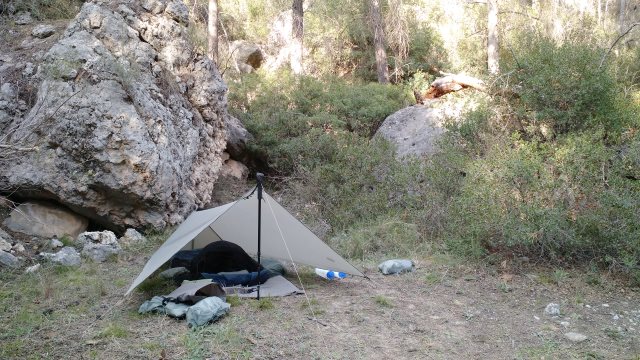 camp along río alhárabe
Thu, 17 Mar 2016 (23 km)
Picked up supplies in Moratalla, including two 1 liter bottles, bringing total water capacity to 5 liters. Most water bottles in stores nowadays are 1.5 or even 2 liters, too large for my pack. Schuss brand carbonated water is still 1 liter, which fits perfectly on top of my 1.5 liter Nalgene bottles. Camped in tree-filled gulley: very stealthy location.
Struggle to continue studying Russian. I neglect it until evening, then it seems like a chore. The problem is not lack of enthusiasm for Russian so much as loss of interest in all forms of intellectual simulation: I read little in other languages, I don't even listen to music much anymore. Still, I manage to get in a half-hour study almost every day, fifteen minutes listening to audio, fifteen minutes reading. Maybe that's enough if done every day.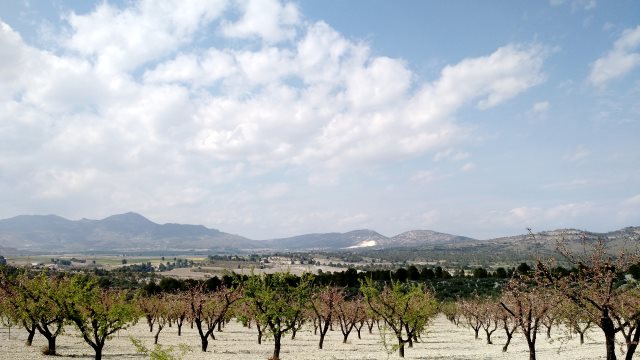 between moratalla and calasparra
Fri, 18 Mar 2016 (24 km)
Pine forest about 5km along GR7 from where I camped yesterday possible campsite, though buildings and highway nearby. Picked up food and 5 liters water in Calasparra, then camped about 13km from town.
Found an adult tick on my boot while undressing. Killed it then did a quick inspection, but found no other ticks in my clothes or on my body. Tick was on my boot, which suggests I picked it up just before making camp, but area is very dry and open, with lots of bare soil between clumps of brush and isolated pines, not at all what I would consider prime tick territory.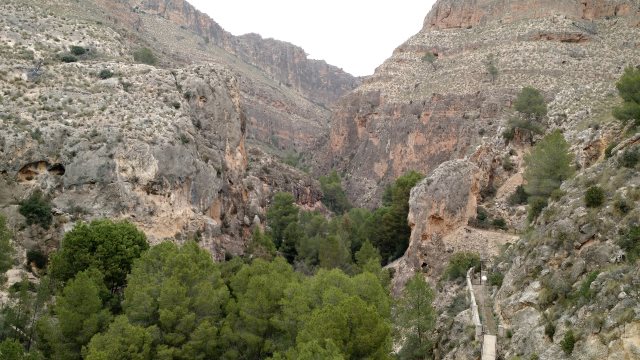 canyon of the río quipar
Sat, 19 Mar 2016 (26 km)
Overcast, occasional very light drizzle. Plenty of other camping possible for at least 5km beyond where I camped yesterday, for those who want to arrive in Cieza early. 55€ for single occupancy at Hospedería San Sebastian in Cieza. Made reservations for Monday in Pinoso (Hostal La Cañada) and Wednesday and Thursday in Elda (Hostal Carrizo). After that, camp Friday and Saturday. Next Sunday is Easter, end of the dreaded Semana Santa, so should be vacancies in Alcoy then without need for reservation. Forgot to buy supplies for hike to Pinoso, though tomorrow is Sunday and most stores closed.

between calasparra and cieza
Sun, 20 Mar 2016 (36 km)
Rained last night, but clear skies in morning. Bought bread at a cafe, sardines, oranges and chocolate at small store, enough to get me to Pinoso. Left Cieza with 5 liters water, after drinking a liter with breakfast (a croissant roll at the hotel). Should have drunk 2 liters with breakfast and perhaps carried 6L. Finished day with a little more than 2 liters remaining. I was lucky in that temps cooled down in the afternoon as clouds built up, after starting very warm, otherwise I would be short of water. Camped in a gulley, stealthy and otherwise good location.
Long day today because of water concerns and because I want to arrive in Pinoso before stores close for lunch. In fact, most days so far on this trip have been too long. Compare with my recent Mojave bicycle tour, where I averaged 3.5 hours per day riding/pushing, which would equate to about 19km hiking. Need to take more zero days once Semana Santa is over.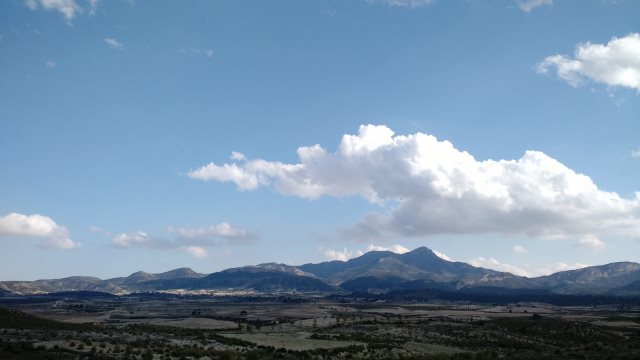 between cieza and pinoso
Mon, 21 Mar 2016 (19 km)
Drizzled some in the night, then started raining during morning yoga. Packed up quickly, just before rain became heavy. Rain stopped an hour later, sun came out for a while, then rain resumed. 36€ for single occupancy at Hostal La Cañada in Pinoso. Boots a muddy mess.
Thinking of cutting out chocolate again from my diet, mainly so as to lose weight, which might help me with lolasana yoga pose (tucked planche), which I cannot do currently but would like to be able to do. There also might be some truth to the idea that sugar is a poison and encourages cancer, and chocolate is my main source of refined sugar here in Spain. (Oranges have sugar as does unsweetened yogurt, plus bread digests to glucose very rapidly, but the dubious sugar=poison theory says these "natural" sugars are okay.)
Tue, 22 Mar 2016 (17 km)
Overcast and cool, occasional light drizzle. Most of GR7 today on paved roads with some stretches of well-drained gravel roads, so not a problem that ground is wet. Started raining again soon after I made an early camp, on abandoned terraces amid pines.
Johnson's Rambler No. 41: "Life, in which nothing has been done or suffered to distinguish one day from another, is to him that has passed it, as if it had never been, except he is conscious of how ill he has husbanded the great deposit of his Creator." Man was not made for life any more than he was made for the Sabbath, but rather both were made for man. The purpose of life is to be happy, not to leave a legacy of great deeds accomplished much less hardships suffered. If a man is fortunate to be able to spend every the day the same, every day happily eating, exercising his body, having sex, lying quietly listening to music or birds singing, sleeping, then he is a fool not to seize this opportunity. Great deeds and hardships should be the consequence of necessity. The only sane reason to go to war and display bravery, for example, is because an enemy threatens. As for the Creator, that is Mother Nature, not some man hiding behind the curtains whose existence we have to take on faith, and the true act of poor husbandship of Her great gift of life is to live unhappily when we don't have to.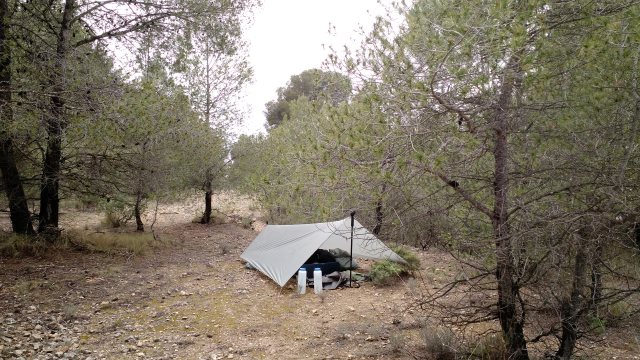 camp amid pines
Wed, 23 Mar 2016 (17 km)
Clear skies, cool dry west wind has blown away all the clouds and humidity. Felt a sharp pain in my left knee for the last fifteen minutes hiking yesterday, so bad I could hardly walk. Pain gone this morning. Maybe lower leg slipped out of proper alignment in knee socket, then realigned itself while sleeping.
While eating in the park, a chihuahua had the audacity to lift its leg and urinate on my backpack. Tried to hit it with my stick but it got away, then barked furiously at me from a distance. Should have chased it off when I first noticed it sniffing at my food. Poured some water on the pack and then washed it at the hotel. Needed washing anyway because of mud. 40€ for double occupancy (singles sold out or not available due to Semana Santa) at Hostal Carrizo in Elda. Paid for the two nights for which I previously made reservation.
Thu, 24 Mar 2016 (zero day)
Bought food for tomorrow, when most stores closed for Good Friday.
Fri, 25 Mar 2016 (14 km)
Camped in forest.
Sat, 26 Mar 2016 (31 km)
Sunny, so left Castalla with 5L water, after drinking a liter with my big meal there. Bought enough food to last through tomorrow. Camped after Santuario de Font Roja, just after leaving road. Still had more than 3L water in bottles at end of day, with clear urine, plus I could have obtained water at the Santuario if necessary, so hauling 5L from Castalla was excessive. Bring 3L next time.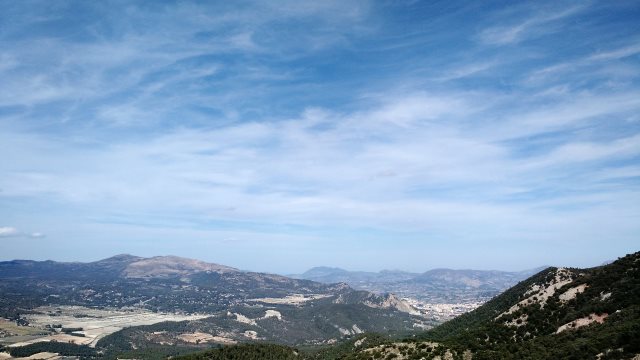 alcoy
Sun, 27 Mar 2016 (13 km)
Easter Sunday. 33€ for single occupancy at Hostal Alcoy.
Mon, 28 Mar 2016 (zero day)
Most stores closed, day after Easter holiday.
Tue, 29 Mar 2016 (26 km)
Beautiful day: mild temps, sunny, dry. Camped in woods about 5km from Bocairent. Bad location: ground rocky; too close to inhabited buildings; spotted a nymph tick on the bugbivy netting shortly after getting inside. Crushed tick between rocks, did a quick self-inspection, found nothing. Forests around here damp, hence likely full of ticks no matter where I camp, but at least I could find a place further from human habitation.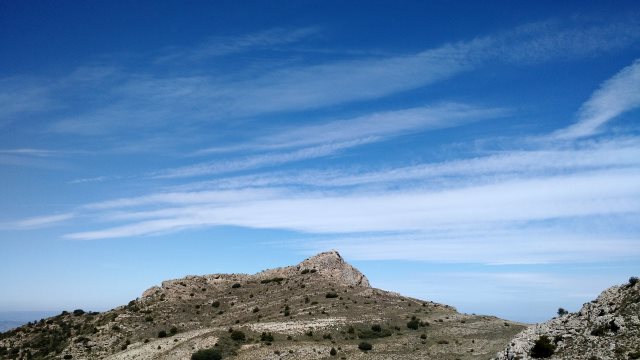 montcabrer
Wed, 30 Mar 2016 (25 km)
Did another tick inspection in the morning, but found nothing, and didn't notice any ticks on the bugbivy netting, so hopefully I didn't get bitten. Won't be able to do a full inspection until Vallada, assuming a vacancy at the apartment there. Camped same place as 2014. Left Bocairent with about 4L water, after drinking a liter for breakfast and another liter with lunch, plus liquid in fruit with lunch. Still have over 2L at end of day.
It's over a week since I cut chocolate from my diet without adding anything but more bread. Net result is maybe 500 kcal/day deficit, which means weight loss will be slow, probably unnoticeable thus far. I also haven't noticed the improved health and strength benefits alleged to result from getting rid of sugar from the diet. Regardless, I'm now able to hold myself in a tucked planche (lolasana pose) for about 20 seconds, except my form is bad: not tucking my legs close enough to my chest due to weak hip and knee flexors in the fully flexed position, not lifting my torso enough, pressing sides of legs against arms to assist keeping myself up. But it's a good start.
Reading A Voyage to Abyssinia by Father Jerome Lobo (1660, abridged and translated to English by Samuel Johnson). Another travel catalog of horrors. Maybe I just lack the sense of adventure to see the appeal of actually engaging in these dangerous and hardship-filled journeys, as opposed to reading about them.
Thu, 31 Mar 2016 (14 km)
50€ for single occupancy at Apartamentos Giners in Vallada. Put chlorine dioxide tablets in bottles, to clear any bacterial growth—overdue for that maintenance. Didn't notice any ticks bitten in from two days ago.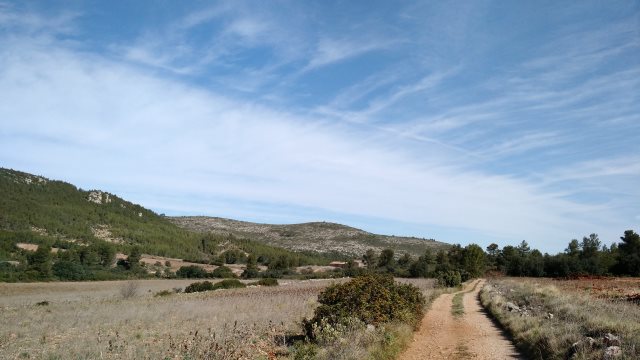 along the road to vallada

castillo de vallada
Fri, 01 Apr 2016 (33 km)
Drank 2L water with breakfast, then left Vallada with 6L water, 2 kilos bread, 600g cheese. Partly cloudy, mild temps, so 6L should be sufficient. Had it been warmer, like when I walked this stretch in 2014, I would have carried 7L. More than 3L remaining at end of day, enough to get me to the spring at Collado Caroche tomorrow. Camped in dry river bed, very close to 2014 campsite, but much stealthier.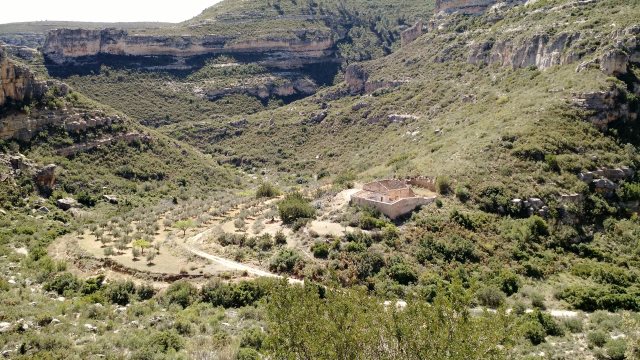 barranco de la hoz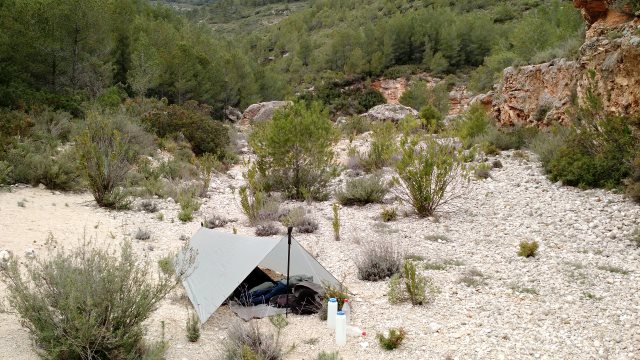 camp in dry river bed
Sat, 02 Apr 2016 (34 km)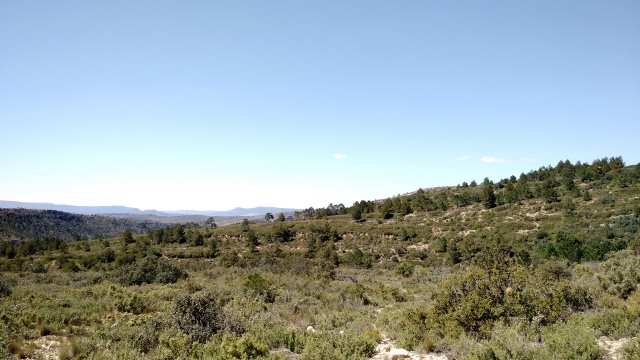 south of collado caroche
Sun, 03 Apr 2016 (20 km)
Had to push through some rushes in a stream bed that seemed like perfect tick territory, so did a quick leg inspection afterwards. Sure enough, an adult tick on my lower leg, not yet bitten in. Did a more thorough inspection later at the hostal, but found nothing.
When I called Hostal Casa Fortunato in Cortes de Pallás, at about three o'clock, they said I'd have to wait until six for the room to be cleaned. So I walked to Hostal Chema, which is right next door to Casa Fortunato, and asked them. Same story, so maybe these hostals are affiliated, except now the wait was only an hour. The reason for the wait was obvious: at least fifty people having lunch at the restaurant, so all employees busy. I said give me the towels and sheets and I'd clean the room myself. They objected at first then finally agreed and then discovered a room that was already cleaned. 20€ for single occupancy. There was some issue finding the key for this room, so they let me have the master key, which I was to leave at the bar if I went out in the evening. The back and forth discussions involved with getting this room would have been impossible without my Spanish skills, which is why I really need to learn Russian if I want to travel around Ukraine, as opposed to staying only in Kiev in AirBnb apartments. I can notice progress, but it's slow. Continuing to study about half-hour per day.
Mon, 04 Apr 2016 (13 km)
5km or so of very overgrown trail south of Venta Gaeta. Started raining while thrashing through the brush. Performed tick inspections of lower legs and arms now and then, but found nothing, probably because section very dry. Lots of scratches from the "aliagas", however. Decided to cut this miserable day short as soon as I got past the overgrown section. No need for long days hiking since I bought plenty of food in Cortes de Pallás, enough for three days to Requena instead of two, precisely because I was worried about being slowed down by rain. Camped on abandoned dirt road. Light rain continued all afternoon, then became heavy rain in the night.
Tue, 05 Apr 2016 (zero day)
Rain stopped during the night, but then resumed around dawn and continued off and on all day. Decided to hibernate. Low on water, so fasted (depletion of glycogen stores during fasting frees up sufficient water that drinking not necessary for at least a day, unless perspiring or low humidity, which causes moisture to be lost via respiration and insensible perspiration).
Wed, 06 Apr 2016 (31 km)
Rain finally stopped sometime in the night. Cloudy day. Bought two oranges from a traveling fruit truck in Venta de Gaeta. Carried 3L water out of that town, but this was a cool day and that amount would be insufficient to reach El Rebollar in warm weather. Aldea Mijares, a hamlet of about a dozen houses about 15km past Venta Gaeta, has water service to the houses, but I didn't see any people there nor any public fuente. Also possible to get water from the Río Mijares here and treat it. After Aldea Mijares (I forget exactly where), signs for picnic areas 10 and 15 minutes off GR7 that might have fuentes, but I didn't check these. Camped in woods at ridge just before descent to El Rebollar. Not many spots at this location both stealthy and clear of rocks, but I finally found such a space just big enough for my tarp.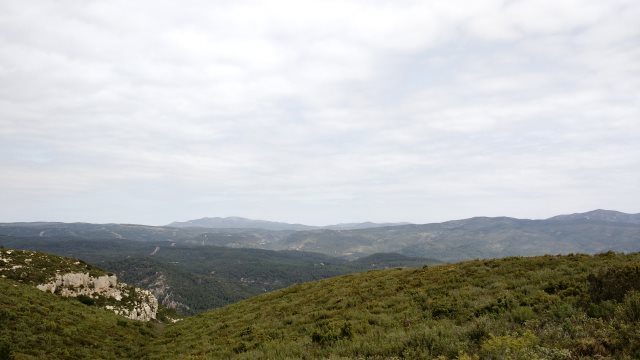 before el rebollar
Thu, 07 Apr 2016 (16 km)
31€ for single occupancy at Hotel Avenida in Requena.
Fri, 08 Apr 2016 (zero day)
Paid for another night at the hotel. Nice room other than for noisy neighbors at night and thin walls. Dead quiet in the afternoon and early evening, however.
Sat, 09 Apr 2016 (14 km)
Following correct GR7 this time, versus losing trail in 2014. Cut day short when I found a good campsite at the side of the road, a few km before Nogueras.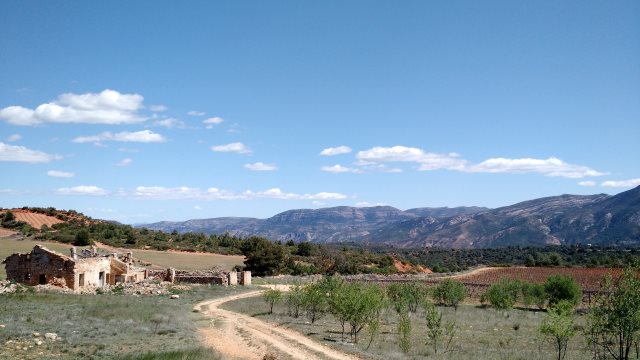 before nogueras
Sun, 10 Apr 2016 (29 km)
Vehicle passed campsite about 8:30 in the morning, on its way to inspect nearby hunting blind. Still think this is a good campsite, but for full stealth, camp on trail about 2km further along GR7. Picked up 5L water in Villar de Olmos, in case no fuente at Benagéber tomorrow. Camped near abandoned farm. Started drizzling soon after I set up tarp.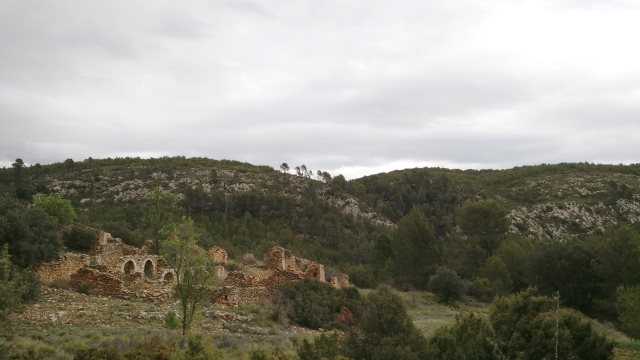 near campsite
Mon, 11 Apr 2016 (24 km)
Rained several hours during the night. Partly cloudy with cool dry air in morning. 27€ for single occupancy at Hotel La Posada de Chelva.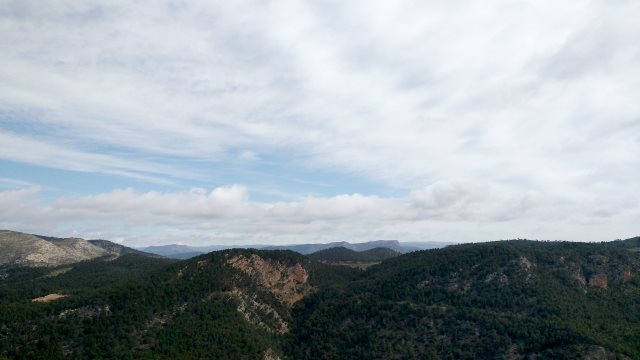 near benagéber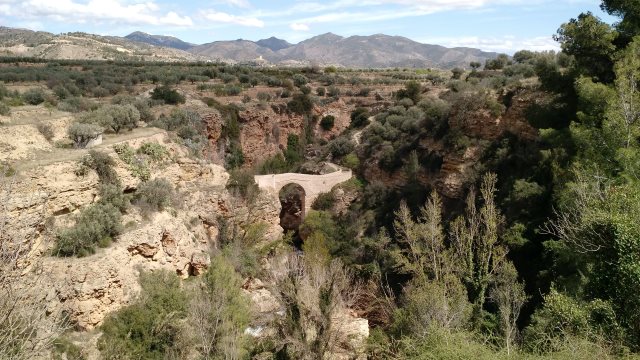 bridge near chelva
Tue, 12 Apr 2016 (zero day)
These zero days, after a few days hard hiking, are delectable. I go slower now than on past trips, and much slower than other hikers, but it still feels as if I'm going too fast. Remember: the journey is what matters, not racking up kilometers, and the journey is more enjoyable when I go slow.
Wed, 13 Apr 2016 (19 km)
Bought three days food this morning in Chelva, to allow going slow to Bejís without depending on store in Andilla.
Thu, 14 Apr 2016 (20 km)
A few spots of frost on tarp in morning, but temps quickly warmed up as sun rose. Store at Andilla closed for renovations. Left town with 4L water, after eating last meal of day there. Camp near Collado Salado.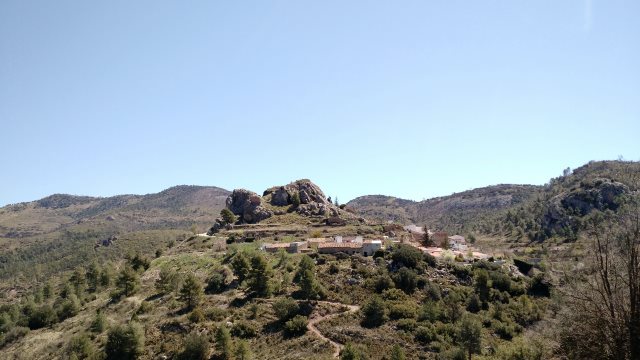 andilla
Fri, 15 Apr 2016 (15 km)
Swam and then sunbathed in a pool in barranco. 4L water I carried from Andilla sufficient to get to Arteas Arriba, where there is a fuente. 23€ for single occupancy at Fonda Tren Pita in Bejís.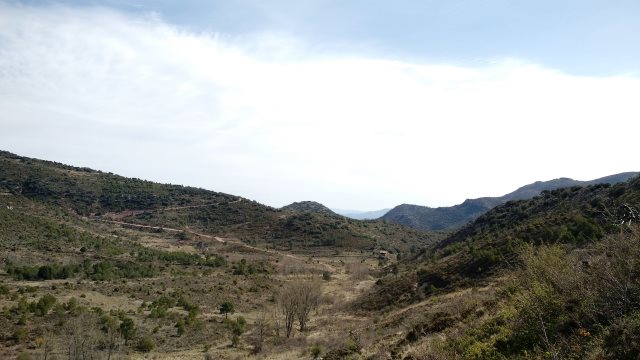 near collado salado
Sat, 16 Apr 2016 (19 km)
Bought 3 days food. Left town with 3L water, after drinking 2L with part of food. Plan is to go slow to Montanejos. Camped in almond tree grove.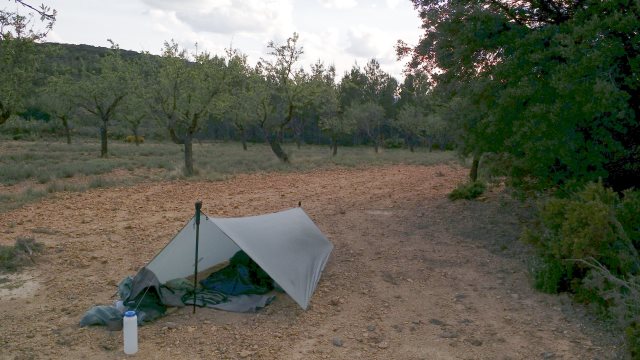 camp in almond grove
Sun, 17 Apr 2016 (16 km)
Picked up 3L water at Mas de Noguera. Trail horribly overgrown on ascent from valley. Camped after Montán, on abandoned almond terrace. While waiting for sun to set, noticed adult tick crawling on my arm. Crushed it on rock, then did a quick tick inspection but found nothing. Almond terrace is dry and sun-baked, hardly my idea of prime tick territory. Overgrown trail earlier was also dry.
Mon, 18 Apr 2016 (9 km)
Possible to do Bejís to Montanejos in 2 days, but 3 worked out nicely. Yesterday's camp was not very stealthy, but stealthy alternatives exist about 1km further along GR7. 30€ for single occupancy at Hostal Casa Ovidio on Montanejos. Did a full tick inspection, but found nothing.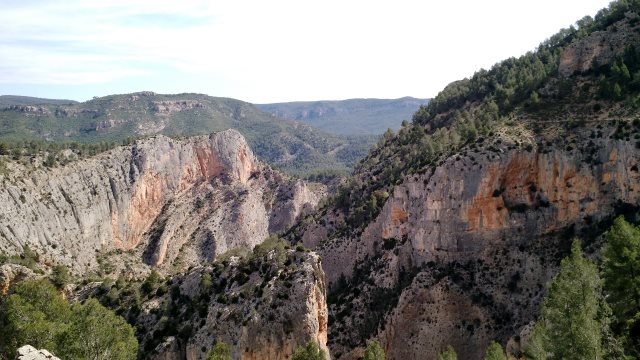 near montanejos
Tue, 19 Apr 2016 (zero day)
Wed, 20 Apr 2016 (18 km)
Camped amid pines not long after San Vicente de Piedrahita.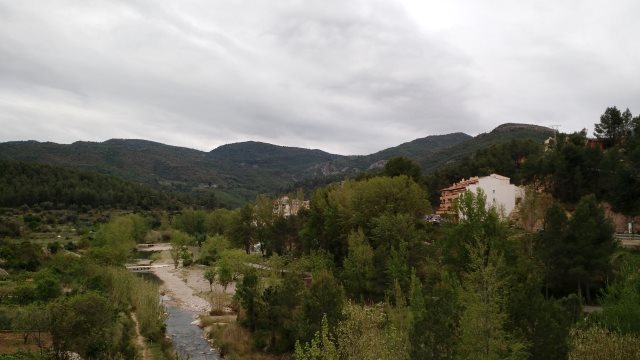 montanejos
Thu, 21 Apr 2016 (22 km)
Camped amid pines, just before San Juan de Peñagolosa. Rained some in the evening.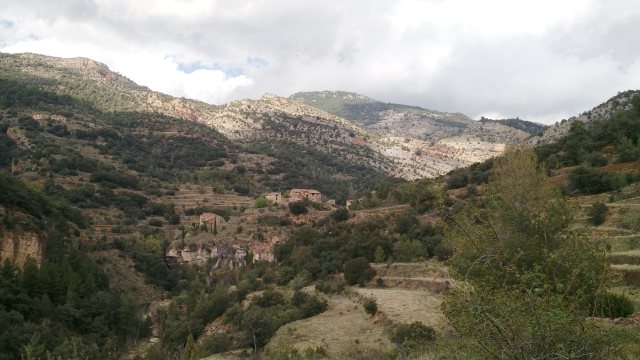 abandoned mas along río carbo
Fri, 22 Apr 2016 (zero day)
Rained lightly during the night, continued drizzling all day. Decided to hibernate, fasting to conserve water, though I still have over a liter. Did about half my yoga routine during a lull in the rain, enough to keep muscles from atrophying.
Sat, 23 Apr 2016 (19 km)
Rain stopped during night, clear skies in morning, turning cloudy later in day, bust of heavy rain in the late afternoon, just after I set up the tarp. Camped amid pines on abandoned terraces between Vistabella del Maestrasgo and Culla.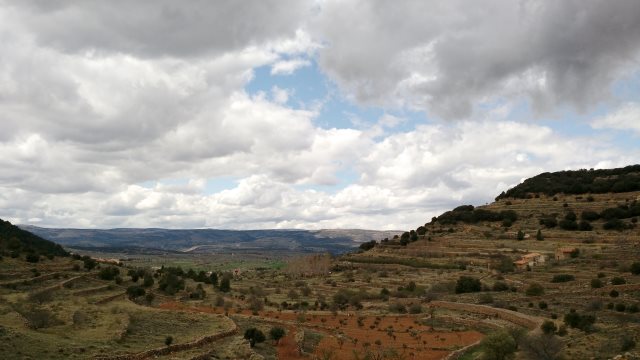 near vistabella
Sun, 24 Apr 2016 (22 km)
Blue skies, cool dry air, wind from northwest. 33€ single occupancy at Hotel La Piqueta in Benasal.
Samuel Johnson repeatedly warns against "chasing the applause of fools". This is equivalent to my own long-held view that fame is the booby prize of life and hence should be scorned rather than sought, but Johnson's phrasing is better, because it makes clear exactly what fame consists of.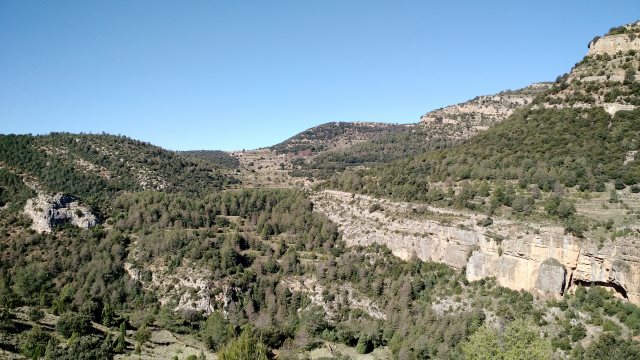 south of culla
Mon, 25 Apr 2016 (17 km)
Beautiful weather—mild temps, low humidity, blue skies, calm—beautiful scenery. Left Ares del Maestre with 5L water. Camped on terraced pastures.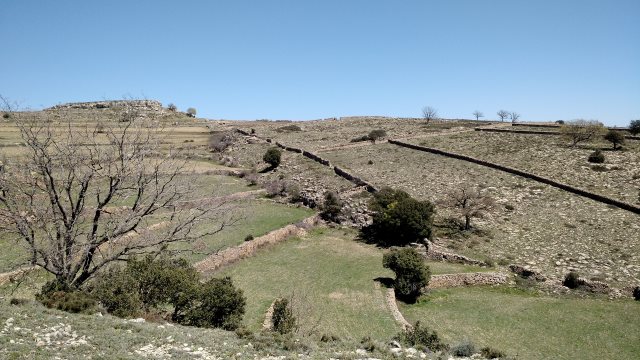 near area del maestre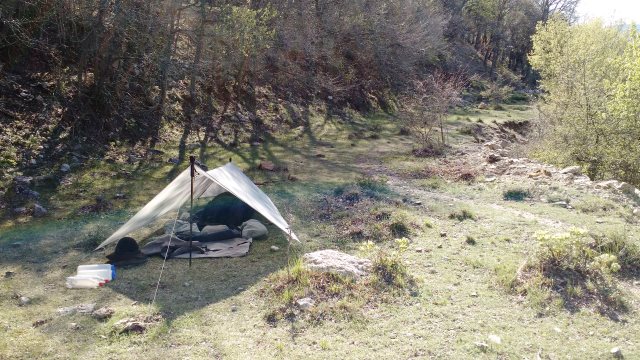 camp on terrace
Tue, 26 Apr 2016 (21 km)
Slept poorly for some reason. 27€ single occupancy at Hostal Muralla in Morella. Put chlorine dioxide tablets in bottles.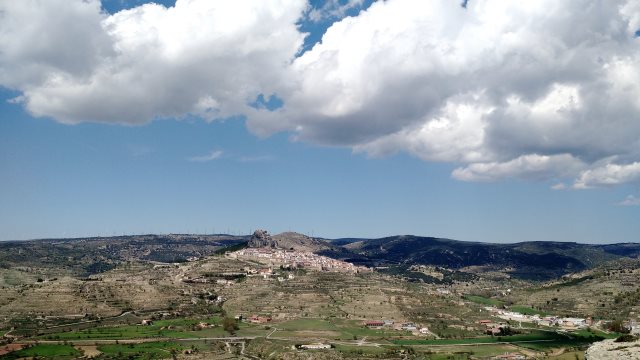 morella
Wed, 27 Apr 2016 (zero day)
I had plans to spend this zero day studying Russian intensively. Instead, I pissed it away going down one internet rabbit hole after another, then finally did the usual half-hour of Russian just before going to sleep. What a horrible thing this internet addiction is!
Thu, 28 Apr 2016 (16 km)
Bought three days food in Morella. Overcast and drizzling off and on. Store in Vallibona only open Saturday. Decided to stay at Hostal La Carbonera there (25€ single occupancy) to wash up and fully charge electronics, in anticipation of not getting a room in Beceite. Short days better than zero days, because less temptation to diddle on the internet.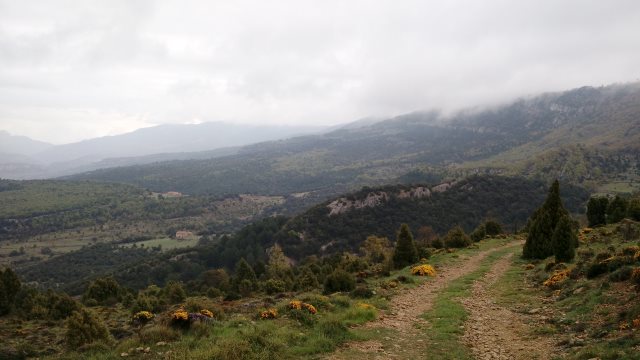 south of vallibona
Fri, 29 Apr 2016 (39 km)
Long day today, so I can get to Beceite tomorrow before mid-day break. Camped in stealthy clearing near road which is coincident with GR8.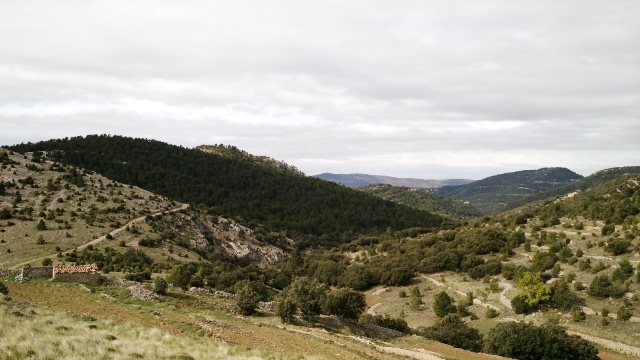 north of vallibona
Sat, 30 Apr 2016 (24 km)
Rained during night, morning drizzle, clearing towards afternoon. About 18km from campsite to Beceite (not counting 2km searching for GR8 due to bad GPX), so 73km total from Morella to Beceite. Bought food for tomorrow. Camped near lake on field access road, a few km past Beceite.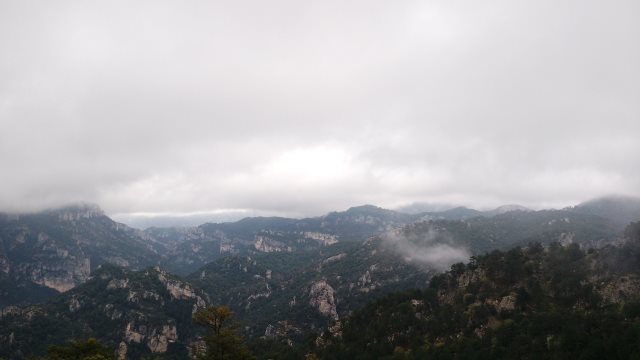 south of beceite
Sun, 01 May 2016 (25 km)
Cold and windy in morning, wind from northwest, under partly cloudy skies. GR8 differs from GPX but well-waymarked. Lost a tent stake while setting up tarp. Maybe a bird snatched it up due to the red cord. Good thing I carry eight but only normally use six. Maybe carry nine from now on. Camped in clearing, about 3km from Monroyo.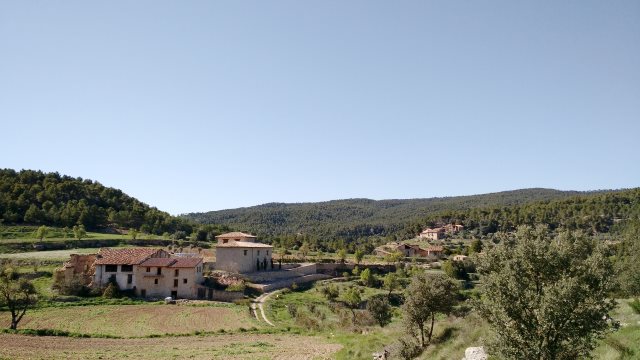 east of Monroyo
Mon, 02 May 2016 (31 km)
Blue skies and calm in morning. Store closed on Monroyo, perhaps for Puente de Mayo, but bakery open, so bought about 800g bread. Hotel in Aguaviva closed. When I called, manager said he would be there at 9 at night. No thanks. Called several casas rurales in Mas de las Matas, but no vacancies. Stores also closed there. Decided to camp outside town and return tomorrow for supplies. Need 3 days food to get to Villarluengo. Campsite cluttered with brush, so setup bugbivy without tarp, first time I've setup like this on this trip. Temps should be much warmer than past two nights and also dry.
Need to buy alkaline AA batteries tomorrow, since no way to charge rechargeable batteries for GPS, and those batteries may not last another three days.
Tue, 03 May 2016 (26 km)
Ate two bars of chocolate with breakfast, first sugary food in six weeks. "Six-pack" of stomach muscles clearly visible, but still can't do a proper tucked planche, so excess weight is not the problem, but rather insufficient shoulder strength. Not getting enough calories not helping with building muscles, nor did I notice any of the miraculous improvements in health supposed to result from cutting sugar from the diet (not that I was unhealthy previously), but I did notice loss of one of my favorite pleasures in life. So chocolate is now officially back in my diet.
Camped in pines near abandoned farmhouse after Alconzal Casas, which has fuente, as do Las Planas and Las Parras de Castellote. Distance would be 28km if starting from Aguaviva and not visiting Mas de las Matas.
Body feels much better after eating and sleeping well, and sweating heavily in the windless heat, whereas preceding days of storm and cold and under-eating left me all tensed up. How do those arctic explorers and mountaineers manage to stay relaxed, I wonder?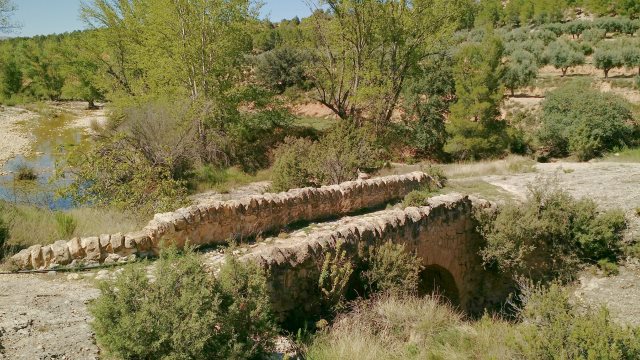 medieval bridge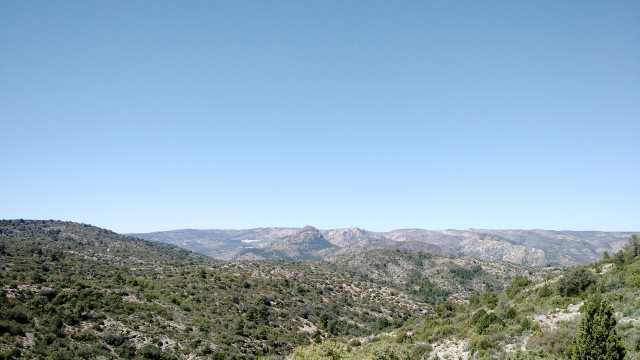 north of mas de las matas
Wed, 04 May 2016 (27 km)
Chocolate yesterday seems to have left my stomach unsettled, so maybe I'll cut it out again, but if so, replace with nuts or something else to keep from losing more weight. Some stores now have peanuts from the United States or Argentina, versus China—I don't trust food from China.
Attacked three times by bees. Second attack particularly bad, because some beekeeper placed his hives right where the GR8 merges with the forest road! Had to run through the hives then continue running several hundred meters to get away from all but the more persistent bees, then another ten minutes to fight these off. Third attack was just before arriving at camp. Maybe bees leave some chemical smell when attacking, and other bees recognize this smell later, because few bees in area of third attack. About thirty stings in all, mostly on the head and lower arms, including top of the head, since I had to remove my hat to get rid of bees crawling under the brim and heading for my eyes. Swelling of my face and of the lymph node on the left side of my neck. Good thing I'm not highly allergic to these creatures. And perhaps lucky not to have suffered more stings, since the area I walked through today was filled with sounds of bees collecting pollen from wildflowers: bees everywhere.
Camped on GR8 itself, where coincident with dry stream bed. Mild headache, probably combination of bad sleep last night from too much chocolate, intense sun, bee stings.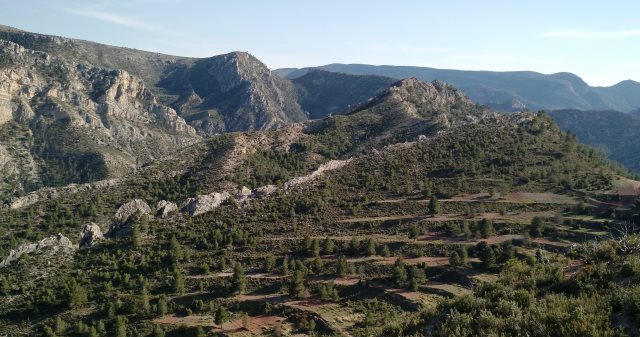 along the gr8
Thu, 05 May 2016 (7 km)
Pain mostly gone from head, though one side of face and area around both eyes swollen, but hands and wrists very sore. Considered wearing the headnet today, though I have doubts about its effectiveness. It might keep off flying bees, but not those which land and then crawl looking for bare skin. If such a bee gets under the headnet, then it will become trapped so I can't brush it away, and thus the headnet will be worse than useless. Plus the headnet is stiflingly hot. Carried it in the neckpurse just in case, but decided not to wear it.
20€ for single occupancy at Fonda Villarluengo in town of that name. Short day because I feel beaten up and in need of a rest. Pushing oneself too hard is the way to lose interest in an activity.
Rechargeable batteries in the GPS lasted longer than I expected, so didn't need the alkalines I bought back in Mas de las Matas. Also, only used two external batteries, and even that only because of much unnecessary diddling on the internet.
Found an adult tick on my backside after showering, while doing a self-inspection. Pulled it off, still alive, flushed it down the drain. More ticks on me this year than in previous 5 years in Spain, not sure why, since I'm hiking in more or less the same parts of Spain and following the same hiking and camping routines as before.
Fri, 06 May 2016 (12 km)
Swelling and itching much reduced. Overcast skies and cooler than past few days, with forecast for similar weather for next week. Should reduce the bee problem. Camped amid pines on plateau south of Pitarque. Beautiful campsite, too tempting to pass up, which is main reason I cut the day short, though I'm also still tired from that bee incident.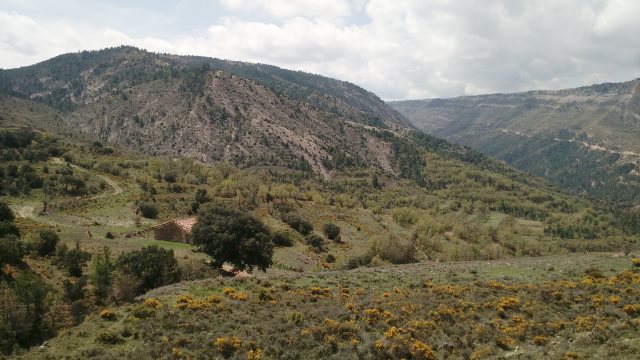 near pitarque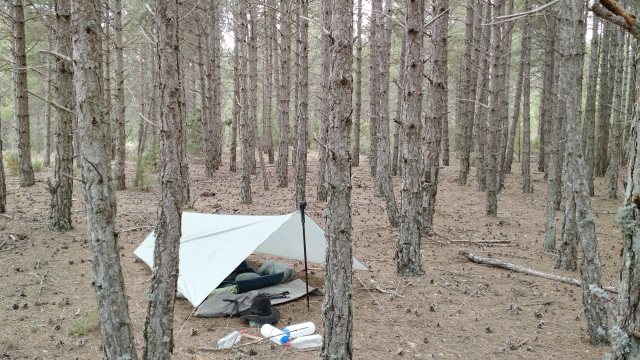 camp amid pines
Sat, 07 May 2016 (23 km)
Fully recovered from bees as of this morning. Sky continues overcast, with cool temps and very light drizzle now and then. Skipped morning yoga to get an early start, to make sure I got to Fortanete before midday break, since sometimes stores not open Saturday evening and I need to buy supplies for Sunday. Could have camped closer to Fortanete yesterday, to avoid need for early start, since most of GR8 today was through beautiful pine forests with lots of perfect campsites. 35€ for single occupancy at Hotel Mercadales in Fortanete. They still have that stinky perfume dispenser in the rooms, but easy enough to put it on the balcony then clear the air by leaving the windows open for a while. Room very nice once the stinky perfume is gone.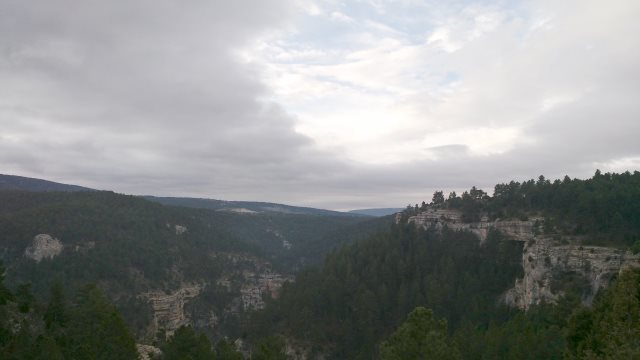 pitarque canyon
Sun, 08 May 2016 (19 km)
Ate 250g milk chocolate yesterday, in addition to bread and cheese and some fruit, but feel like I'm still losing weight. Read somewhere that calories burned per day tends to be constant, regardless of physical exercise, other than for extreme cases, because body reacts to exercise by slowing metabolism and reducing waste of energy while not exercising. Either I'm exercising enough to fall into the extreme category or the food I'm eating has fewer calories than I think.
Raw day: cold, raining, windy. Clothing got wet because it was only drizzling initially and poncho would have been nuisance while ascending barranco, so didn't put it on until later. GPX is wrong, because GR8 had to be moved due to locked gate in Barranco de Zoticias, which I climbed over. Feeling exhausted from cold by the time I got to Valdelinares, so checked into Hostal Damien there, 28€ single occupancy.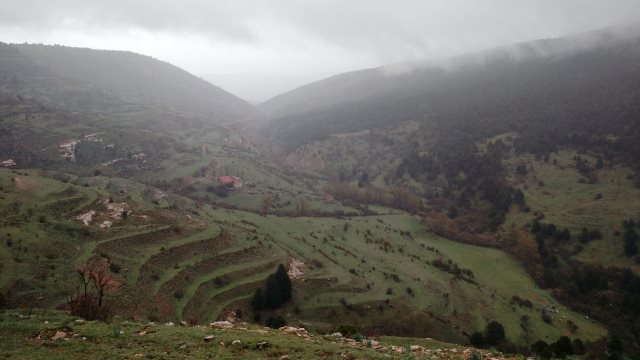 barranco zoticias
Mon, 09 May 2016 (18 km)
Rained hard at night, drizzling all morning, stopped by early afternoon. Cool temps, but less wind than yesterday. Forecast for rain off and on all this week. Wore the poncho all morning: a nuisance, but better than getting wet like yesterday. Had another of those Valor 250g bars of milk chocolate with almonds, as part of my picnic lunch in Alcalá de la Selva. No effect on my health, neither from removing sugar from my diet nor from adding it back, at least not that I can detect: yet another stupid diet theory debunked.
Rain, turning to sleet, accompanied by wind and thunder, started again late afternoon after I setup the tarp. Beautiful campsite among pines at 1500m altitude.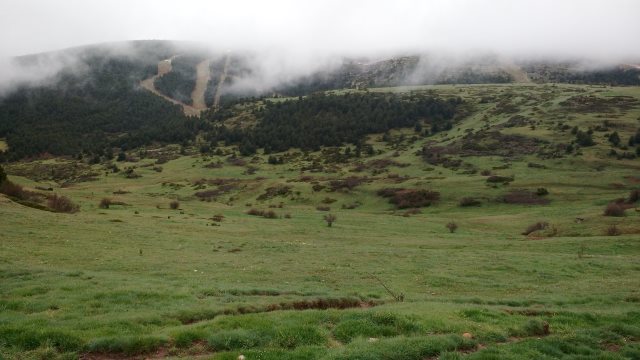 south of valdelinares
Tue, 10 May 2016 (22 km)
Cold but no rain or wind in the morning. Picked up food in Cedrillas (I'm now following the PR-TE8 to Teruel). Rain started again after I left town. Camped among pines again.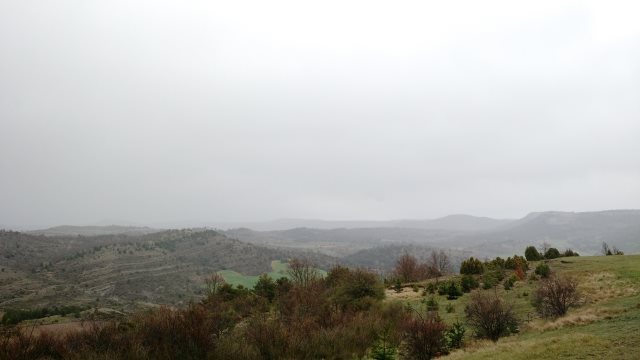 west of cedrillas, raining
Wed, 11 May 2016 (25 km)
Rained heavily last night, but sun out today, especially in the afternoon. Policía Nacional stopped me while walking into in Teruel, asked to see passport, found no problems when checked against national database. First such check by police this year. I would have expected more checks, given the furor over refugees flooding into Europe from Syria, etc. Maybe no problems with that in Spain. 25€ for room with private bath at Hostal Aragón in Teruel. No vacancies for cheaper rooms with shared bath. Room I received is very nice, easily worth the extra 5€.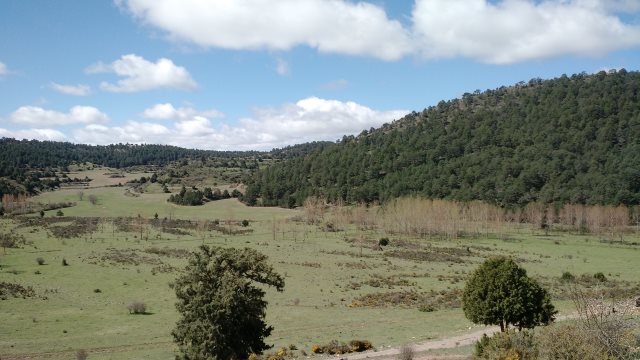 sky clearing
Thu, 12 May 2016 (zero day)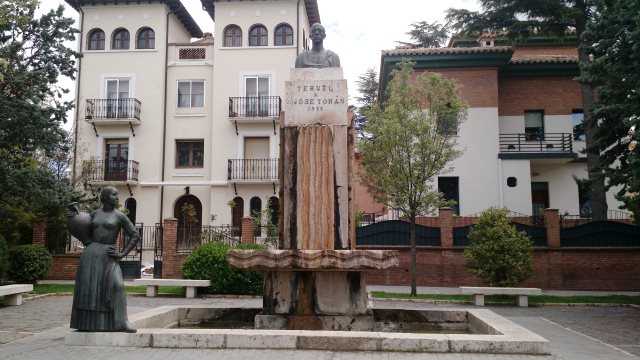 teruel park
Fri, 13 May 2016 (zero day)
Worth mentioning that I haven't bought a newspaper once during this trip. I used to enjoy reading El País, but now it just seems like work, another drain on my precious time, never teaches me anything useful, just fills my head with pointless chattering about politics. Combination of ereader, music, Russian audio plus large screen smartphone for internet browsing, none of which I carried on previous trips to Spain, makes me feel surfeited with intellectual stimulation without the newspaper.
Sat, 14 May 2016 (22 km)
Made reservation at hostal here in Teruel for next week. I dislike planning ahead, but I also dislike unpleasant surprises. Camped along GR10, just past Rubiales. Wild boar passed just after dusk, made their horrible grunting sounds for a while, then left. I am almost defenseless against them: lying down, my stick tied into the tarp guys, no other weapons besides my folding pocket knife, not wearing boots, unable to see in the darkness. Most I could do is pick up rocks to throw or hit them with. Need to investigate better the likelihood of them attacking.
Sun, 15 May 2016 (20 km)
Camped on way to Albarracín. Beautiful campsite at near 1500m altitude: surrounded by pines, soft ground, birds singing.
Mon, 16 May 2016 (30 km)
Camped a few km before Pozondón, on the PR-TE4, which is coincident here with GR24.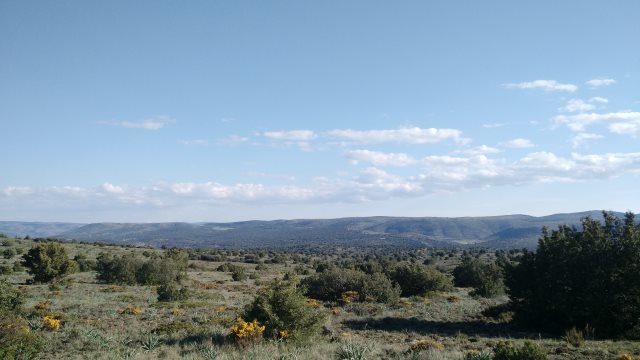 along the gr24
Tue, 17 May 2016 (30 km)
GR24 goes direct to Ródenas rather than passing through Almohaja. Excellent and recent waymarking for GR24 for stretch coincident with PR-TE4. Waymarking for latter mostly non-existent after leaving GR24.
Hostal Ramiro in Peracense no longer offers rooms, just food, so bought some sandwiches at the bar and started back to Albarracín, taking the road to Almohaja as a shortcut. Camped before reaching Pozondón. Greedily ate all the sandwiches I had just bought, which were supposed to be for tomorrow, then suffered indigestion afterwards from overeating.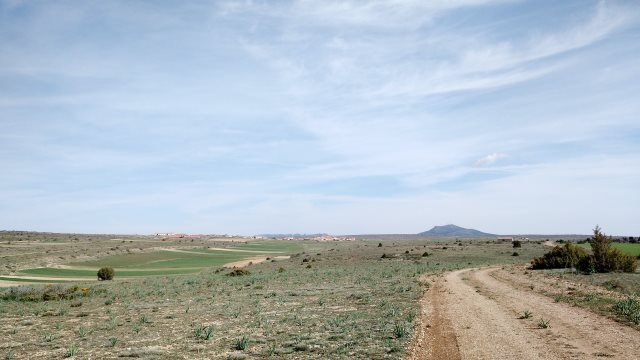 pozondón
Wed, 18 May 2016 (29 km)
Fasted morning and afternoon, to make up for overeating yesterday, then ate lightly in the evening. Didn't seem to tire my body to hike without food in my stomach, but I did notice my mind was sluggish when I studied Russian during a rest stop. Hardly drank any water all day: carb loading yesterday also loaded my body with water (part of the glycogen). Paid for two nights at €25/night at Hotel Mesón del Gallo in Albarracín. Feel like I need a rest day.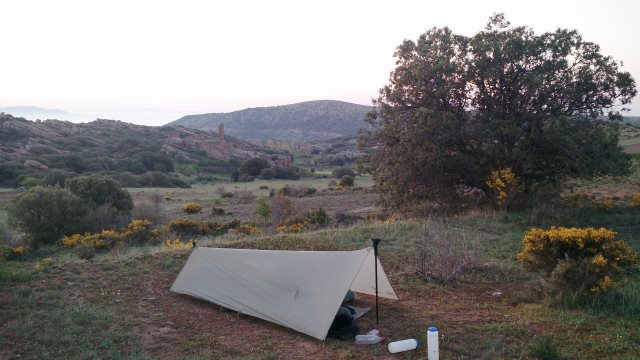 camp near castillo de los ares
Thu, 19 May 2016 (zero day)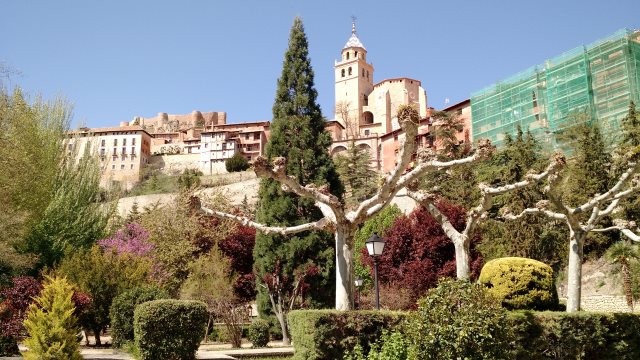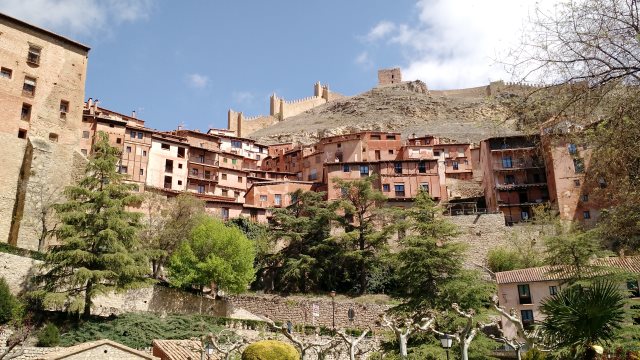 views of albarracín from town park
Fri, 20 May 2016 (10 km)
Going slow, since reservation for hostal in Teruel is for Sunday. Beautiful weather: blue skies, warm but not hot, low humidity, no wind.
Sat, 21 May 2016 (20 km)
Stored my food in opsaks both this and yesterday night, rather than just ordinary plastic bags, in case the wild boar come by again. The danger of them attacking is minimal, unless I get between a mother and her babies or challenge a male during rutting season (autumn), according to what I read on the internet, which confirms what I already thought. However, food smells can be irresistible, especially something like the cheese in my sandwiches.
Felt a headache growing during the afternoon, initially I thought because I let myself get dehydrated in the sun, though maybe it was food poisoning. Headache became more intense after I lay down in the evening. Finally, after dark, I felt nauseous, with beads of sweat on my head, so had to get up and empty myself at both ends. Big load of crap out the bottom. Lots of acid-tasting fluid out the top, but few solid pieces. Washed up with the aid of my flashlight. Felt much better afterwards.
Sun, 22 May 2016 (20 km)
Body healthy again in the morning. Wore the headnet while eating breakfast and again during lunch break, to keep hordes of miniature flies from getting into my ears and eyes. They are also annoying while hiking, but easier to fend off then. Paid for two nights at Hostal Aragon in Teruel (25€/night, single occupancy of room with bath).
Put chlorine-dioxide tablets into primary water bottles (Nalgene 1.5 liter), since I'm overdue for that maintenance. I'll continue using these bottles in Ukraine, keeping them full in case water goes out in hotels/apartments, which happens now and then everywhere, and is a mess if I need to wash up when it happens. Discarded the secondary bottles (generic 1 liter).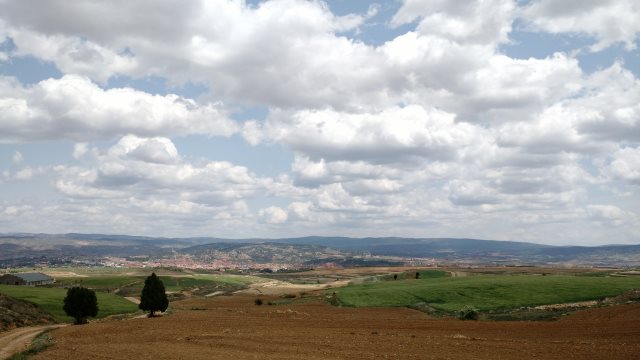 teruel
Mon, 23 May 2016
Bought new footwear for use in Ukraine, since my hiking boots have holes in the leather and make me look like a bum: sandals (44€, tan size 45, slightly large, however size 44 unavailable in the style I wanted) plus slip-on dress shoes (59€, black size 44 wide).
Bought a small container of vaseline to refill the jar in my toiletries kit, but it was contaminated by stinky perfume. Didn't realize how bad and strong and persistent the stink was until after I had filled my jar, so then I had to spend ten minutes scouring it, and also my hands, with soap and hot water to remove the stink. Label clearly said perfumed (no perfume-free version available), so I was warned, but who would have guessed the stink would be so bad? Stinking up my gear is something I'm paranoid about. [Update Tuesday: Turns out they do sell vaseline without perfume, in a different section of the store.]
Tue, 24 May 2016
Bus to Barcelona: 30€. Flight to Kiev, Vueling, departure supposed to be 23:55, but delayed an hour.
Statistics
1651 km (1026 miles), according to GPS, in 74 days hiking, for average of 22 km/day (14 miles/day), or about 4 hours/day. Additional walking around town during rest and transit days.
90 nights in Spain, of which 46 nights wild camping (51%), 42 nights in hotels (47%), 2 nights in transit (2%).
1204€ total hotel costs, so average of 29€/night for the 42 nights in hotels, or 13€/night for the 90 nights total, since all the camping and transit nights free.