Nov 2016 to Jan 2017, Mojave Desert Bicycle Tour
Planning
Current guide to maps for a trip like this is here. This guide will be updated as time passes, and so may not reflect what I actually used on this trip, which was a combination of: (a) selected pages from the California and Nevada Benchmark Road Atlases; (b) Garmin Etrex 20 mapping GPS, loaded with 1:100K Garmin maps for the entire United States; (c) maps on my Android MotoX smartphone (GaiaGPS, HereWeGo and Maps.me apps).
Mon, 21 Nov 2016 (58 miles in 5:21 hours, starting odometer 17331)
Checked out of motel at 8:15, loaded up with 10 liters water, 8 loaves bread and cheese, 4 lbs peanuts, less what I ate for breakfast. Puddles in the parking lot and various places along today's route, so evidently rained heavily last night. Partly cloudy skies today and cool, no wind. Camped in the sagebrush about 6 miles after exiting Hwy 50 onto Fort Churchill road. Arrived at campsite at 14:45, so 6:30 total travel time. I was anxious to arrive before sundown, which is why I took short rest stops.
Forgot to bring Nevada maps. Shouldn't be a problem, since I've taken this route to Gold Point several times previously and remember it, plus I have the GPS and smartphone maps. Need to organize maps better so I never make such a mistake again. One set of maps for the Lassen/Modoc/Nevada trip, one set for the Mojave trip. Discard other maps that are cluttering up the storage locker, since these are the only places I'll be visiting in the United States for the foreseeable future.
About 21:00, truck parked near I was camped and then sounds of shooting, presumably towards hills on the other side of the river. Truck drove off at 21:45.
Tue, 22 Nov 2016 (26 miles in 3:10 hours)
Turns out a run-down camper van was parked near my campsite. No noise until morning, then a big racket getting the thing started and warmed up. Finally drove off about 9:30. I can see this spot by the river becoming a haven for homeless people living in their cars. Hopefully, they won't create problems such that the authorities fence it closed. Bottle on bicycle frozen solid, but bladders and bottle under rackbag near my head remained liquid. Clear skies, mild temps once sun up.
Water faucets locked at Buckland Station and visitor's center closed. Faucet labelled non-potable was dripping, so gathered a liter with my cup and drank it. Didn't taste bad. I have enough water to get to Schurz even without that liter. For some reason, the non-potable sign felt like a challenge.
Camped in sagebrush near Adrian Valley, about 2 miles before Hwy 95 Alt.
Wed, 23 Nov 2016 (44 miles in 4:22 hours)
Strong wind from southwest initially, northwest later, mostly tailwinds for me. Cool temperatures and sunny. Camped about 4 miles east of Hwy 95.
Hwy 95 Alt from Weber Dam to intersection with Hwy 95 at Schurz has 3 foot shoulder with rumble strip. Tolerable for that 4 mile distance, but demands attention because of truck traffic, heavy even on day before Thanksgiving holiday. Motel south of Schurz closed and falling apart. Bought snacks and filled bladders from outside faucet at Four Seasons convenience store, a mile south of Schurz on Hwy 95.
I continue my usual hour per day of Russian, mix of reading and listening to audio recordings, but otherwise nothing in the way of intellectual stimulation. When not cycling, I just sit in the sun or lie under my quilt, not thinking much, at least not consciously, not daydreaming much either. My mind craves quiet after the over-stimulation of that six week hiatus in Reno. All of modern society is a noisy bedlam, but especially modern media. Radio, television and print media have no hold on me and I avoid them completely, however the internet has me firmly in its addictive tentacles, with no indication of when, if ever, I'll be able to break free. Precious hours of life slip past unsavoured amidst all that over-stimulation and before we know it, our time is up. Over-stimulated life is little different from not living at all. To choose such a life, when an alternative is possible, is thus little different from suicide. Compare with the feeling of eternity that I get here in the quiet of the desert. Just three days so far (and the first day hardly counts, since that was mostly along busy highways and thus not really away from civilisation) and yet it feels like I've been out here for weeks. Time expands in quiet places versus shrinking in noisy places.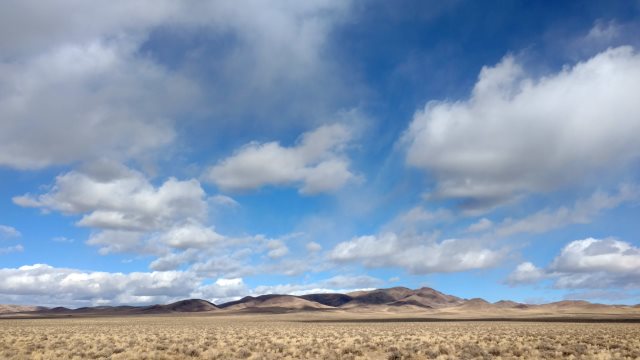 along road to schurz
Thu, 24 Nov 2016 (34 miles in 4:28 hours)
Road between Schurz and Rawhide firmer than previous times I came this way. Then I had to push for several miles through sand, whereas today no pushing required. Tires inflated to over 45 PSI (3.1 bars), so softer tires not an explanation for difference. Camped in Gabbs valley.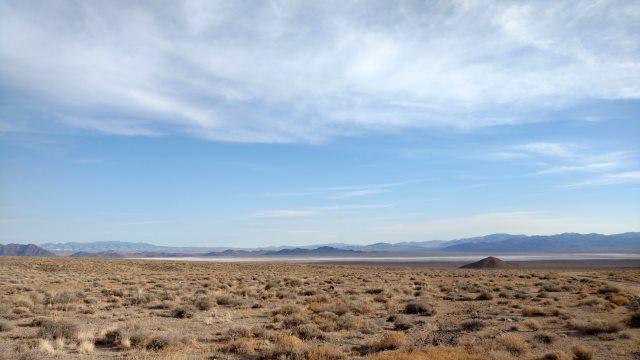 gabbs valley
Fri, 25 Nov 2016 (20 miles in 3:03 hours)
No ice in bottles, so temps above freezing last night. Overcast skies and strong headwind from east southeast. Tiresome pedaling, with speed reduced to 4mph on flat as wind strengthened, so cut day short. Camped in wash along Rawhide road. Big relief to get tarp erected and lie down underneath and finally escape the feel of the wind, though not its sound.
Sat, 26 Nov 2016 (16 miles in 3:02 hours)
Wind continued all last night and most of today as well. Delayed getting up, in hopes wind would disappear, but it didn't. Skipped morning exercises and breakfast. Took shelter in lee of hill, along Paradise Peak mine road, for peaceful lunch, then back into headwind. Mostly blue skies above. Wall of brown to southeast, from dust blown up by wind. Cool temperatures during day, above freezing last night. Another short day. No point exhausting myself. Better to take it easy while waiting for wind to pass. Camped in shallow gulley along the Gabbs Tonapah Poleline road, walled with dirt and vegetation to southeast for wind protection. Hoping for deep gulley, but couldn't find one by time my 3 hours pedaling was done. [Later] Wind abruptly disappeared shortly before sundown. Absolute quiet once again in place of nerve-wracking wind noise.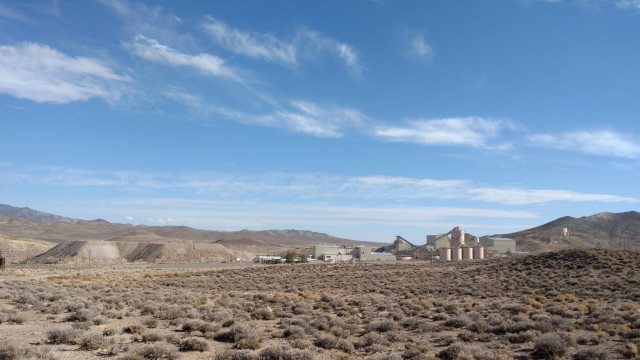 paradise peak mine
Sun, 27 Nov 2016 (50 miles in 3:56 hours)
Wind resumed at dawn, from northwest now, gentle at first then strong, together with overcast sky and snow: winter storm. Tarp facing north, so offered only partial protection, but adequate. Storm only about two hours long with maybe 4 inches snow accumulation. By 9 o'clock, all calm again, with mild breeze from northwest and sky beginning to clear. Hibernated until noon, to allow snow on road to partly melt (gravel road, so no risk of mud), then packed up and rode without stopping until sundown, pushed along by tailwind.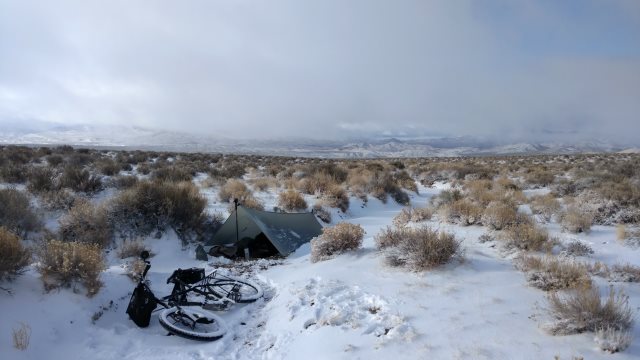 snowy campsite
Mon, 28 Nov 2016 (11 miles in 1:15 hours)
Several inches snow during night. Overcast sky in morning, partly clearing later. Continued wind from northwest, tailwind for me into Tonopah, where I paid for two nights at Tonopah Motel, $50/night including tax. Run-down but spacious room, very quiet other than vehicle noise from highway, some cigarette smell unfortunately. Felt good to shower up. Did my exercises for first time since Friday.
This was my first experience camping in a winter storm in open sagebrush country. Back in March 2012, I ran into a winter storm in central Nevada, but hibernated then in a motel. Good to know that I can easily handle these storms.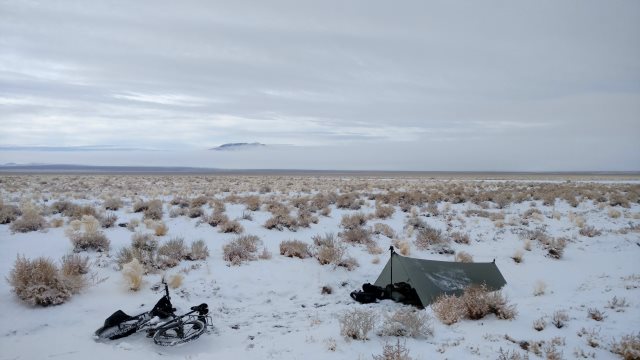 more snow
Tue, 29 Nov 2016 (zero day)
Slept poorly, but doesn't matter since I've been getting excess sleep these past few days while hibernating.
Wed, 30 Nov 2016 (43 miles in 3:58 hours)
Slept well. Sunny and cool day, with little wind. Original plan was to take Tule Canyon road into Death Valley, but decided instead to continue to Beatty and enter Death Valley from there. Tule Canyon route would require several hours on washboard and then there's the issue of camping being illegal in much of the valley. Never been cited all the times I've camped illegally in the past, but no need to push my luck. Reserve Tule Canyon route for when strong south wind, such that Hwy 95 slow and tiresome. Another possibility is dirt roads from near Bonnie Claire flat that run past old Bullfrog mine site. Plenty good camping along Hwy 95: just ride a few miles down dirt side road to get away from traffic noise.
Thu, 01 Dec 2016 (63 miles in 4:49 hours)
Sunny sky, cool temperatures and stiff north tailwind. Bladders and bottle not stored under rackbag frozen solid. Temperatures at dawn probably about 20°F. Shoulder on Hwy 95 variable between Tonopah and Beatty: sometimes 6 feet with rumble strip next to traffic, sometimes 3 feet with rumble strip next to traffic, in both cases leaving plenty of room for bicycle, but sometimes old-style 3 feet with rumble strip in center of and covering most of shoulder, leaving little or no room for bicycle. Never felt unsafe, but did have to pay careful attention to avoid truck squeeze situations when on bad type of shoulder, which constituted about 20 miles [Update 2017: more like 30 miles bad shoulder] of roughly 100 miles total.
Mercantile General Store in Beatty out of business, but Family Dollar recently opened, near town park. No bread in Family Dollar when I was there, just some hamburger buns.
Camped on way to Death Valley, 3400 feet elevation (versus over 6000 in Tonopah and over 5000 yesterday) so not too cold, but strong north wind buffeting tarp all night.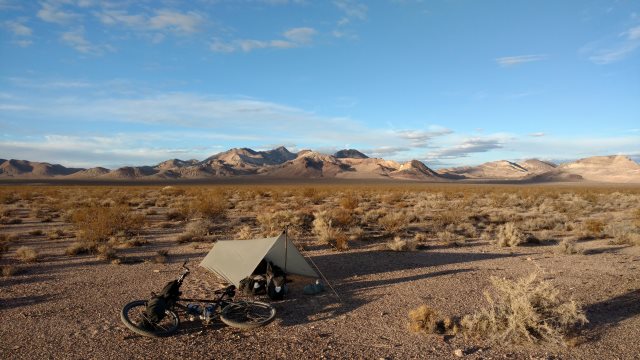 amargosa desert
Fri, 02 Dec 2016 (42 miles in 2:52 hours)
Skipped morning exercises due to wind. 30 miles/hour according to weather report at Furnace Creek store. Camped in side canyon 6 miles south of store, my usual spot, west facing canyon and so sheltered from north/south winds to some extent.
Sat, 03 Dec 2016 (45 miles in 3:52 hours)
Position I chose for my camp seemed sheltered, but wind changed direction during night, maybe deflected by surrounding mountains, and came rushing noisily right at my face. Very annoying. Was using just bugbivy, but tarp wouldn't have helped, unless I had had foresight to position it opposite direction wind was blowing yesterday evening, plus sound of tarp flapping in wind would have been equally annoying. Wind finally died down sometime during night and weather calm by morning, then warm enough to sit without my shirt during stop for lunch. Camped along Harry Wade road, which is terribly washboarded.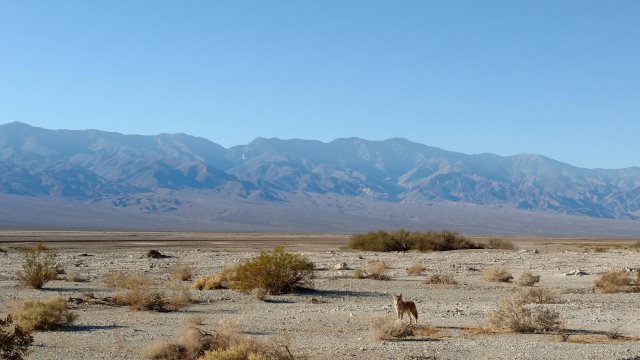 human-habituated coyote along badwater road
Sun, 04 Dec 2016 (22 miles in 3:43 hours)
Washboard on Harry Wade road was so bad that I decided to turn back and take Jubilee Pass road to Shoshone instead. Much longer route, but I was planning to take three days to get to Baker anyway. Mild south wind which disappeared as day progressed. Temps warm enough that I took my shirt off while pedaling uphill. Camped in Furnace Creek wash, along Hwy 178.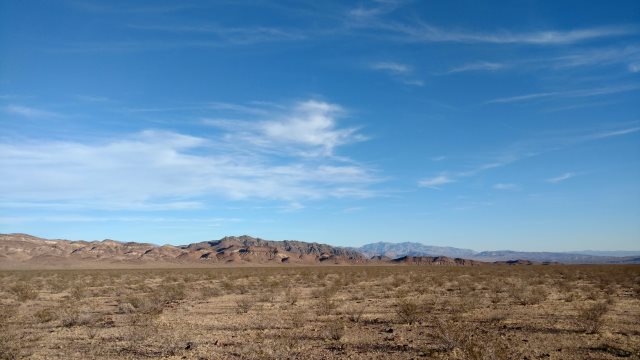 dublin hills
Mon, 05 Dec 2016 (55 miles in 4:40 hours)
Calm weather continues. Camped about 11 miles north of Baker.
Tue, 06 Dec 2016 (25 miles in 2:50 hours)
Baker laundromat with showers no longer in business. Outdoor faucet at Country Store sealed closed. Bought 3 days food at Baker Market, picked up water and charged external batteries at town park. Camped at usual spot on Kelbaker road, about 12 miles south of Baker. Mild temps (able to sit with shirt off while resting), partly cloudy, gentle wind from south.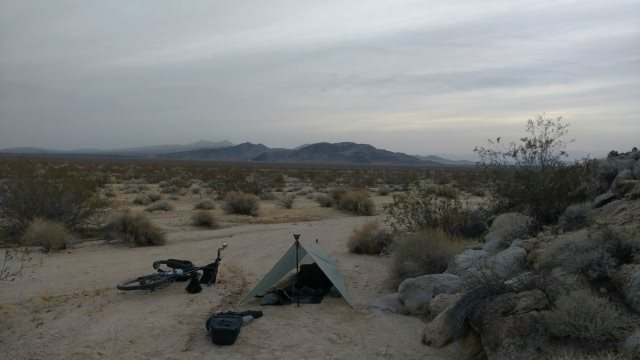 usual campsite south of baker
Wed, 07 Dec 2016 (21 miles in 3:37 hours)
Mojave road sandy as usual, but able to pedal most of the way. Talked briefly with two other bicyclists accompanied by support jeep. Riding tubeless fat tire mountain bikes with derailleurs, which they said weighed about 34 pounds: much better for going uphill in that sand than my rig. Camped near Beale mountains, at about 3900 feet elevation.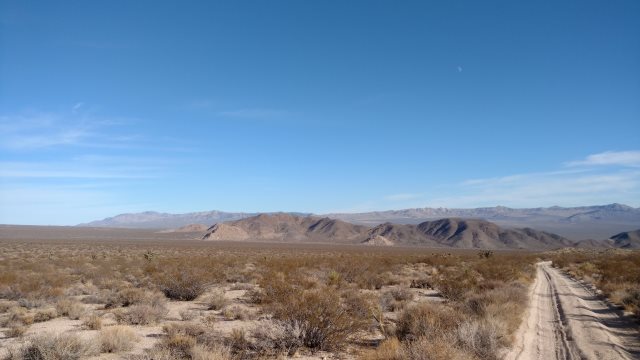 beale mountain
Thu, 08 Dec 2016 (38 miles in 4:24 hours)
Upper flip-top part of 3-in-1 cap for one of the bladders was leaking under pressure. Exchanged with same part from bottle whose lower part of 3-in-1 cap leaks. Discard both bottle and cap upon return to Reno, since bottle is old and entire 3-in-1 cap is now leaking.
Camped beside wash about a mile west of Piute Range. Very peaceful and beautiful here, birds perched atop the thorn trees, absolute windless quiet.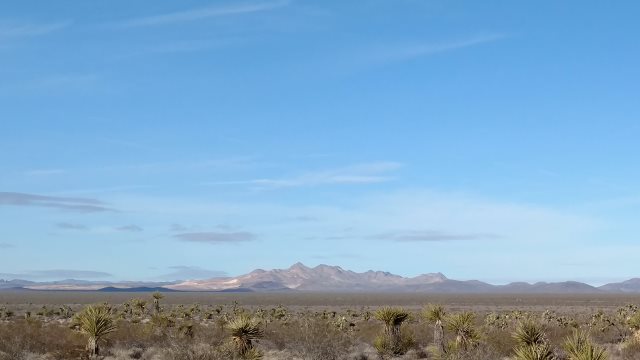 view of new york mountains, from along mojave road
Fri, 09 Dec 2016 (15 miles in 2:14 hours)
Cloudy skies in morning, partly clearing by afternoon, no wind. Camped 2.5 miles west of Hwy 95.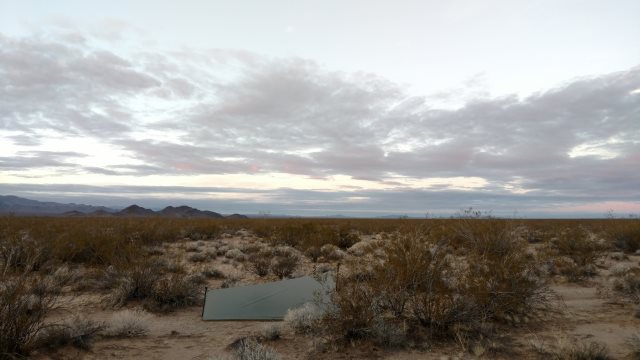 campsite amid creosote
Sat, 10 Dec 2016 (25 miles in 2:27 hours)
Paid for two nights at Desert Rancho Inn ($50 Sat, $45 Sun, both including tax).
Sun, 11 Dec 2016 (zero day)
Mon, 12 Dec 2016 (25 miles in 3:46 hours)
Left Bullhead City with 21 liters water, 6 loaves bread and cheese, 3 pounds peanuts. Camped same place as Friday. Overcast skies, very little wind, mild enough temps that I went shirtless while pedaling (plus pushing through sand the 2.5 miles west of Hwy 95).
Tue, 13 Dec 2016 (16 miles in 2:29 hours)
Warm sunny day, with gentle wind from south, headwind, but too weak to affect me. Followed the powerline road straight up the mountain. Had to dismount and push the last 10 minutes due to steepness. Route avoids the deep sand of last year, but that 10 minutes of pushing uphill took every bit of strength I had. Next time I take this route, unload and carry panniers and bladders uphill separately, then return for bicycle. Camped in a wash on the other side of the mountain, 6 miles north of the railroad. Can still hear trains blowing their horns, but just faintly.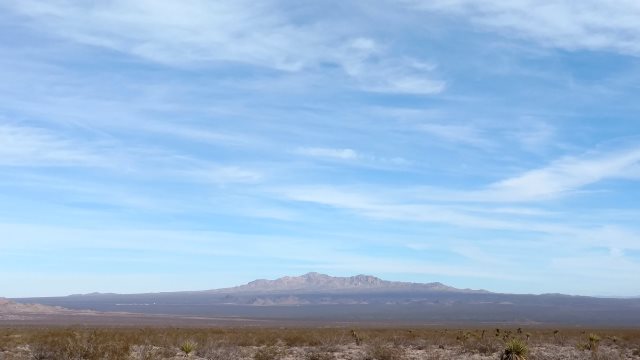 newberry mountains
Wed, 14 Dec 2016 (62 miles in 5:09 hours)
Followed highway to Cadiz via Goffs, then Cadiz road until about 5 miles east of railroad. Went shirtless all day. No wind.
Talked briefly to old man with no front teeth and skin leathery from too much sun exposure, pushing cheap bicycle uphill to Cadiz summit (suggesting he lacks strength or gears to pedal up even moderate slopes). Small bundle of clothes tied to handlebars, blanket tied behind saddle, no evidence of other cold weather camping gear or more than basic repair kit, maybe a liter of water, probably not much food. Said he left Barstow a few days ago and was heading for Needles. Pulled out my map to show how far that would be and where he could get water (Essex, Fenner and Goffs) whereupon he started cursing about police not letting bicyclists on the interstate but rather requiring us to use the slightly longer but much quieter old route 66 (which has the additional advantage of more water supplies). Wished him luck and rode off. Tough old bird and crazy too.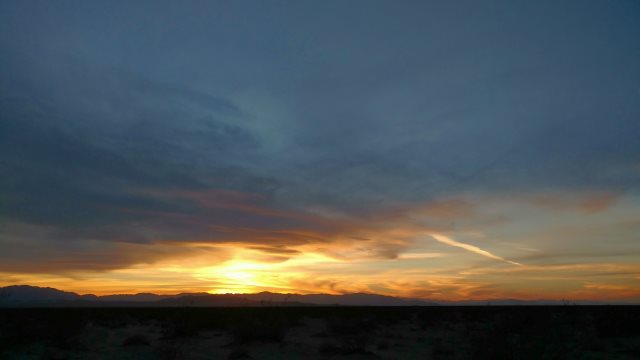 sunset
Thu, 15 Dec 2016 (30 miles in 4:07 hours)
Warm temps again, gentle headwind from east. Road sandy or rocky until Milligan, then solid but washboarded. Conclusion at this point is detour via Cadiz is more hours and more work than Ward Valley powerline road, even though that road was sandy as of last year. Camped along Cadiz road, about 10 miles west of junction with Hwy 62.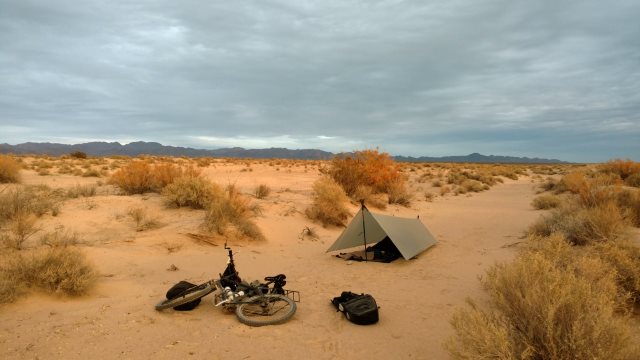 campsite in sand
Fri, 16 Dec 2016 (27 miles in 3:41 hours)
Strong east wind arose during the night, with a occasional drops of rain on the tarp. Wind continued strong all day, shifting to southwest, but always headwind for me. Pedaled hard to make decent progress, to ensure I get to Blythe tomorrow, regardless of wind tomorrow. Nearly hit by pickup truck along Hwy 62, when I absent-mindedly drifted into traffic lanes: wind probably distracted me. Photo shows dust cloud whipped up by wind. Camped in tree-filled wash along Midland-Rice road: not much shelter, but better than nothing, plus trees give feeling of privacy. Used sand stakes for first time this trip.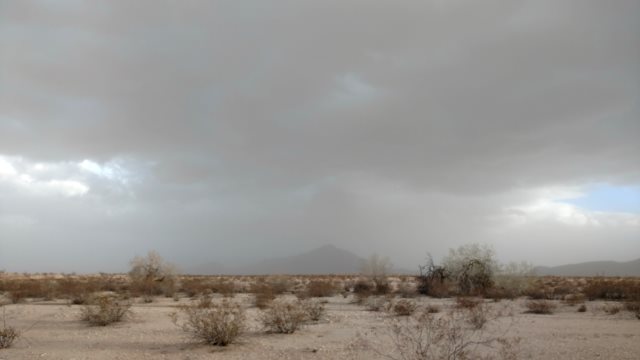 dust clouds
Sat, 17 Dec 2016 (28 miles in 2:06 hours)
Wind shifted towards west then north during night, then alternated between fury and quiet. Fine sand blown all over everything and even into my mouth. Trees do offer some shelter, but only for small spots which depend on wind direction: not easy to anticipate where the sheltered spots will be when the wind is constantly shifting. Worries about the tarp kept me up much of the night, not that the worrying helped. Tarp survived okay in any case. After sunrise, moved everything to one of the spots sheltered by thorn trees, so I could do my yoga and eat in peace. Wind tailwind when riding, so made good time getting into Blythe. Paid $99 (including 10% tax) for 2 nights at Budget Host Inn. Put two chlorine-dioxide tablets in each bladder and one per bottle: overdue on this maintenance.
Sun, 18 Dec 2016 (zero day)
Mon, 19 Dec 2016 (28 miles in 3:35 hours)
Mild temps, blue sky, north tailwind: easy day. Camped a few miles south of Wiley's Well.
Tue, 20 Dec 2016 (20 miles in 2:49 hours)
Bicycle frame broke! Weld between top and seat tubes broke, as shown in photo. This joint is heavily stressed while pushing using handlebars, and I do a lot of that, probably more than most users, which may be a factor in the frame breakage.
Last year's trip report indicates 199 miles and about 24 hours from Blythe to Barstow, 97 miles and about 11 hours to Ridgecrest, and finally 13 miles to the stop for the bus back to Reno. Will contact SJS Cycles tomorrow for advice on whether frame likely to make it that far. If not, could try to get frame welded in Blythe, though that risks an incompetent job that makes things worse. Camped in wash on way back to Blythe.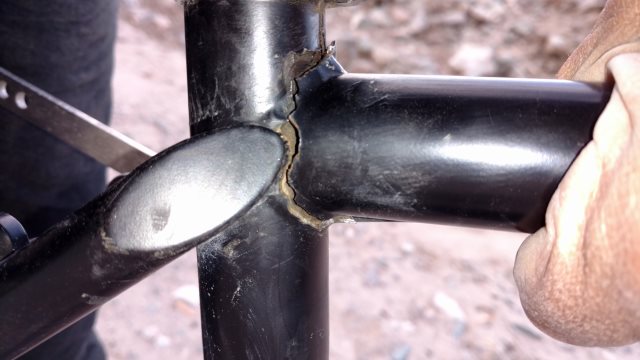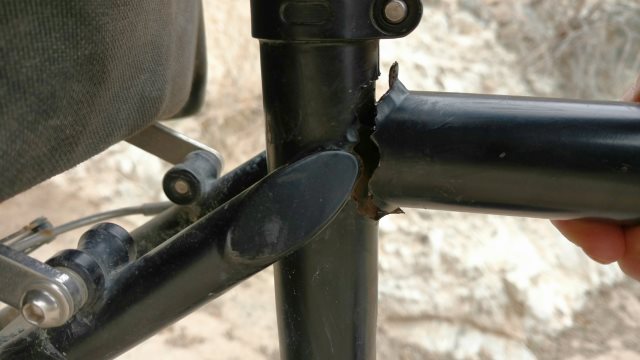 broken frame, photos with and without flash
Wed, 21 Dec 2016 (20 miles in 1:39 hours)
Light rain during night, cloudy and little wind in morning. Bicycle rides fine, especially on paved roads, since top tube mostly under compression while riding. It's pushing using just handlebars that won't work without weld between top and seat tubes. But pushing with one hand on handlebars and other behind saddle is still possible. Paid $99 for two nights at Budget Host motel in Blythe. Forecast for rain tonight and tomorrow, clearing Friday, with south tailwind Friday and Saturday.
Thu, 22 Dec 2016 (zero day)
Rained all last night, at least an inch, puddles everywhere in morning, flash flood warnings, ground soggy. Per suggestion of Robin Thorn, owner of Thorn Bicycles, installed compression strap to keep top tube in place. I'm now confident bicycle will make it the 300 miles to Ridgecrest. Lowered saddle to make it easier to pull saddle as well as pushing handlebars, when walking through deep sand.
Fri, 23 Dec 2016 (57 miles in 5:57 hours)
Left Blythe with 23 liters water and 6.5 loaves bread and cheese: probably too much, but I wanted to be able to hibernate if there is more rain, and also allow for going slow due to mud. East tailwind part of the way, so made good time. Lots of puddles on dirt roads, but no sticky mud. Moisture actually helps with certain types of sand because it compacts it and thus makes it easier to ride on. Considered following Hwy 62 to Amboy road, both paved, so as to avoid rugged dirt Cadiz road, but Hwy 62 simply too dangerous, especially holiday season with all the drunk drivers. Better to risk bicycle breakdown and then possible loss after abandoning it (so as to walk out, vehicles only every few days on west section of Cadiz road plus vehicles may not be able to transport bicycle), than risk my bodily health.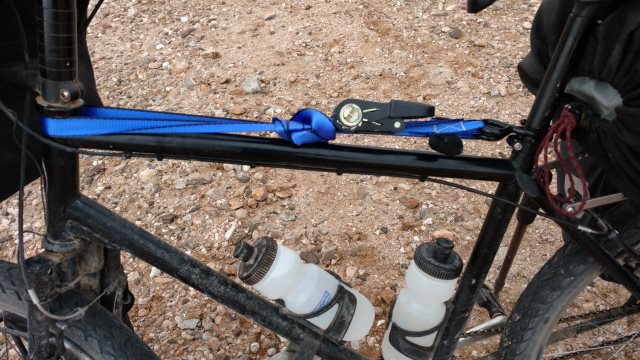 compression strap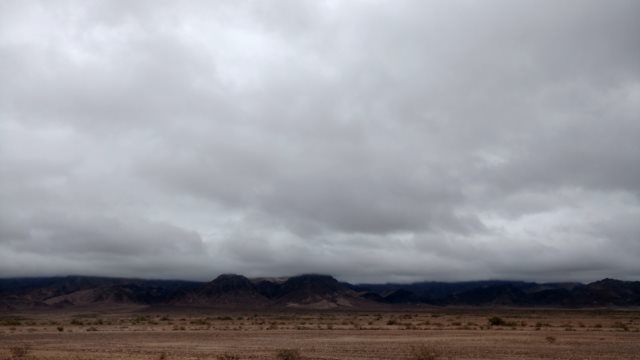 cloudy sky
Sat, 24 Dec 2016 (20 miles in 3:26 hours)
Strong wind from east and south during night, rain in early morning. Wind shifted to southwest then west as day progressed, strong headwind for me. Much cooler temps. 13 more miles of dirt tomorrow, after that paved roads rest of the way to Barstow. Bicycle frame holding up fine.
Sun, 25 Dec 2016 (23 miles in 2:57 hours)
Wind disappeared during night, returned after sunrise, not so strong as yesterday but still from west or southwest and thus headwind. Camped along route 66, near Kelbaker road.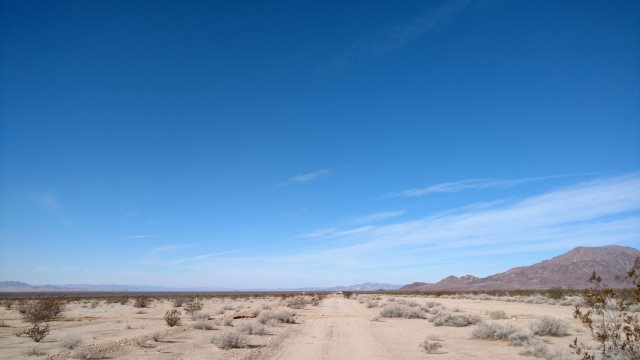 blue sky again
Mon, 26 Dec 2016 (24 miles in 2:56 hours)
Cold wind from northwest, not very strong, but demoralizing because of constant noise in my ears. Paved highway 66 plus long uphill stretch additional demoralizing factors. Mood improved as soon as I pushed the bicycle off paved road into creosote in search of good campsite. Didn't push far, so there will be railroad noise all night.
Tue, 27 Dec 2016 (31 miles in 4:15 hours)
Continued cold wind from northwest, stronger than yesterday and very demoralizing on the uphill climb. At least sun is out (yesterday was cloudy). Camped about 14 miles east of Newberry Spring, near Hector Mine.
The older I get, the less sure I am of so many things, including my desires: which desires spring from my core personality; which were borrowed because I lacked self-understanding and so imitated the desires of others as a way of discovering my own; which are acted upon merely to impress other people, people who effectively don't exist, given how solitary I am; which are simply bad habits (sugar). I think, but am not sure, that travel falls into the first category of real desires. I remember as a boy being fascinated by the hobo camps in the woods between the railroad and river near where I grew up, and I've always felt excited upon hearing the word "drifter". I know I feel more alive while traveling, especially self-propelled travel by bicycle or foot. My life now is very solitary, but that doesn't explain why travel makes me feel so alive and being stationary the opposite, because I also didn't feel fully alive back when I had girlfriends and was stationary. Nor is it those wretched motels I stay at in Reno now, because nothing was different when I lived in nice apartments, whether in Reno or San Francisco. All those nice apartments did was trap me with comfort, which for me is not the same as happiness.
Not sure what provokes these reflections. Wind died down about the time I set up camp and worst of highway and railroad noise blocked by distance and intervening hills, so pleasant enough spot, especially lying here under the quilt. Maybe just a little sad knowing end of my trip not far off.
Wed, 28 Dec 2016 (35 miles in 3:18 hours)
Frost on tarp for first time since descending into Death Valley, almost a month ago. Wind mercifully gone in morning, though it picked up later, from west and thus headwind again. Met another bicycle tourist at the Newberry Springs market: young woman on a skinny-tire road bicycle (she's going to have a miserable time with those skinny tires on the 15 miles of rugged pavement east of Newberry Springs), with a small backpack and even smaller saddlebag as her only luggage, only camps if absolutely necessary, plans to take Amtrak back from Arizona.
Drawcord on saddlebag broke. Moved saddlebag into panniers and will carry there for remainder of trip, to keep contents from spilling. Drawcord easy enough to repair, but not worth it given how trip is almost over.
$41 including tax and AARP discount at Motel 6 in Barstow. Made reservations for CREST bus and motels in Ridgecrest and Bishop, since holiday period and possibility of no vacancies.
Thu, 29 Dec 2016 (22 miles in 2:44 hours)
Blue sky, no wind, mild temps: beautiful day all around. Camped along Fossil Bed road.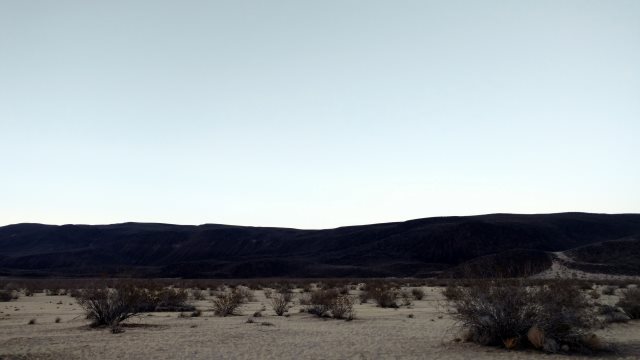 black mountain
Fri, 30 Dec 2016 (20 miles in 2:41 hours)
Light rain in morning while I was packing up, clear later, then gentle wind from southwest in afternoon. Decided against the Cuddeback route because of possibility of rain tonight and mud tomorrow, and instead continued due west until 2 miles before Hwy 395, same route I took last year when the roads were muddy. Once on the highway, paved roads all the way to Ridgecrest, so no problems even if heavy rain tonight.
Sat, 31 Dec 2016 (28 miles in 2:43 hours)
Light rain during the night, frost on tarp and blue skies in morning, cloudy later, rain in late afternoon, after I set up tarp. Camped along Trona Road. Lots of RVs parked on the flats, lots of dirt motorbikes and ATVs zooming about, probably fireworks at midnight, but still less noisy than anywhere near the BNSF railroad.
Sun, 01 Jan 2017 (26 miles in 2:11 hours)
Rained steadily last night for about six hours, stopping around midnight. Blue sky in morning, with little wind. Water inside both panniers from last night's rain, but no damage, since food additionally protected by plastic opsaks and electronics by dry sack. $40 including tax and AARP discount at Motel 6 in Ridgecrest.
New Year's Resolutions:
Reduce internet reading, other than for truly useful and truly novel travel, financial, technology and health information. Be honest with myself about "truly useful and truly novel" versus mental junk food or things I already know.
Avoid internet forums and blog comment sections, which leave me feeling agitated and depleted. Need for human interaction is overstated, at least for natural loners like me. If I really feel a need for another human "voice" to keep me company, read memoirs written at least 100 years ago.
Maximize travel time, given how much more alive I feel while traveling. This year I was away from Reno almost 9 months. Goal is 10 months.
Continue studying Russian until I can speak/understand fluently at intermediate level and read at advanced level.
Get comfortable with late-summer / early-autumn hiking opportunities in Bulgaria and write up hiking guides.
Develop routine for enjoyably spending summers in Ukraine. I enjoyed Dnipropetrovsk this year, but I want to be feel even more comfortable, as comfortable as I feel now in Reno.
Discard from storage: all items I am certain will not be needed in the future, since such junk imposes a mental record-keeping burden.
Add to storage: multi-year supplies of gear which wears out or is a consumable, and which I know I will using in the future, and which is hard to buy or may go out of production at some point or which I have to sew myself.
Transition to smartphone as primary computing device, to maximum extent possible.
Test using smartphone in place of Etrex 20 as hiking GPS.
Improve collection of ebooks and music on smartphone. Be ruthless about ignoring prices. In the long run, top-quality books and music are both incredible bargains in terms of pleasure per dollar spent, even when buying at full price.
Mon, 02 Jan 2017 (12 miles in 1:26 hours, final odometer 18538)
$26 for CREST bus from Inyokern to Bishop. Bus shaking entire journey from side winds, two trucks flipped over on side of highway from wind. $51 including tax and AARP discount for Motel 6. CREST bus tomorrow to Reno will be $53.
Statistics
43 nights away from Reno total, of which 32 nights camping, 11 nights in motels. 4 rest/hibernation days, 39 days riding.
1207 miles total, 132 hours pedaling/pushing, average of 9 miles/hour. For 39 days riding, average of 3.4 hours/day pedaling/pushing, 31 miles/day.
Total motel expense of $525 including taxes, for average of $48/night for the 11 nights in motels.
Last trip for year 2016, and thus time to collect yearly statistics. Total of about 268 nights away from Reno, 129 nights camping.
Comments
Trip was similar to last year, except I rode through central Nevada instead of taking bus to get to southern California, used route 66 and Cadiz road to avoid Ward Valley, and had to skip Blythe to Yuma section due to bicycle frame breakage. Ride through Nevada was interesting, but I'm not sure about repeating it, especially if I remain in Europe into late September and then spend all of October in Lassen area in the future. In that case, I might feel in need of a good rest in Reno, which would delay my departure until last week of November, and conditions might be too cold for Nevada then. Winter storm I experienced this year confirms I can cope with winter conditions, but coping is not the same as enjoying. Detour to avoid Ward Valley was a mistake, since I ended up pushing just as much and uphill pushing besides whereas Ward Valley is downhill. Obviously, I don't expect any more frame breakages.
Last year I promised myself to spread out zero days and so I did, which made the journey much more relaxing. I also slowed myself down in several places versus previous years, such as Barstow to Ridgecrest, which also worked well. Remember that the goal is to spend my life enjoyably while waiting to die, not to cover as many miles as possible each day.
See the Nomad page for bicycle comments, including follow-up on the frame breakage issue.