Aug-Sep 2017, Hiking in Bulgaria
Fri, 18 Aug 2017
Arrived in Sofia 11:00, used metro to get to center city.
Tried several ATM cards, to be sure they are all authorized for Bulgaria. Mid-market rate 1.66 bgn/usd, according to XECurrency app. Ally: 500 lev for $302.59, .8% or about 3.8 lev conversion fee. CapitalOne: 400 lev for $239.59, 0% conversion fee. BankOfInternet: 400lev for $241.14, .4% or about 1.6 lev conversion fee. BofI additionally charges their own fee of 1% ($2.41) for international ATM use.
Bought MTel phone service at Mall of Sofia (corner Alexander Stambolski and General Skobelev). Even after long discussions with two clerks who both spoke fluent English, still not sure as to exact terms of service. Paid 6 lev for initial 15 days service, including 1GB data, then supposedly I need to load the account with another 10 lev. What I wanted was to load the account with sufficient funds that it would last entire 35 days of my stay, so I wouldn't have to fiddle with refilling account while hiking, but they either couldn't understand what I wanted or else it can't be done.
50 lev for EasyHotel in Sofia (www.easyhotel.com), paid for previously via booking.com. Clean and comfortable rooms and good location, but shower only and small washbasin, so difficult to clean clothes and especially gear.
Bought several days food: whole-wheat bread, cheese, peanuts. Chocolate for immediate consumption only for now, given heat (high of 31°C today, tomorrow and Sunday here in Sofia). Forecast of cooler temps Monday.
Sat, 19 Aug 2017
Hotel room was quiet and I slept well, so big plus in its favor. Caught bus 66 at bus stop outside Vitosha metro station. Bus ascended to near Vitosha ski station at 1800m. I wasn't planning on riding rather than hiking up, but bus was crowded and made no stops after I got on, so no choice. Probably best to avoid 1000m hiking ascent in heat (Sofia at 800m). Bought some soup and chocolate at summit hut at 2290m. Piped spring about 4km south of hut. Met group of young Bulgarian hikers (and one visitor from Poland) and walked with them several hours. They all spoke good English. According to leader of group, 66 bus to ski station only runs weekends. Weekdays, it will be necessary to hire taxi to get to ski station. He also said huts open now in Rila mountains, so food should not be a problem. Camped at 1330m, about 2 km north of road to Iarlovo. Drank 1.5L with breakfast, 1.5L with lunch, 1.5L with dinner, plus liquids in food, and still had 1.5L left, but decided that might not be enough, so gathered from feeble seep in deep gully, passing water through pre-filter to screen for worm eggs and remove some of mud. Drank half-liter of water collected from seep to prime my system with local bacteria.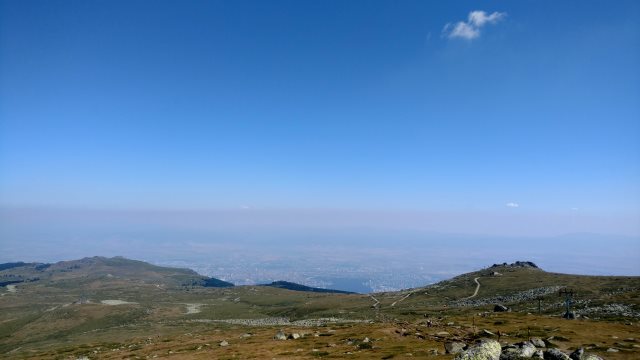 view of sofia from vitosha
Sun, 20 Aug 2017
Slept very well, best sleep since Spain. Muscles a bit sure in morning. Unable to hold handstand due to uneven ground and sore shoulder muscles. Very few mosquitoes, didn't notice any ticks either. Picked up water after an hour walking, from piped spring 2km south of powerline, marked by sign, 100m east of road, reached by well-used trail through beech forest. Spring running slow, but good water. Threw out muddy water I collected yesterday. 2km later, another slow running piped spring, 10m below and visible from road. Fill bottles at one of these sources, since no further sources until Klisura, or at least no further sources with marked signs. I carried 4L from the piped spring, which was about right on a warm day to allow camping, less needed if proceeding to Klisura. Talked in English to young Bulgarian man and woman, also walking the E4, along with their small dog. They plan to resupply with food in Klisura and also spend the night there, if they can find a room for rent, else camp nearby, then proceed directly into Rila mountains tomorrow, without going into Samokov. They started Saturday, like me, but took taxi to Vitosha Ski Station, and didn't know bus 66 went there. They said it was possible to hike entire E4 through Rila mountains without carrying food, eating everyday at huts, and perhaps sleeping in huts as well. Camped about 6km before Klisura, at 1240m.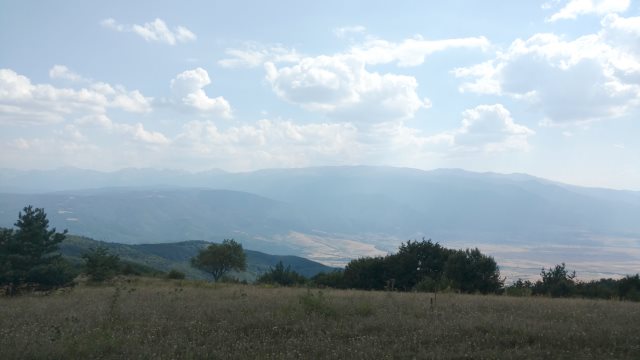 rila mtns in the distance
Mon, 21 Aug 2017
Slept long and well again. Stiff in morning and again unable to do handstands. Overcast sky and much cooler than yesterday. Mtel LTE service in Klisura. Appears to be small store there, but I didn't check carefully. Caught bus from Klisura to Samokov at 10:00 for 2 lev. Very nice single room at Hotel Grand in Samokov for 30 lev. Hotel near center of town, next to Billa and Lidl supermarkets and close to bus station. Everyone I spoke to today (bus info from two pedestrians and cafe manager in Klisura, bus schedule from bus station information desk in Samakov, hotel manager in Samokov) only spoke Russian, not English. These were all older people (age 40 or above). Bought 4 kilos food at supermarket: bread, cheese, peanuts, dark chocolate. Want to be prepared in case limited food in huts. Rumbling in stomach in afternoon, went away after evening bowel movement. Probably some new bacteria from water I collected Saturday or wild plums I ate along trail or unwashed fruit from supermarket.
According to information desk in Samokov bus station, buses leave Klisura for Samokov today and tomorrow at approximately 7:30, 10:00, 15:20 and 17:20, and buses leave Samokov for Klisura at 07:30, 10:00, 14:20, 15:40. Possibly different schedule on weekends, especially Sundays and holidays.
Tue, 22 Aug 2017
Room very quiet and slept well. Muscles still a bit sore but much improved versus past two mornings. Did handstand without difficulty. Of course, this was without boots and on a level surface with wall behind me, so no risk of tipping over and thus not so distracted by trying to maintain balance. Bus to Klisura at 7:30 for 2 lev. Drank 1.5L water with breakfast, carried 1.5L from Klisura, but didn't need to, since piped springs beside road at 1.5, 2.5, 3.5 hours from Klisura. 4 hours to get to Lovna hut, not counting rest stops and dawdling along way to pick wild raspberries. Hut manager a young man who speaks good English. Ate sausage and potatoes at hut for 5 lev. Charged smartphone from electrical outlet while eating. Excellent paper map in hut of northwest Rila mountains, dated 2015 and published by www.iskartour.com, showing much more complete network of trails than OpenHiking digital map on smartphone.
After resting at Lovna hut, continued another hour to Rilski Ezera hut. Idea was to reduce distance tomorrow to Malyovitsa hut. However, as soon as I arrived, I realized I'd made a big mistake, because hut very crowded, completely unlike peaceful and mostly empty Lovna hut. Reason for crowding the usual one: easy access via ski lift from location accessible by passenger automobiles, hence no hiking required. I asked about camping but manager said permit required. Even if no permit issue, probably wouldn't want to camp in an exposed location with so many people around. Considered hiking back to Lovna hut, but that would mean 500m descent, so went ahead and paid 28 lev for bed in dormitory. Plenty of prepared food in hut cafeteria. Paid 9.5 lev for moussaka, dessert, soft drink. Plan is to conserve remaining bread and cheese I carried from Samokov (about 2 kilos remaining), since refuges further south along E4 may be lacking food, far apart or closed. Chocolate and peanuts I'll go ahead and eat, however. Hut recreation room has good wifi. Also strong Mtel LTE signal at hut.
Wed, 23 Aug 2017
Only 5 men in 16 bed dormitory, so plenty of space. Also, not too much snoring. In any case, slept long and well. Muscles back to normal in morning, with no soreness or stiffness. Light breakfast (2 pieces buttered toast, slice of cheese, tea) included with price of room. No other breakfast food available.
Beautiful ridge walk today, but no water once past lakes, so carry some, especially if planning to picnic. 15 lev for salad, lentil soup, bread, omelet, milk chocolate, soft drink at Malyovitsa hut. Recharged smartphone there and picked up 3L water: unnecessary, since plenty water in streams along way. Slipped while crossing steam and scraped arm, with small amount of blood. Hate to think of consequences of slip while crossing one of today's many boulder fields. Camped at 2350m, beside first lake on way to Strashnoto Ezera. In retrospect, staying at Rilski Ezera hut not such a bad idea, since otherwise today would have an additional 1 hour hiking and 500m ascent, and thus would be too long. Campsite visible from trail and day hikers passing on way home as late as 18:30, so delayed setting up tarp until 19:00.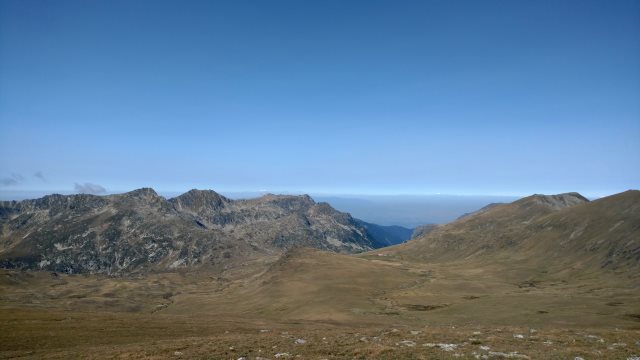 view from mt vazov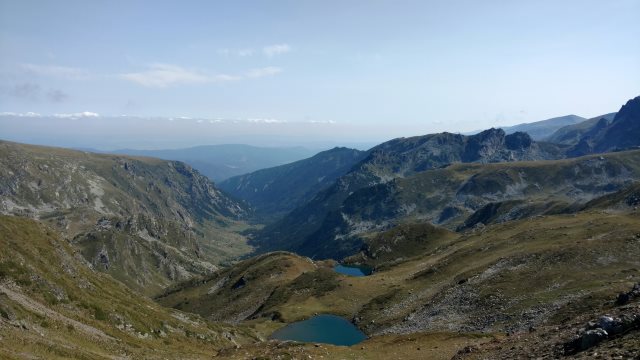 urdina river valley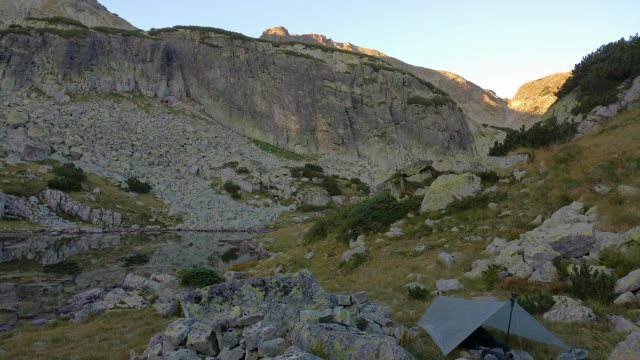 campsite by lake
Thu, 24 Aug 2017
Ice on tarp and in bottle left outside. Bottle stored under backpack liquid. So temps evidently around freezing. Replaced handstand with crow during morning yoga, due to uneven ground and no space to fall safely. Group of men staying at Strashnoto Ezera primitive refuge, so probably isn't too bad, though I didn't stop to look inside. Gathered 3L water from stream running down south side of Lopushki mountain. Lots of horses and cows grazing in area, so not all sources pure. Kobilino Branishte primitive refuge miserable looking inside and probably mice-infested. Camping in surrounding meadows a better idea.
At Ribni Ezera hut, delicious dinner for 17 lev: shopski salad (tomatoes, cucumbers, feta cheese), meatball soup with bread, lentil soup with bread, milk chocolate. Room by myself with 3 single beds for 15 lev. Everything about hut rustic, but to me that adds to appeal. Certainly far less rustic than wild camping. Cat wandering around, so presumably mice under control. About 20 people at hut, including some families with children. Showered myself but didn't wash clothes, since late when I arrived so not enough sunshine left to dry everything. Charged electronics from outlet in room.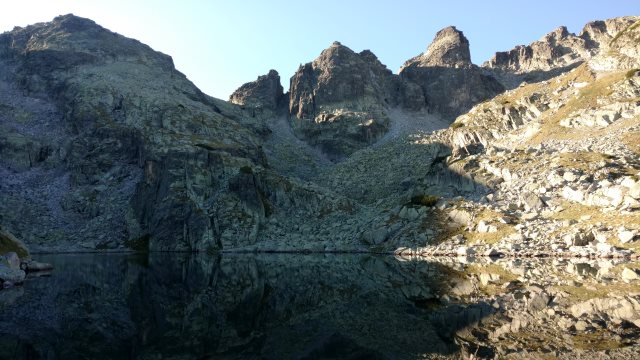 strashnoto lake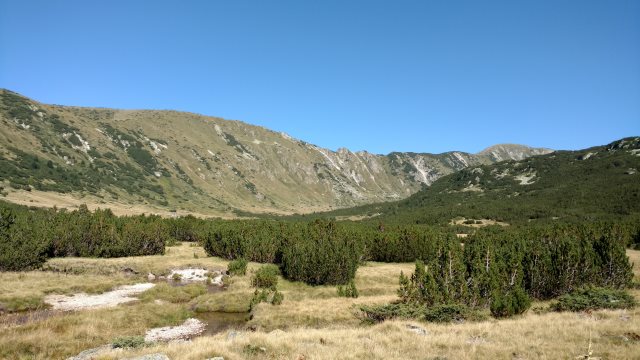 marinkovitsa river
Fri, 25 Aug 2017
No evidence of mice visiting during night. Slept well, but muscles stiff in morning from hard walking yesterday. Also sunburn on front of torso from resting with shirt off. Get base tan in Ukraine next year. Ridge walk today, with no water between huts, so carry several liters. Passed 2 couples hiking north, plus some day hikers at either end of hike, but no one headed south. 16 lev for lunch (greek salad, cheese omelet, lentil soup, bread, milk chocolate, orange soft drink), 10 lev for bed at Makedonia hut, sharing 24 space dormitory with 1 other man, who was already there yesterday, which is why I didn't see him on the trail. Fine with just the two of us, but would be hell when full: double-decker beds, 3 people per wide mattress, no space for gear. Washed clothes and dried in sun. Communicated with hut manager and other older men at hut in Russian, since they didn't speak English. Hard to get used to Bulgarian/Greek custom whereby nod of head means no and shake of head means yes. But then I have to get used to it if I plan to spend significant time in those countries. Charged smartphone and power pack.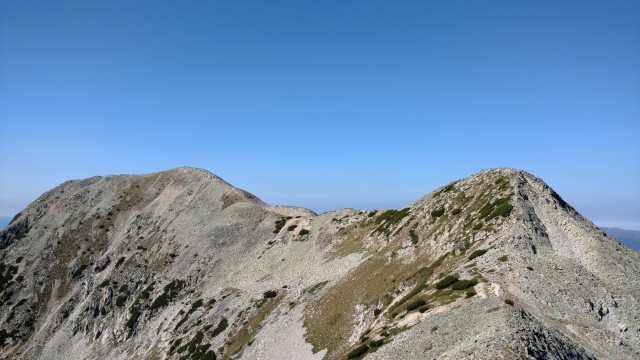 cherna polyana (2716m)
Sat, 26 Aug 2017
Slept long and well again. No snoring from other guy. Did morning yoga outside, without difficulty in handstand. Sunburn on front of torso will take several more days to heal. Painful for now due to rubbing by backpack straps. Carried 5L water from hut, after drinking 1L with breakfast (8 lev for omelet with cheese, several slices bread, tea, milk chocolate bar) since not much water on ridge and I plan to camp. (Actually, there is a spring two hours south of the hut, 100m east of and visible from trail, looked muddy and cow polluted, however I didn't inspect closely.) Saw no other hikers today. Camped at 1700m on little used forest road, which coincides with E4, just before this road joins well-used forest road. Would prefer to camp in forest itself rather than on road, even if little used, but forest overgrown with brush. Brush includes lots of raspberry bushes: many berries still edible, others sour or moldy.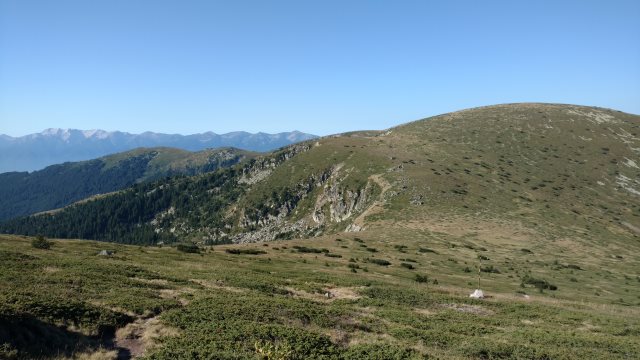 south of makedonia hut
Sun, 27 Aug 2017
Slept well. Finally able to hold handstand outdoors, first time since Spain. Ate remaining food carried from Samokov, 3 cheese sandwiches and a handful of peanuts. So what I carried just about right to supplement food at huts. Walked to Razlog, initially using well-used forest road mentioned yesterday, which is not fully shown on current OpenHikingMap but which eventually leads to other forest roads that are on map. Two piped springs along the route I took. About 4 hours walking, plus rested along way to avoid arriving before 14:00 hotel check-in time. (Official E4 trail crosses well-used forest road mentioned yesterday, then runs directly downhill to highway through overgrown forest, then east along highway for 2km to Predel complex. From there, continue along highway to Razlog, or else catch bus.)
35 lev at Hotel Papi. Spoke in Russian with desk clerk, who at first quoted 40 lev even though sign on counter said 35 lev for single occupancy and that is also price on booking.com. Wifi not working at hotel. Highly advise against using booking.com to pay for hotel rooms, based on this experience. Use it only to get room availability and prices.
Mon, 28 Aug 2017
Slept well. Almost recovered from sunburn on front of torso. Paid for another night at Hotel Papi (35 lev). Desk clerk on duty knows what she is doing better than clerk yesterday, plus speaks English. Wifi now working. 28 lev to airmail dress clothes to USA, with tracking. Maybe next year send clothes to USA from Ukraine, including dress shoes purchased in Spain. Post Office clerk only spoke Bulgarian, but understood my Russian well enough. Added 10 lev to Mtel account, though still don't understand service I'm on. Town of Razlog has very pretty central park. Really need this rest day, since body feels beaten up from week of strenuous hiking. In addition to sunburn on front of torso, lips also feel sunburned plus some minor pain in left knee.
Tue, 29 Aug 2017
Stayed up late reading forums about Ukraine. Maybe I learned something, maybe not, maybe I even made myself stupider with bad information. Insufficient sleep regardless. Forced myself to get up at normal time so as not to disrupt biorhythms. Another night at hotel for 35 lev, partly to give knee more time to heal, partly because rain both morning and evening.
Wed, 30 Aug 2017
Slept well. Bus to Pradel at 07:53 for 2 lev. Note that not all buses for Blagoevgrad stop at Pradel, only some. Also, bus stop about 2km west of where E4 heads leaves highway, so had to backtrack. Talked to two young Belgians hiking two days on Pirin mountains before proceeding to Greece, but saw no other hikers today. Boots soaked from walking through wet grass. Still some pain in left knee, which disappears once I get warmed up from hiking, then returns when I stop. Not very bothersome or worrisome. Camped on trail near Byela Reka, about an hour before Yavorov hut.
Started day with 1600g whole-wheat bread, 600g cheese, 800g peanuts, 400g dark chocolate, or 3400g total. Ate 1/4 or 850g of food today, supplemented by huge numbers of wild raspberries, which are mostly still firmly ripe and without mold and also freshly washed by yesterday's rain.
Thu, 31 Aug 2017
Slept well. Did handstand outdoors for second time since Spain. Could save half-hour of walk time and 100m ascent by camping at flat spot midway between where I camped and Yavorov hut. Rested and collected water at Suhodolskoto Ezero, last water supply until Vihren Hut. Arrived at hut about 17:00 after leaving camp about 08:00, about 7 hours hiking, 2 hours resting.
12 lev for bed at Vihren Hut, in 8 bed dormitory shared with 1 middle-aged woman hiker. Surprised that they don't segregate by sex. Incredibly, only 1 shower for entire hut of over 100 beds. Rinsed myself and clothes in stream just back of hut rather than waiting in line for shower. Adequate to clean body, socks and pants, but not underarms of shirt, since I didn't use soap. Separate restroom building with 2 squat toilets and 2 washbasins each for men and women. Should have washed shirt in one of those washbasins, but sun had set and rinsed shirt was already dry by time I thought of this. 11 lev for dinner (shopska salad, 2 meatballs, lentil soup, 6 slices bread, milk chocolate bar). Charged smartphone and power pack.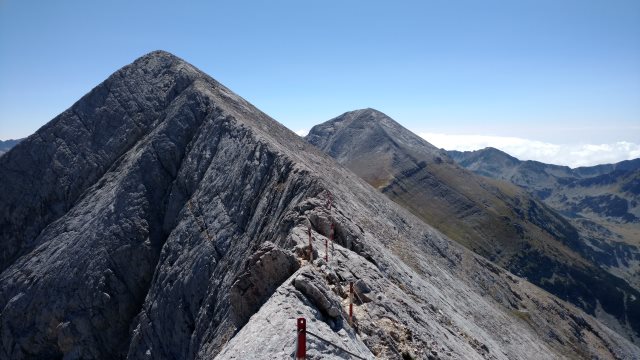 koncheto ridge (polished limestone in places, thus dangerous when wet from rain/snow/ice, not difficult on dry windless day like today)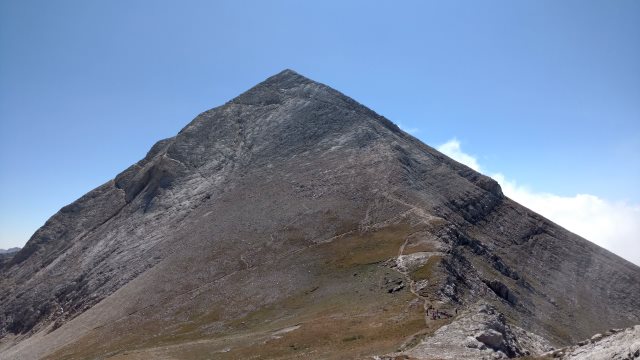 closeup view of mt vihren (2914m)
Fri, 01 Sep 2017
Slept well. No more pain in left knee. Probably bruised it Sunday with right knee while sleeping on my side, since pain was on inner side of knee. 4 lev for breakfast: omelet with cheese, bread, tea.
Surprisingly difficult day or maybe I was just tired from yesterday. Paid 15 lev for bed in 8 person dormitory at Tevno Ezero hut, shared with young couple and perhaps other occupants would have arrived later. I didn't remain in dormitory for long but instead packed up and camped due to noise from neighboring room. 17 lev for dinner: shopska salad, lentil soup, sausage, bread, milk chocolate bar. Most primitive hut thus far in Bulgaria, though no complaints about variety or quality of food, all of which has to be carried in by horseback. Electric lights run from solar panel, but no outlets for guests to charge electronics, at least none I could see. Outdoor privy and improvised outdoor cold shower. Washed shirt in this shower, using a bit of shampoo to clean shirt underarms. Arrived early enough that plenty of sun to dry off.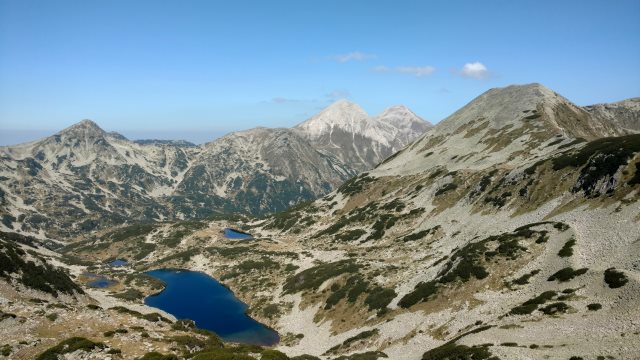 looking back at mt vihren
Sat, 02 Sep 2017
Slept well. 7 lev for breakfast: omelet, 6 slices bread, tea. Not sure why I'm breaking my vow to unconditionally shun caffeine tea. Hopefully I haven't addicted myself yet. Pirin Hut deserted other than for manager. Shopska salad, bean soup, bread, soft drink for 8 lev, plus loaf of bread for later use for 1 lev. No chocolate available: should have bought two bars at Tevno Ezero hut. Past Pirin hut, E4 is through forest, initially footpath, later forest road, then footpath again. Along forest road, passed 3 men standing beside old car, surrounded by bags of pine cones they had collected, perhaps to sell as tinder. Very easy for them to kill and rob lone hiker like me, easier way to make money than collecting pine cones. Camped on grassy saddle amid pines, 1880m altitude, uphill and about about 50m distant from trail, thus invisible from trail, about 1km south of Todorova Polyana, where there is piped spring. Several streams between Pirin Hut and this spring as well.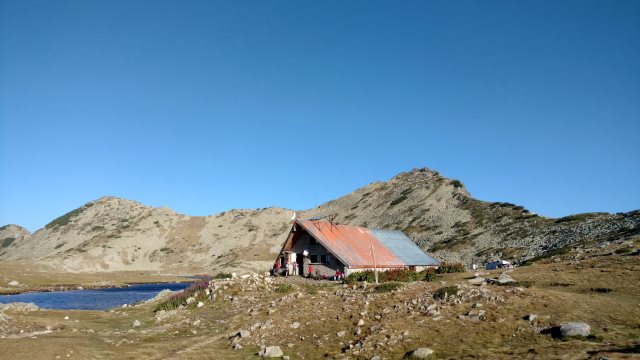 tevno ezero hut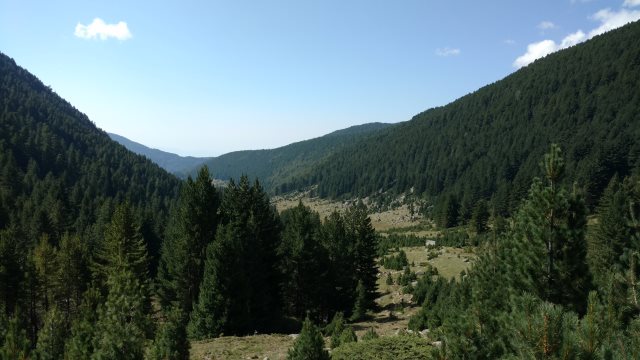 valley north of pirin hut

campsite on grassy saddle
Sun, 03 Sep 2017
Yesterday's bean soup caused huge number of foul-smelling farts in the night, also nausea, desire to vomit, cold sweats, constant need to change side I was lying on. Maybe food poisoning. Too dark to get up and vomit and empty my bowels, lest I risk soiling my clothes, so just lay there suffering. Body finally settled down someone in the early morning and managed to get some sleep. Took huge shit once it was daylight and felt better afterwards internally, but muscles still aching and tired. Crawled back under quilt and slept a few more hours. Fortunately, campsite shaded by trees from morning sun. Skipped yoga entirely.
Trail continues through forest, either beeches or evergreens. Piped spring on trail, south of Mt Murata. Had to stop and rest frequently due to physical exhaustion, partly from eating nothing besides a few pieces of bread, so as to let my stomach repair itself, partly from continuing illness. Finally made it to Popovi Livadi hut. Quiet room with 2 beds, myself the only occupant, for 15 lev. Washed up, dried clothes in sun, then lay down in bed, feeling absolutely exhausted. Up later for dinner for 14 lev: salad, lentil soup, piece of chicken, fried potatoes, bread. Everything soaked in grease so that I could only eat maybe a third of the potatoes before feeling stuffed. Hut manager speaks Russian but no English. Wife only speaks Bulgarian.
Mon, 04 Sep 2017
Slept well and felt more or less back to normal in morning. Able to do yoga without difficulty. Manager and wife appeared ready to go out when I descended, so instead of breakfast, I asked to buy some bread, but all they had was leftover bread from yesterday's Sunday feast, which they gave me for free. Supplemented bread with remaining peanuts and dark chocolate carried from Razlog, plus wild blackberries and raspberries. E4 on forest road until beginning steep 1000m ascent of Malak Tsarev. Piped spring several hours south of Popovi Livadi, 50m from forest road, next to two small huts. After that, no more water. Ascents somewhat more tiring than usual, otherwise felt fully recovered from recent illness, especially after emptying myself of some foul-smelling and semi-liquid shit, last of Saturday's bean soup hopefully. Camped at saddle at 1750m altitude, on descent to Petrovo. Arrived there late, then took a while to find a suitable flat spot not covered with cow patties. Finally crawled under quilt at 20:00. Since I left Popovi Livadi hut about 8:30, this implies many hours hiking, though I did take several rest breaks.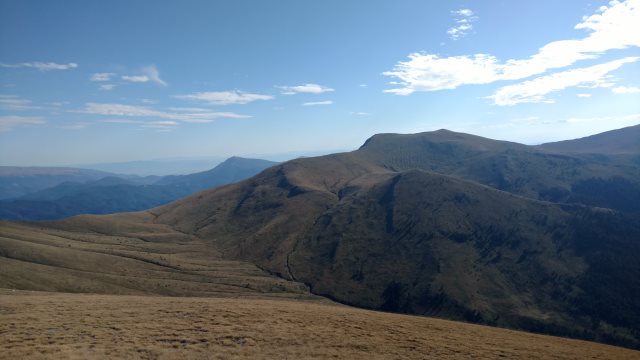 near mt gotsev
Tue, 05 Sep 2017
Slept well but tired in morning. Skipped yoga, other than hindu pushups. 3 hours waking to Petrovo. Bus to Sandanski at 13:00 for 4 lev. Single occupancy at Sokol Hotel for 35 lev. Head desk clerk at hotel spoke English, assistant spoke Russian but not English. Sales clerk at bus station spoke Russian but not English when I asked about buses to Sofia.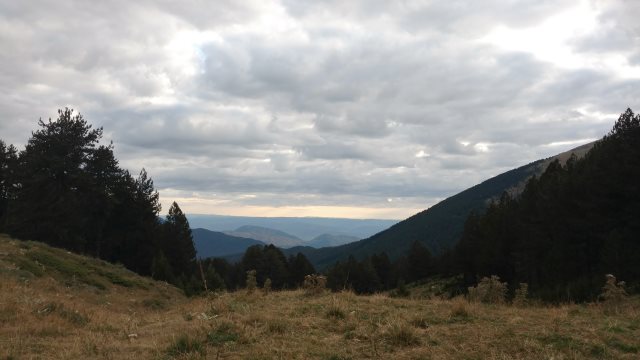 morning view from campsite near saddle
Wed, 06 Sep 2017
Felt tired in morning, after-effect of illness and then difficult ascent Monday. Another night at hotel for 35 lev. Ate lots of protein. Feeling strong and energetic again by late evening.
Thu, 07 Sep 2017
Bus to Sofia, leave 11:00, arrive 14:00, 12 lev. Room at EasyHotel, reserved via booking.com, 50 lev. Bought 4 days food: bread, cheese, peanuts, dark chocolate.
Fri, 08 Sep 2017
Bus to Berkovitsa, leave 13:00, arrive about 15:00, 11 lev. Original plan was to start hiking E3 immediately, but lost interest when I calculated that I'd likely have to spend night in hut. Hotel in town better idea. First hotel I checked was full, according to clerk, even though booking.com showed vacancy. Good thing I didn't make reservation and pay through booking.com. Only trust booking.com for reservations at large hotels like EasyHotel in Sofia. Otherwise, just use it to get general idea of prices and availability of rooms. 25 lev for single occupancy at Guest House Nocturno (reduced from 30 lev when I said I didn't want breakfast). Very nice room. Talked to landlady, older woman, in Russian, since she speaks that fluently but no English.
Sat, 09 Sep 2017
Slept very well. 9 lev for lunch at Kom hut: salad, soup, 2 kebabche, lots of bread. Drizzled off and on, but never heavily. 1500m ascent of Mt Kom from Berkovitsa felt easy. Big difference from exhausted feeling on Monday's 1000m ascent: well-fed and fully recovered from illness versus opposite. 20 lev for room by myself and dinner of eggs and bread at Petrohan hut. Trying to eat as much bread as possible at these huts to keep my strength up, something I failed to do in Rila/Pirin mountains. Only myself and 2 other guests at hut, which is huge. Maintained by two old men, who gather berries and plants from forest to supplement income from hut (and occupy time and energy). Spoke with them in Russian, since they speak little English.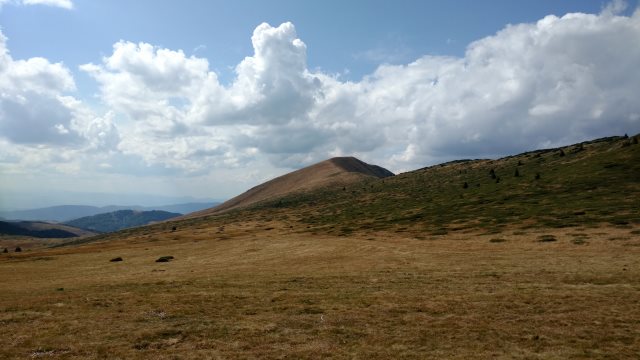 mt kom
Sun, 10 Sep 2017
Slept well. Lots of tart cranberry-like berries on ridge (cowberries, брусника). Proboinitsa hut closed. Water faucet in Gubislav, along road. Passed four stores in Gara Lakatnik, near Iskar river: first along highway (resupplied there with 1400g bread, 200g cheese, 100g chocolate, 400g peanuts, can of mackerel, 2 apples, carrot, green pepper, soft drink); second small store/cafe at railway station; third large store in central square (also water faucet there); fourth small corner store in upper town. Ate part of food in town. Camped at 800m, field near ruined house, between Gara Lakatnik and Lakatnik.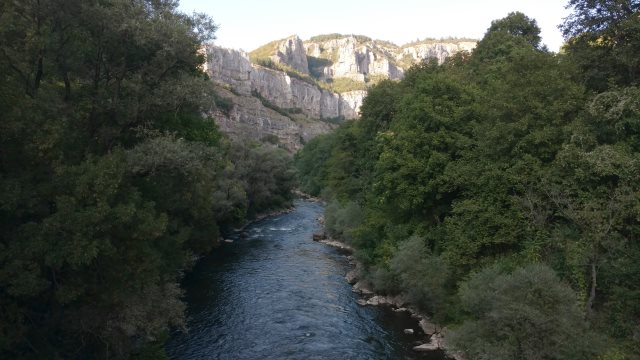 iskar river gorge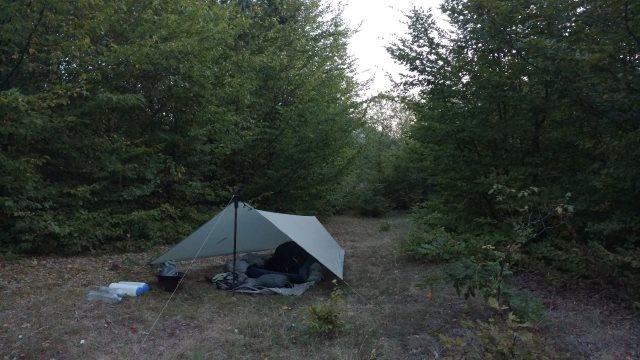 campsite
Mon, 11 Sep 2017
Faucet on way to Lakatnik. Either cafe or store in Lakatnik, didn't inspect closely. Lunch at Trastena hut, 9 lev: salad, taratop soup, bread, chocolate, soft drink. Partially charged electronics. After hut, E3 runs along ridge, mostly on forest road. Lots of blackberries. Though I left hut fully hydrated and carrying 3L, started to worry about water situation as time went by, given that September is end of dry season and only water sources were mud puddles in middle of road. Finally encountered spring on north slope of Chukava mountain, labeled by sign along E3. Loaded up with 5L, in case more water shortage tomorrow. Camped at edge of natural meadow aboud 2km past spring.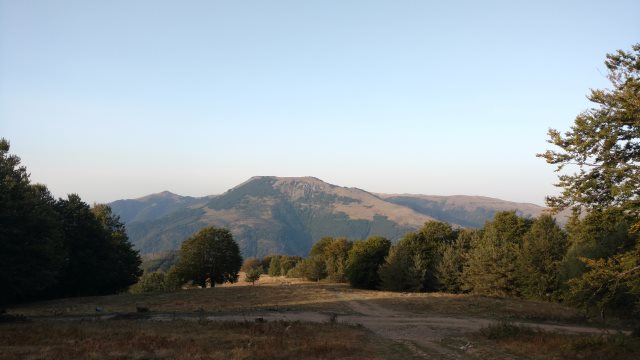 koznitsa mtn
Tue, 12 Sep 2017
Overcast, windy and much cooler than yesterday. Didn't bother to check if Leskova hut is open. Given isolated location and lack of other hikers (I've met no one else hiking since first day, ascent of Mt Kom, and those were day hikers), I'd be surprised if it were open. Piped spring on south slope Danchulitsa mountain, labeled by sign along E3. Didn't need any water myself, however. Took alternate E3 route to Murgash hut (recorded GPX track), but hut abandoned: door open, windows broken, trash lying around. Water still running from piped spring. 2L remaining from yesterday but picked up some more for tomorrow. Camped near hut.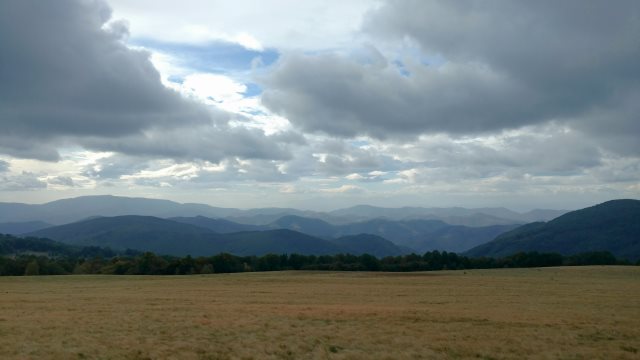 looking towards mt murgash
Wed, 13 Sep 2017
Followed E3 alternate route to top of Mt Murgash. Spent hour or so taking to meteorological workers at hut there, who offered me breakfast and electricity to partially charge batteries. According to them, German guy one day ahead of me on E3. Man aged 59, woman 64, both studied Russian when young but not English, so we talked in Russian. My skills improving, though still far from where I'd like to be. Continued along E3 alternate route until it rejoins main route. Water faucet at Vitinya pass. Also some sort of hiker refuge, based on signs. However, surrounding area noisy and filthy because of trucks using it as a rest stop area, so I didn't bother to inspect refuge myself. Camped amid beeches, just after E3 leaves paved road to Gorno Kamartsi. Ate last of food in backpack today. Amazing that I only started E3 five days ago: feels like I've been on it for months.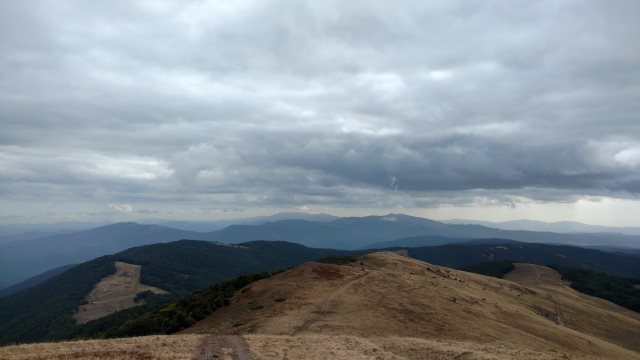 view east from mt murgash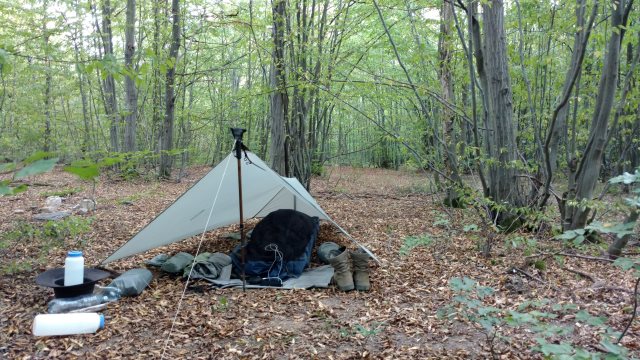 camped amid beeches
Thu, 14 Sep 2017
Bear growling nearby all night. Bought two days food at store in Gorno Kamartsi (1300g bread, 320g canned mackerel, 480g peanuts, 160g milk chocolate, 2 apples, 2 peppers, carrot) plus picked up 2L water. Note that store closes early, like at 11:00, for midday break. Use stream running directly south from Mt Zvezdets if water needed: other streams slow-running and polluted by cows. Met two other hikers, young Bulgarian couple, and hiked with them to Chavdar hut. Washed myself and clothes and dried in sun. Fully charged electronics for first time since Sunday morning. 12 lev for bed in dormitory by myself, 6 lev for very nice dinner of chicken, potatoes, bread, tomato slices, 2 lev for chocolate bar for tomorrow.
Fri, 15 Sep 2017
Short day: about 3.5 hours hiking to Kashana hut. 10 lev for meal (bean soup, salad, omelet, bread), 6 lev for peanuts and chocolate, 10 lev for bed in dormitory by myself. Also at hut was young French Canadian couple, hiking opposite direction, sleeping in a different dormitory. We exchanged information about huts and water sources.
Sat, 16 Sep 2017
5 lev for big breakfast: bread, butter, cheese, jam, tea. Stuffed myself with enough food that no need to eat on trail today. Beautiful sunny day. Steep descent from Mt Kartala to Momina Polyana hut. Soup, salad, 2 kebabche, bread for 8 lev. Wanted to buy chocolate but none for sale. Decided to return to Planinski Izvori hut to reduce distance tomorrow and also because I wanted to camp rather than sleeping indoors. Piped spring on trail between huts, about 500m before (and thus downhill from) Planinski Izvori hut, which is abandoned and filthy with cow dung.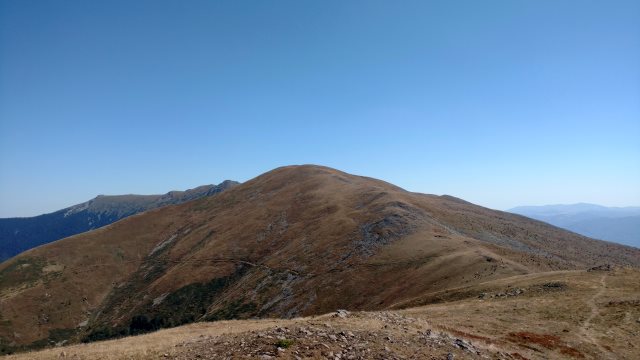 mt kozitsa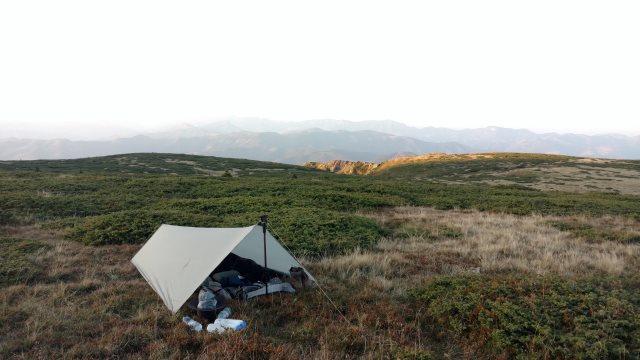 campsite near planinski izvori hut
Sun, 17 Sep 2017
Another beautiful day. Skipped morning yoga, other than pushups, to get earlier start. About 6 other hikers also camped near Planinski Izvori hut. Definitely better to stay on ridge and camp rather than descending to Momina Polyana. Another piped spring about 1km east of Planinski Izvori hut, on E3. Left campsite at 8:00, arrived at Eho hut at 14:30, with at least 1 hour resting, so at most 5.5 hours hiking. Compare with estimate of 11 hours by manager of Momina Polyana hut. Moldy bread and okay peanuts for breakfast and lunch. 6 lev for lentil soup, 2 slices bread (all they had available), chocolate bar at Eho hut. Rested for a while, then another 1.5 hours to Kozya Stena hut. 6 lev for vegetable soup, bread and another chocolate bar, then 5 lev later for rice and vegetables with bread. No showers at hut due to water shortage, so simply rinsed shirt and face in washbasin. 12 lev for bed in 4 bed dormitory, shared with one other man, Bulgarian who gave me some interesting map information.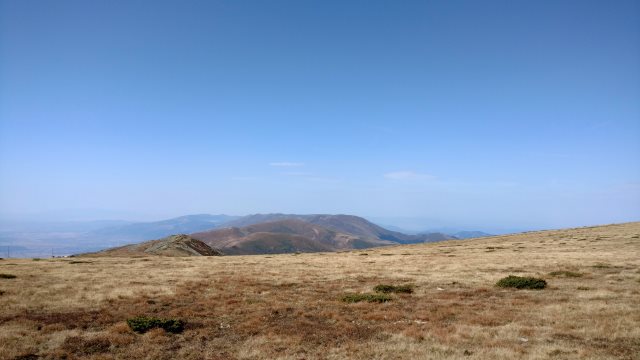 view west from mt vezhen

kozya stena hut
Mon, 18 Sep 2017
3 lev breakfast of macaroni and cheese. 7 lev for soup, bread and soft drink at Dermenka hut. Manager only speaks Bulgarian, no Russian or English. 15 lev for bed in dormitory at Dobrila hut, shared with one other man, German who also started from Kom. 14 lev for dinner: salad, lentil soup, 2 kebapche, chocolate bar, bread. Made reservation via booking.com for 5 nights in Sofia, starting tomorrow.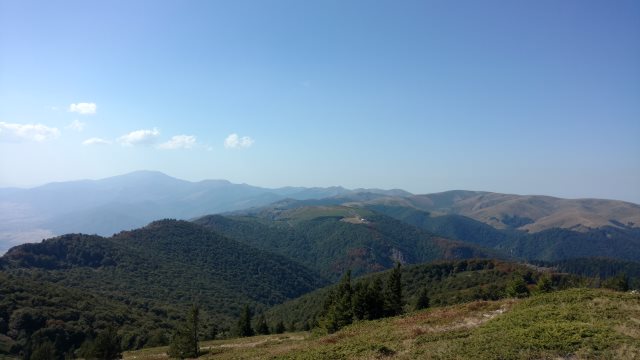 dermenka hut as seen from mt gerdektepe
Tue, 19 Sep 2017
Left hut at 7:30, walked down to Sopot, arrived at about 10:00. Cable lift started running about 9:00, but I had already descended past upper station by then. So lift does operate weekdays in September. About halfway down mountain, path I was on separated into foot and bicycle trails, according to sign. I took the more direct bicycle trail. If anyone does in fact ride that trail on a bicycle, they are amazingly daring (suicidal?) and skillful, and also very strong. Bicycle would also need to be very strong. Shudder to think of crashing into a tree while zooming downhill at 50 km/hr or more. Not easy to go slower, since steepness of parts of trail means tires would not grip, thus brakes would do nothing. I had to hold onto roots and branches to slow my own descent on foot. Many young and bold, many old and cautious (me, for example), not many old and bold...
1 lev for bus to Karlovo, then 5 lev for bus to Plovdiv, 14 lev for bus to Sofia, arrived at 14:30. (Direct bus from Karlovo to Sofia leaves 17:15 on weekdays. Might also be train which leaves Karlovo for Sofia around 13:00.) 1.6 lev for subway ride to apartment, which is very nice. 206 lev for 5 nights, or about $126 (41 lev/night, $25/night). Lower price than EasyHotel, but kitchen, living room, balcony, and much larger bedroom and bath than in hotel. Husband and wife owners speak fluent Russian, but little English, so we communicated in Russian, including telephone conversation to arrange turning over keys. My own Russian is also almost fluent for these sorts of simple conversations, provided other person also fluent. Reason I had difficulty understanding some hut managers is they weren't speaking pure Russian with clear Moscow accent, but rather a mix of Russian and Bulgarian with heavy Bulgarian accent.
Withdrew 100 lev using CapitalOne ATM card for $61.22, 0% conversion fee, based on mid-market rate 1.66 bgn/usd, according to XECurrency app. Immediately afterwards, remembered I already had 100 lev hidden away as emergency money, so withdrawal was probably unnecessary. Save the excess for next year.
Discarded generic water bottles. Put chlorine-dioxide tablet into each Nalgene water bottle, first such cleaning since Spain.
Wed, 20 Sep 2017
Added 6 lev (minimum I could add) to Mtel account, so as to have enough balance to send texts. Mtel immediately used 5 lev to buy some additional package which I didn't want or need, so I could only send a single text before balance depleted again. Text was to arrange for landlord to drive me to airport early Sunday for 20 lev. Should have added 20 lev to Mtel account back in Razlog.
Thu, 21 Sep 2017
Fri, 22 Sep 2017
Sat, 23 Sep 2017
Sun, 24 Sep 2017
Enjoyed my five days in Sofia. Lots of beautiful parks. Landlord shuttled me to airport. 140 lev currency remaining, which I did not convert to dollars at airport, since I plan to return to Bulgaria next year. Flight delayed two hours due to engine problems. Fortunately, I had almost four hour layover and so didn't miss connecting flight to San Francisco.
Comments
Spent about 1360 lev total for 37 nights in Bulgaria (37 lev = $22 per night), including 13 nights camping, 10 nights in huts (average 15 lev = $9 per night), 14 nights in hotels/apartment-hotels (average 38 lev = $23 per night).
Starting to enjoy city life more. So maybe I could someday live year-round in Europe, in case trans-Atlantic air travel no longer possible for some reason. Winter in Georgia (apartment in Tbilisi or Batumi), spring hiking in Spain, summer in Kiev or other city in Ukraine, autumn hiking in Bulgaria. Though that would require buying/making lifetime supply of gear and then transporting to and storing somewhere in Europe. Can't bear idea of going back to using only commercial gear of the sort widely available in Europe currently.