Sep-Oct 2017, Lassen National Forest (bicycle)
Tue, 26 Sep 2017
Bus from Oakland to Reno. Exchanged European hiking gear for USA bicycle touring gear then checked into motel. Tomorrow and Thursday for attending to various business matters, updating website, preparing for Lassen tour. Tarp needs repairing or replacing, but delay until return to Reno in a month or so. Tarps one those items I need to sew up lifetime supply of, in preparation for possibly moving permanently to Europe someday.
Fri, 29 Sep 2017 (27 miles, 3:41 hours)
Starting odometer 18599. Henness Pass ascent much easier than usual due to mild temperatures and cloudy sky. Reflecting back on Bulgaria, where just ten days ago I hiked down from Dobrila hut, overall impression is that hiking in Europe more enjoyable than bicycle touring, and also more suitable for an aging body. So plan on permanent move to Europe maybe ten years from now.
Sat, 30 Sep 2017 (37 miles, 3:46 hours)
Sun, 01 Oct 2017 (42 miles, 3:55 hours)
Bought snacks at Taylorsville store.
Mon, 02 Oct 2017 (13 miles, 2:53 hours)
Saw two medium-sized bears while riding today, later a medium-sized mother and two cubs passed nearby while setting up camp.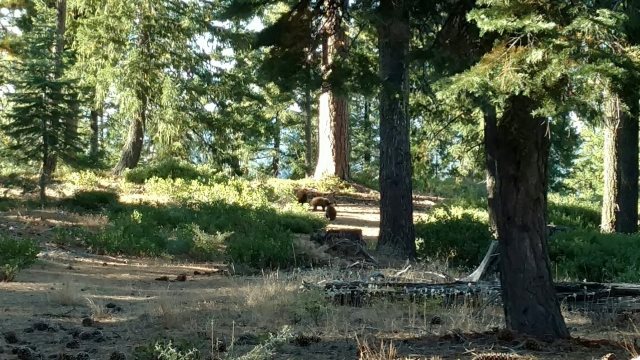 mother bear and two cubs
Tue, 03 Oct 2017 (22 miles, 2:33 hours)
Wed, 04 Oct 2017 (25 miles, 2:10 hours)
$63 at River Inn in Susanville, including tax and senior discount.
Thu, 05 Oct 2017 (20 miles, 2:30 hours)
Fri, 06 Oct 2017 (9 miles, 1:06 hours)
Sat, 07 Oct 2017 (4 miles, 0:27 hours)
Sun, 08 Oct 2017 (26 miles, 2:25 hours)
$70 at River Inn in Susanville, including tax. I'm not old enough for senior discount and no AARP discount.
Mon, 09 Oct 2017 (20 miles, 2:36 hours)
Tue, 10 Oct 2017 (8 miles, 0:54 hours)
Wed, 11 Oct 2017 (27 miles, 2:14 hours)
$70 at River Inn in Susanville, including tax.
Thu, 12 Oct 2017 (20 miles, 2:26 hours)
Fri, 13 Oct 2017 (6 miles, 0:47 hours)
Sat, 14 Oct 2017 (6 miles, 0:38 hours)
Sun, 15 Oct 2017 (23 miles, 1:55 hours)
$70 at River Inn in Susanville, including tax.
Mon, 16 Oct 2017 (38 miles, 4:02 hours)
Dental cleaning in morning, $103.
Tue, 17 Oct 2017 (31 miles, 2:44 hours)
Bought snacks at Taylorsville store. Camped same place as last year.
Wed, 18 Oct 2017 (28 miles, 3:54 hours)
Thu, 19 Oct 2017 (43 miles, 4:50 hours)
West, southwest wind in afternoon, occasional headwind for me.
Fri, 20 Oct 2017 (22 miles, 2:17 hours)
Rained/snowed for several hours during night. About two inches snow accumulation in morning. Route between Verdi and Reno blocked for construction work, with no alternative route for bicyclists (I-80 would be alternative for motorists), so dragged bicycle over fences and through sagebrush to get around. Final odometer 19096.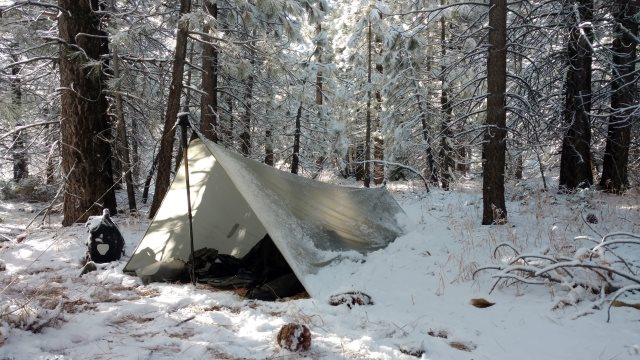 tarp in morning
Sun, 22 Oct 2017
Transition from travel to stationary mode very stressful. Remain in Europe next year until second week November, then just a week or two in Reno to rest, switch gear and resupply for Mojave bicycle tour. In other words, remain in travel mode most of year, other than 6 weeks in January/February.
Spent last few days sewing up new winter and 3-season quilts, using fabric I ordered last year. Winter quilt needed replacing, because not wide enough, so cold air leaks in at sides when lying on side. Current 3-season quilt in good condition, but I want lifetime supply of spares for this and other difficult to sew items, to minimize need for long stationary periods in Reno for ordering fabric and sewing up replacements. Estimated quilt lifespan 10 years. Assuming I eventually quit bicycle touring in the United States and move permanently to Europe, winter quilt I sewed up this weekend will be all I ever need. But sew up 3 more 3-season quilts, so total of 4 spares in storage.
Statistics
21 nights away from Reno total, of which 17 nights camping (81%), 4 nights in motels (19%). 22 days traveling, including last day.
497 miles total, 55 hours pedaling/pushing, average of 9.1 miles/hour. Average of 2.5 hours/day pedaling/pushing for 22 days of travel, 23 miles/day.
Total motel expense of $273 including taxes, for average of $68/night for 4 nights in motels.
Comments / Todo list
See Nomad page for bicycle comments.
Enjoyable trip overall. Many nights below freezing, but mostly warm during day. Because of low temps, no flies or mosquitos. No rain or snow until final night. Usually remained under quilt until past 10am, then an hour for exercises and breakfast, so didn't start riding until near noon. But as mileages above show, didn't do that much riding, so late start not a problem. Interest in exploring, making journal entries and taking pictures all gone. Happy to just sit quietly in the forest. Probably my last Lassen forest trip, since plan is to spend future Octobers in Bulgaria.