Nov 2017 to Jan 2018, Mojave Desert Bicycle Tour
Wed, 15 Nov 2017
Made some progress these past few weeks sewing/buying lifetime supply of gear/clothes (see here), but still a long way to go. I really despise sewing but alternative is either paying someone else to do the job, which is even more trouble, since I would first have to find that someone and then carefully supervise them, or else I go back to using poorly designed commerical gear. Sewing also forces to be stationary in Reno for long periods. Should have started accumulating inventory in a systematic fashion long ago. Unfortunately, I wasn't completely confident in my packing list and designs until recently, and even now a few designs are still uncertain. Only item no longer sold and for which no obvious substitute is small repair tube of silnet, though maybe if lucky and careful I'll never use more than two tubes I currently have in stock. Preferred fabric for jacket lining, insulated hat and quilt shells currently out-of-stock, but vendor claims these should be in-stock in future. Boots most critical item, since I really don't want a substitute, and also most expensive item. But even $5000 for lifetime supply of boots small compared to projected lifetime cost of storage locker. Raw materials and manufactured goods cheap nowadays. Whereas labor, services and land rent all expensive, at least in the United States.
Assuming eventual move to Europe year-round, does this imply moving lifetime supply of gear to Europe? Still thinking about this issue, versus bringing over 5 years of items at a time (5 pairs of boots, several sets of clothes, other consumables) as airline baggage during periodic visits to the United States, so as to minimize reliance on European storage locker. Losing contents of storage locker would be heart-breaking: rebuy/resew everything, go back to using crappy commercial gear, perhaps forced to change boots. Current storage locker in Reno professionally-run and constructed of concrete and steel with good fire-protection. Main risk is unable to update credit card information on file (in coma? prisoner?) for several years and eventually contents of storage locker sold to pay back rent. Probably minor risk compared to risk of losing my health so that hiking no longer possible and thus gear inventory no longer needed.
---
In addition to accumulating lifetime supply of clothing/gear, need to minimize reliance on laptap computer. Current uses:
Compress documents folder into encrypted zip file, prior to backing up. Possibly could do this on smartphone, but don't trust current smartphone apps to properly encrypt.
Backup media files to microSD cards. 100+ GB too much for cloud backup, especially given slow wifi speeds in hotels. Could copy from microSD to internal smartphone memory then swap microSD cards and copy again, but very time-consuming with current smartphone because of slow transfer speeds.
Copy files to backup smartphone. Possibly could do with smartphone alone, since documents and website small enough to transfer via bluetooth, while media files don't change much.
Python scripts to update website files. Possibly could use smartphone, but would need scripting app.
Editing/compressing trip report photos and photos for friend's website. Could be done on smartphone, though time-consuming that way.
Ripping CDs. Can avoid by buying MP3s directly instead of CDs.
Tax return. Probably could use smartphone, though time-consuming that way.
GPX track editing. Don't do much of this anymore. Mostly use my existing GPX tracks or other people's tracks.
Convert ebooks from kindle to epub format using calibre, since Moon+ so much better than Kindle app. Not important for now, since smartphone current loaded with a decade or more of epub ebooks.
Heavy document/spreadsheet editing. Don't do much of this anymore and probably that little could be done with smartphone, though time-consuming that way.
Update firmware/GPX tracks on Garmin Etrex 20 GPS receiver. Probably no longer necessary: firmware stable so updating no longer needed; GPX tracks already loaded for Mojave tour; not using Etrex 20 for Europe anymore.
Tue, 21 Nov 2017
Short-term apartment where I spent past month big improvement over bedbug motel across street, for about same price. Unfortunately, occupancy allowed only in monthly increments, so at most one month here during January/February rest break. Also, I will have to supply my own sheets, pillows and towels when I return, and do my own cleaning, since they are switching over from motel-style to apartment-style service. Doesn't make much sense to me. They have the facilities to provide weekly room cleaning and linen service, so why not make this an option for tenants who want to pay extra? They allowed me to remove existing sheets and towels, so I put these in the storage locker. Quilt and pillows too bulky, so I'll just use camping quilt and buckwheat hull Japanese style pillow I still have from long ago. Or maybe I'll just stay in the bedbug motel.
Definitely huge difference in quality between what same money buys here in the United States (and Reno hardly expensive by US standards, I should note) versus Spain/Bulgaria/Ukraine. Georgia (Batumi, Tbilisi) also surely much cheaper for higher quality, though I haven't yet been there.
Carrying 7 days food and full 23 liters water out of Reno, since temperatures sunny and near 70°F next few days (near record highs, temps normally lower this time of year).
Wed, 22 Nov 2017 (58 miles, 5:27 hours)
Starting odometer 19184 miles. For some reason, I wasn't using network time on my smartphone and also failed to adjust for daylight saving time change, so smartphone clock has been off by an hour for past month or so. Noticed today because of bicycle computer and GPS, both of which have clocks. (Fact that I didn't notice until today shows how detached I am from society.) Wrong time on smartphone caused late start: 9:10 instead of planned 8:10. Cut rest breaks short to make it to Churchill road campsite before sundown. Ground damp from recent rains. I would expect sandy soil at this campsite to drain well and dry quickly, but evidently not. First day of Mojave tour always long and tiring, but probably for best, since then I fall asleep early and quickly adjust to travel mode.
Lost stake while setting up tarp. Maybe kicked it and then trampled it under sand. Spent ten minutes combing through sand trying to find stake, but no luck. Gave up search when it became dark. Very easy to lose stakes in sand. Tarp, pole cup, rear tarp pole, bugbivy, quilt, and ground pad all new for this trip and all working fine. Mojave tour will be test for new gear in future as well, so nothing new when leaving for Europe.
Smartphone (Moto X 3rd Gen Pure Edition) updated OTA ("over the air") from Android V6 "Marshmallow" to V7 "Nougat" on Monday (about a year after Nougat first released). Battery performance seems worse, which could be problem for me. Or maybe reduced performance because battery getting old and I didn't notice performance degradation until today. Or maybe problem is rogue app which doesn't play well with Nougat, rather than operating system itself.
Thu, 23 Nov 2017 (38 miles, 4:18 hours)
Found lost stake this morning. Maybe should carry spare (15g). Then again, currently carrying 8 but only need 6 and only use other 2 in high wind situations, so effectively 2 spares already. Muddy road in places, but usually able to get around without collecting mud on tires. Lots of coyotes yipping near where I camped, in sagebrush along Walker river. Weather beautiful, with little wind. Not as warm as I expected, so carrying way more water than needed to get to Schurz.
Fri, 24 Nov 2017 (43 miles, 4:33 hours)
Bought snacks and picked up several liters water from outside faucet at Four Seasons store, just south of Schurz. Took Double Springs road from Schurz to Gabbs Valley, rather than Rawhide road which I've used numerous times previously. Double Springs road better maintained (fewer sandy spots) and more direct. Not sure why I didn't use it before, other than my tendency to stick with whatever works, even if it doesn't work very well.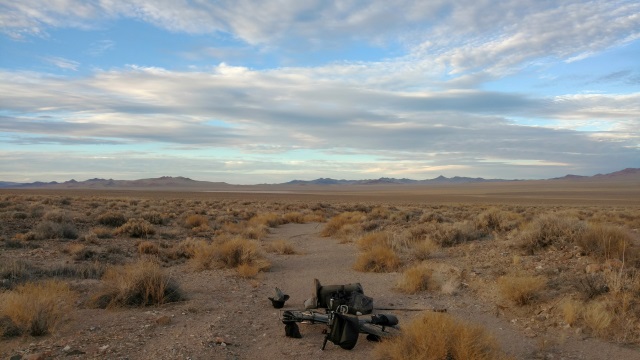 campsite along double springs road
Sat, 25 Nov 2017 (27 miles, 3:03 hours)
Android timer app, which I was using to time my morning exercises, major source of battery usage: stopped using it. Music app and Bluetooth radio use hardly any battery, so listen to music or language recordings rather than reading in the evening.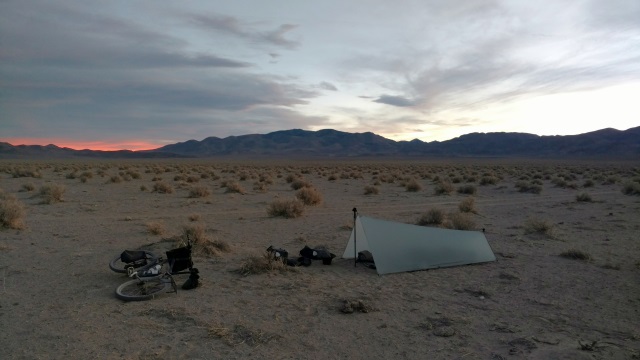 campsite along rawhide road
Sun, 26 Nov 2017 (26 miles, 4:23 hours)
Strong southeast winds all last night and most of today: headwinds for me. Wind finally died down in afternoon, as eye of storm passed over. After sundown, furious wind from west switching later to northwest: tailwinds tomorrow. Tarp facing southeast, in preparation for change of wind direction, however one stake pulled out from initial and most furious winds. Inserted more securely and everything okay after that. Started raining lightly in early morning.
Mon, 27 Nov 2017 (55 miles, 3:52 hours)
Tailwind blew me all the way into Tonopah. Hot water out at Tonopah Motel and they refused to rent until fixed, so backtracked to Clown Motel ($57/night including tax). Did yoga there since I had skipped in morning. Feasted on fresh food from grocery. Tomorrow forecast for east wind, which would be headwind, so plan is to stay in Tonopah two nights. Also, I could use a rest day.
Tue, 28 Nov 2017 (zero day)
Ground floor room noisy from squeaking floor boards above. Always something wrong with these cheap motels.
Put chlorine-dioxide tablet in each bladder. Plan to do this much more frequently than in past, like every week versus every three weeks.
Wed, 29 Nov 2017 (58 miles, 4:30 hours)
Person in room above much less active yesterday evening, so not so much squeaking from floor boards. Not much wind. Camped amid creosote a few miles north of Scotty's Junction, about 3/4 mile from Hwy 95, enough distance to abate worst of highway noise.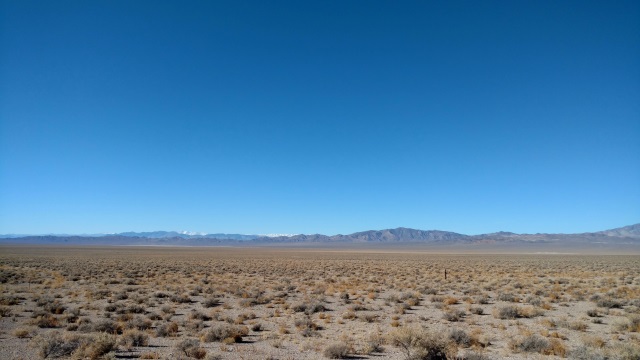 view along hwy 95
Thu, 30 Nov 2017 (49 miles, 4:16 hours)
Bought big mess of sugary snacks at Family Dollar store in Beatty, gobbled everything up in nearby park, felt physically sick though energetic afterwards, and also disgusted with myself. Camped about 8 miles south of Beatty, 1.5 miles west of Hwy 95, along solid dirt road used for FAA station access. Last year's trip report said 20 miles bad shoulder of 100 miles total between Tonopah and Beatty, but actually more like 30 miles bad shoulder. Shoulder on Hwy 95 south of Beatty very good so far: 3+ feet wide, rumble strip occupies 1 foot of shoulder immediately adjacent to traffic lanes, thus 2+ feet remaining for bicycle use.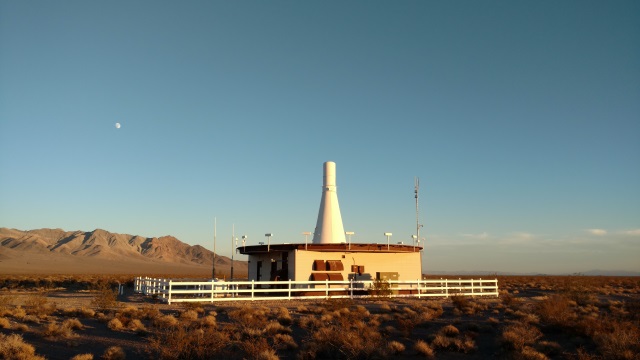 FAA station south of beatty
Fri, 01 Dec 2017 (50 miles, 3:46 hours)
Hwy 95 shoulder continued good to Valley View Rd, where I turned off. Valley View and Amargosa Farm roads both very quiet. Hwy 373/127 has no hard shoulder but wide soft shoulder and limited traffic. I never had to move to soft shoulder because of truck squeeze situations. Bought snacks at store along Hwy 373, but not an excessive amount like yesterday. Room at Amargosa Opera House Hotel in Death Valley Junction for $88 including tax. Woman dancer who made this place famous died earlier this year. Someone else now putting on performances for $20, but I wasn't interested in attending.
Sat, 02 Dec 2017 (62 miles, 4:49 hours)
Bought sugary snacks on Shoshone, but managed again not to eat to excess. Motel in Shoshone, but I neglected to get contact/rate info. Long day because strong south wind forecast for tonight/tomorrow, then strong north winds Monday, so prepare for short day tomorrow, then pass through Baker Monday.

campsite north of baker
Sun, 03 Dec 2017 (zero day)
Wind strong from south last night, then even stronger from southwest this morning. Decided to wait until tomorrow before proceeding. Listened to music while sheltered from wind behind creosote bush. Wind shifted to north after sundown.
Mon, 04 Dec 2017 (37 miles, 3:32 hours)
Wind continues strong from north, sometimes northeast or northwest, mostly tailwinds. Bought food at store in Baker, picked up water and charged electronics in park. For future use: Santa Fe Motel only motel in operation in Baker currently, 760 733 4477, $86/night single person older room + $100 refundable deposit. Compare with $41 I paid last year in Barstow, without deposit, and probably similarly low rates on outskirts of Las Vegas. Probably not many customers here in Baker, so charge those few as much as possible. Camped at usual spot about 12 miles south of Baker, sheltered from worst of north wind by rocks.
Tue, 05 Dec 2017 (22 miles, 3:48 hours)
Wind continues from north. Clear skies and cool. Able to pedal most of day, other than first few miles of sandy Mojave Road after leaving paved Kelbaker Road. Just after leaving pavement, reduced tire pressure to 36 PSI (2.5 bar) versus 48 PSI (3.3 bar) since Tonopah, to improve ability to pedal through sand. Camped near Beale Mountains. Setup tarp initially, but then took it down later as wind picked up. Worried about tarp being ripped to pieces, plus noise very distracting. Still noisy without tarp, but less so. Had to get up a few hours later and drag gear a few yards away for better wind shelter, but shelter only effective for primary direction of wind, not constant slight shifts to either side. Very exposed location here. At least ground coarse rather than fine sand, so not blown all over me like two nights ago.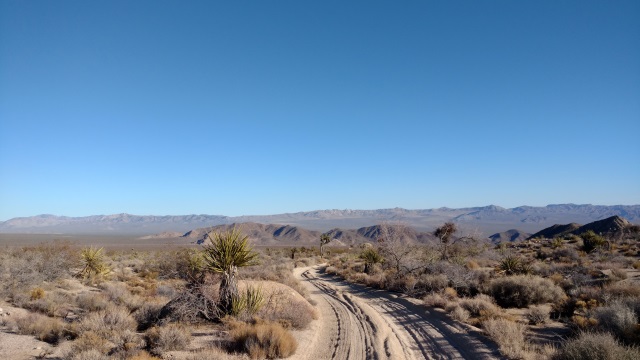 descent to marl spring
Wed, 06 Dec 2017 (34 miles, 4:31 hours)
Cold noisy wind continued all night, but I nevertheless managed to sleep. Wind calmed down somewhat after sunrise. Camped in wash lined by enough shrubs to block most of wind. Sound of wind actually pleasant as long as I'm not directly exposed like last night, but rather tucked behind shelter.
Thu, 07 Dec 2017 (18 miles, 2:51 hours)
Wind continued from north all night, but didn't bother me because I was sheltered. Wind stronger during day, with headwinds for 6 miles. Camped in wash again, sheltered by shrubbery.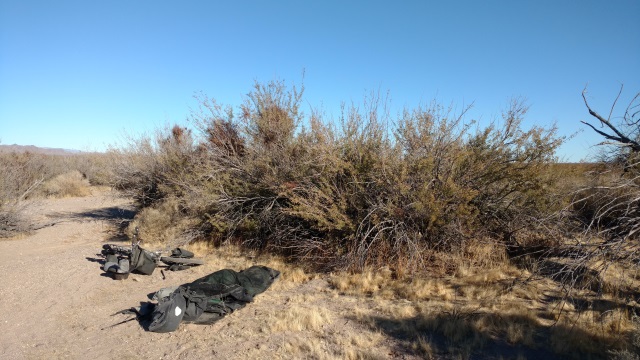 campsite sheltered by shrubs
Fri, 08 Dec 2017 (26 miles, 2:51 hours)
Wind stronger than ever from north. Inflated tires to higher pressure upon reaching Hwy 95. Will deflate again when I return this way Sunday. On descent into Bullhead City, sidewinds blew me several times off hard shoulder onto soft shoulder. View of spawled out city against backdrop of barren mountains makes evident punyness of man and his creations versus immensity of earth much less universe. We might destroy biosphere via nuclear war, or it might be destroyed for us by asteroid impact, or entire earth might be swallowed up by black hole, but whatever happens to us, rocks will remain somewhere in the universe. "Build your hopes for the future on a firm foundation of rocks, not humanity." Such were my thoughts during the descent. Constant wind probably affecting my mind.
Desert Rancho Inn is now weekly only, so stayed at Gretchen Inn instead. $70/night (including tax) for Friday and Saturday (lower rates weekdays) plus $55 cash deposit to be returned upon checking out. Room on second floor and building has timber framed rather than poured concrete floors, so that every step causes vibrations. Woman below angrily called at 9pm and asked me to stop stomping around, though I have very light footsteps (walk on front of feet rather than heels) compared to most people. Should have checked booking.com, which shows $60 (including tax) for Days Inn down the street.
Sat, 09 Dec 2017 (zero day)
Wind will continue strong from north for another week. 20 hours pedaling under normal conditions to get to Blythe via Ward Valley route, less with tailwinds. First and last night I can definitely get campsites sheltered in washes, not sure about other nights. Plan is to carry full load of 23L water and 6 loaves bread out of Bullhead City, to allow stopping as soon as I find sheltered campsite rather than stopping when I get tired of pedaling.
Put chlorine-dioxide tablet into each bladder. Threw out nylon dress socks I was testing as alternatives to cheaper Walmart brand I've used successfully for several years now. Some may shake their heads at plan discussed at start of trip report for accumulating lifetime supply of socks, among other gear, but problems I encountered (namely, socks gradually shrank, for some reason, to where they caused discomfort plus kept slipping down into boots, both of which problems would be much more serious if I were hiking rather than bicycling) demonstrates rationale for plan. It isn't obvious whether nylon dress socks are good or not for my purposes until after several weeks field testing (preferable several months testing), which is a lot of trouble. Gold Toe was brand of socks that didn't work out, costing double what Walmart brand costs. Inevitable that Walmart will eventually stop selling good nylon dress socks in favor of junk. Good commercial gear always eventually gets replaced with junk in my experience....
Sun, 10 Dec 2017 (26 miles, 4:36 hours)
North winds continue. Dangerous as sidewinds because sometimes gusts strong enough to push me across shoulder towards traffic lanes. Camped same sheltered place as Thursday. Should note that all this north wind isn't bringing particularly cold temperatures. Today went shirtless on long slog uphill and tonight, like other recent nights, will be above freezing. Indeed, don't recall any below freezing nights on this trip. Because nights are not very cold, I'm no longer bothering with setting up tarp (which reduces radiant heat loss and thus is useful even in dry conditions if clear sky and temps very low).
Mon, 11 Dec 2017 (14 miles, 2:04 hours)
North wind continues, strong and steady but not so ferocious here on plateau as down in Colorado river valley yesterday. Avoided mistake of two years ago, of pushing loaded bicycle via powerline road over west flank of Homer mountain. Instead, carried panniers and bladders separately for 300 meters or so of steep section, then went back and pushed unloaded bicycle uphill. Much easier this way and probably also faster, since fewer rest breaks. Camped in wash shortly after. Half-mile from road through deep sand before finally found spot well sheltered from wind, though still some light breezes. Feeling onset of cold/flu.
Tue, 12 Dec 2017 (43 miles, 4:36 hours)
North wind continues, tailwind down Ward valley. Powerline road north of I-40 mostly solid and downhill, so averaged over 15mph. Sign just south of I-40 said call for escort before proceeding, something about protecting endangered desert tortoise. I ignored, however could be an issue in future. First 22 miles of road south of I-40 solid, thereafter much pushing through sand, but at least downhill pushing. Campsite at 1450 feet elevation. Exposed location, however wind mostly gone by late afternoon. Road shirtless most of day. Warm and calm conditions a welcome change.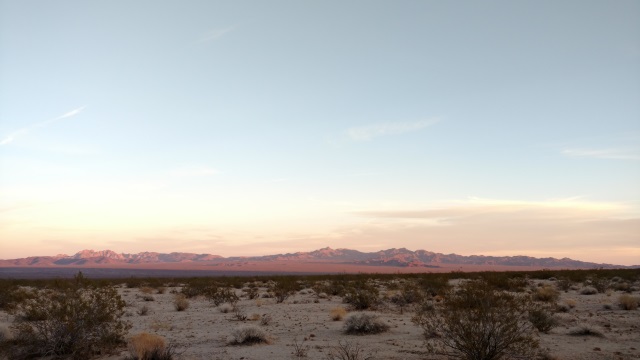 turtle mountains, view from ward valley
Wed, 13 Dec 2017 (42 miles, 5:15 hours)
Wind disappeared completely after sundown yesterday and calm continued this morning. Warm enough to lounge about shirtless once sun fully up, but never truly hot and no risk of sunburn this time of year. Long nights, star-filled sky, desert winter peace that makes these trips so enjoyable. Deep sand on last 12 miles of powerline road, so pedaled/pushed over semi-solid desert surface. Cadiz road solid but washboarded. Very light traffic on Hwy 62. Midland-Rice road in good condition: only occasional pushing through sand required. West tailwind part of day, then calm again in late afternoon. Camped in wash, sheltered spot in case wind resumes during night.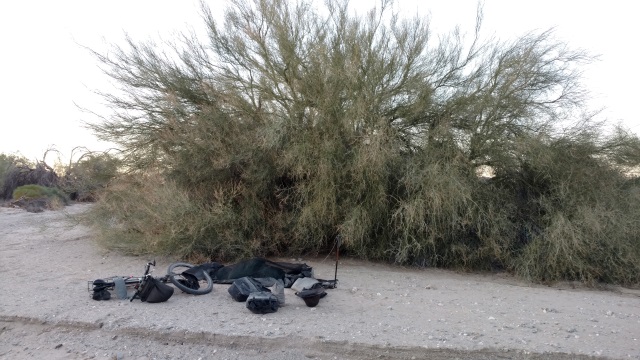 campsite in wash
Thu, 14 Dec 2017 (34 miles, 2:36 hours)
Wind did indeed resume from north during night, with a vengeance too. Campsite well-sheltered and then tailwind into Blythe. $44/night (including tax) for two nights at Budget Host Motel. Put chlorine-dioxide tablet into each bladder and bottle: first time this trip for bottles, third time for bladders.
Fri, 15 Dec 2017 (zero day)
Sat, 16 Dec 2017 (zero day)
Still have those mild cold symptoms (scratchy throat, some mucous, occasional coughing and sneezing), not getting worse but not getting better either, so decided to rest another day.
Sun, 17 Dec 2017 (22 miles, 2:29 hours)
Cold symptoms mostly gone as of this morning. Strong north wind resumes: tailwind or sidewind for me. Camped in usual wash along Bradshaw Trail, sheltered from wind by trees and banks of wash.
Mon, 18 Dec 2017 (22 miles, 3:28 hours)
Splitting headache when I lay down yesterday evening, including nausea. Gone when I woke up during night and also gone in morning. Maybe withdrawal symptoms from sugar, which I ate too much of during those rest days. Camped in wash along Midway Well road, which is sandy for several miles while crossing Milpitas wash. Gentle breeze from north all day.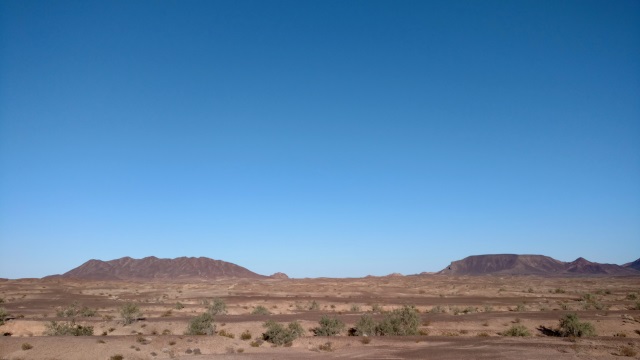 palo verde mountains
Tue, 19 Dec 2017 (16 miles, 2:13 hours)
Very little wind. Midway Well road firmer once past Milpitas wash, as is road parallel to hwy 78. Camped in wash along Lowe road.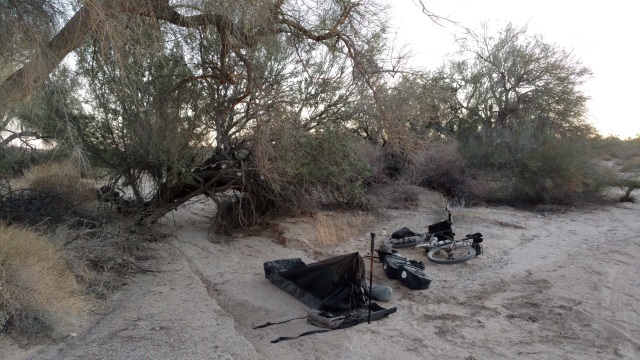 campsite in wash
Wed, 20 Dec 2017 (19 miles, 2:15 hours)
Wind from south. Warning sign at junction hwy 78 and Ogilby road that I-8 closed to bicycles. Camped in wash just before Hyduke mine road, sheltered by trees from anticipated shift to north wind during night.
Thu, 21 Dec 2017 (29 miles, 2:22 hours)
Strong and noisy wind from north during night, but I was adequately sheltered. Moderate north wind this morning, tailwind or sidewind for me. No signs prohibiting bicycles on I-8 for 3 miles between Sidewinder and Whitehaven, but highway construction in progress, so sign yesterday probably refers to westbound bicycles. Bought bottle of chain lube (White Lightning Epic Ride silicone-based) at Johnny Yuma's bicycle shop, since I had neglected to buy new bottles in Reno after Lassen trip and was running low. Two nights at Days Inn for $125/night, including tax. Put chlorine-dioxide tablet in each bladder.
Fri, 22 Dec 2017 (zero day)
Sat, 23 Dec 2017 (45 miles, 4:48 hours)
Sign along I-8 saying shuttle required for bicycles, with phone number to call to request shuttle, but sign less than mile from exit, so proceeded. Exit closed and undergoing reconstruction, but easy enough to get through on bicycle, especially since work site empty on Saturday. Construction scheduled for completion by March 2018, so won't be concern on future trips. Strong north wind forecast for tomorrow, so pedaled extra today, camped in sheltered spot in wash, with plan to remain there until wind passes.
Sun, 24 Dec 2017 (zero day)
Forecast wrong: not much wind today, but made it zero day anyway.
Mon, 25 Dec 2017 (20 miles, 2:30 hours)
Not much wind. Camped in Milpitas wash, along Midway Well road.
Tue, 26 Dec 2017 (19 miles, 2:39 hours)
Camped at usual spot on wash along Bradshaw Trail road. Again little wind during day and none at night: nothing more beautiful to me than winter desert under these calm conditions.
Wed, 27 Dec 2017 (22 miles, 1:57 hours)
$44/night (including tax) for two nights at Budget Host Inn in Blythe. Chlorine-dioxide tablet in each bladder.
Need a term of contempt for smartphone, analogous to "boob tube" and "idiot box" for television. "Stupid phone" unfortunately already used to denote mobile phones that lack advanced capabilities. Maybe "electronic timewaster" or "digital distraction device". Offline usage harmless, no worse than combination ebook reader, music player, notebook, foreign language dictionary, mapping GPS, alarm clock, calendar, calculator, camera: all of which tools useful and harmless by themselves and they remain harmless when combined. It's access to internet forums, social networks, email, texting and other online features that converts smartphone into "electronic timewaster". So why don't I and others who feel like me just switch our smartphones into offline mode most of the time? Good question and good start on my list of New Year's resolutions...
Thu, 28 Dec 2017 (zero day)
Fri, 29 Dec 2017 (29 miles, 3:20 hours)
Left Blythe with 6 days food, 23 liters water. More water than needed, given warm temps and possibility of resupply at Ludlow, but two bladders have slow leaks, so might lose some of what I'm carrying. Headwind from north for an hour while pedaling, later disappeared. Camped in wash.
Sat, 30 Dec 2017 (40 miles, 4:55 hours)
Resewed shirt button. Much traffic on Hwy 62, perhaps because of holiday weekend, but zero cars/trucks on Cadiz road. Camped amid open creosote. Calm all day.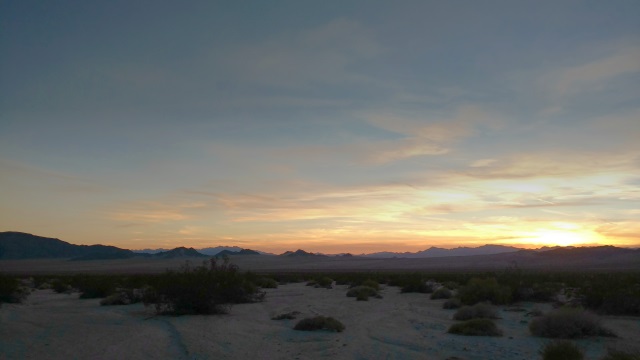 along cadiz road, evening view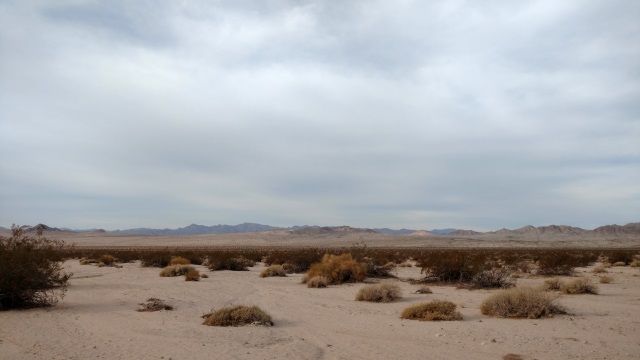 along cadiz road, morning view
Sun, 31 Dec 2017 (30 miles, 4:07 hours)
Overcast sky in morning, clearing later, continued calm. Noticed missing gear-tie, which is used to support camera while taking self-photos: last used it yesterday. (I don't include selfies in these trip reports, however I occasionally take one for my own use.) Long time since I last lost an item of gear. At least wasn't essential item. Easy to improvise some other method of supporting camera. Route 66 closed for repairs east of Chambless, didn't affect me however. Camped in creosote a few miles east of Kelbaker road.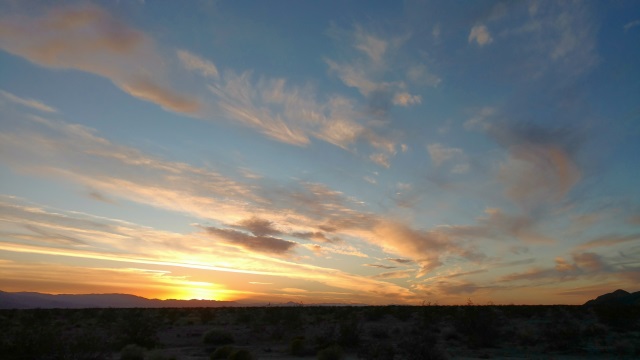 along route66
Mon, 01 Jan 2018 (28 miles, 3:11 hours)
Cadiz to Barstow always worst part of trip, because paved road and noisy campsites at night, plus always a little sad that trip coming to an end. Today's section especially demoralizing because uphill with headwind. Camped about two miles closer to Ludlow than last year, in wash shielded from both highway and railroad by hills, plus railroad veers away from highway here, so slightly quieter than last year.
Carried out most of last year's resolutions, other than those regarding internet, where I continue to waste too much time and energy. I'm not going to bother making further resolutions in this regard. Eventually my mind should recognize that the internet is poison and lose interest naturally, same as it has lost interest in other things in life naturally. Current year's resolutions:
Continue studying Russian. Aside from usefulness in its own right, need some sort of daily mental exercise to avoid senility. Memory already showing signs of weakness: forgetting names, etc.
Buy/make lifetime supply of gear, as discussed at start of trip report.
Discard remaining unneeded items from storage locker.
Reduce dependence on physical presence in Reno, in preparation for eventual year-round living in Europe.
Since other resolutions mostly involve preparations for future, focus on enjoyment of present while traveling. Repeat what worked in the past. Postpone exploring, which can result in unpleasantness, until next year or later.
Tue, 02 Jan 2018 (29 miles, 3:23 hours)
Wind picked up strongly during night and continued in morning, from west, so headwind. Later weakened and shifted to north then east, so mild tailwind. Overcast in morning, clearing later. Bought some snacks at Ludlow store. Camped about 13 miles east of Newberry Springs, in wash about one mile from highway. As usual, noisiest campsite of entire trip, but at least not windy like last night.
Wed, 03 Jan 2018 (34 miles, 2:37 hours)
About 15 miles from Barstow, head of 8mm bolt attaching saddle to seatpost sheared off. No spare 8mm bolts in repair kit. Removed saddle and stored in pannier. Lowered seatpost to avoid injury in case I fell back accidentally. Rode standing up for next hour or so. Only 8mm bolts at auto parts stores had hex heads, rather than allen wrench heads, which makes tightening and adjustment difficult, but nevertheless managed to tighten adequately using adjustable wrench. Should get me to Ridgecrest where there is a bicycle shop. If can't get proper 8mm bolts at bicycle shop, no problem because Ridgecrest end of trip. Bicycle saddle attachment poorly designed, since bolt broke after less than 2000 miles usage, whereas previous saddle bolt lasted over 18000 miles. Recall that I replaced seatpost after frame breakage last year.
$47/night (including tax) for 2 nights at Economy Inn in Barstow. Total dump. Should have stayed at Motel 6 for similar price, but wanted to try something different. Already breaking my New Year's resolution to stick to what has worked in past, rather than exploring and thus risking unpleasant surprises...
Thu, 04 Jan 2018 (5 miles, 0:25 hours)
Slept well enough. Lots of fresh air in room due to big gaps between door and frame. Heater broken so no overheating, which sometimes causes poor sleep. Quiet, since motel almost completely vacant. No bedbugs surprisingly: maybe room saturated with insecticide. Town full of these seedy motels. Full of seedy-looking people too.
Visited A-1 Cycle shop, which services both bicycles and motorcycles, but no M8-1.0 bolts available. However, could have bought entire seatpost assembly for $20 or so.
Noticed missing lock cylinder of TiGr Mini lock. Evidently misplaced after last using and unlocking but before storing into saddlebag. Or perhaps it fell out while rummaging in saddlebag for tools or chain cleaner/lube.
Neither bicycle shop nor auto parts stores had anything in stock that I would trust both for cleaning chain without causing damage and for storing in saddlebag without causing mess if spilled. Walmart, on the other hand, did have citrus cleaner that I prefer for this purpose.
Fri, 05 Jan 2018 (34 miles, 4:10 hours)
Slept poorly, probably due to binging on sugary snacks last night. Terrible habit, but easier to control than internet addiction. No problem limiting sugar intake once settled in city. Only when transitioning from traveling to stationary mode do I lose self-control. Body probably desperate to replenish glucose stores. Maybe should eat more canned potatoes during town stops, like five cans instead on just one. Bread more obvious starch, but I eat bread every day while traveling and so get tired of it. Camped along Hoffman road. Setup tarp for first time since about a month ago. Nor sure why, since clear sky and calm.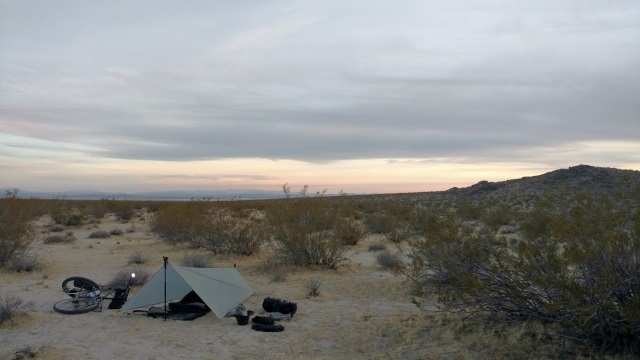 campsite along hoffman road
Sat, 06 Jan 2018 (27 miles, 3:19 hours)
Strong southwest wind in afternoon, mostly sidewind for me. Camped along Trona road. Tarp very noisy from wind for several hours, then later all calm again.
Sun, 07 Jan 2018 (25 miles, 2:18 hours)
Calm and sunny in morning. $51 (including tax) at Nights Inn in Ridgecrest. Very nice place, much nicer than Motel 6 for same price. As in Barstow, again violating New Year's resolution not to explore, but at least this time result was positive. Ate 3 cans potatoes to get some starch in my body. However, couldn't resist a 3-pack of "It's-It" ice cream sandwiches. But at least not a complete sugar blowout like in Barstow.
Mon, 08 Jan 2018 (12 miles, 1:18 hours)
Drizzling all day. Regret not staying another night in Ridgecrest, to avoid getting wet on ride to Inyokern, though maybe there would also be rain tomorrow. At least bicycle now clean. $25 for CREST bus Inyokern to Bishop. $69 (including tax) at Motel6 in Bishop. Ending odometer 20453.
Tue, 09 Jan 2018
$53 for CREST bus Bishop to Reno. Checked into Motel6, which has wood floor suitable for cutting fabric. Only $45/night weekdays. Switch to other motel once fabric cut.
Statistics
48 nights away from Reno total, of which 32 nights camping, 16 nights in motels. 9 rest/hibernation days, 39 days riding.
1269 miles total, 137 hours pedaling/pushing, average of 9.2 miles/hour. For 39 days riding, average of 3.5 hours/day pedaling/pushing, 33 miles/day.
Total motel expense of $900 including taxes, for average of $56/night for the 16 nights in motels. Compare with average of $48/night for last year's Mojave trip, or 17% higher.
Last trip for year 2017, and thus time to collect yearly statistics (assume year begins Feb 1, since Mojave trip extends into January). About 287 nights away from Reno, of which 113 nights camping.
Comments
See Nomad page for bicycle comments.
Very enjoyable trip. Sad feeling as it came to an end, wanting to stay out forever. In future, extend trip by week or two by making several short excursions to/from Blythe. Much more enjoyable to be traveling in winter desert than stationary in Reno.
Lost two pieces of gear: gear-tie used for selfies and TiGr lock cylinder. Both losses apparently because I failed to store item immediately, but instead laid item temporarily aside while fiddling with something else, then forgot about it. Mistake to do two things at once, regardless of how much time/effort that might save. Neither loss catastrophic, fortunately.
Replaced two Dromedary water bladders upon return to Reno. First noticed bladders leaking during Lassen tour, but leaks were slow, and no damage from leaked water since bladders carried by themselves in front panniers, and spare bladder available in case either leak became serious, which is why I decided to postpone replacement. MSR has redesigned the Dromedary bladder in a way I don't much care for, but still usable. Wondering if I now need a lifetime supply of water bladders, to protect against further "improvements"?