Aug-Oct 2018, Hiking in Bulgaria
Wed, 15 Aug 2018
Flight from Kyiv arrived about 11:00. One ATM machine at Sofia airport broken, second and third would not accept any of my cards, fourth allowed 400 lev withdrawal from CapitalOne account, $233, all in 20 lev notes. I was carrying 150 lev from last year, plus had plenty of dollars and euros, so wouldn't have been a problem even if no ATMs working. Took metro to city.
Bought hat at outdoor shop, 69 lev ($40), to replace hat I accidentally left behind in Kyiv.
Checked into Top Center Hostel, which I paid for previously through Booking.com, about 35 lev ($20). Lumpy sofa bed, warm room but no air conditioning, mosquitoes because I left window open to cool room down some, shared bath, noise from adjoining room (rooms connected by poorly fitting door, so absolutely no sound isolation). Should have stayed at EasyHotel like last year (50 lev then).
Bought prepaid A1/Mtel SIM card for 8 lev, put 22 lev into account. As baffled as last year by terms of service. Used big Mtel store at Mall of Sofia near city center. Dozen or more employees wandering around doing everything inefficiently and making no effort to answer my questions clearly. Not much better at telecom stores in the USA, of course. Low paid flunky jobs, no incentive for excellence.
Set Bulgaria travel notice with Ally and BofI, which I had forgotten to do while still in Ukraine. Lack of travel notice might have been why ATMs rejected these cards at airport. 400 lev withdrawal from Ally, $235, received as 50 lev notes.
Bought three days food. Only need two days to carry me to Klisura, but maybe I'll go slow.
Thu, 16 Aug 2018
Metro to Vitosha station, then bus 93 to Dragalevtsi ski lift. Ski lift not in operation, so walked up. About two hours and 1000m ascent to ski station. Not too difficult since temperatures mild, about 25°C in Sofia, less higher up. Another hour and a half to get to summit. Bean soup and three slices of bread at hut there. Rested up then proceeded, camping at saddle at 1460m at bottom of steep descent from Vitosha.
Body feels strong, both legs and shoulders for carrying pack. Carried 5L water down from spring high up on Vitosha. Added to 8kg base weight and 2kg food, that makes 15kg of weight carried for about an hour without much difficulty. In general, feels good being back on trail after three months stationary in Kyiv, though I did very much enjoy my stay there. Ukraine gets better for me each year, in fact.
New hat much better ventilated than previous fur felt hat, so better in warm weather, but provides no protection from rain or cold. Also doesn't seem very durable.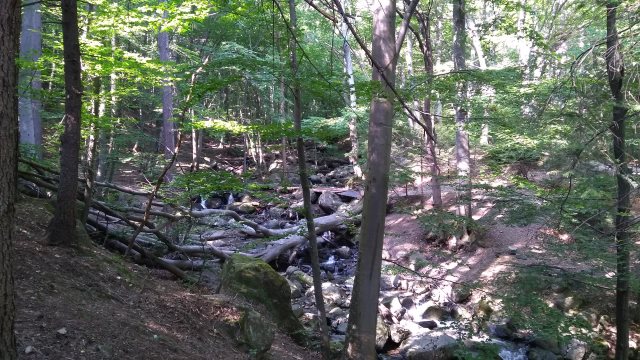 stream along vitosha ascent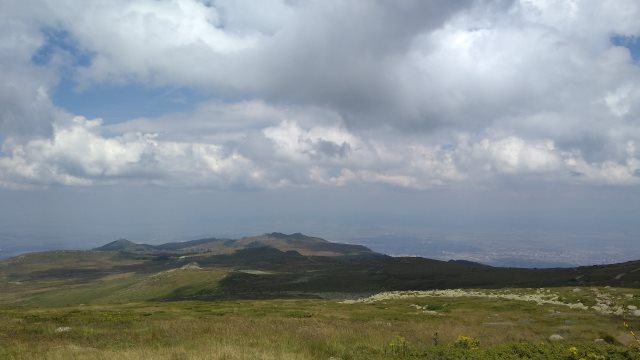 view from vitosha
Fri, 17 Aug 2018
Slept long and well. Unable to hold handstand due to uneven ground, so replaced with crow. Slow running but reliable-looking piped spring near intersection with dirt road to Yarlovo. Didn't need any water myself. Two Dutch men camped there, hiking south on E4. Using Viewranger GPS app (forgot to ask with what maps), paper maps, guidebook. Older of two complained of knee problems: hiker's bane. Picked up 3L water at spring below road after sharp bend. Camped same place as last year, about 6km from Klisura. Long day. Next year, camp earlier, then catch afternoon (15:00 or thereabouts) rather than morning bus next day.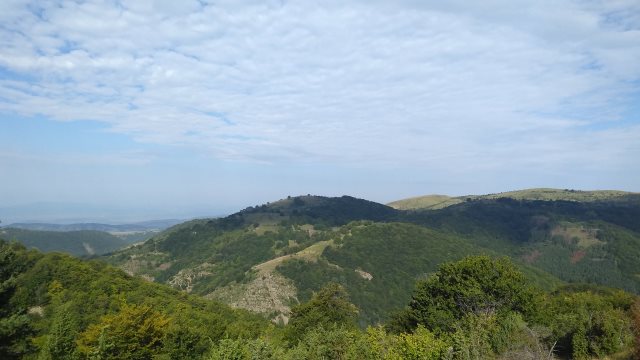 view southwest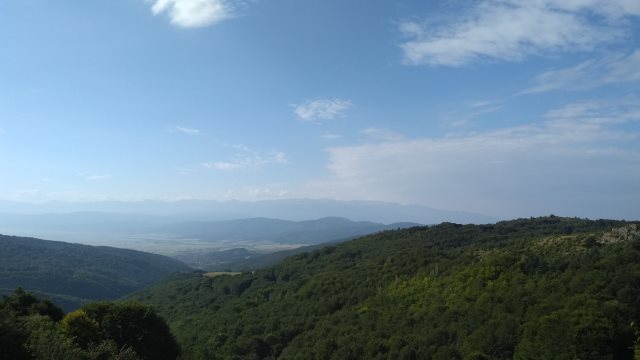 yarlovo in distance
Sat, 18 Aug 2018
Caught 10:00 bus to Samokov, 2 lev. Single occupancy at Hotel Niko, nice room with bath and wifi, 30 lev. Replaced handstand with crow during morning yoga due to uneven ground, but performed handstand later at hotel, after showering and resting. Also replaced fingertip scale pose with easier version using thumb and flat fingers, due to problems with right thumb. Legs that felt strong Thursday today felt exhausted, so probably take rest day tomorrow. Definitely go slower next year, three days Sofia to Klisura rather than just two, even if using bus/taxi to skip 1000 meter accent to ski station.
Found some interesting information about Sultan's Trail on internet. Section from Sofia to Klisura coincides with E4. Section through Rhodopes more or less coincides with route planned for E8. So far, I've been unable to find any information about E8 other than overview sketch maps of planned route. Rhodopes would be perfect for hiking in October.
Sun, 19 Aug 2018
Slept well. Body feels much better than yesterday, especially after morning yoga stretches. Bought tomorrow's breakfast plus two kilos trail food (white bread, peanuts) for snacks during day and for hike into Razlog. Otherwise, rely on huts for food.
Mon, 20 Aug 2018
Decided to take a different route than last year, via Mt. Musala. 20 minute bus ride to Borovets for 1.5 lev (bus apparently runs every hour on the hour), then slightly more than two hours hiking for 1060m ascent to Musala hut at 2400m. Carried about 2kg food and 2kg water, about 12kg total pack weight: didn't feel at all heavy. Chilly at hut when sun blocked by clouds. Definitely regret losing warm felt hat. 15 lev for bunk in dormitory shared with one other man. Only ate light lunch of bean soup with bread, then walked around some, then got into bed and stayed there. Still adapting to altitude. Noticed that boots stink horribly, so put some foot powder in them. Should have brought 60ml foot powder rather than 30ml.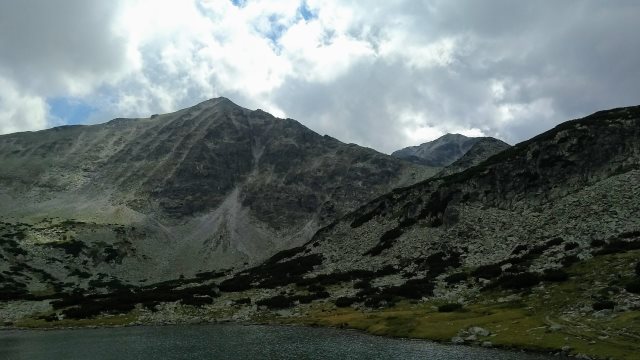 view from musala hut
Tue, 21 Aug 2018
Slept long and well. No snoring from other man, thankfully. Did morning exercises outside. Ate some of my bread and peanuts for breakfast. Ascended Musala, where I had to put on jacket due to cold north wind. Proceeded south to Granchar hut. Over 4 hours hiking by then, so decided to call it a day. Lunch (shopska salad, noodle soup, 2 meatballs, bread, small chocolate bar), dinner (omelet, bean soup, bread), plus extra bread for tomorrow's breakfast. Decided to camp, mainly for privacy, since several big hiking groups at hut, but also to sleep outdoors for a change. Talked to two men from Greece, one of whom suggested A1/Mtel smartphone app might help me understand prepaid plan better. Put more foot powder in boots.

view west from musala summit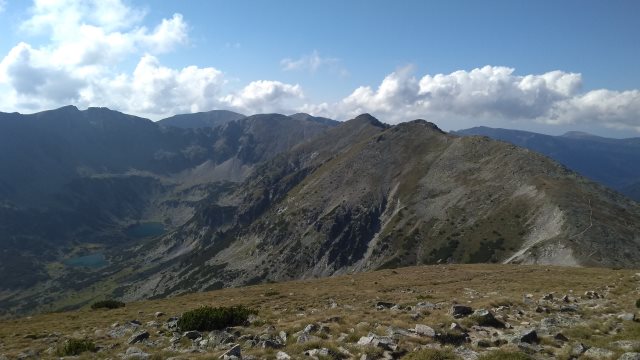 view south from musala summit
Wed, 22 Aug 2018
About 4 hours hiking, plus 30 minute rest stop, to get to Ribni Ezera hut. Big lunch (shopska salad, lentil soup, 3 meat balls, omelet, chocolate bar). Bought entire loaf of bread (650g), but only ate about 2/3. Still plenty of bread and peanuts from Samokov, so should have no problems with trail food from here to Razlog. Exchanged 39 lev for 20€ with Greek men from yesterday, who were running short of lev. Hut again crowded with hiking groups, so again decided to camp.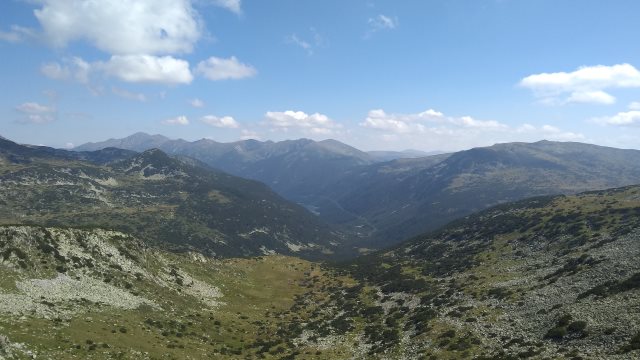 view north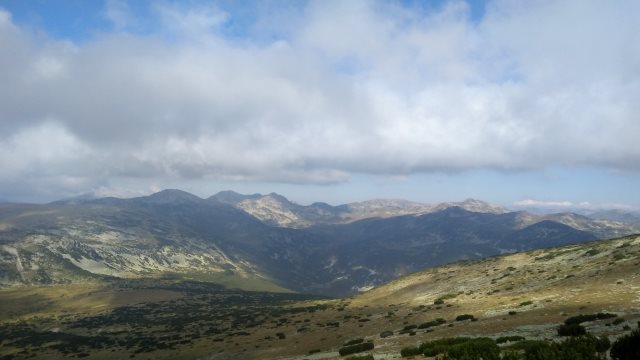 view west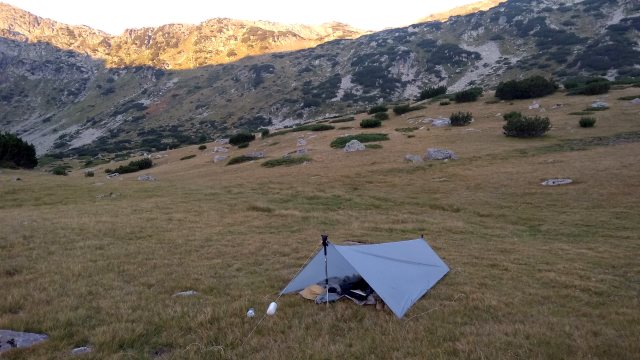 next morning, ribni ezera campsite
Thu, 23 Aug 2018
Very windy on ridge. Wore jacket much of day due to cold. About 4 hours hiking plus 1 hour resting to get to Makedonia Hut. Big lunch: salad, lentil soup, 3 meat balls, 6 slices bread, 2 chocolate bars. Later some barbecue grilled meat and vegetables, gift of friendly manager. Yet again big group at hut, so again camped. Fortunately, wind much weaker towards evening than earlier in day. Able to get good A1 mobile LTE connection about a hundred meters downhill from hut.
Partly charged power pack battery, though not really necessary. Been using same 10000 mAh power pack since Samokov, and yet more than 30% capacity left even before today's partial charging. So two such power packs more than adequate for current smartphone, which is much more energy efficient than previous, mostly because of lower pixel count screen.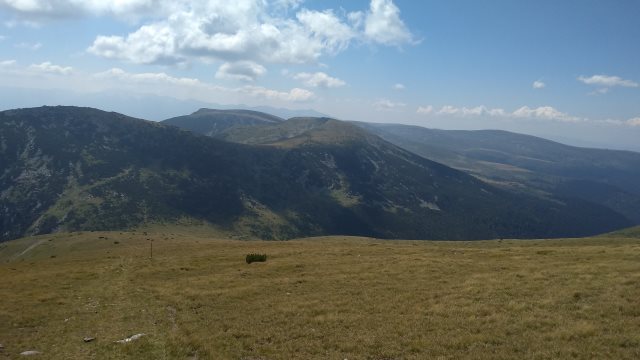 looking towards makedonia hut
Fri, 24 Aug 2018
Clear stream 1 hour south of hut. Multiple springs 2 hours south of hut. Horse poop nearby, so those with weak stomachs should either filter or obtain water right where it bubbles from ground. Lots of raspberries along overgrown road descending mountain. Upon reaching well-used road, followed that for one km or so, down to 1520m altitude, then camped on abandoned road just below main road. Campsite somewhat visible from main road, however little traffic on main road (one rattling and wheezing old car descending in late afternoon, same car ascending next morning). Other than lack of stealth, nice campsite: level sandy ground, sheltered by beech forest. Rained starting about sunset.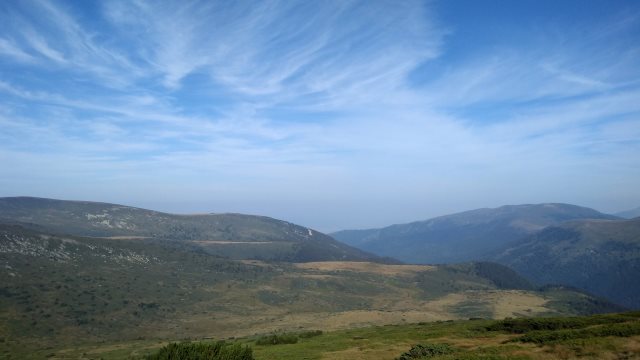 south of makedonia hut, view west
Sat, 25 Aug 2018
Piped spring about one hour from campsite. Recorded GPX track of route I took. 25 lev for room with shared bath at Vila Mura in Razlog. Tried Hotel Papi initially, but no vacancies, despite booking.com showing two rooms available. As I've noted before, best to use booking.com only to locate hotels in desired price range, but then call or visit hotel in person to book room, rather than booking online. Hotels also prefer this, since they save 15% or so on fees.
Downloaded A1 mobile app, which can be configured as either Bulgarian or English language. Still can't figure out what happens after 24 Sep, but until then I have a whopping 8.7GB of data. Also 400 minutes calling until 19 Sep which I will likely never use. No idea why data and minutes don't both expire approximately 15 Sep, or a month after initial SIM activation.
Sun, 26 Aug 2018
Apparently, no one else in this guesthouse, so very quiet. Paid for another night. Need a break from hiking.
Mon, 27 Aug 2018.
Rain forecast and mountains covered in clouds, so decided to stay another night.
Tue, 28 Aug 2018
Bus heading to Blagoevgrad, which stops at Predel on the way, was full upon arrival at Razlog. Crowd of people in front of me waiting to board. Decided to hike up to Yavorov hut rather than waiting until next bus, which might also be full. Manager back at Makedonia hut had urged me to visit western Pirin, but it really makes little difference to me whether something new versus repeating same trail as last year. Hiking is hiking. 13 lev for bunk in dormitory, shared with two other men and two women. Small amount of snoring during night.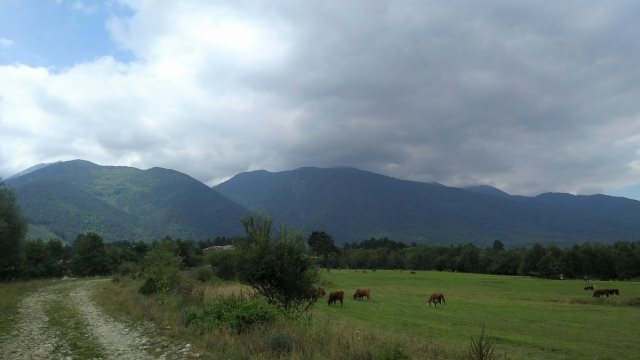 clouds covering pirin mountains
Wed, 29 Aug 2018
Beautiful weather for hiking. Washed shirt with soap in sink at Vihren hut, rinsed body and pants in river, able to mostly dry out before sun set. 12 lev for bunk in dormitory, crowded with men and women. Read frightening report about climate change by Jeremy Grantham, of GMO investment firm. Horrible snoring from old fat man.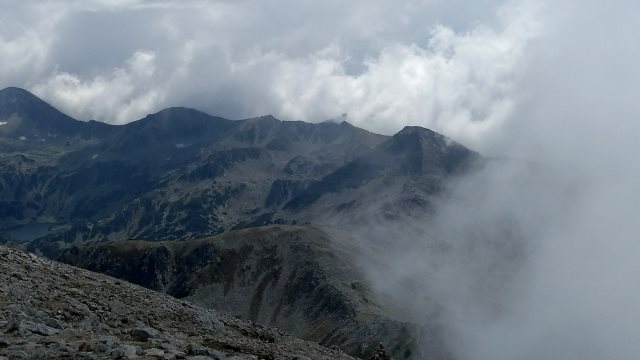 view from vihren summit as fog rolls in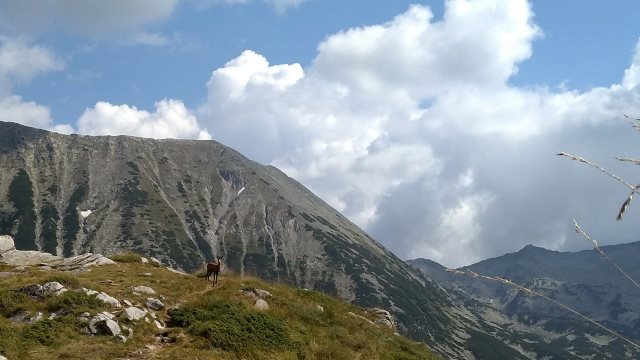 mountain goat
Thu, 30 Aug 2018
Despite horrible snoring from old fat man, managed to get enough sleep not to feel weak in morning. Dormitories inside Tevno Ezero hut crowded, so decided to camp (3 lev). Unfortunately, noisy group camped right next to me. Not sure why so many more people hiking this year versus last. Crowding like this another reason, besides possible late summer heat wave, to delay coming to Bulgaria until end rather than middle of August. If Bulgaria like Pyrenees, everything should quiet down once we enter September.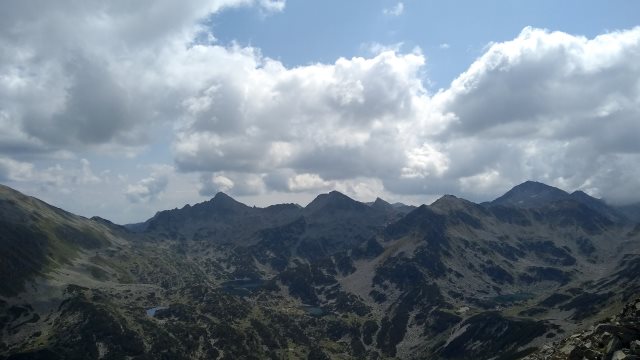 south pirin mountains
Fri, 31 Aug 2018
Decided to proceed along E4 until past connector trail for Pirin hut, then camp in forest and take a zero day tomorrow to avoid arriving in Melnik on Saturday. Possibly could wild camp in high mountains, but why bother? I've always preferred forests to treeless alpine terrain. Never was that excited by High Sierras or High Pyrenees, and these Bulgarian mountains more of the same. Lots of work scrambling over boulder fields compared to hiking along forest roads and footpaths. Hut manager at Tevno Ezero would only sell limited amount of bread, so instead bought two chocolate bars, planning to eat one later today, other tomorrow, then gobbled both down immediately. Dark chocolate (at least 50% cacao) I can carry around without temptation, but not milk chocolate. Probably didn't even need the chocolate, since still have plenty of bread and peanuts from Razlog. Campsite beside stream shaded and sheltered by trees, so much more peaceful than camping above tree line. North bound hiker, planning to walk entire E4 and perhaps E3 also, passed while I was about to unpack. Talked for a while then he proceeded to Pirin hut. No further traffic.
Sat, 01 Sep 2018
Broke camp and walked one km south. Spent day peacefully in grove of trees, then walked back and camped same place as yesterday. Finished all my food, other than two pieces of bread. Feeling short of protein.
Sun, 02 Sep 2018
Hiked down to Melnik. Touristy sort of town. 41 lev for nice room with bath and double bed at Guesthouse White Margarit. Very quiet.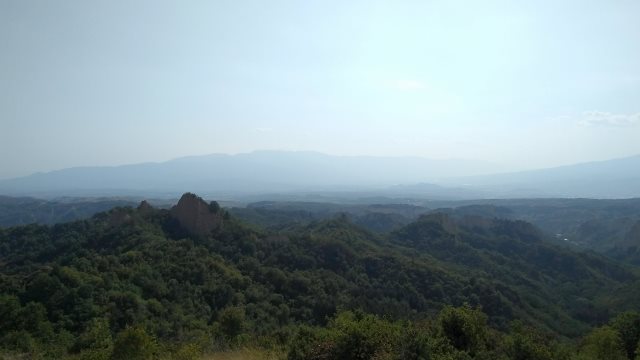 view from melnik pyramid
Mon, 03 Sep 2018
Walked to Sandanski via mostly quiet back roads. Sunny and warm (over 32°C) so soaked in sweat entire journey. 2 liters water for breakfast, 2 more while hiking, but still not much urine. 23 lev for room with two single beds and external bath at Hotel Balevurov.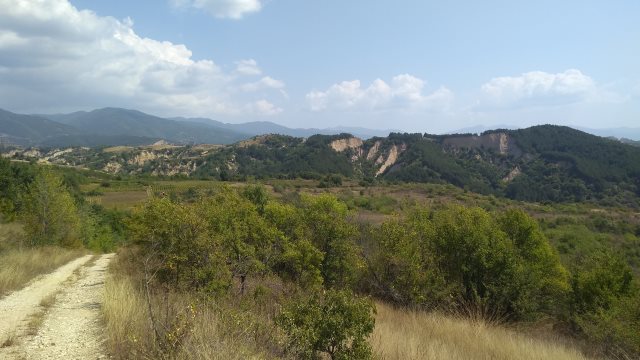 road to sandanski
Tue, 04 Sep 2018
Some sort of throat/sinus cold, maybe brought on by stress of walking in heat yesterday and day before. Whole body feels exhausted. Paid for two more days at hotel. Lay in bed most of day.
400 lev = $238.23 from CapitalOne.
Wed, 05 Sep 2018
Morning symptoms: scratchy throat, hoarseness, mucous-laden cough, sinus congestion, headache. So illness continues but at least worst of bodily weakness over.
Thu, 06 Sep 2018
Most symptoms gone on morning, other than mucous-laden cough. Body finally felt normal strength walking down street, complete change from extreme weakness of two days ago. Decided to stay one more day at hotel to allow fuller recovery.
Fri, 07 Sep 2018
Cough continues but less bad than yesterday. Bus to Sofia 12 lev, leave 9:00, arrive noon. Bus to Plovdiv 14 lev, leave 13:00, arrive 15:00. 43 lev for nice enough room at Friendly Rent Guesthouse, reservation via booking.com. Initially tried guesthouse in Karlovo, but booking.com couldn't contact them. Bought bread and peanuts for tomorrow.
Sat, 08 Sep 2018
Slept well. 5 lev for bus to Karlovo, leave 10:00, arrive 11:10. 1 lev for bus to Sopot. 10 lev for Sopot chair lift (lift-sopot.com for operating dates and hours) to go from 590m to 1390m elevation, thus cutting out 800m ascent. Exited lift at 12:10. Soup, meatballs and bread at Dobrila hut (1784m). Loaded up with 5L water, hiked two hours, camped near small lake at 2000m.
Finally finished "War and Peace". Russian reading ability, at least for Tolstoy, now at point where I sometimes go several pages without needing dictionary. Next up "Crime and Punishment". Another year reading classics, then on to modern Russian literature starting 2020.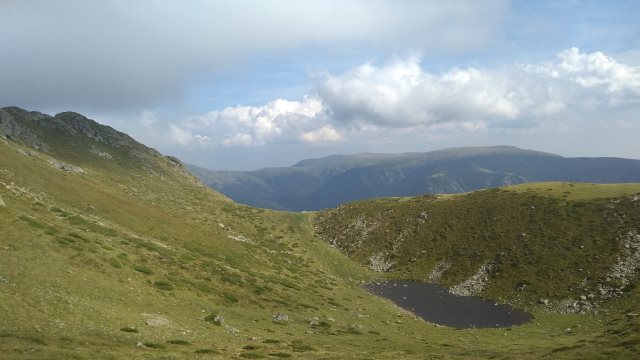 lake below mount kupena
Sun, 09 Sep 2018
Instead of camping yesterday in the deep lake basin, which might have been calm, I camped in another and shallower basin higher up, which turned out to be windy, though at least I positioned tarp properly (turbulent wind gusts, in opposite direction from prevailing northwest wind high above). Slept well enough.
Today most difficult section of entire E3, especially if loaded with heavy pack, but my body worked fine, despite continued mucous in lungs. This section also exposed ridge walk, so bad place to be in thunderstorm, and indeed thunderstorms forecast for today in Karlovo, though forecast seems absurd applied to mountains, given cold wind from north all last night and continuing today. Occasional fog covering trail in morning from this north wind.
Bean soup and bread at Botev hut. Good wifi there, surprisingly. Decided to make a long day and continue to Tuzha hut, which also had wifi. There I had salad, two bowls pork soup and bread, which is pretty much all that was available, other than some vile-looking candy bars. Decided to camp outside hut. Not many flat spots and all such spots wind exposed, though no worse than last night's location.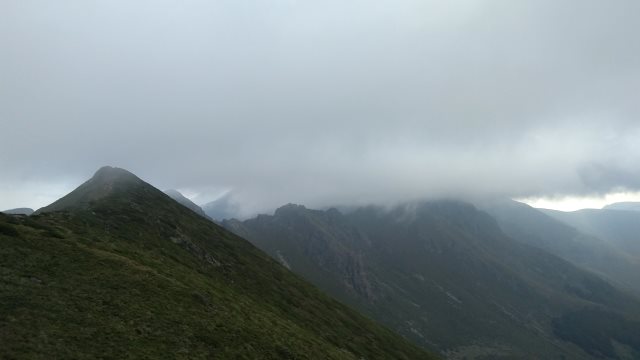 fog covered ridge
Mon, 10 Sep 2018
Rained during night, after which wind finally died down. Slept well. Lungs almost completely clear in morning. Potato soup, salad, bread and chocolate only food at Mazalat hut. Bought entire 650g loaf of bread, which was frozen, but ate bread from pack, so as to rotate bread I'm carrying and avoid mold. Most of both today's and yesterday's calories from bread, supplemented by peanuts. Should have bought 1200g rather than 800g peanuts back in Plovdiv. Camped at 1200m, in forest near Partizanska Pesen hut. Wind completely gone, plus surrounded by trees in case wind resumes. So much nicer than those exposed locations past two nights, though as noted, slept well both nights.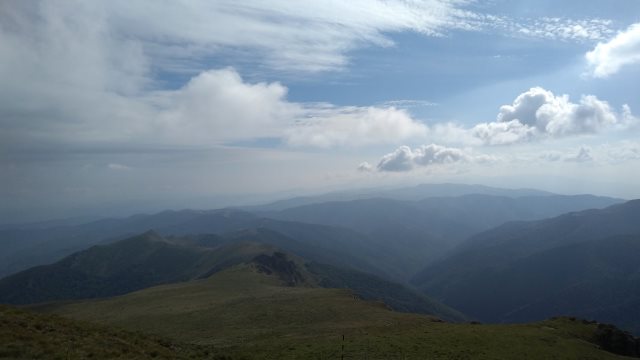 along e3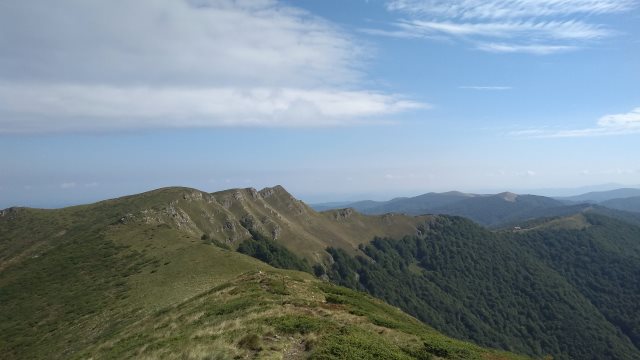 view towards mazalat hut
Tue, 11 Sep 2018
Rained during night. Did full morning yoga for first time since Plovdiv, other than handstand, which I couldn't hold. Ate at Partizanska Pesen hut, which is more like hotel with excellent restaurant, and again at Usana hut. 25 lev for single occupancy at Hotel Shipka. Ate at nearby restaurant.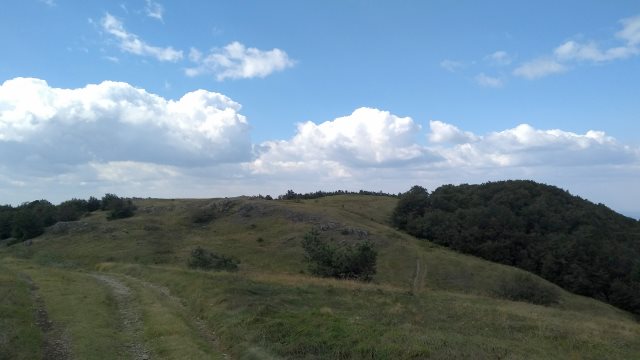 along e3
Wed, 12 Sep 2018
Omelet, high-fat yogurt, bread at different restaurant from yesterday (three restaurants next to hotel, plus restaurant in hotel itself, which is closed during slow weekdays), then big lunch of salad, soup, three meat patties, fried potatoes, bread at Buzludzha hut. Swapped bread in pack with 8 slices ordered with lunch. Camped in forest on saddle about 1.5km east of last windmill, far enough to eliminate most noise, on way to Bulgarka hut.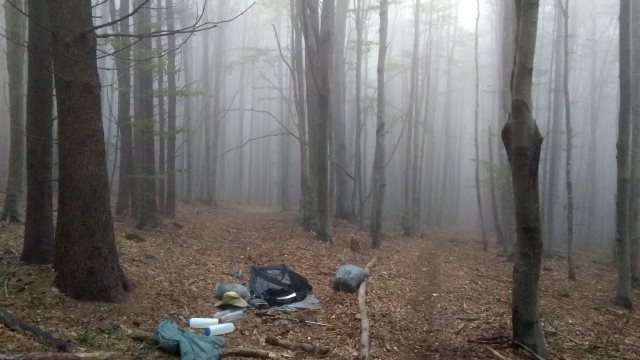 next morning, campsite in forest
Thu, 13 Sep 2018
Bulgarka, Gramadliva, and Predel huts all derelict, Ximik hut closed for season. Attendants at Krustets railroad station gave me some bread, cheese and a big tomato for lunch. Also picked up water from station restroom. Ate dinner at one of two restaurants at Predel highway stop. Also bought loaf of bread, two chocolate bars, and three halva candy bars for tomorrow and Saturday. Loaded up with 4L water. Set up camp just as it was getting dark, in forest about 3km past Predel. Bear growling nearby in early evening, then went away. Heard it again in the distance in the morning.
Fri, 14 Sep 2018
Buskovets hut closed. Chumerna hut open. Ate dinner there and slept in private room. Good wifi.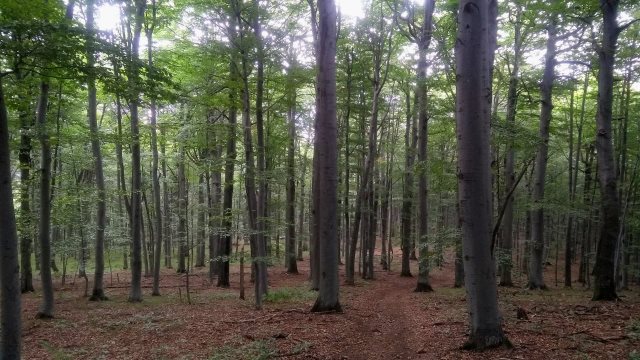 beech forest
Sat, 15 Sep 2018
Didn't bother with breakfast at hut, since overate yesterday and sufficient food in pack to get to Kotel. At least one water source per day along ridge, but maybe not more than one, so carried three liters from hut. Felt sudden stomach pang then cold sweat after morning snack. Evidently another illness, hopefully less severe than that of last week. Felt weak all day, so had to take rest breaks every hour. Also no appetite for either food or water, so had to force myself to eat and drink. Finally managed to drag myself to Zaslon Vratnik, where there is a good spring. Filled water bottles then proceeded about 500m to first acceptable campsite. Somewhat visible from dirt road, but stealthy enough. Lay down in state of utter exhaustion, though unable to get comfortable due to aches on outside of hips.
Sun, 16 Sep 2018
Woke up feeling okay. Illness probably mild food poisoning, and reason for weakness yesterday was nothing I ate was digesting, so forced to burn body fat rather than food carbs. Decided to take rest day to allow full recovery. Plenty of water on hand plus more available back at spring. Not much food, so fasted.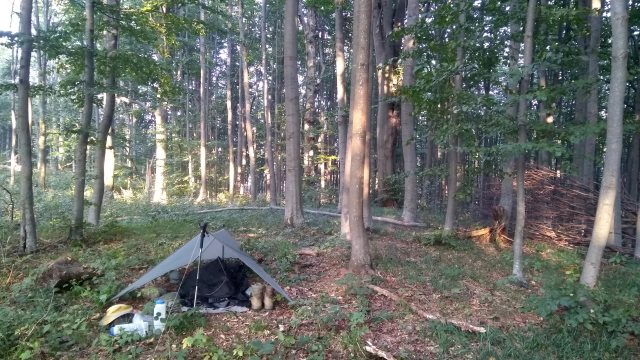 rest day campsite
Mon, 17 Sep 2018
Skipped most of morning yoga to avoid wasting energy, though probably not necessary, since felt very strong while hiking, despite yesterday's fast and not much food today. Took a wrong turn at one point and had to backtrack uphill about 1km. Waymarking good, but quite a maze of forest roads and trails, many not shown on either of my maps. Foot trails overgrown but not terribly so. Nearly driven crazy by swarms of tiny flies trying to get into my eyes, and occasionally succeeding, until I finally put on headnet. Pity horses and other animals (and other humans!) without headnets.
Checked into same guesthouse as in 2015, козурековата къща, 0889 346 527, located along E3, Razbojna/Разбойна Street, just after it crosses river, 20 lev/night for 2 nights. Landlady very nice, but understands neither Russian nor English. Put chlorine-dioxide tablet in each bottle: overdue maintenance procedure. Pizza and half-liter wine at restaurant for dinner, to make up for recent fasting. Wine first alcohol for me in years, so felt very drunk afterwards: staggering as I walked home. A1 mobile data connection very slow for some reason.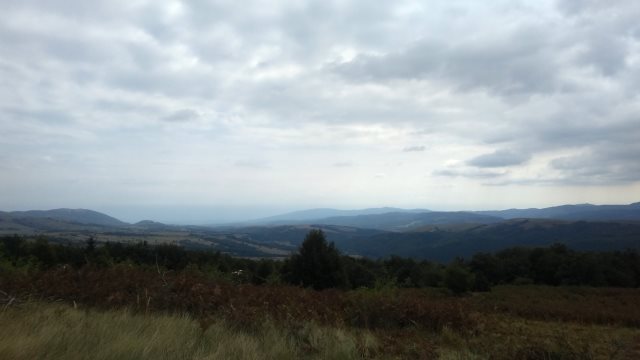 along e3
Tue, 18 Sep 2018
Woke up at 4am and then spent 6 hours straight reading and commenting on internet forums. Evidently feeling need for social activity and exposure to English language. Probably need to learn basic Bulgarian eventually, so as not to feel such an outsider. Did yoga without difficulty and body otherwise feels fully healthy again, except for skin on face, which is breaking out with pimples from constant sweating in high humidity conditions in forests. E3 definitely best postponed until September, like I am doing now, since conditions would be hellish in July and August. Like the Appalachian Trail during those months.
Wed, 19 Sep 2018
Bought A1 mobile add-on package, using 15 lev of existing balance: 3GB data and 300 minutes calling, good for 30 days.
Left town with 3L water (today's walk along ridge with limited water sources) and about 4 days food (2kg bread, 900g peanuts, 2 mandarines) plus bread, peanuts and chocolate in stomach from breakfast. Refilled bottles from fountain a few km past Varbitsa road, then proceeded another km and finally camped on abandoned and overgrown forest road. Undergrowth very dense now that I'm at only 500m elevation. All of today's hiking along quiet forest roads. Once a truck passed me, and there were some people around buildings at Varbitsa road crossing, but otherwise deserted.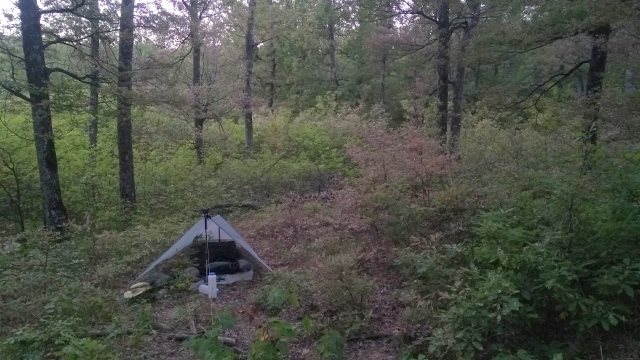 campsite in dense underbrush
Thu, 20 Sep 2018
Dawdled in bed in morning. so late start, maybe 10am. Many water sources indicated on map dry, normal for late summer. Still had enough water from yesterday to get to road south of Byala Reka, where I refilled empty bottles with 3L from building with workers present. About 2h later, before I had drunk any of those 3L, crossed small stream at 640m elevation, indicated on map as water source. So possible to proceed without picking up water at road south of Byala Reka, though I'd be hesitant to risk that myself. Wore headnet much of day because of small flies trying to get in my eyes. Trail very overgrown in places, but managed to get through with just minor scratches on my legs. Without regular maintenance, parts of trail will quickly become impassable from blackberry bushes. Stopped early upon spotting nice campsite. Late start and early stop means overall short day.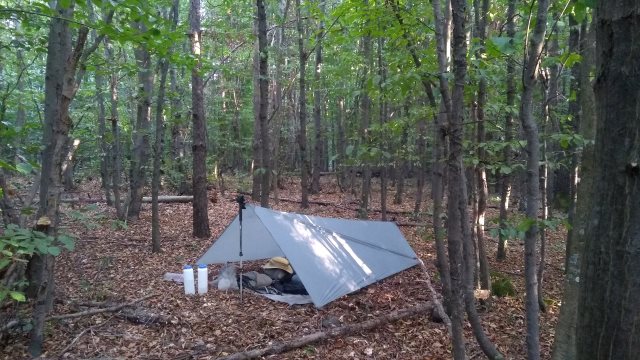 campsite in young beech grove
Fri, 21 Sep 2018
Sign where E3 left main forest road for overgrown road (in Bulgarian, which I translated with Google translate offline version) indicating entrance prohibited for both vehicles and persons, but I think sign intended for illegal woodcutters, not hikers. Regardless, proceeded past sign. Today's section of E3 just west of highway 73 mix of well-traveled forest roads and lightly traveled footpaths, so twice I missed where footpath leaves road and mistakenly continued on latter then had to backtrack. At least no more heavily overgrown trails like yesterday. Picked up 5L water at slow running stone fountain in gully 100m south of where E3 intersects busy highway 73: 2L to drink immediately with lunch, 3L to carry uphill. Map indicates many water sources ahead, but I didn't trust them running this time of year. As it turns out, fountain at заслон Хазим Горския, about 4km from highway, running strong. Another fountain at 580m elevation, just before E3 turns sharply east, also running, about as strong as fountain I collected from. Camped on trail at saddle at 620m.
Shaved beard and head in evening, since might not find lodging before reaching Burgas Tuesday and don't want to look too ragged now that I'll be frequently passing through villages. Didn't need much soap or water.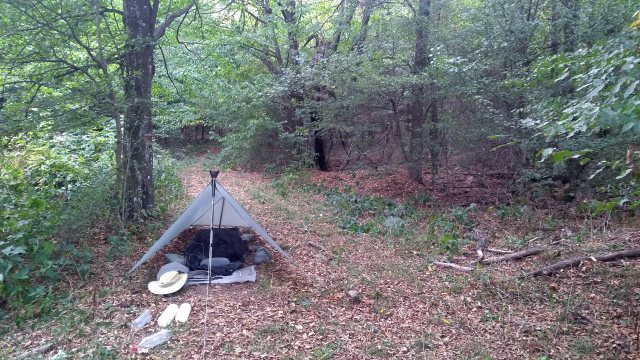 campsite on trail
Sat, 22 Sep 2018
Strong running fountain along main E3 500m east of where it splits from variant passing through Rupcha. Not necessary, since about 1.5L from yesterday remaining in bottles. Several more fountains on way to Planinitsa. Used headnet again for protection from small flies trying to get in my eyes. Bought 2 days food at store in Planinitsa. Big celebration there, maybe wedding combined with Bulgarian Independence Day. Carried 3L water out of Daskotna. Camped in forest about 5km further along trail.
Sun, 23 Sep 2018
Lots of paved road walking today, though at least fairly quiet roads. Also lots of fountains, so easy to refill bottles. Flies less trouble than yesterday. Camped beside trail in open forest about 7km before Kozichino. Shaved beard and head again with same razor as Friday.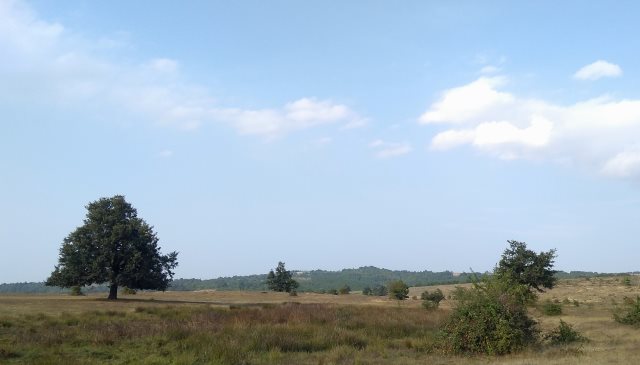 near cini rid
Mon, 24 Sep 2018
Drank 1L water with breakfast. Bought food at small store in Kozichino. Ate part of food, washed down by 1.5L water, then left town with 5L water, which should be enough to allow camping tonight, then continuing to Cape Emine tomorrow without depending on further water sources. 2L water remaining in bottles at end of day, thus 5.5L consumed since morning, on warm sunny day. Two signs along route indicating possible water sources, but I didn't investigate. Camped 1.5km west of highway 9, on abandoned road surrounded by shrub forest.
Wind picked up strongly shortly after sunset. Dense shrubs blocked worst of wind but nevertheless got up and lowered tarp some just to be on safe side. Then rain later, with much lower temperatures once wind stopped. Heard boar grunt sometime in the evening, but only once, so evidently it detected me and ran off. Also stag bellowing all night long.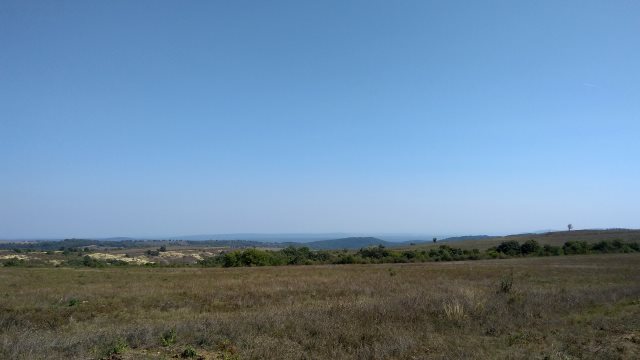 easy of kozichino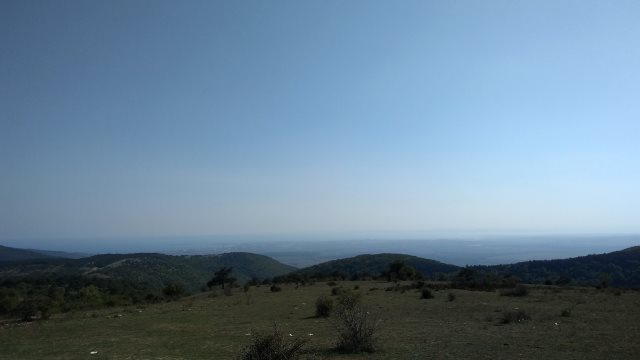 distant view of burgas and black sea
Tue, 25 Sep 2018
Decided to descend directly to Sveti Vlas along dirt road parallel to highway 9, versus hiking to Cape Emine then back along coast through Elenite. Then buses to get to Burgas (about 9 lev). I hiked stretch from highway 9 to Cape Emine in 2015 and nothing that exciting about it. (If I ever do repeat this stretch, I would investigate dirt roads shown on bgmountains.org map so as to avoid 5km of road walking on highway 9. I didn't have that map available in 2015.) In fact, whole stretch from Daskotna to Cape Emine not that interesting. In the future, camp in the evening 5km past Daskotna, same place as this year, then backtrack and catch late morning train to Burgas.
Paid 20€ for reservation for DeTY's Studios, only to have owner call me a few minutes later to say he overbooked. So now we have to hassle with booking.com to get refund. Made another reservation with Whiterose apartments, this time without advance payment, also €20 or 39 lev. Very nice room.
Added 10 lev to A1 mobile account and system immediately debited 5 lev for 2GB data and 100 minutes valid until 25 Oct. So if I had waited until October before adding this 10 lev, I would be set until end of trip, whereas now I need to add another 10 lev for last few days here in Bulgaria. Next year, add as little as possible when buying initial SIM. Then use A1 mobile app to check what comes with initial SIM. Then add 10 lev to balance as late as possible.
Wed, 26 Sep 2018
Paid for another night in hotel for 39 lev. 400 lev = $241 from CapitalOne. Bought plane ticket to Madrid, Oct 30, for $106, Bulgaria Air, purchased through their website after using Kayak to discover fare, paid for using BofA Visa. Also bus ticket to Sofia tomorrow for 27 lev, leaving 07:30 from West Bus Station (most buses leave from South Station).
Thu, 27 Sep 2018
Arrived in Sofia about 13:30 at Central Bus Station. 1.60 lev metro to South Bus Station. 5 lev bus to Samokov, leave 14:30, arrive 15:40. 30 lev for single room at Grand Hotel, breakfast tomorrow included.
Fri, 28 Sep 2018
Camped at saddle Kobilino Branishte, 2145m elevation, about 26km from Samokov. First day of Sultan's Trail.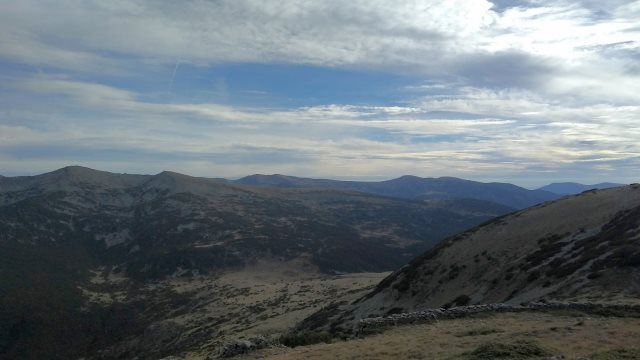 view of saddle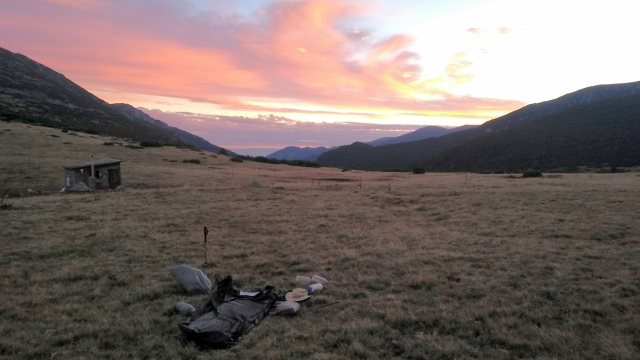 early next morning, breaking camp
Sat, 29 Sep 2018
Hiked down to Ivan Rilski's cave, where original monk of these mountains lived long ago, and then Rila monastery, which is truly magnificent. Ate lunch at restaurant there. Camped on little used grassy side road at 1200m elevation, on way uphill towards Semkovo. Wild boar grunting nearby during night.
Sun, 30 Sep 2018
GPX takes shortcut trail that goes straight up very steep hillside: gave up, backtracked, took longer road route instead. Came upon beautiful site at 1620m elevation and so cut day short and camped there rather than continuing to Makedonia hut or Semkovo, as originally planned. Finished off remaining food. Rain in evening.
Mon, 01 Oct 2018
Makedonia hut closed, as were store, restaurants, hotel and hut in Semkovo. Truly summer-only vacation village. Construction workers there generously gave me remains of their lunch (bread, sausage, cheese). Camped several km past town, on side trail off dirt road. Two routes from Semkovo to Velingrad. Route I'm on runs past Belitsa bear park (Мечешки парк).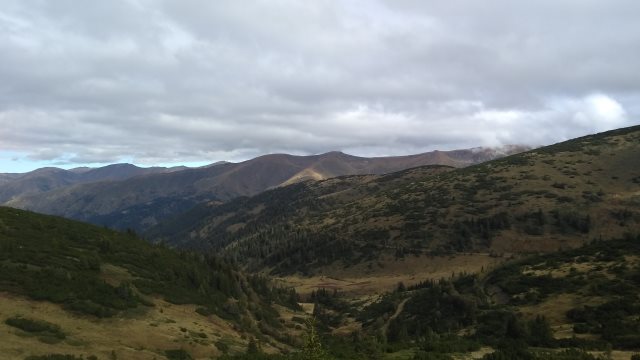 rila mountains
Tue, 02 Oct 2018
Nothing to eat this morning. Workers repairing washed out forest road offered me an apple. GPX not fully accurate for today's section, but eventually found my way to forest road leading to Yakoruda. First guesthouse I called had no vacancy, second didn't answer phone, finally Guesthouse Veronika did have vacancy. Old man who met me upon arrival stated price of 10 lev, so I paid that. When landlady arrived later, I talked with her in private and she revealed correct price was 15 lev (room with single bed and shared bath) but absolutely refused to accept additional 5 lev since I had already paid. Talked with both her and old man in Russian. Bought food at nearby store and gorged myself, to make up for eating nothing but apple this morning and not much yesterday. Landlady gave me three more apples, from tree in her yard. Apple trees all over town heavy right now with ripe fruit.
Wed, 03 Oct 2018
Bought some more food before leaving Yakoruda. GPX follows abandoned trail, eroded and overgrown with thorns. Bgmountains.org map shows forest road route which eventually merges with GPX route. Definitely take this road in future versus GPX route. Loose dogs protecting sheep blocked road through hamlet of Leshkovo Maxala. Able to get around using footpath to left side of hamlet. Camped after Pashovi, at end of forest road, about 1 km west of where highway 84 turns sharply east, at about 1500m elevation. Road used recently for logging, based on presence of fresh wood chips, but since campsite at dead end, no danger. Lots of road walking today, passing through or next to many villages and hamlets.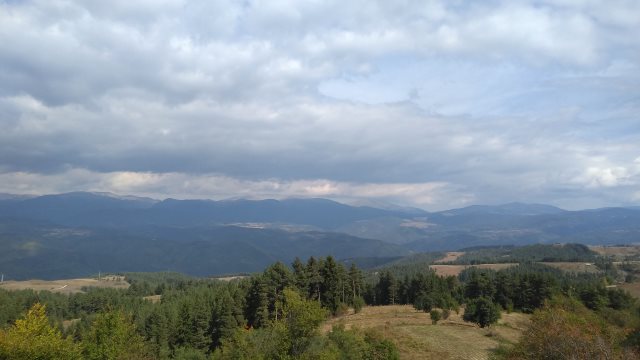 looking back at rila mountains

lizard
Thu, 04 Oct 2018
First hour highway walking, thereafter forest roads and footpaths. Arrived in Velingrad about 16:00, later than I prefer to arrive in cities. Then wasted hour screwing around with booking.com and google maps trying to find hotel: apps hanging, telephone calls unanswered, calls answered but person unable to speak either Russian or English. Finally made reservation through booking.com at Guesthouse Gergevana, 26 lev for nice room with bath. Talked to landlord on phone in Russian to confirm arrival time. Later learned that he also speaks basic English.
Fri, 05 Oct 2018
Skipped Batak by taking shortcut trail shown on both openandromaps.org and bgmountains.org maps. Shortcut completely overgrown, so bushwhacked about 1km through brushy forest to get to highway 37. Luckily, not too many thorns. Camped in pasture about 300m east of that highway, near dirt road not shown on maps which eventually connects with GPX route.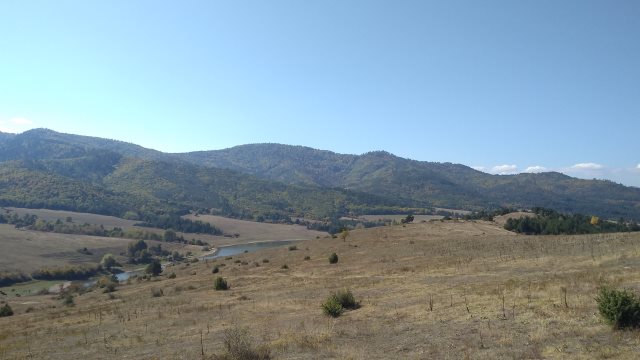 east of velingrad
Sat, 06 Oct 2018
Frost on grass, so temps just above freezing last night. At Лагер Техеран (Camp Teheran), former partisan camp, Bulgarian man age 50 or so talked at length in Russian about history of partisans in area and also Bulgarian history in general. Intelligent and obviously well-educated, but works as common laborer in London. Speaks only basic English but excellent Russian, which is why we communicated in latter language. Gloomy about economic situation in Bulgaria, both current situation and future prospects. Expressed wish that he too could spend months hiking and camping in these mountains. "I feel like a slave. Work ten months in London to save money, then two months here and I spend it all on handouts to relatives, then back to work." Interesting listening to him, and very encouraging that I understood almost perfectly. Still difficult to express my own thoughts in Russian, and of course grammatical errors in everything I do manage to say. Camped in forest, about 3km before dam, 1500m elevation.
Sun, 07 Oct 2018
Frost on tarp and ice in bottle left outside tarp, so temps just below freezing last night. Clear blue sky with just mild breeze during day. By noon, had to roll up sleeves and pants legs because of warmth. Noticed some E8 signs (dated 2004) and standard white/red/white waymarks. Evidently, E8 waymarking initiated long ago but never completed, then planned E8 used as basis for Sultan's Trail, which has no waymarking on ground, just GPX track.
Much longer day than I expected, so arrived near Borino about 17:30. Instead of continuing directly into town, stopped near potential campsite, enabled mobile access for smartphone, sat down and relaxed, then calmly began looking for hotel, knowing that I could always camp if nothing available. Much better procedure than back in Velingrad. Several hotels had no vacancies, according to booking.com. Sultan's Trail accommodation list gave Family Hotel Ecotil (near mosque, 088 726 6821), not on booking.com. Talked to manager in Russian to arrange room. 15 lev for simple room with bath.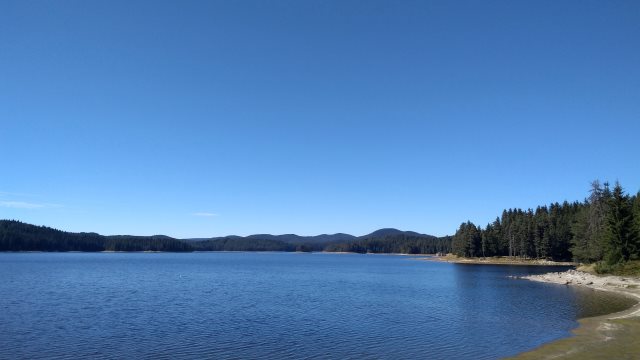 shiroka polyana lake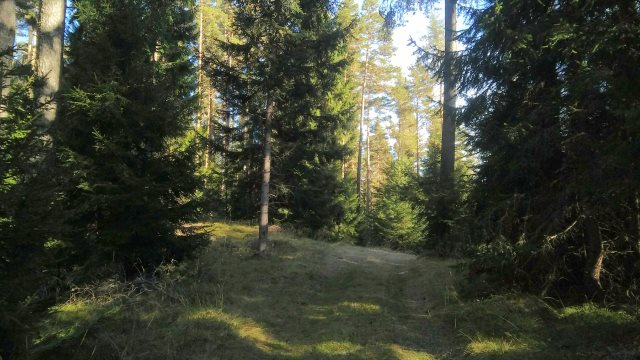 forest near borino
Mon, 08 Oct 2018
Bought several days food, then gobbled much of it down right outside store. Must have lost weight yesterday. Today's route runs through gorge past Devil's Bridge, requiring much climbing up and down steep hand-crafted wooden ladders. Safe enough now, but wood will eventually rot and then what? Another hiker (Patrick Devlin) wrote in his blog that he foolishly traversed this section in late winter, when everything covered with ice. Suppose he fell and was crippled for life and so unable to ever hike again. Would the experience have been worth it? Gorge worth visiting, but take easier and safer route in future. Yagodinska cave just 1km from trail, so visited that too (8 lev). As far as caves go, very good. Guide spoke Bulgarian so I didn't understand very well, but doesn't really matter. About 20 in the group, many of them Russians, based on snatches of conversation I overheard. Camped shortly after Trigrad, 1300m elevation, not far from dirt road, but concealed by trees and bushes. Shepherd passed by later. Dogs detected me and barked for several minutes. Not sure if shepherd noticed me.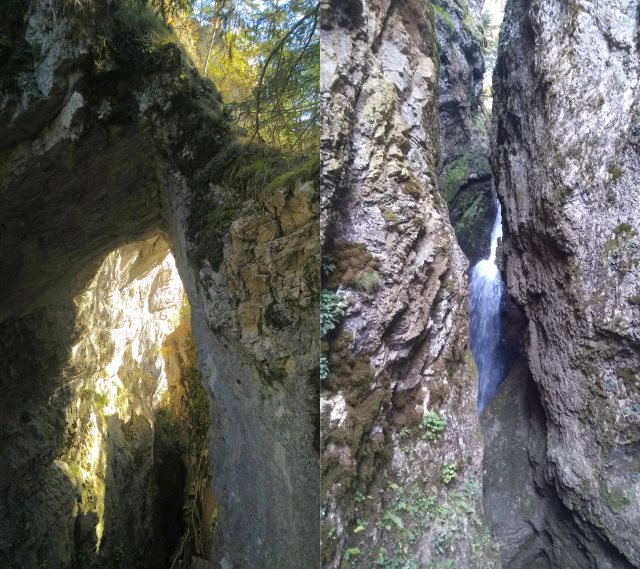 devil's natural bridge, stream that carved the canyon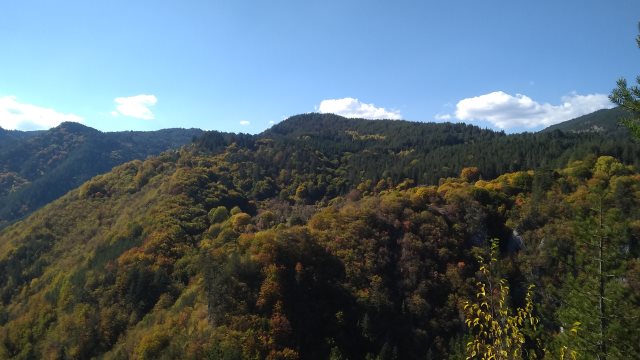 view over buynovsko canyon
Tue, 09 Oct 2018
Snacks at town of Mugla, 1350m. Big group of dirt motorcyclists eating lunch at restaurant-hostel there. Surprising for a weekday. From Mugla, E8 loops north to Lednitsata hut before merging with more direct Sultan's Trail. I had already decided to take Sultan's Trail route but E8 is probably less overgrown, so what I would recommend. Signs of dirt bikes on trail, maybe from group at Mugla. If so, they have my hearty welcome, since they keep brush down better than hikers. Weather continues beautiful: blue skies, little wind, cool.
Getting late as I approached Perilik hut, so camped right on trail, just barely enough space in between dwarf jumpers, 2000m elevation. Higher elevation than I would prefer, because cold tonight, but trail remains high until well after Perelik hut, so no better alternative. At least site positioned for morning sun. Plastic-wrapped block of what I thought was white cheese, and which I carried all the way from Borino to have something substantial to eat this evening, turned out to be imitation cheese made from vegetable oil, upon close examination of label. Didn't dare eat and instead filled up on bread and peanuts.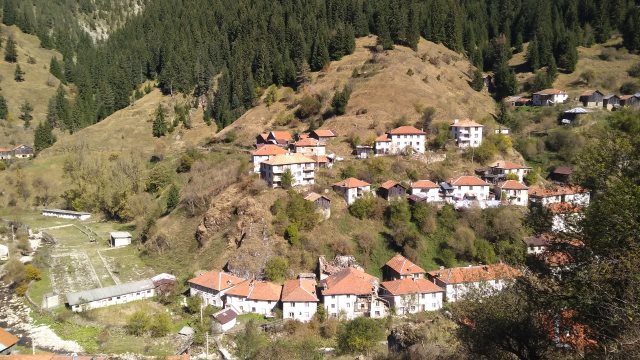 mugla
Wed, 10 Oct 2018
Frost on tarp, so temps below freezing last night, but melted and everything warmed up as soon as sun rose. Used booking.com to make reservation at Sportna 17 Guesthouse in Smolyan, 30 lev.
300 lev = $176.46 from CapitalOne. Entire amount in 10 lev notes, so now have plenty of these.
Put chlorine-dioxide tablet into each bottle.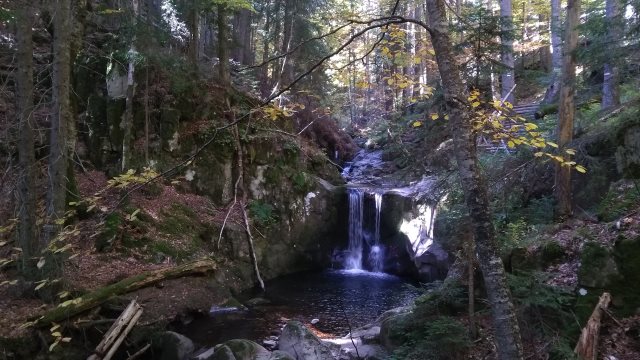 canyon of waterfalls nears smolyan
Thu, 11 Oct 2018
Decided to stay another night at guesthouse. Overcast and cool today. Rained some in the afternoon.
Fri, 12 Oct 2018
Camped 2km after Polkovnik Serafimovo.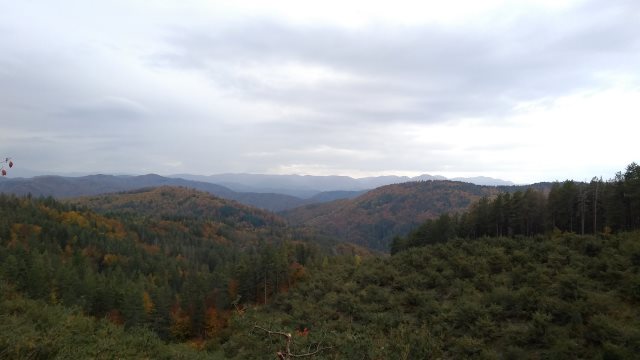 south of smolyan
Sat, 13 Oct 2018
Headache in morning: mild food poisoning probably. Lots of paved road walking today. Bought food in Srednogortsi, but could also have bought in Madan. Camped at 1160m elevation near Hizha Shadeetsa.
Sun, 14 Oct 2018
GPX sent me off on long bushwhacking expedition after Byal Izvor. Finally made it to Ardino about 18:00, or two hours later than expected. 25 lev for nice single room at Hotel Ardino. Manageress only spoke Bulgarian but understood enough Russian when I called.
Mon, 15 Oct 2018
Bought bus ticket, $18.50, San Francisco to Reno. Decided to stay another night at hotel. Ideally, I would hike only three to four hours daily, but in practice it's currently more like six to seven hours, so that I constantly feel short of time. More and more I just want to lie or sit quietly, not reading, not listening to music, not doing anything at all. Cannot fathom how I used to accomplish so much each day, especially initial years running my business. Rained during night.
Tue, 16 Oct 2018
Most of today's route on paved road, but at least very quiet road. Camped about 25km from Ardino, 1km after crossing tributary to Arda river, on spit of land with open pastures near road, but enough trees to provide stealth about 200m away from road.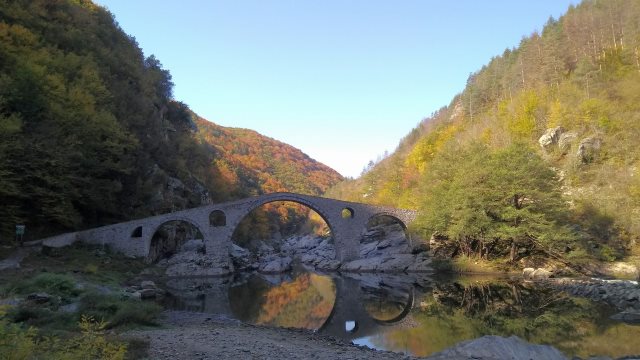 ardino devils bridge
Wed, 17 Oct 2018
Started hiking at 09:00, arrived in Kardzhali at 17:00, with 3 breaks, so about 6 hours hiking: too much. Made reservation via booking.com, except mistakenly for tomorrow rather than today. Called and talked to manageress in English. Upon arrival, decided to stay two nights, so mistaken reservation not an issue. Hotel Bulgaria, right next to main park, 39 lev/night. Business style hotel, not really my style. Hotel back in Ardino much nicer, and significantly cheaper too.
Fri, 19 Oct 2018
Camped shortly after Murgovo. Light rain during night.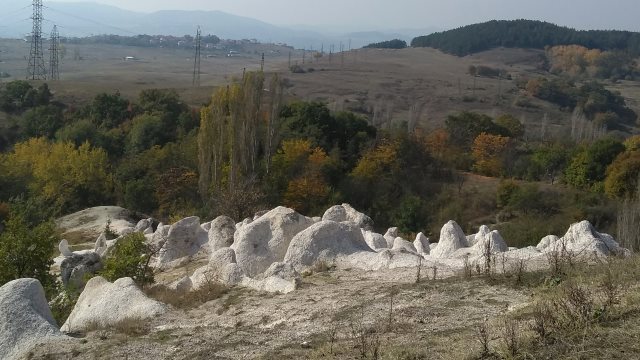 kamenna svatba (stone wedding)
Sat, 20 Oct 2018
Overcast with occasional drizzle all day. Made early camp just after Svetoslav. Campsite hidden from main road by trees, but visible from minor dirt road that I didn't notice initially. Truck passed after I had setup camp and evidently noticed me, from sound of slowing then accelerating again. I was lying under tarp at the time. Nothing came of incident. Dog barking nearby during night, possibly at me, though seemed too far away for that. Should have camped two km further on.
Sun, 21 Oct 2018
Sunny again. Camped after Dolno Pole.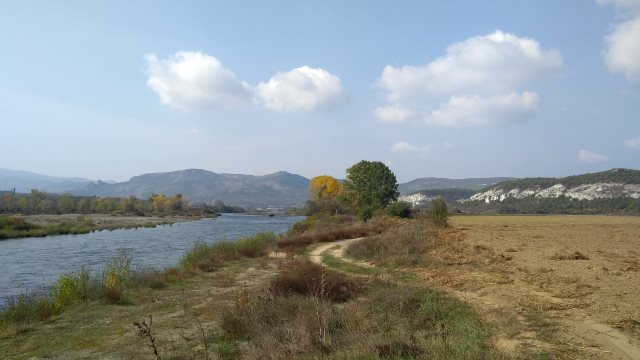 arda river
Mon, 22 Oct 2018
Socks began developing holes several weeks ago, and as of today had huge holes at back of both heels. I was hoping to make it to Ivaylovgrad before replacing, but today blister developed on back of left heel. Covered with first aid tape, discarded worn out socks, replaced with remaining spare pair, no problems thereafter. So three pairs socks per Europe trip just right, with dress socks as potential fourth pair.
Ran out of water and no fountains shown on maps for stretch ahead, so stopped in at Madzharovo, planning to buy water if necessary. Then decided to stay at hotel in town and go slow to Ivaylovgrad. 50 lev at Hotel Rai (Paradise Hotel), breakfast included. Huge fancy hotel seems out of place in town like this. Mostly empty too. Talked broken Russian to manageress. Previously talked broken Russian over phone (037202405) to owner of another place that has sign advertising hotel, but she couldn't accommodate me today, maybe because out of town.
This and other towns I walked through today all had Christian churches, whereas most previous towns had mosques. Personally, I thought round minarets of mosques prettier than square church steeples and prayer calls very beautiful. Islamic faith evidently unorthodox here, given widespread drinking of beer and other alcohol. Maybe huge number of fountains because Koran promises heavenly rewards to anyone who builds fountain (piped spring) for travelers. Maybe Turkish versus Islamic tradition. Definitely those fountains a blessing to hikers like me.
Tue, 23 Oct 2018
Left hotel with 5L water, then drank 2L a few km from town with second breakfast. Remaining 3L should be enough until tomorrow. Overcast and cooler than yesterday, but still beautiful hiking weather. Passed strong running stream, but water would require treatment. No fountains. Camped a few km before Pokrovan. Sounded like wildcats mating or fighting during night in nearby forest.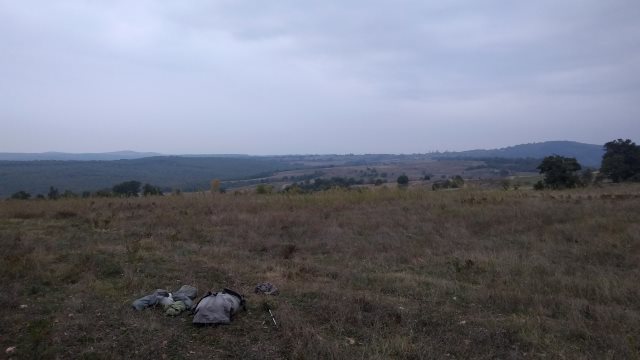 preparing final camp
Wed, 24 Oct 2018
Feeling sore throat since yesterday. Another cold.
Border police spotted me and asked for passport while I was sitting on ground outside bus station eating peanuts. Talked in Russian with one official while another checked my information over phone with central database. Took awhile due to mobile network problems, but everything in order. I would advise arriving in town by 12:00 then seeking out border police immediately, to avoid last minute passport check that results in missing bus to Haskovo at 13:30 (15 lev). Passed three more border police checkpoints on way to Lyubimets, but bus waved on each time.
Mobile internet down because waited too long to use remaining 8 lev A1 mobile credit and service expired on me. Found open wifi network in Lyubimets with which to find and book room in Haskovo via booking.com. 30 lev at Central Family Hotel. Henceforth, investigate hotel situation in advance to prepare for situations where internet down for whatever reason. Save names, addresses, prices.
Booked Sofia Center Studio apartment for tomorrow through Tuesday morning for 264 lev, or about 55 lev/day, including credit card currency conversion fees. Owner called soon thereafter apologizing for overbooking situation, so now I have to deal with another refund. Previous refund (see 25 Sep) went through okay, I should note.
Thu, 25 Oct 2018
After booking.com snafu yesterday, decided to stay here in Haskovo another night if possible, but room not available. So took 09:30 bus to Sofia, 21 lev, arrive 12:45.
Added 10 lev to A1 mobile and received 2GB data and at least 100 more voice minutes.
Made another booking for 3 nights with Snejanka Family Hotel in Vitosha district, 40 lev/night. Refund of yesterday's booking in progress.
ATM withdrawal of 200 lev = $116.78 from CapitalOne.
Fri, 26 Oct 2018
Made booking.com reservation for Oct 30 in Madrid, Pensión Rodríguez, 27€. Paid for another two nights at hotel here in Sofia, since room is quiet and comfortable. Made Motel6 reservation for Reno next Thursday through Sunday. Not sure what occupancy situation is in Reno these days, and don't want nasty surprise with everything full.
Tue, 30 Oct 2018
Short version of morning exercises (just calisthenics) and no breakfast. Plan to fast until arrival back in United States, since fasting supposedly helps with jet lag. Late morning flight to Madrid. Arrival 13:20 local time. €5 for metro, using metro card and euros remaining from earlier this year. Arrived at hotel in center of Madrid about 15:30.
Wed, 31 Oct 2018
Late morning flight to San Francisco. Ticket purchased through kayak.com sold as British Airways but actual flights Iberia to Chicago, then American Airlines to San Francisco. For some reason, reservation not in Iberia system, but they were nevertheless able to board me even though full flight. Missed connecting flight, despite 2 hour layover, due to delayed arrival from Madrid and slow shuttle between airport terminals. American Airlines able to arrange seat on later United flight, but I had already handed over baggage to American. Arrival in San Francisco at 20:40. Baggage did not make it. Filed a lost baggage claim. Supposedly, United will deliver baggage to Reno in a few days. First time I've ever lost baggage. Avoid transfers within USA in future, or else arrange much longer layovers.
Air travel, especially internationally, something of a miracle, and the wonder is so few problems with it. I've built my whole lifestyle around such travel and it was already feeling unsustainable before this incident. Now I feel even more strongly the need to move completely to Europe at some point. Question is where to make my home base and store gear. I'm most comfortable in Spain, because of fluency in the language and familiarity from frequent visits. And Spain is probably where I would want to live if I become too old to hike. However, Ukraine better now as winter/summer base. Both countries make it difficult to get residency permit, but money opens doors in Ukraine. Supposedly, I can get residency by setting up shell business there, for total cost of maybe $2000/year (fees, lawyers, taxes), which is less than cost of travel each year to USA plus rent on Reno storage locker. Another possibility is marrying a local woman, but who knows what can of worms that opens...
Simplest idea for now is small storage locker in Ukraine, with enough gear to last 5 years. Carry gear over as checked airline baggage in February. Maintain Reno storage locker, possibly downsizing to smaller locker ten years in future. Arrange to switch countries every 90 days so only tourist visa required. This plan drastically reduces travel to/from USA, limits risk in case Ukraine storage locker doesn't work out, doesn't disrupt my current system much. Fifteen years of this simple plan, then maybe obtain residency somewhere in Europe, move remaining gear there, abandon Reno storage locker and bicycle. Than again, might be massive social disruption in next fifteen years due to follow-on effects of global warming (famines, mass migration of peoples north, wars, etc), so maybe I'll be forced back to the United States.
Used airport wifi to connect to ATT mobile and switch to monthly plan with 6GB data. $10 for BART train to downtown San Francisco, arriving there 23:00. Greyhound bus to Reno, scheduled for 00:30, cancelled due to lack of available driver. Next available bus supposedly 11:00 tomorrow. Problems like this another reason to flee USA. Wandered around downtown all night. Seems quieter than when I used to live here. Lots of new skyscrapers. 6th street south of Market still rundown, however.
Thu, 01 Nov 2018
Stopped by bus station at 06:00. Attendant revealed that they eventually did find driver for 00:30 bus, but it arrived very late, like 05:00. Changed ticket yet again for 07:00 bus. Became impatient waiting on this bus, also delayed, so investigated alternatives. (For comparison, Greyhound $18.50.) Amtrak train $56 from Richmond, plus cost of BART to Richmond, about $6. Some casino bus packages offer $15 roundtrips: just discard return ticket. Flixbus just started operations recently and was best deal at $7, so bought ticket for their 09:25 bus 5 minutes before Greyhound bus finally arrived at 08:20, thus continuing streak of bad luck and/or bad decisions. Maybe fasting slowing down my brain. At least Greyhound bus mostly empty, so seat by myself. Arrived in Reno at 14:00. A while later, received call from United Airlines notifying me that backpack was at Reno airport, available for delivery this evening, or I could pick it up myself. Since I hadn't yet checked into motel, elected to pick it up myself. As for motel, line of fifteen people when I arrived there because of problems with computer system. But they had my reservation on file and I got a good room. $241 for 4 nights, including tax. Broke fast in evening. Felt very tired afterwards. Not surprising, since almost 48 hours awake.
Statistics
76 nights total in Bulgaria, 38 nights camping (50% of nights), 4 nights in huts, 34 nights in hotels.
150 lev on hand upon arrival, 2097 lev ATM withdrawals and credit card payments (not counting airfare), 70 lev on hand upon departure, so total of 2177 lev expenses, or about 29 lev/day.