Nov 2018 to Jan 2019, Mojave Desert Bicycle Tour
Mon, 19 Nov 2018
Passport expires next December, but Bulgaria requires passport to be valid six months past time of entry. To avoid problems, decided to renew this year. Maybe because of rushing to do so many things at once, immediately after returning from Europe, neglected to include payment check in packet submitted two weeks ago today. Didn't notice my error until that evening, alas envelope already on its way. Received application packet back today. After carefully checking that everything in order, resubmitted, by tracked priority mail.
Sat, 24 Nov 2018
Added to lifetime inventory of gear during this stay in Reno: sewed up 3 quilts and 5 tarps, redesigned neckpurse and poncho and sewed up 2 each of new versions, bought 4 hats and 4 hiking sticks. Beginning to have doubts as to how long I will continue hiking and bicycle touring. Maybe gear accumulation will turn out to be colossal waste of time, effort and money. But on the other hand, gear is what makes my lifestyle possible. Very few other people doing what I do, largely because so difficult without proper gear. Preferred socks no longer available at Walmart, just to give example of how good gear eventually becomes unavailable, though maybe I can order online. Fortunately, 139 pairs in storage, 3 pairs in packing list, 1 pair in use, or probable lifetime supply.
Real question is why so slow with gear accumulation, given that it bothers me so much and money not that big a factor? Why not buy lifetime supply of 8 hats at once, instead of initially 1, then another, then 2 more, then plans to buy another 4 in January? Maybe because need to test new hat style more under field conditions? Both urge to accumulate and urge to go slow come from deep inside. Conscious me like spectator unhappy at what he sees but unable to change things. Though perhaps could change attitude. Trust inner self to do what is right, stop worrying, stop trying to rush things, which just causes problems like with passport renewal.
Mon, 26 Nov 2018
CREST bus to Big Pine ($56). Starlight Motel ($89=$80+11% tax).
Tue, 27 Nov 2018 (34 miles, 4:57 hours)
Starting odometer 20524 miles. Carrying 8 * 24 oz loaves bread, 8 * 6 oz cheese, 6 lbs peanuts, 16 liters water. Beautiful day: cool, clear, windless. Feels good to be back camping in the desert. Motel6 back in Reno was quiet and comfortable, much quieter than usual "bedbug motel", but doesn't feel like real home, which has advantage of motivating me more to move out, so stay there every November. Plus spacious wood laminate floor better than carpet for cutting fabric and sewing.
Speaking of sewing, now that I'm back in motion, creativity stimulated and already came up with interesting gear idea: waterproof breathable fabric for poncho hood, which is where condensation most problematic, but ordinary waterproof for body, where weight more of an issue. Poncho one piece of gear where sewing up lifetime supply probably not advisable, given likely continued innovations in fabric waterproofing technology.
Wed, 28 Nov 2018 (21 miles, 3:37 hours)
Had to dismount and push several miles yesterday and again a mile today, not because road was sandy but rather because leg muscles gave out. First time since 2011 that I started Mojave tour without previous bicycle tour in September/October to condition legs. Cut day short to allow recovery time. Light sleet while crossing Last Chance Range, occasional light drizzle in Death Valley.
Thu, 29 Nov 2018 (18 miles, 2:14 hours)
Rained during night and continued off and on raining until about noon, when sun came out. Some south wind, headwind for me. Leg muscles still feel weak in comparison to previous years.
Noticed pin embedded in seam of quilt, left there by mistake while sewing last year. Had to cut small hole to remove it.
Fri, 30 Nov 2018 (64 miles, 5:23 hours)
Clear skies, mild temps. Bought small amount of food at store at The Ranch at Death Valley (formerly Furnace Creek Ranch). Ranch recently renovated so that water faucets out front no longer available, but they now have drinking water faucet in back of hotel reception building. Picnic tables now located just north of that building, along highway, shaded by trees. Loaded up with 18 liters, since it might be warm next few days. Camped in usual canyon 7 miles south of Furnace Creek, just before Artist's Drive exit. Legs feeling much stronger.
New style 3-in-1 cap on MSR Dromedary bladders much more cumbersome than old style, other than for flip spigot. Swapped with caps on water bottles, for which flip spigot is mostly what I use.
Sat, 01 Dec 2018 (51 miles, 6:14 hours)
Right pedal broke free from spindle just south of Badwater Basin. Maybe broke some sort of lock ring, due to repeatedly resting heavily loaded bicycle on right side. Still able to pedal, using just spindle. Decided to proceed to Baker via Harry Wade road, about 90 miles (28 on paved Badwater road, 32 on dirt Harry Wade road, 30 on paved Hwy 127), then order new pedals and tools, to be delivered to motel. Alternatives were ascend to Shoshone and then possibly proceed to Pahrump, or return to Furnace Creek. Advantage of Baker is that, if I can't fix pedals there myself, can continue on to Barstow, where there is a bicycle shop. If that shop closed, then on to Ridgecrest, where another bicycle shop and also bus back to Reno if something awful happens. Pedaling on flat not too difficult using just spindle, and most of route to Baker flat, whereas Shoshone route is long grind uphill. From Shoshone to Pahrump would be busy highway. Return to Furnace Creek easy option, but problem if I can't fix bicycle myself or if difficulties with internet ordering/delivery, plus don't like idea of hanging around Furnace Creek several days. Baker route desolate, so let's hope no further breakdowns.
Made rapid progress until about 11am when south wind picked up, headwind. Thereafter slow but steady progress. Wind died down later in day, then resumed furiously from north in evening. Tarp positioned okay, but sand blown all over everything. Later, some wind from south again, directly into front of tarp, but not too strong. Finally dead quiet.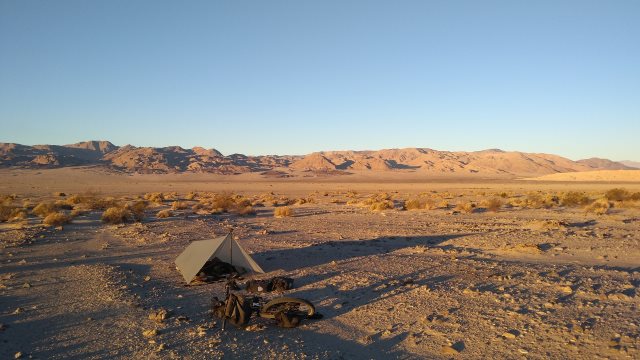 camped along harry wade road
Sun, 02 Dec 2018 (51 miles, 5:29 hours)
Maps blown out of handlebar bag by north wind last night. Fortunately, while packing up, noticed Aloksak lying on ground about 50 feet away from bicycle. Store in neckpurse at night henceforth. Able to pedal most of Harry Wade road, big change from 2016 when I gave up after about a mile due to horrible washboard. Camped about 3 miles from Baker, close enough for good ATT LTE connection.
Santa Fe Motel only operating motel in town, and internet reviews so bad (bedbugs, stealing $100 deposit, filthy rooms) that I decided to use $100 room would cost to arrange for someone else to take delivery of package. Will take several days in any case, but I'm in no rush, supplies available at store, area very nice for camping. I could use a few slow days after pushing hard today and yesterday.
Mon, 03 Dec 2018 (9 miles, 1:02 hours)
Ordered Shimano PD-GR500 pedals (replaces existing PD-MX80), pedal wrench, grease, penetrating oil (in case of difficulty removing old pedals), from JensonUSA for $130 including tax and shipping. Arranged with Clark's Mobile Home and RV Park to take delivery of package tomorrow.
Used PayPal for payment since I anticipated problems with shipping address if I used normal credit card and unable to contact credit card company by phone. PayPal required me to change password for some reason, thereafter worked fine. Probably need several more banks before moving to Ukraine, given all these potential problems.
Bought food at local store for today and to supplement food remaining in panniers. Picked up water and recharged power packs at local park. Cleaned and lubed chain.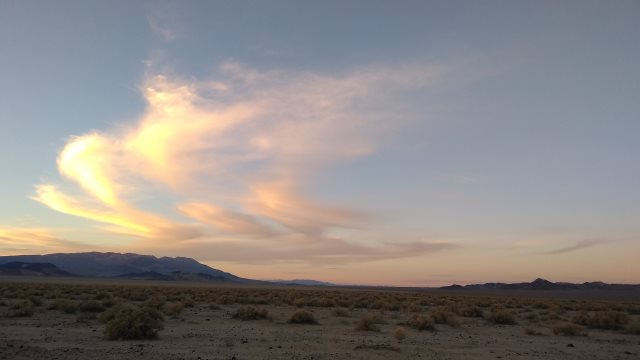 north of baker
Tue, 04 Dec 2018 (8 miles, 0:55 hours)
Bought some more food at store. Ate in park then diddled on internet while waiting for package. Finally delivered near end of day. Camped 2 miles north of Baker. Too close, can still hear highway noise.
Wed, 05 Dec 2018 (16 miles, 2:20 hours)
Bought some more food, ate in park, then replaced pedals without difficulty. Camped about 10 miles south of Baker along Kelbaker road, usual spot. Slow leak in one of old-style bladders.
Thu, 06 Dec 2018 (21 miles, 4:20 hours)
Overcast sky, cold, occasional drizzle all day. Southeast wind, headwind for me. Reduced tire pressure to 36 PSI (2.5 bar) upon leaving Kelbaker road. Mojave Road chewed up more than usual, perhaps due to dune buggies, noisy pair of which passed me while pushing uphill through sand. Camped near Beale Mountain. Steady rain began immediately after I set up tarp. During night, stake came loose because of softened ground. Didn't notice until foot of quilt wet from rain.
Fri, 07 Dec 2018 (35 miles, 4:32 hours)
Overcast sky and fine drizzle in morning. Sky partially cleared later. Temperatures cool but not cold, so that I was able remove jacket by afternoon.
Sat, 08 Dec 2018 (19 miles, 2:21 hours)
Beautiful weather again: clear sky, mild temps, moderate north wind.
Sun, 09 Dec 2018 (30 miles, 2:54 hours)
$118 for two nights at Days Inn in Bullhead City, reservation by Booking.com. Suite doors, so able to hear every word spoken in neighboring room. Should have asked for room without suite doors.
Mon, 10 Dec 2018 (zero day)
Tue, 11 Dec 2018 (26 miles, 3:59 hours)
Neighboring room vacant last night, so much quieter. Left town with 23L water, 6 loaves bread and cheese (less half loaf eaten for breakfast), 2.5lbs peanuts. North wind, side wind for me most of day.
Wed, 12 Dec 2018 (32 miles, 3:35 hours)
Warm and sunny. Road shirtless all day.
Thu, 13 Dec 2018 (45 miles, 3:52 hours)
Again rode shirtless all day. North wind initially, changing to west wind by afternoon, tailwind in both cases. Powerline road much firmer than last year: less than mile pushing through sand and never had to leave road itself. Cadiz road also greatly improved: not nearly so much washboard as last year. New salt works operation in Danby Dry Lake. Maybe road recently graded for that.
Fri, 14 Dec 2018 (19 miles, 2:03 hours)
Read something about aflotoxin buildup from excess peanut consumption. I eat huge amounts of peanuts myself. Maybe switch to cashews and macadamia nuts. Or chocolate.
Very little wind today. Overcast sky and cooler. Midland-Rice road less sandy than last year. Evidently all these dirt roads graded sometime in past year.
Sat, 15 Dec 2018 (13 miles, 1:21 hours)
Short day because don't want to arrive in Blythe on Saturday.
Sun, 16 Dec 2018 (23 miles, 1:50 hours)
$110 (including 10% tax) for 2 nights at Emerald Inn in Blythe (formerly Budget Host Motel, same owners).
Mon, 17 Dec 2018 (zero day)
Tue, 18 Dec 2018 (23 miles, 1:58 hours)
Before I forget, resolution for next year will be to reduce consumption of peanuts, to reduce exposure to aflatoxins. No longer eat peanuts during town stops. In United States and Spain, only use peanuts as trail food if nothing else available. Otherwise, replace with cashews, almonds, hazelnuts, dark chocolate. In Bulgaria, continue to eat peanuts as trail food. Regarding current trip, last ate peanuts Saturday and am currently carrying cashews (plus usual bread and cheese).
Wed, 19 Dec 2018 (23 miles, 3:13 hours)
Thu, 20 Dec 2018 (15 miles, 2:03 hours)
Fri, 21 Dec 2018 (19 miles, 1:34 hours)
Sat, 22 Dec 2018 (30 miles, 2:30 hours)
$110 (including 10% tax) at Hacienda Motel in Yuma, reservation through booking.com.
Sun, 23 Dec 2018 (3 miles, 0:21 hours)
Cashews didn't agree with me this past week, so decided to go back to peanuts as standard trail food. However, I will henceforth make an effort to avoid nuts of all sorts during town stops.
Mon, 24 Dec 2018 (42 miles, 4:01 hours)
Tue, 25 Dec 2018 (33 miles, 4:08 hours)
Wed, 26 Dec 2018 (8 miles, 1:06 hours)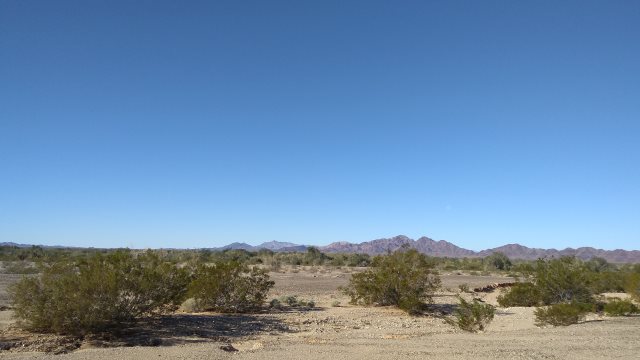 along wiley well road
Thu, 27 Dec 2018 (22 miles, 2:09 hours)
$110 (including 10% tax) for 2 nights at Emerald Inn in Blythe.
Fri, 28 Dec 2018 (3 miles, 0:21 hours)
Bought tickets and made other arrangements for Europe trip (see next trip report for details).
Sat, 29 Dec 2018 (28 miles, 3:53 hours)
Left town with 22L water (forgot to refill bottles), 6 days food.
Sun, 30 Dec 2018 (40 miles, 4:11 hours)
Mon, 31 Dec 2018 (21 miles, 3:07 hours)
Tue, 01 Jan 2019 (25 miles, 2:38 hours)
New Year's resolution is consistently perform pullups or inclined rowing (supported by rope around tree or pole) as part of daily physical exercise routine, with ultimate goal of being able to perform 15 consecutive pullups.
Daily Russian study was one of last year's resolutions: successfully fulfilled. Hour or more of Russian now firmly entrenched in daily routine, and constitutes daily mental exercise.
Other resolutions for last year: buy/make lifetime supply of gear; discard unneeded items from storage locker; reduce dependence on physical presence in Reno and on computer (versus smartphone); focus on enjoyment of present while traveling. First three resolutions are long-term projects, and so consistent forwards progress counts as success, and I did make such progress and am continuing to progress. Last resolution is fuzzy but I would say I also successfully fulfilled that.
Unfulfilled resolution from two years ago was to cut back on internet addiction, which continues to be a problem, though I think I am making progress here too. Just recently, arranged to get myself kicked off (for trolling) last really addictive forum I was on. Now just need to control myself from joining more forums. I've learned a lot from forums, which is why I continue to be attracted to them. But I'm learning less and less each year. I have a simple and easy life, so just repeating what I'm doing now should work indefinitely. To the extent I really need new information, I can find it from internet searches, without participating actively or passively in forums. I seldom respect or like other forum members, and it's toxic to be around people you fundamentally despise or dislike or both.
Incidentally, common topic on forums is difficulty making friends as an adult, especially for men. Instead of putting effort into making and keeping friends, why not put effort into learning to be happy alone? Only reason to go with first option is if solitary happiness is impossible, but my own life experience has been that I'm usually very happy alone, certainly happier than in groups.
---
For a long time, I've been lacking strong positive desires, other than basic animal desires to eat, sleep, stay warm. Negative desire to avoid physical and mental weakness is motivation for daily exercises. Desire to piddle around on internet forums is positive but weak and harmful: sort of desire that should be suppressed rather than encouraged. Not sure about desire for hiking and bicycle touring, but inclination is to call this a negative desire to avoid boredom, traveling for want of any better way to spend time, rather than a positive desire for pleasure. Still have morning erections, but sex no longer interests me much, though I do engage in it in Ukraine. So that desire is weak and possibly negative as well: sex to avoid feeling bad about not having any sex life.
Renunciate sadhus say lack of desire is the goal, but surely reaching the goal should inspire something different from feeling of having lost the way, which is how I feel now and have felt for a long time. Not that I'm unhappy, far from it, just not fully at peace. Maybe I still have strong positive desires deep inside me, but I've lost contact with them.
[Later] Ah, yes! Still have a very strong positive desire to listen to music, especially tango and to a lesser extent baroque (bach, vivaldi), and do indeed listen for several hours each evening: highpoint of my day. But probably need some additional desire that involves active creativity. Tango dancing as leader would be obvious choice, but that hasn't worked so far: lack of venues, lack of competent and cooperative partners, usually requires staying up past midnight and thus disrupting my sleep schedule, issues with social cliques.
Wed, 02 Jan 2019 (12 miles, 1:38 hours)
Strong cold north headwind, especially demoralizing on the uphill stretch southeast of Ludlow. Decided to quit early and take extra day to reach Barstow. Wind forecast to diminish tomorrow.
Thu, 03 Jan 2019 (36 miles, 4:06 hours)
More cold north headwind in morning, then finally calmed and warmed up enough so that I could remove jacket. Cold wind very demoralizing, not sure why.
Fri, 04 Jan 2019 (30 miles, 2:34 hours)
Warmer and less wind or maybe even mild tailwind. $55 (including 10% tax) at Motel6 in Barstow.
Problem with zipper on jacket, perhaps due to sand and dirt causing wear. Should probably wash jacket more frequently to keep zipper clean. Able to fix by squeezing bottom of slider slightly with multitool (from bicycle repair kit), then applying vaseline as lubricant. Perhaps redesign jacket as pullover with half-length non-separating zipper, wider draft flap, several snaps as alternate closure in case of zipper failure. Separating zippers always risky. Also redesign for easier zipper replacement (single line of stitching) and bring spare zipper to Europe, to allow repair there by tailor.
Thinking more about lack of strong positive desires. I've always been this way, it's not something new. When young, I assumed I had the same desires as other people, especially a strong desire for sex, and so tormented myself with feelings of deprivation because I wasn't having much of a sex life then. Fact is, I never really wanted much a sex life. All I wanted was what I have now: occasional sexual access to a woman I consider high-quality, without all the fuss and bother of a real girlfriend much less wife. If I had to live my life over, I would try to have fewer girlfriends than what I actually had. Limit myself to just a few high-quality experiences and so what if I remained a virgin into middle age. And eliminate most masturbation too, other than for some practice in my teens and early twenties so as to master sexual kung fu (orgasm control). Instead of sex, I should have focused on tango and salsa dancing, and maybe some other styles. (It would also have been nice to have access to the library of music I have now on my smartphone, but realistically, large libraries of music were much more difficult to acquire in pre-internet days, and especially back when music was only available on vinyl records, and of course smartphones didn't exist then either.)
The great ambition of my youth was for financial independence, but that's a negative desire to avoid work. As soon as I piled up enough to be free, I abandoned my profitable business and started living like a hobo like I'm living now. I haven't lost my way, in other words. Rather, I've simply once again allowed self-doubts to creep into my mind as a result of spending too much time on those internet forums, letting myself be influenced by other people's insistence that everyone has the same strong positive desires they have.
Sat, 05 Jan 2019 (38 miles, 4:20 hours)
Overcast and cool, with very mild wind from south. Continued on Fossil Bed road towards hwy 395, because hwy 395 route easier tomorrow in case of west wind or rain, both of which are forecast, though these Accuweather forecasts very unreliable.
Sun, 06 Jan 2019 (30 miles, 3:03 hours)
Rained some last night, then strong west southwest wind today, headwind initially then side wind, then finally tailwind in afternoon as wind shifted to south southwest.
Mon, 07 Jan 2019 (26 miles, 2:52 hours)
Wind became furious after sundown, so that I had to get up and lower front of tarp to reduce wind profile. Continued strong all night, then mostly disappeared just before dawn, then resumed about mid-morning. Ferocious headwind on last 10 miles today. $41 (including 13% tax) at Motel6 in Ridgecrest. Made reservations for CREST bus tomorrow and Wednesday.
Because I am traveling so much now, hard to keep up with new technology, but doesn't really matter. News about truly important innovations eventually reaches me, just later than if I were paying closer attention.
Tue, 08 Jan 2019 (13 miles, 1:16 hours)
Ending odometer 21579. $26 for CREST bus. $69 (including 14% tax) at Motel6 in Bishop. $53 for bus to Reno tomorrow. Sad that trip coming to an end. Each year gets easier and I enjoy myself more.
Statistics
43 nights away from Reno total, of which 31 nights camping, 12 nights in motels.
1055 miles total, 120 hours pedaling/pushing, average of 8.8 miles/hour.
Total motel expense of $702 including taxes, for average of $59/night for 12 nights in motels.
Last trip for year 2018, and thus time to collect yearly statistics. About 306 nights away from Reno, of which 117 nights camping.
Comments
See Nomad page for bicycle comments.
Both older MSR Dromedary bladders now have very slow leaks, but not enough to justify replacing.
Need to replace plastic bracket for TiGr lock.
Anyone interested in bicycle touring dirt roads of the Mojave should read my earlier trip reports, since I am now only taking notes for myself. In particular, I am no longer describing my route since it is the same as for one or more previous trips. Also, no longer taking many photos.