Sewing - Bicycle Rack Bag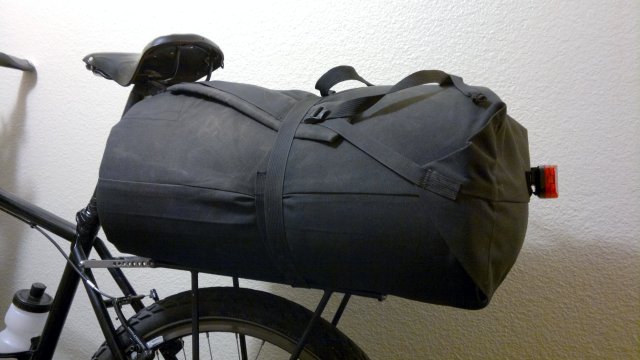 Carries sleep pad, quilt, clothes, tarp, bugbivy, plastic pole for rear of tarp (front of tarp is supported by hiking staff carried in stickholder). Rack bag plus contents listed only weighs 3.2 kilos, with most of the weight concentrated towards the front, so the large bulk hanging off the back is not a problem. Sometimes I compress the ordinary contents of the rack bag to make room for extra food. This weight is also concentrated towards the front of the rack bag, plus this is the first food I would eat, so the extra weight does not last long. Rack bag not waterproof, so quilt should be stored in large silnylon stuff sack with plastic liner (see here). Capacity about 50L, Weighs 605 grams.
Note LED tail light mounted using 1" strap on bottom of rack bag. Tail light normally stored in panniers for protection, since I try to avoid cycling in the dark and hence seldom need a tail light. Thorn rack has an optional bracket for mounting tail lights. However, because rack bag tends to sag slightly at the rear, and would thus obscure any light attached to the optional rack bracket, it is better to mount tail light on rack bag.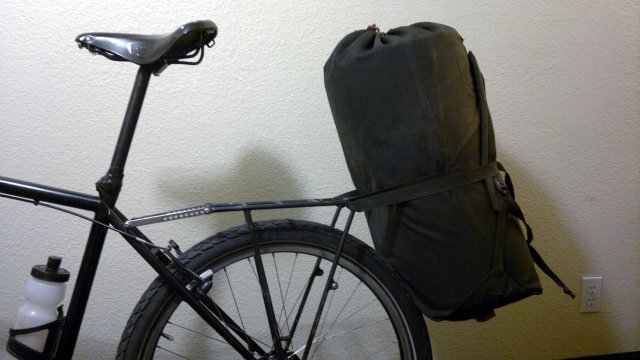 Rack bag in tilted position, allowing easy access to contents and easy loading/unloading of panniers.
Photos above do not show the second 1" strap for attaching to rack. This second strap was added later, as a spare in case the primary strap fails. Such a failure is unlikely, but would be a nuisance if it did occur. Normally, the spare strap is kept tied away with the shoulder straps, but could be used together with the primary strap to tie the rackbag more securely to the rack.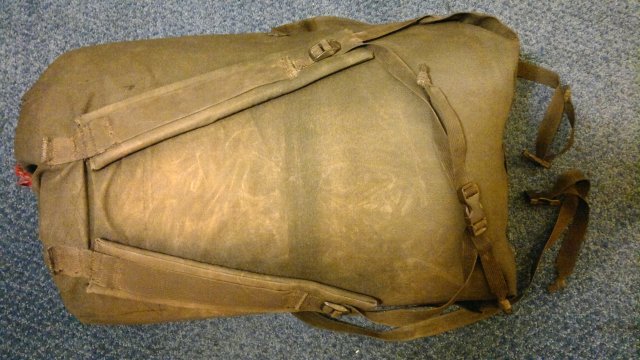 Shoulder straps allow use as backpack: (a) to offload weight from bike to make it easier to push through sand; (b) for day trips when bike is left behind; (c) for hiking out to civilization in case bike falls apart in a remote area. Optional hip straps can also be added. Since I seldom use the rackbag as a backpack, and then only for short periods of time, I removed the hip straps to reduce weight and clutter.
Materials
1.25 yards of 1000d cordura, 60" wide.
4" by 30" of 3/8" closed cell foam, such as the Y-20 from Seattle Fabrics.
6 feet 1.5" tight-weave nylon webbing.
16 feet 1" tight-weave nylon webbing.
6 feet 3/4" tight-weave nylon webbing.
2 x 1" dual-pull side-release
2 x 3/4" ladder locks.
3/4" dual-pull side-release (available from questoutfitters.com).
(optional) 1.5" dual-pull side-release for hip strap.
5/16" inner diameter brass grommet.
5 feet of cord and full-sized cord-lock.
100% polyester thread, 80/12 universal needles.
Pattern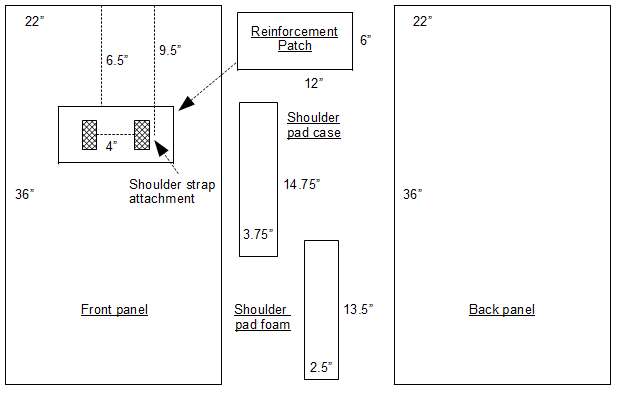 Shoulder pads
In sewing bartack through foam, it may be difficult to go in reverse. If so, just go forward several times.
Cut 4 shoulder pad case pieces from 1000d cordura. Cut 2 pad foam pieces.
Sew together pad cases with 3/8" seam allowance, except for top end. Double-stitch. Turn inside out. Stuff pad case with pad foam, sew end shut.
Cut/sear 2 pieces 6" long of 3/4" webbing. Insert webbing through 3/4" ladder lock, then attach to pad with parallel bartacks. Bottom edge of ladder lock should 1" from bottom end of pad. Tail end of 3/4" webbing should extend 3" from top of ladder lock.
Cut/sear 2 pieces 12.5" long and 2 pieces 3" long of 1.5" webbing. Stitch long and short pieces together with double bartack, so there are dual free ends 2" long at one end of long strip. Sew combined long strip to top end of pad with bartack, such that 1.5" webbing extends 2.5" past top of pad. Sew long strip to bottom of pad with another bartack. This bartack should penetrate both the 1.5" webbing, the 3/4" that extends beyond the ladder lock, and the pad.


Note dual straps on right shoulder pad.
Rack bag
Cut front panel, back panel, reinforcement patch from 1000d cordura.
Attach reinforcement patch to coated side of front panel, as shown in pattern.
Sew shoulder pads to reinforcement patch, as shown in pattern.
Double-stitch together sides and bottom of front and back panels with 1/2" seams, leaving top edge open, zigzag seam allowances.
Box off bottom 12" wide by 9" high, such that flaps on outside of rack bag, with side seams centered on 9" sides. Double-stitch, zigzag seam allowances.
Cut/sear 2 pieces 30" long of 3/4" webbing for shoulder straps. Sew to flaps on bottom of bag, along seams, using 2" of strap for bartack with reinforcement grid (described here). Feed straps through ladder locks on shoulder pads, and then through 3/4" dual-pull side-release to make sternum strap. Tie knots in ends of straps to secure.
(optional) Cut/sear 2 pieces 20" long of 1.5" webbing for hip strap. Sew to flaps on bottom of bag, at 45° angle to shoulder straps, using 2" of strap for reinforced bartack. Feed straps through 1.5" dual-pull side-release. Tie knots in ends of straps to secure.
1.5" tunnel at top of bag. Before completing tunnel, sew some reinforcement patches at top center of back panel, then install grommet through this reinforced area. Grommet should open to outside of rackbag. After completing tunnel, use grommet to insert drawcord in tunnel. Secure drawcord in place with cordlock.
Cut 4 x 44" long straps of 1" webbing and sew two straps to each of side seams using bartack with reinforcement grid. For Thorn Expedition rack, strap attachment point for the two straps per side should be between 16" and 18" from from top of bag, after sewing tunnel. Attach straps to 1" dual-pull side-releases, tie knot in end of straps to secure.
Sew 3" of 1" webbing to bottom of rack bag for attaching Planet Bike LED tail light. No need for reinforcement grid, since tail light weighs very little. Instead, just fold under ends and bartack.
Apply fray-check to all seams and bartacks to prevent unraveling.