Aug-Oct 2016, Lassen / Modoc / Nevada Bicycle Tour
Planning
Refer to bicycling touring guides for Lassen National Forest, Modoc National Forest, Nevada Backcountry. The Nevada portion of this tour was in the northwest portion of Nevada.
Tue, 02 Aug 2016
Bus from San Francisco to Reno. Usual motel full due to Hot August Nights festival, so stayed at Safari Motel in Sparks ($70). Got things ready to start Lassen tour tomorrow: 5 days food; replace tires and tubes on bicycle, plus add sealant; swap gear that differs for bicycle touring versus hiking in Europe. Heavy quilt mildewed because I evidently put it into the plastic storage box while still damp from laundering back in January. Luckily, I had a spare heavy quilt. Need to launder gear I used in Europe, but that can wait.
Wed, 03 Aug 2016 (35 miles, 4:57 hours, 15707)
Starting odometer 15672. Last year's mileage was 26. Additional 9 miles this year due to visit to mailbox service, to pick up some packages that had arrived in my absence, then back to storage locker to put these packages into storage, and also visit to post office to mail a deck of Crowley Thoth tarot cards to my Russian instructor in Ukraine (we had used her Rider-Waite deck, Russian version, during several of our conversations). Ascent of Henness Pass similar to last year, with 40 minutes shirtless and hatless to develop base tan. Headache by end of day, combination not enough sleep last night, sun and heat, 6000 feet altitude change compared to Ukraine, caffeine withdrawal. Skip photos this year. Enough photos accumulated on previous trips to give an idea of what the area looks like.
Thu, 04 Aug 2016 (35 miles, 3:25 hours, 15742)
Splitting headache upon waking, disappeared as day progressed. Again rode 40 minutes hatless and shirtless to build base tan. Construction on Beckwourth Genesee road until end of August, so pilot car carried me about 6 miles to get past machinery. Camped just north of Clover Valley Ranch.
Fri, 05 Aug 2016 (34 miles, 3:20 hours, 15776)
Again, splitting headache upon waking, which disappeared as day progressed. Camped where 28N32 leaves route 112. This is a better location than the site near Flournoy bridge, since it positions me for an early ascent tomorrow of Keddie Ridge, while temperatures still cool.
Bear investigated camp just before sundown. Slowly walked off when I crawled out of the tarp, stood up and growled at him, but clearly he had lost its natural fear of humans. Very large, probably from feasting from garbage cans here in Indian Valley. Glad to have the sheath knife with me.
Sat, 06 Aug 2016 (13 miles, 2:57 hours, 15789)
No headache in the morning. Camp was at 3500 feet, versus 5500 and 6200 the previous nights, so maybe altitude the issue. Camped at usual spot, ridge a few miles south of Westwood, 5500 feet altitude. Smallish mama bear and three cubs wandered close to where I was sitting, not noticing me, then ran off when I made a noise. Heard a bear sniffing in the forest a few hours before this, possibly these same bears.
Sun, 07 Aug 2016 (22 miles, 2:19 hours, 15811)
No headache, so body evidently adjusted to altitude. Young's Market, the grocery store in Westwood, out of business. Bought some corn tortillas and cheese at a mini-market. Pizza at local cafe. Unpleasant experience: bad music, noisy families, felt completely out of place, overpriced. Should have bought more food at the mini-market, then eaten alone in the park.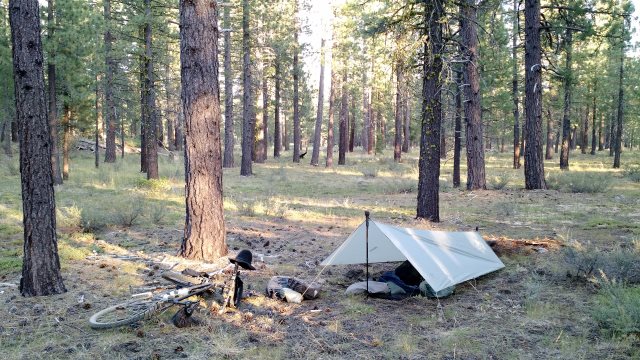 campsite
Mon, 08 Aug 2016 (26 miles, 2:11 hours, 15837)
Water on at Goumaz campground. $64 ($58+$6 tax, with AARP discount) for room at River Inn in Susanville. Motel normally busy Mon-Thu with railroad workers. Fri-Sat okay if arriving early, fills up by evening with visitors to state prison, the big growth industry in town. Sunday always slow day. Machine washed clothes in hot water, since some had picked up rancid body/hair oil smell during months in Europe, cold water hand washing not sufficient to clean them thoroughly.
Tue, 09 Aug 2016 (20 miles, 2:38 hours, 15857)
To allow riding shirtless/hatless, attached hat to rackbag by tightening strap over brim without putting strap through chincord. Hat fell off unnoticed. Backtracked to retrieve it. Need to be more careful about this.
Wed, 10 Aug 2016 (12 miles, 1:27 hours, 15869)
Light rain in the late afternoon.
Thu, 11 Aug 2016 (29 miles, 3:02 hours, 15898)
No vacancy at Seneca Lodge in Chester. Owner said they expected to be mostly full all of August. Antler Motel also no vacancy. Bought food at store, picked up water from faucet outside library, charged external battery at library while eating and browsing internet, then camped a few miles outside of town. Huge number of mosquitoes buzzing about the bugbivy netting after sundown.
Lack of vacancies in motels another reason to remain in Ukraine/Bulgaria until late August. Two more reasons also evident at this point: nine weeks in the forest, which is my plan for this year, is too long and six would be better; heat and mosquitoes this time of year in Lassen area, whereas if unpleasant conditions in Bulgaria then, abandon hiking in favor of an air-conditioned apartment at the beach.
Fri, 12 Aug 2016 (12 miles, 2:01 hours, 15910)
Late start until mosquitoes mostly disappeared, then early stop to avoid riding in heat. Going slow so as to reach Susanville Sunday.
Sat, 13 Aug 2016 (13 miles, 1:36 hours, 15923)
Dry heat like today saps my energy, though humid heat in Dnipropetrovsk was worse. Nevertheless, wish I was back in Ukraine right now. Bee stung me on the arm while I was resting. Must have swatted it accidentally, thinking it was a fly.
Sun, 14 Aug 2016 (30 miles, 2:22 hours, 15953)
$64 ($58+$6 tax) for room at River Inn in Susanville. Room 115 has noisy air conditioner in adjacent room, probably above, though not sure. Made reservation for Wednesday in Burney, since I don't want another surprise like in Chester, where motels all full. 3 days to get there: road 32N22, a few miles on highway 44, route 111, road 34N13.
Mon, 15 Aug 2016 (33 miles, 4:10 hours, 15986)
Pinhole leak in one of the bladders. Water only seeps out under pressure, and only from top of bladder, so only small amount of water lost. Plenty remaining in combination of leaky and other bladders to get me to Burney. Cap on this leaky bladder went bad several days ago. Replaced with spare cap from repair kit. Maybe I damaged both cap and bladder while laying bicycle on side during rest stop.
Bee sting on arm from Saturday continues to be sore. Today, while pushing bike through forest to get to a shady spot for lunch break, spotted a huge hornet nest. Horrible to think what a mass attack by those creatures would feel like, given what a single bee sting did.
Tue, 16 Aug 2016 (28 miles, 2:43 hours, 16014)
Wed, 17 Aug 2016 (24 miles, 2:19 hours, 16038)
$76 ($69+$7 tax) for room at Shasta Pines Motel in Burney. Used McNett SeamGrip from repair kit to repair leak in bladder.
Thu, 18 Aug 2016 (24 miles, 3:40 hours, 16062)
Hot day. Ascent to the Lassen plateau always difficult. Headache towards evening. Thankful when sun finally set and nighttime cool arrived.
Fri, 19 Aug 2016 (11 miles, 1:43 hours, 16073)
Camped near Long's Cabin.
Sat, 20 Aug 2016 (20 miles, 2:06 hours, 16093)
Wore the headnet alone, without wide-brim hat, during morning yoga as protection from flies. They don't ever bite, but their buzzing noise next to my ears is terribly annoying. Plus they keep trying to crawl into my ears, where they might get stuck, and into my eyes, where they might cause an infection. Must absolutely resist temptation to remove headnet from packing list. I've removed it several times over the years—such is the tendency to forget, in the relative sterility of the city, what real nature is like—and always regretted doing so soon thereafter.
Sun, 21 Aug 2016 (36 miles, 3:03 hours, 16129)
$64 ($58+$6 tax) for room at River Inn in Susanville. Made reservation for Burney Wednesday.
Mon, 22 Aug 2016 (23 miles, 3:00 hours, 16152)
Rain and thunder in afternoon, so cut day short. Rain became heavy shortly after I set up camp, pounding on the tarp, like music to my ears. Lower temperatures a blessed relief, at least until rain stopped and sun came out, then warm again, but at least not very hot. Accuweather forecast is that really high temperatures (over 95&degF in Susanville, slightly lower on the Lassen plateau) are finished for season, with temps mostly under 90°F henceforth.
Tue, 23 Aug 2016 (28 miles, 3:18 hours, 16180)
Talked to a rancher. Supposedly, someone has released wolf-dog hybrids into the forest. I remember hearing a doglike bark nearby in the night recently. At the time, I thought I was dreaming, but maybe not. These wolf-dogs supposedly chased the rancher's cows onto the highway recently, so he plans to round then up earlier than usual this year. Unlike true wolves, these hybrids lack natural fear of humans. He also spotted cougar tracks a few days ago. Camped near Long's Cabin.
Wed, 24 Aug 2016 (34 miles, 3:09 hours, 16214)
$87 ($79+$8 tax) for room at Shasta Pines Motel in Burney. Not sure why they raised the rate. Cleaned and lubed the chain, first time this trip. Chain is new, so running on manufacturer's grease until now.
Crown that I got installed in Ukraine last year pulled loose while flossing. Pushed it back into position, where it is held in place by friction.
Thu, 25 Aug 2016 (24 miles, 3:28 hours, 16238)
Crown came loose while eating breakfast and was crunched to pieces by the other teeth before I noticed what was happening. Should have yanked the crown out yesterday and stored it safely until dentist available to cement it back in place. Made appointment for Sept 7 and 8 with dental office in Susanville to make and install new crown.
Fri, 26 Aug 2016 (10 miles, 1:29 hours, 16248)
Mother and two fawns walked just a few feet from where I was sitting for lunch break, then ran off when they sensed me.
Sat, 27 Aug 2016 (28 miles, 3:07 hours, 16276)
Sun, 28 Aug 2016 (28 miles, 2:10 hours, 16304)
$64 ($58+$6 tax) for room at River Inn in Susanville. Made reservations for Friday (because of Labor Day weekend) and next eek (dentist appointment). Put chlorine dioxide tablet in each bladder and bottle, first time on this trip.
Mon, 29 Aug 2016 (25 miles, 3:19 hours, 16329)
Tue, 30 Aug 2016 (8 miles, 0:55 hours, 16337)
Legs tired, possibly because I added squat jumps to my morning exercises recently and muscles still adapting. According to forest rangers, what that rancher told me last week about wolf-dog hybrids in the area is a false rumor. Maybe the barking, which I've heard twice at night since talking to that rancher, was from dogs at the Clover Valley Ranch, about 2 miles from where I was camped.
Wed, 31 Aug 2016 (6 miles, 0:39 hours, 16343)
Thu, 01 Sep 2016 (12 miles, 1:44 hours, 16355)
Not sure why, but the sound of the BNSF railroad doesn't bother me here like it does in the Mojave, not even the horn blowing, even though the sound is louder than in the Mojave because so much closer. I actually enjoy and look forward to the sound here. Maybe because only one or two trains per night here, versus every 15 minutes in the Mojave.
One of the water bottles is cracking, though not yet leaking. Use other bottle for washing, which involves squeezing bottle, which causes eventual cracking, and use cracked bottle for storage of water only. Order a bunch of replacement bottles direct from Nalgene corporation when I get back to Reno, since they are hard to find in stores and evidently need replacing every few years. I prefer these to regular bicycle bottles because they fit an MSR 3-in-1 cap.
Fri, 02 Sep 2016 (28 miles, 2:27 hours, 16383)
$64 ($58+$6 tax) for room at River Inn in Susanville.
Sat, 03 Sep 2016 (25 miles, 3:24 hours, 16408)
Another MSR 3-in-1 cap leaking. Small amount of water in one of the panniers. Replaced with the cap from the leaking bottle. That cap works fine. So evidently these 3-in-1 caps wear out with usage, mainly the plastic screw threads, either on the large piece, or between the flip-top and the large piece. Make sure to buy new 3-in-1 caps when replacing bottles, rather than reusing. These various bladder problems show the wisdom of including a spare 3-in-1 cap, an entire spare bladder, and a tube of SeamGrip in the packing list, along with using 3-in-1 caps on the bottles, to provide additional spares.
Sun, 04 Sep 2016 (13 miles, 1:32 hours, 16421)
Temperatures cool all day, at least in the shade.
Mon, 05 Sep 2016 (13 miles, 1:39 hours, 16434)
Labor day holiday.
Tue, 06 Sep 2016 (25 miles, 2:05 hours, 16459)
Bee got inside my shirt while I was riding and stung my back. Not very painful, since the area it stung has few nerves. $192 (3 x $58+$6 tax) for three nights at River Inn in Susanville.
Wed, 07 Sep 2016 (zero day)
Bought a bicycle bottle at Walmart to replace the one that is cracking.
Decided to switch from wheat bread to corn tortillas as my trail food for starch and fiber. Stomach rumbling lately: could be illness, could be stress (from who knows what), but could also be overdosing on wheat.
Dentist appointment at Susanville Dental Care. Full x-rays, exam and cleaning for $165, after new patient discount. Teeth and gums in good condition, according to dentist (other than missing crown).
Thu, 08 Sep 2016 (zero day)
New crown made and installed for the one I lost: $1067.
Made reservations in Alturas. Some motels there fully booked next week with fire crews.
Fri, 09 Sep 2016 (25 miles, 3:20 hours, 16484)
Camped near Norwell Flat.
Sat, 10 Sep 2016 (36 miles, 4:31 hours, 16520)
Clouds of tiny flying bugs in the air, same as what irritated my eyes last October. Able to avoid them today by holding my head down while riding, so that the hat brim pushes them away from my face. Never a problem when not riding. Wear the headnet when I pass back through the area a few weeks from now. Camped along Cleghorn road, just before hwy 139.
Sun, 11 Sep 2016 (39 miles, 4:32 hours, 16559)
Picked up water at the Calfire station at intersection Cleghorn road and hwy 139. Then South Grasshopper road, West Side road, Brockman road, Williams road, Ash Valley road. Hard day, due to headwinds. Not a lot of good campsites in this area due to rugged ground, covered with volcanic rubble almost as bad as in Devil's Garden. Finally found a good campsite a few miles after Holbrook reservoir, along a little used dirt road just off the gravel road.
4WD road that heads northwest from intersection of West Side and Brockman roads, shown on all maps, is private, part of Ash Canyon Ranch, with locked gate. Probably wouldn't save time, because it appears rugged and little used, whereas the route I took is well-maintained hard gravel, rugged in places but surprisingly little washboarding. Today's route longer distance than last year's, but avoids highway 139, other than half-mile between Calfire station and South Grasshopper road. Last year I made it to Alturas in 4 days, whereas this year I'm allowing 5. Assuming time is not an issue, this year's route best of three I've tried for getting between Cleghorn road and California Pines road.
Mon, 12 Sep 2016 (23 miles, 3:11 hours, 16582)
Camped two miles past Knox flat.
Tue, 13 Sep 2016 (34 miles, 4:12 hours, 16616)
Took a wrong turn in the California Pines development, so today's route about 3 miles and 30 minutes longer than it should have been. $47 ($43+$4 tax) at Wagon Wheel Motel in Alturas.
Switched back to wheat bread (mixture of whole-wheat and white) in buying supplies for next few days. I don't think wheat was cause of those stomach complaints last week. Rather, the wheat bread I was eating then was poorly made, with too many junk "dough conditioners". Corn tortillas are tasty, but give me gas when eaten in large quantities without warming them first.
Wed, 14 Sep 2016 (23 miles, 2:58 hours, 16639)
Made reservation for coming weekend in Alturas and next Tuesday in Cedarville. Blue skies, cool temps (about 75°F in shade), wind from northwest strong at times. Camped at Layton Spring in Modoc National Forest.
Thu, 15 Sep 2016 (14 miles, 1:54 hours, 16653)
Wind mostly gone. Returned to main road, then north, east on 45N01, camped amid pines on Timbered Mountain.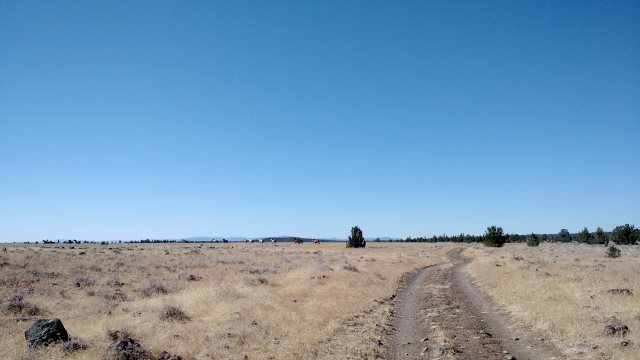 wild horses
Fri, 16 Sep 2016 (21 miles, 3:15 hours, 16674)
Took the road heading west from Mar Decamp Tank, labeled 45N37 on map, which ranger last year said was not too bad, but either I misunderstood or we have different meanings of what constitutes a bad road. Had to walk the bike most of the way to Reservoir G. Bottle creek running freely. After that, good dirt then gravel road to abandoned Triangle ranch, where there are cottonwood trees and a running spring, as ranger promised, but not what I would call a good camping area.
From the Triangle ranch to main road (route 73) is a good gravel road, as is the road to Reservoir C. Road from reservoir to Williams Valley is rugged but rideable. Camped amid junipers along this road. Lots of dirt in this area, versus usual volcanic rocks, but this dirt is chewed up by cattle during muddy season then dries hard, so has to be pounded back into dust with rocks or boots to make a decent sleeping surface.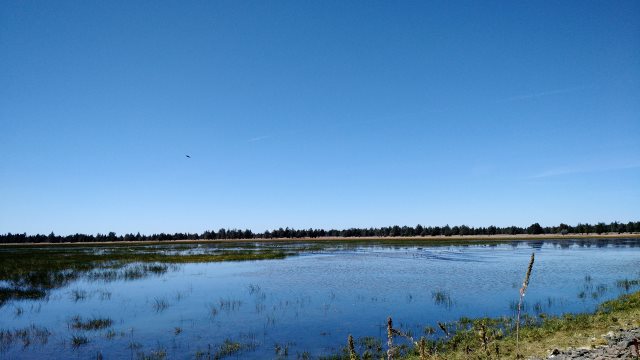 reservoir g
Sat, 17 Sep 2016 (22 miles, 2:19 hours, 16696)
Road from Williams Valley to main road very rugged, as ranger last year had said. Managed to ride it however, rather than being forced to push. $87 ($47+$40, including tax) for two nights at Wagon Wheel Motel in Alturas.
Sun, 18 Sep 2016 (zero day)
Balloon Festival here in Alturas yesterday and today. About 10 balloons take off shortly after dawn, float around, land a few hours later. Event evidently doesn't cause much crowding in motels: too small to attract many out-of-town spectators, some or all participants driving RVs and staying in the campground.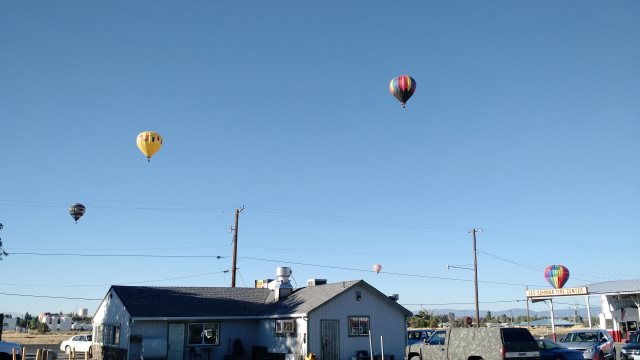 balloons
Mon, 19 Sep 2016 (22 miles, 3:22 hours, 16718)
Usual camp at Pepperdine Campground. Splitting headache towards evening.
Tue, 20 Sep 2016 (12 miles, 1:21 hours, 16730)
Headache still present in morning, after good night of sleep, so must be illness of some sort. Remained in bed until 10, to allow healing and also to avoid getting to Cedarville too early. Felt better after defecation, exercises, breakfast.
$55 ($50+$5 tax) at Sunrise Motel. Owner said weekends (Friday and Saturday) normally busier than weekdays this time of year: something to consider in future plans. Hauled 10 x 24oz loaves bread, 4 pounds cheese and 4 pounds peanuts from Alturas, in addition to what I ate on the way, to avoid reliance on stores in Cedarville for supplies. Though store was well-stocked when I stopped in for a snack. Put a chlorine-dioxide tablet in each bladder, since it's been about 3 weeks for that maintenance, though not the bottles.
Wed, 21 Sep 2016 (41 miles, 4:40 hours, 16771)
Headache again in the morning, disappeared after exercises and breakfast. Another mild headache in afternoon. Camped in sagebrush, near entrance to Sheldon Wildlife Refuge.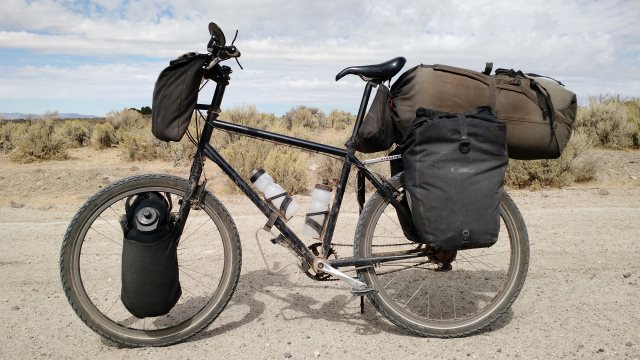 photo of fully loaded bicycle
Thu, 22 Sep 2016 (zero day)
No headache in the morning, so illness evidently over. Still no idea of what would cause headache but not stuffy nose or other cold or flu symptoms. I had a similar headache two years ago about this time, while doing the Warner Mountains circuit. Motel chemicals unlikely, since I used a different motel then. Maybe something I pick up while in the Modoc forest. I don't drink the water there, but maybe dust from cow and horse excrement gets onto my hands, which I don't wash before eating.
Light rain, overcast skies and cold all day, so hibernated.
Fri, 23 Sep 2016 (33 miles, 4:35 hours, 16804)
Temperatures below freezing last night. Tarp covered with ice, but bladders and bottle lying near me (though not under quilt) ice-free. Sun not visible until 8:25, due to mountain towards east, so good campsite when late rising desirable. Clear skies and no wind in morning, with mild temperatures once sun came up. Overcast, cool west wind and occasional light drizzle later in the day. Camped in the sagebrush along route 8A, near Gooch Camp.
Bladder that had the three slow leaks, which I fixed with SeamGrip, is now leaking slowly at the seam between bladder and plastic opening. Not easy to fix that sort of leak.
Sat, 24 Sep 2016 (33 miles, 4:16 hours, 16837)
Blues skies in the morning, continued clear all day, light wind, mild temps. Showered at Dufurrena Campground and filled water bladders and bottles. Only used about half the water I carried from Cedarville, so definitely brought too much. But better safe than sorry.
To get around deep water covering road at Virgin Valley Ranch, went cross country towards west, upstream along Mud Creek. Creek bed dry, but terrain rugged and covered with sagebrush, making for very difficult going. Managed to get through with no damage to bicycle or clothes and just minor scratches on legs. Would have been easier to wade through water like I did last year. Another possibility might be to cross Virgin Valley slightly upstream of ranch, starting at Royal Peacock Opal mine, since Virgin Creek bed appears dry. Virgin Valley covered with tall grass rather than sagebrush, so shouldn't be too difficult to push a bicycle through. Getting up Mud Springs road required more difficult pushing. Very tired by end of day. Camped in sagebrush next to dried up Knob reservoir, near road leading to North Hell Creek campground.
Sun, 25 Sep 2016 (28 miles, 3:46 hours, 16865)
Another beautiful sunny day, with mild temps and little wind, but I'm already tired of this open sagebrush and wishing I was back in the forest. Probably I'll tour Modoc and Nevada one more time next year, but thereafter limit myself to Lassen. Though maybe I'm just feeling the aftereffects of yesterday's ordeal. Had difficulty with the Hindu pushups this morning, another sign of exhaustion.
Resumed west along Mud Spring road to route 8A, then Badger Flat road to the campground, where the cabin is off-limits to the public (wildlife management officials only), then Cottonwood Creek road, then the unnamed road which runs southwest towards Butcher Flat. Camped along this last road, a mile before the intersection with road 37006. Sun relentless, due to lack of shade: that is probably as much to blame for my feeling exhausted as pushing and pedaling the bicycle. Sunrise should be slightly delayed tomorrow, because of a hill due east of my campsite. What a relief that will be!
[Written later] Very peaceful when I got up to pee about midnight. No wind, no moon, sky full of stars. Maybe this Nevada excursion is worthwhile after all. But reduce to 4 nights, skipping the visit to Dufurrena.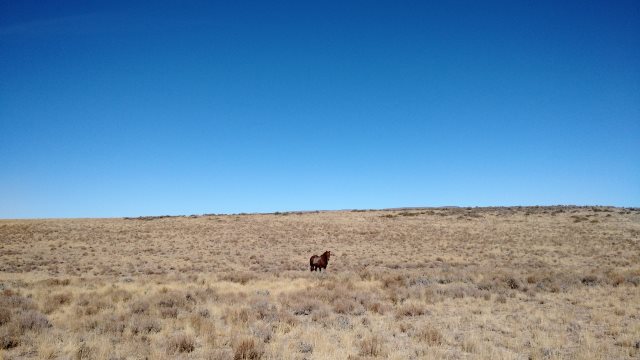 wild horse
Mon, 26 Sep 2016 (22 miles, 2:53 hours, 16887)
Another sunny day. Long talk with two men slightly older than me at the Massacre Ranch cabin. One of them still works at the same division of the same corporation where I worked back in my twenties and early thirties, my first and only professional job. According to them, there is a fast-flowing piped spring at Stevens Camp. So no need to go to Dufurrena for water, and possible to stay on south and west side of the wildlife refuge for a week. Trees at that camp as well, so shade from sun.
Camped in the sagebrush a few miles west of the cabin. Lips burnt from so much sun these past few days.
Tue, 27 Sep 2016 (36 miles, 3:18 hours, 16923)
Sunny again. $55 ($50+$5 tax) at Sunrise Motel in Cedarville.
Wed, 28 Sep 2016 (35 miles, 3:47 hours, 16958)
Sunny again. Bought some lip balm with sunblock at the local store. Will add to packing list henceforth for late summer touring. 30 miles and 2.5 hours on a mostly windless day to get to where unmarked route 512 leaves the Cedarville Gerlach highway. Maybe 15 minutes more before reaching areas suitable for camping, mix of sagebrush and junipers. Route 512 is mostly solid gravel, but there are stretches of fine dust that will turn to sticky clay when wet, like what happened to me last year in this area. Camped a few miles further on, at 5800 feet elevation, in an abandoned reservoir, the only smooth ground available. Everywhere else covered with big rocks.
Thu, 29 Sep 2016 (27 miles, 3:55 hours, 16985)
More sun, plus uphill and headwind from southwest much of the day, tiresome pedaling. Definitely reconsider Modoc and Nevada parts of this late summer tour. Save bicycling in open country for the winter Mojave tour, when sun isn't strong enough to cause burning. Camped in sagebrush, near intersection of Tuledad road and Juniper Ridge road (aka Mail Route road).

along tuledad road
Fri, 30 Sep 2016 (38 miles, 4:50 hours, 17023)
Continued sun and strong headwinds, another tiresome day. Followed Juniper Ridge, Grasshopper and South Grasshopper roads to highway 139, camped along Cleghorn road.
Sat, 01 Oct 2016 (36 miles, 4:13 hours, 17059)
Bladder and bottles frozen in morning, other than bladder stored under tarp. Cool all day, but no need for pullover while sitting in sun during lunch break. Headwind (from south) reduced compared to yesterday but still annoying. Lots of hunters out and about. Camped at usual spot near Norwell flat.
Sun, 02 Oct 2016 (27 miles, 2:20 hours, 17086)
Cold, overcast skies, starting to drizzle about noon, very strong winds from southwest: would hate to be cruising Madeleine Plains on a day like this. Feeling beat up, so decided to take a zero day. $127 ($115+$12 tax) for 2 nights at River Inn in Susanville.
Mon, 03 Oct 2016 (zero day)
Cold and drizzling outside: glad I took a zero day. Ordered another smartphone, bigger power packs and high amperage wall chargers, part of grand plan to replace ereader and GPS with smartphone during next Europe trip.
Tue, 04 Oct 2016 (40 miles, 4:41 hours, 17126)
Fresh snow on mountains south of Susanville, which are about 7500 feet elevation at the peaks. Partly cloudy, warmer than yesterday, little wind. Camped south of Westwood, near Moonlight Pass.
Wed, 05 Oct 2016 (31 miles, 3:09 hours, 17157)
Headache all day, not sure what from. Camped near Flourney Bridge, North side of river and road, just up the slope. Not a lot of flat ground, but did find one spot just big enough (0696270E, 4437564N, WGS84). Tarp visible from road if someone was looking carefully and knew what to look for, but extremely unlikely for that to happen. Also, might be national forest land anyway.
Thu, 06 Oct 2016 (21 miles, 3:10 hours, 17178)
Headache gone in morning. As I recall, some mucous in nose on Tuesday, so maybe I had a sinus infection that has since passed. Headache was at front of head, near sinuses. Mild temps, blue skies, no wind. Camped just north of Clover Valley Ranch.
Fri, 07 Oct 2016 (7 miles, 1:05 hours, 17185)
Construction work on Beckwourth-Genessee road finally complete. Another sunny but mild day. South wind starting to pick up, will be head wind tomorrow if it continues. Camped at usual spot 5 miles north of Beckwourth.
Sat, 08 Oct 2016 (37 miles, 3:49 hours, 17222)
Weather very pleasant, without wind. Faucet off at Beckwourth fire station, but station open. Fireman doing maintenance work let me use inside faucet to fill bladders. According to him, paving south section of Beckwourth-Genessee road cost over $20 million, and was something that has been discussed for over 20 years. Old road not in compliance with Forest Service regulations. Bringing it up to standard as dirt road would have been expensive in itself, so they decided to spend extra money and pave it. Picked up snacks at store in Loyalton. Camped along Smithneck road.
Sun, 09 Oct 2016 (7 miles, 1:06 hours, 17229)
Beautiful weather continues. Short day so arrival in Reno will be weekday and thus more vacancies in motels and also mailbox store open. Plus I'm not anxious to return to the big city. Camped near intersection of Verdi Mountain and Henness Pass roads.
Front ridgeline pullout on tarp is almost torn through, due to rubbing against guyline, especially when removing tarp pole in the morning due to use of pole cups. Easy to repair with sewing machine, but not so easy to repair in the field. Add scrap of 3/4" webbing to repair kit in case this happens again. Tarp is over 6 years old and should last another 4 years after repairing pullout, so figure on 10 year replacement schedule.
Mon, 10 Oct 2016 (21 miles, 1:54 hours, 17250)
Stopped to adjust front brake, and mistakenly left stuff sack, used to keep various small items separate in saddle bag, on top of rear rack, so that it rubbed against tire. Thought it was the brake rubbing. When I finally figured out the problem, the stuff sack was abraded away and will need replacement. Only gear screwup of this trip, and happened on last day, almost at end of journey. Lucky I didn't lose the stuff sack entirely. Most of the contents are cheap and easy to replace, other than lock mechanism for TiGr lock.
Motel is now $226/week or 18% higher than rate of $192 in January, and 24% higher than rate of $181 in 2014. All these rates include 13% city transient lodging tax, which is only charged for first 4 weeks of occupancy. Sign of improving economy. No doubt I could find a cheaper place, or better idea, a higher quality place for similar cost, but laziness and inertia win out again. Don't plan to stay here long.
Sun, 30 Oct 2016
First winter storm. Cold, wind and rain in Reno, snow in mountains.
Wed, 2 Nov 2016
Sewed up another pair of pants, to replace the pair I tested in Ukraine that was too large, which I threw away. Psychologically, feels much better to sew up pants as needed, one pair per year or whatever, versus that "lifetime supply" idea. Depressing phrase there, though it does indeed make things easier when I never have to worry about buying/making an item again.
Tue, 15 Nov 2016
Finished sewing up a polyester insulated jacket this weekend. Initially, I tried sewing the thru-hiker.com Maxima pattern, but it was very difficult, so came up with my own design instead, which is easy to cut and sew. Amazingly, almost everything came out perfect on the first attempt. Shell is supplex rather than lightweight nylon, so won't tear on thorns, thus fixing the major problem I have with lightweight store-bought insulated jackets and pullovers. Jacket is warmer than my old Patagonia Polarguard pullover, which is tearing in several places, though lighter in weight, after taking into account the supplex shell. Secret is that I used top-quality Climashield insulation and kept the stomach trim rather than designing for victims of the obesity epidemic, and also removed chest pocket and other unnecessary features.
Tested the jacket today, with temperatures in the 30's, overcast skies, strong wind blowing. Temperatures forecast to remain cool at night from here on, so winter has finally arrived. Prior to today, temperatures have been warm during the daytime and mild at night. If this is how November weather will be in the future, then my plans could change as follows: hike or stay at the beach in Bulgaria for a month from late August to late September, after my 90 days in Ukraine are up, then a month bicycle touring the Lassen area, then 3 weeks in Reno in November before heading down to the Mojave, versus the 6 weeks I'm spending in Reno this year. I've been busy this 6 weeks, but that is because of all the gear changes I've been making. Once the gear situation stabilizes, only 3 weeks rest should be necessary. The 6 weeks in Reno in January/February will then become my primary period for gear purchases/repairs/modifications/sewing, as has long been my ultimate plan.
Fri, 18 Nov 2016
I've been experimenting with Ray Jardine's Concept 300 Blood Cleaner, based on the Beck Protocols theory. Doesn't seemed to have done anything, but then maybe I was healthy and so no blood cleaning was needed. Not sorry to have bought the unit, however. I'll continue the experiment when I return from my Mojave trip. (I should note here that Jardine's influence on my life has been tremendous and always positive. Without Beyond Backpacking, his original book on lightweight hiking, I might never have learned to hike enjoyably in Europe the way I do now. In particular, I might never have tried sewing my own gear without the influence of Jardine. I also was motivated to make various diet experiments and try water fasting because of Jardine, and he probably also affected my decision to take up bicycle touring. Anyone reading my trip journals should definitely head over to Jardine's website to buy a copy of Trail Life and also read the information and trip reports he has freely posted.)
Statistics
68 nights away from Reno total, of which 51 nights camping (75%), 17 nights in motels (25%). 5 rest/hibernation days, 64 days traveling (including last day).
1578 miles total, 187 hours pedaling/pushing, average of 8.5 miles/hour. For 64 days traveling, average of 2.9 hours/day pedaling/pushing, 25 miles/day.
Total motel expense of $1046 including taxes, for average of $61/night for the 17 nights in motels.
Comments / Todo list
See Nomad page for bicycle comments.
Definitely want to spend as little time as possible in Reno between return from Europe and leaving for Lassen. I was pressed to move quickly this year, because of the Hot August Nights festival, but in the future I want to plan to for moving out quickly. So prepare the bicycle in February to be ready to go as soon as I return.
Nevada section exhilerating but tiring, plus I get plenty of exposure to the desert during my winter Mojave tour, so drop this section eventually. Only reason for Modoc section is to prepare for Nevada section, so drop that as well, which reduces trip to Lassen only. In particular, if staying until late September in Europe, then 4 weeks in Lassen would take me to end of October.
Gear worked fine, other than a few incidents noted in this trip report. Eventually, I want to sew up my own insulated jacket, to replace insulated pullover I use as my pillow and occasionally wear for warmth. I also plan to replace my Kindle ereader with a smartphone. It turns out I don't read that much while camping, so savings in battery use with ereader is not that big an issue. Plus weight of ereader can be allocated to power packs, thus offsetting additional battery usage of smartphone somewhat.