Feb-May 2017, Hiking in Spain
Planning
See trail guides (GR7, GR8, GR10) for current GPX tracks and Hiking in Spain guide.
Sun, 29 Jan 2017
Airfare to Europe much more expensive this year ($1279 versus $882 in 2016), apparently because I'm staying more than 6 months (Feb 22 to Sep 24) and returning from Sofia versus staying under 6 months and returning from Kiev in 2016. Many flights available this year for under $800 returning Aug 20 from Kiev and under $1000 returning Aug 20 from Sofia. Barcelona to Kiev cheaper ($125 versus $144 in 2016). Will purchase Kiev to Sofia ticket sometime during the summer. Made AirBnb reservations for first 5 weeks in Kiev in May/June, average cost about $22/night including fees/taxes, about same as last year.
Less than 4 weeks since return from Mojave trip and already anxious to move on, having finished all major items on to-do list and now dawdling regarding remaining items. Staying in same cheap motel as usual. Very quiet room, though king-size bed means insufficient space for laying out fabrics. One big bedbug first night I was here but nothing since. Wifi extremely slow during evening and early morning, though perhaps a good thing since it discourages me from wasting time on the internet.
Sat, 4 Feb 2017
While preparing Etrex 20 GPS receiver for Europe (exchange USA for Spain micro-SD map card, verify GPX tracks loaded, firmware updates if any), realized this is something I really want to remove from my hiking packing list, along with associated rechargeable NiMH batteries and battery charger: (a) extra weight and pack space; (b) another item to charge in hotels; (c) another electronic device to fiddle with while hiking; (d) possibility of forgetting to exchange micro-SD map cards, similar to how I forgot those Nevada maps during my recent Mojave trip. Might have problems with running down batteries while recording GPX tracks using smartphone. If so, add another 10000mAh power pack, which at 190g weighs almost exactly the same as GPS, battery charger, one pair AA NiMH batteries. In other words, if things work as I hope, weight savings of about 190g. If battery usage is a problem, unchanged with respect to weight.
Sun, 19 Feb 2017
Put bicycle and computer into storage and immediately felt more alive: back in travel mode. Motorola sent firmware update for smartphone yesterday evening. Installed without problems, thankfully.
Mon, 20 Feb 2017
Snowstorm in Sierras and President's Day holiday so not enough snowplows, so bus had difficulty getting through, almost got stuck several times, driver contemplated turning back several times, final arrival six hours behind schedule. Need to plan for huge delays like this in the future. Delay not a problem this year, because staying with friend for a few days before flight to Europe.
Wed, 22 Feb 2017
Woke up in middle of night with left ear clogged with wax and possible internal infection as well. Bought earwax removal kit at drugstore, in case problem gets worse. $11 for plastic wrap of backpack at airport, for protection during transport. Plan to do this for all flights henceforth.
Thu, 23 Feb 2017
Shared taxi from airport with three other guys (€7.50 my share versus €5 for bus), since buses delayed. Signed up for Movistar service: €15/month for 2GB high-speed data, €0.25/voice call within Spain, reasonable rates for calls to USA. €19 for overnight bus to Granada. Original plan was to stay in hostal in Madrid tonight and take bus tomorrow, but jet lag means I wouldn't get to sleep, so better to keep moving and start hiking as soon as possible, like last year.
Fri, 24 Feb 2017
€2.40 for Granada to Dúrcal bus, filled water bottles and bought food, hiked to Lanjarón. €25 for single occupancy at Hotel Manolete. Beautiful weather and scenery: sunny, mild temps, no wind, almond trees covered with pink blooms. Fell asleep about 7:30pm.
Sat, 25 Feb 2017
Walked part of day with two Englishmen, in their 30's I would guess, information technology workers from London, here for a few days hiking in the mountains. Loaded up with crampons, ice axes, snow shoes, etc for an ascent of snow-covered Mulhacén. They recommended GR240 between Capileira and Treveléz as alternative to GR7. Downloaded GPX and loaded into Gaia GPS, quick and easy with smartphone, would have been much more difficult with Etrex 20 GPS receiver (special cables and probably computer required). One of the men spent nine months bicycle touring in South America a few years ago. He considered buying a Thorn Nomad but wanted disk brakes so built his own bicycle with a Surly frame.
€29 for single occupancy at Hostal Las Terrazas de las Alpujarras in Bubión.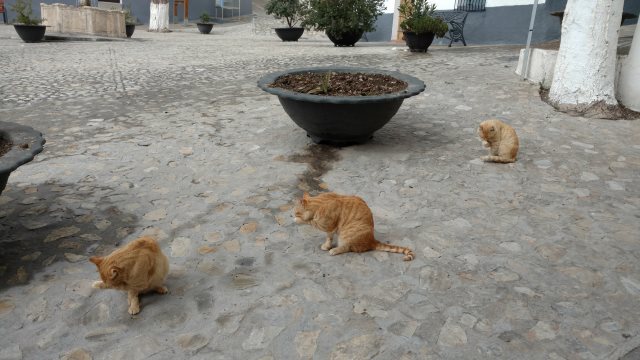 cleaning up after helping me eat sardines
Sun, 26 Feb 2017
Earwax problem from Wednesday cleared itself up spontaneously, however internal ear/sinus clogging was evidently initial symptom of head cold, which has gotten worse. Decided to take a zero day and lie in bed to allow healing. Also, buttock and shoulder muscles sore from first backpacking since last May, nine months ago, so they too could use a rest. Finally, sun out and warm today, so waiting will ensure most snow gone from GR240 tomorrow.
Mon, 27 Feb 2017
Cold symptoms diminished, though some scratchiness in throat. Snow here and there on GR240 between 2100m and 2300m elevation, but easy to walk over or around. GR240 has advantage of being shorter than GR7, 20km from Bubión to Treveléz versus 27km, and ascent followed by descent rather than the opposite. So good choice assuming most snow gone, like today. €25 for single occupancy at Hostal Fernando in Treveléz.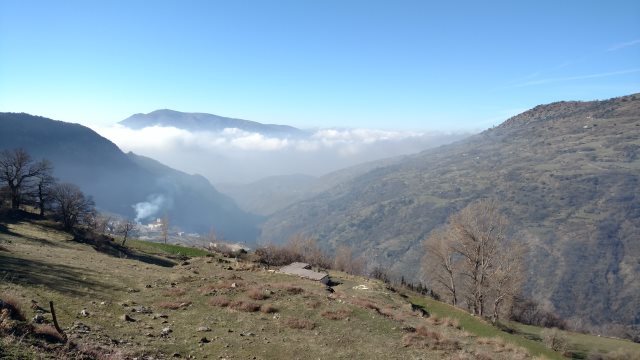 bubión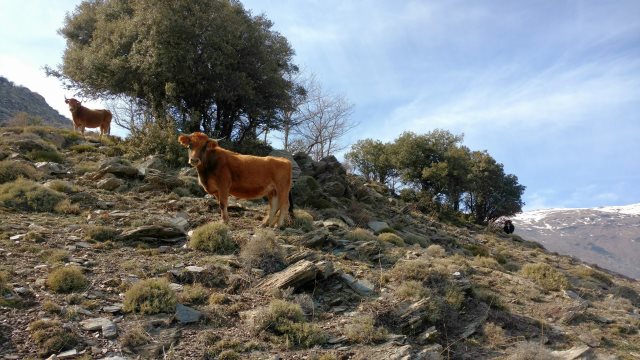 on the way to treveléz
Tue, 28 Feb 2017
Another beautiful day. Día de Andalucía holiday, however store and panadería in Treveléz both open. €20 for single occupancy at Bar/Pensión Cadí in Cádiar. Made a reservation in Yegen for tomorrow. Big group of Dutch hikers back in Treveléz and I don't want an unpleasant surprise with respect to hotels all booked up.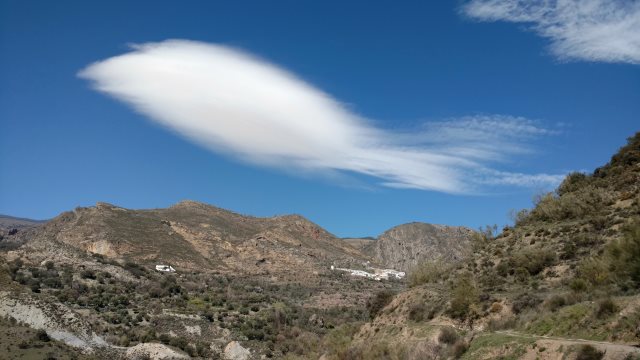 tímar
Wed, 01 Mar 2017
Scratchy throat persists. Also, I keep waking up around 2am, then several hours awake before falling back asleep, then difficult to wake up at 7am when alarm sounds on phone. So jet lag persists as well. On the bright side, beautiful walking weather also persists. €20 for single occupancy at Pensión El Tinao in Yegen.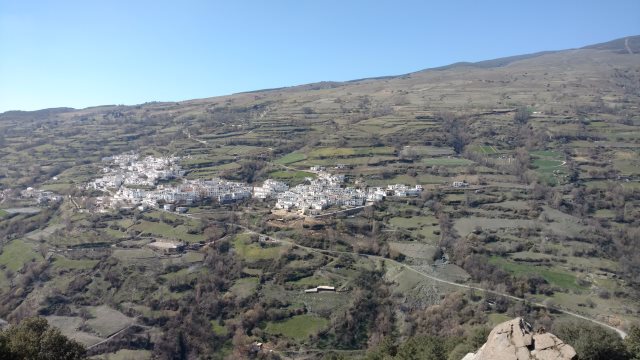 bérchules
Thu, 02 Mar 2017
Finally slept through the entire night, though mild headache upon awakening. Made reservation for tomorrow. Camped at usual spot on trail about 5km north of Bayárcal. Feels good to be camping again. White bread starting to disgust me, body senses lack of minerals. Ditto for chocolate other than 70% or more cacao or at least 55% mixed with almonds. Maybe eat more nuts if I can't get whole wheat bread or quality dark chocolate.
Fri, 03 Mar 2017
Slept well. Trail overgrown with vicious wild rose thorns in places. Managed to avoid tearing shirt, but just barely. Trail will be impassable in another year if no maintenance performed by then. Furious southwest wind in afternoon, accompanied by light drizzle. Accuweather​ predicts gusts over 150km/hr in the valley, so much higher winds presumably at the peaks and ridges. Noticed bottom of hiking staff bent slightly, not sure when that happened, maybe as far back as last year. Should be okay through remainder of trip if I'm careful. €25 for single occupancy at Hostal LaBella in La Calahorra. Bought some but not all supplies for tomorrow, since panadería out of all bread and no whole-wheat pan de molde in store. Not sure how much longer that store will be in business, given mostly empty shelves. Would be a mess if no store here in La Calahorra. Maybe carry extra 500g cheese from Válor, then eat that plus bread to get to Baza.
Sat, 04 Mar 2017
No whole-wheat bread at bakery, though woman there yesterday promised there would be. White bread much better tasting than what I bought back in Válor, so maybe white bread okay, as long as high quality. Occasional drizzle all day. Reminder: no need to carry any water out of Charches, since fuente between there and usual campsite. Windy at this campsite, but shrubs block some wind and tarp pitched low blocks more, so not a big problem. Snow on ground from last night, melting since temps today above freezing. About 6 hours or 30km hiking. Began raining/hailing steadily after sundown, continued for several hours.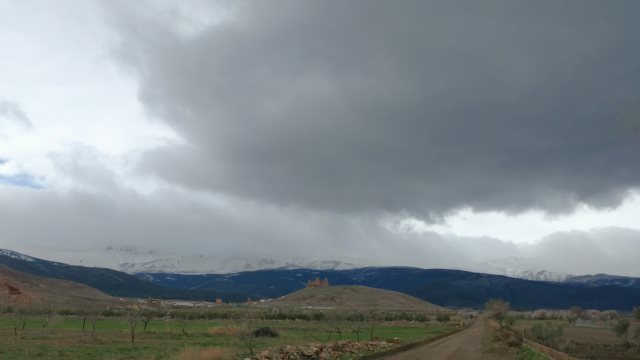 la calahorra
Sun, 05 Mar 2017
Slept well and long, with head under quilt to keep warm. Scratchy throat gone finally. Ice on tarp but not in bottle, so temps evidently near freezing. Overcast, windy and cold all day. Felt chilly during morning yoga, due to wind and low metabolism from not eating enough. Store back in La Calahorra didn't have nuts for sale, so should have bought more chocolate. Car abandoned in middle of road at 2000m. Probably got stuck in snow, which was no longer very deep when I passed. About 6 hours or 30km hiking, similar to yesterday. Camped on trail in rambla about 3km past Narváez. Three people passed after I had set up camp on the trail at 16:30. First a trail runner going downhill, then some guy walking his dog uphill who returned downhill direction later, then some guy speeding downhill on a mountain bike who came by again uphill and then again downhill. Maybe so much traffic because today Sunday. Camp on wooded plateau just before rambla in the future.
Mon, 06 Mar 2017
Slept well and long again. Much warmer than last night, since temps above freezing and little wind in rambla. €20/night for two nights single occupancy at Hostal Casa Grande in Baza. Feel like I need a rest day.
Tue, 07 Mar 2017
Slept poorly, probably from combination of overeating chocolate, staying up late and too much time on those addictive internet forums.
Wed, 08 Mar 2017
Slept well. Warm sunny and calm. Camped at same spot as last year, approximately midway between Zújar and Benamaurel. Relaxing to hike without dedicated GPS, and thus not exactly count hours and kilometers. Like back when I first started hiking in Europe 20 years ago, just a guidebook, no GPS and often no maps. Also relaxing to get away from internet. Though of course nothing stopping me from turning that off in cities.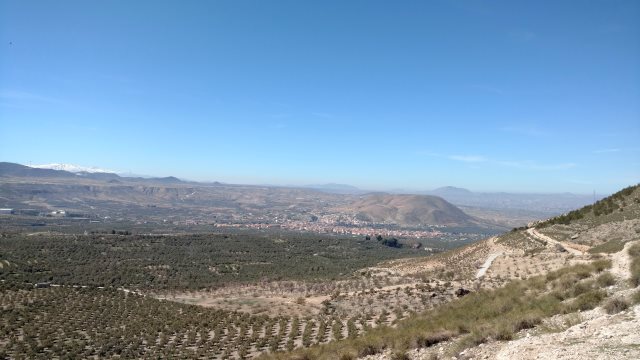 zújar
Thu, 09 Mar 2017
€25 for single occupancy at Hostal Montecarlo in Cúllar. If ever a situation arises where all hotels full, load up with 5L water and a day of food, and less than 1km along GR7 outside of town is sufficient privacy for camping. 3km beyond town is rambla with stealth camping.
Fri, 10 Mar 2017
Woke up with mild headache, maybe because not comfortable sleeping indoors, maybe chemicals in hotel room, maybe eating too much chocolate lately. Camped near last year's site, a few km past Orce. So glad I dumped dedicated Etrex 20 GPS for GaiaGPS app on smartphone. Really don't want multiple electronic devices to fiddle with, and app is so much better for my purposes.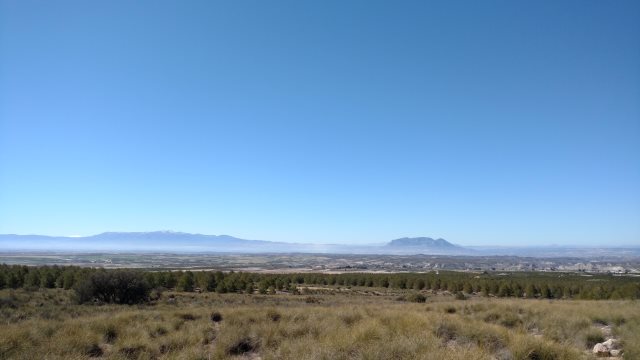 jabalcón
Sat, 11 Mar 2017
Slept well. So much more comfortable sleeping outdoors than in. €24 single occupancy at Hostal Ruta del Sur in Huéscar.
Sun, 12 Mar 2017
Headache from Friday may have been onset of cold, because ear stopped up again. Getting lazier and lazier about Russian. Even 15 minutes sometimes feels like drudgery, though occasionally I'll do much more, so average is probably still over 30 minutes per day. Added 2 x 1L water bottles to pack, upping total capacity to 5L total. Camped about 9km north of Huéscar, in pine forest.
Mon, 13 Mar 2017
Light rain starting mid-morning, turning to snow in mountains, heavy rain after I checked into hostal. €20 for single occupancy at Hostal Puerta de Andalucía in Puebla de Don Fadrique. Right ear full of wax. Sorry I threw out bottle of wax removal chemical back in Laroles. Discovered problem with using smartphone as replacement for dedicated GPS: smartphone screen acts flaky when wet. Smartphone water-resistant, so no risk using it in light rain/snow like today, but need some way to wipe screen dry.
Tue, 14 Mar 2017
Drizzling, near freezing temps and strong wind blowing right into my face in the morning. Ate lunch sheltered in drainage tunnel under road. Rain stopped by mid-afternoon and sun partially out. Fountains off at Cañada de la Cruz but able to get water from friendly residents. Camped in forest about 6km further along GR7.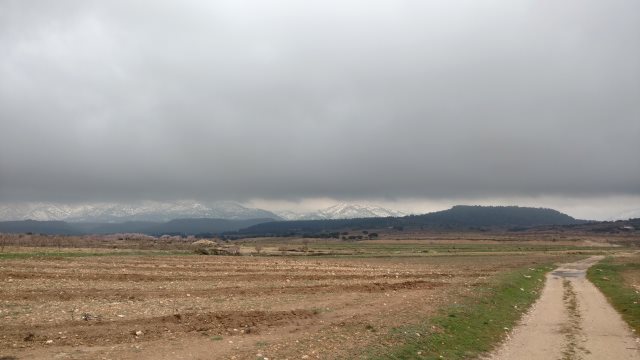 cañada de la cruz
Wed, 15 Mar 2017
Right ear completely blocked with wax. Sunny cool day. Mud in spots. Strong dry wind should dry out roads by tomorrow. €20 for single occupancy at Pensión Nevazo in El Sabinar. Local pharmacy out-of-stock for ear wax removal drops. Cleared blockage by blasting ear with hot water in shower.
Thu, 16 Mar 2017
Beautiful day: sunny, cool, dry wind. Camped same place as last year, along río Alhárabe. Three young men passed by at 6pm. Need to find better campsite next year. Ear continues free of wax blockage, 24 hours after cleaning, so that problem apparently fixed.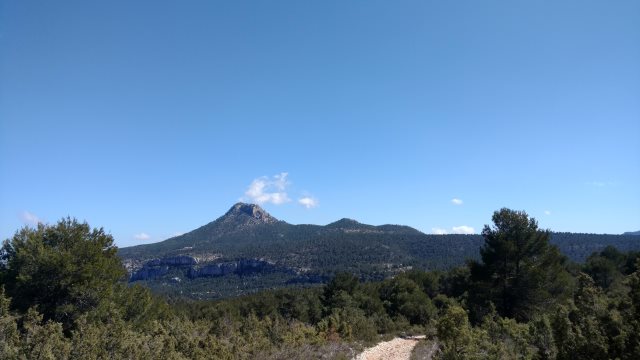 moratalla
Fri, 17 Mar 2017
Good campsite behind ruined house, about 200m further along GR7 from where I camped yesterday, use that next year. Bought supplies in Moratalla. Made hotel reservation for Cieza for Sunday. Hotel unlikely to be full, but I want no surprises, since electronics will need charging by then. Camped same place as last year.
Sat, 18 Mar 2017
Bought food in Calasparra. Left town with 5L water, after drinking 2L with lunch. Temps near 25°C and sunny, today and for several days to come, according to Accuweather​, so need to be careful about water. Camped amid pines near Barranco de la Murta, about 5km further from Calasparra than last year.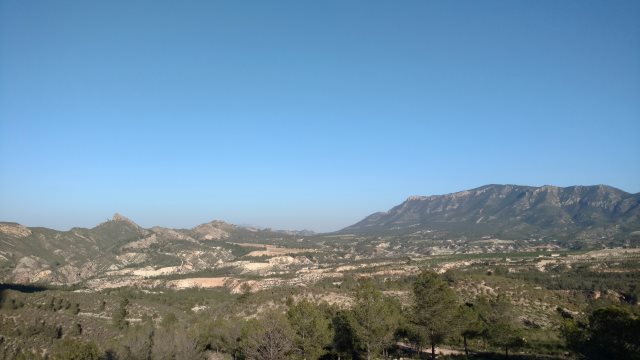 near calasparra
Sun, 19 Mar 2017
€50 for single occupancy at Hospedería San Sebastian in Cieza: very nice room. Arrived at hotel feeling fully hydrated and with about 1L water in bottles, so carried slightly too much. Better safe than sorry. Put chlorine-dioxide tablets into primary bottles as maintenance. Blasted both ears with hot water in shower, then wiped with tissue paper. Excess wax all gone.
Phone at 65% charge, external speaker fully charged, one of two 10000 mAh external batteries almost depleted but other still 100% charged. This after 4 days hiking, 3 nights camping, frequent checking of position using GaiaGPS app while hiking, at least two hours per day display lit for reading ebooks or editing text files, several hours per night listening to music over bluetooth connection to external speaker, small amount of internet usage and phone calls via cellular network (cellular connectivity normally off). Conclusion: power not a problem if only using GPS for viewing current location on map (not recording GPX tracks, in other words) and staying in hotels at least once a week. Power was my primary concern regarding replacement of dedicated Garmin Etrex 20 GPS unit with GaiaGPS app on smartphone, so this is very good news.
Mon, 20 Mar 2017
Slept poorly for some reason, maybe just not used to sleeping indoors. Room very quiet, so noise not the problem. Drank 2L with big breakfast and carried 5L out of Cieza. Day overcast and cooler than yesterday, about 20°C. Camped same place as last year, meaning long day, becoming dark as I set up camp. 3L water remaining in bottles. About 10km tomorrow morning to Torre del Rico, which either has a fuente or can get water there from residents. So carrying 5L out of Cieza was excessive. Maybe that much necessary on a warmer day and as little as 3L would be sufficient if cool conditions.
Tue, 21 Mar 2017
Slept very well. Fuente working in Torre del Rico. Arrived there with 1.5L water. Hostal La Cañada in Pinoso full, so continued to same campsite as last year between Pinoso and Elda. Not a very long day, so maybe do this every year rather than staying at hostal in Pinoso. Noticed tear in tarp fabric at rear pullout reinforcement patch, probably from when I stumbled over guylines a few days ago. Tarp should last remainder of trip.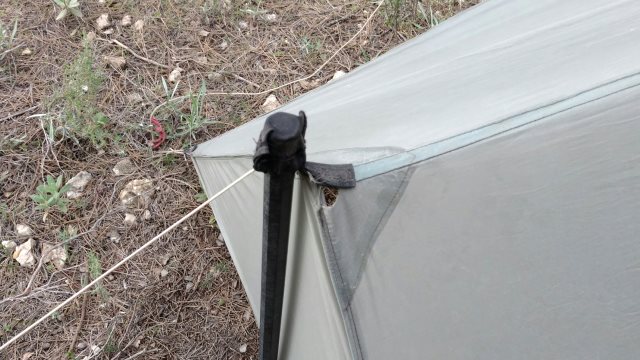 torn tarp
Wed, 22 Mar 2017
Slept well again. €27 at Hotel Santa Ana in Elda. Hostal Savoy in Alcoy full Saturday, so decided to stay an extra night here in Elda and get to Alcoy Sunday. Unable to confirm vacancy in Vallada next Wednesday. If not, just haul a huge supply of food and water a few km out of town and get an early start on march to Collado Caroche.
Thu, 23 Mar 2017
Zero day.
Fri, 24 Mar 2017
Couple next door having sex all night long, woman's moans clearly audible through paper thin walls, starting around midnight, then every hour or so until 8am when they finally left. Apparently I got some sleep despite this noise, because not too tired in the morning. Movistar cellular service didn't renew for some reason, even though plenty of money in the account balance. Camped on top of mountain between Elda and Castalla. Cloudy with cool temperatures in morning, warmer as day progressed.
Sat, 25 Mar 2017
Slept a bit chilly and frost on tarp in morning, so temps near freezing. No clouds, so warmed quickly once sun rose. Phone showed no SIM card. Initially, I thought this was a glitch with monthly Movistar plan renewal, since I'm just about at 30 days on that service. But in fact problem was bad hardware connection, easily fixed by removing and reinstalling SIM card. Problem might get worse in future, as I change SIM cards in the course of my travels. Bought two days food in Castalla. Camped at same location as last year. Space I had cleared for sleeping then was blocked by fallen tree and fallen limb blocked path to site, so location is stealthier than ever. Cleared a new space for sleeping. Wild boar grunting nearby for a while, just one it sounded like. Campsite not far from civilization, so evidently these beasts are getting bolder and bolder. Signs of boar digging all around the area.
Sun, 26 Mar 2017
Beautiful sunny day, but that means warm temps next few days, meaning need to carry more water out of Vallada. €35 at Hostal Savoy in Alcoy.
Mon, 27 Mar 2017
Slept poorly and awoke with headache. Think I'm going to skip apartment in Vallada, to avoid possibly sleeping poorly there too. Temps cooler than yesterday and also less than Accuweather​ forecast. Camped a few km short of last year's campsite. Lots of dense scrub oak forest, so easy to get stealth. Only problem is finding a level cleared spot. But there are some such. Just walk around and eventually you find one.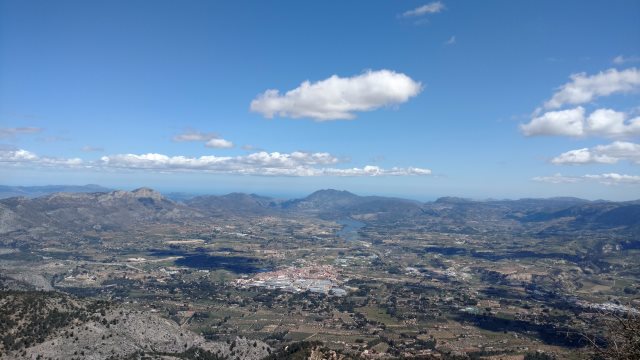 muro de alcoy
Tue, 28 Mar 2017
Slept well. Bought some food in Bocairente. Camped several km north of last year's campsite, near field planted to feed/attract wild boar and other game. Not a lot of possible campsites along this section of GR7. Location I picked is fine in dry weather but would be muddy mess in case of rain.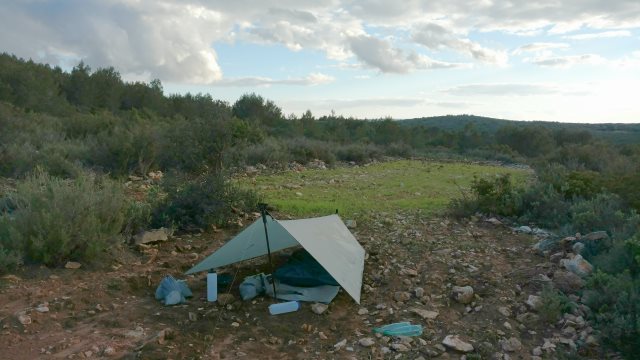 campsite south of vallada
Wed, 29 Mar 2017
Slept well again. Heavy dew on tarp. Sun rises late where I camped, an advantage if wanting late start because not planning to go too far past Vallada. Small hole in toe of one sock. Left Vallada with 8L water (5L in the backpack, 3L carried in a grocery sack in my hand) after drinking 2L with lunch, plus 3 days food. Sunny and temps about 23°C for next 3 days, so definitely need to be careful with water. Very nice campsite about 6km from Vallada. Arrived around 16:00 after leaving yesterday's camp around 10:30 and then lingering several hours in Vallada for lunch, so easy to make it to today's campsite even if starting from campsite south of Vallada that I used last year.
Thu, 30 Mar 2017
Slept well again. So much nicer to sleep outdoors than in hotels, but I do need hotels occasionally to wash up, charge electronics, download app and map updates over wifi. Deep water in barranco, so had to take off boots and wade, unlike last year. Numerous blown down trees blocking trail, so evidently some ferocious wind storms this past winter. Camped same place as last year, sandy bench in barranco about 4km past Caserío Benalí. 3.5L water remaining, so consumed 4.5L, including a small amount (200mL or so) for washing. Mild temps, more water would have been required if warm or hot. Possible to purify water from mud puddles or perhaps get water from farmhouse south of Caserío Benalí, but might be no puddles in dry years and farmhouse might not always be occupied. Caserío Benalí itself looked unoccupied, same as in previous years when I passed through in early spring on a weekday, though I didn't go near enough to be certain.
Fri, 31 Mar 2017
Wonderfully peaceful campsite, with absolutely no wind, so slightest sound echoes off barranco's rock walls. Sky overcast in morning, clearing later, mild temps all day. Very little dew on tarp for a change. Made a wrong turn and walked 5km extra as a result. Running water in stream and also barranco several km south of Collado Caroche. Must be wet year, because no running water in these places previous years. No water left in bottles and small quantity of medium yellow urine when I arrived at Collado Caroche (spring there flowing strongly), so water I carried out of Vallada just adequate, assuming no water available along the way. Drank 2L at spring with food (didn't bring enough of that, by the way), filled bottles with 4L, probably too much but mostly downhill from here. Dump it tomorrow if not needed.
Arrived at campsite in valley at 19:00. Even without wrong turn, today would have been long and yesterday also difficult due to heavy water load. I've thought of skipping around this section somehow, but that would also be work, and unpleasant work: waiting around for buses, stuck in cities. Whereas these long days of walking are compensated for by beautiful surroundings, solitude, peaceful campsites in the evening. Main thing is to bring more food next time. With enough food, I could spend an extra day here in the valley.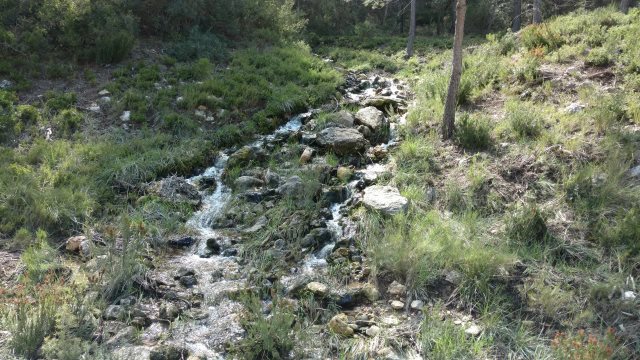 stream south of collado caroche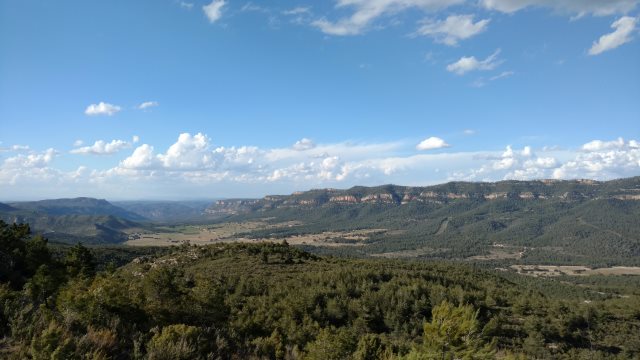 valley south of cortes de pallas
Sat, 01 Apr 2017
Early start, 7:20, just about dawn, to get to town before stores close, so as to buy supplies for next section. By arriving before midday break (at 13:00 here on Saturday), I have option of continuing on if no vacancies at hostals. Also, stores might not be open Saturday evening plus a nuisance to go out in evening rather than resting in my room. Arrived at Cortes de Pallás at 11:40, so 4 hours hiking plus 20 minutes rest stop from campsite. €25 at Hostal Chema.
Sun, 02 Apr 2017
Trail terribly overgrown for several km prior to Venta Gaeta, same as every other time I've walked this section. Good thing there aren't any ticks, or at least I hope there aren't, won't know for certain until I do a full inspection in Requena. Some men I talked to in Venta Gaeta said two years worth of rain in two months this past winter. Carried 5L water out of Venta Gaeta after drinking almost 2L with last food for day. 4L remaining when I arrived at camp, in a field near the river, a km before settlement of Mijares. Plenty enough to get me to El Rebollar tomorrow.
Mon, 03 Apr 2017
Slept well. Frost on tarp and some ice in bottles, so temperature just below freezing at dawn. Warmed up quickly after sun rose. Bought some food and water at El Rebollar gas station store, then continued along GR7 for another few km and camped in a patch of trees.
Tue, 04 Apr 2017
€31 for single occupancy at Hotel Avenida in Requena. Paid for three nights. Feel like I need a rest break.
Wed, 05 Apr 2017
Thu, 06 Apr 2017
Woke up with a splitting headache, maybe too much dark chocolate yesterday, maybe too much staring at the smartphone screen while diddling on the internet, maybe stuffy room.
Fri, 07 Apr 2017
Today is a holiday in Requena (Viernes de Dolores) and I didn't buy supplies yesterday, so decided to stay another night at the hotel.
Back on Monday, I scratched at my head with my finger and pulled off either a tick or a scab on a cut incurred while clambering around blown down trees earlier in the day. I couldn't tell which, just that there was blood and something black under my fingernail. Didn't find any ticks when I did an inspection Tuesday at the hotel and the wound on my head is now almost healed. Today I thought some more about this incident and decided to cut my hair very close to make it easier to see ticks on my head in the future, especially when my only way of viewing the back of my head is by photographing with the smartphone camera. Back in August, I shaved my entire head and face with a razor, to test if clean-shaven more comfortable in the heat, but didn't much like the look—resembled that of a convict or cancer patient—and so let the hair grow back. Whereas this time, I left the beard alone and used my electric beard trimmer on my head, so now there is a dark shadow rather than smooth skin like after shaving with a razor. I'm happy with this new look, though a suntan where the hair used to be would be nice. Scary moment when trimmer stopped making progress after I was only half done. After wetting hair in shower, trimmer cut much better and job was soon completely finished.
Sat, 08 Apr 2017
Branch poked hole in fabric of backpack while crawling under blown down tree. First significant damage to backpack in three years usage (I think). Very small hole, so shouldn't propagate and easily repaired back in Reno. Camped in open area amid pines.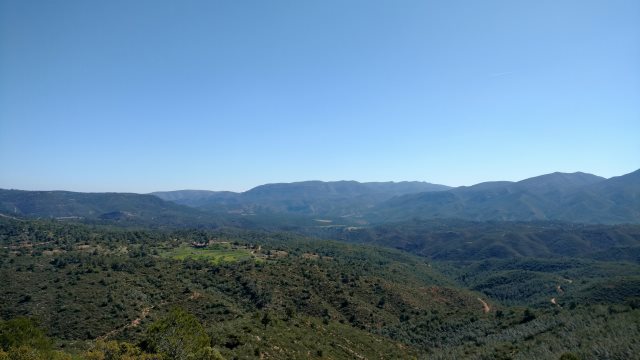 after requena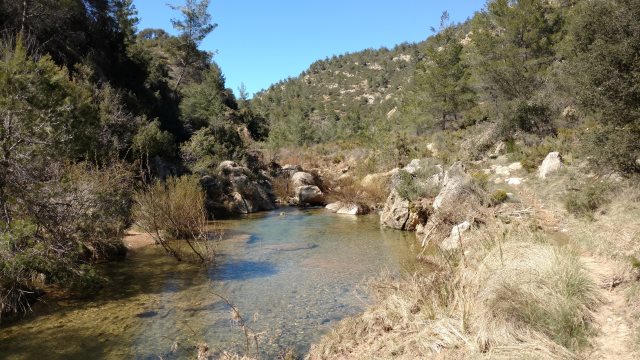 río reatillo
Sun, 09 Apr 2017
Bottles frozen almost solid, with just enough liquid water to eat breakfast, so temps evidently below freezing. €27 at La Posada de Chelva.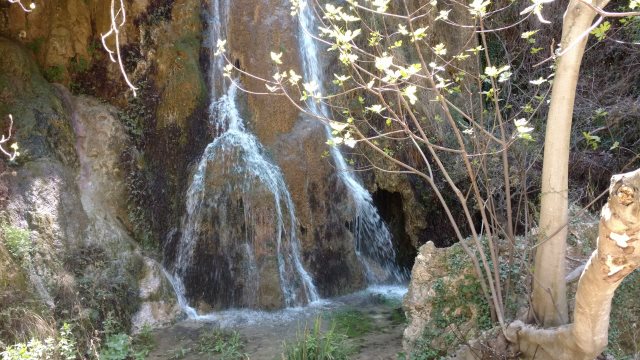 humedal de barchel
Mon, 10 Apr 2017
Slept poorly and woke up with headache. Cut day short and camped in forest near Alcotas.
Tue, 11 Apr 2017
Doesn't appear to be a store in Andilla any more. Carried plenty of food from Chelva so don't need supplies. Another short day. Camped near Collado de la Salada. Bad campsite, because exposed to sun, which doesn't disappear behind trees until 19:30.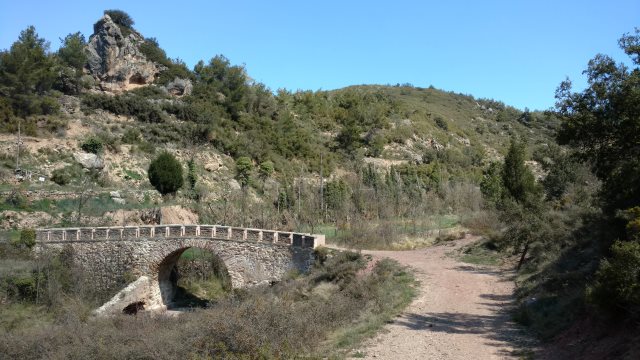 bridge near andilla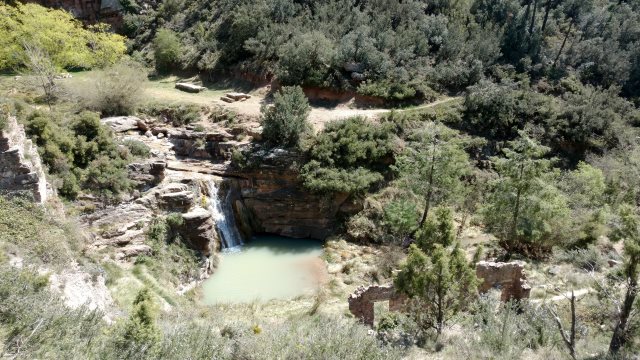 cascada del rodeno
Wed, 12 Apr 2017
Slept well again. Evidently, sleep difficulty a few days ago simply due to sleeping indoors, rather than other possible causes I considered: food (such as too much chocolate) or illness or chemicals (since problem occurs at different hotels). Difficulty only sometimes in hotels. For example, no difficulty other than second night at hotel in Requena. €25 at Fonda Tren Pita in Bejís.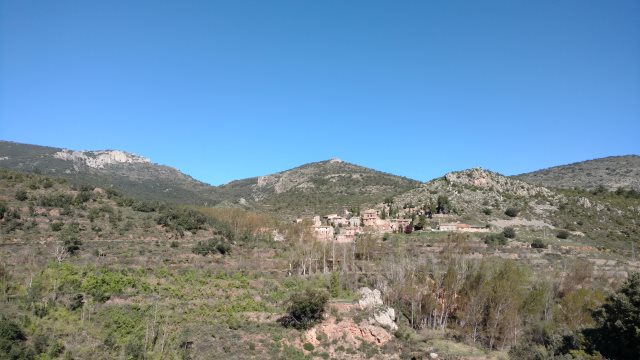 arteas de arriba
Thu, 13 Apr 2017
Slept poorly but no headache in morning. Very light rain in late afternoon, just a few minutes. Camped in almond orchard a few km before Mas de Noguera. Noise from nearby windmills. Both socks now have small holes.
Fri, 14 Apr 2017
Slept well. Noise from windmills not much worse than would be noise from strong winds. Took a wrong turn on the way to Mas de Noguera and ended up in Caudiel. Camped on the trail a few km past Montán, much more stealthy than last year's site.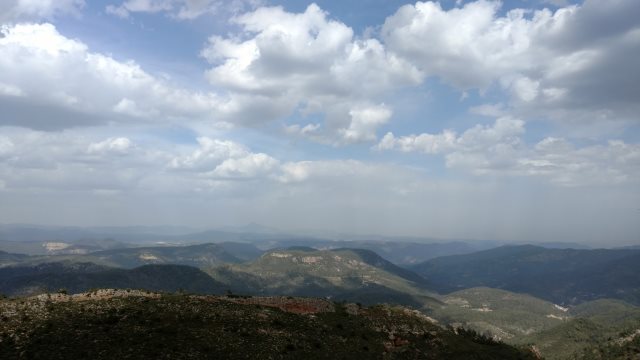 before montán
Sat, 15 Apr 2017
Slept well again. Bought three days food in Montanejos. Spotted adult tick on pants leg during rest stop, flicked it off, did inspection, found nothing. Camped on way to La Artejuela. Legs itch terribly from being scratched climbing past blowdowns yesterday and today. Like an avalanche went through whole province, except it can't really have been an avalanche, amazing that wind alone could do so much damage. Maybe all Spain like this due to storms this past winter.
Sun, 16 Apr 2017
Ate too much yesterday, mainly 425g of chocolate cookies in addition to regular food, and so had terrible gas all night. More blowdowns on GR7 today, but at least not so much scratchy brush getting past them. Camped a km or so past San Vicente de Piedrahita.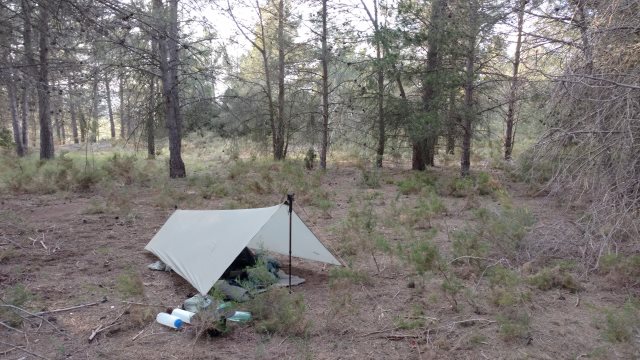 campsite
Mon, 17 Apr 2017
Slept well. Body finally feels cleansed of that overeating Saturday. €25 at Hostal Ruta de Aragón in Villahermosa del Río. Found adult tick in my pubic area, bitten in but not yet blood-filled, so probably picked up today. Removed with tick spoon.
Tue, 18 Apr 2017
Slept poorly again. Nothing to complain about regarding this hotel room, very nice and quiet in fact, I just quickly become accustomed to sleeping outdoors nowadays. Bought food then ate most of it immediately, to reduce backpack weight in the uphill stretch. Camped beside trail before the Santuario de San Juan de Peñagolosa. Not a stealthy campsite: need to find something better.
Wed, 19 Apr 2017
Slept well. Cool, cloudy and light drizzle all day, continuing into the evening. Camped amid pines (best location when ground wet) a few km after Vistabella.
Thu, 20 Apr 2017
Slept well. Sun out in morning. Shortcut via Río Monleón river bed to get from GR7 to PR-CV1. €30 at Hotel Los Arcos in Villafranca del Cid. Used duct tape to fix handle of hiking staff, which had come loose, and also under hat internal leather headband, to reduce wicking of perspiration into felt.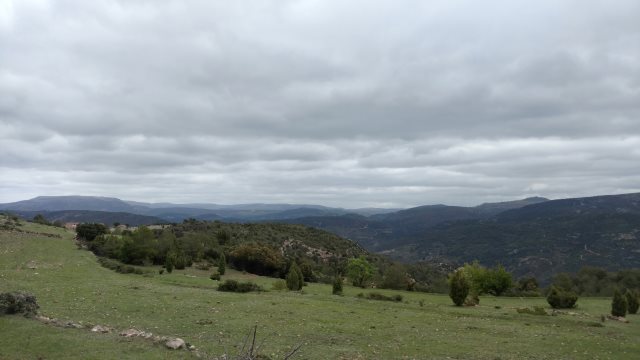 before culla

barraco río monleón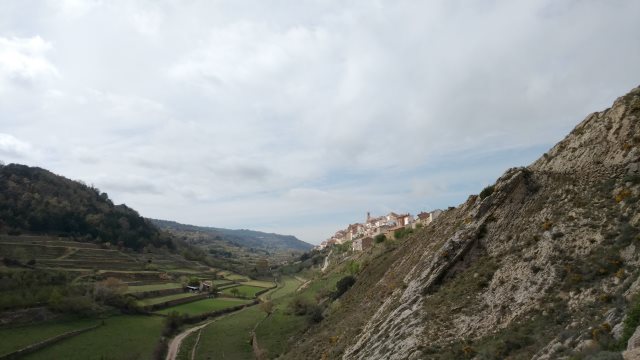 villafranca del cid
Fri, 21 Apr 2017
Mild headache in morning. Tried using stuff sack filled with jacket as pillow, versus hotel pillow, to see if that is what causes problems sleeping in hotels, but evidently didn't make much difference.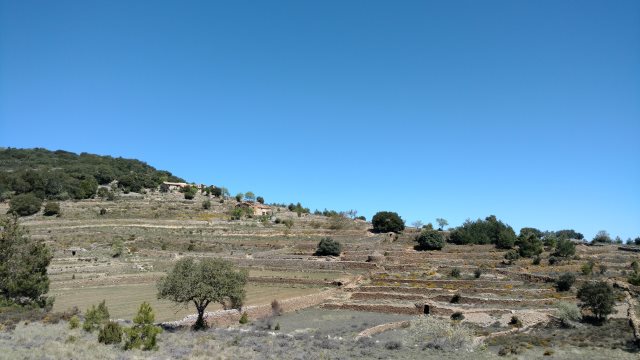 near villafranca
Sat, 22 Apr 2017
Ice in bottles in morning, so temps below freezing, quickly warming after sunrise. Slept well. Bought two days supplies in La Iglesuela del Cid, camped on soft alpine turf amid pines on way to Fortanete, at 1630m.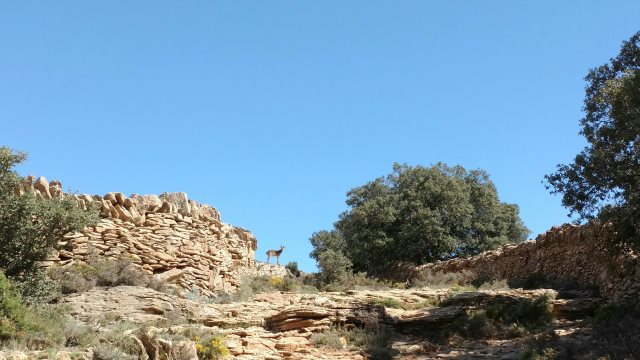 cabra montes
Sun, 23 Apr 2017
Ice in bottle left outside tarp: not surprising given altitude. Other bottle liquid because stored under backpack, in anticipation of cold temps. While sitting against tree in afternoon, noticed adult tick crawling on pants leg, crushed it against rock. Camped on way to Fortanete. Short day because weather and countryside both so beautiful that it seemed a shame not to linger outdoors. Barely enough water, should have carried more from La Iglesuela.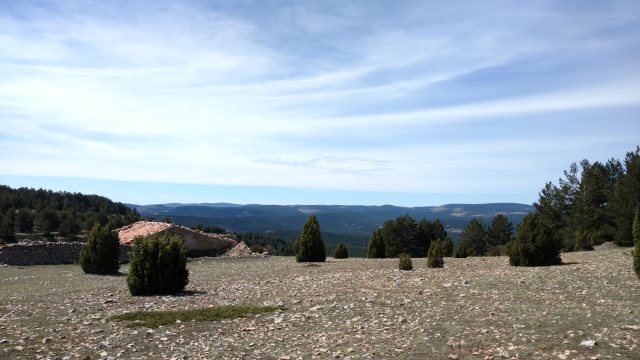 along gr8
Mon, 24 Apr 2017
Ice on tarp. Bottle with remaining half-liter water stored under backpack and hence liquid. Clear skies and warm once sun rose. Recorded segment of GR8 where old GPX was wrong. GaiaGPS battery use with recording on less than I recall from Bulgaria, so evidently app or Android or both improved since then. Few small patches of snow still present on north slopes above 1800m, but no snow on trail. However, thorns and blown down trees in places. €25 at Hostal Damian in Valdelinares.
Tue, 25 Apr 2017
Slept well for a change, though woke up feeling depleted of energy, probably due to undereating recently. Bought supplies in Alcalá de la Selva. Cloudy day. Camped in pasture on way to Cedrillas. Several hours heavy rain with thunder and lightning in the evening, afterwards quiet.
Can't remember when I last had a desire to read. None of the ebooks on my smartphone currently interests me in the least. Maybe because I do a little reading each day in Russian (combination of several "Slow News in Russian" articles plus a few pages from Анна Каренина) and that plus several hours listening to music is enough to satisfy my need for mental stimulation. Maybe for the same reason I'm doing a good job avoiding Internet forums, per my New Year's resolution. Though I still avidly read news articles pointed to by the two email lists I subscribe to, probably 6 hours per week on that, which is down considerably from how much time I was spending on the internet back when actively participating in forums and blog comment sections. So internet addiction finally under control: knock on wood.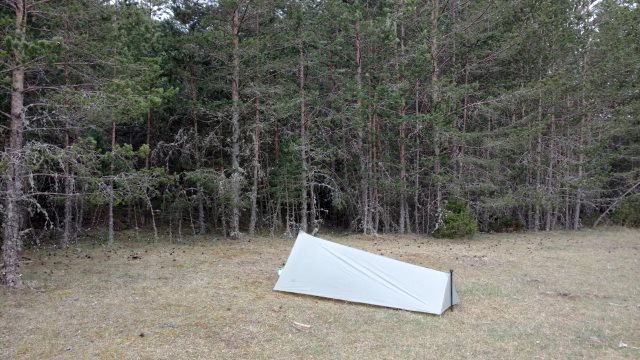 campsite
Wed, 26 Apr 2017
Partly cloudy and cool. €30 at Hostal Ramiro in Cedrillas. Put chlorine dioxide tablet in each bottle: overdue on that maintenance.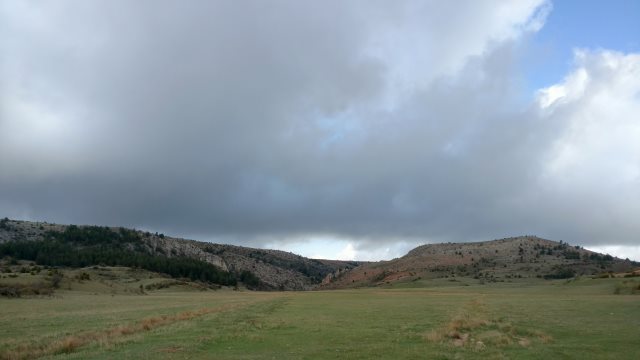 near monteagudo del castillo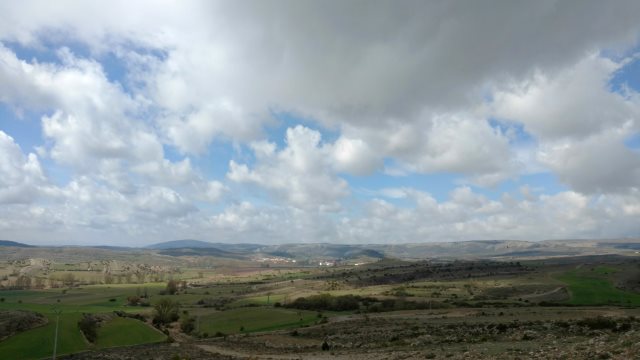 cedrillas
Thu, 27 Apr 2017
Splitting headache in the morning. This inability to sleep well in hotels in becoming worrisome. Lightly snowing in the morning. Accuweather​ forecasts temperature of -8°C in Cedrillas early tomorrow morning. That's at 1300m: presumably slightly colder at 1500m where I plan to camp (same place as Tuesday).
Fri, 28 Apr 2017
Slept a bit cold but I doubt temps at dawn were -8°C. Both bottles stored under backpack and remained liquid. Sky partly cloudy today, with cool temps and little wind, definitely warmer than yesterday. Camped not far from Alcalá de la Selva on way to Mora de Rubielos, along GR8. Very short day, with lots of listening to music.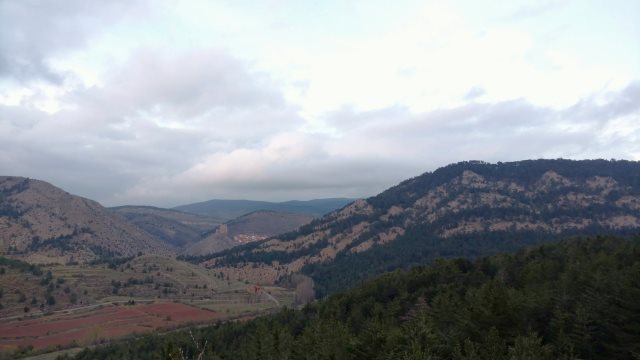 alcalá de la selva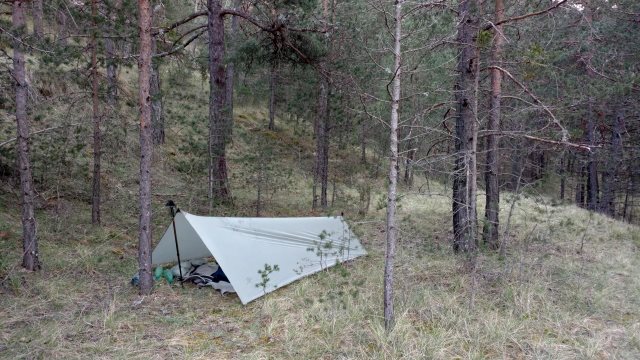 campsite
Sat, 29 Apr 2017
Fine mist in morning, then light rain in afternoon. Camped a few km after Mora de Rubielos. Dreaded Puente de Mayo weekend, so hotels mostly full until Monday afternoon.
Sun, 30 Apr 2017
Cloudy with light drizzle in late afternoon. Camped a few km past yesterday's site, so very short day again.
Mon, 01 May 2017
Cool temps, clear sky. €20 for single occupancy of apartment at Habitaciones Ventorillo, 2km south of La Puebla de Valverde.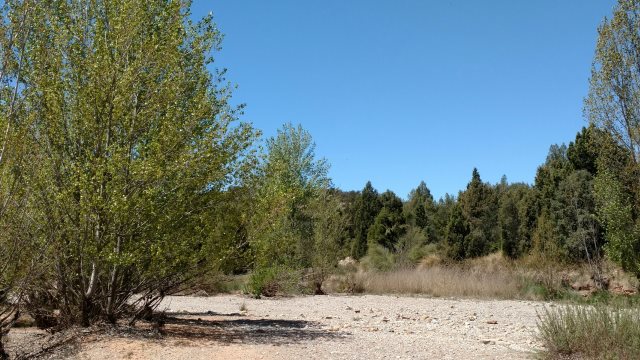 cabra montes running behind tree (difficult to see in small size image)
Tue, 02 May 2017
Slept well indoors for a change, maybe because apartment was ground floor, a bit dirty, and unheated, so not that different from being outside. Returned to La Puebla de Valverde for supplies. Camped on way to Camarena de la Sierra. GR8 has been re-routed, probably to get around ranch which raises fighting bulls. Long ago, during my first hike of the GR8, not knowing better and wanting to avoid a loose dog by the barn, I climbed a fence and walked across a pasture full of these fighting bulls. Fortunately, they panicked and ran from me.
Wed, 03 May 2017
Camped on way to Cascante del Río. Hostal there closed for season, according to man who answered phone.
Thu, 04 May 2017
€36 for single occupancy of apartment at Antigua Posada in Villel.
Fri, 05 May 2017
Light rain sometime during night, sky clear by afternoon. Forced to don headnet during rest stops to avoid hordes of small flies trying to get in my eyes. For some reason, they stop bothering me after about ten minutes, maybe because all the perspiration is dried and I smell differently.
Sat, 06 May 2017
Picked up supplies in Albarracín. Camped along PR-TE1, on way to Torres de Albarracín.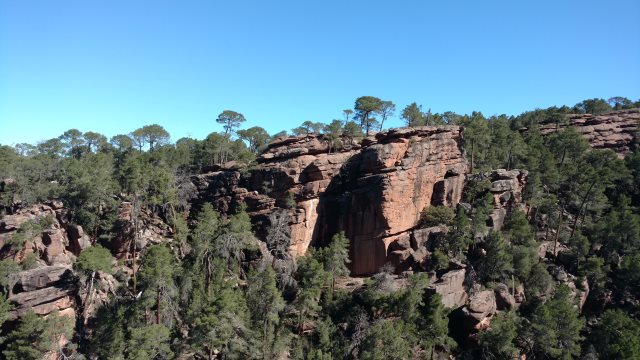 near albarracín
Sun, 07 May 2017
Beautiful sunny day. Camped in mountains south of Tramacastilla.
Mon, 08 May 2017
€35 at Hostal Isabel in Bronchales, supper and breakfast included. Supper was stewed meat, supposedly venison. Whatever it was, tasted delicious, possibly because my first time in years eating real meat. I eat canned sardines regularly and occasionally canned chili beans with scraps of meat, but real meat requires a restaurant and I'm uncomfortable with restaurants these days. Same "wildness" that makes me prefer sleeping outdoors lying on the ground evidently also makes me prefer eating outdoors sitting on the ground.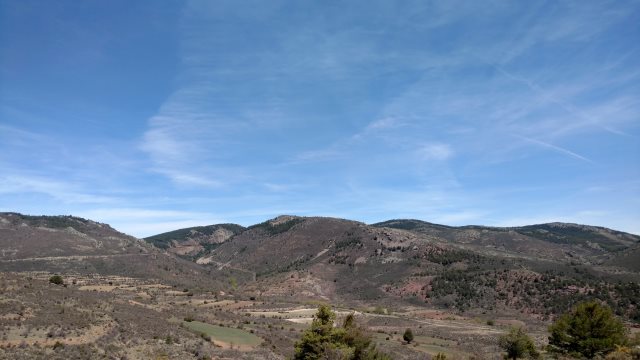 nogueras
Tue, 09 May 2017
Short day: camped a few km from Bronchales. Hiking holds little interest for me now. I just want to spend time in nature: reading, listening to music, walking around, sitting or lying quietly.
Wed, 10 May 2017
Camped same place as Saturday. Started raining lightly immediately after erecting tarp. Continued raining off and on throughout night.
Thu, 11 May 2017
Very windy in morning. Guardia Civil stopped me and asked where I was from. Let me go, without asking to see passport, when I replied United States. €30 at Hotel El Gallo in Albarracín. Nice room but sink in bathroom tiny, just barely big enough to allow soaping clothes, then use shower to rinse clean of soap.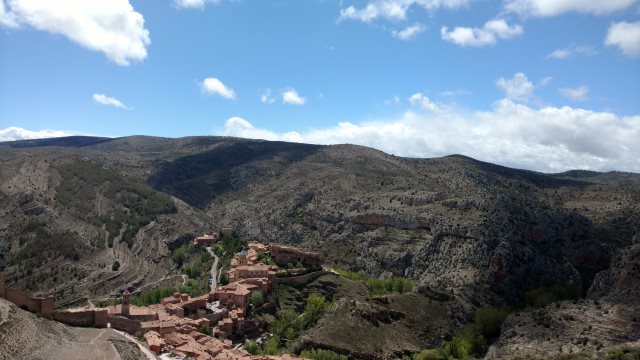 albarracín
Fri, 12 May 2017
Ate too much yesterday evening (food intended for this weekend), then stayed up until two in the morning reading internet blogs. Woke up a few hours later with splitting headache and nausea. Several enormous foul-smelling bowel movements, then several episodes of vomiting, leaving behind horrible taste in throat of bile and stomach acid. Crawled back into bed and managed another hour sleep, after which felt better though still mild headache. Skipped morning yoga for first time in many months. Felt weak and still suffering from headache upon leaving hotel at 11:00. Sickness likely psychosomatic, from emotions stirred up by that blog I was reading, or maybe caused by staring at smartphone screen too long. Camped at first okay location, forest about 6 km from Albarracín. Ate nothing all day, to allow body to heal.
Sat, 13 May 2017
Slept well and woke feeling fine. Did morning exercises without loss of strength. Fine drizzle in morning, later clearing. Walked a few km then camped again in forest. Too nice here to want to leave.
Sun, 14 May 2017
Headnet absolutely essential today for protection from small flies that target the eyes. Anyone who goes into nature without a headnet, other than perhaps in the depth of winter, is a fool: remember that. Camped after Rubiales.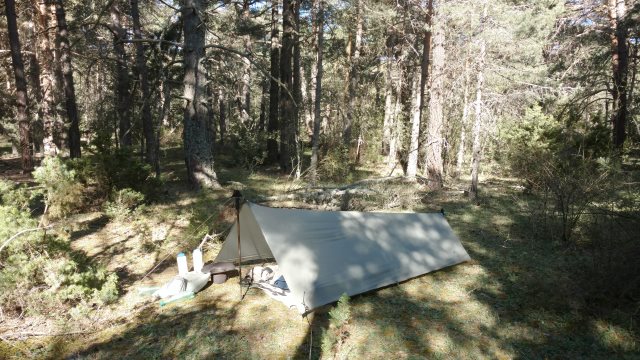 campsite
Mon, 15 May 2017
€20 per night for three nights at Hostal Aragón in Teruel. Also made reservations for next Sunday/Monday and bought bus ticket to Barcelona (€32).
Tue, 16 May 2017
Bought two dress shirts (size xx-large, €79 total) and a pair of slip-on shoes (size 45, €39) for use in Ukraine. Shoes I bought last year here on Teruel for use in Ukraine were too dressy and had excessive heel lift and sandals I bought then were flimsy, so that I ended up preferring my boots. But dirty and torn hiking boots look out of place in the city and they stink when I take them off, yet taking footwear off is expected indoors in Ukraine, so I really need alternative footwear. I already had one dress shirt in my pack, but it is very thin fabric and might tear easily, so best to have spares. Buying clothes always stressful for me, and in Ukraine there's the language issue, thus greater likelihood of buying something wrong, so best to buy in Spain.
Wed, 17 May 2017
Thu, 18 May 2017
Rained lightly much of the day, then heavy rain and hail in the afternoon, after setting up tarp, accompanied by thunder overhead. First day this trip wearing poncho for significant length of time while hiking. Poncho leaks, especially with hood tucked down back rather than over my head, and has bad condensation, but keeps most water off. Umbrella would not be an improvement. Campsite along PR-TE8 to Cedrillas.
Fri, 19 May 2017
Clear sky in morning, becoming partly cloudy in the afternoon, cool temps all day, beautiful spring weather. Fabric lining heel of left boot torn and irritating foot, so ripped out as much as possible. Really wish these boots had no lining, just bare leather. Picked up water at picnic site fuente a few km before Cedrillas, then backtracked to campsite. Original plan was to camp on other side of Cedrillas, but why bother?
Sat, 20 May 2017
Distant sounds of rave (electronic dance music) in early morning, stopping about 6am. Sunny and mild temps. Bought supplies in Cedrillas. Camped near same place as yesterday.
Sun, 21 May 2017
No sounds of rave this morning. Checked back into Hostal Aragón, €25/night for room with private bath. Cheaper rooms with shared bath available, but decided to splurge my last two nights here in Spain. Socks I started with have holes in toes and heels. Discarded generic bottles. Put chlorine dioxide tablet in each of primary bottles. Washed backpack and neck purse.
Mon, 22 May 2017
Tue, 23 May 2017
Bus to Barcelona. Paid €7 to wrap backpack in plastic, and checked as delicate baggage. Noticed some loose threads between shoulder pads and straps. Flight to Kiev.
Statistics
Not recording GPS tracks any more, so no way to know exact distance hiked, but probably around 20km/day * 80 days hiking = 1600km (1000 miles).
89 nights in Spain, of which 51 nights wild camping (57%), 37 nights in hotels (42%), 1 night on bus to Granada (1%).
€983 total hotel costs, so average of €27/night for 37 nights in hotels.
Comments
Overall, I enjoyed this trip very much. Repeating same trails over and over each year reduces stress of excess novelty, so continue to do just that in the future.
Gear issues: torn tarp; hiking staff handle and cam-lock both broken plus bent bottom section, so staff definitely needs replacement; socks just barely lasted 3 months; test spare socks (test ALL gear) before hike, to ensure no manufacturing defects, didn't happen but could happen; torn lining of boots; loose threads on shoulder pads of backpack; GaiaGPS worked very well, other than flaky touchscreen when hiking in rain; 2 x 10000mAh power packs exactly enough.
Idea for next year: schedule return flight from Madrid early November. Spring in Spain, summer in Ukraine, early autumn in Bulgaria, but then fly from Sofia to Madrid and spent a week or two there before returning to USA. Advantages: more time in Europe; more flexibility if I run out of things to do in Bulgaria; possibly lower airfare since straight round-trip between San Francisco and Madrid rather than open-jaw. Only disadvantage is extra flight to arrange, though perhaps no extra travel time, given how most fights from Sofia to San Francisco have long layovers.