Aug 2012, Lassen National Forest Bicycle Tour
Planning
Current guide to maps for a trip like this is here. This guide will be updated as time passes, and so may not reflect what I actually used on this trip, which was a combination of: (a) Lassen and Plumas national forest maps; (b) pages from the Benchmark Road Atlas for California; (c) 100K topo maps on my Garmin Etrex 20 mapping GPS; (d) Navteq road maps on my Nokia N8 smartphone.
Equipment changes since previous bike tour
Thorn accessory bar added, to keep handlebar bag from bumping and stressing shifter/brake cables.
Garmin Etrex 20 (mapping plus position information) replaces Garmin Foretrex 301 (position information only) as my GPS.
Went back to original rack bag design, as I've decided I don't need the backpack straps, and these just add weight.
Improved front pannier design, with open webbing bottom to allow pebbles that fall in to fall out.
Ordinary Schwalbe av13 inner tubes rather than thick av13d "downhill" tubes, since av13d tubes did not provide better thorn resistance in my exhaustive testing of the two tires when used with sealant (see here).
45 PSI (3.2 bar) for both tires, rather than slightly lower pressures used previously, since I don't anticipate sandy conditions.
Tarp/bugbivy rather than waterproof/breathable bivy, since I don't anticipate ferocious winds and ground should be solid enough for stakes to hold.
Top piece of hiking staff carried in rack bag, to be joined to lower two pieces (carried in stick holder against front fork) to form support for front of tarp, since I couldn't think of a better tarp support.
Sat, 28 Jul 2012 (26 miles in 3:30 hours)
Starting odometer reading 1040 miles.
Took the standard road route to get from Reno to Verdi. Lots of road cyclists on Highway 40. Tour de Nez this weekend. Reno Bike Project will be selling used bikes on consignment at this event, so I gave them the Novara to get rid of. Don't need it, get rid of it. Same reason I got rid of all my furniture when I vacated my apartment back in June. Just give it all to Salvation Army. Not paying apartment rent and minimizing storage locker rent frees up huge amounts of cash in the long run. So if worst comes to worst, I just buy everything back that I gave away or sold, and I still come out ahead, not even counting the improved clarity of mind that comes from not being burdened by excess posessions. Also, by getting rid of the Novara, I'm making a clean break with derailleurs. What a relief that is!
After Verdi begins the very rugged Henness Pass road. Had to dismount and push due to the ruggedness more so than the steepness. Sweated like crazy in the blazing sun. That's what makes the desert so ferocious this time of year. Not the heat, but the unremitting sun and lack of shade. Once past that initial steep and rugged ascent from Verdi, there is plenty of shade here in the mountains, and in the shade the temperature is not that hot.
Camped at junction of Henness Pass and Verdi peak roads. Early stop, mainly because I was unsure as to good campsites further on. Didn't erect the tarp, despite this being cougar country and despite the cougar attack last month (see here). Too much traffic on the roads here for cougars. No mosquitoes either. Feeling slightly headachy, perhaps from caffeine withdrawal from drinking tea at the buffet every day last week in Reno, perhaps from all that sweating in the sun ascending Henness Pass road. Incidentally, the sore shoulder from the July hiking disappeared completely during that rest week in Reno.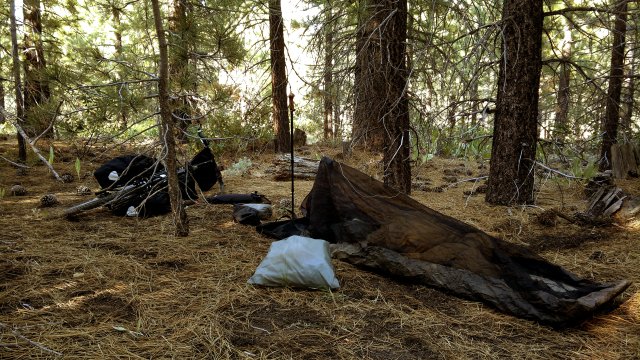 first night's campsite
Sun, 29 Jul 2012 (52 miles in 5:00 hours)
As it turns out, I could have pedalled on for a few more miles, since there are plenty of good campsites along Henness Pass and the upper stretches of Smithneck roads. Once Smithneck road begins to descend, trees and flat spots both disappear, and then there is nothing until the other side of Sierra Valley, so I made the right decision to stop early yesterday. Picked up some snacks at the Loyalton store. Very well-stocked. Water at the town park on the way out of town. From from Loyalton to Beckwourth, used route A24 followed by two miles along highway 70, which has a truly magnificient hard shoulder. Eight feet wide, very smooth, separated from the main roadway by a foot or so wide rumble strip. Apparently, no services in Beckwourth, other than water faucet and picnic bench at the fire station. Then ten miles along the Beckwourth Genesee road to a campsite in a patch of open forest just north of the Clover Valley Ranch. According to my Plumas Forest Service map (the only time I used this map the whole trip), this patch of forest is national forest, whereas most of the land in clover valley is privately owned and fenced grazing land.
The Benchmark road atlas maps are proving to be superb, as they were on my previous trip in the Mojave and the Nevada backcountry. Whenever there is a discrepancy between the road atlas and forest service maps, it is always the former which prove to be more accurate. On the other hand, the road atlas maps are much smaller in scale than the forest service maps. Garmin Etrex 20 GPS, loaded with Garmin 100K topo maps for the entire United States, is clumsy but usable enough. I wouldn't want to rely on it completely, however. Topography information is quite useful, since that is not shown at all on the Forest Service maps (other than for selected peaks) and the relief shading on the road atlas maps is not particularly informative, given their small scale. Topography information is useful for several reasons: (a) to know how far before I reach the end of a brutal ascent (such as the Henness Pass road out of Verdi); (b) to know where there might be flat spots for camping. For navigating out of Reno and Verdi, I used the Navteq maps on the Nokia N8, since the user interface is so much better than on the Etrex 20. The Nokia N8 is less useful than the Etrex 20 in the backcountry, since it lacks topography information in offline mode and is much slower at picking up the GPS signals or doesn't pick them up at all under heavy tree cover. Whereas the Etrex 20 has a high-sensitivity receiver and supports both the US GPS and Russian GLONASS satellites, and hence gets a location fix almost instantly, even under heavy tree cover.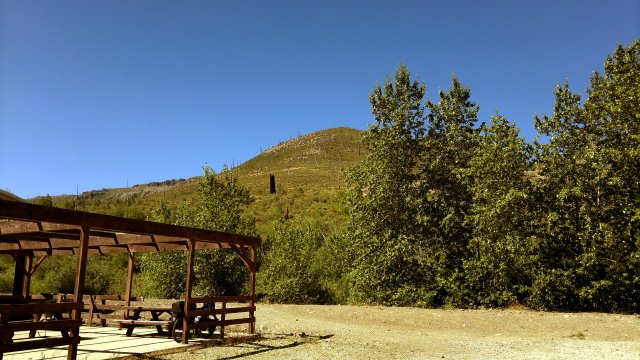 smithneck creek picnic area, hills in background burned bare by 1994 cottonwood fire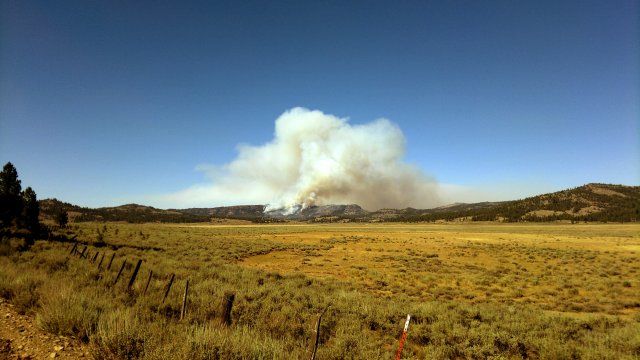 smoke from squaw valley fire, as seen from beckwourth genesee road
Mon, 30 Jul 2012 (44 miles in 5:15 hours)
Beckwourth Genesee road terminates at Indian Creek road. At this point, I began primarily using the Lassen Forest service map, supplemented with the 100K maps on the Etrex 20 GPS, and only occasionally referenced the smaller scale road atlas maps. Followed Indian Creek road (route 111 on the Forest service map) west to Taylorsville, where there is a small store and water at the county campground just outside of town. There are apparently pay showers at this campground, but I didn't test them. From Taylorsville, took route 172 then 207 to Highway 89 and followed this south one mile to Round Valley road. Road construction on highway 89, so only a single line of traffic and thus safe for me, especially since, as the slowpoke, I was at the tail end of this single line of the traffic with just the road crew control truck behind me. Under normal conditions, this road would be extremely dangerous due to heavy traffic, narrow to non-existant shoulder and blind curves. I already knew, from my PCT hiking experienece, that highway 70 near Belden is extremely dangerous even to walk along, to speak nothing of cycling. Now I know that 89 in this area is also very dangerous.
Round Valley road from Highway 89 to the Round Valley reservoir brutally steep. I had to dismount and push. Reminded me of the Lippincott Road in Death Valley. Camped a few miles past the reservoir on Long Valley road.
Tue, 31 Jul 2012 (31 miles in 3:30 hours)
Encountered first mosquitoes of the trip yesterday evening and then again this morning. Slow-moving and thus not too annoying.
Discovered that the Etrex 20 maps are inaccurate. Case in point. Forest service road 27N80 is clearly shown on the road atlas map and the Nokia N8 Navteq maps as the major road leading northwest from Round Valley reservoir. This road is also clearly shown on the Forest Service map, though not distinguished on that map, as it is on the road atlas map, as being a major all-weather gravel road as opposed to a minor dirt road. But this road is not shown at all on the Etrex 20 maps, even though many minor roads are shown! In other words, the Etrex 20 showed me as being in a roadless area, even though I was on a road, and even though according to latitude-longitude position I was clearly close to the 27N80 road on the Forest Services maps. The Nokia N8 had trouble getting a fix due to the tree cover, but eventually I came to a clearing and it too showed me as being on a road. Supposedly, the road information on the 100K maps that come with the Etrex 20 bundle are based on the Census TIGER road database, which is less accurate than the Navteq database used to create the maps on the Nokia N8, especially for dirt/gravel roads. Garmin 25K maps supposedly use the Navteq rather than TIGER road database. However, it would be expensive to buy Garmin 25K maps for all the states where I plan to tour on dirt roads (California, Nevada, Utah, Arizona, possibly Oregon, Idaho, New Mexico). Despite the bad road information, the Etrex 20 is not a disappointment. There is no inaccuracy in the topographic information, which is what is missing from the forest service maps, and the numeric position information (latitude-longitude or other coordinate system) is the same as on the Garmin Foretrex 301 which I used previously, and which always proved to be accurate. I just have to accept that the road information might not be fully accurate, especially for dirt and gravel roads. But then the forest service and Nokia maps are also sometimes inaccurate as to dirt/gravel roads and the road atlas maps are too small scale to show the full network of dirt/gravel roads.
Incidentally, the 7.5' lat-long grid on the forest service maps works well with the section grid, once you realize that each minute of latitude is slightly more than a mile and each minute of longitude is slightly less than a mile and sections are typically a mile on a side. In other words, it is pretty easy, using the lat-long coordinates on the GPS, to find the section I'm in. Of course, a UTM grid would be even nicer...
Road 27N80 feeds to Highway 89 near Canyondam. Thankfully, the two mile or so stretch of highway 89 from Canyondam to where the Almanor recreation trail begins (at the south end of Lake Almanor, near the boat ramp shown on the map) has a three foot shoulder and no blind curves, and so isn't scary dangerous like the stretch of highway 89 I traversed yesterday. The recreation trail is for bikes only and is very nice and peaceful. It ends just before the Lake Almanor West development. Cross highway 89 at this point to the Humbolt road, then turn right at the first dirt road (not shown on the forest service maps) and follow this north, paralleling highway 89, to the highway 36/highway 89 junction. From there to Chester, highway 36 has a very wide shoulder. It is also possible to take a dirt road to avoid highway 36, passing a gravel pit along the way.
Checked into the Sececa motel in Chester. $56 for a different style room than the one I had during my stay here last month. Bigger, more modern, but lacking the kitchenette. I preferred the other room. Controlled myself admirably at the grocery store. Only extravagances were a pint of ice cream and a large bottle of beer. Lots of PCT hikers in town. Seems a bit late in the season. Supposedly, the PCT is blocked north of Belden due to a fire in the Chips Creek area.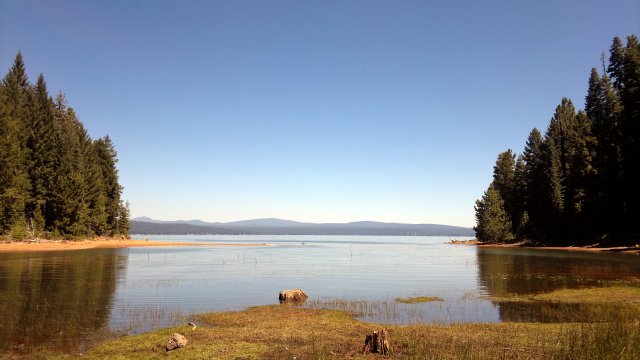 small extension off lake almanor, bald eagle flew across gap just before photo was taken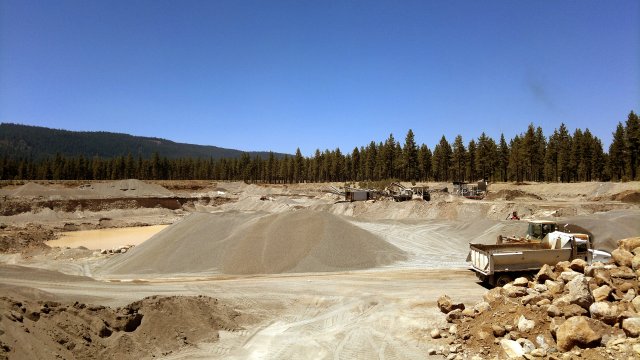 gravel pit near chester
Wed, 1 Aug 2012 (29 miles in 5:00 hours)
Stopped by the Ranger's office to see what was up with this Chips Creek fire. Apparently, it started just north of Belden, right where the switchbacks begin. That is also the location of the Emerald pool. Not surprising. The low-lifes who crapped all over the one good campsite and made four fire rings where one would suffice and then trashed these four fire rings are precisely the type who would make a big fire and then walk off without making sure it was fully out first. Ranger said it was still safe to use Humbug Summit road, but might not be in the future if the fire can't be brought under control. So I decided to ascend today and thus perform an apples-to-apples comparison of hiking versus biking. Recall that two weeks ago I hiked from Chester to Humbug Summit wearing a backpack. Today I pedalled a fully-loaded bike along this same route. Biking was both faster and easier than hiking. When hiking, I pooped out a few miles from the summit due to my feet getting sore from the gravel road. Whereas today, I made it to Cold springs in less than 5 hours, and wasn't particularly tired when I got there (though I sweated like crazy during the ascent). On the way up, I talked to some forest service workers and told them my theory about low-life day-hikers at the emerald pool causing the fire. Later, I talked to a rancher on an ATV who was preparing to round up his cattle to get them out of the way of the fire. He says the forest is so dense he can't get through with a horse. Instead, he uses dogs to herd the cattle, then pushes through the scrub on foot, leaving the horse behind. And of course I've hiked this area several times so know well how rugged the terrain here is, and also how dense the underbrush. Fighting that fire will be extremely difficult. Camped near the summit.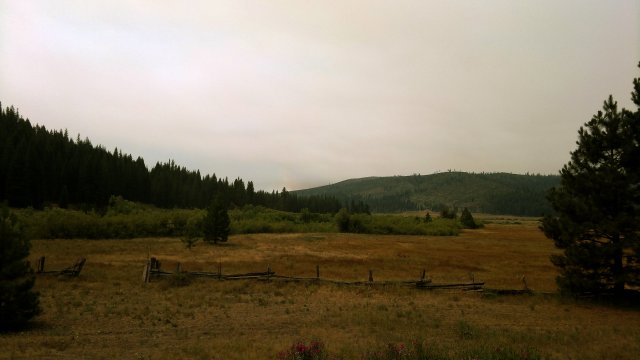 sky clouded by smoke from chips fire, seen here from humbug valley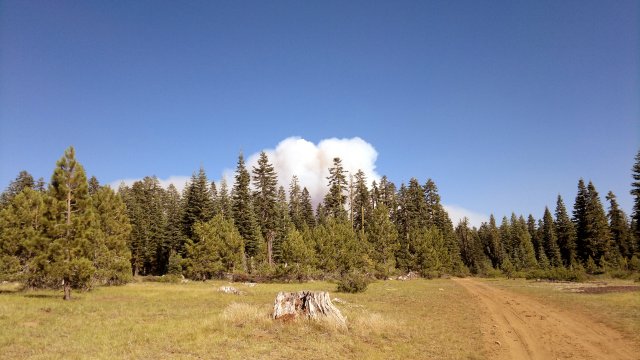 later in day, smoke much diminished, as seen from meadow near humbug summit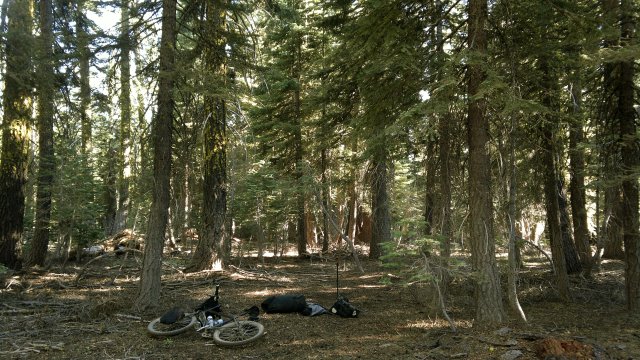 campsite near humbug summit
Thu, 2 Aug 2012 (36 miles in 4:47 hours)
Descended via Yellow Creek road (27N65, 27N04, route 308), then dirt road which runs parallel to highway 89 to get back to highway 36 and thence to Chester. Shower at the laundramat, since I felt like continuing on rather than staying in town at the motel. Resupplied at the store, loaded up with water at the town park (and recharged my phone at the bandstand there), checked internet at the library, then took route 318 then road 29N12 towards the Last Chance campground. The network of roads on the east side of the campground is more complex that what is shown on the forest service map, so I resorted to the Etrex 20 maps. The road I chose was brutally steep and then was blocked at the top by recent logging activity. So I descended and made camp down below, amidst another scene of recent logging activity.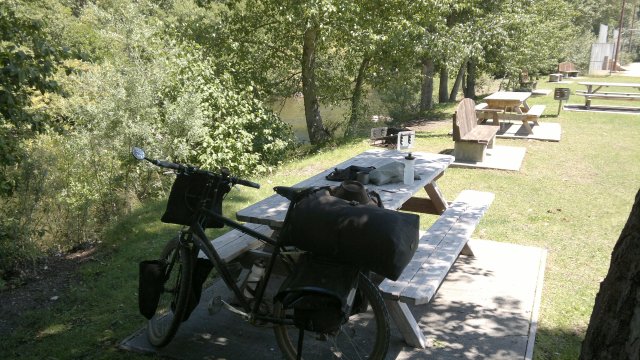 chester town park, along north fork of feather river, which is merely a small stream at this point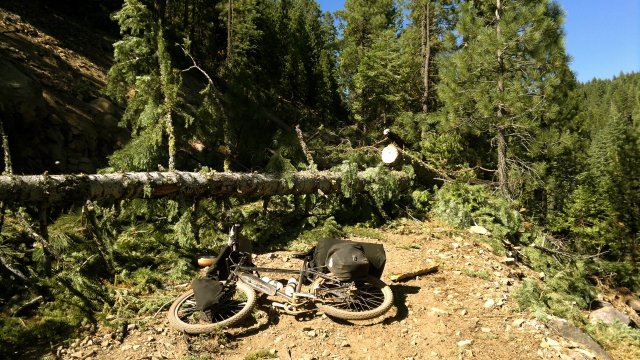 road up from last chance campground blocked by recent logging activity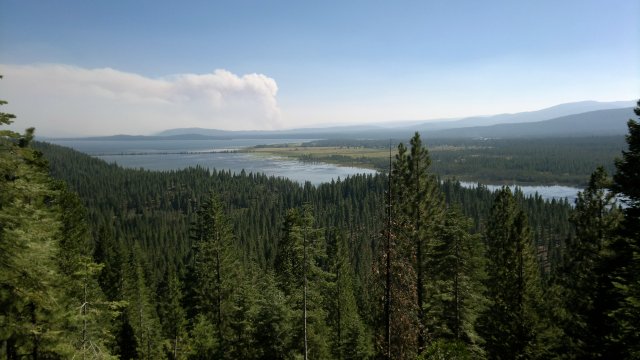 looking south at lake almanor and the chips fire, from near where road blocked by logging activity
Fri, 3 Aug 2012 (31 miles in 4:05 hours)
Took dirt road (not shown on forest service map) which runs south from Last Chance campground to highway 36, along the east shore of the northern finger of Lake Almanor, then route 322, which runs parallel to and north of highway 36. Route 322 was blocked after its intersection with route A13, so I switched to highway 36 from here. Hard shoulder on highway 36 was wide at first, then disappeared, at which point I felt uncomfortable, even though cars and trucks politely gave me room whenever possible. Turned onto route 147 (which has moderate traffic) followed by route A21 (which is very quiet) to get to Westwood. Bought some snacks at the well-stocked grocery there, ate in the town park, which has picnic tables and water faucets, then continued on A21 (very quiet) to the famous Bizz Johnson trail. Made an early camp near where the Bizz Johnson trails intersects routes 104 and 101, mainly because I was feeling tired, but also because I wasn't sure as to camping possibilities further on, and because I didn't want to arrive at Susanville late today nor too early tomorrow.
Sat, 4 Aug 2012 (26 miles in 3:00 hours)
Throat felt very dry and sore yesterday evening, continued sore through night, slightly better this morning. Maybe the onset of an illness was why I was feeling tired yesterday. Decided to remove the crud catcher. It never would sit straight and I dislike its appearance, especially when caked with dirt. Also, I'm not sure it really helps that much in muddy conditions and anyway I don't plan to bike in muddy conditions if I can avoid it.
Checked into the Diamond View motel in Susanville ($44 including tax). Not sure why I chose what is probably the most run-down motel in town. In last month's trip report, I wrote that unalloyed comfort does not conduce to happiness and hence is to be avoided. But unalloyed discomfort is also not ideal. What is needed is a mix of comfort and discomfort. Surely camping involves enough discomfort that I can afford to indulge myself during town stops. No air conditioning, so that I had to leave the windows open, allowing in noise from traffic on the highway, from other guests coming and going and slamming their doors and talking, from children playing in the parking lot, etc. Had to use ear plugs to get to sleep. Things finally quieted down around midnight and I was able to take the ear plugs out when I woke up then. Room did have a full bath with tub plus microwave and mini-refrigerator and wifi. Susanville has all services: banks, multiple supermarkets, Walmart, hardware stores, etc. (Mileage and riding time slightly off because I reset the computer accidentally by leaning against the reset button, which is easy to do with the Sigma BC509.)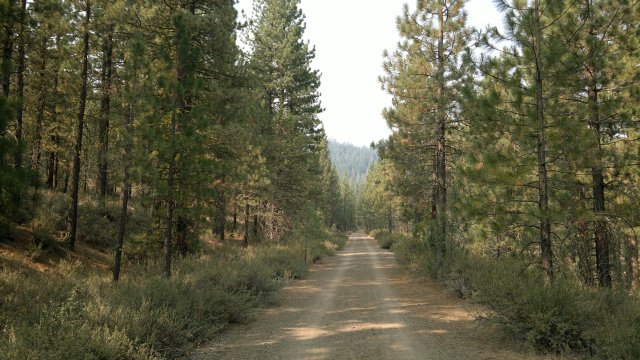 typical scene along the bizz johnson trail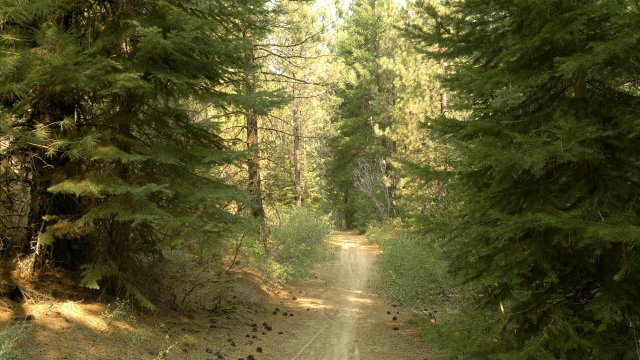 prettier but less typical scene along the bizz johnson trail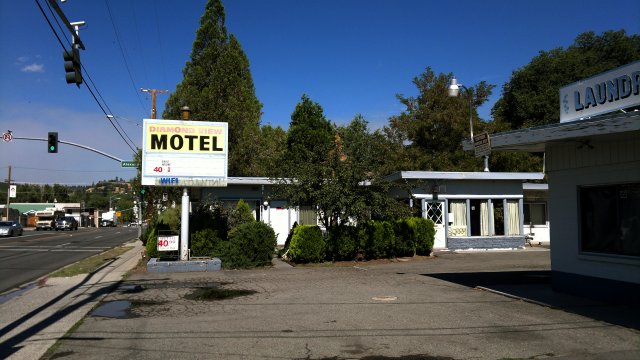 diamond view motel, sign reads "bikers welcome" in small print, must mean me
Sun, 5 Aug 2012 (12 miles in 2:02 hours)
Rained heavily about 5AM for a few minutes, but everything dried up when the sun came out later. Front tire went flat overnight. I had picked up a goathead while pedalling around Susanville yesterday, but flicked it off immediately. Evidently that wasn't soon enough to avoid a slow-leak puncture. Filled the tube with sealant and reinstalled, after inspecting the inside of the tire for embedded thorns. Decided to wait before using any of my remaining three bottles of sealant on the rear tire. There is a bicycle shop here and another in Chester, but I'm not sure they carry Stans sealant.
Pedalled the 2000 feet of ascent from Susanville to Eagle Lake Summit, via route A1, without even needing to drop below gear 3 most of the way. So legs are getting stronger. Still feeling a little sick in the throat, so cut the day short and camped in a patch of forest at the summit.
Mon, 6 Aug 2012 (35 miles in 4:20 hours)
Sinuses clogged but throat no longer sore, so illness appears to be abating. Lots of bed rest works wonders with these minor illnesses. Picked up snacks at Eagle Lake store and checked the internet using their wifi. Showers available for $2, but I didn't feel too dirty. So-so supply of food at the store. Water available at nearby campground faucets. Continued on paved A1 north to Brockman Flat lava beds, then crossed that via rugged 32N87 and 32N79 dirt roads. General store in Spaulding not nearly so well-stocked as store at Eagle Lake Marina. Nothing but snacks really. Used route 518 to get back to A1, then route 105 (Champs Flat road) west. Camped about a mile past the intersection with route 22. Breeze from the south bringing smell of smoke from the Chips fire. Forest here is thinned out and ground cleared from periodic minor fires. Fires here would be easy to control.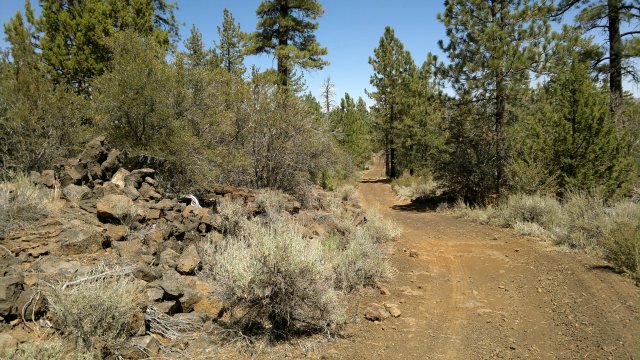 rugged road through brockman flat lava beds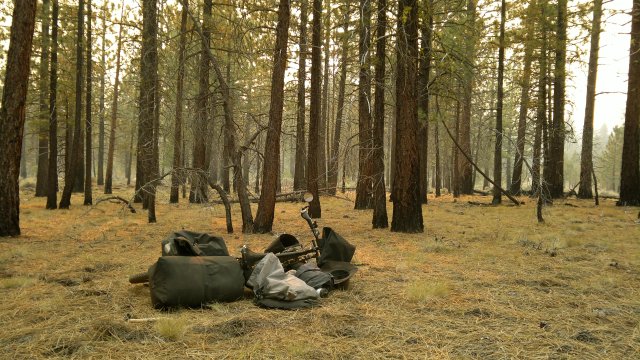 campsite along champs flat road, note the smokey sky from the chips fire
Tue, 7 Aug 2012 (37 miles in 5:11 hours)
Continued along route 105. Some cows and a dehorned bull lying in the road blocked my way. The cows eventually panicked and ran off, but the bull stood his ground, then began pawing the ground, butting a small pine tree with his head, bellowing and otherwise acting like he was ready to fight. So I decided to push the bike cross-country towards a parallel road a half-mile away according to the road map. Very hard going due to big blocks of lava everywhere. I should have simply back-tracked on the road I was on until I could take a side-road to get to the parallel road. Bicycles are sometimes called mechanical steeds, but they are definitely no match for flesh-and-blood horses off-road. Then again, the bicycle fares much better than the horse on paved roads with fast-moving traffic, and also works much better in the city.
Made my way back to route 105 and continued on that to Camp Ten, then took 32N01 to route 21, and finally A1 back to the Eagle Marina Store for a shower, snack and internet access. Then took route 231 east, intending to continue along route 226 tomorrow. Steep ascent for about a mile. Camped at the saddle between Black mountain and Deans Ridge, because I was unsure as to camping possibilities in Willow Valley.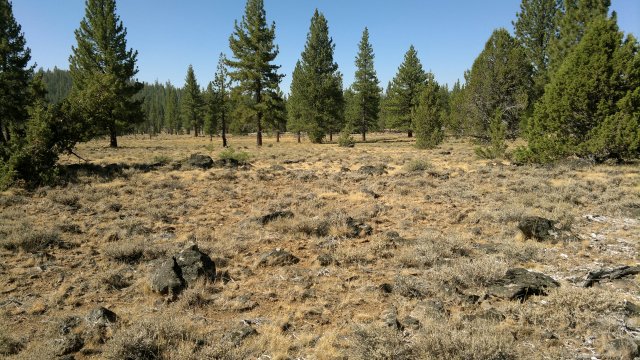 difficult to push the bike cross-country in terrain like this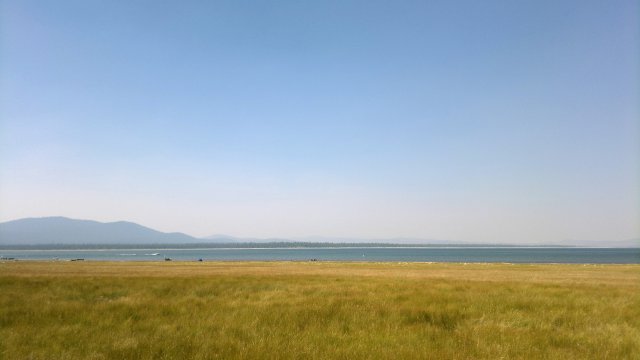 eagle lake
Wed, 8 Aug 2012 (27 miles in 2:32 hours)
Cold has migrated from sinuses to lungs, so now I'm coughing and sneezing and have bronchitis. All the smoke from the chips fire plus mouth breathing during strenuous ascents, like the one yesterday evening, doesn't help matters. I had thought of ascending Fredonyer Peak (about 3000 feet of ascent) where there is a fire lookout, but that will have to wait until I'm feeling better.
Zip-closure is tearing on the opsaks. Need to bring spares. While expensive for plastic bags, at $4 each, the cost is trivial compared to that of my whole trip and also in light of the amount of damage a rodent could do, to speak nothing of the possibilities of Hantavirus or Plague. Several people died recently from Hantavirus contracted during stays at tent cabins in Yosemite. All developed campgrounds have human-habituated rodents, which is why I prefer to wild camp where no one has ever camped before. Rodents in the wild regard humans as potential predators rather than as potential sources of food, and thus keep their distance.
Took route 226 through Willow Valley. Some forested land at the west side of the valley, then it became fenced ranches. Then highway 139. Not too busy and with a small shoulder, but I hate being near fast-moving traffic and so was anxious to get off as soon as possible. High-speed descent the last 5 miles to Susanville.
Stopped in at Banana Bicycles to check it out. Repair crew seemed highly competent. (And patient. Case in point. Another customer was yelling angrily that he bought a bicycle-shaped-object two days ago at Walmart and the tire wouldn't stay inflated and so he wanted them to fix it. Yes, they could fix it and sell him sealant or put the sealant in themselves, they politely answered. Sadly, I noticed that, as with every bike shop nowadays, all the mountain bikes they had in stock had front suspension and most had rear suspension. Such pimpery raises costs and pushes people to Walmart rather than the local bike shop, which is bad for everyone except maybe the scrap metal industry: not much profit for manufacturers given the absurdly low prices, Walmart gets a bad reputation for selling junk, the customer is unhappy, and finally the local bike shop has to work on junky bicycle-shaped-objects rather than real bikes. Here I am traveling on far more rugged roads than most people, and I've never felt any need for suspension other than fat tires.) So now I have confidence in two bike shops in the area: this place plus Bodfish in Chester. Front tire went flat while I was inside the shop. This is the tube I put sealant into a few days ago. Removed the tire and tube to inspect. Tube had a slit along the inner surface (i.e. the surface that contacts the rim, as opposed to the surface that contacts the tire). Talked to the manager at the shop and he said to check the rim strip. Sure enough, it had shifted, perhaps from when I was fixing the flat a few days ago, so that now the sharp edge of the rim strip, made of hard nylon, was in a position to cut into the tube. The manager suggested I replace with a rubber or cloth rim strip. Rubber is fine for low-pressure tires, but nylon or cloth is required for high-pressure. Since I run low-pressue and liked the feel of the cheap rubber rim strip, I went with that, along with an inner tube and bottle of Stans sealant to replenish my spares kit. Later, I had second thoughts. Maybe a cloth rim strip would be better? Need to research this issue when I get back from this tour.
Called Knight's Inn. Person who answered the phone quoted $53 including tax, then yelled at me to give him my phone number if I wanted more information. Then he hung up before I could do so. Manager at River Inn much more pleasant. So I checked in there. $53 including tax, which is about $5 lower than the rack rate. Supposedly, I got the AAA discount because I was on a bicycle. Very nice room. Air-conditioned, quiet, full bath, microwave and mini-refrigerator. Wifi doesn't work, but they plan to fix it soon. Wifi available at the public library next door. Well worth $8 more than the Diamond View, and surely better than the Knight's Inn at the same price. Big feast in the evening from the nearby Grocery Outlet, which reminds me of a Trader Joe's due to all the imported foods. Except prices much lower than Trader Joe's.
Thu, 9 Aug 2012 (15 miles in 2:35 hours)
Didn't sleep much last night, perhaps due to a coffee ice cream bar I had in the afternoon. Just a small bar, but who knows how much coffee and thus caffeine it had in it? I haven't had any caffeine for two weeks now, and so am hyper-sensitive to it. Took route 203 then 204 (Gold Run road) south from Susanville in the morning. About 2500' of ascent in a little over 4 miles, so over 10% grade on average, with sections of 15% or steeper grade. Pedalled non-stop and not too exhausted at the summit. Considering that I didn't get much sleep and still have bad bronchitis, that suggests my legs are much stronger than on my previous bike tours. Cut the day short and camped near the intersection of routes 204 and 213 due to being tired and because I'm not sure as to camping possibilities further on. Also, I wanted to stay as high as possible and be in the shade as much as possible due to the heat wave (forecast is for 97°F in Susanville), which won't be over until middle of next week.
Fri, 10 Aug 2012 (36 miles in 4:39 hours)
Bronchitis finally abating. Continued along 28N08, then 29N46 to routes 213 and 214 (both very quiet) to Taylorsville where I had a snack. [Note: Garmin 100K maps I have loaded on Etrex 20 failed to show 29N46 between 28N088 and junction with 28N30, yet this is a major gravel road. All the other maps I have with me do show this stretch of 29N46: forest service map, Benchmark road atlas map, Navterq maps on Nokia N8 smartphone. Second time the Garmin maps have had major errors like this. I'm not going to bother recording further such errors in this trip journal.] Loaded up with water at the campground. Beastly ascent of the Beardsly grade (27N10) in the afternoon heat, with no shade from the blazing sun, including some stretches where I was forced to dismount and push. Stopped for a rest part way up, only to discover my rear tire was flat when I stood up. Goathead thorn fragment on the inside of the tire. Probably picked it up in Taylorsville, which means the rear tire would have been slowly deflating during that beastly ascent, increasing the difficulty. Filled the tube with sealant before reinstalling. So now both tubes have sealant and my experiment with going without sealant is officially over, at least for tours anywhere in the dry west of the United States. Camped in the forest at Green Flat.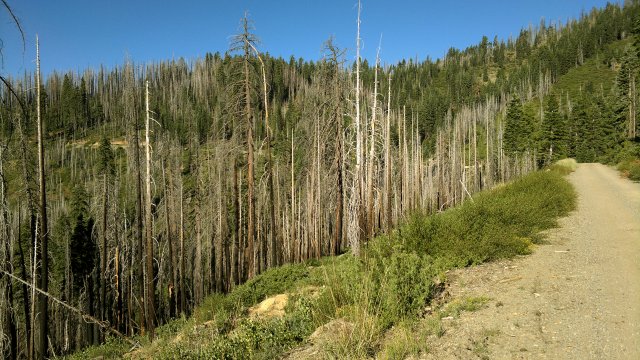 blackened forest along 28N08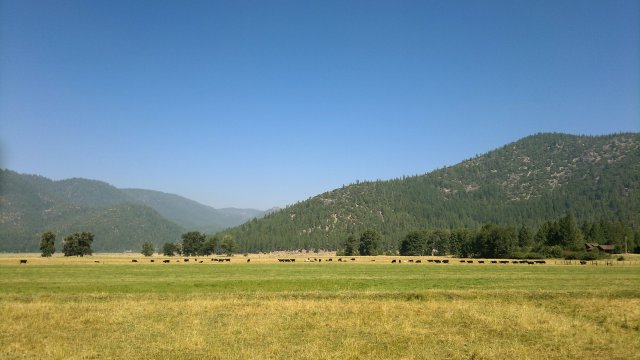 typical indian valley scene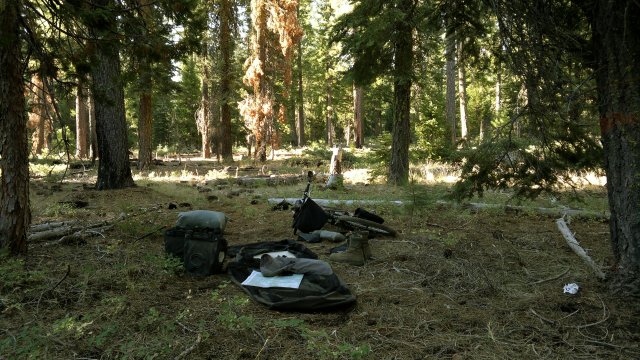 green flat campsite
Sat, 11 Aug 2012 (56 miles in 6:00 hours)
Rear tire fully inflated in the morning, so the sealant is working (I didn't apply a patch to the outside of the tube, just sealant on the inside). Followed 27N10 to Wilcox Valley, then 27N09, then 28N03 through Lone Rock Valley, then paved route 172 from Antelope lake to Genesee valley. This paved road was mostly downhill but wearisome nonetheless. Bike feels out of place on asphalt and yearns for dirt or gravel. Snacks at the Genesee store, which is only open on weekends. Store is leased from the 1600 acre Ward Creek Ranch, which is for sale. Ongoing Chips Creek fire talk of the town around here. Caused an area-wide power outage last night. From Taylorsville, took 206 (Stampfli lane), then highway 89 north towards Greenville. Shoulder narrow but not excessively dangerous, unlike the stretch of 89 from 207 south to Round valley road that I traveled last week. Forest service map showed Pioneer road circling Forgay point, but in fact it comes to a dead-end halfway at a farm. Turned back and camped in the patch of BLM land shown on the map. Not a great campsite, but it was already 6PM and would have been past 7PM by the time I got to Greenville and started looking for a motel, plus who knows if all the motels might be full on a Saturday night? In the future, I would use route 112 to get between Taylorsville and Greenville. (Mileage and riding time slightly off, since computer reset when I leaned against the button—my one complaint about the Sigma BC509 is this poor reset design).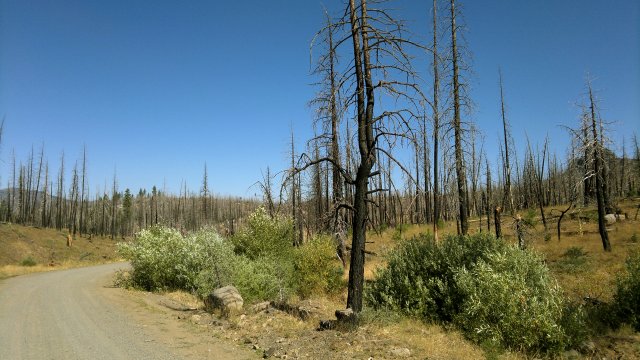 more blackened forest, this time in the lone rock valley near browns cabin
Sun, 12 Aug 2012 (41 miles in 4:35 hours)
Morning chill was a blessed relief from the heat of the past few days. Snacks at the Greenville grocery. Followed route 202 to bypass part of highway 89 between Greenville and Canyondam, then route 201 (old Haun road) to bypass the remainder. Highway 89 between Old Haun Road and Canyondam is incredibly dangerous: heavy traffic; frequent blind curves; no hard shoulder; soft shoulder sloped to form a ditch and also extremely soft and thus likely to cause skidding and falling back onto the road, perhaps right under the wheels of a big truck; many steep uphill stretches where loaded touring bicycles will be moving slowly and possibly wobbling from side to side, while being passed by motor vehicles moving at 60+ mph. Old Haun road adds only 300 feet of additional ascent to the 1000 feet of ascent required by highway 89 between Greenville and Canyondam, so no reason not to choose the peaceful and more scenic dirt route. Lots of camping opportunities along Old Haun road, incidentally, as an alternative to Greenville motels.
Used routes 147 and A1 to get from Canyondam to Westwood. 147 has no hard shoulder, but does have a decent soft shoulder. Also, traffic is moderate and there are no blind curves, so I didn't feel particularly unsafe. Heavy smoke smell in Westwood where I ate lunch. Lots of fire fighters at the other picnic tables in the town park. North section of Lassen National Park is now also on fire. I had planned to go to Chester, but changed my mind in light of all the smoke over Lake Almanor. Instead, I'll head back to Susanville.
Chain or something else in the drive train is causing a lot of noise. Lubed the chain heavily with Finish Line Dry. Starting to have doubts as to my idea about lubing a chain without first cleaning it. Chain is absolutely filthy with dust.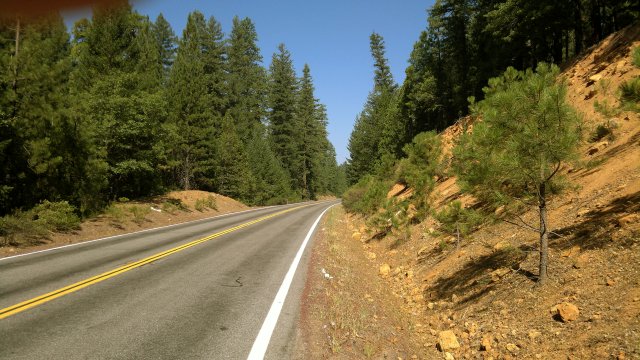 highway 89 between greenville and canyondam, note the sloped soft shoulder
Mon, 13 Aug 2012 (27 miles in 2:50 hours)
Sprinkling of ash on gear in the morning, but not too bad. Smoke smell greatly diminished and sky blue once again. Chain not too noisy after lubing yesterday. Bronchitis long gone, incidentally, so I'm also not too noisy anymore.
Continued along the Bizz Johnson trail to Susanville. Long discussion with the Bicycle Bananas manager about the sort of touring I'm doing, maps I'm using, other bicycle topics. He used to run the Bicycle Bananas shop in Reno, then moved back to Susanville (where he was born) when they opened up the shop here. Checked into the River Inn in Susanville ($53 including tax), then had a sumptuous feast in my room with foods from the Grocery Outlet next door: banana, quart of yogurt, can of chili, package of corn tortillas, red bell pepper, two pounds of baby potatoes baked in the microwave, three 100g bars of Ghiardelli milk chocolate with almonds, half pound of parmesan cheese, demi-bottle of white wine. All this on top of some bread earlier in the day for breakfast. Felt stuffed afterwards.
Forecast is for continued high temperatures (high 90's) for remainder of week, then thunderstorms on Friday and after that temperatures drop back to high 80's.
Tue, 14 Aug 2012 (39 miles in 5:07 hours)
Took Bizz Johnson trail from Susanville to where it intersects route 101, then followed that north to route 112, then route 105. Camped a few miles south of Camp Ten (intersection of route 105 with 32N01).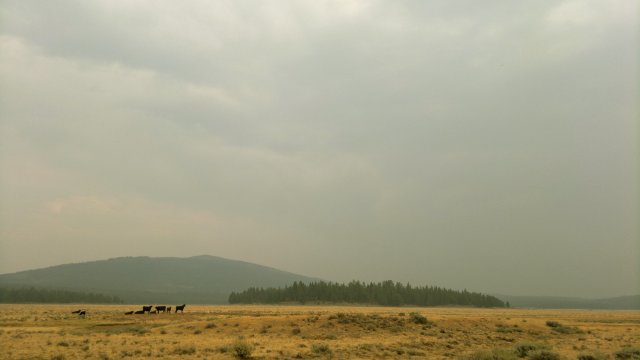 cloudy sky along route 105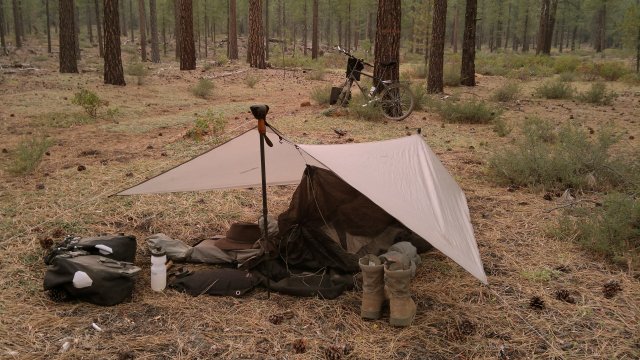 tarp erected in case of rain
Wed, 15 Aug 2012 (44 miles in 6:04 hours)
Setup tarp last night, but it didn't rain. Or maybe it drizzled lightly and then evaporated later, since I heard some pattering early on. Sky partly cloudy in the morning. Continued along route 105 to 33N26, then 33N02, 33N15 through the Blacks Mountain Experimental Forest, then 35N08, then a brief stretch along highway 44 (not very dangerous, at least for this short stretch), then 32N60 and 32N09 to a saddle near Caribou lake, where I camped. Sounds of thunder in the distance, so I setup tarp again tonight.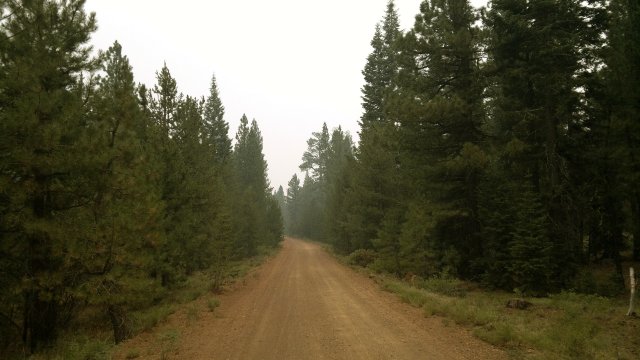 32N09 north of caribou lake
Thu, 16 Aug 2012 (27 miles in 3:24 hours)
Light rain yesterday evening, but tarp dry in the morning. Sky clouded by smoke, but smell not too intense. Continued south on 32N09 then 32N10, then turned west at 29N12 and followed that around Mud Creek Rim, passing above the road where I was blocked by logging activity last week. Stampeded some cows along the way for about a mile. Stupid creatures refused to move off the road, stopped and stared at me whenever I stopped, then ran off in terror when I resumed pedalling. Finally they abandoned the road for a patch of forest. They run at about 12 mph on these dirt roads.
Checked into Seneca motel in Chester ($45, including tax, for room 11 with kitchenette). Overate: broccoli, family size can of chili, large package corn tortillas, 18oz plate of brownies with cream cheese topping (2000 kcal right there), pound of swiss cheese, 6 slices of wheat bread, orange, 750ml beer, all this on top of the rice and peanuts I had for breakfast. Over 6000 kcal for the day. The cheese was the mistake. This was supposed to be for tomorrow, to accompany the bread I bought as trail food (and which I mostly managed to refrain from eating, other than the 6 end slices). Fact is, bread alone is sufficient. No need for cheese to accompany it. As for the brownies, I don't consider those a mistake, since joyful experiences like what I had devouring those are the whole point of living.
Fri, 17 Aug 2012 (38 miles in 5:04 hours)
Left Chester late, about noon, then followed 28N30 and 28N78, the roads shown on the forest service map just south of and parallel to highway 36, to about one mile past the Pacific crest trail, where 28N81 was blocked by a locked gate. Talked to some forest rangers there, who suggested the following: 28N78 to where it exits onto highway 36, then west on highway 36 for a mile, past the St Bernard lodge and various houses, to where highway 36 takes a sharp bend to the right (north), where there is a turnout and the beginning of another logging road (not shown on the map) which runs south of and parallel to highway 36 for the rest of the way to highway 32. From there, cross highway 32 to roads 28N20, 27N08 and 28N29 and then route 76/322, which follows the old Lassen Trail to Cohasset and eventually Chico. The one mile stretch of highway 36 lacks a hard shoulder, but the soft shoulder is wide and so I didn't feel in danger. The dirt roads listed above are all solid gravel.
Yet another fire, this one in Mill Valley, so that the route described above was blocked off to vehicle traffic. But I didn't see the signs until I was already near the fire fighters, at which point it made little sense to turn around and go back. I was careful not to impede traffice and no one seemed to care about my presence.
More reflections on the Etrex 20. The version that comes bundled with 100K topo maps for the entire United States costs $249 at REI, versus $149 for the Foretrex 301, which doesn't support mapping. The extra $100 is well worth paying. On the other hand, even more sensible would be allocating the entire $249 towards a smartphone which has both high-sensitivity GPS receiver and support for offline topographic maps. The Etrex 20 would still have the advantage of being more water and shock-resistant than typical smartphones, and of running on disposable AA alkaline or lithium batteries rather than a built-in battery, but that is probably not worth $249 for most bike tourists. For me, because I plan on bike touring for 4 months/year for decades to come, $249 is not that much. (Actual price was 10% lower for me due to member rebate, and I could have gotten another 20% off had I been careful to buy at the semi-annual sales.) For backpacking, I still prefer the Foretrex 301, which weighs less and runs on AAA rather than AA batteries (less weight and same size as my flashlight). The paper maps I use for backpacking are typically sufficiently detailed that a mapping GPS is unnecessary, just a simple GPS that tells me where I am on the paper map.
Ate nothing until the end of the day, when a whole 24oz loaf of bread disappeared down my gullet in a matter of minutes. A second loaf in the food bag narrowly escaped the same fate. So about 7800 kcal in two days or roughly 3900 kcal/day, which isn't too bad. Flies in the evening a damned nuisance. By contrast, mosquitoes now very feeble and hardly bother me at all. Camped on an abandoned logging track near Four Lantern Flat.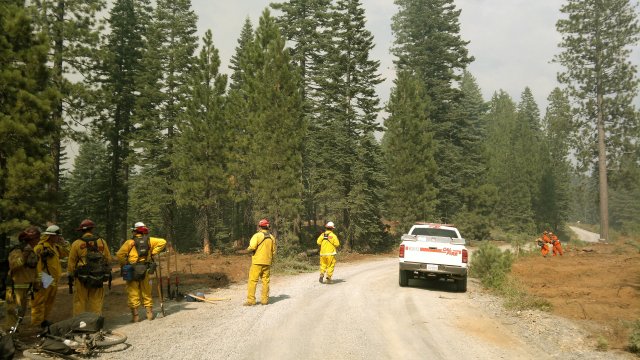 fire crew at work on the mill valley fire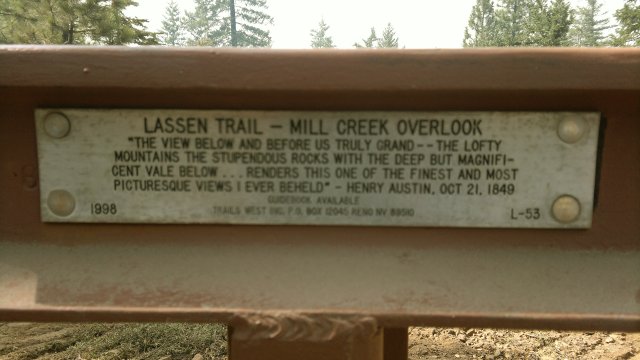 historic markers like this every few miles along the old lassen trail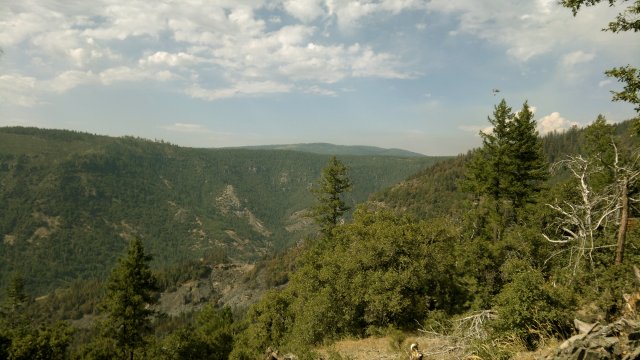 view referred to by above historical marker, real-life version more spectacular than this photo, note distant helicopter carrying load of water to dump on fire
Sat, 18 Aug 2012 (44 miles in 5:59 hours)
Road into and out of Deer Creek canyon very rugged and steep. Rode the descent, but had to push for an hour or so on the ascent (about 2000 feet in both directions). Sweated like crazy on that ascent but otherwise didn't find it too difficult. Certainly nothing like the push up to Henness Pass road several weeks ago, or that ghastly push up Lippincott road in Death Valley.
Checked into the Matador motel in Chico. $51/night for two nights, including tax. Room with queen bed, bath with shower, full kitchen, very roomy, air-conditioned, peculiar smell and dim lightbulbs were the main deficiencies. Wifi wasn't strong enough to reach the room, but there was a table near the office where I could sit and get a strong connection. Townhouse and Safari Garden are the other cheap motels in town, and then there is a wide variety of upscale places. Motel 6 was full with fire fighters. Nokia N8 map application is very nice for getting accomodation info. I guess all the smart phones have this feature nowadays, but the data usage on the Nokia N8 is probably much lower than the other smartphones, since the maps on the Nokia N8 are offline and only the accomodation info has to be downloaded.
Feasted on a bottle of wine and other goodies. I'm putting cheese on my list of dangerous foods. Not forbidden to eat, just forbidden to buy in larger quantities than I plan to eat immediately. Chocolate, pistachios, potato chips, and sweets of any sort are other dangerous foods. I used to think peanuts were a dangerous food, but they no longer seem to tempt me, especially the unsalted dry-roasted version.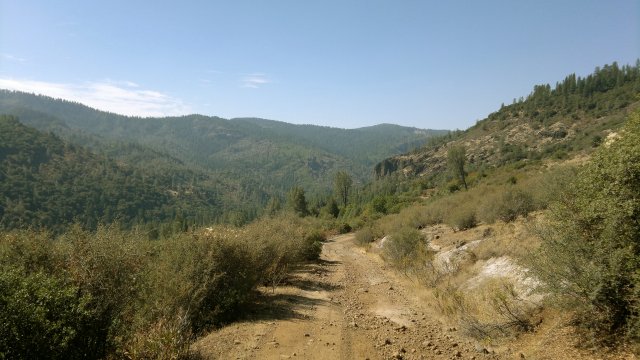 rugged descent along 28N29 towards deer creek canyon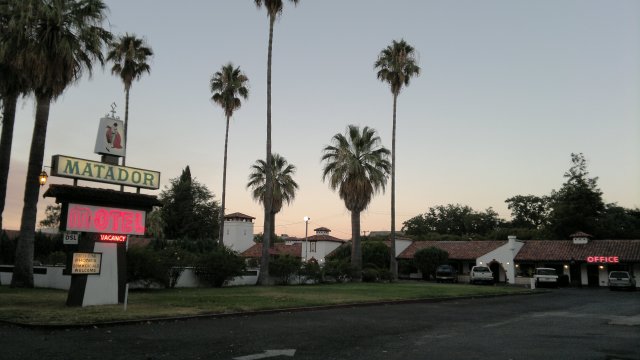 home, sweet home for tonight and tomorrow
Sun, 19 Aug 2012 (5 miles in 0:42 hours)
Temperatures will not drop until Tuesday, so the climb back into the mountains tomorrow will be a sweaty one. To avoid both this heat and possible Saturday night crowding (and higher rates) at the motels, I should have delayed this trip to Chico by a day. Then again, that might have caused me to be truly blocked by the Mill Valley fire-fighting activity, so maybe it is best I didn't delay. Current plan is to use Humbolt summit road to get back to Chester, so as to avoid the Mill Valley fire to the west and the Chips fire to the east. It would be truly awful if I were forced to use highway 32 to thread between these two fires. According to the forest service rangers I spoke to on Friday, highway 32 is just as dangerous for cyclists as the bad parts of highway 89: blind curves, no shoulder, heavy and fast-moving traffic.
City of Chico very pretty, at least the older sections. Palm trees and semi-tropical greenery everywhere. Irrigation is what makes this possible, since the area doesn't get enough rain to support such lush vegetation naturally. Bicycling also apparently very big here, with bike shops everywhere. Strange that, with so much interest in bicycles down here, no one else touring up there in Lassen national forest like me. Lack of time/money can't be the reason, since plenty of people have adequate time/money to hike the Pacific Crest Trail. Nor is excessive difficulty the explanation, since hiking the PCT is considerably more strenuous than bike touring. Recall my apples-to-apples comparision of the two activities back on Aug 1.
Another big feast: 15oz can of salmon, head of brocoli, 15oz can chili beans, 2 jalapenos, package corn tortillas, banana, large chocolate bar, quart of yogurt, oatmeal cookie, medium bag potato chips, remainder of yesterday's bottle of wine, 24oz bottle of beer (Sierra Nevada brewery is located here in Chico).
Mon, 20 Aug 2012 (36 miles in 5:48 hours)
For all its prettiness, I felt no desire to linger in Chico. The visitor's guide in the motel room listed all sorts of interesting things to see and do in town, but these things are for other people. For me, a modern well-stocked grocery store (like the local Raley's) is more interesting than any museum. Think of the artistry that goes into designing all those alluring food packages. Commercial art, to be sure, but art nonetheless. And then the artistry that goes into making the food so delicious. Speaking of which, I felt lean this morning, so evidently the feasts yesterday and the day before didn't pile on too much blubber. Per my decision to put cheese on the list of dangerous foods, I departed Chico with none in the panniers. Just bread, rice and unsalted dry-roasted peanuts. Plenty to get me to Chester without feeling deprived, but nothing that would tempt me to overeat.
Took Skyway (which is busy but has a good shoulder, at least to where I exited it) to Honey Run road (there might be a bike path to get to Honey Run from central Chico and so avoid Skyway entirely), which is quiet. Then Centerville road, which is very quiet. Shortly after the Centerville school/museum (good place for a rest stop, at about 15 miles from Chico), Centerville road turns to gravel and there is no traffic whatsoever from this point until it approaches Skyway again and becomes paved (but still quiet) as part of the Nimshew development. Fork at Humbug road, which merges into Skyway a few miles later just across from a PG&E campground (good place for another rest stop, at about 24 miles from Chico). Then less than a half-mile on Skyway, which has light traffic here, to Powellton road, which is gravel and very quiet. Powellton eventually merges with Skyway, which is also very quiet from this point on. Camped at a saddle near Gold Hill.
Horrible grinding from either the hub or the chain. Hopefully, the latter merely needs cleaning and lubing. I haven't cleaned it at all since this tour began and it is horribly dirt-encrusted. My idea of dumping more lube onto a dirty chain doesn't seem to work with the Finish Line Dry lubricant the way it did with the Prolink Gold lube I used previously. Need to talk to Bodfish when I get to Chester and see what they recommend.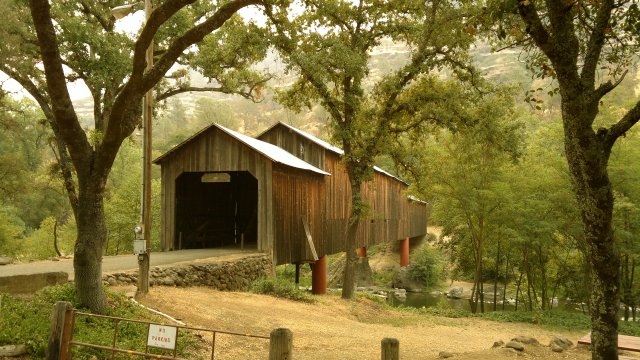 honey run covered bridge, at the junction of honey run and centerville roads
Tue, 21 Aug 2012 (45 miles in 5:45 hours)
Continued along Skyway to Humbug road, then took that to Humbug Summit, where signs indicated that further progress was not permitted due to efforts to suppress and contain the Chips fire. Yellow Creek road also marked as closed, though everything I've read says that Humbug road is where the fire fighters plan to bulldoze the main containment line. Alternative was to go back down to Skyway and proceed to Humbolt road, but that would mean several thousand feet of descent then another several thousand of ascent. So I forged ahead on Yellow Creek road, which was devoid of activity. Horrible smoke smell, however. Showered and resupplied at Chester, then visited Bodfish, who advised me to clean the chain then use White Lightning Clean Ride wax lubricant. But I have nowhere to store the plastic chain cleaner gizmo he wanted to sell me and he didn't have anything more compact. I told him my idea of just slopping more and more lube on an already dirty chain, but he didn't think that would work. And he didn't have anything other than the wax lubricant. So I bought that and will see how it works.
Didn't feel like sleeping indoors, so camped on the road to Last Chance Campground. Very pretty forest there. Owned by one of the timber companies. It appears they try to keep their forests somewhat open, so as to be more resistant to fires than forests which are allowed to become densely overgrown. This is also what the forest service now recommends for all western forests, but for some reason they haven't yet implemented this policy in the national forests around here. Perhaps the terrain is just too rugged to keep things clean.
From campsite near Gold Hill to Chester was about 41 miles, so that makes 77 miles total from downtown Chico to Chester via the route I followed, including over 7000 feet of ascent and 2000 of descent. Either this Humbug route or the Lassen Trail route I followed to get from Chester to Chico should be considered a two-day affair, for all but very strong cyclists.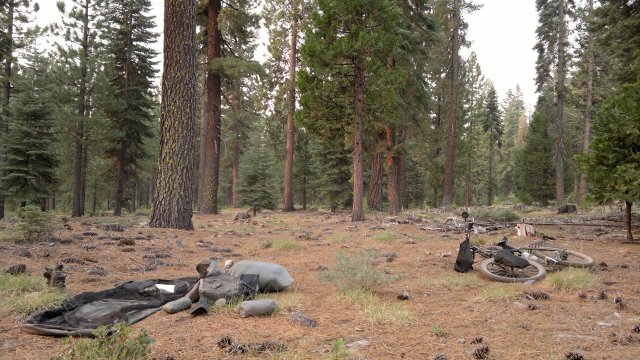 note the openness, and how this openness doesn't significantly detract from the forest's beauty
Wed, 22 Aug 2012 (30 miles in 4:14 hours)
Bronchitis is back, probably from breathing deeply while descending through all that smoke on Yellow Creek road yesterday. Pity those fire fighters who have to breathe that stuff all day long. I would have expected mosquitoes to be gone by now, but no, they are still present in the early morning and evening. However, they are very feeble and slow-moving at this point, so I never get bit and they aren't particularly annoying.
Took the so-called "M" line where it and the "L" line fork. "L" line continues to Last Chance campground whereas "M" line ascends to Mud Creek Rim and eventually turns into 29N12. Then 32N10 north and 30N07 east to a campsite about 1 mile before where 30N07 intersects Bizz Johnson trail. Short day, as I was feeling tired from not sleeping well last night for some reason. Chain is much quieter after slopping on a huge amount of the Clean Ride wax lubricant.
Thu, 23 Aug 2012 (24 miles in 3:03 hours)
Took the Bizz Johnson trail into town, then ate lunch in the park and wandered around town, since it was too early to check into the River Inn ($53 including tax). They were full last night. Lots of fire fighters. Susanville very smokey from the Chips fire on the other side of Lake Almanor. Lost control in the evening and binged on wine and cheese and chocolate and other delicacies. Too many tempting foods at that Grocery Outlet. Dangerous place to visit when hungry.
Bought some spray-on chain cleaner and White Lightning Epic Ride chain lube (versus White Lightning Clean Ride which I bought at Bodfish back in Chester). Supposedly, Epic Ride is silicone-based whereas Clean Ride is wax-based. Clean ride is supposedly better for dry conditions like I'm encountering now, but Epic Ride isn't bad either. Problem with Clean Ride is that it is very viscous when cold, whereas Epic Ride stays liquid when cold. I don't want a system which only works in warm weather. Also, Epic Ride seems easier to clean off than the Clean Ride. So I decided to chuck the Clean Ride in favor of the Epic Ride. As for the Finish Line, I'm also chucking that. The truth of the matter is that I'm quite lost when it comes to these chain lubricants. What I do know is that the cap on Prolink Gold leaks when subjected to air pressure variations (due to altitude changes), whereas the caps on the White Lightning and Finish Line products are much more secure. That is a major consideration for me. What I really need is to come up with a system for cleaning the chain in the field, since I can't just keep applying more and more lube like I did with the Prolink Gold, and these lightweight silicone or teflon lubes need the dirt to be removed first if they are going to work. By chain-cleaning system, I don't mean one of those gigantic plastic chain cleaners which is likely to leak all over my gear. Nor do I mean a spray-on cleaner in a can like what I bought today (and which I plan to throw away today after using), since that is also liable to leak. It might also be a good idea to carry a spare chain, so that I can simply chuck and replace the old chain if I somehow screw it up completely.
Cleaned and relubed the chain on a patch of weedy ground in back of the motel. And what kinds of weeds? Why goathead thorn weeds! Plucked no less than a dozen specimens of my nemesis from each tire—fortunately, before any had penetrated deeply. We'll know tomorrow if this speedy action was sufficient to prevent damage.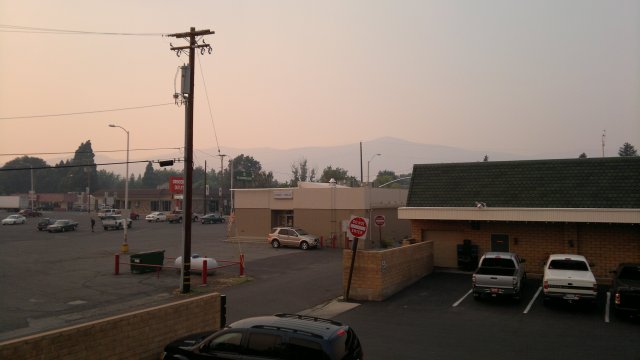 view from the balcony outside my motel room, showing sky obscured by smoke from the chips fire
Fri, 24 Aug 2012 (20 miles in 3:04 hours)
Tires fully inflated in the morning, so either the goatheads didn't penetrate the tubes or the sealant stopped any leaks. Took about 1.5 hours to ascend the steep stretch between where Gold Run road turns to dirt and the saddle where it forks into 28N08 and route 213. Camped along 28N08, shortly after the junction with 29N03. This made for a short day, but there will be limited camping possibilities once I descend into Indian Valley (other than the Taylorsville County park campground, but I dislike developed campgrounds). The other possibility would be to continue to Clover Valley, but that would make for an extremely long day, given the additional 2000' of ascent necessary to get from Indian to Clover Valley.
Sat, 25 Aug 2012 (56 miles in 6:17 hours)
Sky clear again this morning, though there was some smoke smell last night when the wind shifted. Followed 28N08, 29N46, route 213, route 214 (same route as a few weeks ago) to get to Taylorsville in about 2.5 hours, where I had a snack. Camped same place as a month ago, in the patch of forest just north of the Clover Valley Ranch. This is the first good place to camp after leaving Indian Valley Road, since the stretch between Indian Valley and Clover Valley lacks flat spots, and most of Clover Valley other than this patch of forested ground is privately owned and fenced pastures rather than forest.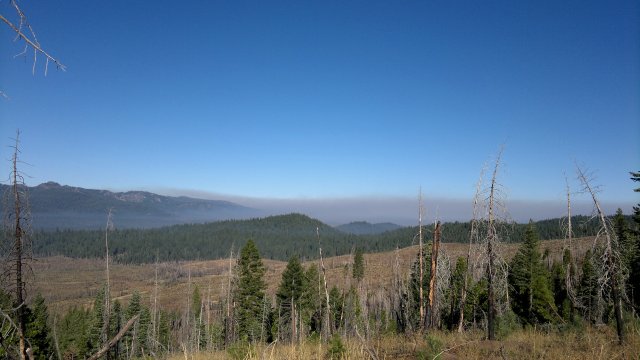 looking west from 28N08 towards the smoke of the chips fire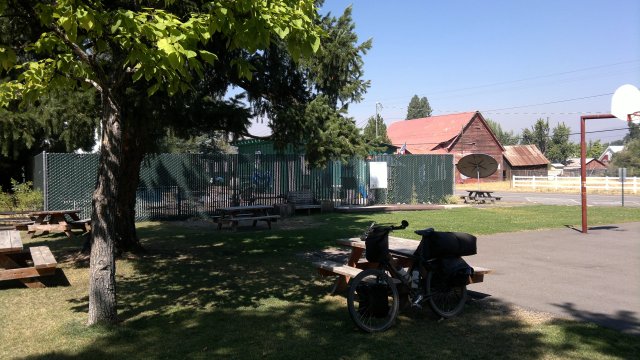 taylorsville town park (swimming pool behind the fence)
Sun,26 Aug 2012 (50 miles in 5:38 hours)
Snacks in Loyalton. Climb to Henness Pass road seemed easy. Maybe it was the milder temperatures (low 80's in the shade, I think) or maybe my body is getting stronger, but 1500 feet of ascent at a 5% grade is nothing to me now. Camped same place as a month ago, at junction of Henness Pass and Verdi Peak roads.
Mon, 27 Aug 2012 (21 miles in 2:00 hours)
Descent along Henness Pass to Verdi was the ruggedest road of this trip, other than perhaps the Lassen trail near Deer Creek. No wonder I had to dismount and push when ascending a month ago. Luckily, this stretch passes quickly on the descent, even when riding the brakes the whole time so as to keep my speed down and avoid being thrown about by all the big rocks. After that, it's all paved roads into Reno. I had been worried that all the motels might be occupied by returning university students who hadn't yet found apartments, but that turned out not to be a problem. Weighed myself and checked my waistline at the storage locker: 175 pounds, 33 inch waist. So I gained about 5 pounds and 1 inch of waistline and went from 13% to 15% body fat due to the binging during town stops, which is not as bad as I had feared. Now I just have to be careful to avoid any further binging during my stay in Reno, which will probably be for two weeks.
Final odometer reading 2080 miles.
Statistics
30 days total, of which 22 nights camping, 8 nights in motels. 1 rest day in Chico, thus 29 days traveling.
1040 miles total, and 129 hours of pedalling/pushing. Thus, for 29 days of traveling, average of 4.5 hours/day, 8.1 miles/hour, 36 miles/day.
Comments
As noted above, inner tube seals for both headset and seat tube tore while on tour. Upon returning to Reno, I replaced the seat tube seal with duct tape and discarded the headset seal. Dust alone should not cause problems with the lower headset bearing, since the liberal amount of grease I applied around the bearing cartridge should trap the dust. What could be a problem would be water thrown up by the front tire which washes away this protective grease. However, since I don't plan to cycle much in wet conditions, that should not be an issue for me.
I am still considering adding 60ml of rubbing alcohol to my toiletries kit when hiking/biking in piney areas, to allow removing pine sap from my clothes while on tour rather than waiting until I get back home.
Added a toothbrush and a bottle of citrus chain cleaner to my bike repair/maintenance kit, and upped the number of shop towels I carry, to allow cleaning the chain in the field. Debating whether to carry a spare chain.
Replaced the saddle bag with a slightly larger design, to make room for the bottle of citrus chain cleaner and also allow extra space for other items with the potential for leaking that I might want to carry in the future. Leaks in the saddle bag only contaminate bike tools, which are already slightly greasy and can be easily cleaned, whereas leaks in the panniers would contaminate food.